June, 7, 2013
6/07/13
1:14
PM ET

By Franklin McNeil
ESPN.com
Archive
Heavyweight
Antonio Rodrigo Nogueira
has been on a roller-coaster ride for nearly four years. He'd win a fight then lose, win a fight then lose again.
Consistency has eluded Nogueira, who has not won back-to-back bouts since February 2008, when he capped a three-fight streak by claiming the UFC interim title with a third-round submission of
Tim Sylvia
. He is 3-3 since.
But "Big Nog," who submitted
Dave Herman
during his most recent outing at UFC 153 on Oct. 13, 2012, vows to win his second straight fight Saturday night when he faces
Fabricio Werdum
in the UFC on Fuel TV 10 main event in Fortaleza, Brazil. He has never been more determined to keep a prefight promise.
Despite his recent ups and downs, the 37-year-old Nogueira hasn't relinquish his goal of making one more run at a title shot. A win over Werdum, who is ranked No. 4 among heavyweights by ESPN.com, could land him a fight against No. 3-rated
Daniel Cormier
.
Wins over Werdum and Cormier would extend Nogueira's streak to three and almost assure him of a title shot. But first, he must pull off the upset Saturday night.
Nogueira is a big underdog, but he likes it this way. Proving that he is still a force in the heavyweight has increased his determination. Big Nog has covered all the bases during preparation for this fight.
"I see myself in a good position, going against a high-level fighter like Werdum," Nogueira told ESPN.com. "He's a tough fighter, but I'm very motivated. And sometimes the motivation makes you train more. I'm in good shape."
The former Pride champion has been in many tough battles en route to compiling a 34-7-1 professional record. Nogueira has experienced many bumps and bruises throughout his 14-year MMA career, but after a solid training camp, he is fully healthy and feels like a man in his physical prime -- and Nogueira is injury-free.
It also helps that he already has a win over Werdum. The two fought on July 1, 2006, while in Pride. Big Nog exited the ring that night a winner by unanimous decision.
Nogueira admits that his opponent is a much better fighter now than when they first met, but he adds that his own skills are also more refined.
There is one area, however, where Nogueira expects to have the advantage -- experience, especially standing. Both Nogueira and Werdum have advanced jujitsu skills, but whoever wins the stand-up battle will have the edge on fight night.
"He has improved in kickboxing, but I am comfortable doing kickboxing and boxing," Nogueira said. "I've been doing this a long time.
"He's strong, he pushes, and he has a lot of tricks in jujitsu. I know he's improved, but so have I. I know it's not an easy fight, but I believe in myself."
Nogueira has never experienced an up-and-down run like the one he's on. Some observers have begun hinting that his time as an elite heavyweight has passed. It's even been whispered that maybe it's time for him to call it a career.
But Nogueira doesn't entertain such thoughts; retirement is not on his agenda. He's focused solely on making it two wins in a row -- over Werdum and on his current ledger. If Nogueira accomplishes this feat Saturday night, talk of a title shot is sure to heat up.
"If I win this fight, there is a good chance I will be in a good position to get that pot of gold, to have a chance to get the belt," Nogueira said. "This is real important to me, and I don't want to miss that chance."
November, 8, 2012
11/08/12
1:13
PM ET

By Chuck Mindenhall
ESPN.com
Archive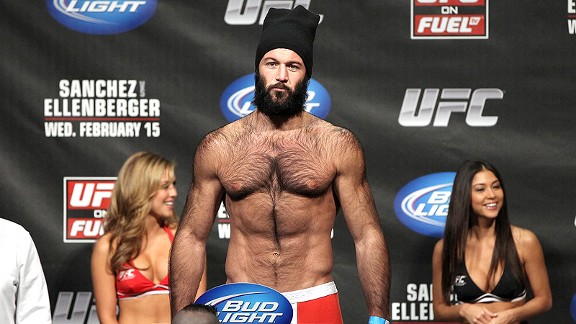 Josh Hedges/Zuffa LLC/Getty ImagesHairy Potter: Dave Herman is paying the price for a failed drug test.
Marijuana isn't a performance-enhancing drug, you say? Try running that nonsense by any guitarist in a jam band. All that noodling is backlit by
something,
brother.
In MMA, though, marijuana doesn't enhance fight night performance. In fact, it probably does nothin' to nobody -- unless you're
Nick Diaz
, in which case it just helps usher in clearer, mellower vibes. In his case, it's "medicinal."
Nevertheless, it's still illegal to the commissioning bodies in MMA, even if it's just residue in your system from weeks ago.
We saw Diaz get suspended for testing positive for marijuana metabolites after his loss to
Carlos Condit
at UFC 137. His sentence was to sit out of the fight game between Super Bowls. This struck most people as harsh even though he was a second-time offender, given that Diaz holds a medical marijuana card in his home state of California. And because, you know … pot smokers aren't realistically trying to gain an advantage.
We saw Matt Riddle get popped recently, too, in Calgary, Alberta. Even more recently, it was
Dave Herman
(yet again). Herman looked dazed and confused in his loss to
Antonio Rodrigo Nogueira
at UFC 153 in Rio, although there was something about the colors in Big Nog's aura that night that seemed to bewitch him.
From that same fight card,
Stephan Bonnar
tested positive for an anabolic steroid. You know this by now because Bonnar has been roasting on a spit in the media ever since. Just as with Herman and Diaz, this was his second offense. Drostanolone
is
a performance-enhancing drug. And this time, maybe because Bonnar and Herman failed drug tests on the same card and their cases are evaluated at the same time, we seem to be doing the smart thing.
That is, we're actively distinguishing the difference between the substances.
In a nutshell: One is taken deliberately to cheat; the other to deliberately enhance an afternoon. In a sport in which both have been punished equally, the latter behavior automatically becomes the dumber. If all things are equal, you should cheat to win, not giggle.
Because Brazil doesn't have an athletic commission to dole out the punishment, the UFC was left to do the dirty work. The UFC means Marc Ratner, the promotion's VP of regulatory affairs, who once headed the Nevada State Athletic Commission. He suspended newly retired Bonnar for a year, which means -- aside from some twilight embarrassment -- there are no real consequences.
The suspension was perfunctory.
Herman's suspension, though, was tellingly less. According to Ratner, who spoke to MMA Fighting's Ariel Helwani, Herman's suspension will be "months" rather than the year Bonnar (and Diaz) received.
"We feel very strongly that there's a big difference between PEDs and marijuana," Ratner said. "We think the commissions do a good job with PEDs, but we think with marijuana there should be some form of rehab involved, going through that kind of process and learning about it. Other sports have a difference between PEDs and recreational drugs."
All of this is refreshing. Why? Because it's common sense prevailing in the face of the homogenized idea of "what's illegal is illegal." Illegal isn't a great equalizer. One substance isn't the same as the other. PEDs are dangerous to the sport. They're dangerous to the opponent. They're rampant, too, because right now there are so many loopholes and opportunities to use and never get caught. In a sport in which the intent is to do harm without the use of euphemisms, such enhancements can turn tragic.
With marijuana, other than potential long-term effects to the lungs and brain, the short-term danger belongs to whatever cereal can be found.
Not to trivialize things -- obviously marijuana can impair motor skills, vision and problem-solving ability if smoked on fight night (which Herman probably didn't do) -- but they are different. And Ratner made the distinction in how he punished Bonnar and Herman. Bonnar was cheating, and it wasn't his first time. It's easy to say good riddance in his case. As for Herman, he got stoned too close to fight night and got pinched because of it.
In his case, it's more like,
Dude, seriously
? And if Ratner set a precedent, it was a timely one -- there's a difference between cheats and boneheads.
February, 14, 2012
2/14/12
5:56
AM ET

By Chad Dundas
ESPN.com
Archive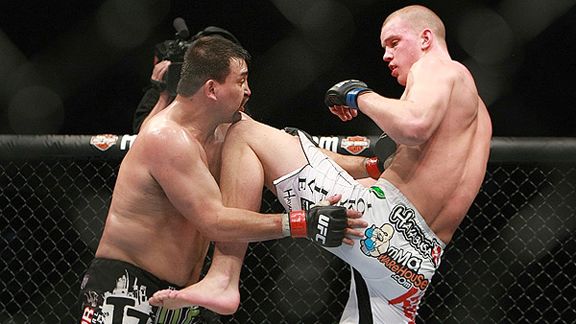 Ed Mulholland for ESPN.com For heavyweights like Stefan Struve, getting a leg up on the competition has been a tall order.
If it's hard to gauge exactly where supporting characters like
Stefan Struve
and
Dave "Pee Wee" Herman
currently stand in the UFC heavyweight division, it's because -- even by its own chaotic standards -- the entire weight class has experienced an unprecedented amount of flux lately.
Long the fight company's most problematic problem child -- for years typified by injury, a mélange of delays and a revolving door of champions -- it's almost as if someone decided to hit the reboot button on the entire 265-pound class during the last few months.
When Struve and Herman meet on Wednesday in the co-main event of the UFC on Fuel, it'll be amid a heavyweight division that has arguably never been more interesting or more vibrant.
Or, frankly, more foggy.
Cain Velasquez
had been hailed among the UFC's new vanguard of "dominant champions" until
Junior dos Santos
toppled him last November, within one minute, four seconds of Velasquez's first title defense. In addition, the division saw the sudden departure of its biggest draw when
Alistair Overeem
sent
Brock Lesnar
backpedaling into retirement at UFC 141 a bit more than a month later.
Add to that the arrival of other Strikeforce big men like
Fabricio Werdum
,
Antonio Silva
and
Chad Griggs
(not to mention the likes of Lavar Johnson and Shane del Rosario) as well as the impending emergence of the smaller organization's grand prix winner (
Josh Barnett
or
Daniel Cormier
) and the immediate future of this predictably unpredictable division starts to look even more volatile than normal.
We know matchmakers are hoping dos Santos and Overeem will meet at UFC 146 in May, in a heavyweight title match that couldn't have been much more than a fantasy as recently as a year ago. Divisional stalwart
Frank Mir
will reportedly welcome Velasquez back from injury this summer, but after that (to quote one of MMA's most tired axioms) anything can happen.
While all of that makes it hard to define the stakes this week between guys like Struve and Herman, it also perhaps affords them an unusual opportunity. If the 265-pound class is truly as wide open as we think it is right now, then that presents a unique opportunity for mid-carders like these two to vault up the ranks.
[+] Enlarge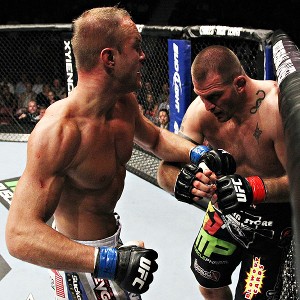 Donald Miralle/Getty ImagesDave Herman, left, can punch his way up the heavyweight ladder with a win on Wednesday.
Struve is still just 23 years old; amazing when you consider that his nine previous Octagon appearances give him more UFC experience than anyone on Wednesday's card besides
Diego Sanchez
. The 6-foot-11 striker has been plagued by inconsistency throughout his stay in the big leagues, but now 3-1 in his last four fights, Struve could certainly crack the top 10 this year if he can keep the ball rolling. His never-say-die style makes him exactly the kind of fighter UFC brass likes to promote, so it's not impossible to imagine him becoming a contender with a few more wins.
Herman, meanwhile, saw a proposed bout at UFC 136 scuttled last year when he tested positive for marijuana long before testing positive for marijuana became the rage. He arrived in the UFC with a 20-2 record and fair amount of buzz in mid-2011, but after a fairly lackluster performance during a win over
John Olav Einemo
in his Octagon debut at UFC 131 (and then the weed thing), Herman is still looking for some much-needed traction in the division.
Naturally, nothing is going to happen for either of these two overnight. The winner of Struve-Herman will assumedly come out of their fight with a little momentum and the possibility of a future bout with someone a little further ahead in the pecking order. That's about all they can hope for in this world.
If we've learned anything from the recent history of the division, though, it's that forecasting where the heavyweight class will be a year, or even six months from now, is a fool's errand.
Given its penchant for tectonic shifts, there's just no telling where a couple of nice-looking wins might leave a young, up-and-coming fighter at this point.
June, 12, 2011
6/12/11
2:34
AM ET

By Brett Okamoto
ESPN.com
Archive
VANCOUVER -- A heavyweight fight between
Dave Herman
and John Olav seemed an odd choice to make the UFC 131 main card at Rogers Arena in Vancouver.
It seems the UFC knew what it was doing.
The high-pace bout was named "Fight of night" by UFC brass, earning both fighters a $70,000 bonus. In addition to the check, Herman also grabbed his first UFC win.
After plenty of back-and-forth action on the feet in front of a crowd of 14,685, Herman (21-1) landed a beautiful body kick, knee, left hook combination midway through the second round. He finished the fight shortly after with a flurry against the fence.
It was a good way for each fighter to break into the UFC, as Saturday marked promotional debuts for both. For Olav (6-2), it was his first professional mixed martial arts fight since 2006.
Additionally, Canadian lightweight
Sam Stout
(17-6-1) earned "Knockout of the night" for his first-round finish of
Yves Edwards
and middleweight
Chris Weidman
(6-0) took home "Submission of the night" for a standing guillotine on
Jesse Bongfeldt
.
It was a big knockout for Stout, who had expressed frustration during the buildup to the fight on his recent inability to finish. UFC president Dana White later called it, "one of the best knockouts ever in UFC history."