June, 29, 2013
6/29/13
8:40
PM ET

By Brett Okamoto
ESPN.com
Archive
The shortest fight of Cub Swanson's career is proving to have the longest-lasting effect.
This weekend will mark the four-year anniversary of a first-round knockout loss Swanson suffered to current UFC featherweight champion Jose Aldo. The fight, which took place at a WEC event in Sacramento, lasted eight seconds.
Describing it is pretty easy. The referee got out of the way and Aldo connected on a flying knee. That's it. As Swanson puts it, "It felt like he cracked me in the face with a baseball bat."
Swanson (19-5), who fights Dennis Siver at UFC 162 this weekend in Las Vegas, has obviously moved past the loss by now. Unfortunately, certain fans have not.
"It gets brought up to me all the time," Swanson told ESPN.com. "People won't let me forget it. I've heard it a million times.
"I wish they were clever about it. So much time has passed that I would laugh about it, but people are so lame. I'll be like [on Twitter], 'I went to the store today and this happened,' -- something funny. Then somebody will go, 'Like the time you got kneed in the face in eight seconds?' It's like, 'Yeah, buddy. Exactly.'"
What's ironic about that is Swanson says the fans were the first thing he thought of when the fight went the way it did.
The featherweight bout was the co-main event that night in Sacramento, and Swanson knew it promised fireworks. Other fighters who had trained with both Aldo and Swanson knew it, too.
[+] Enlarge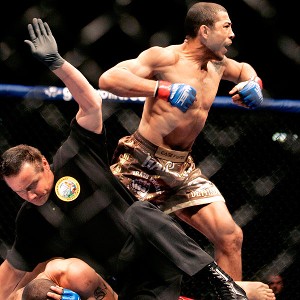 AP Photo/Jeff ChiuCub Swanson doesn't want his career to be defined by a humiliating loss to Jose Aldo.
"We trained with a few similar people, and they were like, 'You guys are identical athletes,'" Swanson said. "We both played soccer. We both like to throw. We're good at jiu-jitsu but would rather use our hands.
"When we squared off, we were exactly the same height and same build. There was a lot of hype on him and I was kind of hit or miss, but they knew if I showed up it would be a hell of a fight."
Well, Swanson didn't show up -- or Aldo just threw the perfect strike. However you look at it, the fight was over before it started, and that bothered Swanson like crazy.
"I went to the hospital that night to get my face stitched up and all I could think about was, 'I owe the fans a fight.' That could have been a legendary fight in the WEC, and I didn't approach it right."
If Swanson continues to perform as he has in the past 18 months, he'll get a second shot at that fight.
At 29, Swanson appears to have hit his groove. He'll take a four-fight win streak into the cage against Siver. The streak includes knockout wins over George Roop, Ross Pearson and Charles Oliveira.
One could argue the UFC hasn't really rewarded Swanson for his success. Despite the fact he finished Oliveira in the first round eight months ago, the Brazilian's fight against Frankie Edgar will be featured above Swanson's this weekend at UFC 162.
When Swanson agreed to the Siver fight months ago, he told the UFC to keep him in mind if anything happened at 145 pounds. Injuries happen. He assured them he would be ready to step into a higher-ranked bout on short notice.
When Anthony Pettis withdrew with injury from a title fight against Aldo scheduled for August, Swanson and his team picked up the phone, optimistic he had just landed a bigger fight.
"I had told them if Aldo, Pettis, [Ricardo] Lamas or [Chan Sung Jung] falls off, I want to be bumped up," Swanson said. "They laughed and said they'd cross that road when it comes up. When it did come up, we put in a call. They said, 'We're going to leave things the way they are.'"
The UFC ended up booking Jung to the title fight and dropping Lamas, who was scheduled to fight him at UFC 162, from this weekend's card.
Swanson says he was disappointed by the decision, especially the one that granted Jung a title fight, but he's content with his original opponent.
Time, after all, is relative. One bad moment four years ago has come to define much of Swanson's career. Who's to say one good moment in this fight won't do the same?
"In my mind, I'm always one win away from a title," Swanson said. "If I fight that fight that makes everybody go, 'Wow, he's unstoppable,' -- that's all I can do.
"I think I do pose the biggest threat to Aldo. I feel like my boxing is better than his. He's a kick boxer, with devastating kicks. Neither one of us cares to take it to the ground. I feel with my unpredictability and my boxing, I pose a big threat to him."
February, 12, 2013
2/12/13
12:45
PM ET
Dennis Siver
and
Dustin Poirier
are nothing alike. Siver is shaped like a fire hydrant with spring-loaded legs; Poirier is sleek and aerodynamic.
Cub Swanson
understands these obvious differences better than anybody right about now. He first had Siver in his sights for Saturday's fight in London. Then Siver got injured and morphed into Poirier, which required Swanson to reconfigure his settings on the fly.
[+] Enlarge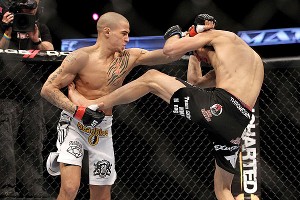 Ed Mulholland for ESPN.comDustin Poirier, left, presents an entirely different type of challenge than was originally planned for Cub Swanson.
Yet if anybody's been through the fight game's most active pun of "rolling with the punches," it's Swanson. He's had fights tailored, altered and scotched as much as the next guy.
"I had just gotten back from Albuquerque training with Greg Jackson and Mike Winkeljohn, and they said, 'OK, this is the way we're going to fight this fight [with Siver], these are the things we like,'" Swanson told ESPN.com. "Then I get back my gym in California [Tru MMA], and I get on the same page with my boxing coach and
then
they go 'Siver's out, here's a new guy.'
"The other guy [Siver] was a short, stocky, standard fighter, and the new guy [Poirier] is a tall, lanky southpaw. I just kind of laughed. I had a feeling something was going to happen, so I said, let's do it. I was excited because I like fighting guys who are a little bit different every time, and I feel like it shows depth in my game."
The Poirier-Swanson co-main event at UFC on Fuel TV 7 looks good on paper. Poirier rebounded from his loss to
Chan Sung Jung
in a No. 1 contender spot by choking out
Jonathan Brookins
in December. Swanson is coming off of a knockout victory over
Charles Oliveira
at UFC 152, which will always be remembered for Oliveira's delayed shutdown process after absorbing a couple of body shots and then the big overhand.
In fact, it was the third knockout win in a row for Swanson, who re-emerged in 2012 as a contender at 145 pounds. Just like that, there's power in his game again.
"I thought about dropping down to 135, started dieting down, but I didn't feel very good and started to get weak," Swanson says. "I decided to give weightlifting and strength training another shot. The first few times I tried lifting weights I didn't like the way I felt, and we finally developed a way of working out where I wouldn't lose my speed.
"I walk around about 175-180 pounds, and get up to about 185. I was 185 when I got the phone call for this fight. I put on a lot of size, and I don't feel like I've lost any of my speed. I have my accuracy and my speed and finally have some power behind it. I'm not worried about breaking my hands anymore. It's all coming together."
Suddenly the featherweight division -- which has always been a popular destination for resurrectionists and transplants such as
Frankie Edgar
,
Clay Guida
and
Nik Lentz
-- is strong. So strong, in fact, that the "Korean Zombie" and
Ricardo Lamas
are waiting on title shots while
Jose Aldo
defends his belt in August against
Anthony Pettis
. Figure in
Chad Mendes
and up-and-comers such as Poirier and Swanson, and 145 begins to look like one of the deeper divisions in the UFC.
So where would a win stack Swanson in the grand scheme of things?
"I know I'm right up there," he says. "I'm not afraid of anybody. I have a pretty good record and my losses are to the top guys. I want to get back in that mix, and be mentioned in the top featherweights. As far as title fight talk, I just want to be mentioned -- I don't really care about it right now, I'm just enjoying the ride and enjoying winning fights."
Swanson refers to his rough patch between 2009 and 2011 as "growing pains," mixed with a little bad luck. In that stretch he went 2-3, with losses to Jose Aldo, Chad Mendes and Ricardo Lamas. In other words, he lost to the division's elite. At some point, he says, "I'd love to get those losses back," but heading into Saturday's fight there's a renaissance going on with Swanson. It's in his voice. It's a kind of emphasis that comes with experience and prioritizing. What it says is that wins and losses and pecking orders are all fun conversations.
But his emphasis is on remembering why he's in the fight game to begin with.
"I'm finally enjoying what I do," he says. "I don't do a whole lot of interviews usually. I just like training hard, fighting, and getting back to my normal life."
And the wiser Swanson feels he's looking at his past when he sizes up Poirier.
"I think he's a tough kid," he says. "He's gotten this far off of being well-conditioned, having a lot of heart and being well-rounded. He kind of reminds me of myself a couple of years ago. I just don't feel like he's turned that corner yet and I feel very good about this fight.
"I feel like he plays into my style very well and it's going to make for a good fight."
December, 13, 2012
12/13/12
11:17
AM ET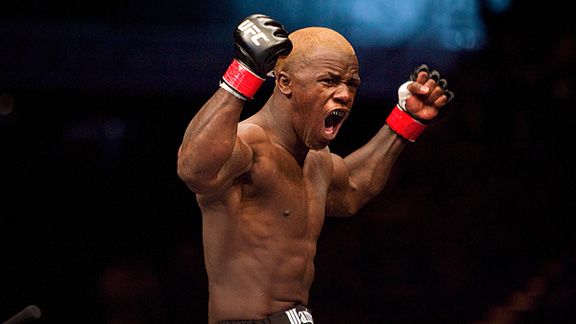 Josh Hedges/Getty ImagesMelvin Guillard is looking to rebound from a first-round knockout loss to Donald Cerrone at UFC 150.
When
Melvin Guillard
stepped into the Octagon against
Donald Cerrone
at UFC 150 in Denver, it became a night of dubious firsts, because Guillard had never missed weight before, and he had never been knocked out.
You know how things unfolded.
The late booking between longtime buddies went down at a catchweight of 157.5 because Guillard -- fighting for the second time in a month -- couldn't shed the 20 pounds necessary without compromising his health. It was the first time he'd failed to make weight in his career, and it cost him 10 percent of his purse.
And then, after staggering Cerrone very early, he took a head kick and a subsequent punch that dropped him cold. Boom. Guillard, whose chin has stood up through 44 professional MMA bouts, was knocked blotto for the first time in his career.
It was not the kind of firsts Guillard was looking for. But then again, he
did
take the fight on only a few weeks' notice after having gone through a big weight cut for his fight with
Fabricio Camoes
at UFC 148.
"What happened in Colorado was I'm sweating good and everything's going great and then about halfway through the cut my body wouldn't produce a sweat," Guillard told ESPN.com. "That was because a lot of my vital organs were shutting down, and my body was saying
hell no
. From a medical standpoint I could have hurt myself a lot more. It made it a little more embarrassing than anything. It was embarrassing for myself, and it was embarrassing for the sport."
The silver lining was that both Guillard and Cerrone took home $60,000 for fight of the night honors. That part was nice. The colder reality of it was that Guillard lost for the third time in four fights while Cerrone hurtled off into contention. A year ago it was Guillard who was riding a five-fight winning streak into Houston against
Joe Lauzon
, potentially as the No. 1 contender.
Regrets? No, Guillard just wants to see some favors returned.
"I have no regrets, but 'Cowboy' owes me a fight in New Orleans," Guillard says. "If that card ever pops up in New Orleans again, he owes me that redo in my hometown."
Needless to say, it's been a tough 2012 for Guillard, but he has a chance to end it on a high note against
Jamie Varner
on Saturday night at the Ultimate Fighter 16 Finale in Las Vegas.
Though Varner's coming off of a loss, too, he arrives from the other end of the spectrum, and the erstwhile WEC 155-pound champ is in the process of resurrecting his own career. He made the most of his second chance by scoring an upset victory over
Edson Barboza
as a fill-in back in May. And though he ended up getting choked out by Lauzon in August, it was a back-and-forth fight that won FOTN.
If you follow the fight game, you know these things are always circular, as it was Lauzon that snapped Guillard's five-fight winning streak at UFC 136. In any case, draw up the Guillard-Varner fight on paper and you will be looking at a sketch of a burning barn.
"Jamie's a good guy," Guillard says. "I've never had any animosity towards him, and I think he's a hell of a fighter. I'm honored to even fight the guy -- he's the former WEC champion, so I'm looking forward to it being knockout of the night, and maybe even fight of the night for both of us.
"Don't get me wrong, though -- he's a great guy and all, but I still plan on knocking his head off his shoulders. For me, I don't need to build fake animosity and fight a good fight. I love to fight and I love to perform, and I have an opportunity again to put on a great show before the end of the year."
Guillard, who has been training at the Blackzilians in Delmar Beach, Fla., for the past year, is due. Going back to his knockout of
Dennis Siver
at UFC 86, there's been a clear pattern. He got knockout of the night against Siver, went five fights, then knocked out
Evan Dunham
and earned knockout of the night again.
Guess what? That was five fights ago. Time for him to showcase his hands again?
"You know me, man, it's always time for that," he says. "But the big thing is, I've been doing a lot of jiu-jitsu with my team down at Blackzilians. I actually competed with the Gi and No-Gi tournaments, and I've been doing very well. I'm excited about my all-around game right now.
"And I know in the back of Jamie Varner's mind -- he's not crazy, he has a puncher's chance -- but I think the odds are always in my favor when it comes to striking. He's a dynamic striker, don't get me wrong, but when guys step in the ring with me, they don't really want to trade punches. I'm probably the hardest-hitting 155er in the class right now. I think Varner, when he gets hit with the first one, he's definitely going to try and take me down to the ground."
Probably. And it's also Guillard's chance to get back up.
April, 13, 2012
4/13/12
11:32
AM ET
It's been six weeks between Zuffa events; plenty of time to contemplate
Marlon Sandro
decked out as the Bellator icon. And if there's ever been a six-week span where so much wonderment has gone into the amount of testosterone found in horse filets, I'd like to hear about it.
But beginning Saturday in Stockholm, the UFC gets back to its furious pace. Over the next several weeks, there will be UFCs to keep us busy, all of them stubbornly numbered in pay-per-views, in FOX, FX and Fuel shows -- not to mention the occasional Strikeforce event. As such there will be a lot of debuts from guys like Yoislandy Izquierdo and Sweden's own Magnus Cedenblad. The producers of Starz's Spartacus could never have invented such fitting names for its crop of warriors.
Here's a look at five things to keep an eye out for at UFC on Fuel TV 2, and some storylines that might (or might not) be of immense interest to you.
Gustafsson's handling of the spotlight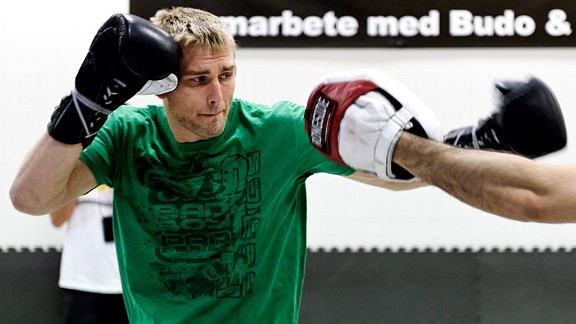 Martin McNeil for ESPN.comCan Alexander Gustafsson handle the pressure and deliver a breakout performance?
It's not only a homecoming for
Alexander Gustafsson
, but it's his first main event on a card specifically designed with him in mind. And it's his first time fighting as a true cusp contender from both a marketing standpoint as well as from the general notion that he's part of what's left out there for
Jon Jones
at 205 pounds. That's a lot of pressure for the 25-year-old from Arboga, Sweden. But it's the kind of pressure that comes with sustained success in a league founded more or less on attrition.
Gustafsson will be fighting
Thiago Silva
, who was originally supposed to be
Antonio Rogerio Nogueira
. Which is the more imposing foe? Probably Silva, who has only lost twice in his career, and each of those were against former champions (
Rashad Evans
and
Lyoto Machida
). Silva would be a huge notch for Gustafsson, enough of one to rev up the title talk. And coming in, it's hard to find much wrong in the Swede's game since losing to
Phil Davis
at UFC 112. It's not that he beat four guys in a row, but he finished them all, twice by TKO (
Vladimir Matyushenko
and
Matt Hamill
), and twice by rear-naked chokes (James Te Huna and
Cyrille Diabate
).
If he adds Silva to that casualty list, it means the "Mauler" has truly arrived.
Silva's potential ring rust and mental state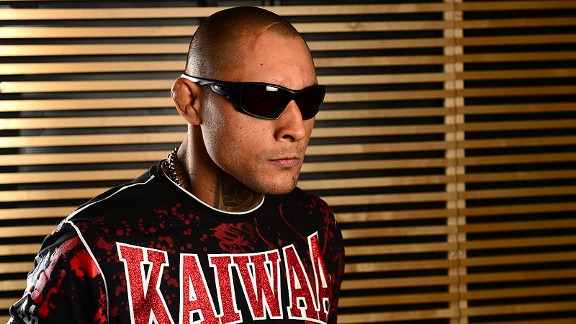 Martin McNeil for ESPN.comThiago Silva has a whole lot of ring rust to shake once he steps into the Octagon.
In a time when commission findings get more headlines than the fighters themselves, we must remember that Thiago Silva was the original bizarre. After his UFC 125 drubbing of
Brandon Vera
, the Nevada State Athletic Commission suspended Silva when it was discovered that his prefight urine sample turned up "inconsistent with human urine." He tried to mask banned substances by submitting urine that he ordered online. This didn't work out. To his credit, Silva admitted right away to his course of folly and took his punishment, which included a yearlong suspension.
Well, it's been 16 months since the Vera fight, and through a beneficial set of circumstances he ends up in a main event. The UFC tried to set up a rematch with Vera. When Vera was a no-go, the UFC tried to stick Silva in there against a tough but not-so-glamorous
Igor Pokrajac
.
Then
they needed a viable opponent for Gustafsson when Lil Nog went down. Enter Silva, who is still a top-10 light heavy in the UFC. Yet you have to wonder if the time away from the cage, the mental taxation, the travel, the fact that he's fighting a rising star in a rising star's homeland, and the oppositional musical chairs will hinder him in some way.
If none of that matters, it means Silva right where he left off before those ongoing back issues led to some monstrously bad decision-making.
Dennis Siver as a featherweight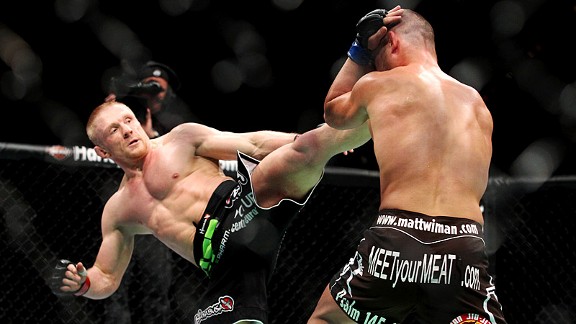 Ed Mulholland for ESPN.comDennis Siver is taking his high-kicking act to featherweight.
He was no slouch as a lightweight, but German fighter Dennis Siver wanted to try his hand as a 145-pounder after losing his footing in the 155-pound title race to
Donald Cerrone
. His first opponent as a feather?
Diego Nunes
. And if you remember, when
Kenny Florian
made his much-ballyhooed drop to 145 pounds, he was greeted by Nunes in his new weight class, too.
As a symbol, Nunes has helped more people lose weight than trainer Mike Dolce.
How will the weight cut play a role for Siver? It remains to be seen, but the kickboxer was knocking off some pretty tough guys as a smallish 155er -- guys like
Matt Wiman
,
Spencer Fisher
and
George Sotiropoulos
. In other words, he's a wily vet.
Brian Stann getting his brawl back on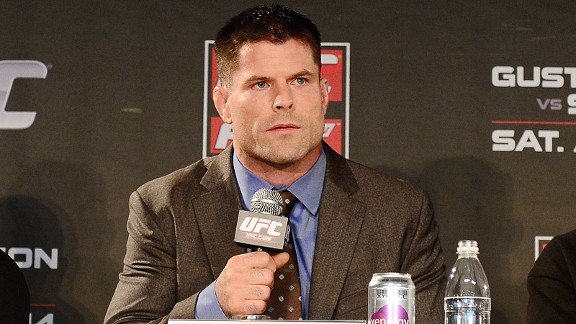 Martin McNeil for ESPN.comNo wrestling necessary: Brian Stann can get back to standing and trading on Saturday.
The bane of Brian Stann's existence so far as a professional mixed martial artist is wrestling. He was dominated on the ground by Phil Davis and, after dropping down to 185 pounds, ran into
Chael Sonnen
at UFC 136 and suffered the same fate. It's been a long six months since then.
Yet lucky for Stann,
Alessio Sakara
-- the free-swinging Legionarius -- would just assume gather up all the singlets and have a bonfire. He was recently outwrestled by
Chris Weidman
, and it left a bad taste in his mouth for no other reason than it wasn't his kind of fight. That is to say, it wasn't a brawl. In fact, going back to his 2006 bout with Drew McFedries, any Sakara fight in which there was a finish has always come by KO or TKO. He was on the wrong end of those nearly as often as he wasn't.
Think this thing is tailor-made for Stann? Could be. But there are plenty of people in Italy thinking the exact same for Sakara.
Damacio Page on the plank
This might be the fight of the night -- two tightly wound bantamweights coming off of losses, each of whom brings it every time. Between
Brad Pickett
and Damacio Page, Page is the one on the slipperier slope, having lost back-to-back fights to
Brian Bowles
and
Demetrious Johnson
. In both of those he was choked out via guillotine.
That's not likely to happen against Pickett, whose nickname is "One Punch." If Page loses here, it'll likely be by decision or because he got caught. With Greg Jackson in his corner and some intangibles (read: survival mode), it might set up a perfect storm to revisit the Page of 2009, the one who fought a grand total of 1 minutes, 20 seconds in finishing off Will Campuzano (via rear-naked choke) and
Marcos Galvao
(via punches).
Either way, this looks like the great unsung fight that could steal the show.
March, 18, 2012
3/18/12
7:39
AM ET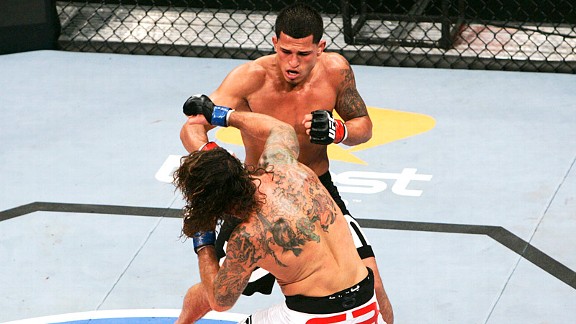 Marc Sanchez/Icon SMIAnthony Pettis flirted with a move to featherweight, but ultimately passed on the idea.
When the UFC introduced the featherweight division into its ranks at the beginning of 2011, it was as if the floodgates opened for two types of lightweight -- those who were small for 155 pounds, and those losing at 155 pounds. Joining up with the smaller class of men, under the aegis of the UFC, spelled out second chances, reinventions and broadened opportunity.
That's why company brand names found themselves shoulder-to-shoulder in the sauna.
Kenny Florian
,
Tyson Griffin
,
Ross Pearson
,
Manny Gamburyan
... even skinny
Darren Elkins
wrung his muscles of moisture to make it. As for the accordion-thick kickboxer,
Dennis Siver
? Just know that the threat is still there.
Yet for the most part, these days a drop to featherweight feels more like a demotion than an exodus. Either that, or the more people became familiar with
Jose Aldo
, the more the alternative path to glory presents itself as an unhealthy one. However you cut it up, the 145-pound division isn't salvation anymore. And that's why
Dustin Poirier
had better be ready for the title gig if he beats
Chan Sung Jung
in May (and vice-versa), and
Hatsu Hioki
had better start smiting his chest after wins. None of the big guns in the lightweight division want anything to do with the featherweight strap right now.
In the past couple of weeks we've seen it. First the chants of
Frankie Edgar
to drop to 145 pounds became loud when Dana White got to nudging things along. When Edgar refused to budge and was reluctantly granted a rematch against Benson Henderson, the focus switched to the odd man out of the lightweight title picture,
Anthony Pettis
. Here is a lean, dynamic striker that suddenly could be thrust into a default title shot against a lean, dynamic striker who surfs (both crowds and waves).
Perfect, right?
Not really. Though there was some mild flirtation from Pettis's camp that he'd be open to the idea, upon reflection the final word was "no." Pettis tweeted that he was staying at 155 pounds where there was a lot of unfinished business.
[+] Enlarge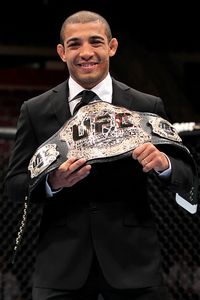 Ed Mulholland for ESPN.comLightweight contenders aren't exactly clamoring for a chance at the featherweight title.
Of course, in the two aforementioned scenarios the common link is Henderson. Edgar lost a close decision and was asking for some return love for his open-mindedness toward rematches throughout his time as champion. His case was so strong that the UFC relented. Pettis is the last guy to defeat Henderson, and he didn't just beat him -- he posterized him with that Matrix kick at the WEC finale. Though his chance at a title shot at 155 pounds could be a couple of fights off and a year down the road, he wants to pursue what he started. Good for him.
But you do have to wonder why one belt looks that much more desirable than the other. Yes, the lightweight division is deeper, has bigger fights and is uber-competitive -- but there's no waiting line to Aldo. Pettis, who has a very stylish fashion sense, is a very select shopper when it comes to accessories, too. Winning just any belt won't do for somebody -- the reigning WEC lightweight champion, no less -- who's had his heart set on a specific one for so long. People have been quick to understand his decision. Don't rush to conclusions. You don't just jump around divisions. That sort of thing.
There are, however, guys who have and who've done it well.
B.J. Penn
has held gold in two weight classes, and
Dan Henderson
stands at the ready to fight in any of three weight divisions. Nothing they did was irreversible, nothing was ever deemed permanent. They just happened to be at cusp weights that could go either way, much like Edgar and Pettis. Greatness is rarely so specific, anyway -- why not pursue a collection of hardware? Isn't this what
Jon Jones
is talking about when talking of an eventual move to heavyweight?
Pettis likely has his reasons (having Henderson's number is chief among them), but a lightweight title shot might be a dangling carrot forever just out of his reach. Right now the UFC is saying that the winner of
Nate Diaz
/
Jim Miller
will fight the winner of Edgar/Henderson, the latter of which is being discussed for August. That makes his road to a title a very long, detouring one with no guarantee of an end.
And that he's willing to take it instead of clashing with Aldo tells you that the featherweight division isn't as enticing. Either that, or Aldo has gained a little invincibility.
December, 31, 2011
12/31/11
2:57
AM ET
LAS VEGAS -- The volume in which
Donald Cerrone
fought in 2011 couldn't catch up to the volume of jabs coming at him as the year closed out. Cerrone looked to become the first fighter to win five fights in a calendar year in the UFC since
Roger Huerta
in 2007 when he fought
Nate Diaz
at UFC 141.
Didn't happen, as Diaz outboxed Cerrone through three rounds en route to a unanimous decision (30-27 twice, 29-28).
In a year where he was perpetually thrust onto cards, on short notice and with full training camps, against familiar foes and stand-ins, Cerrone insisted that he didn't overextend himself in 2011. In fact, "Cowboy" made it clear he's willing to fight as often as he's needed.
"No, a lot of people were saying that, like I took too many fights -- no I didn't," he said at the postfight newser. "Sometimes you show up, sometimes you don't. I felt flatfooted -- I'm not making any excuses. [Diaz] went out there and was better than me, and that's all there is to it. I'll take 20 fights next year, I don't care. Some days you show up, some days you don't. And like I said, the dude's a warrior."
Cerrone, who was on edge heading into the fight as the feud between him and Diaz escalated throughout the week, rushed in from the bell, looking to settle things as quickly as he did
Charles Oliveira
and
Dennis Siver
in his previous bouts (each first-round finishes).
But it was evident early on that Diaz was ready for the onslaught, as the Stockton, Calif., native began landing his trademark jabs in volume and using his reach to mix in some combinations. Diaz strafed him from a distance at will, and, though Diaz had his legs kicked out from under him on numerous occasions, Cerrone never followed him to the ground. Instead, Cerrone opted to cooperate with Diaz on the feet.
Why?
"I wanted to stand, I wanted to play," he said. "And I got outboxed. I talked a lot of s---, and the bigger, badder dog showed up tonight. My hat's off to [Diaz], and it was a good fight. And I'd do it again. That's the one promise I make every fight, [that I'll fight] to the end every time."
In other words, Cerrone doesn't have any regrets for either fighting too often in 2011 or for his approach heading in to UFC 141. There was a lot of talk that, should he get by Diaz, he might be next in line for a shot at the lightweight title against the winner of Benson Henderson/
Frankie Edgar
. But that was mostly media fodder; Cerrone just wants to fight. Even if the guy he's fighting mirrors his moving-forward approach and keeps bringing it for three rounds.
"It's awesome," Cerrone said of fighting the aggressive Diaz. "It's what I like to do, and to have it done to me ... that's what makes fights, right? That to me was fun. That was a good time. I mean, we're standing there and throwing and that's what everybody likes to see. So I'm glad I didn't quit, I'm glad he didn't quit ... What else can you ask us to do? I think I gave you everything I had."
He did, and 2011 was a memorable run. And hey, going 4-1 in a calendar year is nothing to hang your head about.
October, 27, 2011
10/27/11
4:47
PM ET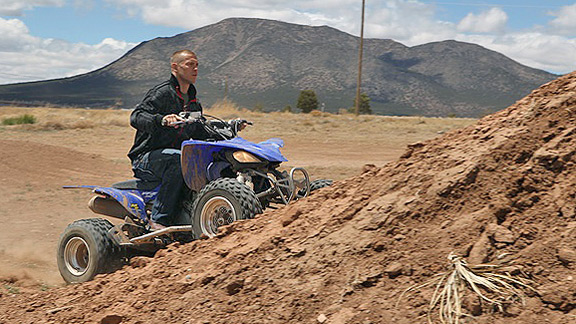 Dave Mandel/Sherdog.comNext stop: featherweight? Donald Cerrone says he has a bit of business to attend to there.
Donald Cerrone
knows what he's doing, and this is just one of those situations where a five-fight winning streak and this weekend's catapult bout to the lightweight title picture adds up to
Nam Phan
. It's almost a cliché at this point -- all roads lead to Nam Phan, one of the game's notorious heels.
This last part is obviously a lie (Phan isn't a notorious anything) -- but the first part? The first part appears to be a confounding truth.
Cerrone is a unique fighter, and if there's an added wrinkle in his game heading into this weekend's fight against
Dennis Siver
it appears to be vendettas. Phan recently decisioned Cerrone's teammate/ranch hand
Leonard Garcia
in a rematch at UFC 136. This didn't stick in Cowboy's craw so much as Phan's comments that Greg Jackson and the coaching staff out in Albuquerque were not working things correctly.
Now Cerrone is telling the media ahead of his UFC 137 fight with Siver -- who is built like a Russian accordion and has won four in a row of his own -- that he will drop to featherweight to fight Phan when this thing's over. Not maybe, but
will
drop down, according to an interview with MMA Weekly. While there, he'll test the waters for what might be a quick climb toward
Jose Aldo
. The Aldo carrot acts as media filler for now, something to hitch a story to.
[+] Enlarge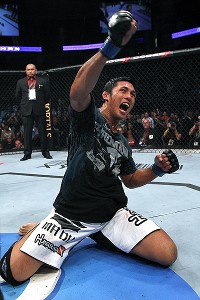 Nick Laham/Zuffa LLC/Getty ImagesNam Phan's actions and comments aren't sitting well with Donald Cerrone.
That's because Cowboy, who deals best in short-term situations, says what he really wants is to bring that Phan to justice, that kid that walks out to Foster the People and goes about opining on stuff he just don't know about.
Cole Miller
, who has been angling for a fight with Cerrone himself, might want to take notes. Phan hit a nerve, and this has a "meet me at the flagpole after school" vibe where Cerrone wants to offer physical proof of what's being taught at Jackson's.
Right. But Phan? What would be the point? When did changing his mind become such a priority?
If Cerrone goes down to featherweight and smashes Phan, this will teach somebody a lesson (that he's better and more disciplined than Garcia maybe) and do nothing otherwise. He'd be a vast favorite. It's easier to believe that Cerrone is ultimately contemplating going down to 145 pounds for a run at Aldo's belt, because making a cameo appearance for these expressed purposes just seems cruel and unusual.
And then again, to believe that, we'd be ignoring logic. In going to featherweight in pursuit of Aldo's belt he'd be leaving a division where he's already installed as a contender to Edgar's. Maybe Siver renders the whole thing moot, but at this point, Cowboy clearly isn't interested in traditional motivations (like titles) so much as changing fool notions. He's gone 0-3 in title shots in the past, and his standing in all these theoretical rankings is a mess he doesn't need.
It's a maverick attitude that is both fun and confusing to linear tastes. Think Edgar should feel the threat coming up the rungs? No, not with a loud mouth in Orange County out there making the wrong kind of noise.
That's what you've got to love about Cerrone; his is Old West reckoning. Fights are personal.
July, 17, 2011
7/17/11
9:22
AM ET
July, 11, 2011
7/11/11
11:48
AM ET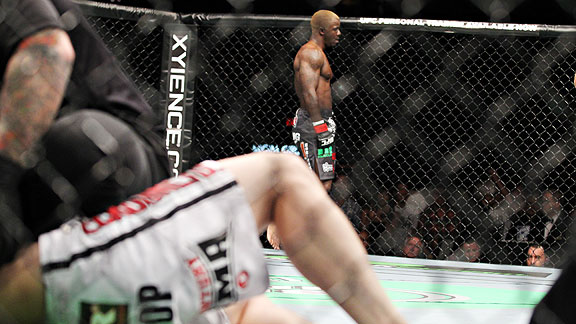 Ed Mulholland for ESPN.comLast man standing: Melvin Guillard would like his chances in a lightweight free-for-fall.
Two weeks ago,
Melvin Guillard
opened up a can of worms by suggesting to ESPN.com that the only way to sort through the lightweight division's growing list of contenders was to hold a 155-pound grand prix.
This idea was, of course, ludicrous. Then it wasn't. Then it became a topic of philosophical discussion, to the point that Heavy.com asked Dana White about it ahead of UFC 132. While White didn't exactly embrace the idea, he didn't say no, either.
"A lot of fights aren't making sense, and I don't really have a choice [but to fight
Shane Roller
] because of the traffic jam with the weight class," Guillard said at the time. "[Frankie] Edgar/[Gray] Maynard still haven't fought again, so right now everybody's at a stand still. The only solution I see is them doing a 155-pound grand prix tournament, and putting everybody in brackets and weeding [out] the losers to giving a true No. 1 contender a fight here in the next year or so."
This seemed like a fairly open-minded way to think, but highly unlikely given the scheduling complexities it would present. But when you think about the inherent interest in such a tournament, with the likes of
Clay Guida
, Guillard,
Dennis Siver
,
Donald Cerrone
,
Ben Henderson
,
Anthony Pettis
, and possibly
Gilbert Melendez
among the participants, it begins to at least pique the imagination. There are a lot of lightweights who dig the idea too, beginning with the man that it would benefit least --
Gray Maynard
-- who is already locked into a title shot against current champ
Frankie Edgar
.
"I like grand prix's -- I like the tournament style," Maynard told ESPN.com. "I wish there was more of the tournament style. To me, in wrestling, the state tournament, the national tournament, the NCAAs, it was about winning. Getting to that championship and that's where you shine. Obviously the key is to beat them as good as you can, and that usually happens in the earlier rounds, but as you get up, then it's going to be tougher fights, tougher matches."
It's the old idea of survival and ascension that speaks to the former all-American wrestler Maynard, and the pending No. 1 contender,
Jim Miller
, has a similar outlook on this hypothetical grand prix. He's locked into a fight with Ben Henderson on Aug. 14 in Milwaukee, and he -- like many -- can't see how the scheduling could work out.
"I think a grand prix would be fun," Miller said. "It leads to a lot of good match-ups, and it would be exciting to watch. I don't really think it's that feasible right now -- it's just too hard with all the match-ups that they have made already. There are few guys with good runs between myself, Melvin [Guillard], Clay [Guida] … but it's hard because everybody's got fights booked. But you know what? Anything can happen."
Anything
can
happen. That's what we have to remember before dismissing the idea.
That's why
Fedor Emelianenko
is getting ready to fight
Dan Henderson
outside of the heavyweight grand prix in Strikeforce. It's one of the reasons they're taping the 13th season of the "Ultimate Fighter," because there's something about win-or-go-home situations that makes for good television. Everybody talks about the parity in the UFC's lightweight division. Why not add some fan-friendly attrition to the mix? And, one would hope, some clarity?
If the UFC wanted to do a lightweight grand prix, it could. Right now Pettis, Guida, Guillard, and Siver are without fights. Ben Henderson and Jim Miller fight in August, as does Donald Cerrone. And, though it's been sworn that he won't jump ship for the UFC, current Strikeforce champion Melendez is currently without a fight. Leaving Maynard and Edgar out of it, and even Jim Miller, who might not be willing to forfeit his title shot should be beat Henderson in Milwaukee … couldn't the rest be divvied into brackets? Surely.
Problem is even Maynard and Miller wouldn't want to be left out of something that speaks so directly to their competitiveness. Mere logistical problems. But even if it's a long shot to happen, you've got to admit that lightweight grand prix would be fun.
July, 6, 2011
7/06/11
11:17
AM ET

By Franklin McNeil
ESPN.com
Archive
UFC bantamweight champion
Dominick Cruz
might have to savor his unanimous decision win Saturday night over
Urijah Faber
for a while.
The Nevada Athletic Commission released its medical suspensions to ESPN.com on Tuesday for fighters who participated in UFC 132, which was held July 2 at MGM Grand Garden Arena in Las Vegas.
Cruz is required to have his right hand x-rayed. If the results are positive, Cruz must be cleared by an orthopedic doctor or he won't be allowed to compete until Dec. 30.
Faber must have his right hand, right wrist, right shoulder and chest x-rayed. If the results are positive, Faber must be cleared by an orthopedic doctor or he too will not be allowed to compete until Dec. 30.
Regardless, Faber can't compete until Aug. 17, and must not have contact until Aug. 2.
Wanderlei Silva
, who was knocked out in 27 seconds by
Chris Leben
, is suspended until Sept. 1. He can't have any contact until Aug. 17.
Dennis Siver
(forehead lacerations) is suspended until Aug. 17, and can't have contact until Aug. 2.
Ryan Bader
, who was submitted by
Tito Ortiz
, is suspended until July 24, and must avoid contact until July 17.
Both
Dong Hyun Kim
and
Shane Roller
must have right orbital fractures cleared by an ear, nose and throat doctor or ophthalmologist. Otherwise, neither can compete until Dec. 30.
Regardless, neither Kim nor Roller can compete before Sept. 1. They also must avoid all contact until Aug. 17.
Melvin Guillard
(cut under right eye) is suspended until July 24, and can't have contact until July 17.
George Sotiropoulos
, who was KO'd in the first round by
Rafael dos Anjos
, is suspended until Sept. 1. He can't have contact until Aug. 17.
Brian Bowles
must have his right hand X-rayed. If the results are positive, Bowles must be cleared by an orthopedic doctor or he will not be allowed to compete until Dec. 30.
He is under minimum suspension and can't have any contact before July 24 or compete until Aug. 2.
Donald Walker (laceration on right eyebrow) and Brad Tavares (laceration on left eyebrow) are suspended until Aug. 2 and neither can have contact before July 24.
Andre Winner
is suspended until Aug. 2, and can't contact before July 24 due to facial bruising.
Anthony Njokuani
, who defeated Winner by unanimous decision, must have a contusion on his lower left leg cleared by a physician or he can't compete until Dec. 30.
Njokuani also chipped a lower right tooth.