May, 29, 2012
5/29/12
1:12
PM ET

By Chuck Mindenhall
ESPN.com
Archive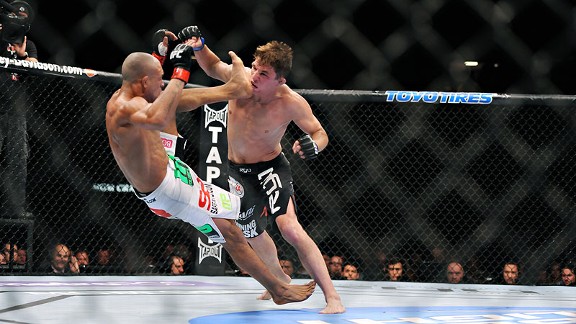 Rod Mar for ESPN.comTripped up: Diego Brandao's "can't miss" stock took a hit on Saturday.
At the end of April, prospects
Rory MacDonald
and
Michael McDonald
did work at UFC 145 in Atlanta. MacDonald's work was a showcase fight with an outmatched Che Mills, while bantamweight McDonald's was an eye-opening win over
Miguel Torres
.
Today, both are being speculated in title talks. That was April.
May has not been so kind for prospects and buzz names in the UFC. First it was featherweight
Dustin Poirier
, who was made a centerpiece for his UFC on Fuel fight with
Chan Sung Jung
. He was being groomed as the next in line for the
Erik Koch
/
Jose Aldo
winner, and was riding the wave of intrigue when the "Korean Zombie" happened. Who was this Jung, and where did he spring from? This version was light years removed from the stumblebum who traded with
Leonard Garcia
for three rounds back in the WEC.
The fight game is full of surprises. Suddenly, it's Jung closing in on a title crack instead of Poirier, who is forced to treat the whole thing as a set back.
And he wasn't the only fresh batch to be thrown out. At UFC 146 in Las Vegas, two more prospects went down.
There was 24-year old Diego Brandao, whom many people were talking about the first big talent to come off the "Ultimate Fighter" series in years, who lost to a resilient
Darren Elkins
. Extract the Brandao of the first round and spread it over three, and there's the star in wonder. But, as everybody knows, fights have moods. Elkins came roaring back. Brandao succumbed.
[+] Enlarge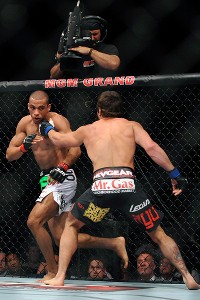 Rod Mar for ESPN.comEdson Barboza was on the fast track toward a title shot -- until this happened.
And then there was
Edson Barboza
, who scored what might be the knockout of the year against
Terry Etim
at UFC 142 with that spinning wheel kick. He lost to an opportunistic replacement in
Jamie Varner
in his follow-up.
Of all of the upsets to occur in May, this one stands out as the true thud. With Poirier, you knew Jung would be tough, and Brandao is still green enough to trip. But Barboza? He was undefeated and fierce and fighting a guy who was largely thought to be washed up and recycled out of necessity. He was fighting the replacement. Nobody saw Varner coming. Not many believed in Varner's second coming the first time through.
But Varner became to Barboza what
Charlie Brenneman
was to
Rick Story
a year ago, back when Brenneman took the fight on late notice when
Nate Marquardt
was plucked for high testosterone levels. He became a monkey wrench. Story was on pace for a title shot in the welterweight division and was calling out guys like
Jon Fitch
after dominating
Thiago Alves
. When Brenneman was dealt in just 24 hours before the fight, it felt like he was nothing more than a warm body being stuck in there to salvage the card.
On Saturday, Varner was thrown in there for the injured
Evan Dunham
-- and Varner made the most of it. Dunham has seen this stuff before. Remember when
Kenny Florian
got hurt, and
Melvin Guillard
stepped in to face Dunham? Same thing. Guillard heard the buzz coming off of Dunham's name, and muted it. It happened to Guillard later against
Joe Lauzon
. Lauzon did it to
Jens Pulver
back in the day.
Fighters have been linked by travesty forever.
If these outcomes tell us anything it's that A.) there's no such thing as a warm body in the UFC, and B.) the greatest motivation heading into a fight is to be counted out of it. It's what makes MMA fun. You can't pencil people into the title picture without using your eraser.
Now Varner is back. Elkins is mean. Jung is a contender. And those other guys, the ones they beat? It's back to their relative obscurities and rededications.
This is a sport where gimmies are hard to come by.
January, 4, 2012
1/04/12
7:34
AM ET
England's
Ross Pearson
is ready to do anything to prove he is worthy of a UFC title shot, even if it means officially welcoming Diego Brandao to the featherweight division.
More »
December, 4, 2011
12/04/11
1:58
AM ET

By Chuck Mindenhall
ESPN.com
Archive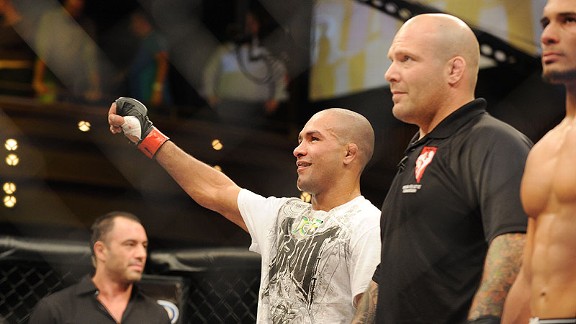 Al Powers for ESPN.comDiego Brandao lived up to the potential he showed throughout the TUF season.
LAS VEGAS -- We knew that Diego Brandao had punching power.
He demonstrated that all season on "The Ultimate Fighter" Season 14, and it's one of the reasons why the Greg Jackson fighter was a heavy favorite coming into his fight with Dennis Bermudez for the featherweight contract. He obliterated Jesse Newell to get in the house in 45 seconds. Then he greeted Steven Siler with an acrobatic flying knee, before landing a left hook to finish him in 33 seconds. He knocked out Brian Caraway in the first round, too.
Throughout these brief, punishing glimpses, it never felt like an even playing field -- it felt more like one man's mission. Though he had fought and lost plenty in his young career (14-7), the Brandao that was rolled out in the featherweight field on TUF 14 was head and shoulders above the rest. And he only used his hands. His Brazilian jiu-jitsu that was touted beforehand remained a minefield that was never trespassed upon.
On Saturday night, it was clear that the 24-year-old wanted to continue his streak of knockouts against Bermudez at the finale. He flung the big right to that end when he got space, but in one over-zealous moment ate a straight right hand that crashed into his jaw. It was a track-stopping collision that made his legs go limp. He crumpled.
And only then did we see the full scope of "Ceara's" potential.
In what might be the best single round of MMA action in TUF history, Brandao's slick ground game surfaced and he turned the tables. He caught Bermudez with a beautiful armbar that was forced out of necessity. The submission was a single motion. It was almost instantaneous. From the guard. While recovering.
It was over that quickly.
To hear him tell it afterwards, the whole thing was just a live piece of destiny emanating from his faith.
"The mission's over, you know?" he said in the postfight news conference. "The mission's over. I've been in the war for three years in the United States. I don't see my family. I try to speak English, and it's so hard ... I tried to work so hard."
Brandao picked up two end of the night bonuses (fight of the night and submission of the night) for a total of $80,000. He wants to reunite with his family and do charity work in his native Brazil. He's a very likeable, very humble fighter. It's easy to pull for a guy in those circumstances.
But on the final show on SpikeTV, which had the auspicious beginnings of now fabled
Stephan Bonnar
/
Forrest Griffin
fight that aired in 2005, he might be the first believably dangerous fighter to come out of the series in years. He is skilled wherever the fight takes place, and has a fire burning in him to bring his family to the United States. To top it off, he proved he has a granite chin -- an extension of heart. Not many people could have taken that shot from Bermudez and survived.
"In my gym I trained so hard for this fight," he said. "I know Dennis; I think he's coming from [a] wrestling technique, but he started boxing, and I said OK, let's go box. And he caught me ... I waited for the moment to pull the armbar because I'm a black belt in jiu-jitsu. When I go down, I feel confident. This I've been training for 14 years ... when he punched, I locked, and [swept]. And [it was] over."
This mission is over as well. But his is a promised future that's only beginning.