April, 16, 2013
Apr 16
3:17
PM ET
By Andrew R. Davis
ESPN Stats & Information
Archive
UFC on Fox 7 will air on free network television from the HP Pavilion in San Jose, Calif., Saturday night. In the main event, UFC Lightweight Champion
Benson Henderson
will defend his title against the debuting #1 contender
Gilbert Melendez
, who was the final Strikeforce lightweight champion. In the co-main events, Strikeforce Heavyweight Grand Prix winner
Daniel Cormier
will face former UFC heavyweight champion
Frank Mir
and
Nate Diaz
faces another UFC debutant in former Strikeforce lightweight champion
Josh Thomson
. Here are the numbers you need to know for Saturday's fights:
6:
UFC decisions to start his career for Henderson, second among active UFC fighters behind flyweight champion
Demetrious Johnson
. Henderson is the only fighter to start his UFC career with at least five consecutive decisions won.
Most UFC Decisions to Start Career, Active Fighters
Demetrious Johnson 7
Benson Henderson 6*
Diego Nunes
6
Nam Phan
6
*Won all decisions
10:
Consecutive title fights for Melendez, who held the Strikeforce title from April 2009 to January 2013 when the organization was dissolved into the UFC. Melendez won four fights by decision and three by KO/TKO. His notable wins include rival Josh Thomson (twice) and DREAM lightweight champion
Shinya Aoki
.
11:
Wins by KO or TKO for Melendez, four under the Strikeforce banner. Henderson has been knocked down three times in his UFC/WEC career, most notably the jumping kick off the cage from
Anthony Pettis
at WEC 53.
9:
This will be the ninth time Melendez will fight inside the HP Pavilion, the proverbial stomping grounds of Strikeforce. He is 7-1 in previous fights at the "Shark Tank," losing the Strikeforce lightweight championship to Thomson in 2008.
21:
Takedowns for Henderson in six UFC fights (3.5 per fight). Melendez has a 71 percent takedown defense but allowed a combined 13 takedowns in his two career losses (seven to
Mitsuhiro Ishida
, six to Thomson).
3.6:
Strikes landed per minute by Melendez. During his seven-fight win streak, Melendez has outstruck his opponents 482-272 (plus-210) in significant strikes. Henderson absorbs 1.5 significant strikes per minute and only 30 in his last win over Melendez teammate Nate Diaz.
8:
Mir has an eight-inch reach advantage over Cormier (79 inches to 71). That's nothing new to Cormier, as he's beaten
Antonio Silva
(82),
Devin Cole
(79.5) and
Josh Barnett
(78).
6:
All six of Mir's career losses have come by way of KO or TKO. The former UFC heavyweight champion has never lost back-to-back fights in his career. Seven of Cormier's 11 career wins have come via strikes (five KO/TKO, two submissions due to strikes).
8:
Submission wins by Mir inside the UFC Octagon, tied for second most all time. Cormier has faced only one submission attempt in his Strikeforce career (Barnett).
Most UFC Wins by Submission
Royce Gracie
11
Frank Mir 8
Nate Diaz 8
Kenny Florian
8
3:
This is Mir's first camp with Jackson's MMA in Albuquerque, N.M. If he wins, Mir would be the third UFC heavyweight from Jackson's to win in this calendar year, joining
Shawn Jordan
(UFC on Fox 6) and
Travis Browne
(TUF 17 finale).
5:
Of his eight submission wins inside the UFC Octagon, five have earned Nate Diaz a UFC submission of the night bonus (second all time). Thomson has never been submitted in 25 professional fights and also has nine submission victories of his own (four in Strikeforce).
Most Submission of the Night Bonuses
Joe Lauzon
6
Nate Diaz 5
Terry Etim
4
208:
Diaz landed 30 significant strikes in his title fight against Benson Henderson, 208 fewer than his victory over
Donald Cerrone
in two fewer rounds. Thomson will be tough to hit as well; he absorbs 1.8 strikes per minute, but did absorb 3.0 per minute in his last loss to Melendez.
April, 13, 2012
4/13/12
11:32
AM ET
It's been six weeks between Zuffa events; plenty of time to contemplate
Marlon Sandro
decked out as the Bellator icon. And if there's ever been a six-week span where so much wonderment has gone into the amount of testosterone found in horse filets, I'd like to hear about it.
But beginning Saturday in Stockholm, the UFC gets back to its furious pace. Over the next several weeks, there will be UFCs to keep us busy, all of them stubbornly numbered in pay-per-views, in FOX, FX and Fuel shows -- not to mention the occasional Strikeforce event. As such there will be a lot of debuts from guys like Yoislandy Izquierdo and Sweden's own Magnus Cedenblad. The producers of Starz's Spartacus could never have invented such fitting names for its crop of warriors.
Here's a look at five things to keep an eye out for at UFC on Fuel TV 2, and some storylines that might (or might not) be of immense interest to you.
Gustafsson's handling of the spotlight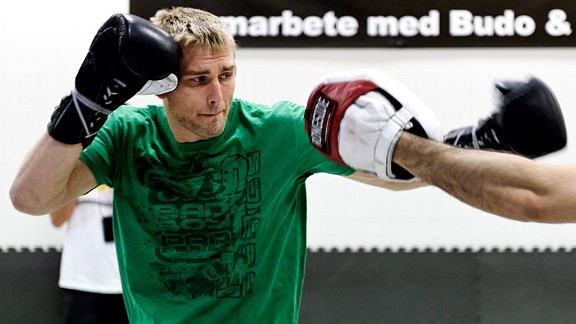 Martin McNeil for ESPN.comCan Alexander Gustafsson handle the pressure and deliver a breakout performance?
It's not only a homecoming for
Alexander Gustafsson
, but it's his first main event on a card specifically designed with him in mind. And it's his first time fighting as a true cusp contender from both a marketing standpoint as well as from the general notion that he's part of what's left out there for
Jon Jones
at 205 pounds. That's a lot of pressure for the 25-year-old from Arboga, Sweden. But it's the kind of pressure that comes with sustained success in a league founded more or less on attrition.
Gustafsson will be fighting
Thiago Silva
, who was originally supposed to be
Antonio Rogerio Nogueira
. Which is the more imposing foe? Probably Silva, who has only lost twice in his career, and each of those were against former champions (
Rashad Evans
and
Lyoto Machida
). Silva would be a huge notch for Gustafsson, enough of one to rev up the title talk. And coming in, it's hard to find much wrong in the Swede's game since losing to
Phil Davis
at UFC 112. It's not that he beat four guys in a row, but he finished them all, twice by TKO (
Vladimir Matyushenko
and
Matt Hamill
), and twice by rear-naked chokes (James Te Huna and
Cyrille Diabate
).
If he adds Silva to that casualty list, it means the "Mauler" has truly arrived.
Silva's potential ring rust and mental state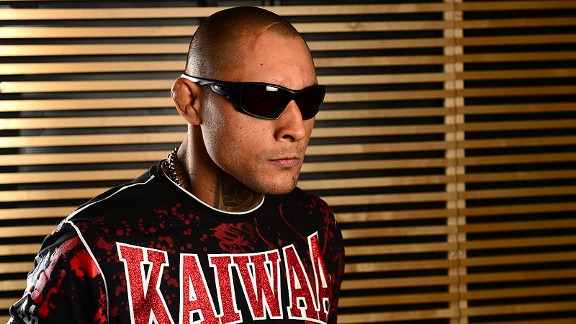 Martin McNeil for ESPN.comThiago Silva has a whole lot of ring rust to shake once he steps into the Octagon.
In a time when commission findings get more headlines than the fighters themselves, we must remember that Thiago Silva was the original bizarre. After his UFC 125 drubbing of
Brandon Vera
, the Nevada State Athletic Commission suspended Silva when it was discovered that his prefight urine sample turned up "inconsistent with human urine." He tried to mask banned substances by submitting urine that he ordered online. This didn't work out. To his credit, Silva admitted right away to his course of folly and took his punishment, which included a yearlong suspension.
Well, it's been 16 months since the Vera fight, and through a beneficial set of circumstances he ends up in a main event. The UFC tried to set up a rematch with Vera. When Vera was a no-go, the UFC tried to stick Silva in there against a tough but not-so-glamorous
Igor Pokrajac
.
Then
they needed a viable opponent for Gustafsson when Lil Nog went down. Enter Silva, who is still a top-10 light heavy in the UFC. Yet you have to wonder if the time away from the cage, the mental taxation, the travel, the fact that he's fighting a rising star in a rising star's homeland, and the oppositional musical chairs will hinder him in some way.
If none of that matters, it means Silva right where he left off before those ongoing back issues led to some monstrously bad decision-making.
Dennis Siver as a featherweight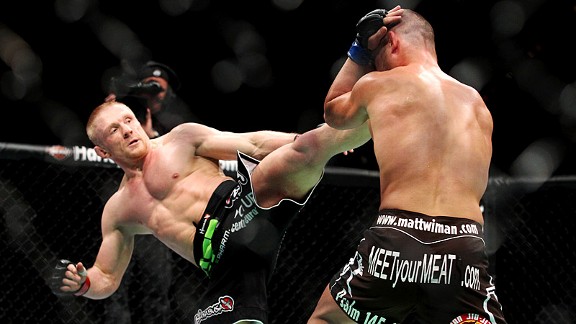 Ed Mulholland for ESPN.comDennis Siver is taking his high-kicking act to featherweight.
He was no slouch as a lightweight, but German fighter Dennis Siver wanted to try his hand as a 145-pounder after losing his footing in the 155-pound title race to
Donald Cerrone
. His first opponent as a feather?
Diego Nunes
. And if you remember, when
Kenny Florian
made his much-ballyhooed drop to 145 pounds, he was greeted by Nunes in his new weight class, too.
As a symbol, Nunes has helped more people lose weight than trainer Mike Dolce.
How will the weight cut play a role for Siver? It remains to be seen, but the kickboxer was knocking off some pretty tough guys as a smallish 155er -- guys like
Matt Wiman
,
Spencer Fisher
and
George Sotiropoulos
. In other words, he's a wily vet.
Brian Stann getting his brawl back on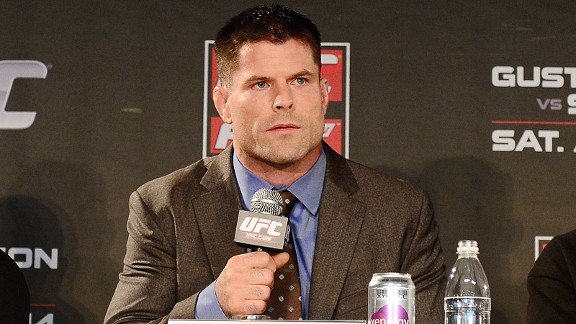 Martin McNeil for ESPN.comNo wrestling necessary: Brian Stann can get back to standing and trading on Saturday.
The bane of Brian Stann's existence so far as a professional mixed martial artist is wrestling. He was dominated on the ground by Phil Davis and, after dropping down to 185 pounds, ran into
Chael Sonnen
at UFC 136 and suffered the same fate. It's been a long six months since then.
Yet lucky for Stann,
Alessio Sakara
-- the free-swinging Legionarius -- would just assume gather up all the singlets and have a bonfire. He was recently outwrestled by
Chris Weidman
, and it left a bad taste in his mouth for no other reason than it wasn't his kind of fight. That is to say, it wasn't a brawl. In fact, going back to his 2006 bout with Drew McFedries, any Sakara fight in which there was a finish has always come by KO or TKO. He was on the wrong end of those nearly as often as he wasn't.
Think this thing is tailor-made for Stann? Could be. But there are plenty of people in Italy thinking the exact same for Sakara.
Damacio Page on the plank
This might be the fight of the night -- two tightly wound bantamweights coming off of losses, each of whom brings it every time. Between
Brad Pickett
and Damacio Page, Page is the one on the slipperier slope, having lost back-to-back fights to
Brian Bowles
and
Demetrious Johnson
. In both of those he was choked out via guillotine.
That's not likely to happen against Pickett, whose nickname is "One Punch." If Page loses here, it'll likely be by decision or because he got caught. With Greg Jackson in his corner and some intangibles (read: survival mode), it might set up a perfect storm to revisit the Page of 2009, the one who fought a grand total of 1 minutes, 20 seconds in finishing off Will Campuzano (via rear-naked choke) and
Marcos Galvao
(via punches).
Either way, this looks like the great unsung fight that could steal the show.
June, 13, 2011
6/13/11
5:28
AM ET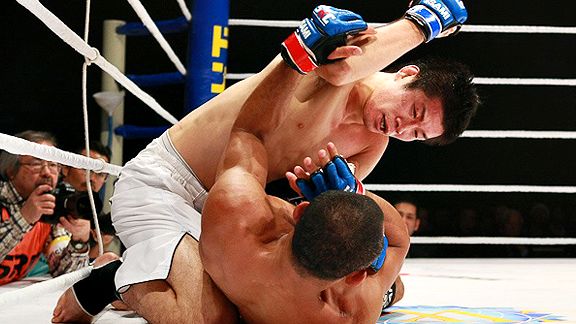 Taro Irei for Sherdog.comZuffa brass is keen on bringing Hatsu Hioki to the Octagon.
VANCOUVER, British Columbia -- Kenny Florian got through a self-imposed hell by not only making his weight cut, but by outlasting a hungry Diego Nunes for three rounds. It didn't help that his Boston Bruins lost an airtight 1-0 game to the Canucks to go down 3-2 in the Stanley Cup Finals the night before, nor that he took a beating from fans because of his allegiances. It took some guts to get through so many obstacles, but he did it and now he's "more than likely" to get a title shot against Jose Aldo, according to Dana White.
Yet, one of the more interesting spectators to attend UFC 131 was Japanese fighter Hatsu Hioki. He wasn't in town to watch hockey, nor to gloat over the lightweight Shooto championship he just vacated. He was in the building to talk scratch with the UFC, and to add a very interesting element to the 145-pound division. Nothing's been signed yet, but the operative word there is "yet."
"Yes, I would like a contract," Hioki told ESPN.com after UFC 131. "I haven't signed one yet, but yes, pretty soon."
ESPN currently has Hioki ranked No. 3 in the featherweight division, and his presence could open up some intriguing match-ups for the likes of Jose Aldo and Chad Mendes down the road. Hioki said earlier in the week that he would want to get a couple of fights in the UFC before he challenges for the belt, and make a detoured route to his destination.
So, presuming he got his initial glimpse of his future home in the Octagon, what did Hioki think the fights?
"It was an amazing event," he said. "It was the first time for me to see a live event that's a UFC. And Florian [versus Nunes] was a great fight, very tough fight. I am the biggest Florian fan. I like him very much. I am very glad to see him fight."
Funny, I was thinking the same thing about Hioki. North American fans don't know him (24-2-2) that well yet, but he's very tall [6-feet], moves extremely well, has a long, advantageous reach and a deep grab bag of submissions. It's only a matter of time before guys like Florian will be looking over their shoulder at the 27-year-old Japanese fighter that occasionally goes by the ominous nickname the "Iron Broom."
June, 13, 2011
6/13/11
5:25
AM ET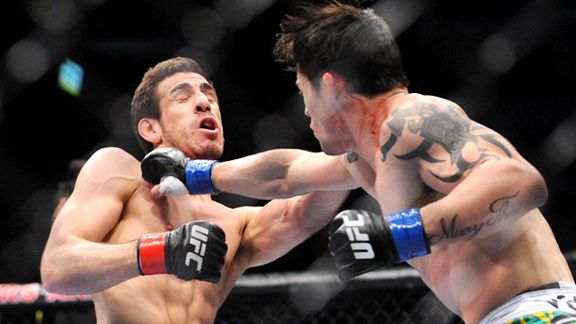 Rod Mar/ESPN.comKenny Florian, left, should get a chance to test his featherweight mettle against Jose Aldo.
Cain Velasquez
-
Junior dos Santos
and
Jose Aldo
-
Kenny Florian
are no-brainers in the post-UFC 131 matchmaking department. But what's next for
Shane Carwin
,
Diego Nunes
and others who competed on Saturday in Vancouver?
More »
June, 11, 2011
6/11/11
8:57
AM ET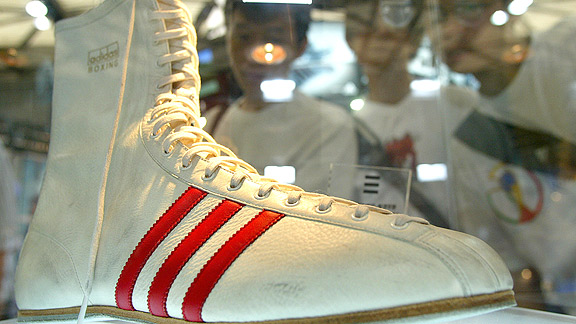 Liu Jin/AFP/Getty ImagesCan old gym shoes be the key to Team Soares' success?
VANCOUVER -- If you haven't noticed, there aren't a lot of guys coming out of Black House that lose. Theoretically, this is because Ed Soares has a stable of fighters who are really good practitioners of the martial arts -- guys like
Anderson Silva
(28-4),
Junior dos Santos
(12-1),
Lyoto Machida
(17-2) and
Diego Nunes
(16-1). The mystery only deepens when you add in the cameo appearances by Steven Seagal, who has guys doing everything short of levitating in training sessions (allegedly).
But there is another theory out there that might as well be discussed, and that is Black House owner/translator/manager Ed Soares' influence on the whole deal. In the 1970s people carried rabbit's feet for good luck. Soares doesn't go that far, but he does cover his own feet with a pair of tennies that are in powerful collusion with the cosmos. To his mind anyway.
"I have a superstition," he told me after the UFC 131 press conference in Vancouver. "I have a pair of shoes that I always wear on fight night. They are a pair of Adidas, they're a pair Muhammad Ali Adidas shoes. On fight nights I always wear those shoes, every single fight."
He will be wearing those shoes tomorrow night when Junior dos Santos takes on
Shane Carwin
in the main event at UFC 131 to establish a No. 1 contender for
Cain Velasquez
. Ditto for his lighter charge, Diego Nunes, who is welcoming
Kenny Florian
to the featherweight division. He was wearing them when Anderson Silva obliterated
Rich Franklin
at UFC 64, and when Lyoto Machida knocked out
Rashad Evans
at UFC 98 to win the belt. It's hard to argue the success rate of those shoes.
Scoffable? Maybe, but considering that Anderson Silva hasn't lost since early 2006 and dos Santos since 2007 -- and with credit being assigned to everyone from Seagal for dishing up the chakra energy to land those mythological front kicks to the fun proceeds of drinking your own urine (Machida) -- the shoes should at least get equal footing.
June, 8, 2011
6/08/11
9:36
AM ET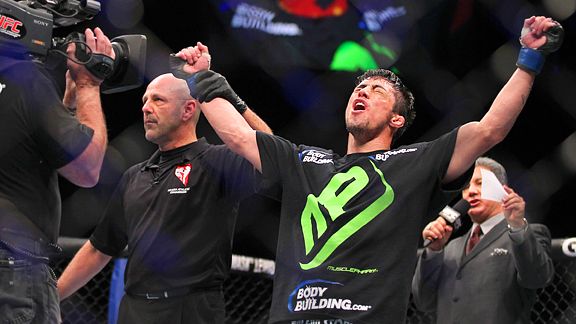 Ed Mulholland for ESPN.comGood move: Diego Nunes' decision to fight for a living is paying off.
In 2004, when a 21-year-old
Diego Nunes
took his first MMA fight against Jorge dos Santos Velho, there was a sentiment in his native town of Caxias do Sul in south Brazil that he was, among other things, completely off his trolley. The reason? The kid was a phenomenal soccer player in the state of Rio Grande do Sul and everybody thought he was headed for a career in the national pastime.
"I played for a few local pro teams in the south of Brazil," Nunes said Tuesday from Vancouver. "I was well-known in my town as a soccer player. The first time I fought people were like, 'what the hell? Isn't Diego a soccer player?'"
Turns out, well, yes and no. Nunes was a standout center and a forward who had to decide between taking soccer to the next level or trying his hand at fighting, which had a much more visceral connection to Nunes. For a while, he did what any rational person with multiple talents would do -- he did both.
"At one point I was playing soccer and fighting at the same time and it came down to making a decision," he says. "[Fighting] was really a matter of survival. It is like surviving and that's what I wanted to do. I was always bullied at school and I always had that survival instinct."
Seems like a pretty good choice. Seven years later, Nunes is fighting on the main card of his second UFC event. He won a split decision against former champion Mike Brown at UFC 125 in Las Vegas in January, and his professional record is 16-1. Oddly enough, his opponent this weekend is
Kenny Florian
, who's fighting in his fourth weight class in the UFC and making his featherweight debut. Florian was a pretty good soccer player, too. He played for Boston College on a scholarship back in the day.
Not they meet in a bout that could determine who's next in line to face current champion -- and Nunes' training partner at Nova Uniao in Brazil --
Jose Aldo
for the 145-pound belt.
So what does Nunes expect from the seasoned veteran Florian come Saturday night?
"We're going to see the same Kenny Florian, a guy that's dangerous," Nunes said through his translator, Derek Lee. "He's got a lot of weapons. He feels right at home in the Octagon, very comfortable in the Octagon, but he might not be as fast … maybe from the weight cutting, maybe from his age; we'll see. But he's basically going to be the same Kenny Florian that we've seen."
June, 7, 2011
6/07/11
10:55
AM ET
Two-time lightweight title contender
Kenny Florian
draws upon the experience of nutritionist Greg Lockhart and strength and conditioning coach Jonathan Chaimberg, as he prepares for his debut at 145 pounds against
Diego Nunes
at UFC 131.
More »