August, 19, 2014
Aug 19
9:22
AM ET

By Brett Okamoto
ESPN.com
Archive
The night after a white policeman shot and killed unarmed black teenager Michael Brown in Ferguson, Missouri,
Tyron Woodley
got on a flight headed for the area.
Woodley, 32, didn't go there as a curious onlooker or a celebrity looking to protest. The UFC welterweight calls Ferguson, located in St. Louis County, his home.
Born and raised in the city of approximately 21,000, Woodley says his barbershop is located "two minutes" away from the now-looted and burned convenience store that has become a gathering site for protesters since Brown's death Aug. 9.
[+] Enlarge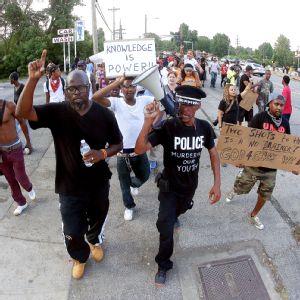 AP Photo/Charlie RiedelThe violence and protests in Ferguson, Mo., have weighed heavily on Tyron Woodley's mind.
Woodley (13-3), who is scheduled to fight
Dong Hyun Kim
at a UFC Fight Night this weekend in Macau, drove past the familiar convenience store on West Florissant Road before he left the U.S. last week and was disheartened by what he saw.
In addition to feeling heartbroken for the victim's family, Woodley was saddened by the extent of rioting that has hit his hometown in the aftermath of the shooting. He still has family in Ferguson and is encouraging those in the area to protest peacefully.
"I think people are trying to protest peacefully now, but the looting really reflected on us in a negative way," Woodley said.
"I drove down that street the next morning. It wasn't just the [convenience store] that got hit. It was [auto parts retail store] Autozone, beauty supply stores and meat markets.
"These are local businesses, many of which are black-owned, with employees that need those jobs. People are ripping them off. How does that do anything positive?"
Woodley is coming off a disappointing performance against
Rory MacDonald
at UFC 174 in June, which has (at least temporarily) cooled his title hopes at 170 pounds. A win over Kim (19-2-1), who has won four in a row, would be a major rebound.
"

These are local businesses, many of which are black-owned, with employees that need those jobs. People are ripping them off. How does that do anything positive?

"

--Tyron Woodley, on the tension and crisis in his hometown of Ferguson, Mo.
To that end, Woodley's coaches have confiscated his phone to prevent the nonstop barrage of updates from Missouri to weigh him down. He flew to Singapore on Aug. 13 and then to Hong Kong last weekend. He will fly to Macau on Wednesday.
With media obligations looming, Woodley knows the situation in his hometown will be a talking point in coming days.
"The bad thing is when I hear [the UFC] needs a last-minute interview, I knew what it was about," Woodley said. "It's about the Ferguson situation. It's not about a fight I have coming up on Saturday, which is tough. Yeah, it's a distraction.
"I'm from the area. I've had to try and block it out and stay positive. At the end of the day, I can't block it out. My whole life, I've spent there."
Simply talking about this weekend's matchup is a welcome distraction for Woodley, who took the fight when Kim's original opponent,
Hector Lombard
, withdrew because of injury in June.
[+] Enlarge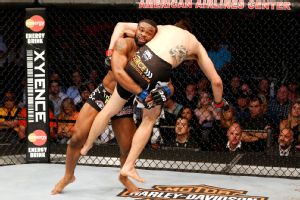 Josh Hedges/Zuffa LLC/Getty ImagesTyron Woodley is doing his best to avoid distractions ahead of Saturday's bout against Dong Hyun Kim.
Ranked the No. 7 welterweight in the world by ESPN.com, Woodley believes his one-sided loss to MacDonald hasn't set him back significantly and a win over Kim would get him back to where he was after knocking out
Carlos Condit
in March.
"I didn't fall too much," Woodley said. "When I started doing my research on Kim, he fought
Karo Parisyan
,
Matt Brown
,
Erick Silva
and
TJ Grant
. He's got a lot of wins on his record. I believe he's a top-five welterweight and the UFC agrees, otherwise it wouldn't make sense for this fight to happen."
Once the fight is over, Woodley plans to put his status in MMA to some positive effect back in the U.S.
For a professional athlete who has dedicated time to teach the youth of Ferguson that they can achieve what they want, it's been frustrating to see those taking advantage of the situation and adding grief to innocent victims.
"To see a riot where I grew up -- it's just crazy to see it being put on the map in such a negative way," Woodley said. "A lot of people have pride living there. It's not riff-raff like it's made out to be.
"I have friends there who are engineers, a pilot -- a friend who just went to France, a Grammy-winning trumpet player. Being from a rough area isn't an excuse to [loot]. This is an opportunity to rise above and do something positive."
December, 6, 2012
12/06/12
6:15
AM ET
By Michael Landigan
ESPN Stats & Information Group
Archive
Fireworks are sure to fly Saturday at KeyArena in Seattle when UFC lightweight champion
Benson Henderson
defends his title against
Nate Diaz
. Here is a look inside the numbers for the UFC on Fox main event:
6 -- Inches in reach advantage for Diaz (76 to 70).
Diaz is 3-0 since dropping back down to 155 pounds, where he has used his reach advantage and unorthodox boxing style to outclass
Takanori Gomi
,
Donald Cerrone
and
Jim Miller
on the feet. After landing only 62 significant strikes combined in back-to-back unanimous decision losses to welterweights Dong Hyun Kim and
Rory MacDonald
, Diaz landed a UFC-record 238 significant strikes in his classic stand-up battle with Cerrone at UFC 141. Henderson hasn't fought with a definitive reach disadvantage since his unanimous decision victory over
Mark Bocek
at UFC 129.
48 -- Percentage of takedowns Henderson has completed, as well as the percentage of takedowns Diaz has defended.
A former two-time NAIA All-American wrestler, Henderson might look for the takedown early if the reach of Diaz becomes a problem. Henderson's preference was to keep the fight standing in his two close decisions over fellow wrestler
Frankie Edgar
, but he completed a combined 10 of 11 takedowns in unanimous decision victories over Bocek and Miller. Diaz does have a history of being controlled on the ground as all five of his UFC losses have come at the hands of high-level grapplers. After being taken down a combined 10 times in losses to Kim and MacDonald, Diaz was put on his back only once in five attempts by Miller.
20 -- Number of submission attempts by Diaz, eighth most in UFC history.
If Henderson does choose to bring the fight to the ground, he must be wary of the high-level Brazilian jiu-jitsu skills of Diaz. Eight of Diaz's 11 UFC wins have come via submission, most of any active UFC fighter. His guillotine finish of Miller at UFC on Fox 3 in May was the first time Miller had been submitted in 25 professional fights. Finishing Henderson will be no easy task, however, as the lightweight champ has not been submitted since his third career fight back in 2007. Henderson has made a habit of escaping deep submission attempts in his rise to prominence but would be wise not to test those Houdini skills against the
Cesar Gracie
black belt.
19:00 -- Henderson's average UFC fight time, longest in UFC history (minimum five fights).
Henderson has been criticized for his inability to finish a UFC opponent, as he has not tasted victory via knockout or submission since catching Cerrone in a guillotine back at WEC 48. The streak figures to be difficult to end against Diaz, whose armbar loss to
Hermes Franca
in 2006 remains the only time he has been finished in 23 professional fights. Both fighters also have never been knocked out in their careers, increasing the probability that, no matter who emerges with the belt, the bout is likely to go distance.
Statistical support provided by FightMetric

October, 3, 2011
10/03/11
3:33
PM ET

By Franklin McNeil
ESPN.com
Archive
Welterweights
Dong Hyun Kim
and
Sean Pierson
have agreed to meet Dec. 30 in Las Vegas, the UFC announced on Monday.
"Two talented welterweights on the comeback trail will face off at UFC 141," UFC president Dana White said.
It will be Kim's first fight inside the Octagon since suffering a first-round knockout to
Carlos Condit
in July. Before the loss, Kim (14-1-1) had won three fights in a row.
Pierson (11-5) also was the victim of a first-round in his most recent bout.
Jake Ellenberger
caught him with a left counterpunch at the 2:42 mark in Toronto on April 30.
Kim-Pierson will be part of a card headlined by heavyweight contenders
Brock Lesnar
and
Alistair Overeem
. The winner of that bout will get a title shot.
July, 6, 2011
7/06/11
11:17
AM ET

By Franklin McNeil
ESPN.com
Archive
UFC bantamweight champion
Dominick Cruz
might have to savor his unanimous decision win Saturday night over
Urijah Faber
for a while.
The Nevada Athletic Commission released its medical suspensions to ESPN.com on Tuesday for fighters who participated in UFC 132, which was held July 2 at MGM Grand Garden Arena in Las Vegas.
Cruz is required to have his right hand x-rayed. If the results are positive, Cruz must be cleared by an orthopedic doctor or he won't be allowed to compete until Dec. 30.
Faber must have his right hand, right wrist, right shoulder and chest x-rayed. If the results are positive, Faber must be cleared by an orthopedic doctor or he too will not be allowed to compete until Dec. 30.
Regardless, Faber can't compete until Aug. 17, and must not have contact until Aug. 2.
Wanderlei Silva
, who was knocked out in 27 seconds by
Chris Leben
, is suspended until Sept. 1. He can't have any contact until Aug. 17.
Dennis Siver
(forehead lacerations) is suspended until Aug. 17, and can't have contact until Aug. 2.
Ryan Bader
, who was submitted by
Tito Ortiz
, is suspended until July 24, and must avoid contact until July 17.
Both
Dong Hyun Kim
and
Shane Roller
must have right orbital fractures cleared by an ear, nose and throat doctor or ophthalmologist. Otherwise, neither can compete until Dec. 30.
Regardless, neither Kim nor Roller can compete before Sept. 1. They also must avoid all contact until Aug. 17.
Melvin Guillard
(cut under right eye) is suspended until July 24, and can't have contact until July 17.
George Sotiropoulos
, who was KO'd in the first round by
Rafael dos Anjos
, is suspended until Sept. 1. He can't have contact until Aug. 17.
Brian Bowles
must have his right hand X-rayed. If the results are positive, Bowles must be cleared by an orthopedic doctor or he will not be allowed to compete until Dec. 30.
He is under minimum suspension and can't have any contact before July 24 or compete until Aug. 2.
Donald Walker (laceration on right eyebrow) and Brad Tavares (laceration on left eyebrow) are suspended until Aug. 2 and neither can have contact before July 24.
Andre Winner
is suspended until Aug. 2, and can't contact before July 24 due to facial bruising.
Anthony Njokuani
, who defeated Winner by unanimous decision, must have a contusion on his lower left leg cleared by a physician or he can't compete until Dec. 30.
Njokuani also chipped a lower right tooth.
June, 29, 2011
6/29/11
6:13
PM ET
By Tristen Critchfield
Sherdog.com
Archive
Former WEC welterweight champion
Carlos Condit
faces the unbeaten
Dong Hyun Kim
in a featured matchup at UFC 132 on Saturday in Las Vegas. A victor in 11 of his last 12 bouts, Condit believes a win over the Japanese judoka could put him in line to face UFC titleholder and Jackson's Mixed Martial Arts teammate
Georges St. Pierre
.
More »