April, 9, 2012
4/09/12
3:13
PM ET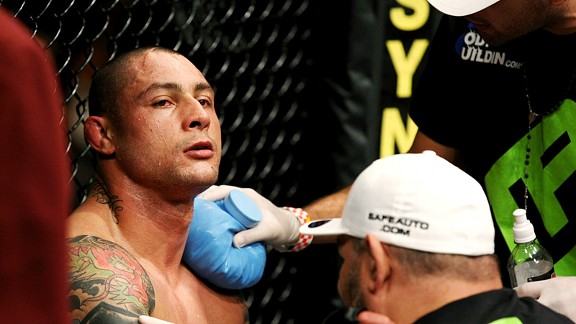 Donald Miralle/Getty ImagesOn thin ice: It's "fly straight or find another line of work" time for Thiago Silva.
As he prepares to take on
Alexander Gustafsson
on Saturday at the UFC's first-ever show in Sweden,
Thiago Silva
finds himself at an interesting time to return from a drug suspension.
Or -- in the interest of accuracy, I guess -- a drug-
related
suspension.
After all, Silva didn't get handed a one year ban from competition for shooting an illicit substance into his spine prior to UFC 125 so much as what he did to try to cover it up. Instead of taking the rap for the injectable itself, Silva opted for what is probably the most hilarious way to fail a commission administered drug test: Submitting a sample that ultimately proved "inconsistent with human urine."
If you know you're going down, might as well go down in flames, right?
At the time, we all had a good laugh. Fast forward a little more than 12 months, however, and Silva is about to step back into an MMA landscape riddled with high-profile steroid scandals. After
Quinton Jackson
voluntarily confessed to hormone replacement therapy,
Cristiane Santos
got pinched for using an old school bodybuilding drug and
Alistair Overeem
submitted a urine sample consistent with a human
who is totally jacked out of his mind on testosterone
, fight fans could conceivably be in a fairly unforgiving mood these days.
There is no telling how this second tour of duty might go for Silva. With a record of 14-2 (now with one no contest), his only previous losses came against former 205-pound champions
Rashad Evans
and
Lyoto Machida
but he also hasn't exactly defeated a "who's who" of top talent during his UFC career.
[+] Enlarge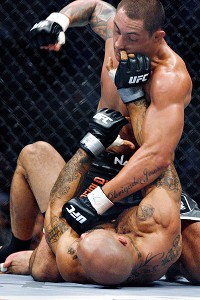 Ed Mulholland/US PresswireThese days, Thiago Silva's wins over the likes of Houston Alexander, bottom, don't look so impressive.
Prior to his suspension, Silva had bounced around the outskirts of the light heavyweight top-10, but after spending a year forcibly removed from the action, his most notable Octagon wins over the likes of
Keith Jardine
, Houston Alexander and
James Irvin
suddenly don't seem overly extraordinary anymore. Most recently, he'd also been slowed by the back injury he eventually blamed for his drug use.
Silva remains something of an interesting talent, but the lack of big wins, the injury trouble and the drug suspension all make it difficult to nail down what kind of future he might have.
Luckily for him, his employer appears ready to forgive past transgressions, accepting his time served and inserting him directly into a nationally televised main event bout against Gustafsson in his first fight back. Even if it is one where Silva enters as close to a 2-to-1 underdog against a hometown hero who some observers expect to mature into a future foe for champion
Jon Jones
, it's probably a better assignment than Silva might've expected, or deserved.
Perhaps such surprising post-suspension treatment can be chalked up to good behavior. Fact is, Siva was actually refreshingly honest about his drug snafu, at least once it became clear that officials had him dead to rights.
"I used a urine adulterant when giving a sample following my fight with
Brandon Vera
," Silva said last year via a prepared statement. "I did so in an attempt to alter the results of the test and knowingly broke the rules of the Nevada [State] Athletic Commission. This was a terrible decision on my part for which I will be punished. I am prepared to accept this punishment, learn from it and move on. I apologize to the commission, the UFC, Brandon Vera and the MMA fans."
For an MMA drug test mea culpa, that's about as good as it gets. In light of it, perhaps fans and promoters alike will be willing to give Silva a second chance.
Make that a last chance, as he prepares to reenter a culture that by now should be about one steroid scandal away from its breaking point.
February, 9, 2012
2/09/12
6:20
PM ET
The marching orders for
Nick Diaz
's second tour of duty in the Octagon were clear from the start. Before the start, actually.
"The problem with Nick Diaz is, Nick won't play the game," explained Dana White last January, five full months prior to Diaz returning from self-imposed exile in Strikeforce and inking a new deal with the UFC. "When Nick Diaz wants to play the game just a little bit, we'd love to have him back."
There it was, simply put. Play the game. Toe the line. Make even the slightest effort to show us you want to be here, that you're ready for this, and we'll hand you the keys to the castle.
After running off an 11-1-1 record during the near-half decade he spent away, few people questioned Diaz's credentials when he vacated his Strikeforce welterweight title in June and leapfrogged straight to the front of the line of the UFC's 170-pound contenders. His abilities were not at issue; at least, not to those who'd paid attention to his evolution from mediocre mid-card performer to bonafide main event talent. If anyone had proven he belonged among the best fighters in the world, it was Diaz.
The million dollar question was: Could he deal? At 28 years old, was he finally equipped to handle the rigors of life as an MMA superstar?
Sadly, we got our answer on Thursday, as news trickled out that the Cesar Gracie Jiu-Jitsu fighter tested positive for marijuana in the wake of his unanimous decision loss to
Carlos Condit
on Saturday at UFC 143. As a result, Diaz will face disciplinary action from the Nevada State Athletic Commission, effectively scuttling the UFC's frenzied plans to get him an immediate rematch with Condit for its interim welterweight title and give him yet another opportunity to find his way into a lucrative fight with
Georges St. Pierre
later this year.
The answer, emphatically, was no.
Now, perhaps we have final, definitive, comprehensive proof. To absolutely no one's surprise, Diaz is not willing to play the game. Not even a little bit. Not even with the world's largest MMA promoter bending over backward trying to make him one of this sport's biggest attractions.
For those of us on the outside, the most tragic part is that we were all rooting for him.
I would wager that deep down, even Diaz's strongest critics wanted to see him get it right this time. We wanted him to succeed not only because of his immense gifts and because it's a joy to watch him fight, but because we empathize with his obvious personal pain. In a weird way, we relate to this guy who desperately wants to be understood, but can seemingly never find the words to say so.
Much has been written these past few months about why we can't seem to take our eyes off Diaz. The truth is, it's not because he's "crazy" or a "bad boy" or whatever unfortunate words we typically use to describe him. It's because many of us -- even if we don't want to admit it -- see parts of ourselves in him, and that makes it easy to want Diaz to rise above all the pressures and pain, and become the best in the world at what he does.
[+] Enlarge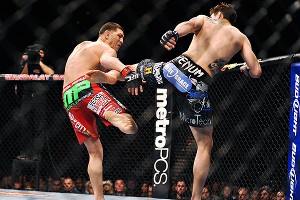 Rod Mar for ESPN.comNick Diaz's time back in the Octagon has been rocky -- and not just in the Octagon.
At least for now, however, that's not going to happen. For now it's easy to imagine that the "demons" (if that's what you want to call them) are getting the better of him. For now, it seems that awkward "retirement" he announced in the cage following his loss to Condit might actually stick; at least a little bit longer than we had hoped.
Diaz has been back in the UFC for all of eight months now and already he's committed two offenses that probably would've gotten a less talented, less popular fighter released outright. He'd already dodged a bullet when the organization granted him a second chance after he no-showed a pair of prefight news conferences for a scheduled bout with St. Pierre at UFC 137. Now, he's tested positive for this particular "drug of abuse" for the second time in his career, for the second time in the state of Nevada.
The first came in 2007 and turned his amazing second-round gogoplata victory over
Takanori Gomi
at Pride 33 -- at the time the biggest win of Diaz's career – into a no contest. That was a little more than a year after he brawled Joe Riggs at the hospital in the wake of dropping a unanimous decision to the journeyman fighter at UFC 57. It was seven months before he began a four-year romp through the competition in smaller organizations, only to re-sign with the UFC in 2011 and notch a record of two major screw-ups in two actual appearances in the Octagon.
At this point you have to wonder how many strikes the UFC will give him. How many missed flights? How many hospital brawls? How many unsuccessful drug tests?
Though we all desperately want the opposite to be true, at this point we must admit that Nick Diaz is not in the lesson-learning business.
And if he isn't ready to play the game by now, will he ever be?
December, 13, 2011
12/13/11
2:57
PM ET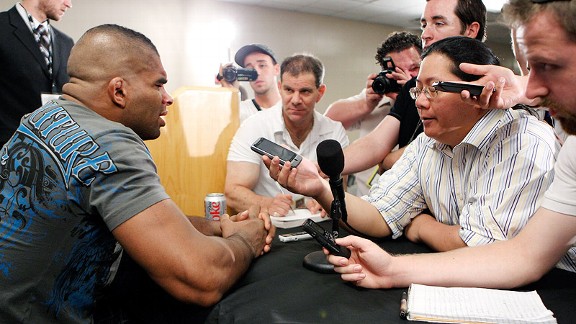 Esther Lin/Forza LLC/Getty ImagesA whirlwind of questions seem to surround Alistair Overeem wherever he goes.
Alistair Overeem
has probably never heard of Lee Atwater, but at this point "The Reem" might be wise to heed that ruthless 1980s political strategist's most famous rule of thumb: That perception is reality.
It can hardly be considered news that Overeem has an image problem in MMA circles, though in recent weeks the former Strikeforce heavyweight champion and his handlers have acted as if they have no idea. For a guy who is already under public scrutiny as a suspected steroid abuser, Overeem's decision to skip the country last month on the same day the Nevada State Athletic Commission notified him of a "random" drug test prior to his UFC 141 bout against
Brock Lesnar
is the kind of public relations gaffe he absolutely can't afford.
The NSAC spent some considerable time on the phone with Overeem on Monday, ostensibly trying to sniff out his intentions for fleeing back to Europe, even though in this instance, reality is all but irrelevant in the court of public opinion.
The truth is, it doesn't matter what the truth is. When it comes to Overeem and drug tests, it only matters what it
looks like
the truth is, and a lot of people are going to assume the worst.
Your perception of what happened during Overeem's teleconference with the NSAC probably depends on what your opinion was about the fighter a week or a month ago. It probably also depends on your feelings about the quality of drug testing in our sport and the job you think state athletic commissions do policing it.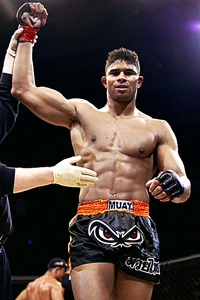 Sherdog.comHard to believe, but Alistair Overeem once looked like this.
If you're an Overeem fan, you may well believe his story that his assistants purchased tickets for him to fly home to Holland to visit his gravely ill mother days before the NSAC told them about the test. You probably believe him when he says he's never been subjected to this kind of testing before as he prepares for just his third American appearance since 2007 and his first ever fight in Nevada. You might even believe that he couldn't find an adequate independent lab to do the testing in his home country and that in the end he thought it would be cool if his "personal sports doctor" conducted the exam.
If you're any other kind of person, you're probably not buying it.
You may have had considerable trouble in recent years accepting Overeem's transition from beanpole 205-pounder to Herculean heavyweight. You might think commission drug testing is a joke and one of the only ways a guy could actually get caught is if he didn't know a certain state had recently reinstituted out-of-competition testing. If that's the case, you likely think Overeem found out about his pending drug test and jetted and, in response, the NSAC gave his enormous wrist the softest possible slap, granting him a conditional license and crucial time to rinse and repeat before returning to the states to take the test the commission ordered nearly a month ago.
Depending on your side of the argument, you probably believe the "assistant" who allowed Overeem to leave the country without taking his test should be fired or -- maybe -- that he should get a considerable raise.
Which is true? Which is reality? Doesn't matter.
The only thing that does matter is that Overeem had an opportunity here to put some distance between himself and his doubters by promptly taking and passing the commission's random test -- and he bungled it. Instead, he just gave his detractors more ammunition, whether real or just perceived.
That chance slipped away because, while fighters have assistants and handlers and coaches, most still don't employ public relations strategists.
Perhaps Overeem ought to think about it.