November, 25, 2014
11/25/14
5:43
AM ET

By Brett Okamoto
ESPN.com
Archive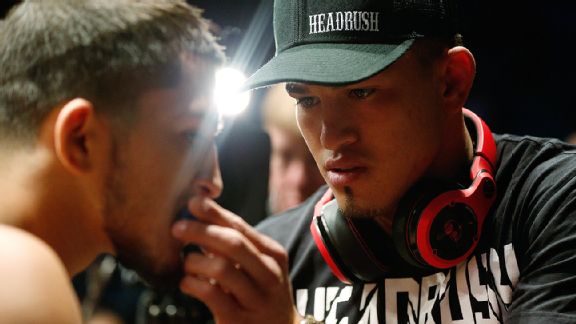 Josh Hedges/Zuffa LLC/Getty ImagesAnthony Pettis, right, has come to the defense of his training camp, Roufusport.
When it comes to a corner throwing in the towel to save its athlete midfight, UFC lightweight champion
Anthony Pettis
believes he and his coaches have an understanding between them.
Under no circumstances are they ever to do it for him.
"Everybody knows the way I feel about this sport," Pettis told ESPN.com. "I'd be pissed if someone threw the towel in. If I lose, it's because I lost the fight -- not because someone else thought I was losing the fight.
"

I bust my butt to do [MMA] and I don't want anyone to have the right to stop a fight for me. That's what the referee is there for.

"

-- UFC lightweight champion Anthony Pettis, on the issue of one's corner throwing in the towel
"I bust my butt to do this and I don't want anyone to have the right to stop a fight for me. That's what the referee is there for."
Pettis, who will seek his first title defense against
Gilbert Melendez
on Dec. 6, is a longtime member of team Roufusport in Milwaukee.
The camp, operated by Duke Roufus, came under heavy scrutiny earlier this month following a report by the Milwaukee Journal Sentinel, which detailed the death of one of the camp's amateur kickboxers, Dennis Munson Jr., following an unsanctioned bout in March. The bantamweight amateur bout was reportedly the 24-year-old's first fight.
The piece uncovered a startling lack of officiating and protocol relating to fighter safety at the event. Shortly after the article's publication, former Roufusport members took to social media to criticize coaching methods at the gym.
One of many, many issues in ensuing discussions has been the role of a corner in terms of protecting its fighter. If a referee and ringside physician fail to adequately do their jobs, a corner can always act to stop the bout on its own.
It's rare, especially in mixed martial arts, but it does happen. UFC welterweight
Nick Diaz
threw in the towel for his younger brother, Nate, during a loss in April 2013. Boxing coach Jason Parillo stopped a UFC title fight between
Georges St-Pierre
and
BJ Penn
in January 2009, saving Penn from further damage.
Asked if he would ever consider doing so for his younger brother, Sergio, who fights in the UFC's bantamweight division, Pettis, 27, said he probably would not.
[+] Enlarge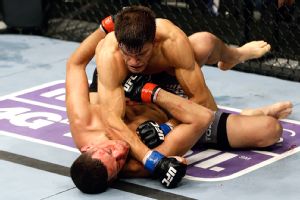 Ezra Shaw/Zuffa LLC/Getty ImagesNate Diaz, bottom, was under duress and on the verge of being stopped by Josh Thomson before his brother, Nick Diaz, threw in the towel.
"I know from the outside looking in, that sounds bad, but I'm with this kid in the gym every day," Pettis said. "I know how much he cares and how much he wants this. I know how much he puts into this. We're both healthy. At this level, we go through physical background checks to make sure we're healthy enough to do this. It wouldn't even cross my mind [to throw in a towel].
"I guess if it was really bad, I would have to -- but if he's just fatigued, that's a different story."
Regarding the recent criticisms of Roufusport, Pettis stood by his coaches and their training methods.
"The worst part is the kid died," Pettis said. "Dennis was a warrior. He wanted to be a fighter. We all know there are risks that come with that. Obviously, no one thinks death is a risk, but anything can happen in any sport.
"Roufusport doesn't have any crazy training tactics. They're not making us run in the snow or beating us with whips. The gym is full of guys who love being there. People who are using this situation to attack Duke on personal vendettas -- it's messed up. It should be about that kid who died, how to get him to the hospital quicker and how to get these fights sanctioned."
October, 16, 2012
10/16/12
7:24
PM ET

By Franklin McNeil
ESPN.com
Archive
Lightweight contender
Anthony Pettis
sprained his shoulder while training, but the injury will not prevent a potential showdown with
Donald Cerrone
, a source close to the fighter told ESPN.com on Tuesday.
Pettis revealed earlier Tuesday that he suffered an injury but did not offer specifics. According to the source, Pettis will miss a few training session but expects to return to action by January.
His last UFC appearance occurred on Feb. 25 when he knocked out
Joe Lauzon
in the first round at UFC 144.
"Can't catch a break, injuries [stink]," Pettis said on Twitter.
Pettis and Cerrone have been involved in a war of words for several months. In August, Cerrone accused Pettis of ducking him.
"I've been trying to fight Anthony for a while now, and every time I suggest it, his manager comes back and says, 'Well, we're not ready. Maybe we'll fight somebody else right now,'" Cerrone said. "There's always an excuse. He wants to just sit and hide behind his win over Ben Henderson and keep riding that gravy train. But there are fighters who want to fight him and prove that he's all talk.
"Pettis was saying 'My shoulder won't be ready until October.' I told him I'd sit and wait until December for him, but Melvin stepped up and took the fight."
Pettis' trainer Duke Roufus denied that his fighter was ducking anyone and would be willing to face Cerrone when he fully heals.
Roufus told ESPN.com in August that Pettis competed with a serious shoulder injury in each of his two most recent fights. Team Pettis has not yet revealed which shoulder the fighter injured.
"He did get the shoulder surgery and is hoping to get on the Nov. 17 card," Roufus said.
UFC 154 is scheduled for Nov. 17 in Montreal, and neither Pettis nor Cerrone is slated to compete on the card.
While it remains unknown when Pettis and Cerrone will get to settle their differences, UFC president Dana White stated after UFC 150 that he will offer the fighters an opportunity to meet in a title eliminator.
Pettis made a name for himself in December 2010 when he defeated Henderson to claim the WEC lightweight title. Henderson is currently the UFC 155-pound champion.
September, 10, 2012
9/10/12
5:16
AM ET

By Franklin McNeil
ESPN.com
Archive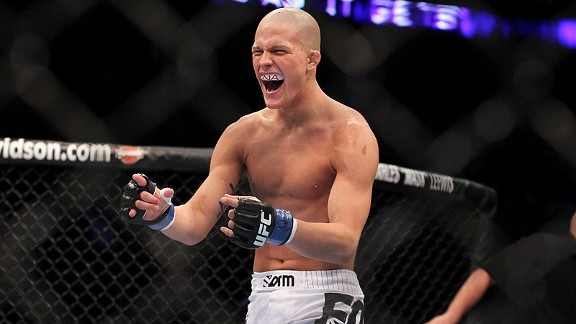 Ed Mulholland for ESPN.com
What should have been the most exciting year in the fighting life of featherweight contender
Erik Koch
is anything but. By all measures, it has been his worst.
Koch entered 2012 riding a four-fight win streak and primed to reach his goal of becoming a UFC champion. But injuries to himself or an opponent have placed his title hopes on hold.
"It's a tough situation, but these things happen," Koch's trainer Duke Roufus told ESPN.com. "You just have to stay as positive as possible and don't let it get you down. We just have to regroup.
"Erik's shown that he's ready to fight for the world title. He just has to work his way back to that opportunity to do it."
That's exactly the attitude Koch has maintained since a partially torn medial collateral ligament in his right knee forced him to withdraw recently from an Oct. 13 title fight against featherweight champion
Jose Aldo
at UFC 153 in Rio de Janeiro.
"It's frustrating because I'd done so much PR for this guy [Aldo], I trained my butt off for this guy, and to get right there and then to have it all change that fast, it's a lot to deal with," Koch said. "But I'm just trying to keep my head up; I'm happy I don't need surgery. I know my body and I knew that whatever [the injury] was it wasn't good.
"And if I can't train, obviously it was something serious. But it's not as bad as it could have been, and we'll get past it and I will get my shot eventually."
With Koch unable to compete, Aldo will now put his title on the line against former lightweight champion
Frankie Edgar
-– who will be making his 145-pound debut.
Koch is disappointed that he won't be inside the Octagon with Aldo next month, but he doesn't begrudge the opportunity that has fallen upon Edgar. He isn't sitting around feeling sorry for himself, either.
Despite suffering a still-undisclosed injury that forced him out of a high-profile fight in February against fellow featherweight contender
Dustin Poirier
, you won't catch Koch singing the blues. He also refuses to fret over the leg injury Aldo suffered in June that postponed their July 21 showdown in Calgary.
This has been a long, disappointing year for Koch -- who has been out of action since Sept. 17, 2011 -- but he refuses to let the physical setbacks break him emotionally or mentally.
"I'm not concerned about long layoff," said Koch, who has an impressive 13-1 professional record. "I train like a madman and I've been in this sport since I was 10. And I've been fighting since I was 16, so I'm not worried about the layoff. I've had long layoffs before.
"More than anything, it's the situations that are frustrating -- getting injured or having other people get injured. It just seems like I can't get anything going this year."
But rather than throw his own pity party, Koch is using this year as a learning experience. And he is a rapid learner. There is no definitive timetable set for his return, but he hopes to be in action before year's end. And when he gets back in the cage, expect to see a much better all-around fighter -- one who is stronger mentally, physically and technically.
"My fire is lit," Koch said. "I'm just as motivated today as I was going into this fight with Aldo. I just want to get back in [the Octagon]. I've been dealing mentally with the things that have happened this year, dealing with the long layoff, the injuries. I'm just trying to have a clear, leveled head.
"It makes you grow up. I'm looking at it as there being nowhere else to go but up. You can only be down for so long. You've got to pick yourself back up. I'm just trying to stay positive.
"All this situation is doing is lighting the fire, it's just building that fire until I fight again."
That fire Koch speaks of directs him toward securing the UFC featherweight title. The setbacks of 2012 have not decreased his determination. And the sooner he can fight for the belt, the better.
But one thing Koch won't do is follow the developing trend of not accepting an opponent the UFC has selected for him.
"I want the [Aldo-Edgar] winner totally, definitely," Koch said. "But that's up to the UFC. The biggest thing is I just want to fight. This has been a rough year for me, so I just want to get in there and fight. But if they offer me [the Aldo-Edgar winner], that's definitely the fight I want."
March, 22, 2012
3/22/12
6:30
AM ET

By Chuck Mindenhall
ESPN.com
Archive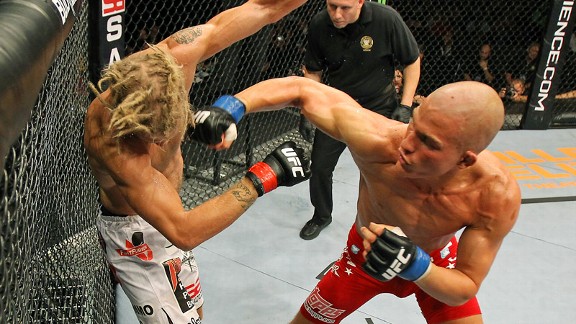 Josh Hedges/Zuffa LLC/Getty ImagesBlast forward: Erik Koch made his presence felt when he decisioned Jonathan Brookins in September.
Jose Aldo
is Calgary-bound for UFC 149 on July 21. Who will he face? As of Wednesday afternoon, this information was not yet disclosed. Just like the injury that forced featherweight contender
Erik Koch
from his fight with
Dustin Poirier
in November, there are mysteries to be found all over the 145-pound landscape.
At least some of them are clearing up a little bit.
Having spoken to Koch, a couple of things stand out. One, he is feeling 100 percent after his strictly confidential injury and is ready to accept a bout. The Duke Roufus pupil was set to stake his four-fight win streak against fellow upstart Dustin Poirier in November before the injury forced him off the card. And two, Koch has a sorted order of preference of the guys he'd like to see.
"If nobody fights Aldo, I'll fight Aldo," he says. "If not, I want the second guy; I want
[Hatsu] Hioki
. He's definitely in the mix. So that's how I want my plan to be. Aldo first, and if not, Hioki as the back-up plan."
Koch's management is still waiting to find out what's next for the man with the premonitory nickname of "New Breed." Aldo needs an opponent for the UFC's maiden trip to Calgary. Koch is willing. Couple that information with the fact that Poirier is scheduled to fight
Chan Sung Jung
on May 15 -- just two months before UFC 149, making for a short turnaround -- and Koch looks like a fun possibility. Koch's training partner,
Anthony Pettis
, was just last week rumored to be contemplating the bout, but was quick to dispel those rumors (in part, maybe, to avoid stepping on Koch's feet). Besides, Pettis himself is now sidelined with an injury.
And then there's also Hioki, who might be in front of Koch on some people's polls, but the Japanese fighter didn't exactly assert himself after beating
Bart Palaszewski
at UFC 144. Everybody knows this is an industry that sneers at modesty.
Koch, on the other hand, brings a stampede wherever he goes.
Before decisioning the "Ultimate Fighter 12" winner
Jonathan Brookins
, Koch had won back-to-back knockout of the night honors against Raphael Assuncao and
Francisco Rivera
in what was Koch's final WEC match. His last (and only) loss was a decision to
Chad Mendes
back in March 2010. Since then, he's been electrifying.
"Chad Mendes did beat me, but you know, I was a completely different fighter then," Koch says. "And Aldo has a good track record against wrestlers. To beat him, you got to beat him at his own game. You've got to stand with him. You've got to know how to do it right. [Fighting Aldo] would be a blast, I can tell you that. You'd definitely get some stand-up war going."
That's the selling point. The very thing that gives some fighters pause when contemplating Aldo gives Koch confidence.
"

I think just having good footwork, good striking and good fundamentals, and just using my size as a featherweight, would give him big problems.

"

-- Erik Koch, on why he matches favorably against Jose Aldo
"It's the match-up," he says. "I think -- nothing against Aldo because he's a beast, he's one of the best in the world for a reason -- but out of anybody in the division, if anybody matches up with him, it's me. I think just having good footwork, good striking and good fundamentals, and just using my size as a featherweight, would give him big problems."
Will it be Koch that the UFC sticks opposite Aldo? We may know very soon. But of all the alternatives, he at least packs some wallop. And he wants to stand and trade with Aldo, which is the right kind of roulette for a featherweight main event.
"For me, now it's about trying to finish fights and making exciting fights," he says. "I definitely want to be the best fighter in the world, but at the same time I want to be exciting. I want to bring something to the table that everybody wants to watch. People don't realize, we're in the entertainment business. I definitely want to give people what they want to see."
Now Koch will sit tight and hope that the UFC wants to see things similarly.
September, 8, 2011
9/08/11
6:53
AM ET

By Chuck Mindenhall
ESPN.com
Archive
Duke Roufus has turned a small contingency of Midwestern fighters into his own personal "Ong Bak." Though he's got
Erik Koch
,
Pat Barry
and Danny Downes around on a regular basis, Roufus's flagship student is Milwaukee native
Anthony Pettis
, whose Hong Kong action cinema style makes up just about everybody's perception of what's being taught there. Roufusport MMA is right now synonymous with an exciting brand of fighting and Pettis ensures it.
That's why it's with a small amount of intrigue that we turn to Anthony's brother, Sergio Pettis, who turned 18 on Aug. 18. He has his first professional MMA fight Saturday at the Winnipeg Convention Centre as part of a CFC event. So how does he get ready for a pro MMA fight? By fighting in his first pro muay Thai fight just a few weeks beforehand.
"Yeah, I actually had my first pro muay Thai fight [in August]," he told ESPN.com. "I was more conservative in that fight, though. I won by decision, but the guy was one of them brawler-types so it was harder than I thought it would be. In my next fight coming up, I'm going to let it go and just have fun with it."
Pettis debuts against Kyle Vivian (0-3), and he'll enter the cage with an expectation -- some might say burden -- of delivering excitement. Not just to live up to billing as a Pettis, but as a Roufus fighter. It may fly under most people's radar, but it's a big deal for those in that sector of the 414 to see their youngest prospect get off to a solid start in what he hopes is a long MMA career.
"I am used to it now," the younger Pettis says of his brother, who'll be working his corner on Saturday. "It's not a bad thing, but obviously my competition's going to be a lot harder now; they see the last name and they're obviously going to expect a challenge. There's a lot of pressure, but it's alright, I think I can pull through and make the best of it.
"Anthony's the only one at the gym that knows me personally. He's my brother, so he knows when I'm having a bad day and when I'm having a good day. He helps me not get frustrated during training camp when I'm having an up and down week. But he makes me have fun with it."
The Pettis brothers both got involved in taekwondo when they were five years old, and each segued into kickboxing in their teens. Sergio has followed in his brother's footsteps the whole way, and is now looking to build up a name of his own. He might want to start with a more original alias, especially given the Roufus fighter's penchant for originality in nicknames. Anthony "Showtime" Pettis. Pat "Hype of Die" Barry. Danny "Boy" Downes. Erik "New Breed" Koch. These transcend your usual "Pitbull" handles.
So what's Sergio's?
"They call me the "Phenom" but that's Vitor Belfort's nickname, so I'm like, I don't know," he says. "He's pretty old, so I don't know if he can still be considered a phenom."
When you're 18, everybody is old, so he's got time to figure it out. For now, it's good enough that he's part of a burgeoning team that is making a name for itself similarly to how Greg Jackson built his team down in Albuquerque. In fact, Sergio says he sees the potential of Roufusport doing something Jackson-esque in the near future.
"That's the plan," he says. "[Greg] Jackson is known for winning fights and that's how it's going to be with Duke. Only, we're going to try to finish fights though."
It's the right kind of caveat, and it speaks to the mindset of Roufus fighters.