July, 24, 2013
7/24/13
2:26
PM ET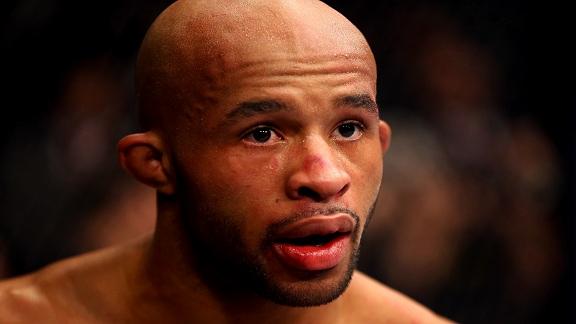 On the one hand, another nationally televised flyweight title fight is just crazy enough to work at Saturday's
UFC on Fox 8
card in Seattle.
After all, if frenetic back-and-forth action is what we want in a main event, this is the formula -- even if the guys fighting in it, challenger
John Moraga
and 125-pound champion
Demetrious Johnson
, are lighter than most sophomores in high school.
But then again, everybody loves a headliner consisting of two loaf-fisted heavyweight monstrosities trying to take each other's heads off. Given these perhaps outdated but still popular appetites, it's risky to trot out the remora instead of the sharks, is it not?
Not that these are the only factors.
By now you know that nobody knows who Moraga is, and that's why so many people are dishing the CliffsNotes. We need to learn
of
the fly
on
the fly. The 5-foot-3 Johnson is better known, but not to the dreaded "casual fans," the ones presumably being tempted toward their television sets. So what we're talking about by making two fairly anonymous fighters the main attraction on a big, widely seen card is that technique, athleticism, skill and speed -- colliding like two angry hummingbirds in a jar -- are more than enough.
The truth is, it might be. Particularly if each has his moments putting the other in trouble. The question then becomes: Does any of this change Johnson's approach? Johnson is holding the flyweight belt in part because he fights smart (a euphemism for "boring" in the minds of some people). He hasn't been involved in a fight that didn't go the distance since 2010, when he fought
Damacio Page
in the WEC. If he fights tactically against Moraga -- which by all rights he should and Moraga expects -- doesn't he make the least of the coveted spot?
That's all left for Saturday night. Drama is sometimes in the smaller details, and those are on display this weekend in Seattle.
FIVE STORYLINES
The introduction of Moraga
Though the flyweights carry an onus of not being able to finish fights, Moraga crushes onuses like a cold monkey wrench. In two UFC bouts, both at 125 pounds, he has finished the guy in front of him. Should he do to Johnson what he did to
Ulysses Gomez
(that is, knock him out), here's guessing that everybody knows exactly who Moraga is come Sunday morning.
[+] Enlarge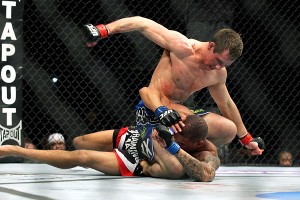 Ed Mulholland for ESPN.comA victory over Jake Ellenberger on Saturday would put Rory MacDonald into imminent welterweight contention.
Flyweights in the floodlights
Aesthetically, the flyweights are fun to watch and almost impossible to truly behold with the naked eye. They require remote controls and liberal use of the slow-motion button. But do we ultimately value that? Should Moraga-Johnson underwhelm, this could be the last flyweight tilt (title or no) we see headlining a big card for a long time.
MacDonald as legit contender
Who has Rory MacDonald fought
, cynics want to know. After all,
Che Mills
isn't in the UFC anymore and
Nate Diaz
is more of a natural lightweight (as is
BJ Penn
). As for
Mike Pyle
? He's awfully long in the tooth. But remember, MacDonald did have
Carlos Condit
on the ropes until the final seconds. And if he beats
Jake Ellenberger
, who has won eight of nine, MacDonald puts his name into imminent welterweight contention.
Ellenberger's chance to make statement
Say that Ellenberger goes in and savagely puts MacDonald away in the first round, as he's known to do. What then? The guess is that such an outcome sets up a fight between Ellenberger and
Demian Maia
as a true No. 1 contender bout while
Georges St-Pierre
-
Johny Hendricks
plays out in November.
Lawler's resurgence
It's crazy, but the last time
Robbie Lawler
won consecutive fights was all the way back in 2007. He traded wins and losses for four years in Strikeforce, coughing up a bit of his mystique. But the upset victory over
Josh Koscheck
in February put a little wind back in his sail, and should he beat
Bobby Voelker
on Saturday, he'll essentially have a clean slate.
FIVE QUESTIONS
Can 'Mighty Mouse' finish a fight?
Truth is, Johnson looks better each time we see him in the cage. He looked good against
Ian McCall
the first time and better against him the second time. Johnson looked great against
Joseph Benavidez
. Ditto
John Dodson
. The knock is that Johnson is a points fighter who does just enough. Does that end against Moraga?
Can Ellenberger win a decision over MacDonald?
You ask people how Ellenberger wins his fight against MacDonald and they'll say via knockout. But what happens if MacDonald stays disciplined and is there all night? Can Ellenberger eke out a win on points? He did fade against
Martin Kampmann
and
Diego Sanchez
, and neither is as big and strong as MacDonald.
[+] Enlarge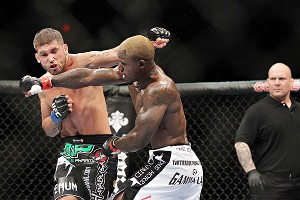 Ed Mulholland for ESPN.comFew UFC fighters are more in love with their own power than Melvin Guillard, right. But is he one loss away from being unemployed?
Which Melvin Guillard shows up?
Realistically, there's only one Guillard, and that's the same one who will show up in Seattle. He switched training camps (yet again) to Denver, where he's been training with Trevor Wittman. Thing is, he loves his power and trusts it to trump everything he'll encounter. Against
Mac Danzig
, who has gone 3-6 in his last nine fights, Guillard will once again sink or swim by his infatuation.
How does Carmouche rebound?
Fate is funny. For a few seconds at
UFC 157
, it looked like
Liz Carmouche
was about to defeat not just
Ronda Rousey
but the very reason for women's MMA in the UFC. It was a tense few moments when she had Rousey's back, but in the end, Carmouche went down gallantly. Facing
Jessica Andrade
, Carmouche -- the biggest favorite on the card -- has to guard against the spiral.
Will MacDonald come around to GSP?
This question is premature, which makes it the kind of question we love to ask. Yet should MacDonald beat Ellenberger, St-Pierre take care of Hendricks in November and the two be asked to fight each other thereafter, we have arrived at the next
Jon Jones
-
Rashad Evans
(and the hunch is MacDonald won't protest for long).
WHO'S ON THE HOT SEAT?
John Albert
-- He has lost three fights in a row since beating
Dustin Pague
in his UFC debut. A loss to
Yaotzin Meza
is almost a guaranteed pink slip. But if Albert wins? Yahtzee! The "Prince" lives to see another day.
Aaron Riley
-- Riley is only 32 years old but has been in 44 fights. He's been around the block a few times. In his last fight against
Tony Ferguson
, in 2011, he suffered a broken jaw. Should he lose to
Justin Salas
, if he doesn't hang up the gloves himself, the next pair he wears might not say "UFC" on them.
Trevor Smith
-- The Strikeforce immigrant takes on an angry
Ed Herman
, who, in a fit of optimism, made a cameo appearance in Strikeforce against
Ronaldo Souza
and lost badly. Tough draw for Smith. Herman's relevance is at stake.
Melvin Guillard
-- Yes, there's a
Leonard Garcia
thing going on here. Guillard always comes to fight, does so on short notice and lets the chips fall where they may. Dana White likes him. But he needs a win badly. Very badly. Then the UFC won't be forced to make any hard decisions on him.
Mac Danzig
-- See Guillard.
WHY YOU SHOULD CARE
Because the flyweights have one speed, which is blue blur ... because Johnson is one of the most underrated fighters to ever carry such mastery to the cage ... because Moraga swings for the fences and is fighting for his late cousin Jay ... because there's not one, but two women's fights, and
Julie Kedzie
versus
Germaine de Randamie
will have your grandmother spitting out her tea ... because
Danny Castillo
does love himself a brawl ... and for that matter so does
Michael Chiesa
... and
Jorge Masvidal
... because Herman can't afford to lose to Smith, and when a "Short Fuse" meets "Hot Sauce," the thing gets flammable ... because MacDonald is fighting Ellenberger, and it won't cost you a dime.
June, 13, 2012
6/13/12
5:12
AM ET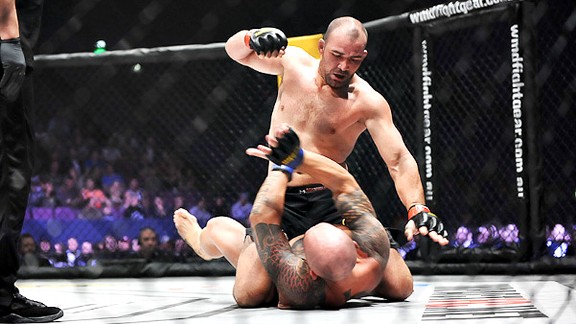 Chris Dela Cruz/Sherdog.comWant a piece of Glover Teixeira? Mauricio Rua sure didn't.
Glover Teixeira
's greatest enemy to date has been access.
For the last few years, visa problems have kept him out of the UFC. Before he defeated
Kyle Kingsbury
at UFC 146 to point a sudden "I'm coming" finger at
Jon Jones
, the last time he'd fought in the States was back in 2008 when he punched out Buckley Acosta.
None of that matters now. What matters is Teixeira's arrived, and we saw it in his dismantling of Kingsbury in just under two minutes. Those in the know
knew
. Those who didn't were quickly alerted to what the cult was saying, which was this: Teixeira is a power player who arrives on the UFC 205-pound landscape like a man ready to build condominiums all over it.
And that's good, because the 32-year old Teixeira brings life to a division where prospects are down. He's won 16 fights in a row. His last loss was in 2005 to
Ed Herman
. It's not that he's nickel and diming guys, either. Fifteen of his victories during that stretch have come via finishes. He's not top 10 right now in part because Ricco Rodriguez and Marvin Eastman (the guys he's beaten) are not
Ryan Bader
and
Phil Davis
(the guys he's hurdling).
More importantly, Glover just isn't that known to UFC-centric Americans.
[+] Enlarge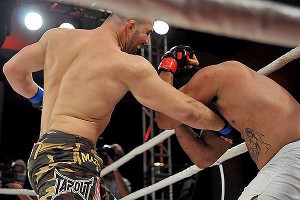 Colin Foster/Sherdog.comGlover Teixeira's arrival should help breathe some life into the light heavyweight division.
As for the Brazilians? Well, they know him. They know him plenty.
And to listen to Dana White, knowing him means to steer clear of him. That's what happened this past week when fellow Brazilian
Mauricio Rua
turned down a headlining fight with Teixeira when
Thiago Silva
was forced out of their scheduled bout with a back injury. When offered Teixeira as a replacement, Rua politely said, "no thanks."
That sounded like "you must be out of your mind to think I'd fight that guy" to the UFC.
When the UFC threatened to cut Rua if he didn't conform to the idea, he said he'd rather get canned than mingle with the "Baker." This was not the expected response. Of course, all of this was how White relayed it to the media. Translations may differ on how things went down.
Since then, muttering has gone on with both sides since, but the bottom line is this: Rua didn't want to fight Teixeira and he had his reasons. Those reasons, if we're to be bludgeoned by strong hints, are that Rua wants no part of Teixeira. Either way, turning down fights is not what the UFC wants out of big name former champions who have drawers full of big digit deposit slips.
The compromise was
Brandon Vera
, a name of utter bewilderment to MMA fans. How does Rua, coming off the fight of the year against
Dan Henderson
at UFC 139 (a fight that some thought he won), get paired with Vera, who was coming off a lackluster victory over
Eliot Marshall
? Why, if Rua was only interested in fighting top-10 fighters, did he turn down Teixeira but accept Vera? Was he ducking Teixeira, as was insinuated? Or is this a tactical move, a simple case of Vera is the easier opponent? Why did the UFC accommodate Rua with Vera when the ultimatum wasn't met? Are UFC matchmakers so hog-tied right now that when fighters dare the promotion to cut them that they are the first to blink?
This last question gets complicated when you look at the case of
Quinton Jackson
.
But the answer to some of this might be simple. Rua, like Jackson, is the old guard who likes sticking to the old guard. Jackson wanted to fight Rua, Rua wanted to fight Jackson. Vera is old guard.
Tito Ortiz
,
Forrest Griffin
, Dan Henderson -- they are old guard, too. They have established names. The UFC's light heavyweight division -- perhaps more than any other -- is by and large a cast of past glories. Jon Jones has obviously helped render the situation. He effectively eased people into the past tense. He could do the same to Henderson on Sept. 1.
The thing is that Rua wants marquee fights in the twilight of his career. The UFC wants to introduce Teixeira into that space of marquee names. Teixeira is actually older than Rua. But it's hard to crash a party that's been raging on without him for so long. Rua, a little over a year ago, was the life of that party. Teixeira, around the same time, was beating somebody named Simao Melo in Shooto. It's easy to see both sides.
So was it an issue of fear, lack of merit, motivation, desperation, name recognition or simply a matter of shrewd logistics that prompted Rua to say no to Teixeira?
The short answer is: Probably.
May, 6, 2012
5/06/12
7:56
AM ET

By Josh Gross
ESPN.com
Archive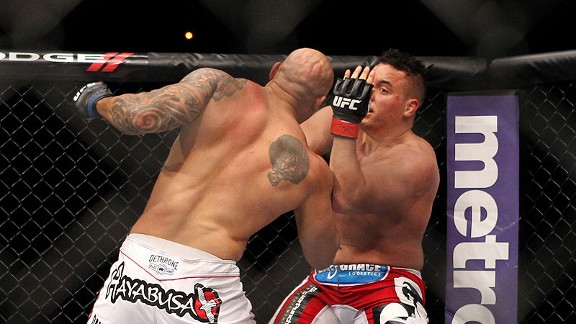 Ed Mulholland for ESPN.comLavar Johnson, whose story was told many times over during fight week, came through on fight night.
Mixed martial arts is filled to the brim with great stories. Not the least of which is the amazing tale of the sport itself.
During the course of this fight week, UFC's third on network TV, we were often reminded of two of its most harrowing: Lavar Johnson taking three bullets in a drive-by and
Alan Belcher
's battle with blindness.
When it comes to opportunities, Johnson and Belcher have to rank among the UFC's most grateful combatants.
With Johnson, it's easy to grasp why. He was the victim of horrific street violence that left his life (never mind his career as a heavyweight fighter) in peril. To survive and rebuild must have been empowering, which you can see in an attitude that led him, improbably enough, to open the Fox-televised UFC card. Johnson is fighting like he has nothing to lose, knocking dudes stiff, and for that he's moving toward the something-to-lose category. It will be interesting to see how the mid-tier heavyweight handles added pressure of success.
Belcher, though. The sport dinged him bad, nearly taking his sight. To cope with the emotions and thoughts that must come with that, the surgery and eventual recovery, to put it all on the line again by fighting dangerous beasts like
Rousimar Palhares
, I'm not sure there are many people who can comprehend what that requires.
Alan Belcher amazed on Saturday, and only in part because of his history.
[+] Enlarge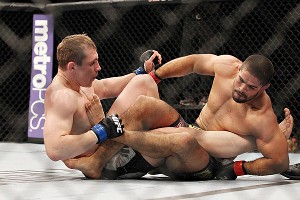 Ed Mulholland for ESPN.comAlan Belcher, left, faced a tense moment or two on the ground before stopping Rousimar Palhares.
The 28-year-old out of Biloxi, Miss., turned the tables on Palhares, attacking the Brazilian at his considerable strength. Leg locks, dare I say, are a dangerous game if played against "Toquinho," but Belcher was obviously well prepared and defended the twisting, turning, bone-breaking attacks as well as he could.
Belcher wasn't supposed to win -- not according to the mythology built up around the Brazilian. Palhares tore people limb by limb, OK? But, you know, Belcher wasn't even supposed to be fighting, either. And there he was, slamming elbows and punches into the head of a stumpy middleweight stuck on his back.
UFC's third card on Fox was its best since finding the brighter spotlight of prime-time network TV. After a too-short title fight followed by an all-decision card, Saturday's effort -- highlighted by Johnson's knockout, Belcher's referee stoppage and Nate Diaz's coming out party -- was a true example of mixed martial arts as spectator sport.
On a big night for combat sports, when UFC action led into Floyd Mayweather out-pointing Miguel Cotto and pocketing a record $32 million in guaranteed money, Belcher's win -- his fourth straight -- feels worth singling out. The streak, halved by the retina detachment in 2010, puts him in position to compete at the upper reaches of UFC's middleweight division.
Palhares, amazingly enough, wasn't ranked coming into tonight. So where does that leave Belcher in a deep, competitive field?
I think he'd beat
Hector Lombard
, Bellator's former champion and Zuffa's newest signee, who has a similar chance to breakthrough on Fox when he fights
Brian Stann
in Los Angeles in August. Can't say I feel so confident in Belcher if he's matched against Stann. Belcher versus the winner between
Ed Herman
and
Jake Shields
makes sense. Perhaps
Tim Boetsch
or
Michael Bisping
, who meet this July. Whatever Zuffa tasks him with next, Belcher will eagerly answer the call.
After all, he didn't come back from the brink of disaster for nothing.
April, 27, 2012
4/27/12
1:08
PM ET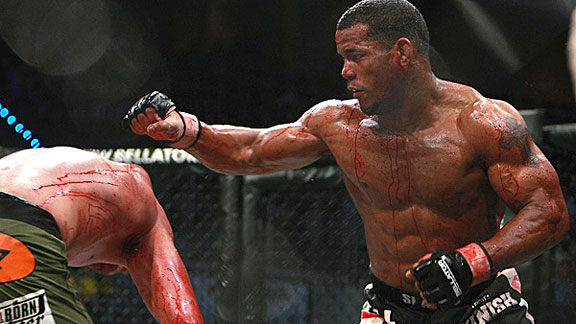 Dave Mandel/Sherdog.comWelcome to the big leagues: Hector Lombard won't get any soft touches in the UFC.
The one thing that any successful fighter heading into the UFC will hear is this: He's overrated. He hasn't faced any real competition. Somebody's about to come crashing down to earth. Somebody is about to get exposed.
That "somebody" this time happens to be
Hector Lombard
, the popular Bellator middleweight champion who has rattled off 20 victories in a row, including eight as the company's flagship. Lombard is a menace at 185 pounds and is sculpted like a Frank Frazetta overlord, but the big gripe against him is he's beating guys named Falaniko Vitale and Herbert Goodman instead of cats like
Mark Munoz
and
Rousimar Palhares
.
All that changes, now that Lombard makes his way to the UFC. Instead of facing UFC castoffs like Jay Silva and Joe Doerksen, the 34-year old American Top Team fighter will face UFC regulars. It's a completely different vantage point. Lombard's new assignment is to
covert
guys into UFC castoffs rather than feast on what's left of their good names.
Here's a quick look at five guys who would make for mean welcoming parties for "Shango."
Brian Stann
Back when
Jorge Santiago
had built up a new head of stream in Sengoku, he became a popular dark horse pick against Brian Stann at UFC 130. What did Stann do? He punched the daylights out of him. And wouldn't you know that just as Lombard brings his 25-fight unbeaten streak into the UFC, Stann is coming off a big victory over
Alessio Sakara
and needs an upgrade in opponent, just as all the bigger names are occupied?
Enter Hector Lombard. The great thing about this fight is both guys like to bang on the feet. Lombard is a precision striker who carries a lot of power. He likes to fight guys that get right up in his wheelhouse and tempt him into uncoiling. That's Stann, who makes it his duty to oblige brawlers. (And just as often, shut them down).
Jake Shields
Shields has bounced back and forth between 170 and 185 pounds, and after a fairly subpar run in the UFC's welterweight division, it looks like he'll bulk back up. Bottom line is, he wasn't losing to slouches, either --
Georges St. Pierre
and
Jake Ellenberger
(under trying circumstances, dealing with the passing of his father) never looked like easy outs.
But the last time we saw Shields as a middleweight he looked ... if not great, then totally resilient. He beat up
Jason Miller
for five rounds, and then improbably defended the Strikeforce belt against
Dan Henderson
in a fight he had his wits scrambled in the first round. Not to name drop, but Shields was the last guy to defeat Henderson, who is now set to fight
Jon Jones
for the 205-pound title. Think he wouldn't like to punch some holes in Lombard's lore? And for those desperate for storylines or loose patriotism, it'd be the battle of the Americas -- American Jiu-Jitsu versus American Top Team.
Luke Rockhold
Hey, while we're restocking the UFC's middleweight division with valuable intrigues, why not bring Strikeforce middleweight champion Luke Rockhold into the UFC fold to face Lombard? It's not the
likeliest
scenario, but Rockhold has just come into his own at a time when Strikeforce has become a weekend skeleton crew. Think he likes the idea of challenges named
Keith Jardine
or, maybe at some point, Bristol Marunde?
It's fun to imagine a Rockhold/Lombard scrap. You've got two guys who aren't afraid to fight in the pocket, each with a durable chin and sadistic intentions. It has "back-and-forth war" written all over it, a great UFC debut for both ... but it looks like Rockhold will get that long-awaited battle with Stikeforce contender
Tim Kennedy
, thus rendering this flight of fancy moot. Truth be told, we're merely throwing Rockhold's name out there in the off chance that matchmakers Sean Shelby and Joe Silva are combing the Internet for suggestions.
Ronaldo Souza
Again, we're dealing in Strikeforce property (read: ultimately Zuffa's), but Souza hates the pace of fighting once every six to eight months. And if the promotion
does
make Kennedy versus Rockhold, that means Jacare is going to be fighting some unmentionable. If the UFC brought Souza over to face Lombard, you've got the strutting fisticuffs that languished in Bellator for too long against the tall-grass predator with the aggressive, limb snatching jiu-jitsu. What better?
And how would that be for a red carpet rollout for both guys into the Octagon?
Ed Herman
You laugh. I can see you laughing. But let me put Herman's name into perspective. For one thing, he has been completely rejuvenated since coming back from his knee injury and setbacks, having won three fights in a row. For another, "Short Fuse" is a finisher just like Lombard. In every one of those fights he dusted his hands of the opponent, beginning with
Tim Credeur
(whom he TKO'd in 48 seconds) and ending with
Clifford Starks
(second round rear-naked choke).
The guy he beat in-between? Why that was
Kyle Noke
(via first round heel hook), the same guy who took Lombard to a draw back in 2007. Herman is creeping up on the pack in the middleweight class, and Lombard is a big step up in opposition. Here's the rub, though: So is Herman a big step up in competition for Lombard. Either Lombard could treat Herman as an appetizer to the main course, or he could, for the first time ever, find himself with a nostril full of smelling salts.
February, 6, 2012
2/06/12
2:36
PM ET

By Franklin McNeil
ESPN.com
Archive
Though
Nick Diaz
didn't leave Mandalay Bay Events Center in Las Vegas with Saturday night's most-coveted honor -- the UFC welterweight interim title -- he did go home with a nice consolation prize.
The Nevada State Athletic Commission revealed on Monday that Diaz earned $200,000 for his five-round unanimous decision loss to
Carlos Condit
, making UFC 143's highest-paid participant.
Condit made $55,000 for the fight. Besides the bout purse, Condit pocketed an additional $55,000 for his victory, which gave him the welterweight interim belt and a shot at current 170-pound titleholder
Georges St. Pierre
.
Welterweight contender
Josh Koscheck
received a check for $146,000. He was paid $73,000 for participating on the card and another $73,000 for his split decision win over
Mike Pierce
-- who was paid $20,000 for the fight.
Heavyweight
Fabricio Werdum
, who looked impressive en route to a unanimous decision over rugged
Roy Nelson
, took home $100,000. A win bonus was not part of Werdum's fight agreement. Nelson was paid $20,000.
Highly ranked bantamweight contender
Renan Barao
earned $22,000 -- he picked up $11,000 for the fight and an additional $11,000 after defeating
Scott Jorgensen
by unanimous decision. Jorgensen made $20,500 for his effort.
Rounding out the payment compensation for UFC 143 main card participants were middleweights
Ed Herman
($62,000, which included a $31,000 win bonus) and
Clifford Starks
($8,000). Herman won the fight by rear-naked choke in the second round.
Additionally, the UFC has officially asked the Nevada State Athletic Commission for the dates of May 26 and July 7. The promotion intends to hold events on those dates at MGM Grand Garden Arena. UFC has not yet revealed any details as to which fighters are slated to participate at those events.
January, 31, 2012
1/31/12
12:17
PM ET
Since we're in the business of musing over the clay perceptions of casual fans, you have to wonder how lay viewers took in the
Demian Maia
/
Chris Weidman
fight that opened a national television broadcast on Saturday night.
For instance, if you'd tuned in and saw Maia gassing though parts of the second round and the entirety of the third, you might have thought it was he who had to cut 31 pounds in 11 days to make weight. You might have also suspected that Maia's only chance of beating Weidman was a simple puncher's. After all, he was winging that left with hopes of a homerun.
Maia looked like a one-dimensional fighter, whose single dimension wasn't all that imposing.
Now, if you are anything more than the casual fan, the performance against Weidman begged the question that's been looming since the 21-second knockout at the hands of
Nate Marquardt
in 2009 -- what happened to the Maia of old? Who is this imposter that walks out to "Vida Bandida?" Wasn't Maia the best Brazilian jiu-jitsu practitioner in the game, who for a while there people began referring to as
Royce Gracie
2.0?
Maybe the hackers who have plagued the UFC all week have greater reach than we know. Maybe they have the ability to hack into UFC fighters now, and redirect them from world-class jiu-jitsu players into vague kickboxers. Or maybe Maia was hurt, or sick, or confused. It's possible he was disenchanted that
Michael Bisping
became Chris Weidman. It must be something, but the former No. 1 contender has gone from being 5-0 in the UFC with five ridiculously fluid submissions to 9-4 in the UFC with five ridiculously fluid submissions.
It started by getting knocked out by Marquardt in Portland at UFC 102, and since then in seven fights he's gone the distance seven times. In all of them we've been applauding the slow evolution of his stand-up. Somewhere along the way Maia took criticism of his stand-up to heart, and became obsessed with doing something about it. This seemed obvious. When he surprised
Mark Munoz
a couple of times at UFC 131, we began to think him more than capable on the feet. And he is.
But the problem is Maia has forgotten who he is. A timely reminder on Fox would have been a welcoming relief, but the nonpareil jitz master has changed focus.
It used to be that if you went to the floor with Maia it became a matter of time until you tapped.
Chael Sonnen
,
Ed Herman
,
Jason MacDonald
,
Nate Quarry
-- these guys caught hell for mistakes, for over-aggressiveness, for simply finding themselves on the ground. If Maia was on his back, he would sweep. He was mean in a scramble. He was quick to snatch limbs. If he got your back, it was a matter of time. Maia made guys feel paranoid about being on the ground. He wasn't just good at triangles, he was a Bermuda triangle, where contenders -- wrestlers, boxers and otherwise -- disappeared.
Now Maia's jiu-jitsu has gone AWOL, and it's curious. Even the threat of it has vanished.
[+] Enlarge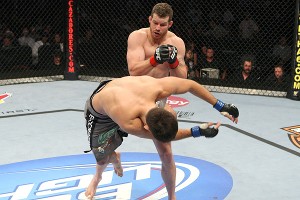 Josh Hedges/Zuffa LLC/Getty Images Is it possible that Nate Marquardt knocked the jiu-jitsu out of Demian Maia?
Against the wrestler Weidman, Maia was officially 0-7 on takedowns, but they all played out as half commitments. Truth is, it didn't look like he really wanted to go to the ground. Weidman, also a solid BJJ player, wasn't afraid to take it there, and did so a couple of times late in rounds. For a jiu-jitsu superior like Maia, who had uncanny Octagon control in his arsenal at one point in the career, it's become OK to allow opponents to dictate terms. Which is not OK for sustaining a career.
Weidman did it. And so did Munoz. Against
Jorge Santiago
at UFC 136, Maia had things in his realm but settled on ground-and-pound. Maia at 34 looks less wise than the one who fought at 30. This is not an ideal trajectory.
What happened to the quiet contortionist that capitalized on every misstep? In those first five UFC fights, Maia took home "submission of the night" honors four times. That's a lot of extra cash. Since then he has not been awarded a single end of the night bonus. If his stand-up has improved, that's great; but all new elements should be working toward the one element that made him special -- his jiu-jitsu. Otherwise, the admission seems to be that either people have caught up to him, or that jiu-jitsu and Maia are no longer on speaking terms, or that he doesn't trust jiu-jitsu to get the job done anymore.
Whatever the case with Maia is, it's mysterious. And you get the feeling that if he doesn't rediscover his roots soon, he'll be done in the UFC.