January, 31, 2014
Jan 31
10:23
AM ET
By Joe Kilduff
ESPN Stats & Information
Archive
UFC interim bantamweight champion
Renan Barao
became the undisputed champion when
Dominick Cruz
vacated the title due to injury. Barao must now defend the title against the man he beat to win the interim title at UFC 149,
Urijah Faber
. Faber has won four in a row since the unanimous decision loss to Barao and will be making his third attempt to claim a UFC title. In the co-main event, UFC featherweight champion
Jose Aldo
will defend the title against
Ricardo Lamas
, who is undefeated in four UFC fights.
Here are the numbers you need to know for the fights:
85:
Number of significant strikes landed by Barao in his previous fight with Faber. Although Faber landed a higher percentage of significant strikes attempted (34 percent) than Barao (29 percent), Barao was the more active fighter as he attempted 290 significant strikes to Faber's 178.
0:
Number of times Barao has been taken down by his opponents in all six of his UFC fights. In Barao's previous fight with Faber, he was able to defend all six of Faber's take down attempts. In all 20 of Faber's UFC and WEC fights he has been successful on 36 percent of his takedown attempts.
4:
Barao and Faber are both 4-0 against their common opponents
Cole Escovedo
,
Scott Jorgensen
,
Michael McDonald
and
Eddie Wineland
.
2:
Number of times Faber has lost by KO/TKO. Neither Faber nor Barão has been prone to being finished as Barao's only loss came by decision and Faber has not been stopped since 2008 by
Mike Brown
at WEC 36.
31:
Barao's winning streak since losing his professional debut in 2005. His 31 wins include 14 by submission, seven by KO/TKO and 10 by decision.
19 minutes, 24 seconds:
The average fight time for Aldo in his UFC fights. At almost 19 and a half minutes per fight Aldo's average fight time is the longest in UFC history among fighters with at least five fights in the promotion. While Aldo has a tendency for long fights, Lamas has only been past the second round once in his four UFC fights.
90:
Percentage of takedowns defended by Aldo in all five of his UFC fights. Among fighters with a minimum of five UFC fights and at least 20 takedown attempts by opponents, his 90 percent takedown defense is the best in the featherweight division and fourth best in UFC history. In all 10 of his UFC and WEC fights, Lamas has been successful on 38 percent of his takedown attempts.
72:
Percentage of significant strikes defended by Aldo in his UFC fights. Among fighters with a minimum of five UFC fights and at least 350 strikes attempted by opponents his 72 percent significant strike defense is the second best in the featherweight division (
Chad Mendes
, 77 percent) and sixth best in UFC history.
1:
Aldo and Lamas have both fought 1 common opponent,
Cub Swanson
. In 2009, under the WEC banner, Aldo defeated Swanson by TKO with a flying knee just eight seconds into the first round. Lamas submitted Swanson with an arm-triangle choke in the second round at UFC on FOX 1 in 2011.
Statistical support from FightMetric
September, 20, 2013
9/20/13
7:23
AM ET

By Brett Okamoto
ESPN.com
Archive
TORONTO -- The craze from a blockbuster boxing event between Floyd Mayweather Jr. and Canelo Alvarez last weekend in Las Vegas has followed the UFC north.
UFC president Dana White and light heavyweight champion
Jon Jones
, who defends his title against
Alexander Gustafsson
at UFC 165 on Saturday, were asked repeatedly about Mayweather at a media function on Thursday.
Specifically, questions zeroed in on Mayweather's much-talked about $41.5 million guarantee for the fight and Golden Boy Promotions CEO Richard Schaefer's comments regarding the pay-per-view breaking buy records set in 2007.
White, who attended the fight at the MGM Grand Garden Arena, said he was flattered the company he's helped run since 2001 would draw comparisons to boxing, a sport with a much longer history.
"I'm honored we're always looked at like, 'Why aren't you paying people $41 million,'" White said. "'Why aren't you doing 2.7 million [PPV] buys?'
"What people have to realize, we just started making money in 2007. Do people understand that? This sport is still so young. We're not even sanctioned in New York, we've just been on Fox [Network] for a couple years and we're talking about doing a $41 million payday. It's crazy."
Jones, 26, one of the most marketable stars in the UFC, announced on Thursday he'd signed a sponsorship deal with Gatorade that would feature the brand on his fight shorts this weekend.
On Mayweather's $41.5 million payday, which, White correctly pointed out, could ultimately become closer to $100 million when final PPV revenue comes in, Jones said he's happy with his current pay scale but sees room for improvement.
"I'm not even close to that, but I'm grateful," said Jones, after refusing to reveal his exact compensation for the bout. "It's nowhere near Floyd Mayweather, but I don't judge my happiness over somebody else's.
"I'm really happy with what I get paid. It's really not on the scale of other professional athletes, but there are a lot of athletes that don't get paid as much as [UFC fighters]. I know Dana White knows that some of the fighters could be upgraded, especially his top-level guys, but maybe we'll move in that direction."
The largest buy-rate ever for a UFC event was reported at 1.6 million, for the landmark UFC 100 card that took place in July 2009. When asked if he thought a UFC event could one day score a buy rate near 2.7 million, White said he hopes so.
"Thirteen years ago, people were asking me, 'Will there ever be a day UFC will get back on PPV?'" White said. "'Will there ever be a day UFC is on free TV? Will there ever be a day you'll be doing things in different countries?' Here we are now so, yes, I like to believe we will."
White chickened out on Mayweather wager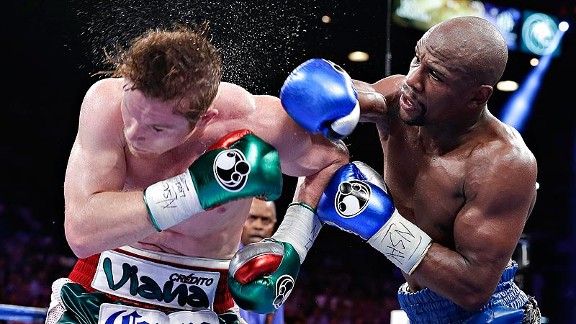 AP Photo/Eric JamisonJust as UFC president Dana White predicted, Floyd Mayweather had no trouble picking apart Canelo Alvarez.
Ever since it was announced Mayweather was fighting Alvarez on Sept. 14, White was adamant it would result in yet another decision victory for Mayweather.
He mentioned on several occasions his prediction Mayweather would, "Box Canelo's ears off."
White says fans pressed him to put his money where his mouth was during a recent online chat, but admitted that ultimately, he had no action on the undefeated boxer.
"I watched all the bull---- leading up to it and I chickened out, so I didn't bet anything," White said. "[UFC co-owner] Lorenzo [Fertitta] did really well, though."
Renan Barao, Eddie Wineland interim title fight will be the last
Whether UFC bantamweight champion
Dominick Cruz
is healthy or not come 2014, the promotion is finished with its "interim" tag at 135 pounds.
Cruz (19-1) hasn't fought since October 2011 due to several knee operations. The UFC has been unwilling to strip him of the belt, despite the success of interim champion Renan Barao (30-1), who seeks his second defense of the title against Eddie Wineland on Saturday.
White said he's hoping Cruz could be ready to compete sometime near January. If he's unable to go, the promotion will make Saturday's winner the official title-holder.
"If he can't fight by the beginning of the year, we've got to the pull the trigger," White said.
"It's been two years. A lot of people think we're crazy for holding up the title this long, but it's a tough thing to do to take a title away from somebody. It's hard to do."
White has no concern BJ Penn will make 145 pounds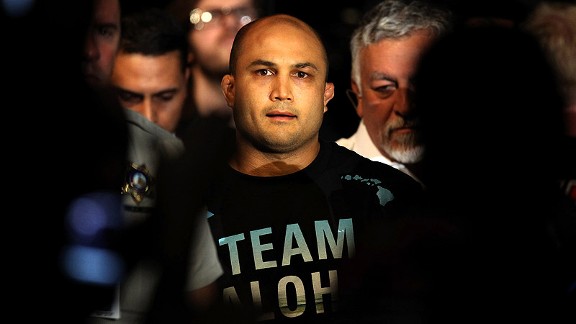 Josh Hedges/Zuffa LLC/Getty ImagesDana White said BJ Penn is adamant he can make the featherweight limit upon his return to the cage.
Not too many were surprised when it was announced earlier this week a comeback was in store for former lightweight and welterweight champion B.J. Penn.
The surprise came when it was announced whom he would be fighting and at what weight.
Penn has agreed to coach on "The Ultimate Fighter" reality series opposite familiar opponent
Frankie Edgar
. The two will then square off for a third time -- Edgar won the previous two -- at 145 pounds.
Penn (16-9-2) has fallen to 1-4-1 in his past six fights, four of which took place at 170 pounds. A cut now, after nearly a year off from the cage, down to featherweight has left some scratching heads.
"No," White said, when asked if he had any worries Penn would miss weight. "He said he wants to do it. He says he'll do it. It's up to him now."
White was then asked if the fight would be a situation where a loss could likely mean the end of Penn's career in the UFC, to which he responded, "Yeah."
September, 17, 2013
9/17/13
6:53
AM ET

By Brett Okamoto
ESPN.com
Archive
In 2004,
Eddie Wineland
basically paid money to have his jaw broken.
A 10-year career in mixed martial arts is going to come with its share of highs and lows. Wineland, 29, hopes to enjoy his best moment in the cage this weekend, when he meets UFC interim bantamweight champion
Renan Barao
at UFC 165 in Toronto.
If you want to talk about lows, though -- Wineland's occurred during the winter of 2004, after he suffered a broken jaw in a loss to
Brandon Carlson
during a regional show promoted in Wisconsin.
Wineland remembers the hospital bills for his injury far surpassed his fight purse for that bout. In his mind, there was really no positive way to skew it. He was sipping meals through a straw -- and had paid money from his own pocket to do it.
"I quit in 2004 after I broke my jaw," Wineland told ESPN.com. "It wasn't worth it to me anymore. I was fighting for $600. I had $15,000 in medical bills. The ends didn't really meet there.
"I traveled four hours and ended up spending money to get my jaw broke."
"

I traveled four hours and ended up spending money to get my jaw broke.

"

-- Eddie Wineland
The "quit" Wineland refers to didn't last long. After attending several local shows in his home state of Indiana, the itch for combat returned in full force. By August 2005, Wineland was back in the cage in a submission win that evened his win-loss record.
It makes for a good story -- an athlete willing to stick with the brutality of the fight game, purely for the love of it. As Wineland points out, he never even considered fighting for a UFC title when he started. One didn't exist in his weight class.
The strange part is, it feels like the good story is being relatively ignored.
Wineland (20-8-1) earned a shot at the interim belt with wins over ranked opponents
Scott Jorgensen
and
Brad Pickett
, but he's about as long as long shots come when it comes to his next fight.
Oddsmakers opened Barao (30-1) as a 7-1 favorite. That almost makes Wineland seem like a hurdle (a short one) for Barao to hop over, en route to a unifying title fight against
Dominick Cruz
, who is recovering from knee surgery, early next year.
The line on the fight, and the fact so much focus has surrounded Barao's tag as an "interim" title, has not dampened Wineland's spirits. He believes Barao is the division's best, which makes his belt more significant than the one Cruz holds.
"He does everything well," Wineland said. "You don't get to the be the No. 1 guy if you're just OK at things.
"I think Renan is the No. 1 guy in the division. He's defended the belt and he's the one fighting. If I win, I get a belt. That makes me a champion, too. It if it's interim, it's interim. It still makes me a champion."
For his part, Barao says he's not ignoring Wineland and promises to look as good as he has in two interim title fight wins against
Urijah Faber
and
Michael McDonald
.
Ranked the No. 9 pound-for-pound fighter in the world by ESPN.com, Barao admits he hasn't made a formal request to the UFC to strip Cruz, who hasn't fought since October 2011, of his title but it appears his patience is slightly running out.
That said, the Brazilian believes he's reaping all the benefits of an undisputed UFC champion. If he compares his status to teammate and UFC featherweight champion
Jose Aldo
, the perks are the same.
"The [UFC] treats me like the champion, they treat me very well," Barao said. "I travel first class [like Aldo]. It's pretty much the same thing.
"I don't actually mind it. I guess everyone wants to know about the [interim title], but I'm very cool about the whole thing. I just think it's important the UFC makes a decision soon and settles this. I've considered myself the champion from the first time the belt went into my hands so yeah, I feel like [Cruz] needs to take this belt from me."
August, 9, 2013
8/09/13
9:45
AM ET

By Josh Gross
ESPN.com
Archive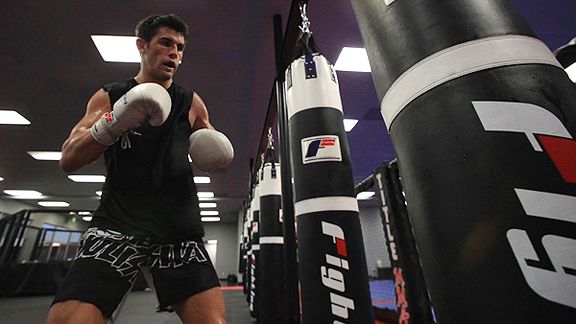 Dave Mandel for Sherdog.com After two knee operations, Dominick Cruz has been cleared by doctors to do some training.
An anniversary
Dominick Cruz
wouldn't wish to celebrate is fast approaching.
Oct. 1 will mark two years since the UFC bantamweight champion was healthy enough to defend his belt in the Octagon. That's 24 months of prime real estate for a world-class fighter, meaning rather than competing against the likes of
Renan Barao
, he has been forced to recuperate through two ACL surgeries.
Cruz has dealt well with various disappointments over these many months. A blown-out knee in May 2012 cost him a trilogy bout against his heated rival
Urijah Faber
. At the end of last year, he required a second surgery after his body rejected an anterior cruciate ligament pulled from a cadaver.
Less than three weeks after Cruz turns 28 on Sept. 3, Barao will attempt his second defense of the UFC interim bantamweight title against
Eddie Wineland
in Toronto. By then "The Dominator" is hoping to have progressed to the point that he won't need to nurse his knee and, instead, can spar hard as he's wont to do.
Cruz's life right now is a series of eight-week training camps, said his longtime trainer Eric Del Fierro. There isn't a timetable for a full recovery because Del Fierro is concerned if Cruz has a firm date planted in his head the 135-pounder will "start pushing too hard." Instead, the trainer has established specific goals that are met incrementally.
"He's a special kind of athlete," Del Fierro said, "so I have to control his mind sometimes."
Cruz told ESPN.com Thursday that he had just been cleared by doctors to drill grappling and Brazilian jiu-jitsu sequences. A far cry from full-on sparring, though that may not be so far away if everything falls into place as he and his team hope.
"If it were up to him he'd be going 100 percent," the trainer said. "We're just following doctors' orders."
In an interview with MMAFighting.com this week, Barao claimed Cruz told him February 2014 had been targeted for a unification fight. Cruz, however, said Barao "misunderstood due to the language barrier," and it's merely a goal at the moment.
"Right now I'm doing no weight-bearing training -- that's why I'm just getting cleared to grapple now because grappling would be considered weight-bearing exercises," Cruz said.
[+] Enlarge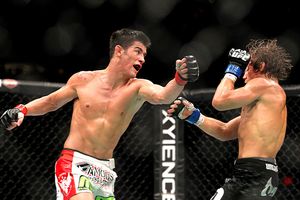 Ed Mulholland for ESPN.comWhen he's back in the cage, don't expect Dominick Cruz to take any tuneup fights.
In an attempt to keep things fresh, and, more important, stop Cruz from overexerting and hurting himself, Del Fierro set up a series of mini training camps "to show progress with his rehab." Cruz, a famously hard worker in the gym, bought into the "step-by-step" recovery sessions and experienced steady progress.
Next on the list is returning to the mat at Alliance MMA in Chula Vista, Calif., even if it's just to drill technique and position. Once that hurdle is cleared, live sparring should follow.
"So now I begin that portion of the eight weeks," Cruz said. "Then I get cleared to kick and add things together until I can do everything."
Cruz's extended absence hasn't caused Del Fierro to believe his charge needs a tuneup when he's finally able to return. They're not expecting or wishing for anything less than the best possible opponent.
"I wouldn't put anyone in a fight that didn't have a good camp, or wasn't 100 percent focused in camp," Del Fierro said. "Literally you're going to face every single scenario in camp that you would in a fight. If Dominick's running through a camp at 100 percent, there's no reason he shouldn't be able to face anybody in competition in the cage."
March, 29, 2013
3/29/13
8:31
AM ET

By Chuck Mindenhall
ESPN.com
Archive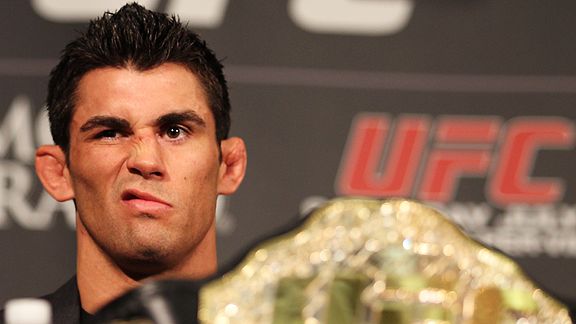 Ed Mulholland for ESPN.comDominick Cruz can only hold onto his UFC bantamweight title for so long without actually defending it.
Should
Dominick Cruz
be stripped of his UFC bantamweight title?
It's been nearly 18 months since he won a decision victory over
Demetrious Johnson
. Since that fight, Johnson has fought four times and captured the inaugural flyweight belt.
Johnson has been -- to use fight game vernacular -- "circulating." That's the preferred method for UFC titlists. Keep that belt dangling over the whole clumsy gang of lunging, outstretched arms.

As for Cruz, he has gone through one rehabilitation stint to repair his blown out ACL and is halfway through another. He explained in excruciating detail the spiral of events on "UFC Tonight." There was the cadaver tendon that didn't take the first time (costing him a year), and now the second procedure, where part of his own patella tendon has become his ACL. That has sidelined him for that extended period of horizonless time we've come to call
indefinitely
.
It's hard not to feel for Cruz. Though he's swiftly making a name for himself as one of the best television analysts going, the date Oct. 1, 2011 keeps getting smaller and smaller in his rear-view window. That was the last time he stepped in the Octagon. In MMA, that feels like a lifetime ago -- for Cruz certainly, but particularly for the promotion.
Forget vague notions of ring rust, we're now breaking into concepts of urgency. It might be Oct. 2013 before we see Cruz again. It might be later. As much as we like to delude ourselves otherwise, life goes on without us. All of us. Even top 10 pound-for-pound fighters. The UFC, as an event-based promotion with its strongest moorings in the pay-per-view business, has to move on. To be vital, things have to be current. Things have to stay active.
That's why there's such a thing as interim titles in the first place -- though they are make-believe, they function well enough as winking placeholders. They keep things rolling, and the
idea
of the belt stays intact. But everybody knows that interim titles are only half-satisfying. Even when the UFC wraps a symbolic belt around somebody, we can't keep from nudging each other.
Why? It's not quite real. It's a mirage.
And after a while, that belt has to mean something. If
Renan Barao
, the interim bantamweight champion, is headlining a pay-per-view card in June -- which he is,
UFC 161
in Winnipeg against
Eddie Wineland
-- wouldn't it be better to knock the adjective from the equation? Instead of "interim champion Renan Barao" -- with the interim label a constant reminder that he's a dynamic, hard-striking stopgap but not really number one -- shouldn't it be simply: bantamweight champion Renan Barao?
That sort of takes the surrogacy from things and raises the pitch to makes things seem bigger and more dire and marquee worthy. An actual champion makes it more legit. Cruz's shadow won't sell that PPV.
Which brings back the question: Should he be stripped of his title? At this point, probably, but we're dealing in asterisks either way.
It's not a
Randy Couture
situation where contracts are in dispute. Couture retained his belt through the whole money/
Fedor Emelianenko
fallout anyway. There isn't any acrimony here. Cruz's situation is closer to the
Frank Mir
case back in 2004. Mir, after winning the UFC's heavyweight title against
Tim Sylvia
at UFC 48, was in a motorcycle accident that sidelined him for 14 months. When
Andrei Arlovski
won the interim title against Sylvia at UFC 51, the idea was to marry up the belts in a fight with Arlovski and Mir. Same as with Barao and Cruz.
[+] Enlarge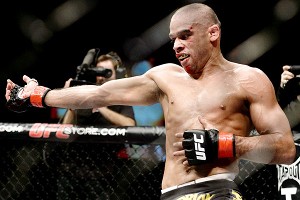 Martin McNeil for ESPNWith interim bantamweight titlist Renan Barao headlining a pay-per-view card at UFC 161, now would be the best time to elevate him to full-time champion.
Only, Mir (knee, leg) wasn't ready when the time came. As a result, he was stripped of his title to keep the heavyweight belt in play. Not the less meaningful placeholder title, but the newly made legitimate real McCoy.
Heavyweight is a lot more glamorous than bantamweight -- particularly at that time, back when there were only a few divisions -- but the situations are similar. It wasn't Mir's fault that he couldn't recover in a timely fashion, and it's not Cruz's either. But if Barao is going to headline a PPV, he can't be masquerading as a champion. He should be one.
So what happens next?
In London a few weeks back, after Barao's first interim title defense against
Michael McDonald
, Dana White said he'd have a meeting with Cruz to discuss all this. White told ESPN.com on Thursday that he hasn't yet had a chance to have that meeting.
That day is coming, though, and relatively soon. When that discussion happens it will likely center on this: Barao has defended the interim title once, and Cruz isn't quite ready. Make Barao the champion ahead of his next title defense, and let Cruz work his way back towards him. After all, once Cruz finally does make his way back, how fair would it be to stick him in there right away to defend against Barao?
That's a tall order for a guy coming off a lengthy rehab with so many affiliated question marks. Might be better to cede now, and take back what's rightfully his when momentums have had a chance to align.
August, 10, 2011
8/10/11
2:01
PM ET

By Chuck Mindenhall
ESPN.com
Archive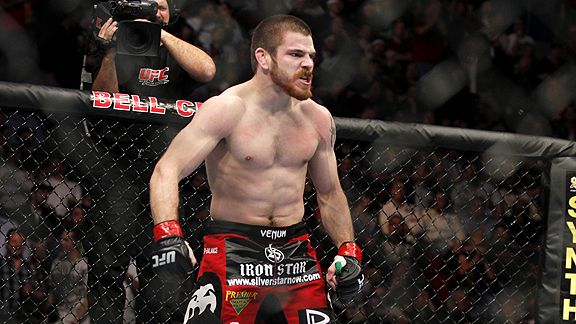 Ric Fogel For ESPN.comJim Miller is doing his thing well in the cage; it's outside of it where he can use the help.
Marketability is a big deal in the fight game, more than something as abstract as immediate ramifications.
Dan Hardy
is a marketable fighter, and
Chris Lytle
is an exciting one. Put them together and you have a main event on a non-PPV card, even if one guy is on the cusp of being made redundant and the other is happily contemplating retirement.
Obviously, the fixed notion is for a lively fight, and Lytle and Hardy need only live up to billing. There's very real pressure on Hardy to win and keep his job, but the overall pressure from a matchmaking standpoint is to simply deliver.
Meanwhile, the co-main event on this weekend's UFC Live on Versus card in Milwaukee --
Ben Henderson
versus
Jim Miller
-- has all the competitive ingredients with raised stakes, yet with guys who have grown very familiar with spotlight neglect. Miller has never been a main event prizefighter, yet should he win his eighth straight bout he's all but guaranteed a lightweight title shot against the
Frankie Edgar
/
Gray Maynard
winner. This seems main event worthy -- particularly if Miller is closing in on becoming the face of the 155-pound division.
As for Henderson, who brings electricity more often than he does? He headlined cards back in the WEC days, but, in retrospect, that promotion seems like it was strictly for smaller weight fetishists. The thing that's come to light since the promotion was absorbed by the UFC is that many of the people who shelled out for UFC PPV's over the last few years didn't bother to tune in and watch the WEC fights for free. That's why a potentially explosive fight between
Joseph Benavidez
and
Eddie Wineland
has been sentenced to the Facebook prelims.
Henderson, even as one of the sport's most exciting fighters, is more famous for being the recipient of the
Anthony Pettis
kick than for putting the hurt on
Mark Bocek
at UFC 129.
This weekend's fight card is centered on what we know rather than what we should know, just like about every fight card put together since Pierce Egan's day.
Which brings things back around to Miller, who is about as anonymous of a contender as you can be. Why is that?
He thinks it's because his name is Jim Miller, with no nickname to resonate with fans (though Jim is short for James). His mustache is coming into Rollie Fingers fruition, which gives him a pie-maker's look, so it's not an image issue. It's hard to pin it on his style; he has finished four of his last six opponents in a variety of different ways. He beat
Kamal Shalorus
via strikes at UFC 128, and before that submitted a submission ace in upstart
Charles Oliveira
at UFC 124, locking in only the eighth kneebar in UFC history. So, it's not a
Jon Fitch
thing. When he was stuck on the prelims at UFC 100, he covered the canvas with Mac Danzig's blood, to the point that anybody who tuned in strictly for the PPV wondered what crazy piece of theater they missed beforehand. (The Danzig fight subsequently became one of the most downloaded on UFC.com after the fact).
What it all boils down to, then, is a marketing push. And, so far at least, Miller hasn't had it. If he gets by Henderson this weekend, he will win a free PR campaign as an additional gift. In the meantime, he and his seven straight wins will have to play second fiddle to the "Outlaw" Dan Hardy and his three straight defeats. The game can be funny like that.