June, 4, 2013
6/04/13
2:30
PM ET

By Chuck Mindenhall
ESPN.com
Archive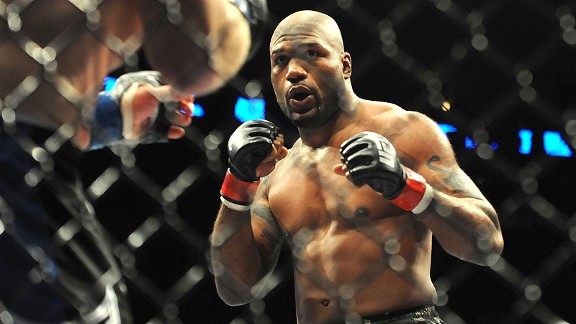 Jim Rinaldi/Icon SMIDespite his best days being behind him, Quinton Jackson's move to Bellator still carries significant weight.
The word "popularity" trumps a word like "retread" six days of the week. It did in the case of
Quinton Jackson
-- the popular, yet polarizing, former UFC champion who just became Bellator's latest acquisition, according to a Spike TV press release. "Rampage" is presumably headed to the so-called "toughest tournament in sports."
And with him comes an ounce of that hard-to-find intrigue.
Bellator will hold a news conference Wednesday in Los Angeles to make the announcement. If a 34-year-old on a three-fight losing streak and with strong associations to a rival league seems like an odd choice for a multiyear contract with Bellator, that's because it is. Traditionally, Bellator has steered clear of picking up the UFC's sloppy seconds, with a few exceptions. Just last week, Bellator inked prospect
Bubba Jenkins
, a collegiate wrestling champion from Arizona State who is 3-0 in MMA. That's a signing that falls more in line with the Bellator ideology of unearthing talent. Landing Jenkins was a major boon.
But Jackson isn't exactly a cast-off either. He was a disgruntled UFC employee who openly battled with Dana White and the UFC over pay, treatment, integrity, the reinvention of B.A. Baracus, fighting boring wrestlers and a descending scale of pettier issues over the past few years. He's not known as an "entertainer" for fighting alone. That's why he fits with Spike, where he can roam into pro wrestling waters under the TNA platform (an idea he's flirted with before) and play a role in the network's reality programming. With "Rampage" comes drama, and in his case, that's interchangeable with "baggage."
You know what else he brings? Star power and accessible validity.
[+] Enlarge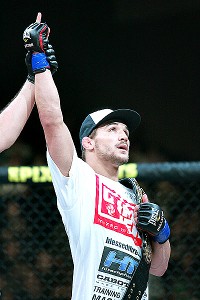 Keith Mills/Sherdog.comFighters like Michael Chandler have made Bellator a legit home for talented mixed martial artists to ply their trade.
After all, as of UFC 135, Jackson was name enough to challenge
Jon Jones
for the UFC's light heavyweight belt. He didn't make good, but the UFC sold more than 500,000 pay-per-views, which was the most since UFC 129 when
Georges St-Pierre
fought
Jake Shields
. It was the most pay-per-views sold for all of the UFC 130s. When he fought
Dan Henderson
on Spike, there were 6 million viewers.
Even in a sport where yesterday is a distant memory, that wasn't so long ago. Yes, the Japan homecoming at UFC 144 against
Ryan Bader
was a disaster, with the missed weight and the swirling chaos of his TRT/groveling over how the UFC had handled him poorly. And yes, his sayonara bout with
Glover Teixeira
wasn't exactly the barn burner he (or we) imagined. Just like
Rashad Evans
, Henderson and anyone who's been in the fight game long enough, he's capable of duds. Ennui is a hard thing to shake.
Yet even with all of that, what's not to like about this signing? It was Josh Koscheck who said that fans can love him or hate him, it doesn't matter, so long as they
care
. Signing "Rampage" will get people to care. And realistically, Bellator could use some love and caring, especially for its tournament structure that stubbornly makes a star of attrition. That concept's not a fit for everyone. Maybe not even for Jackson, who has had trouble with motivation and weight in the past. It's tough to maintain health, weight and mindset through three fights in three months for anybody. But for a millionaire who doesn't particularly need to?
Then again, remember that he made a name in those Pride Grand Prix's back in the early days fighting the likes of Wanderlei Silva, Chuck Liddell and Mauricio Rua. Those yesteryear names now become Attila Vegh and his longtime off-limits rival Muhammed Lawal -- not to mention Emanuel Newton, who knocked "King Mo" out in February with a spinning backfist. There's something about those Memphis "bungalows" that tuned people in, even if they're being flung at the more curious retread cases of Renato "Babalu" Sobral and Vladimir Matyushenko.
There are always exceptions to the exceptions.
The thing is, Bellator hasn't strictly adhered to anything other than its own bracketology. Hard to imagine it giving Jackson special treatment and holding him out of the 205-pound tournament. And the promotion has loosely gone about its business of bringing up the next best names over the past couple of years. It's scored with Michael Chandler,
Ben Askren
,
Pat Curran
,
Eduardo Dantas
and
Eddie Alvarez
(now the subject of a fierce tug-of-war). This is its traditional model, insomuch as tradition exists.
Yet while
Jon Fitch
didn't raise the Bellator eyebrow when the UFC released him with a 14-3-1 record under Zuffa, Jackson -- 7-5 in the UFC -- did. Why is that? Fitch will never be confused with entertainment, that's why. He was never a champion. He doesn't use words like "bungalows," much less throw them. Eyeballs aren't as likely to follow his every move.
Jackson, on the other hand, doesn't feel too much like the UFC's leftovers. Kudos to Bellator for thinking inside the box enough to see it.
August, 30, 2012
8/30/12
5:08
PM ET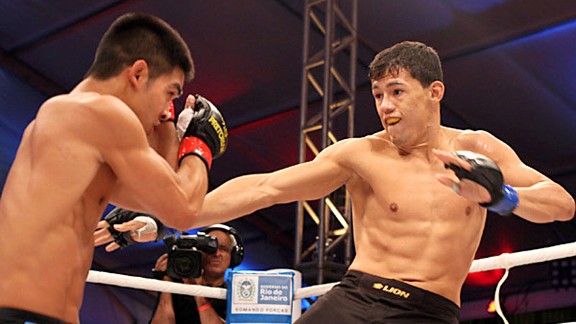 Sherdog.comBantamweight champion Eduardo Dantas, right, says he will think twice before competing outside of the Bellator cage following his first-round knockout loss to Tyson Nam at Shooto Brazil 33.
Finding ways to stay active is one drawback to being a Bellator champion.
It's the reason bantamweight titleholder
Eduardo Dantas
felt compelled to step outside the Bellator cage for an Aug. 25 fight with Tyson Nam at Shooto Brazil 33 in Rio de Janeiro.
A right hand flattened Dantas in the first round.
Fighting outside of Bellator, especially while wearing the promotion's title belt, is something Dantas hopes he never has to do again.
"I was very anxious before the fight," Dantas told ESPN.com. "But I had a lot of confidence in myself. I trapped myself; I got a little anxious and got caught with the right hand. I had a lot riding on this show with friends and family there, and being the Bellator champion. I wanted to do my best in my home country. This made me very anxious before the fight.
"I will certainly think twice about fighting outside of the (Bellator) cage. But I was ready for the fight."
Despite the setback, Dantas remains confident he is a superior fighter to Nam. One way he'd like to prove it is with a rematch.
But if a rematch is to happen, it likely will have to take place inside Bellator. And Dantas has a more pressing matter to address -- defending his title against
Marcos Galvao
.
The two are tentatively scheduled to meet Nov. 2 at Bellator 79 in Rama, Ontario.
"I absolutely want that rematch in the future," said Dantas, who slipped to 14-3. "Tyson is the only name on my mind when I wake up in the morning. I'm going to focus on my Bellator title defense that is coming up. But before I'm done fighting I want to face Tyson again."
Before his recent loss, Dantas was ranked fifth among bantamweights by ESPN.com. He has since dropped to No. 9.
The loss by one of its champions to a fighter not under its banner can't help bolster Bellator's image among fight fans. But CEO Bjorn Rebney isn't losing any sleep over what took place in Brazil. For the time being, he will continue allowing his fighters -- especially champions -- to seek bouts with other promotions.
"In the fight, (Dantas) was dominating and he just got caught," Rebney told ESPN.com. "The fight is kind of self-explanatory: He was in control and got caught. This situation, unto itself, doesn't change my perception of wanting guys to be able to fight very frequently and willingness on our part to have fighters competing in other organizations.
"But it just so happens that with our Spike TV launch in January we're going to have many more tournaments, much more frequency of those tournaments and a greater number of tournaments going on. So our need to accommodate a guy like Dantas will to a large extent be eliminated."
"

Tyson is the only name on my mind when I wake up in the morning. I'm going to focus on my Bellator title defense that is coming up. But before I'm done fighting I want to face Tyson again.

"

-- Bellator bantamweight champion Eduardo Dantas, on his recent knockout loss to Tyson Nam
As for Dantas wanting a Nam rematch, Rebney likes the idea and will do whatever he can to put the fighters in position to make it happen. He's considering making an overture to Nam (12-4) about fighting in Bellator, but there are some things even Rebney can't guarantee.
"We'll have to see what happens with Dantas in terms of his world title fight," Rebney said. "If Dantas is able to retain the world title against Marcos Galvao, then the only way Tyson Nam is going to get a shot at Eduardo Dantas is by winning a tournament. Given the depth of our 135-pound division, that is not an easy calling for anybody. But if Eduardo loses to Marcos, given our structure, it gives us more flexibility of making that rematch.
"When a guy like Tyson performs the way he performed [against Dantas] you have to take a good look at him. Our 135-pound division is deep, but getting a win over our world champion sure is a pretty good calling card for getting in one of those tournaments."
Nam has expressed interest recently in joining UFC. Attempts by ESPN.com to speak with UFC president Dana White have been unsuccessful.
Dantas isn't the first highly touted fighter to suffer a devastating setback, and he surely won't be the last. But anything short of exacting revenge against Nam, and Dantas will find it difficult to recapture his previous standing among bantamweights.
Rebney doesn't share this point of view. In his eyes, Dantas will have his shot at redemption against Galvao.
"He happened to get caught, which can happen to the best," Rebney said. "It's happened to Chuck [Liddell], it's happened to Randy [Couture], everybody gets caught at one point or another during their career. My realization is that he just got caught. It wouldn't have mattered on that night if it was Eduardo Dantas or
Pat Curran
or Michael Chandler or
Ben Askren
or anybody else. He just got caught.
"Perception-wise, Dantas fighting in Bellator on Spike network against Marcos Galvao should be an amazing fight. He's going to answer a lot of those questions and kind of re-establish himself in terms of where he should be."
August, 30, 2012
8/30/12
12:24
PM ET
Bellator officials are considering moving the bantamweight title bout between champion
Eduardo Dantas
and
Marcos Galvao
from Nov. 2 to January, promotion CEO Bjorn Rebney told ESPN.com on Wednesday.
The discussion comes on the heels of Dantas' first-round knockout loss on Aug. 25 to Tyson Nam at Shooto Brazil 33 in Rio de Janeiro.
Bellator will begin airing its fights on Spike TV in January. Rebney did not specify the exact date of the promotion's network debut.
"We might end up bumping that fight back a little bit and doing it on Spike TV when we premiere in January," Rebney said. "The alternative is to keep it where it is right now, which would literally be in 2½ months.
"But there's probably an eye toward delaying it. I'm not officially saying it's switching but we will have to look at the circumstances and give some very serious consideration to delaying it."
Dantas (14-3) was knocked out by a counter right hook from Nam. It was his first loss since July 19, 2009, when
Masakatsu Ueda
beat him by unanimous decision in a Shooto bout.
"Whenever a knockout like that occurs, most fighters -- they're athletes, they're champions -- want to get right back in the cage as quickly as possible," Rebney said.
"As you've seen with the steps we've taken with
Joe Warren
and others, when you get a serious knockout you need to take some time to reflect to take the proper precautions in terms of timing. So [Dantas] isn't doing any sparring anytime soon. He's going to take a breather."
Dantas lifted the 135-pound belt from
Zach Makovsky
with a second-round submission on April 13.
Galvao (13-5) earned the title shot on Aug. 24 when he knocked out Luis Alberto Nogueira in the second round to win the Bellator Season 6 Bantamweight Tournament.
April, 12, 2012
4/12/12
11:48
AM ET

By Josh Gross
ESPN.com
Archive
An elite fighter's job description includes coping with the high stakes of winning or losing. If someday Bellator bantamweight champion
Zach Makovsky
enjoys enough success to join that class, and he's on the right path, he'll have a book recommendation to thank for that.
"For a while, I didn't know how to handle losing and I put a lot of pressure on myself for every fight. I feel like I never performed well when I did that to myself. It was a problem I had in college," said the 29-year-old Drexel University grad. "I almost didn't know any better. Wrestling teaches you winning is everything."
Not long after the last setback of his mixed martial arts career, an opening-round submission loss three years ago to an unheralded Japanese fighter in Tokyo, Makovsky's friend and occasional training partner,
Eddie Alvarez
, along with his trainer, Stephen Haigh, recommended he read a personal favorite of basketball coaching legend Phil Jackson.
"Thinking Body, Dancing Mind: Taosports for Extraordinary Performance in Athletics, Business, and Life," said Makovsky, taught him "a lot about what I thought I was doing wrong, and really what competition means to me. I don't think I understood who I was and I was trying to define myself a lot by the results of my competition, which I think is a terrible thing to do. I think the whole process of learning and having fun and getting better is what's important, and not necessarily your record and your results."
It's funny how these things work out.
[+] Enlarge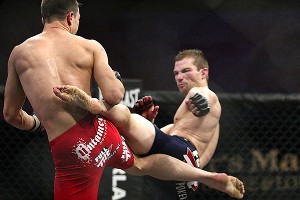 Keith Mills/Sherdog.comZach Makovsky has been on a tear since "not caring about results."
Not caring about results, if Makovsky is to be believed, led to an eight-fight winning streak and the distinction of dominating Bellator's debut tournament at 135 pounds. This Friday at the Boardwalk Hall in Atlantic City, N.J., an hour's drive from his hometown of Philadelphia, Makovsky is scheduled to put his belt and mantra on the line for the first time against young and dangerous Brazilian,
Eduardo Dantas
.
"We're two guys who come from different backgrounds and styles," Makovsky said. "We've both had a lot of success fighting in our respective arenas. We've both gone through these tournaments in Bellator to reach this stage. He's pretty much in the same position I am."
Though Makovsky (14-2) walks into the fight with the belt hanging around his waist, he's right to think of his bout with Dantas, 23, as Bellator's first 135-pound title fight.
"I have the belt but I don't think I did anything more than he did to necessarily earn it," Makovsky said.
Dantas (13-2) is a well regarded fighter, who, like Makovsky, hasn't lost since 2009.
This is where their similarities end. While Makovsky tends to rely on wrestling -- "I don't think there's a question that probably against everyone in the world, the best place for me is to be on the ground on top of them, grounding-and-pounding and looking for submissions," he said -- Dantas is the "most aggressive" and "most talented" opponent the Bellator champion believes he's faced thus far.
That could mark an advantage for Makovsky, at least that's how he reads the tricky matchup. Aggressive strikers can get sloppy and leave themselves open to be taken down, and it's not as if Makovsky needs help in that department.
"I feel like my takedowns are better when people come at me," he said.
Still, Makovsky is cautious not to think he must plant Dantas on the floor. That sort of attitude is begging for bad things to happen.
"I have to be able and willing to fight Eduardo Dantas everywhere, and I think I'm capable of that," he said. "I'll mix things together at my own pace and try to be comfortable everywhere.
"No matter what happens, if I win this fight I'm going to be in a much better situation financially, personally, for my whole life to continue the way it is. Really, there's no question that that's true, but it's not something you should think about. In the end I'd fight for free and continue fighting because I love it. It's just a fight. I can't worry about how much money I could lose or what's next. All that is later. I don't need to think about any of that. I just have to focus about the fight. Really, there's just two guys in there. I have to go in, fight smart, fight as hard as I can, and whatever happens happens. I'll deal with the rest later. There's nothing to gain by worrying what's next."
How very Zen of him.
November, 27, 2011
11/27/11
12:11
AM ET
Veteran lightweight
Kurt Pellegrino
appeared in a non-UFC bout for the first time in five years, but the result wasn't what he expected. Pellegrino was stopped by
Patricky Freire
in the first round at Bellator 59 in Atlantic City, N.J., on Saturday.
Freire landed a left-right combination square on Pellegrino's jaw less than a minute into the fight. The punches sent Pellegrino to the canvas, where Freire continued his striking assault.
Pellegrino grabbed a leg, but was unable to effectively defend himself and the referee to wave the fight off at the 50-second mark.
Afterward, Pellegrino announced his retirement from fighting.
"I really did train hard. I lost fair and square," said Pellegrino, who ends his pro career with a record of 16-7. "This will be the last time you guys will see me fight."
Pellegrino has offered to help Freire prepare for the Bellator lightweight tournament.
Heavyweight final ends prematurely
Bellator heavyweight champion Cole Konrad will have to wait a while longer to defend his title.
The heavyweight tournament final between Eric Prindle and Thiago Santos failed to produce a winner. The New Jersey State Athletic Control Board ruled Bellator 59's main event a no contest.
At 1:24 of the first round, Santos landed an "accidental" kick to the groin of Prindle, who was on his back at the time.
After the kick, pain was etched on Prindle's face. He was given 5 minutes to recover, but was unable to continue.
A date for another fight between Santos and Prindle has yet to be announced. The winner will face Konrad.
Dantas beats Vila in bantamweight final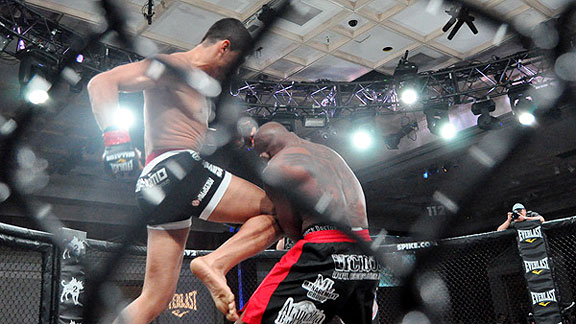 Chris McGuigan for Sherdog.com Alexis Vila's first loss came at the hands (and knees) of Eduardo Dantas.
Eduardo Dantas
handed
Alexis Vila
his first professional loss and landed a bantamweight title shot with a unanimous decision win.
All three judges scored the fight 29-28.
After being taken to the ground twice in the first round, Dantas used his superior reach to control Vila standing during the second and third rounds to win the bantamweight tournament.
Dantas (13-2) will now face Bellator bantamweight champion
Zach Makovsky
. A date for the bout has yet to be determined.
Vila falls to 11-1.
Held holds off Nover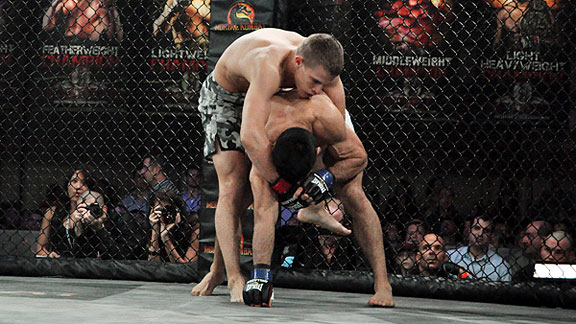 Chris McGuigan for Sherdog.com Marcin Held's numerous submission attempts helped him win over the judges.
Phillipe Nover
escaped several submission attempts, but could not escape with a win against Marcin Held.
Nover came out on the short end of a split decision in the three-round lightweight battle.
Two judges scored the fight for Held, 29-28. Nover got the edge on the third card, 29-28. ESPN.com saw it for Nover 29-28.
Held improved to 12-2, while Nover (6-4-1) lost for the fourth time in five fights.
October, 22, 2011
10/22/11
11:52
PM ET
Alexis Vila
was a bit more aggressive early and held on late to earn a split decision Saturday night over
Marcos Galvao
in a Bellator Season 5 bantamweight tournament semifinal in Yuma, Ariz.
Two judges scored the fight 29-28 for Vila while the third saw it for Galvao, 30-27. ESPN.com favored Vila 29-28.
A majority of fans in the crowd at Cocopah Resort and Casino disapproved of the decision.
Galvao showed a lot of respect for Vila's punching power during the first two rounds. He refused to attack Vila aggressively, most likely to avoid opening himself up to hard strikes.
Vila (11-0) has made a name for himself as an aggressive, hard-hitting puncher. He entered the semifinal bout with six knockouts in a row. But Vila picked his spots in this fight, throwing punches only when an opening in Galvao's defense was available. He focused primarily on overhand rights, but connected with a few kicks.
Being the more active fighter in the first two rounds would prove beneficial for Vila.
Galvao, sensing he might be behind on the cards, began to come forward and press Vila in the third round by throwing right kicks and knees.
The strikes were hitting their marks and Vila showed signs of tiring. Vila was slow with his takedown attempts and began breathing hard midway through the round.
But Galvao's third-round aggression was too little, too late. It wasn't enough to overcome his slow start.
Galvao falls to 10-5-1.
Aggressive Dantas edges West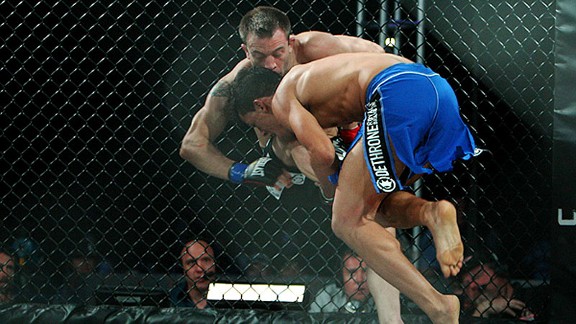 Dave Mandel for Sherdog.comEduardo Dantas became the first bantamweight finalist by outpointing Ed West.
Eduardo Dantas punched his ticket to the bantamweight finals with a split decision over Ed West.
The fight was scored 29-28 for West, 29-28 and 30-27 for Dantas. ESPN.com had Dantas winning the fight, 29-28.
Aggression and power was the difference as Dantas landed several hard right hands, especially during the first two rounds. But Dantas also provided glimpses of his jiu-jitsu ability. He nearly submitted West in the second round by applying a rear-naked choke, but West was able to reverse his position and began landing punches on Dantas.
Despite his aggressiveness, Dantas claimed he was not fighting at 100 percent.
"I felt a little tired at the beginning of the fight," Dantas said. "Something was different.
"I will fight very hard for the next fight. I hope I feel better."
Dantas improves to 12-2. West, a Season 3 bantamweight tournament finalist, falls to 17-6.
Wiuff earns unanimous nod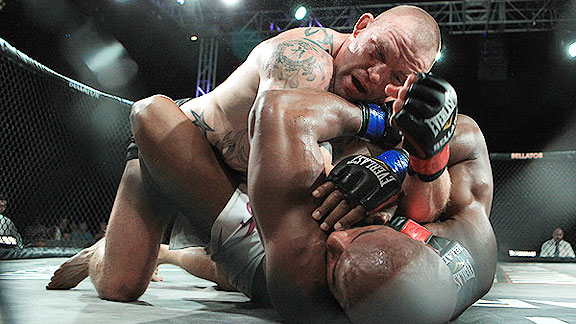 Dave Mandel for Sherdog.comTravis Wiuff's work in the earlier rounds proved the difference against Christian M'Pumbu.
Travis Wiuff used his superior size to register a unanimous decision over light heavyweight champion Christian M'Pumbu in a nontitle fight.
The judges scored it 30-27, 29-28 and 29-28. ESPN.com also scored the fight for Wiuff, 29-28.
Wiuff, whose seven previous fights were at heavyweight, was able to keep the diminutive M'Pumbu to his back for much of the first two rounds.
M'Pumbu fights around 202 pounds in the 205-pound weight class. Wiuff (65-14, 1 no contest) is the biggest man M'Pumbu has fought.
"I'm just a big strong wrestler; he isn't used to that," Wiuff said. "I want a shot at the belt."
After coming up short in the first two rounds, M'Pumbu found his rhythm to start the third. He hurt Wiuff with a right hand.
Wiuff would hit the canvas, but was able to get up. He would take M'Pumbu (18-4-1) to the ground to finish the round strong.
Tirloni finishes Gable in two rounds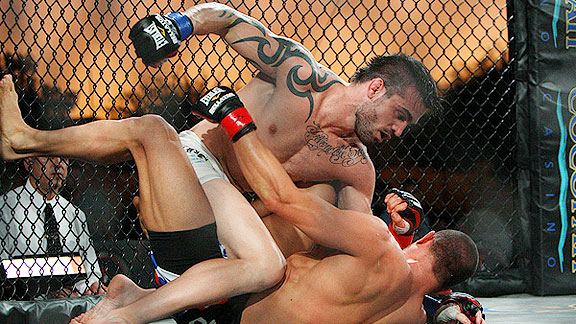 Dave Mandel for Sherdog.comRicardo Tirloni did a good job of softening up Steve Gable before applying the rear-naked choke.
Lightweight Ricardo Tirloni applied a rear-naked choke that forced Steve Gable to tap at 3:54 of the second round.
"Nobody will stop my dream," Tirloni said after improving to 14-1. "I want to fight step by step and get the title one day."
Both fighters were making their Bellator debut.
Whether on the ground or standing, Tirloni would get the better of Gable. He landed several knees that forced Gable to attempt takedowns. But Gable did not find success on the ground.
In the second round, Tirloni landed several right hands that forced Gable to give up his back.
Tiloni landed a few rights then locked in a rear-naked- choke to finish the fight.
Tirloni extended his win streak to 11, while Gable fell to 5-2.