November, 3, 2013
11/03/13
1:58
AM ET

By Josh Gross
ESPN.com
Archive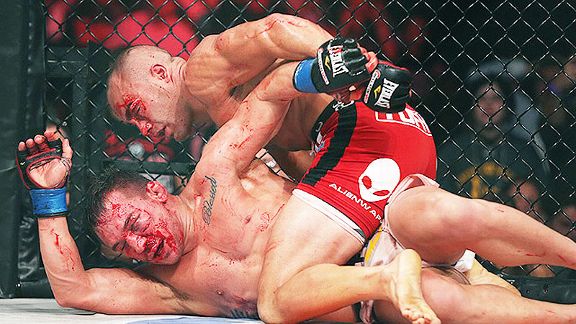 Dave Mandel/Sherdog.comEddie Alvarez, top, defeated Mike Chandler to win the Bellator lightweight title.
It was different yet still great.
Michael Chandler
and
Eddie Alvarez
renewed acquaintances Saturday in Long Beach, Calif., producing prodigious moments of mixed martial arts for the second time in two years.
Unlike their epic match in 2011, which Chandler won by rear naked choke on the fourth round to capture the Bellator title at 155 pounds, Alvarez lasted to the final bell, earning the belt back via split decision.
Judges at cageside saw it 48-47 twice for the repeat champion, with one dissenting opinion of the same score for Chandler. ESPN.com scored the fight for Alvarez 48-47, giving him Rounds 2, 3 and 5.
Both men were busted up after 25 minutes of hard, competitive fighting. There weren't the sort of dramatic swings the memorialized the first encounter, but it was nonetheless dramatic.
The slick lightweights moved well at the start, slipping and throwing punches. After mostly missing, action picked up in the second half of Round 1. Chandler worked to cut off the cage and score with right hands. Alvarez landed as well, until he was dumped down headfirst to the canvas and had to fend off a choke attempt.
The first response from fans came when Alvarez regained his feet at the close of the round. The 26-year-old challenger ate a series of jabs to start the second, but he scored with a solid counter left and began targeting an early-forming mouse under Chandler's left eye. An uppercut combined with a left hook put Chandler on the defensive, though a late takedown made things close.
Alvarez opened the third with a high kick and another pounding attack. The damage on Chandler's face was too clear to miss. Unlike the epic third round from 2011 in which he took unabated punishment for more than two minutes, Chandler was competitive. He also looked tired and sluggish, though that might have been a case of playing possum. Alvarez scored with left before being dumped again to the canvas.
A cageside California State Athletic Commission doctor checked Chandler between rounds, but there was nothing in his performance in the fourth that suggested the previously unbeaten face of Bellator was anywhere near done.
Chandler worked over his challenger for much of the period as fans begged for more.
Chandler's ground-and-pound opportunity came after he, again playing possum, bided his time along the fence before leaping forward with a jumping knee. The shot knocked Alvarez backward, and Chandler rolled him up into a takedown. Most of the damage came when Chandler trapped Alvarez's right arm and poured down punches and elbows.
Still, Alvarez pushed through to the fifth, which caused fans inside the Long Beach Arena to erupt.
The challenger and soon-to-be champion came out swinging punches. Neither fighter could have known how the judges had it, and in their 10th round, together they delivered.
Alvarez did well all night denying Chandler's wrestling. This paid off for him in the final round, as they mixed stand up and grappling sequences with intensity.
"I'm going to take zero credit for what happened tonight. It takes two people to put on a fight like that. Not just me. Me and Mike Chandler," said Alvarez. "The guy fights his a-- off. The heart of a lion."
"At the end of the fight, I didn't give a s-- who won. I was just happy to be a part of it."
Straus upsets Curran; wins title
Bjorn Rebney liked to say
Pat Curran
is the best featherweight in the world outside of
Jose Aldo
. He can't make that claim anymore.
It was Curran and the world versus
Daniel Straus
. And Straus won.
[+] Enlarge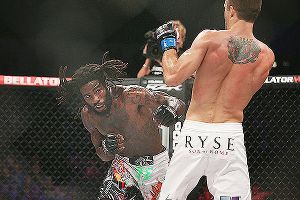 Dave Mandel/Sherdog.com Daniel Straus, left, took the Bellator featherweight belt away from Pat Curran.
Fighting for Curran's Bellator featherweight championship belt, Straus, 29, was superior over 25 minutes, taking a unanimous decision: 49-45, 48-46, 48-46. ESPN.com scored the bout 49-45 for Straus.
Straus initiated most of the offense off the start, forcing himself on Curran, who was unable to counter or untie his challenger's strong grip throughout much of the 25-minute contest.
The southpaw challenger scored with his left hand early and, though not often, enough to dictate range and distance. Curran, a terrific athlete who won his past six for Bellator, including two title defenses this year, struggled with Straus' pressure.
That sort of attack shouldn't have come as a surprise to the 26-year-old from Crystal Lake, Ill. Straus is a noted grinder was knocked out by Curran in 2009, and they had trained together in the past.
"I can't go to that fight, examine that fight and try to fight him again off that fight," Straus said on Thursday. "I'll lose, again. Pat can't watch that fight, examine that fight and fight me again. He'll take the a-- whipping I got that night. We're both two different fighters from the time I first met. We've grown as people, we've grown as fighters."
Four years following their first contest, Straus, who learned how to fight by fighting, was well prepared to meet Curran.
"It really opened my eyes as to the sport," he said. "Since that fight, I've won 17 of 18 fights. I went on a two-year winning streak of 12 fights. That fight changed me because going into that fight I knew I could beat Pat. And I got beat. So I started taking this sport seriously."
Now training at American Top Team in Coconut Creek, Fla., Straus (22-4) shook off ring rust from a one-year absence that featured injuries and run-ins with the law, to dissect his way to the championship belt.
Saturday's marked Straus' sixth straight win, and the 18th victory in 19 fights since falling to Curran (19-5).
Straus relied heavily on his left hand, which hit its mark multiple times as he mixed in a variety of takedowns and suffocating top control.
Curran showed life in the second, moving well and landing kicks to the body. That was as good as it got for the deposed Bellator champion.
Straus righted the ship in the third round, despite an obviously illegal knee to the face while his knees were on the floor. That sequence from Curran elicited a point deduction from referee
Jason Herzog
. The hard-nosed wrestler showed no ill effects, landing a quick takedown after the restart.
The situation was perfect for Straus, a grinder at heart, heading into the fourth round. Down two rounds to one, down a point deduction, Curran needed something to shift momentum. He upped the aggression in the third, but that difference-maker he was looking for never came.
During the fifth and final period, Straus who went after Curran, landing a solid left hook that had the soon-to-be former champion reeling.
"It's a good feeling," said the soft-spoken new champion. "I worked really hard."
"I know the type of person I am: I'm a winner, I'm a fighter. Since day one I wanted to get a belt."
Newton defeats King Mo
Emanuel Newton
was tired of
Muhammed Lawal
's talk. Tired of not being taken seriously.
He might not have quieted doubters who don't see him as a top-10 light heavyweight, but he did enough to hush Lawal and his supporters after taking a unanimous decision to claim Bellator's interim light heavyweight title.
"I can't even describe the feeling that I have right now," Newton said. "I worked so hard for this."
Judges sitting cageside agreed on Newton, giving identical 48-46 scores. ESPN.com saw it for Lawal, giving the amateur wrestling world champion the first, fourth and fifth rounds for a 48-47 score.
Lawal, a decorated international wrestler, didn't wish to see a repeat of March, when Newton spun and unloaded a strike that put "King Mo" down in front of a stunned audience.
Newton, however, didn't make it easy for Lawal. Fighting in his hometown, Newton did what he does well: unorthodox striking that includes a multitude of vertigo-inducing techniques. Lawal was well prepared this time, dropping levels at the moment Newton turned his back.
In the second, Lawal (11-3) secured a takedown and top control, but only briefly. Newton's ability to stand after being put down saved him. Newton began doubling up his jab, and brought the right hand behind it, while Lawal appeared somewhat sluggish.
Lawal opened the third with a series of punches, though he was also frustrated and showed that on his face. Newton aimed to kick at the end of combinations, and he did this repeatedly. One to the body scored and hurt King Mo.
The fourth was tight. Lawal and Newton both scored and had their moments.
In the decisive fifth, Lawal opened with a short left hook. He scored on a counter right, and ducked under another spinning backfist attempt. Newton's face began to show damage, as he bled underneath his right eye.
Newton (22-7-1) responded to Lawal's aggression, and he connected with several rights before contending with Lawal's wrestling again.
The win sets Newton up to fight Bellator light heavyweight champion Atilla Vegh, who was forced to the sideline with an injury.
Richman stops Stepanyan in Round 1
In a featherweight attraction that opened the televised card,
Mike Richman
hit pay dirt against
Akop Stepanyan
, dropping the Russian to score a finish at 4:05 of Round 1.
With both fighters stepping into the cage off a loss during Bellator's latest 145-pound tournament, they were lined up for a showcase. Action was measured in first 120 seconds. Richman, a southpaw, danced with Stepanyan, and the pair tossed out mostly range-finding punches. Business picked up when Stepanyan (13-7) dropped a straight right to Richman's body and followed with a left hook. Richman responded with several short right hooks, eventually scoring a clipping shot that sent his foe backward.
Vying to become the third straight fighter from Russia to defeat Richman, Stepanyan stepped up and powered a right that sent Richman reeling. The American told himself he was not going to go down.
"I'm going down swinging," he said in the cage afterward.
Riggs revives career with win over Bronzoulis
Veteran
Joe "Diesel" Riggs
sought a new lease on his fighting life. He may or may not have gotten one after beating
Mike Bronzoulis
by unanimous decision to take the finals of "Fight Master," Bellator's reality TV series.
Riggs pockets $100,000 richer and knows a tournament opportunity is in front of him.
"It means everything to me," Riggs said. "It means taking care of my family."
Judges cageside tallied identical 30-27 totals. ESPN.com saw it the same.
The fight was that one-sided. Each period looked alike, as Riggs played the aggressor and controlled Bronzoulis (15-6-1) with takedowns, including a big slam in the third. On the floor, Riggs advanced to Bronzoulis's back several times, forcing his way into the position yet never coming close to finding a finish.
The contest was sloppy, yet Riggs (40-14), who won four times on the show to get this fight and struggled with an eye injury that delayed the contest two months, was clearly the superior mixed martial artist.
June, 27, 2013
6/27/13
11:42
AM ET

By Franklin McNeil
ESPN.com
Archive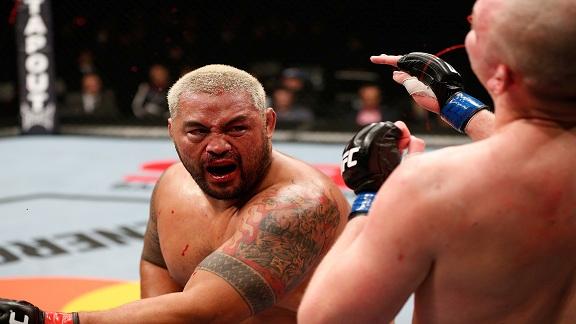 Six months remain until the 2013 mixed martial arts year officially concludes, but already several knockouts have left lasting impressions.
While some have been more devastating than others, timing and circumstance also are significant factors in determining which knockouts stand out from the pack. And none stands out more than middleweight contender Vitor Belfort's spinning heel kick on May 18 that finished Strikeforce titleholder
Luke Rockhold
at UFC on FX 8.
[+] Enlarge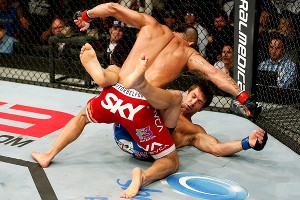 Josh Hedges/Zuffa LLC/Getty ImagesVitor Belfort's concussive power was on full display against Luke Rockhold.
The strike was quick, precise and unexpected. After it connected, Rockhold was on his way to sleep before absorbing a few more of Belfort's punches, which forced referee
Leon Roberts
to stop the assault at 2:32 of the first round.
The knockout was so impressive that ESPN.com voted it the best of 2013 thus far.
Rockhold had no chance of defending himself; he didn't see the head-rattling strike coming. It caught Rockhold just under his left ear. The kick, which likely will be talked about throughout this year and many more to come, was a thing of beauty.
In fact, everything about Belfort that evening was beautiful. His body was chiseled, there was that nostalgic sparkle in his eyes and he exuded an extremely high level of confidence that hadn't been seen in a long time. Belfort was going to leave to Octagon victorious, and there wasn't a doubt in his mind about it. The 36-year-old Belfort appeared to have found the fountain of youth: His hand speed and reflexes conjured up images of the 19-year-old "Phenom" who knocked out Tank Abbott in 59 seconds at UFC 13 in May 1997.
These images, however, are the reason this knockout will struggle to retain its top spot at the end of 2013. Heading into the bout, Rockhold repeatedly raised concerns about Belfort's reliance on testosterone replacement therapy. The topic hovered over this bout like a toxic cloud and fueled hostility between the fighters.
"I don't necessarily trust him. And I don't necessarily trust the system," Rockhold said before the fight. "Do I think he's cheating? Yes, I do.
"He definitely looks bigger than I've normally seen him. If you see the comparisons versus back when he fought
Anderson Silva
to now, [and] the
Jon Jones
fight, he put on some serious muscle mass."
With Belfort's previous positive test for elevated testosterone levels and the fight taking place in his native Brazil, where questions abound regarding the lack of stringent drug-testing, Rockhold's concerns seemed reasonable. The outcome only increased suspicion.
But until proven otherwise, Belfort is presumed innocent. And his knockout of Rockhold is the best midway through 2013.
The knockout secured Belfort's place among the top two 185-pound contenders. He is likely first in line to face the Silva-
Chris Weidman
winner -- which takes place July 6 in Las Vegas.
But cries have already begun for Belfort's next fight to be held in the United States. Each fight he has participated in this year has been in Brazil. Belfort won both fights by knockout -- perennial contender
Michael Bisping
went down in the second round Jan. 19. And yes, Belfort looked physically ripped in that fight.
Belfort didn't simply beat Bisping and Rockhold; he stopped them with punishing knockouts. It's hard to imagine any middleweight surviving the strikes Belfort delivered in those two fights.
To begin erasing doubts about the validity of his recent performances, Belfort must prove his resurgence isn't the result of having a home-field advantage. He must show off his renewed speed, cardio and physical physique under the Association of Boxing Commission's closely monitored therapeutic-use-exemption guidelines. Otherwise, the doubts will escalate.
---
Other notable knockouts:
No. 2: Emanuel Newton KO1 Muhammed Lawal: Bellator 90 (Feb. 21).
Newton's spinning back fist that knocked out former Strikeforce light heavyweight titleholder and huge pre-fight favorite "King Mo" Lawal was a thing of beauty.
No. 3: Antonio Silva KO3 Alistair Overeem: UFC 156 (Feb. 2).
"Bigfoot" Silva earned a rematch and title shot against Cain Velasquez with an impressive third-round stoppage of top contender Alistair Overeem.
No. 4: Muhammed Lawal KO1 Seth Petruzelli: Bellator 96 (June 19).
Lawal makes his second appearance on the KO list, but as the winner this time. His first-round knockout of Seth Petruzelli was about as brutal as they come.
No. 5: Mark Hunt KO3 Stefan Struve: UFC on Fuel 8 (March 2).
Stefan Struve suffered a broken jaw and a hit to his title contendership at the heavy hands of Mark Hunt.
April, 20, 2013
4/20/13
6:53
PM ET

By Franklin McNeil
ESPN.com
Archive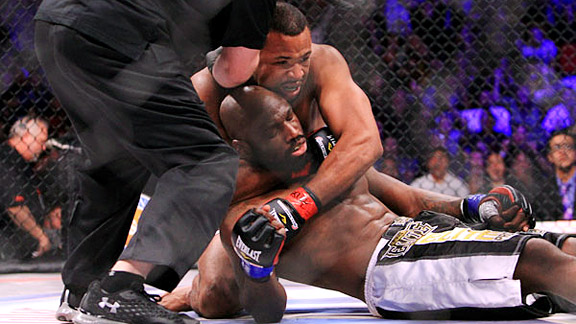 Sherdog.comLosing to Emanuel Newton proved to be a wake-up call for Muhammed Lawal.
Never has
Muhammed Lawal
doubted his ability to compete at the highest levels and become MMA's best 205-pound fighter -- and he is not about to do so now.
That unexpected first-round knockout loss to
Emanuel Newton
in February hasn't diminished his resolve. If anything, the loss strengthened it.
Nothing else about Lawal has changed since that February setback: His camp remains fully intact. Jeff Mayweather -- yes, that Mayweather, the uncle of boxing champion Floyd Jr. -– still calls the shots in Lawal's corner. And UFC heavyweight
Roy "Big Country" Nelson
continues to be one of his primary sparring partners.
When he returns to action, which is likely to be June 19 at a Bellator event in Oklahoma against an opponent to be named, Lawal will enter the arena with his familiar swagger. He will have a cape drenched over his shoulders, sunglasses covering his eyes and a crown on his head.
"King Mo" still lives! And he will be as bad and brash as ever. He has no intention of suddenly playing nice. If you didn't like his act before, wait until you see him in June.
"I'm not going to change up things," Lawal told ESPN.com. "Some people, after a loss, change their entire camp up. Jeff is on point. Roy Nelson is a great training partner. I've got good sparring in Las Vegas.
"I'm not going to be like Mike Tyson. He was a great fighter, but I feel that after he lost to Buster Douglas, he kind of fell apart. He was never the same again. He lost his aura.
"With me, I'm going to keep the same aura going. I'm just going to take it out on my next opponent."
When he steps in the cage, Lawal, as usual, will be the superior athlete -- regardless who the opponent happens to be. He will remain comfortable dropping his hands, because his high-level footwork allows him to control distance. That footwork is pure Mayweather, and a major component of Lawal's stand-up success.
Lawal will move his head and change levels repeatedly while delivering those stinging jabs and occasional kicks. They serve to set up either vicious takedowns or knockout-caliber punches. And through it all, Lawal will taunt his opponent with a mean-spirited smile on his face.
It will be the same fighting display Lawal put on against Newton before getting hit with what he calls that "fluke" punch. Actually, it was a spinning back fist that found Lawal's chin at the 2:35 mark.
The punch surprised Lawal, dropping him face-first to the canvas and likely costing him a shot this year at the Bellator light heavyweight title.
Newton went on to claim the Bellator Season 8 light heavyweight tournament and will face promotion titleholder
Attila Vegh
. A date for that fight has yet to be determined.
Back to Lawal. It's unlikely he will get caught with the same punch two fights in a row.
He intends to win his next fight and every one after that in the foreseeable future, and he is rooting for Newton to do the same. Lawal believes their paths will cross much sooner if each man keeps winning.
Lawal is itching to get his hands on Newton as soon as possible. He wants to destroy Newton in the cage before humiliating him. It's part of Lawal's payback plan.
"Hopefully Emanuel will win the whole [Bellator] tournament so I can beat his ass and get that belt from him," Lawal said. "And after I beat him, I'm going to do a dance all in his face. I'm going to be so unsportsmanlike; it's going to be unbelievable.
"This dude is trying to act like he knew what he threw [the spinning back fist], saying 'I wanted to throw over my shoulder.' Man, you didn't want to throw from your shoulder. We've seen the replay.
"The thing is I'm going to throw it in his face. I'm going to be the heel. I'm going to be the bad guy. I like being the bad guy."
Lawal is so confident of landing a rematch with Newton and destroying him that he continues to prepare for his professional wrestling debut. He still doesn't know when that will happen but emphasizes that MMA remains his top priority.
"I do the pro wrestling stuff for like an hour, two or three times a week," Lawal said. "That's it, then I go back to boxing, jujitsu, wrestling and MMA sparring."
Pro wrestling is intriguing, but Lawal won't allow it to get in the way of his immediate goal: landing a rematch with Newton and humiliating him.