July, 30, 2013
7/30/13
9:21
PM ET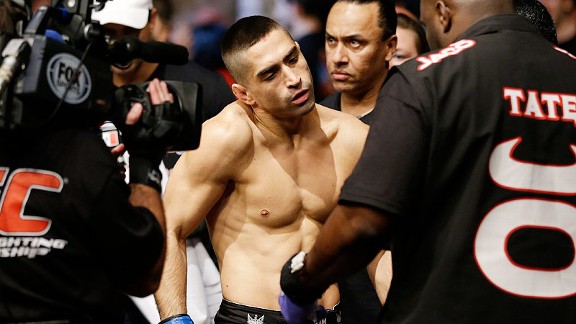 AP Photo/Nam Y. HuhShrug it off: Ricardo Lamas is moving on from the fact most believe he was next in line for a title shot.
When
Anthony Pettis
went down with a knee injury in June -- an injury that forced him out of his UFC 163 featherweight title bout with champion
Jose Aldo
-- the promotion turned to
Chan Sung Jung
, rather than the consensus "next best thing,"
Ricardo Lamas
. That decision raised quite a few eyebrows.
The decision to go with him over Lamas even caught "The Korean Zombie" by surprise.
"To be honest with you, I thought that Lamas would have been the first choice as well," Jung told ESPN.com during a recent media call to promote his title fight, which takes place Saturday in Rio de Janeiro. "But I'm happy to have been chosen."
Lamas and Chan were slated to fight July 6 at UFC 162, but that bout was scrapped when Jung got the call to fight Aldo; Lamas is still awaiting notice from UFC officials when he will fight next.
It's easy to make the case that Lamas should have gotten the nod to fight Aldo: He's unbeaten at featherweight (4-0) since making his debut in the division on June 26, 2011. And Lamas is ranked higher than Jung at 145 pounds by both ESPN.com (fifth; Jung is sixth) and UFC.com (second and fifth, respectively).
Lamas is 13-2 overall and has impressive victories over two current featherweight contenders --
Cub Swanson
and
Erik Koch
. He was among the favorites to land a title shot after
Frankie Edgar
came up short in his bid to unseat Aldo at UFC 156 in February. But Pettis, a lightweight contender, shook things up by tossing his name in the featherweight title mix.
[+] Enlarge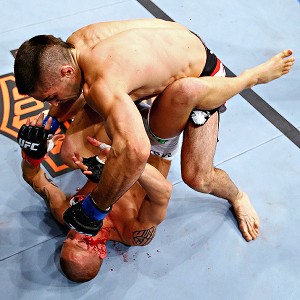 Al Bello/Getty ImagesMany believe Ricardo Lamas' dominant display over Erik Koch should have earned him a title shot.
A strong argument also can be made favoring Jung. After an exciting fourth-round submission victory over
Dustin Poirier
in May 2012, Jung seemed primed to face Aldo, before suffering a shoulder injury that has kept him out of action for more than 12 months.
While Jung concedes that Lamas is arguably the more deserving contender at this time to fight for the title, he is comfortable with being chosen. And there is a key reason, he believes, UFC officials made the correct choice in giving him the fight with Aldo.
"Maybe what made the difference were the stylistic differences. I think that this fight is guaranteed to be exciting fight," Jung said. "That's probably one of the big reasons why they chose me to go over Lamas."
It's an excellent point of view. Jung is the type of fighter who always comes forward and he's very active inside the cage. He will definitely attempt to put pressure on Aldo.
During his current three-fight win streak, Jung (13-3) has finished each opponent. His second-round twister submission of
Leonard Garcia
on March 26, 2011, still remains fresh in the minds of MMA fans.
Aldo is favored to retain his belt, but Jung has the skills to make things interesting. Even Lamas expects there to be fireworks Saturday night.
"I see [the fight] going one of two ways," Lamas told ESPN.com. "It's either going to be a slaughter for Aldo, or one thing that we haven't seen a lot of is guys backing Aldo down by continuously coming forward, which is what the Korean Zombie does; he closes the gap. When you close the gap, one of Aldo's biggest weapons are leg kicks, those kicks are kind of eliminated.
"If Korean Zombie can continue going forward like he usually does, close the gap and turn it into a messy brawl, I can see him with a chance. I never count anyone out of a fight."
"

Aldo is considered one of the most dominant champions in UFC history -- as far as the featherweights are concerned. Being the guy to beat Aldo would be way better than just being the featherweight champion by beating somebody else in the division.

"

-- Ricardo Lamas, on why he relishes a title challenge against Jose Aldo
Lamas doesn't take issue with Jung being labeled an exciting fighter, but he has difficulty accepting that the Korean Zombie's fighting style makes for a better matchup with Aldo. As far as Lamas is concerned he too presses the action -- and cites his featherweight performances as proof.
UFC would not have gone wrong with Lamas in the cage Saturday night standing across from Aldo.
"If you look at my last four fights, I finished three of my four fights," Lamas said. "The only one I didn't finish, I went into it with an injury. And the fights I did finish were exciting -- a first-round TKO, a second-round submission of the night and a second-round TKO that was one of the bloodiest in UFC in a long time."
Lamas will watch Saturday night's main event very closely. He wants the winner, hoping it will be Aldo. The champion has hinted at possibly moving to lightweight after his fight with Jung.
Being passed over in favor of Jung still stings, but if Aldo exits the featherweight division with the title belt it will leave in hole in Lamas that he won't be able to fill in the foreseeable future.
"Let's say Aldo moves up; I fight somebody else for the featherweight championship and I win," Lamas said. "There will still be those people out there saying, 'Oh, he's not the real featherweight champion because he didn't beat Aldo.' I don't think it will be as valid as being the champion who beat Aldo.
"That would be the best. Aldo is considered one of the most dominant champions in UFC history -- as far as the featherweights are concerned. Being the guy to beat Aldo would be way better than just being the featherweight champion by beating somebody else in the division."
Lamas hasn't made a fuss over not being in the cage Saturday night with Aldo, but he doesn't want to be pushed aside again. He wants to be the next guy to face Aldo. But for now, all Lamas can do is hope that Korean Zombie doesn't get the job done first.
January, 24, 2013
1/24/13
3:23
PM ET
There's a paradox going on for this weekend's Chicago card: People are talking about the flyweights not getting talked about.
In fact, the ever-coveted "casual" viewer has no way of knowing that there is such a thing as the flyweight division, because all those prominent ads leading up -- as you've seen by now -- don't fuss over the details. As far as casuals know, it's a "world title" fight, which is of course one way of putting it. (Saying that two of the best flyweights out of a 15-man roster might play out somewhat less dramatically).
But the flyweights are actual and they are happening, whether this offends you, surprises you, or speaks to your fetishes. And if nothing else, it's novel. If the sword on
Brock Lesnar's
chest cut him in two, you'd get
Demetrious Johnson
and
John Dodson
-- guys with thrice the speed and half the brute power. We'll need to slow down the surveillance tape, but these guys will square off at shutter speed on Saturday night as headliners.
It's Johnson's first title defense. It's Dodson's chance to showcase his own rare blend of levity and levitation.
If it goes as one suspects it might, this will feel like 25 minutes of hydroplaning. What's not to love?
Of course, such a main event only works on a uniquely stacked (totally free) card like UFC of FOX 6. There's
Quinton Jackson's
UFC swan song and
Glover Teixeira's
fashionably late arrival. There's the battle of
Anthony Pettis
-
Donald Cerrone
, which is a cause for hyperbole. That looks like the greatest fight of all time. (You see?)
And then there's the featherweights. And this is where the plot thickens.
Right now the 145-pound division below challenger
Frankie Edgar
and current champion
Jose Aldo
is a free-for-all.
It's about to get some clarity.
Clay Guida
will take on
Hatsu Hioki
in his first drop to 145 pounds, and
Ricardo Lamas
will fight
Erik Koch
. One of these will emerge as the next challenge for the Aldo-Edgar winner. At the very least, one of these four guys will get to fight
Chan Sung Jung
to determine who gets next crack at the Aldo-Edgar winner.
Saturday will give us a featherweight pecking order.
Koch was scheduled to fight Aldo twice in 2012, but both fell through (once because he was injured, once because Aldo was). You'd have to think that a win over Lamas would land him right back to where he was. If Lamas defends his Chicago turf, he'll have beaten 2012's brightest contender, so he'd take that spot.
Guida is making the cut to 145 pounds after he ceded his lightweight title bearings against
Gray Maynard
. Not only that, but he had the audacity to show up with a stick and skedaddle game plan that left a bad taste in fan's mouths. A solid performance in his featherweight debut against the former No. 1 contender Hioki would jump him into the mix pretty quick. If Hioki knocks off Guida, same thing. He'll have beaten one of the UFC's more familiar names, and the recent Lamas loss shrinks in his rearview mirror.
Come Sunday morning, there will be such a thing as the "featherweight title picture." With all the comings and goings at 145 pounds since the division was introduced two years ago, that's been a hard thing to establish.
January, 23, 2013
1/23/13
7:25
PM ET

By Brett Okamoto
ESPN.com
Archive
Erik Koch
may not have fought at all in 2012, but he did train for one against one of the best fighters in the world.
Ring rust is not a concern for Koch as he prepares to return from a 16-month layoff this weekend against
Ricardo Lamas
at a UFC on Fox event in Chicago.
For one, Koch and members of his camp say he's too strong mentally to allow a long layoff to affect his confidence. More importantly, however, is that Koch spent significant time in 2012 preparing for UFC featherweight champion
Jose Aldo
.
That type of training might not be quite as beneficial to his development as time spent in the Octagon -- but it's not far behind.
"Twice I was training for Aldo, for a championship fight," Koch told ESPN.com. "Those were some of the greatest camps I've ever had."
Koch (13-1) says his focus is now entirely on Lamas despite last year's heartbreak, when injuries derailed planned title fights against Aldo in April and October.
The Milwaukee-basked Koch describes it as "the hardest year of my life." There were the financial hardships that come when you don't cash a single fight purse and, of course, the emotional letdown of an opportunity missed.
Former lightweight champion
Frankie Edgar
replaced Koch at UFC 153 when a knee injury forced him to withdraw. When Aldo then pulled off the card following a motorcycle accident, Koch knew it would be the higher-profile Edgar who would keep the title shot.
"That was the worst part for me, was I knew in the bottom of my heart and soul he was going to match up well with Jose Aldo," said Duke Roufus, Koch's trainer.
"In order to beat a great champion you have to be able to beat his aura first. Erik's not intimidated by Aldo or anyone else. A lot of guys are beat by Aldo before they even fight him. That's not the case with Erik."
A win over Lamas might get Koch back into title contention, but he'd prefer not to speculate after the disappointment of last year plus the experience of his 155-pound teammate
Anthony Pettis
, who was recently passed over for a lightweight title shot.
"You hear things," Koch said about whether or not it's a No. 1 contender fight. "I think it is, but you never know. I'm not getting my hopes up.
"I'm looking at this as my coming out party. I need to have people remember why I was a title contender in the first place. Coming into this fight, I have bad intentions."
September, 12, 2012
9/12/12
2:03
PM ET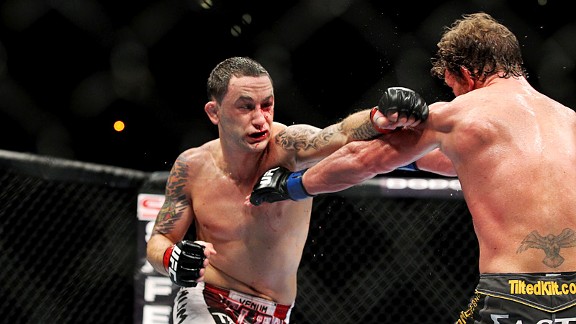 Ed Mulholland for ESPN.comCue the black cloud: Frankie Edgar's luck went from bad to worse in a matter of a month.
What an emotional ride former UFC lightweight champion
Frankie Edgar
has been on the past few weeks.
One month to the day that his bid to reclaim the 155-pound title fell short, Edgar learned on Tuesday that a foot injury ousted featherweight champion
Jose Aldo
from their UFC 153 title showdown.
"It's really been an emotional roller coaster this past month," Edgar told ESPN.com shortly after receiving the news about Aldo's injury. "I'm just kind of taking it as it goes."
After five rounds of action on Aug. 11, Edgar appeared to have regained the lightweight strap Benson Henderson lifted from him in February. But two of the three judges scored the UFC 150 main event for Henderson, to the dismay of Edgar and nearly everyone else at Pepsi Center in Denver.
Before the Henderson rematch, Edgar hinted at possibly dropping to featherweight. UFC president Dana White had been trying to convince Edgar for more than a year to make the move downward. It was a difficult sell. But the more White talked, the more Edgar listened -- even while still holding the 155-pound title.
Despite showing signs of softening his stance on dropping down a weight class, Edgar never wavered in his belief that fighting at lightweight -- against naturally larger guys -- was where he belonged.
Even losing two in a row to Henderson wasn't enough to seal the deal on a future at featherweight. Then Aldo said he'd welcome Edgar to 145 and gladly send him back to lightweight without a title.
One thing no fighter should ever do is provoke Edgar; don't tell him what he can't accomplish. If Aldo wanted a fight with Edgar, he didn't have to try hard to get it.
One in-your-face comment was all it took to convince Edgar the time had come to show Aldo and every other featherweight the impact he could have in their division.
Edgar, still bummed from the rematch loss to Henderson, was preparing to make his featherweight debut sometime later this year when word came from UFC officials that
Erik Koch
suffered an injury and had to pull out of his Oct. 13 meeting with Aldo.
The fight was now Edgar's if he wanted it. Edgar immediately accepted -- and after a couple of weeks of feeling blue, he was on an emotional high again.
Then Sept. 11 arrived, one month to the day after two judges declared he didn't do enough to reclaim the lightweight belt, and Edgar gets news that Aldo is out.
"I'm pretty bummed right now," Edgar said. "I was actually working out. My workout got interrupted with the news.
"It was the fight I was really, really excited for."
Edgar's feelings are too raw at the moment to begin contemplating his next move. The recent development, however, doesn't have him questioning his decision to drop to 145.
"I don't know," Edgar said. "I'm going to wait and talk to Dana and see what he's thinking and then come up with the next move. I really can't say what's going to happen until Dana and I speak.
"I kind of made my mind up that 145 would be my next fight before I had this fight with Aldo. So I'm still pretty set on 145 as of right now."
September, 10, 2012
9/10/12
5:16
AM ET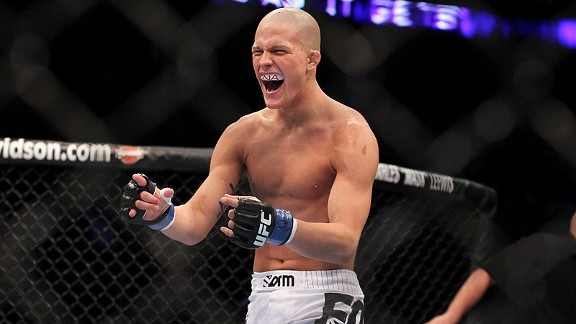 Ed Mulholland for ESPN.com
What should have been the most exciting year in the fighting life of featherweight contender
Erik Koch
is anything but. By all measures, it has been his worst.
Koch entered 2012 riding a four-fight win streak and primed to reach his goal of becoming a UFC champion. But injuries to himself or an opponent have placed his title hopes on hold.
"It's a tough situation, but these things happen," Koch's trainer Duke Roufus told ESPN.com. "You just have to stay as positive as possible and don't let it get you down. We just have to regroup.
"Erik's shown that he's ready to fight for the world title. He just has to work his way back to that opportunity to do it."
That's exactly the attitude Koch has maintained since a partially torn medial collateral ligament in his right knee forced him to withdraw recently from an Oct. 13 title fight against featherweight champion
Jose Aldo
at UFC 153 in Rio de Janeiro.
"It's frustrating because I'd done so much PR for this guy [Aldo], I trained my butt off for this guy, and to get right there and then to have it all change that fast, it's a lot to deal with," Koch said. "But I'm just trying to keep my head up; I'm happy I don't need surgery. I know my body and I knew that whatever [the injury] was it wasn't good.
"And if I can't train, obviously it was something serious. But it's not as bad as it could have been, and we'll get past it and I will get my shot eventually."
With Koch unable to compete, Aldo will now put his title on the line against former lightweight champion
Frankie Edgar
-– who will be making his 145-pound debut.
Koch is disappointed that he won't be inside the Octagon with Aldo next month, but he doesn't begrudge the opportunity that has fallen upon Edgar. He isn't sitting around feeling sorry for himself, either.
Despite suffering a still-undisclosed injury that forced him out of a high-profile fight in February against fellow featherweight contender
Dustin Poirier
, you won't catch Koch singing the blues. He also refuses to fret over the leg injury Aldo suffered in June that postponed their July 21 showdown in Calgary.
This has been a long, disappointing year for Koch -- who has been out of action since Sept. 17, 2011 -- but he refuses to let the physical setbacks break him emotionally or mentally.
"I'm not concerned about long layoff," said Koch, who has an impressive 13-1 professional record. "I train like a madman and I've been in this sport since I was 10. And I've been fighting since I was 16, so I'm not worried about the layoff. I've had long layoffs before.
"More than anything, it's the situations that are frustrating -- getting injured or having other people get injured. It just seems like I can't get anything going this year."
But rather than throw his own pity party, Koch is using this year as a learning experience. And he is a rapid learner. There is no definitive timetable set for his return, but he hopes to be in action before year's end. And when he gets back in the cage, expect to see a much better all-around fighter -- one who is stronger mentally, physically and technically.
"My fire is lit," Koch said. "I'm just as motivated today as I was going into this fight with Aldo. I just want to get back in [the Octagon]. I've been dealing mentally with the things that have happened this year, dealing with the long layoff, the injuries. I'm just trying to have a clear, leveled head.
"It makes you grow up. I'm looking at it as there being nowhere else to go but up. You can only be down for so long. You've got to pick yourself back up. I'm just trying to stay positive.
"All this situation is doing is lighting the fire, it's just building that fire until I fight again."
That fire Koch speaks of directs him toward securing the UFC featherweight title. The setbacks of 2012 have not decreased his determination. And the sooner he can fight for the belt, the better.
But one thing Koch won't do is follow the developing trend of not accepting an opponent the UFC has selected for him.
"I want the [Aldo-Edgar] winner totally, definitely," Koch said. "But that's up to the UFC. The biggest thing is I just want to fight. This has been a rough year for me, so I just want to get in there and fight. But if they offer me [the Aldo-Edgar winner], that's definitely the fight I want."
August, 31, 2012
8/31/12
12:03
PM ET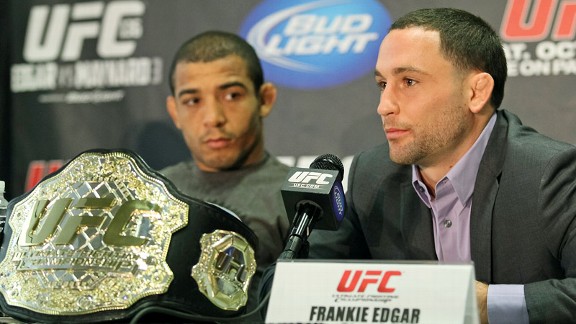 Ed Mulholland for ESPN.comSuit yourself: The odds are stacked against Frankie Edgar in his featherweight debut -- just how he likes it.
It took 10 less pounds and a thousand lobbyists for
Frankie Edgar
to arrive at a familiar spot -- a championship fight that nobody expects him to win. He'll fight
Jose Aldo
at UFC 153 in a bout with a hat trick of fun curiosities: There's featherweight, there's Aldo, and there's the cauldron of Brazil.
The term we've been waiting to use in a situation like this is "superfight." "Super" in front of anything gets people superstoked. And you think the Rocky theme has been done to death with Edgar? Not even close. He'll be tossed into Rio de Janeiro on Oct. 13 to try to wrest the belt from the most dynamic dervish of a striker ever to crowd-surf his countymen.
Cue Survivor's "Burning Heart." It's on.
Edgar, the perennial underdog, a blurry Jersey shore wrestler with cardio for days and blood that flows red every fight ... against Aldo, the unchallenged, unparalleled genius of preternatural striking who draws blood just by staring at you.
Wasn't it
Chad Mendes
who tempted these odds not all that long ago? He still has no idea what hit him.
Mendes isn't "The Answer."
But, with
Erik Koch
having to drop out of the spot with an injury, Edgar brings high-watt spotlights to the feathers. There's so much going on, but let's start with the fact that it's going down the way it's going down.
Edgar -- ever willing to fight, ever reluctant to do it at reduced weights -- has never used ordinary launching pads. He defeated Matt Veach to arrive at
B.J. Penn
for a chance at the lightweight title, in a bout that looked like a plank to ruin (it was, but not for Edgar). By no stretch of the imagination did Veach scream No. 1 contender bout, which is a point that's been hashed over many times.
Then again, neither does back-to-back losses. This time Edgar dropped a decision to
Ben Henderson
in fight that many thought he won, after dropping a fight against Henderson that he was at least
convinced
he won.
Edgar didn't win, not officially, but he ends up winning by not losing definitively. Some might say by losing imaginarily, but that's spilled milk.
Is it hyperbole to say that Aldo/Edgar is the biggest fight between small men ever? In MMA, it looks like it to me. There's nothing conventional in play here to bring these parties together. There's just opportunity, timing, and ultra-violet marketing. The UFC loves the fight. So do we. It's win-win. And it feels good to contemplate it in the aftermath of UFC 151, which is now dead and buried in the remote desert.
But there's also a vibe of fleeting novelties here.
[+] Enlarge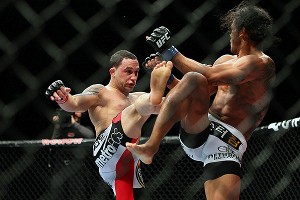 Susumu Nagao for ESPN.comIt's hard to imagine Frankie Edgar, left, sticking around featherweight if he loses to Jose Aldo.
Edgar, the undersized lightweight who confounded opponents with speed, now faces Aldo, who attacks like a staple gun. Edgar's quicks are no longer unparalleled, not at 145 pounds -- and especially not against Aldo. That's a leg-kicking frenzy dead ahead for Edgar. That's long-limbed precision with deceiving force. Aldo can fly. And we all know that Edgar takes punishment better than about anybody else; he has a chin, and he can't help himself from testing it. He'll need it plus nine lives if he stands within Aldo's range.
Aldo's range is the exact dimensions of the Octagon. Edgar will be asked to do what only he can do and that's to win
somehow
. Exactly how is the reason we tune in. His "how" has a way of fogging our lenses.
But you know what lends this thing a "superfight-ish" feel? There's a pending sense of finality that will come with Edgar's debut. Isn't there a very real possibility that this might serve as Edgar's only cameo at featherweight? Let's face it: If Edgar loses -- as so many have predestined him to do, just check Twitter -- he'll find himself not in one but
two
purgatories for belt contention.
If that's the case, he isn't hanging around a weight class he was nearly coerced into trying. His druthers will be 155 pounds, where he feels right at home. This could be one and done. That is,
if
Edgar loses. As we've seen, Edgar loses once in a while but never emphatically.
So, should he fight Aldo for five rounds in a back-and-forth affair that comes down to a pendulum round, where people will be divided on the outcome no matter what the judges' scorecards read? Hey, maybe Edgar brings his heart
and
the bottleneck down to featherweight. It's what he do.
In any case, here we are again. Edgar fighting for a belt, in a fight that most think he'll lose, this time in a country that is all but counting on it.
If the pride of Toms River, N.J., wanted to roll out a cliché, it might be one we've grown to count on. That is, "I got him right where I want him."
June, 26, 2012
6/26/12
12:14
PM ET

By Brett Okamoto
ESPN.com
Archive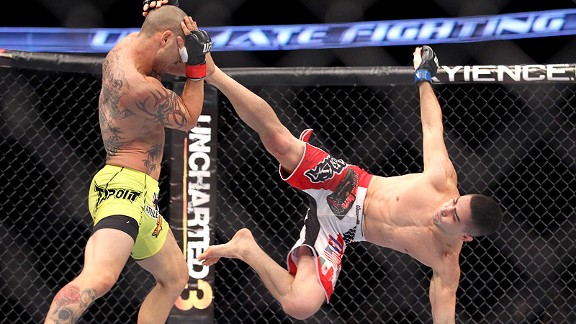 Ed Mulholland for ESPN.comA leg up: Ricardo Lamas, right, holds a win over fellow featherweight contender Cub Swanson.
There are a couple ways of interpreting what happened in the UFC featherweight division this weekend.
If your glass is half-full, you saw the emergence of two exciting 145-pound title threats in
Ricardo Lamas
and
Cub Swanson
. If it's half-empty, you saw the official fall from grace of
Hatsu Hioki
and a nice effort by Swanson, but nothing near what it would take to instill confidence he could beat
Jose Aldo
.
Consider me a bit of both. The UFC featherweight division isn't terrible -- but it's not as if Aldo has been run through the gauntlet, either.
Chad Mendes
is talented, but still raw.
Kenny Florian
nearly killed himself to make weight in what ultimately amounted to his last appearance in the Octagon.
Mark Hominick
is technical, but relatively one-dimensional.
Will Aldo continue making an easy go of it, or are there potentially scary fights ahead? Let's break down which feathers have a shot at UFC gold by the end of 2013 and which, well, probably don't.
The probably nots: Jim Hettes, Diego Nunes, Ross Pearson, Dennis Siver
Hettes showed plenty of evolution in just two fights in the UFC, notching two 10-8 rounds in a unanimous decision against
Nam Phan
in December. At 25, he might have the most upside on this list, but his skillset doesn't match up well currently against an athlete with takedown defense like Aldo. Siver is dangerous, but seems destined to be that guy who's always Top 10 but never quite Top 5. Nunes has flashes of title-contender stuff, but rarely are flashes enough to win it all. Pearson is a solid talent and very fun to watch, but against a technical speed kind of guy, he'll struggle.
The guy who didn't want it: Hatsu Hioki
I'm not going to rake Hioki over the coals because he passed on a title shot. Was it a smart decision? Probably not. Is it a sign of no confidence? Not so sure about that. Couldn't it also be seen as a sign of confidence in the sense Hioki believed in himself so much he accepted another fight, knowing he would win but just wanting more Octagon experience?
Either way, this isn't the guy we expected to see in the cage. He's never looked at home in the UFC, even when they had him fight at home (at UFC 144 in Japan). He hasn't showcased what makes him, -- him and even if he reverted to old Hioki, old Hioki kind of got hit a lot.
The streaker: Ricardo Lamas
Lamas has been on a tear since dropping to 145 pounds for his UFC debut last year. There's a lot to like right now about this guy. At 30, he seems to be peaking mentally and physically, he's adapted to this weight and his confidence is up. He's got heart and he's well-rounded.
Will be interesting to see though, if he becomes slightly overrated due to these last two wins. Thing is, he was losing that fight to Cub Swanson before Swanson got too comfortable on the ground and Lamas caught him. Then he edged Hioki, who hasn't been who we thought he'd be. Lamas is good, but he's not in Aldo's league yet.
The banana peel-prone: Charles Oliveira, Dustin Poirier, Cub Swanson
All three are capable of looking like world-beaters, but all three have identifiable examples -- recently -- of flat performances.
As a lightweight, Oliveira got blasted by
Donald Cerrone
. He recovered and won his next two matches, but he was a deer in the headlights against the confident, aggressive Cerrone. Similar situation with Poirier when he fought
Chan Sung Jung
. It was a big spot for Poirier, headlining his first card, and he froze a bit. He came out stiff, pumping his jab in the beginning of rounds and the Zombie went for blood and put him on his heels every time. Swanson has shown moments like he did against Pearson before, but he'll also fall into some serious mental lapses. He basically stopped fighting in the second round against Lamas and it quickly led to a loss.
The unfavorable styles: Chan Sung Jung, Chad Mendes
In an Aldo-less division, I'd like both these guys to hold the featherweight belt at some point in their careers. As long as Aldo is there, though, it's going to be tough.
If there's one thing we've realized about Aldo, it's that a one-dimensional approach won't work. Florian actually had arguably the most success against him and it's because he switched things up. He forced Aldo to think. Aldo's athleticism ultimately was far too much, but Florian had him guessing at times in that fight. Mendes' standup is coming along but it needs more elements. When he's able to threaten Aldo on the feet, the takedown will open up.
The Zombie is a tough competitor and you'd have to give him a shot against Aldo, but think about this matchup: Jung is a pressure fighter. He's in your face, he's accurate and he's got enough tools that he can be hard to predict. He's not really a speedster though. Aldo is a phenomenal counter puncher and frankly, he's twice the athlete Zombie is. Jung could win it on the floor, but it would be hard to get the fight there.
The athlete: Erik Koch
Koch hasn't proved it against the best in the world yet, but if there's anyone who passes the eye test in this sport, it's him. He's maybe the one guy that can keep up with Aldo's speed and explosiveness. A good analogy is that Koch is the 145-pound version of his teammate,
Anthony Pettis
. He uses speed and footwork to dictate range, he's got knockout power and he's surprisingly good off his back and in the scramble. The biggest concern is: has the UFC rushed him into this spot too fast?
The answer: Frankie Edgar
If Edgar fails in his attempt to reclaim the lightweight belt from
Ben Henderson
in September, there's got to be a high chance he drops to his natural weight. And who knows? Maybe he gets an immediate title fight if he does.
If that
were
to happen, this is the only fighter I see dethroning Aldo in the next 18 months. He's got the style to beat him. Edgar is fast, dangerous in different areas, and his takedowns are highly underrated. This guy took down big lightweights like Henderson and
Gray Maynard
. He'd take Aldo down, too. He sets a high pace, maintains that high pace and we know he can take a punch.
Far be it from me to doubt Edgar in the lightweight rematch. Clearly, you can never count this guy out. If he loses and drops to featherweight, I think he'll be the 145-champ come December 2013. If not, Aldo will continue to roll.
May, 29, 2012
5/29/12
1:12
PM ET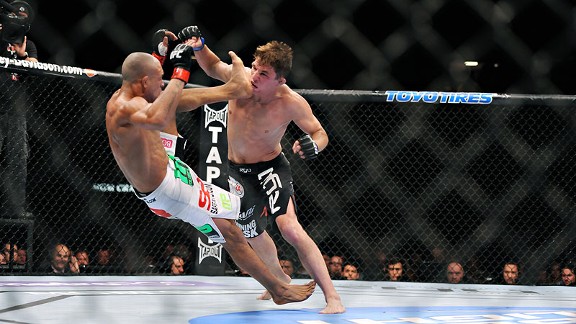 Rod Mar for ESPN.comTripped up: Diego Brandao's "can't miss" stock took a hit on Saturday.
At the end of April, prospects
Rory MacDonald
and
Michael McDonald
did work at UFC 145 in Atlanta. MacDonald's work was a showcase fight with an outmatched Che Mills, while bantamweight McDonald's was an eye-opening win over
Miguel Torres
.
Today, both are being speculated in title talks. That was April.
May has not been so kind for prospects and buzz names in the UFC. First it was featherweight
Dustin Poirier
, who was made a centerpiece for his UFC on Fuel fight with
Chan Sung Jung
. He was being groomed as the next in line for the
Erik Koch
/
Jose Aldo
winner, and was riding the wave of intrigue when the "Korean Zombie" happened. Who was this Jung, and where did he spring from? This version was light years removed from the stumblebum who traded with
Leonard Garcia
for three rounds back in the WEC.
The fight game is full of surprises. Suddenly, it's Jung closing in on a title crack instead of Poirier, who is forced to treat the whole thing as a set back.
And he wasn't the only fresh batch to be thrown out. At UFC 146 in Las Vegas, two more prospects went down.
There was 24-year old Diego Brandao, whom many people were talking about the first big talent to come off the "Ultimate Fighter" series in years, who lost to a resilient
Darren Elkins
. Extract the Brandao of the first round and spread it over three, and there's the star in wonder. But, as everybody knows, fights have moods. Elkins came roaring back. Brandao succumbed.
[+] Enlarge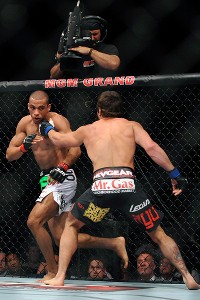 Rod Mar for ESPN.comEdson Barboza was on the fast track toward a title shot -- until this happened.
And then there was
Edson Barboza
, who scored what might be the knockout of the year against
Terry Etim
at UFC 142 with that spinning wheel kick. He lost to an opportunistic replacement in
Jamie Varner
in his follow-up.
Of all of the upsets to occur in May, this one stands out as the true thud. With Poirier, you knew Jung would be tough, and Brandao is still green enough to trip. But Barboza? He was undefeated and fierce and fighting a guy who was largely thought to be washed up and recycled out of necessity. He was fighting the replacement. Nobody saw Varner coming. Not many believed in Varner's second coming the first time through.
But Varner became to Barboza what
Charlie Brenneman
was to
Rick Story
a year ago, back when Brenneman took the fight on late notice when
Nate Marquardt
was plucked for high testosterone levels. He became a monkey wrench. Story was on pace for a title shot in the welterweight division and was calling out guys like
Jon Fitch
after dominating
Thiago Alves
. When Brenneman was dealt in just 24 hours before the fight, it felt like he was nothing more than a warm body being stuck in there to salvage the card.
On Saturday, Varner was thrown in there for the injured
Evan Dunham
-- and Varner made the most of it. Dunham has seen this stuff before. Remember when
Kenny Florian
got hurt, and
Melvin Guillard
stepped in to face Dunham? Same thing. Guillard heard the buzz coming off of Dunham's name, and muted it. It happened to Guillard later against
Joe Lauzon
. Lauzon did it to
Jens Pulver
back in the day.
Fighters have been linked by travesty forever.
If these outcomes tell us anything it's that A.) there's no such thing as a warm body in the UFC, and B.) the greatest motivation heading into a fight is to be counted out of it. It's what makes MMA fun. You can't pencil people into the title picture without using your eraser.
Now Varner is back. Elkins is mean. Jung is a contender. And those other guys, the ones they beat? It's back to their relative obscurities and rededications.
This is a sport where gimmies are hard to come by.
March, 22, 2012
3/22/12
6:30
AM ET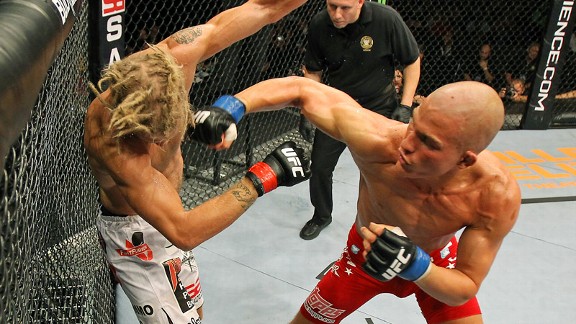 Josh Hedges/Zuffa LLC/Getty ImagesBlast forward: Erik Koch made his presence felt when he decisioned Jonathan Brookins in September.
Jose Aldo
is Calgary-bound for UFC 149 on July 21. Who will he face? As of Wednesday afternoon, this information was not yet disclosed. Just like the injury that forced featherweight contender
Erik Koch
from his fight with
Dustin Poirier
in November, there are mysteries to be found all over the 145-pound landscape.
At least some of them are clearing up a little bit.
Having spoken to Koch, a couple of things stand out. One, he is feeling 100 percent after his strictly confidential injury and is ready to accept a bout. The Duke Roufus pupil was set to stake his four-fight win streak against fellow upstart Dustin Poirier in November before the injury forced him off the card. And two, Koch has a sorted order of preference of the guys he'd like to see.
"If nobody fights Aldo, I'll fight Aldo," he says. "If not, I want the second guy; I want
[Hatsu] Hioki
. He's definitely in the mix. So that's how I want my plan to be. Aldo first, and if not, Hioki as the back-up plan."
Koch's management is still waiting to find out what's next for the man with the premonitory nickname of "New Breed." Aldo needs an opponent for the UFC's maiden trip to Calgary. Koch is willing. Couple that information with the fact that Poirier is scheduled to fight
Chan Sung Jung
on May 15 -- just two months before UFC 149, making for a short turnaround -- and Koch looks like a fun possibility. Koch's training partner,
Anthony Pettis
, was just last week rumored to be contemplating the bout, but was quick to dispel those rumors (in part, maybe, to avoid stepping on Koch's feet). Besides, Pettis himself is now sidelined with an injury.
And then there's also Hioki, who might be in front of Koch on some people's polls, but the Japanese fighter didn't exactly assert himself after beating
Bart Palaszewski
at UFC 144. Everybody knows this is an industry that sneers at modesty.
Koch, on the other hand, brings a stampede wherever he goes.
Before decisioning the "Ultimate Fighter 12" winner
Jonathan Brookins
, Koch had won back-to-back knockout of the night honors against Raphael Assuncao and
Francisco Rivera
in what was Koch's final WEC match. His last (and only) loss was a decision to
Chad Mendes
back in March 2010. Since then, he's been electrifying.
"Chad Mendes did beat me, but you know, I was a completely different fighter then," Koch says. "And Aldo has a good track record against wrestlers. To beat him, you got to beat him at his own game. You've got to stand with him. You've got to know how to do it right. [Fighting Aldo] would be a blast, I can tell you that. You'd definitely get some stand-up war going."
That's the selling point. The very thing that gives some fighters pause when contemplating Aldo gives Koch confidence.
"

I think just having good footwork, good striking and good fundamentals, and just using my size as a featherweight, would give him big problems.

"

-- Erik Koch, on why he matches favorably against Jose Aldo
"It's the match-up," he says. "I think -- nothing against Aldo because he's a beast, he's one of the best in the world for a reason -- but out of anybody in the division, if anybody matches up with him, it's me. I think just having good footwork, good striking and good fundamentals, and just using my size as a featherweight, would give him big problems."
Will it be Koch that the UFC sticks opposite Aldo? We may know very soon. But of all the alternatives, he at least packs some wallop. And he wants to stand and trade with Aldo, which is the right kind of roulette for a featherweight main event.
"For me, now it's about trying to finish fights and making exciting fights," he says. "I definitely want to be the best fighter in the world, but at the same time I want to be exciting. I want to bring something to the table that everybody wants to watch. People don't realize, we're in the entertainment business. I definitely want to give people what they want to see."
Now Koch will sit tight and hope that the UFC wants to see things similarly.
September, 8, 2011
9/08/11
6:53
AM ET
Duke Roufus has turned a small contingency of Midwestern fighters into his own personal "Ong Bak." Though he's got
Erik Koch
,
Pat Barry
and Danny Downes around on a regular basis, Roufus's flagship student is Milwaukee native
Anthony Pettis
, whose Hong Kong action cinema style makes up just about everybody's perception of what's being taught there. Roufusport MMA is right now synonymous with an exciting brand of fighting and Pettis ensures it.
That's why it's with a small amount of intrigue that we turn to Anthony's brother, Sergio Pettis, who turned 18 on Aug. 18. He has his first professional MMA fight Saturday at the Winnipeg Convention Centre as part of a CFC event. So how does he get ready for a pro MMA fight? By fighting in his first pro muay Thai fight just a few weeks beforehand.
"Yeah, I actually had my first pro muay Thai fight [in August]," he told ESPN.com. "I was more conservative in that fight, though. I won by decision, but the guy was one of them brawler-types so it was harder than I thought it would be. In my next fight coming up, I'm going to let it go and just have fun with it."
Pettis debuts against Kyle Vivian (0-3), and he'll enter the cage with an expectation -- some might say burden -- of delivering excitement. Not just to live up to billing as a Pettis, but as a Roufus fighter. It may fly under most people's radar, but it's a big deal for those in that sector of the 414 to see their youngest prospect get off to a solid start in what he hopes is a long MMA career.
"I am used to it now," the younger Pettis says of his brother, who'll be working his corner on Saturday. "It's not a bad thing, but obviously my competition's going to be a lot harder now; they see the last name and they're obviously going to expect a challenge. There's a lot of pressure, but it's alright, I think I can pull through and make the best of it.
"Anthony's the only one at the gym that knows me personally. He's my brother, so he knows when I'm having a bad day and when I'm having a good day. He helps me not get frustrated during training camp when I'm having an up and down week. But he makes me have fun with it."
The Pettis brothers both got involved in taekwondo when they were five years old, and each segued into kickboxing in their teens. Sergio has followed in his brother's footsteps the whole way, and is now looking to build up a name of his own. He might want to start with a more original alias, especially given the Roufus fighter's penchant for originality in nicknames. Anthony "Showtime" Pettis. Pat "Hype of Die" Barry. Danny "Boy" Downes. Erik "New Breed" Koch. These transcend your usual "Pitbull" handles.
So what's Sergio's?
"They call me the "Phenom" but that's Vitor Belfort's nickname, so I'm like, I don't know," he says. "He's pretty old, so I don't know if he can still be considered a phenom."
When you're 18, everybody is old, so he's got time to figure it out. For now, it's good enough that he's part of a burgeoning team that is making a name for itself similarly to how Greg Jackson built his team down in Albuquerque. In fact, Sergio says he sees the potential of Roufusport doing something Jackson-esque in the near future.
"That's the plan," he says. "[Greg] Jackson is known for winning fights and that's how it's going to be with Duke. Only, we're going to try to finish fights though."
It's the right kind of caveat, and it speaks to the mindset of Roufus fighters.