June, 27, 2013
6/27/13
11:42
AM ET

By Franklin McNeil
ESPN.com
Archive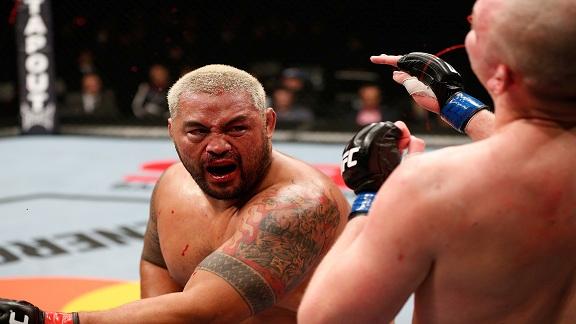 Six months remain until the 2013 mixed martial arts year officially concludes, but already several knockouts have left lasting impressions.
While some have been more devastating than others, timing and circumstance also are significant factors in determining which knockouts stand out from the pack. And none stands out more than middleweight contender Vitor Belfort's spinning heel kick on May 18 that finished Strikeforce titleholder
Luke Rockhold
at UFC on FX 8.
[+] Enlarge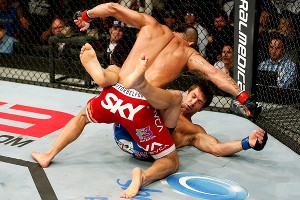 Josh Hedges/Zuffa LLC/Getty ImagesVitor Belfort's concussive power was on full display against Luke Rockhold.
The strike was quick, precise and unexpected. After it connected, Rockhold was on his way to sleep before absorbing a few more of Belfort's punches, which forced referee
Leon Roberts
to stop the assault at 2:32 of the first round.
The knockout was so impressive that ESPN.com voted it the best of 2013 thus far.
Rockhold had no chance of defending himself; he didn't see the head-rattling strike coming. It caught Rockhold just under his left ear. The kick, which likely will be talked about throughout this year and many more to come, was a thing of beauty.
In fact, everything about Belfort that evening was beautiful. His body was chiseled, there was that nostalgic sparkle in his eyes and he exuded an extremely high level of confidence that hadn't been seen in a long time. Belfort was going to leave to Octagon victorious, and there wasn't a doubt in his mind about it. The 36-year-old Belfort appeared to have found the fountain of youth: His hand speed and reflexes conjured up images of the 19-year-old "Phenom" who knocked out Tank Abbott in 59 seconds at UFC 13 in May 1997.
These images, however, are the reason this knockout will struggle to retain its top spot at the end of 2013. Heading into the bout, Rockhold repeatedly raised concerns about Belfort's reliance on testosterone replacement therapy. The topic hovered over this bout like a toxic cloud and fueled hostility between the fighters.
"I don't necessarily trust him. And I don't necessarily trust the system," Rockhold said before the fight. "Do I think he's cheating? Yes, I do.
"He definitely looks bigger than I've normally seen him. If you see the comparisons versus back when he fought
Anderson Silva
to now, [and] the
Jon Jones
fight, he put on some serious muscle mass."
With Belfort's previous positive test for elevated testosterone levels and the fight taking place in his native Brazil, where questions abound regarding the lack of stringent drug-testing, Rockhold's concerns seemed reasonable. The outcome only increased suspicion.
But until proven otherwise, Belfort is presumed innocent. And his knockout of Rockhold is the best midway through 2013.
The knockout secured Belfort's place among the top two 185-pound contenders. He is likely first in line to face the Silva-
Chris Weidman
winner -- which takes place July 6 in Las Vegas.
But cries have already begun for Belfort's next fight to be held in the United States. Each fight he has participated in this year has been in Brazil. Belfort won both fights by knockout -- perennial contender
Michael Bisping
went down in the second round Jan. 19. And yes, Belfort looked physically ripped in that fight.
Belfort didn't simply beat Bisping and Rockhold; he stopped them with punishing knockouts. It's hard to imagine any middleweight surviving the strikes Belfort delivered in those two fights.
To begin erasing doubts about the validity of his recent performances, Belfort must prove his resurgence isn't the result of having a home-field advantage. He must show off his renewed speed, cardio and physical physique under the Association of Boxing Commission's closely monitored therapeutic-use-exemption guidelines. Otherwise, the doubts will escalate.
---
Other notable knockouts:
No. 2: Emanuel Newton KO1 Muhammed Lawal: Bellator 90 (Feb. 21).
Newton's spinning back fist that knocked out former Strikeforce light heavyweight titleholder and huge pre-fight favorite "King Mo" Lawal was a thing of beauty.
No. 3: Antonio Silva KO3 Alistair Overeem: UFC 156 (Feb. 2).
"Bigfoot" Silva earned a rematch and title shot against Cain Velasquez with an impressive third-round stoppage of top contender Alistair Overeem.
No. 4: Muhammed Lawal KO1 Seth Petruzelli: Bellator 96 (June 19).
Lawal makes his second appearance on the KO list, but as the winner this time. His first-round knockout of Seth Petruzelli was about as brutal as they come.
No. 5: Mark Hunt KO3 Stefan Struve: UFC on Fuel 8 (March 2).
Stefan Struve suffered a broken jaw and a hit to his title contendership at the heavy hands of Mark Hunt.
June, 24, 2013
6/24/13
12:43
PM ET

By Brett Okamoto
ESPN.com
Archive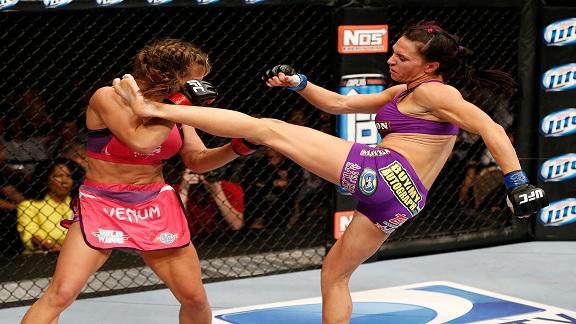 The first adjective
Matt Grice
uses to describe that grueling, split-decision loss to
Dennis Bermudez
on Feb. 23 at UFC 157 in Anaheim, Calif., is "fun." Awesome time.
"One of the most fun fights I've ever been in," Grice said. "Just competing with a person of that caliber. We're all there to test ourselves, and I feel that fight tested me a lot -- my willingness to continue and keep going. To me, that's fun."
ESPN.com's fight of the midyear was a landslide win for Grice and Bermudez. It's a funny thing, "Fight of the nights." Sometimes, stylistically, you can predict them. Oftentimes, however, they appear totally random -- as was the case with Grice and Bermudez.
[+] Enlarge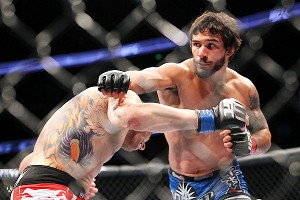 Ed Mulholland for ESPNDennis Bermudez, right, and Matt Grice took turns testing each other's chin for three full rounds.
Grice, for one, has no idea how to describe exactly what happens between two fighters that can turn a technical martial arts contest into a spirited brawl. He does know, however, that physical and mental endurance are involved.
"That definitely wasn't in the game plan, you know?" Grice said. "Take a bunch of punches and give a bunch of punches. You just get in the zone."
Bermudez got full mount on Grice in the first minute of the fight. The two exhausted one another against the fence throughout, fighting for underhooks and throwing knees and punches to the body. It continued like that for the next 14 minutes.
One of the most incredible things about the fight was that both had enough left to stand and trade punches in the final minute. The pace of this featherweight bout was insane from the beginning.
Grice dropped Bermudez with a perfect left hook in the first round.
Bermudez's corner told him, "We need this round, you've got to go for it," as he came off his stool for the final round. Across the Octagon, Grice's corner's last words were, "Don't stop. Don't relax."
"I think more than anything in that third round, it was survival tactic, Grice said. He hurt me right off the bat in that third round. Every time I would recover a little bit, he'd hit me with another one that would put me out. He was in great shape, too, because he threw a lot of punches in that last round."
Grice appeared out on his feet at least three times in the final round.
"I looked up at the clock with 47 seconds left and thought, 'Man, where did the rest of this round go?'" Grice said. "I came off the cage and hit him with a left hand and for the last 30 seconds or so we flurried."
According to FightMetric.com, Bermudez landed 120 total strikes to Grice's 82. It was, by far, the most times either had been hit in a UFC bout.
---
No. 2: Johny Hendricks UD3 Carlos Condit, UFC 158 (March 16).
This was an angry Hendricks. The kind of Hendricks you get when you give away his title shot to a recently suspended welterweight, coming off a loss. Condit wasn't backing down, though. Amazing fight.
No. 3: Wanderlei Silva KO2 Brian Stann, UFC on Fuel 8 (March 2).
Stann may have been able to play this safe and gone after Silva late -- but we'll never know because he chose to do the opposite. One would have thought Stann's chin would have held up better than Silva's, but that wasn't the case, as it was the Axe Murderer left standing after a firefight.
No. 4: Cat Zingano vs. Miesha Tate, TUF 16 Finale (April 13).
Tate will give you a fight. She's relentless and for two rounds, it worked against Cat Zingano. In the third, with a reality show and title shot on the line, Zingano delivered a highlight TKO.
No. 5: Mark Hunt vs. Stefan Struve, UFC on Fuel 8 (March 2).
The weigh-in photo of these two ranks among the most comical in UFC history. The actual fight ranks among the best of the year. For Hunt to get inside that reach, chances were he'd have to absorb a little punishment along the way. That's pretty much what happened, until Hunt delivered the walk-off home run shot.
March, 27, 2013
3/27/13
3:41
PM ET

By Franklin McNeil
ESPN.com
Archive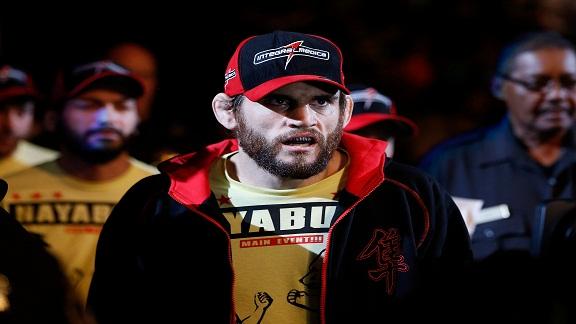 Once in a while it is necessary to set the record straight.
That moment has arrived as it relates to a comment made by former light heavyweight champion
Rashad Evans
about his upcoming bout against
Dan Henderson
. The two are scheduled to meet June 15 at UFC 161 in Winnipeg, Manitoba.
"

In the fight business, you're only as good as your next fight. If you lose two or three then you're done.

"

-- Rashad Evans
Despite dropping his past two outings -- he looked sluggish en route to a unanimous-decision setback Feb. 2
Antonio Rogerio Nogueira
at UFC 156 -- Evans is expecting a victory against Henderson.
But in the past few days, some MMA blogs have questioned the level of Evans' confidence based on a remark he made to ESPN.com nearly two weeks ago.
"This is the type of fight that keeps you up at night, because you want to do well," Evans said, referring to his bout against Henderson. "My back is against the wall. And that is when I perform at my best.
"In the fight business, you're only as good as your next fight. If you lose two or three then you're done.
"My manager Bill Robinson always says, 'You're either one fight away from getting a title shot and becoming champion or you're two losses away from being cut from UFC.' "
Robinson makes a good point and Evans understands the business aspect of mixed martial arts. But Evans is a high-level professional athlete who expects to defeat every man he competes against in the cage.
When he talks about losing two or three fights "then you're done," Evans is referring to being a serious title contender.
Evans still believes he can compete for and win the UFC light heavyweight title. But he is very aware that with two losses in a row heading into this next fight, another defeat will significantly hinder his chances of fighting for the belt again.
As for fearing that a loss to Henderson will result in being released by UFC: Evans laughed at the suggestion when contacted by ESPN.com on Wednesday.
"No. Not at all," Evans responded. "That some media would come to that conclusion is funny to me. I'm going to win [on June 15.]"
Fighting Henderson has never been a concern for Evans. The only issue he's had to battle the past two years is his recent divorce and not seeing his children as often as he would like.
The emotions of the situation took a toll on Evans. But he is having arguably his best camp in recent memory.
Evans is in a good place training-wise right now -- mentally, emotionally and physically.
That wasn't the case in his previous three training camps. Evans is eager to step in the cage against Henderson and prove that he remains a force to be reckoned with at 205 pounds.