May, 25, 2013
5/25/13
10:09
PM ET

By Franklin McNeil
ESPN.com
Archive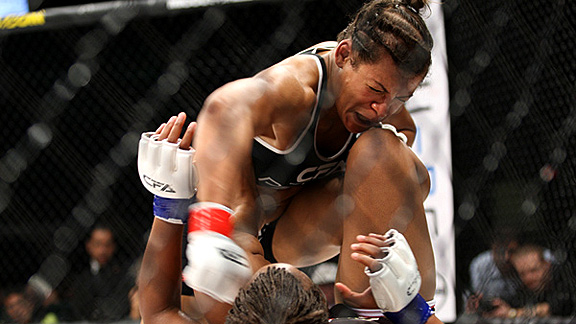 Keith Mills/Sherdog.comFallon Fox, top, stayed unbeaten after scoring a submission win over Allanna Jones.
As has been the case in her previous two fights,
Fallon Fox
dominated the action Friday night in Coral Gables, Fla., against
Allanna Jones
to remain unbeaten. Fox improved to 3-0 with a third-round submission at CFA 11.
"I noticed she tried to get away from me a lot, so it was hard for me to catch up to her," Fox said. "But I did get her in the end, and that was pretty awesome."
In her first televised bout, Fox was hoping for an impressive win. It was a solid win for her, but MMA fans aren't likely clamoring to see her compete against the sport's elite at this time.
Though Jones (2-2) came up short, she did expose a weakness in Fox's game -- cardio. She forced Fox to go beyond the opening round for the first time in her career.
The transsexual fighter is at the center of an ongoing debate about whether or not a transgender female should be allowed to compete in women's MMA.
The argument against sanctioning Fox -- who was born a male -- to compete is that she has a natural physical advantage over other women fighters. That point of view likely gained more supporters because Fox was clearly bigger, stronger and faster than Jones.
And from the start of the opening round, Fox used those physical advantages to gain momentum. She kicked Jones' lead left thigh repeatedly and landed a few hard right hands. But Jones, who kept her chin high throughout the fight, used good footwork to avoid serious damage.
On the ground, Fox used her strength to apply a shoulder lock. But again, a determined Jones survived. When the horn sounded, Fox was breathing heavily and walking slowly to her corner.
It was the first time as a pro that Fox was forced past the first round. And the energy she exerted in the first five minutes meant for a slower pace in Round 2.
Fox threw fewer strikes, though a kick to the midsection sent Jones to the canvas briefly. With Fox slowing down, Jones landed a jab and straight right hand that brought cheers from the mostly anti-Fox crowd.
But Jones wasn't strong enough to seriously threaten Fox. Once on the ground, Fox was able to regain control of the action from top position, from which she landed punches and elbows.
In the third round, Fox would get the fight to the ground again, and from a north-south position, she'd apply a knee to the throat of Jones, who was forced to tap.
Fox meets Ashlee Evans-Smith in the tournament final. It is not yet known when the fight will take place.
"That's going to be an awesome match," Fox said. "Ashley's a little bigger than me; it's going to be a hard challenge. But I'm ready to go. I'm ready to rock."
April, 19, 2013
4/19/13
5:34
AM ET

By Brett Okamoto
ESPN.com
Archive
SAN JOSE, Calif. -- Cover your ears,
Johny Hendricks
.
UFC president Dana White told reporters on Thursday he'll talk to welterweight champion
Georges St-Pierre
soon. The two haven't spoken since St-Pierre recorded his eighth consecutive title defense over
Nick Diaz
at UFC 158 last month.
Expectations have been that St-Pierre (24-4) would face Hendricks (15-1) later this year, but White said that bout would go on hold should St-Pierre express interest in a long-anticipated, lucrative superfight with middleweight champ
Anderson Silva
.
"I am literally going to call Georges St-Pierre today and see what he wants to do," White said.
"If Georges says to me, 'I want to fight Anderson Silva,' you think I'm going to go, 'No, you're not. You're fighting Johny Hendricks'?"
Silva (33-4) is scheduled to defend his 185-pound title against
Chris Weidman
at UFC 162 in July. In yet another superfight wrinkle, light heavyweight champion
Jon Jones
will defend his title against
Chael Sonnen
at UFC 159 next week in Newark.
White said he's interested in any fight that involves two of the three champions, saying if both St-Pierre and Jones wanted Silva, "that's a good problem to have."
Hendricks would be the clear loser if St-Pierre opts to fight Silva next. The former collegiate wrestler is on a six-fight win streak and was already leapfrogged earlier this year by Diaz, who was coming off a drug suspension.
White said St-Pierre would not vacate the 170-pound title if he took the Silva fight, meaning Hendricks would have to wait or accept another fight.
"If [St-Pierre] lost, he could still go back down and fight Hendricks for the title."
Mitrione fined, suspended -- but forgiven
UFC heavyweight
Matt Mitrione
has been fined an undisclosed amount and remains suspended for comments made last week regarding transgender fighter
Fallon Fox
.
The UFC quickly suspended Mitrione following an appearance on "The MMA Hour," where he referred to Fox as a "freak." Fox is scheduled for her third pro fight in May.
Mitrione (6-2), who defeated Philip De Fries via first-round knockout earlier this month, spoke with UFC president Dana White following the incident and took responsibility for his actions -- but there is no timetable for his return.
"It's up to us," White said regarding Mitrione's suspension. "I'm not mad at Mitrione. He did something stupid. He knows he didn't handle it the right way.
"I'm sure he wants to know [when he'll fight again]. We'll let him know when we decide. He was fined, too. Enough to make him call me three times."
• A Brazilian fan attacked UFC light heavyweight Chael Sonnen during an event last weekend in Las Vegas, according to White.
Sonnen, who challenges Jon Jones for the 205-pound title next week at UFC 159, was in Las Vegas to attend "The Ultimate Fighter" finale at Mandalay Bay Events Center. According to White, he was involved in a minor scuffle during the show.
"I don't know if any of you guys saw this, but he was there shaking hands with fans and one guy says, 'Chael! Chael!" White said. "Chael goes over there and the guy started swinging at him, trying to punch him. The guy goes, 'I'm from Brazil!'"
Sonnen (27-12-1) was involved in a heated rivalry with Brazilian middleweight champ Anderson Silva from 2010 to 2012. He went 0-2 in two fights against him.
• Whether his teammate claims the UFC lightweight title on Saturday or not,
Nate Diaz
says he's moving back to 170 pounds.
Diaz (16-8) meets lightweight
Josh Thomson
on Saturday. His teammate, Gilbert Melendez, will look to dethrone champion Ben Henderson in the night's main event.
Regardless of the outcome of either fight, Diaz says he intends to move back to welterweight, where he compiled a 2-2 record from 2010 to 2011.
"I already fought everybody at lightweight," Diaz said. "I don't think there is anything for me in the lightweight division. I already beat everybody or fought everybody. The only person who beat me was Ben. What, I'm going to sit around and fight all the same guys again? That's boring. There's no motivation in that."
• Strikeforce Heavyweight Grand Prix winner
Daniel Cormier
still wants to fight UFC light heavyweight champion Jon Jones -- just maybe not as soon as he once thought.
Cormier (11-1) faces arguably the biggest challenge of his career on Saturday as he takes on former UFC heavyweight champion
Frank Mir
in the night's co-main event.
The former U.S. Olympic wrestler has been quietly shedding weight for a potential trip to the 205-pound division. Cormier's teammate,
Cain Velasquez
, currently holds the UFC heavyweight title.
Cormier has publicly expressed interest in fighting Jones previously, but now says he'd probably want a test fight at 205 pounds first. The 34-year-old experienced kidney failure while cutting weight in 2008 but is confident he can make 205.
"At first, I was so emotionally tied to [fighting Jones]," Cormier said. "I've thought about it, and I wouldn't be opposed to fighting one time down there just to see how my body reacts to the weight cut. It would be very difficult to fight him in my first fight, a five-round fight.
"What if I get in a fight and I can't do anything but wrestle because my arms are tired and my body isn't responding to the weight cut? I don't want that guy to be Jon Jones. Seriously, can you imagine standing in with him and not feeling your best?"