October, 4, 2011
10/04/11
1:22
PM ET

By Chad Dundas
ESPN.com
Archive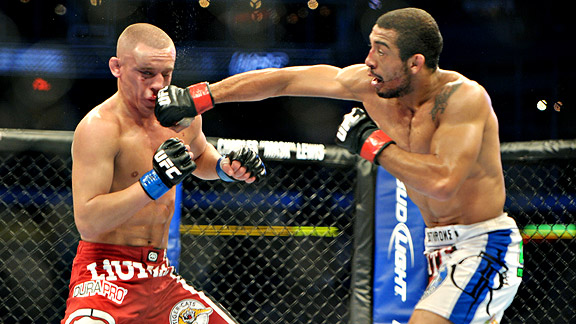 C.J Lafrance/Icon SMIJose Aldo, right, came away with a win in his Octagon debut, but he still failed to impress.
Leading up to Saturday's featherweight title bout at UFC 136, most of the prerequisite talk about legacy and consequences has rightly fallen on
Kenny Florian
.
Florian, after all, is the one dogged by the notion that he can't win the big one. He's the one who has already lost two previous title fights and one championship eliminator inside the Octagon. Rightly or wrongly, he's the one who appears to have been chased down to 145 pounds for what might be his last best chance at capturing UFC gold.
If Florian can't overcome the more than 2-1 odds against him in this fight, it's unclear where goes from here. That's pressure.
In terms of expectations and unfulfilled potential however, Florian is not alone. After all the talk of him as nothing short of a game-changing force in the featherweight division, his opponent,
Jose Aldo
, must be feeling a little added anxiety as well -- especially after he didn't exactly set the world on fire in his UFC debut five months ago.
[+] Enlarge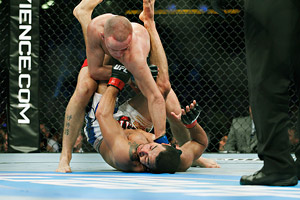 Ric Fogel for ESPN.comWhether he was just in cruise control or really in dire straits, Jose Aldo didn't look like the old Jose Aldo in Round 5.
Currently ranked No. 4 on
ESPN's pound-for-pound Top 10
, Aldo sure didn't look it against
Mark Hominick
at UFC 129 in Toronto. The champion crafted a unanimous decision win over the fan-favorite challenger, but seemed without most of his trademark explosiveness and killer instinct. He faded so badly down the stretch that, though he'd already raised a gigantic hematoma over Hominick's right eye, Aldo looked like he was simply hanging on for dear life during the final five minutes.
If the fight had gone another round or two, who knows how it would have turned out?
Spin that into a story of perseverance and "digging deep" if you want, but it was not the kind of performance we'd come to expect from Aldo, whose WEC fights were so lopsided that the UFC simply installed him as its featherweight champion when it absorbed the smaller promotion at the beginning of this year.
In previous outings, there were times when Aldo seemed to suspend the laws of gravity, as he did during his double flying-knee knockout of
Cub Swanson
at WEC 41. There were times when he made both current and former champions like Mike Brown and
Urijah Faber
look so hapless and out of sorts that his bouts against them were obviously over far before the final horn. Times when the most danger he faced inside the cage was pulling off a backflip from the top of it once victory was at hand.
Where was
that
Jose Aldo in Toronto?
[+] Enlarge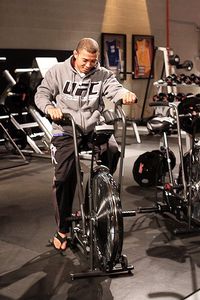 Sherdog.comWas a difficult weight cut to blame for Jose Aldo's subpar performance against Mark Hominick?
On the heels of his disappointing showing against Hominick, rumors circulated that Aldo had been sick. Later, a scheduled August fight against
Chad Mendes
was postponed due to what his camp called "pre-existing injuries," possibly related to the neck ailment that caused him to pull out of his originally intended Octagon debut at UFC 125.
This week, the UFC released a Portuguese language video shot the week leading up to the Hominick fight, showing Aldo struggling with a difficult weight cut. Oddly, members of his camp explained on the video that the problems were due to the added muscle mass Aldo put on during his last couple of fights, making it seem like cutting to 145 might be more of a chronic struggle than a one-time issue. There have even been whispers that the 25-year-old might one day make a full-time move to lightweight.
Any and all of these factors -- a sickness, lingering injuries and a difficult cut -- could have conspired to make Aldo look not quite himself at UFC 129. What he need to prove this weekend in Houston is that it won't happen again.
Aldo needs to show up on weight, unafflicted by injury or sickness and possessing of the quickness and power that built his reputation as the standard bearer in the featherweight division. He needs to show why he's a heavy favorite over Florian, why the UFC saw fit to appoint him its 145-pound titlist in the first place and why he deserves to be ranked ahead of guys like
Frankie Edgar
,
Dominick Cruz
and
Gilbert Melendez
on the pound-for-pound list.
If he can't do that -- if he can't turn in an impressive and complete performance reminiscent of the guy we watched tear through the WEC for two-plus years -- Florian won't be the only one with a lot of questions to answer come Monday morning.
September, 27, 2011
9/27/11
4:07
PM ET

By Chad Dundas
ESPN.com
Archive
Anyone with lingering doubts about the pecking order among the UFC's weight classes needs only get a load of the following juxtaposition.
On Saturday in Washington, D.C.,
Dominick Cruz
is set to make the second defense of his bantamweight title against
Demetrious Johnson
at UFC Live 6 on basic cable TV in what most observers believe will be the UFC's final broadcast on the Versus Network. If ratings are in keeping with the last couple of UFC Live events, the audience will hover in the range of 750,000 viewers.
A little more than a month later,
Cain Velasquez
will defend his heavyweight crown for the first time against
Junior dos Santos
on Fox, in prime time and on the heels of a slew of advertisements during the network's mainstream sports coverage. Viewership -- on this we're all crossing our fingers -- will be well into seven figures.
As the UFC hunted around a few weeks ago for a fight it could use to headline its first broadcast on network television, these two bookings must have been no-brainers. After all, the company needs to make a big splash during its Fox debut and matchmakers know full well the fight-friendly mainstream public can be counted on to tune in for heavyweights.
For bantamweights? Not so much. At least not yet.
It's been nearly 10 months since the UFC absorbed the remnants of the WEC and the assimilation of 135- and 145-pound fighters has gone about as well as could be expected. The UFC continues to hold firm that it will promote feathers and bantams with the same high-profile zeal as its better known weight classes and to date, you have to give the promotion credit for sticking to its guns. It headlined UFC 132 with Cruz's first title defense against
Urijah Faber
and two weeks from now featherweight champion Jose Aldo's bout with
Kenny Florian
will be the co-main event of UFC 136.
[+] Enlarge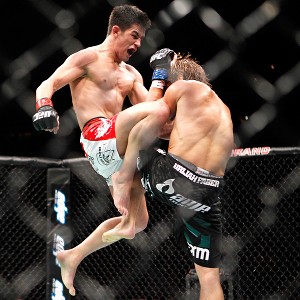 AP Photo/Eric JamisonIt's been an uphill battle for attention for smaller fighters like Dominick Cruz.
Additionally, season 14 of "The Ultimate Fighter" reality show -- the last before SpikeTV is also ditched for the Fox Family -- debuted last week as the first ever to feature 135- and 145-pounders. That fact, maybe more than anything else, underscores the UFC's commitment to getting the little guys over with its fan base.
Still, at least in the public's eyes, feathers and bantams may not quite be there yet. Though UFC 132 didn't do terribly on pay-per-view, its reported 350,000-375,000 buy rate also isn't exactly the gold standard. Without an organization specifically geared to showcasing their talents, they have faced a bit of an uphill climb with mainstream fight fans, many of whom weren't familiar with their work in WEC and some of whom still carry the age-old, boxing-based prejudices against smaller fighters.
Now, as the UFC shifts its focus to network TV and likely ends its relationship with SpikeTV and Versus -- which for three-plus years was the exclusive platform for the company's bantamweights and featherweights -- questions remain about the Octagon's newest, smallest weight classes.
How will 135-pound and 145-pound fighters ultimately fit in this new era of bigger stages and higher stakes?
At least in the short term, they'll probably continue to be relegated to cable. Precisely what the UFC's cable television offerings will look like after it moves to Fox remains to be seen, but FX and Fuel TV figure to play prominent roles. It's also a good bet you'll see the 135-pound and 145-pound UFC titles regularly represented on these smaller networks. This will serve the dual purpose of getting featherweights and bantamweights more exposure, while reserving the company's bigger draws for bigger, more important shows.
That's not fair, but it's the current state of things.
Will the day soon come that talents like Cruz, Faber and/or Aldo will headline a major UFC broadcast on network television? Not just yet, but I believe it will. The 135-pound and 145-pound fighters are too good and too exciting to be denied for long.
For now though, they'll have to settle for supporting roles.