December, 4, 2013
12/04/13
11:55
AM ET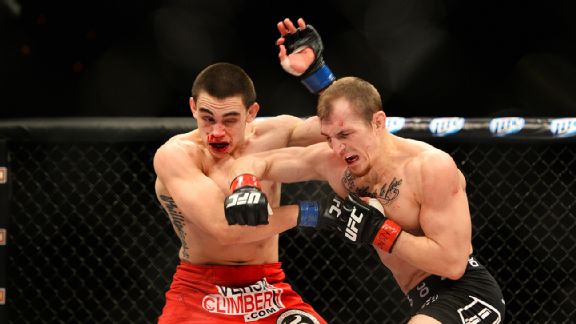 Al Powers for ESPNRyan Benoit, left, lost his fight against Josh Sampo, but still managed to earn a hefty paycheck.
At some point last weekend, you may have run across the name
Ryan Benoit
.
Benoit is a 24-year-old martial artist fighting out of the Dallas suburb area. He made his UFC debut at The Ultimate Fighter Finale in Las Vegas on Saturday. He lost via second-round submission to
Josh Sampo
, but pocketed $100,000 in Fight Night bonus money.
If you're like me, you might wonder: What exactly happens next when a kid in his early 20s, in Vegas, who just debuted for the biggest fight promotion in the world, earns $100,000 on the spot?
The answer is not what you might think.
"I got all my stuff together [from the hotel] and went to my uncle's house," said Benoit, who has family in Las Vegas. "We hung out and watched TV. We did go to dinner actually -- some Thai restaurant.
"I went to the mall [on Monday] and spent $25 on some t-shirts."
"

My manager called and I could hear he was kind of excited. He goes, 'Man, you got Fight of the Night...' I dropped the phone and started screaming. I ran into the hall and was yelling at the top of my lungs. It felt like I had won the lottery, literally.

"

-- Ryan Benoit on winning $100,00 in bonus money
Here's where you should probably know a little of Benoit's backstory. Two weeks ago, he wasn't signed to a UFC contract. He was working several jobs, counting the hours in his head to predict what his paychecks would be.
Early this year, he found out his longtime girlfriend, Marilyn, was pregnant. They got married in February, in Las Vegas. The wedding cost about $50, according to Benoit.
"We went to the courthouse, signed the papers and we were done," he said.
Benoit's daughter was born in October, one week after he fought
Cody Fuller
on a Legacy Fighting Championships card in Dallas. He and Marilyn decided to combine their two names into one, and named her Rylyn.
Saving money for Rylyn's arrival has been a yearlong struggle for Benoit. He had fought twice this year, prior to the UFC debut. For the Fuller fight, a first-round TKO win, Benoit says he was paid about $3,500.
In regards to the other fight, a unanimous decision loss to
Anthony Birchak
on a Canadian event in May, well ...
"You would not believe how much I made for the a--beating I got up there," Benoit said. "One thousand dollars. A three-month camp for $1000."
Maybe Benoit (7-3) would have fought more frequently, except he's had terrible luck with his hands. He's broken each of them three times and has required surgery on his right.
His left hand, in fact, was still bothering him when he received a call from his manager on Nov. 20, asking if he could make weight in 10 days. That in itself is a complicated question for Benoit. What weight was his manager referring to? He's fought the majority of his career at 135 pounds, although two of his more recent bouts were at 130. He'd been contemplating a permanent move to 125.
The UFC wanted Benoit at 125 pounds. He had never, as a professional fighter, cut to that weight, let alone competed at it. Additionally, because of the hand injury, he hadn't been in the gym much since his last fight. He weighed 148 pounds.
"I asked him what weight and he said 125 pounds," Benoit said. "I asked for who, and he said the UFC. I was like, 'Yeah, I can make it. For the UFC, I can make it.'"
Benoit, a former high school wrestler, did manage to cut the weight. It was actually his opponent who did not. At the official weigh-in at The Mandalay Bay Events Center the day before the fight, Sampo weighed-in 1.5 pounds heavy, at 127.5 pounds.
Sampo missing weight didn't bother Benoit at all, because it meant he received 5 percent of his opponent's fight purse. His guaranteed payday of $8,000 had just increased a little.
It's worth mentioning here that an $8,000 payday doesn't exactly mean an $8,000 payday. There are taxes, of course, but also a cut that typically goes to a fighter's trainer.
Benoit, however, doesn't pay that trainer fee. Early in his career, his coach, Saekson Janjira, told Benoit he would never charge him.
"When I signed up at the gym, I was training a couple months but then I stopped because I couldn't pay the membership," Benoit said. "Saekson told me to not worry about paying him. He said I would never have to pay him any of my fight purse.
"He comes from Thailand -- if you've ever seen those documentaries about kids who get sold and grow up in Muay Thai camps, fighting since they are 10. It's crazy. When he was younger, they would take 50 percent of his fight purses. He told me he knows how much that hurts, so he would never do it to me."
The actual fight, for Benoit, went incredibly fast. He broke his left hand in the first round. He and Sampo traded punches in the first round before Sampo eventually submitted him via rear-naked choke, after Benoit had escaped several other submission attempts.
Benoit was heartbroken by the loss, but he did ask his corner immediately after if the bout had Fight of the Night potential.
"Everybody was giving me this answer like, 'Eh, maybe,'" Benoit said. "Them telling me that made me think I didn't get it. No chance. I had already made myself content that I was only going home with my fight purse."
The flyweight bout was the first fight on the card and the only one non-televised. By the time the main event between
Nate Diaz
and
Gray Maynard
ended, more than six hours had passed since Benoit's fight.
He was in his hotel room with Marilyn. They weren't watching the event because he couldn't find the channel. He was kind of depressed and had downed two shots when the phone rang.
"My manager called and I could hear he was kind of excited," Benoit said. "He goes, 'Man, you got Fight of the Night.' And I said, 'Don't say that, don't tell me that.'
"Then he said, 'You get his bonus, too, since he didn't make weight.' I dropped the phone and started screaming. I ran into the hall and was yelling at the top of my lungs. It felt like I had won the lottery, literally."
Benoit hugged his wife. He called his mom. His mom cried, which made him cry.
And as I mentioned, that's pretty much the story. The night ends with an off-strip Thai restaurant and TV shows at an uncle's house.
There were no nightclubs, girls, blackjack tables or hotel suites. No waking up at 10 a.m. the next morning with a missing finger and no explanation of where it went. Benoit has gotten married and won $100,000 in Las Vegas -- and he doesn't really have the crazy story you might assume comes with either one of them.
Unless, of course, you look at the full story start to finish.
"In my head, I'm thinking this is karma," Benoit said. "This year, we've tried to be as good of people as we can because we have the mentality that good things happen to good people.
"God puts obstacles in front of us to teach us we can be strong and get through tough times and it works, man. It's completely worked."
May, 29, 2011
5/29/11
12:34
AM ET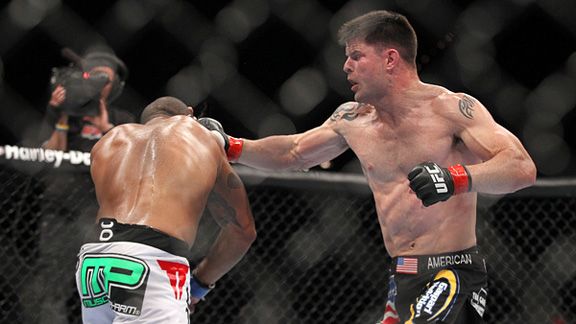 Ed Mulholland for ESPN.comBrian Stann earned a little extra cash on the side by knocking out Jorge Santiago.
UFC middleweight
Brian Stann
, who served time overseas as an officer in the United States Marine Corps, recorded a memorable knockout win over
Jorge Santiago
in the promotion's Memorial Day weekend event.
He took home some extra cash for his performance.
Stann (11-3) claimed a $70,000 bonus along with Jorge Santiago (23-9) for the "Fight of the night" at Saturday's UFC 130 event at the MGM Grand Garden Arena in Las Vegas.
It was the second time Stann has taken the award. The first was for his fight against Mike Massenzio at a UFC Live event in August 2010. The former WEC light heavyweight champion is now a perfect 3-0 since dropping to middleweight.
Also earning bonuses on the night, lightweight
Gleison Tibau
(23-7) took "Submission of the night" for his second-round win over Rafaello Oliveira and heavyweight
Travis Browne
(11-0-1) took "Knockout of the night" for his first-round victory over
Stefan Struve
. Each earned an additional $70,000.
May, 1, 2011
5/01/11
8:49
AM ET
TORONTO -- Four fighters earned an extra $129,000 for their efforts during Saturday's record-breaking UFC 129 show at the Rogers Centre.
"Fight of the Night" honors went to
Jose Aldo
and
Mark Hominick
for their five-round title fight, which Aldo won by unanimous decision. "Knockout of the Night" went to
Lyoto Machida
for his win over
Randy Couture
and
Pablo Garza
secured "Submission of the Night" with a nifty flying triangle against
Yves Jabouin
.
The event set new records in attendance and live gate revenue for a North American mixed martial arts show, drawing 55,724 and $12.075 million.
The co-main event fight between Aldo and Hominick particularly stole the show, as the Canadian challenger nearly pulled off an upset in the final round.
Hominick was checked on several times by the ringside physician due to an enormous amount of swelling on his forehead. On top of it all, Hominick is expecting the birth of his first child this week.
"First off, I just want to say to my wife that I hope I didn't put you into labor," said Hominick, following the fight. "I know you're due any minute. I love you and I hope that you're OK.
"Second, I want to thank [referee] John McCarthy for not stopping the fight. I was never going to give up."
For Garza, it was the second time in as many UFC appearances he's taken "Fight Night" honors. He claimed "Knockout of the Night" in his UFC debut with a one-minute knockout over Fredson Paixao via a flying knee at The Ultimate Fighter 12 Finale in December.