January, 4, 2014
Jan 4
9:13
PM ET

By Brett Okamoto
ESPN.com
Archive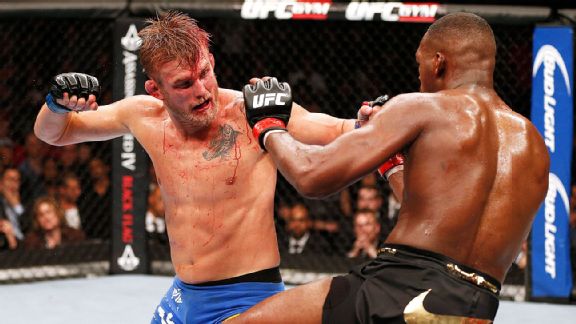 Josh Hedges/Zuffa LLC/Getty ImagesAlexander Gustafsson gave light heavyweight champ Jon Jones all he could handle for five rounds.
Let's be real, none of us had
Jon Jones
-
Alexander Gustafsson
on our short list for potential fight of the year candidates, right?
Oddsmakers saw it as a mismatch, pegging Jones about an 8-to-1 betting favorite. The UFC's marketing strategy heading into the fight basically consisted of telling everyone how long Gustafsson's limbs were.
Jones, in one of the more ironic moves of the year, walked to the Octagon on Sept. 21 in a shirt that read "Not quite human." Looking back now, of course, maybe Jones was tempting the Fight Gods with that one, but at the time it felt pretty much true.
That's one reason this is, easily, the right choice for ESPN.com's fight of the year. So is the fact that somebody finally made Jones, the UFC's light heavyweight champion, look human in 2013.
It's not as if Jones' career had been nothing but uncontested layups to that point -- he just made plenty of his fights look that way. It was great to see the 26-year-old tested over the course of a full five rounds.
That's not the only reason, though. Some suggested that because the expectation was for Jones to run through Gustafsson, when it didn't happen we were so shocked. Everybody kind of freaked out a little bit.
There might be some truth to that, but at the end of the day this was just an incredible fight. Regardless of who was involved or who we thought would win, the fight itself was competitive, technical, back-and-forth and contested for a world title.
Was it the best fight in UFC history? That's a near-impossible question to answer, even though plenty of observers called it that immediately after. It's far easier to call it the best fight of 2013, which it undoubtedly was.
No. 2: Gilbert Melendez UD Diego Sanchez, UFC 166
UFC president Dana White was so excited about this lightweight fight, he got out of his seat and literally ran around the cage. That happened.
No. 3: Mark Hunt NC Antonio Silva, UFC Fight Night 33
A post-fight failed drug test by Silva puts a sour aftertaste on this heavyweight bout (originally ruled a majority draw), but you still have to admire what these two gave in this one -- everything they had.
No. 4: Eddie Alvarez SD Michael Chandler, Bellator 106
The rematch was just as good as the first meeting, setting up what will surely be a highly anticipated trilogy bout. These two were made for each other.
No. 5: Dennis Bermudez SD Matt Grice, UFC 157
Voted the fight of the midyear by ESPN.com, Bermudez went back and forth for three rounds and nearly stole the show on a historic night for the UFC -- the debut of
Ronda Rousey
.
January, 3, 2013
1/03/13
7:49
AM ET

By Brett Okamoto
ESPN.com
Archive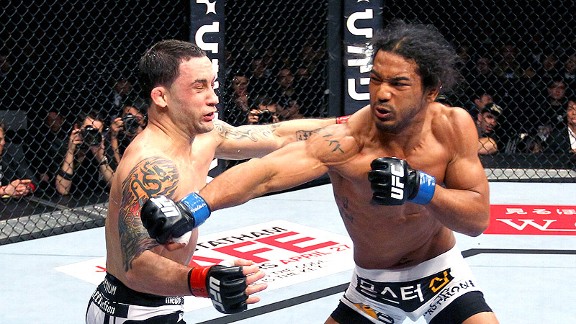 Al Bello/Zuffa LLC/Getty ImagesFrankie Edgar and Benson Henderson put on an all-action display in February at UFC 144 in Japan.
Benson Henderson's first year in the UFC was 2011, but you might say the former WEC lightweight champion truly arrived in 2012.
Henderson was easily one of the most impressive figures in the Octagon in 2012 and it all started with a 155-pound title fight against reigning champion
Frankie Edgar
at UFC 144 in Saitama, Japan.
Edgar entered the fight with momentum, having knocked out
Gray Maynard
in their trilogy fight four months earlier. No one, though, expected a title defense to be any easier against Henderson -- one of the biggest lightweights in the division.
The defending champion fought a tactical first round. Edgar had developed a reputation for taking damage early, then rallying in later rounds. It didn't happen in Japan, as all three judges scored the first frame 10-9 in his favor.
That time would eventually come, though. Fighting off his back after a late takedown by Edgar in the second round, Henderson landed a brutal upkick under Edgar's nose that would affect him the rest of the fight.
In fact, the defending champion would fail to win a single round after the kick. The elusive boxing style that frustrated
BJ Penn
and Maynard in previous title fights couldn't do the same to Henderson. While Edgar was never close to being finished in the fight, Henderson ran away with the scorecards: 49-46, 49-46 and 48-47.
A theme developed in the fight. It was the same one that showed up in the Maynard fights but it was more evident at UFC 144. Edgar landed with more frequency, but when Henderson connected on his punches it just did ... more. That theme is a big reason we'll see Edgar fight guys closer to his size in 2013 when he debuts in the featherweight division.
December, 26, 2011
12/26/11
4:08
PM ET
By Chad Dundas and Chuck Mindenhall
ESPN.com

Editor's note: Next week, the ESPN MMA page will roll out it's official end-of-they year awards. With winners in each of the most popular categories seemingly pretty clear cut, however, ESPN staffers Chuck Mindenhall and Chad Dundas will take the final week of 2011 to offer up a few "alternative" choices. To lead things off on Monday, the granddaddy of them all: "Fight of the year."
According to most fans and analysts, the 2011 fight of the year essentially boils down to a three-horse race between
Dan Henderson
versus Mauricio "Shogun" Rua at UFC 139,
Eddie Alvarez
versus
Michael Chandler
at Bellator 58 and
Frankie Edgar
versus
Gray Maynard
III from UFC 136.
To that, we say: Bah, humbug.
All three of the above are stellar picks, but we'd be loath honor them at the expense of a few others. There was landmark action inside cages the world over during 2011, so here are a couple of "alternative" options for the all-important Fight of the year ...
Chad Dundas' pick:
Clay Guida
versus
Ben Henderson
at UFC on Fox, Nov. 12 in Anaheim, Calif.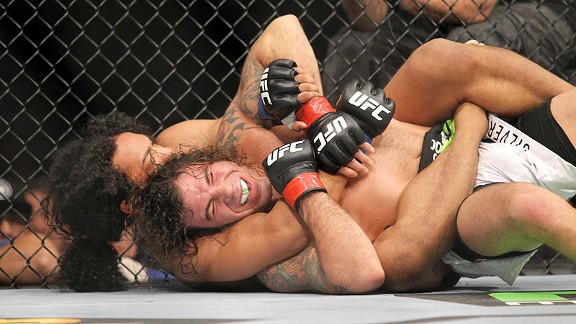 Ed Mulholland for ESPN.comBenson Henderson never gave Clay Guida an inch to breathe during their heroic battle.
As Octagon-centric FOTY candidates are concerned, it doesn't get much more "alternative" than Guida versusHenderson, a bout seen only on the Internet and by the live crowd at Honda Center despite the fact it took place on the same card as the UFC's first live broadcast on network television.
Leading up to the groundbreaking event, Henderson promised that he and Guida would steal the show from heavyweights
Cain Velasquez
and
Junior dos Santos
. And guess what? They did. Especially after dos Santos knocked out Velasquez just 64 seconds into their televised main event.
While the big guys called it quits early, lightweights Guida and Henderson gave MMA fans just about everything they could want from a fight. There were wild flurries on the feet and madcap scrambles on the ground, as the pair set the pace in the first with a high-octane striking exchange that saw Henderson drop Guida with a punch. In the second, Guida stormed back and scored with a spinning back fist so out of the blue that it seemed to surprise Guida himself, sending the Chicago native stumbling across the cage. In the third, Henderson fired off a crazy Taekwondo-style axe kick which barely missed. Down the stretch, Guida threatened with a guillotine attempt so tight, it likely would've finished any normal human being.
All the while, hair flew like the dickens.
When it was over, Henderson emerged with a unanimous decision win that netted him the chance to take on Edgar for the 155-pound title on Feb. 26 at UFC 144. Guida was defeated on the cards, but emerged with a "Fight of the night" bonus and the satisfaction of participating in perhaps the best fight of the year that nobody got to see.
Chuck Mindenhall's pick:
Dan Henderson versus
Fedor Emelianenko
in Strikeforce, July 30, 2011 in Hoffman Estates, Ill.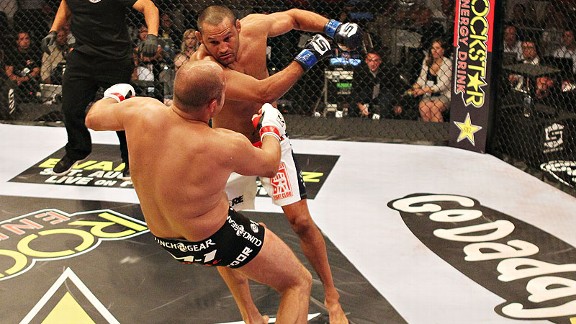 Josh Hedges/Getty ImagesBefore there was Dan Henderson-Mauricio Rua, there was this epic gem of a bout.
In talking about Henderson and Rua's five-round war, we forget about the member's club entertainment that went on with Henderson-Fedor back in July. There was a romantic context to this one similar to Henderson's UFC 139 battle with Rua; he and Emelianenko were longtime parallel champions in Pride who'd never had the inclination (publicly) to smash one another. Strikeforce dubbed it a heavyweight superfight -- neither man had ever been knocked out, and yet both had stupidly powerful right hands. Hendo barely made the heavyweight minimum, while Fedor looked in the best shape of his life.
When the bell rang, Emelianenko came out swinging. Henderson, always cooperative for this kind of request, dropped his head and swung back. It was a manic first minute. After some long moments in a Greco clinch, when they separated Emelianenko dropped Henderson with a left uppercut/overhand right combo and jumped on him in a heap. Fedor rained down the would-be finishing punches that ended up lulling the eye a little bit, as Henderson was very quietly grabbing onto Emelianenko's right leg and executing his escape.
What happened next was the sneakiest turn of events of the year; while he slipped out the hatch Henderson threw a right uppercut through Fedor's armpit that knocked him out. The follow-up right hand woke him back up, but it was too late as Herb Dean jumped in there and signalled the copter. This all happened in the space of ten seconds. When asked what he called the move afterwards, Henderson said very simply, "wrestling" -- his answer as terse as the sequence. It was the first time Emelianenko had ever knocked out, and it added to Henderson's lore.
Coming on Tuesday: "Alternative" Submission of the year