September, 20, 2013
9/20/13
7:23
AM ET

By Brett Okamoto
ESPN.com
Archive
TORONTO -- The craze from a blockbuster boxing event between Floyd Mayweather Jr. and Canelo Alvarez last weekend in Las Vegas has followed the UFC north.
UFC president Dana White and light heavyweight champion
Jon Jones
, who defends his title against
Alexander Gustafsson
at UFC 165 on Saturday, were asked repeatedly about Mayweather at a media function on Thursday.
Specifically, questions zeroed in on Mayweather's much-talked about $41.5 million guarantee for the fight and Golden Boy Promotions CEO Richard Schaefer's comments regarding the pay-per-view breaking buy records set in 2007.
White, who attended the fight at the MGM Grand Garden Arena, said he was flattered the company he's helped run since 2001 would draw comparisons to boxing, a sport with a much longer history.
"I'm honored we're always looked at like, 'Why aren't you paying people $41 million,'" White said. "'Why aren't you doing 2.7 million [PPV] buys?'
"What people have to realize, we just started making money in 2007. Do people understand that? This sport is still so young. We're not even sanctioned in New York, we've just been on Fox [Network] for a couple years and we're talking about doing a $41 million payday. It's crazy."
Jones, 26, one of the most marketable stars in the UFC, announced on Thursday he'd signed a sponsorship deal with Gatorade that would feature the brand on his fight shorts this weekend.
On Mayweather's $41.5 million payday, which, White correctly pointed out, could ultimately become closer to $100 million when final PPV revenue comes in, Jones said he's happy with his current pay scale but sees room for improvement.
"I'm not even close to that, but I'm grateful," said Jones, after refusing to reveal his exact compensation for the bout. "It's nowhere near Floyd Mayweather, but I don't judge my happiness over somebody else's.
"I'm really happy with what I get paid. It's really not on the scale of other professional athletes, but there are a lot of athletes that don't get paid as much as [UFC fighters]. I know Dana White knows that some of the fighters could be upgraded, especially his top-level guys, but maybe we'll move in that direction."
The largest buy-rate ever for a UFC event was reported at 1.6 million, for the landmark UFC 100 card that took place in July 2009. When asked if he thought a UFC event could one day score a buy rate near 2.7 million, White said he hopes so.
"Thirteen years ago, people were asking me, 'Will there ever be a day UFC will get back on PPV?'" White said. "'Will there ever be a day UFC is on free TV? Will there ever be a day you'll be doing things in different countries?' Here we are now so, yes, I like to believe we will."
White chickened out on Mayweather wager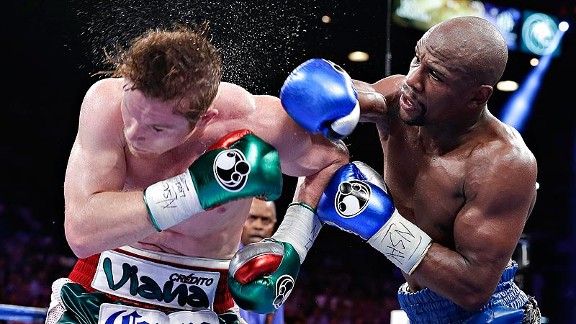 AP Photo/Eric JamisonJust as UFC president Dana White predicted, Floyd Mayweather had no trouble picking apart Canelo Alvarez.
Ever since it was announced Mayweather was fighting Alvarez on Sept. 14, White was adamant it would result in yet another decision victory for Mayweather.
He mentioned on several occasions his prediction Mayweather would, "Box Canelo's ears off."
White says fans pressed him to put his money where his mouth was during a recent online chat, but admitted that ultimately, he had no action on the undefeated boxer.
"I watched all the bull---- leading up to it and I chickened out, so I didn't bet anything," White said. "[UFC co-owner] Lorenzo [Fertitta] did really well, though."
Renan Barao, Eddie Wineland interim title fight will be the last
Whether UFC bantamweight champion
Dominick Cruz
is healthy or not come 2014, the promotion is finished with its "interim" tag at 135 pounds.
Cruz (19-1) hasn't fought since October 2011 due to several knee operations. The UFC has been unwilling to strip him of the belt, despite the success of interim champion Renan Barao (30-1), who seeks his second defense of the title against Eddie Wineland on Saturday.
White said he's hoping Cruz could be ready to compete sometime near January. If he's unable to go, the promotion will make Saturday's winner the official title-holder.
"If he can't fight by the beginning of the year, we've got to the pull the trigger," White said.
"It's been two years. A lot of people think we're crazy for holding up the title this long, but it's a tough thing to do to take a title away from somebody. It's hard to do."
White has no concern BJ Penn will make 145 pounds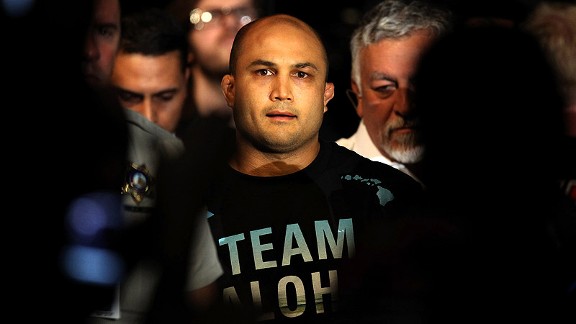 Josh Hedges/Zuffa LLC/Getty ImagesDana White said BJ Penn is adamant he can make the featherweight limit upon his return to the cage.
Not too many were surprised when it was announced earlier this week a comeback was in store for former lightweight and welterweight champion B.J. Penn.
The surprise came when it was announced whom he would be fighting and at what weight.
Penn has agreed to coach on "The Ultimate Fighter" reality series opposite familiar opponent
Frankie Edgar
. The two will then square off for a third time -- Edgar won the previous two -- at 145 pounds.
Penn (16-9-2) has fallen to 1-4-1 in his past six fights, four of which took place at 170 pounds. A cut now, after nearly a year off from the cage, down to featherweight has left some scratching heads.
"No," White said, when asked if he had any worries Penn would miss weight. "He said he wants to do it. He says he'll do it. It's up to him now."
White was then asked if the fight would be a situation where a loss could likely mean the end of Penn's career in the UFC, to which he responded, "Yeah."
May, 14, 2013
5/14/13
10:15
AM ET

By Josh Gross
ESPN.com
Archive
Taken at face value, Tyson Fury's challenge of
Cain Velasquez
is pointless because we already know the result.
Still, even if the callout
is
self-serving, even if it's designed to drum up interest and a payday, you have to admit there's something admirable about a talented boxer, early in his career like Fury, loudly challenging the best heavyweight mixed martial artist to a cage fight. Maybe someday Fury will suffer through getting what he wished for, and we'll suffer for having watched it happen, but you better believe his moxie won't go unnoticed.
Think about the 24-year-old Brit's task. Almost everything related to boxing in an MMA contest is altered from its sweet science roots.
Spacing. Stance. Footwork. Balance. Hand position. Timing. And, most notably, what's OK when fighters tie up. Boxing, of course, features its share of clinching. If Fury somehow talks his way into a fight against Velasquez, he'll need to remember that MMA referees don't usually call for breaks so quickly.
Can we agree that the only thing less likely than
Chael Sonnen
beating
Jon Jones
would be Fury stalemating Velasquez in the clinch? The cold, hard truth is Fury couldn't do anything other than get tossed on his head or eat a knee or take an elbow or get rag-dolled to the ground.
We know this because MMA's practice-makes-perfect evolution proved it true. Examples of grapplers fighting strikers inspired a new paradigm, one that dictates the world's baddest man is a mixed martial artist, not a boxer, kickboxer or anything else. Floyd Mayweather Jr. is brilliant inside a ring. However, competing in a locked cage under MMA rules would carry the effect of kryptonite.
Let's not forget the ways in which
Randy Couture
was kind to
James Toney
almost three years ago. The immediate risk-nothing takedown. Guard passing without strikes. Multiple choke attempts. It might not read this way, but you better believe "The Natural" was being nice.
For his trouble, Toney made off with a big check and not much damage to his head or ego.
[+] Enlarge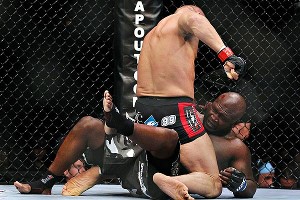 Al Bello/Getty ImagesA big flop: James Toney's MMA tenure was short and didn't go over too well.
So we're clear: If they fight, no one should expect Velasquez to be so gentlemanly with Fury. He probably won't more than attempt like hell to end the fight, which is easy to envision. Like when "Judo"
Gene LeBell
submitted boxer Milo Savage. The legendary LeBell held nothing back during three plus-rounds until he choked out Savage in the first televised MMA prize fight in 1963.
Reports suggested Savage was unconscious for up to 20 minutes, which must have shocked the 39-year-old ex-contender's handlers since they thought he was a shoo-in to score a knockout.
Thirteen years later in Tokyo, LeBell played part in perhaps the most infamous boxing-MMA spectacle, serving as referee for Muhammad Ali's match with Japanese pro wrestling icon Antonio Inoki. Held under modified rules that limited Inoki, the contest was carried back to the States via closed circuit.
Whether or not it was a legitimate bout (there's a debate) doesn't mean much when it comes to lasting value. The spirit of it all inspired Sylvester Stallone to include a scene in "Rocky III" featuring Balboa against a giant pro wrestler (Hulk Hogan's "Thunderlips") in what was portrayed as a sincere brawl.
Spectacle was reason enough for Rorion Gracie to challenge Mike Tyson to a match to the death for $100,000. This was prior to UFC 1, which succeeded well enough on its own as a vehicle in spectacle creation.
The Tyson escapade never happened, but if it had, you bet the world would have watched. As an understudy,
Art Jimmerson
looked silly wearing one glove while tapping to
Royce Gracie
. To no one's surprise, the moment didn't carry much weight culturally, yet the message was clear again. Boxing, your father's combat sport, is mostly worthless against someone who doesn't want to box.
From time to time, boxers stood up for themselves.
Ray Mercer
had his moment, knocking out former UFC champion
Tim Sylvia
. The experience, however, is primarily a lesson in futility.
Take for example the "King of the Four-Rounders," Eric "Butterbean" Esch. After 25 professional MMA bouts, he owns a plus-.500 record -- respectable despite some embarrassing efforts. But to get an accurate picture for this sideshow boxer's adventures, all you need to do is revisit his first MMA attempt. Hovering near 400 pounds, "Butterbean" tapped when 155-pound
Genki Sudo
scurried around him like a squirrel before slapping on a leglock.
These are different sports.
There is more than enough evidence to support that.
But this fact hasn't stopped a young boxer from rattling his sabers to prove a point (and draw attention and a solid payday).
What might make this boxing/MMA adventure different from the rest? The commendable fact that Fury is angling to face the current MMA heavyweight champion. The boxer should be lauded for aiming so high.
And sufficiently warned.
May, 6, 2012
5/06/12
7:56
AM ET

By Josh Gross
ESPN.com
Archive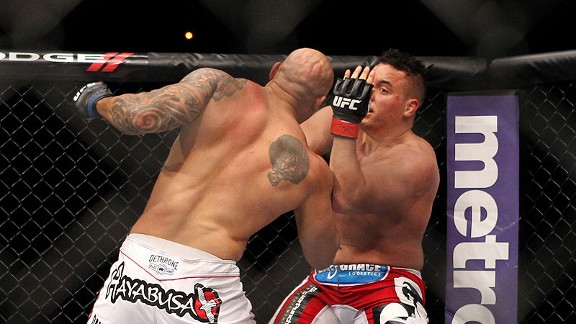 Ed Mulholland for ESPN.comLavar Johnson, whose story was told many times over during fight week, came through on fight night.
Mixed martial arts is filled to the brim with great stories. Not the least of which is the amazing tale of the sport itself.
During the course of this fight week, UFC's third on network TV, we were often reminded of two of its most harrowing: Lavar Johnson taking three bullets in a drive-by and
Alan Belcher
's battle with blindness.
When it comes to opportunities, Johnson and Belcher have to rank among the UFC's most grateful combatants.
With Johnson, it's easy to grasp why. He was the victim of horrific street violence that left his life (never mind his career as a heavyweight fighter) in peril. To survive and rebuild must have been empowering, which you can see in an attitude that led him, improbably enough, to open the Fox-televised UFC card. Johnson is fighting like he has nothing to lose, knocking dudes stiff, and for that he's moving toward the something-to-lose category. It will be interesting to see how the mid-tier heavyweight handles added pressure of success.
Belcher, though. The sport dinged him bad, nearly taking his sight. To cope with the emotions and thoughts that must come with that, the surgery and eventual recovery, to put it all on the line again by fighting dangerous beasts like
Rousimar Palhares
, I'm not sure there are many people who can comprehend what that requires.
Alan Belcher amazed on Saturday, and only in part because of his history.
[+] Enlarge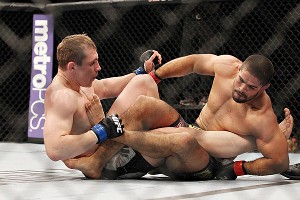 Ed Mulholland for ESPN.comAlan Belcher, left, faced a tense moment or two on the ground before stopping Rousimar Palhares.
The 28-year-old out of Biloxi, Miss., turned the tables on Palhares, attacking the Brazilian at his considerable strength. Leg locks, dare I say, are a dangerous game if played against "Toquinho," but Belcher was obviously well prepared and defended the twisting, turning, bone-breaking attacks as well as he could.
Belcher wasn't supposed to win -- not according to the mythology built up around the Brazilian. Palhares tore people limb by limb, OK? But, you know, Belcher wasn't even supposed to be fighting, either. And there he was, slamming elbows and punches into the head of a stumpy middleweight stuck on his back.
UFC's third card on Fox was its best since finding the brighter spotlight of prime-time network TV. After a too-short title fight followed by an all-decision card, Saturday's effort -- highlighted by Johnson's knockout, Belcher's referee stoppage and Nate Diaz's coming out party -- was a true example of mixed martial arts as spectator sport.
On a big night for combat sports, when UFC action led into Floyd Mayweather out-pointing Miguel Cotto and pocketing a record $32 million in guaranteed money, Belcher's win -- his fourth straight -- feels worth singling out. The streak, halved by the retina detachment in 2010, puts him in position to compete at the upper reaches of UFC's middleweight division.
Palhares, amazingly enough, wasn't ranked coming into tonight. So where does that leave Belcher in a deep, competitive field?
I think he'd beat
Hector Lombard
, Bellator's former champion and Zuffa's newest signee, who has a similar chance to breakthrough on Fox when he fights
Brian Stann
in Los Angeles in August. Can't say I feel so confident in Belcher if he's matched against Stann. Belcher versus the winner between
Ed Herman
and
Jake Shields
makes sense. Perhaps
Tim Boetsch
or
Michael Bisping
, who meet this July. Whatever Zuffa tasks him with next, Belcher will eagerly answer the call.
After all, he didn't come back from the brink of disaster for nothing.
February, 23, 2012
2/23/12
5:51
AM ET

By Chuck Mindenhall
ESPN.com
Archive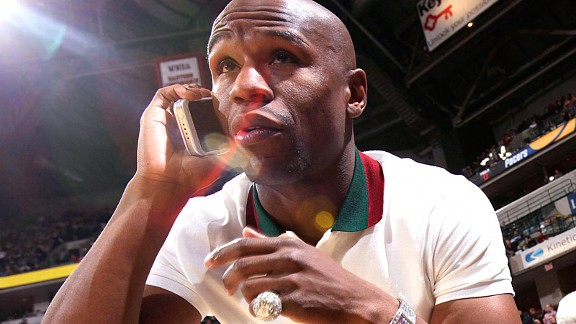 Ron Hoskins/NBAE/Getty ImagesNow hear this: Floyd Mayweather got an earful from UFC president Dana White.
There are either more racists out there than we would like to admit or too many people who think they can spot a racist a mile away.
On Tuesday night, Dana White lambasted Floyd Mayweather and called him a racist on Fuel TV's "UFC Tonight." Why? The beef goes back a long way, but the tipping point was when Mayweather tweeted on Feb. 13, "Jeremy Lin is a good player but all the hype is because he's Asian. Black players do what he does every night and don't get the same praise."
White took the opportunity to speak his mind on the show's "Presidential Address" just as Mayweather spoke out on his Twitter account. This isn't the first time Mayweather has been called a racist, and he's always quick to call things as he sees them. It's not the first time White has sounded off, either -- on Mayweather or another topic. Both guys speak first and consider consequences later.
Yet what's interesting is the overarching premise to White's tirade that, as a boxing fan, he thinks Mayweather is a major contributor to boxing's downfall. He interspersed calling Mayweather a "racist" with calling him a "dummy" and a "knucklehead."
Only one of those charges carries any real weight.
Racial accusations almost always boil down to subtext, and subtext is reading between the lines. It's perception-based, and perception is often fed by the darkest corners of the imagination. In a world of instant reaction and rampant social-media platforms, the term "racist" is flung about far too loosely when hinging on quick takes. One bad perception can become a collective one quickly. This is how awful precedents take wing.
Right now is one of those times when people start reading into motivations.
Jeremy Lin is, of course, the basketball player who went from the end of the bench to a superstar in the time it takes a groin to heal (in this case, Carmelo Anthony's). Lin is of Taiwanese descent, which is novel in an NBA star. He plays for the New York Knicks in one of the biggest media markets in the league. He went to Harvard and entered the Association as a nonentity journeyman who passed through Golden State and Houston. When he entered the Knicks' lineup out of necessity, they were in the tank with a 8-15 record. With Lin, they were resurrected and won seven straight.
In a confluence of events, a superstar materialized. Now the Knicks are busting Nielsen ratings records based on his phenomena. They are trademarking "Linsanity."
And his case sets up a perfect storm in the sensitivity of racial tensions, too, such has gone on with White and Mayweather and plenty of others. Last week ESPN fired one employee for using a pun headline in extremely poor taste on a Lin story, and suspended another for using the same phrase on ESPN News.
A headline writer lives in the world of double entendres and puns, while dishing out common phrases that have been said a thousand times before on live television is part of an on-air talent's duties. Insensitive? Yes. But only retrospectively. Did Max Bretos consciously use the controversial phrase he used as a backhanded slur? Doubtful, when you consider he has an Asian wife and the 15 years of experience in the field. That's a lot to lose for the single purpose of slipping in a racially motivated shot.
Was White right to take to the airwaves and call out Mayweather as a racist? Is anybody right to do that, whether it stems from a hunch or from something more pointed? Is Mayweather right to point out that Lin is getting special handling just because he's Asian?
Who knows, but the real issue under it all is equality. And this is where generalizations of any kind come in. Generalizations, as a rule, can't help but come across as equally foolish.
February, 16, 2012
2/16/12
6:08
AM ET

By Brett Okamoto
ESPN.com
Archive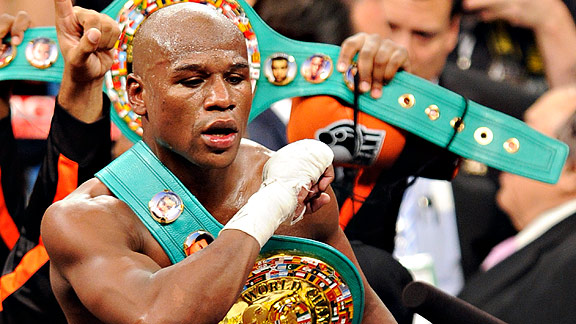 Ethan Miller/Getty ImagesBoxer Floyd Mayweather has been granted a license to fight -- much to the chagrin of Dana White.
OMAHA, Neb. -- UFC president Dana White has addressed what he sees as "totally biased" and "completely unfair" behavior by the Nevada State Athletic Commission.
White's comments stem from a hearing on Feb. 1, during which the NSAC ruled unanimously in favor of granting professional boxer Floyd Mayweather Jr. a one-fight license to compete on May 5, despite the fact he faces 90 days of jail time.
In December, Mayweather pleaded guilty to a reduced battery domestic violence charge and no contest to two harassment charges. The following month, a Las Vegas judge agreed to postpone Mayweather's sentence to allow him to fight at the MGM Grand Garden Arena on May 5.
The fight could generate more than $100 million for the city of Las Vegas, according to Mayweather's lawyer, Richard Wright.
To White, the decisions made by the state's governing bodies not only defy logic, they fail to coincide with similar scenarios UFC fighters have faced.
"I don't know what to say," White said. "I'll just be honest about it. Holy s---. That's crazy."
In 2011, UFC middleweight
Chael Sonnen
applied to the NSAC for a second's license, which would not allow him to fight in Nevada, but would grant him the right to corner fighters and serve as a coach on the reality show, "The Ultimate Fighter."
Sonnen, who received a one-year suspension from the California State Athletic Commission for high testosterone levels during a fight against
Anderson Silva
in August 2010, failed to receive a license from the NSAC.
White is also awaiting a ruling from the NSAC regarding welterweight
Nick Diaz
, who tested positive for marijuana metabolites after a loss to
Carlos Condit
earlier this month. It was the second time Diaz has failed a drug test in Nevada.
Precedent suggests Diaz faces a potential one-year suspension and monetary fine for the positive test. On Jan. 31, the NSAC handed down that exact sentence on professional boxer Matt Vanda, who tested positive for marijuana in 2010 and 2011.
To White, comparing the two cases and considering the NSAC's decisions in each are mind blowing.
"The boxer guy, who smokes marijuana a second time, is not going to jail," White said. "He gets a year suspension and they take 40 percent of his purse.
"

Floyd Mayweather is going to jail. It's been put off so he can fight and then he gets licensed to fight? Am I the only guy on this planet who thinks that's crazy?

"

-- Dana White
"Floyd Mayweather is going to jail. It's been put off so he can fight and then he gets licensed to fight? Am I the only guy on this planet who thinks that's crazy?"
The promotion had planned to book Diaz to an immediate rematch against Condit before being notified of the failed test. When the positive test was announced, White issued a statement that he was "beyond disappointed."
The NSAC is expected to sentence Diaz at a hearing in April, according to reports. While White eagerly awaits the result of that hearing, he's baffled that Mayweather will be simultaneously training for a fight against Miguel Cotto.
"How about this?" White said. "The Nevada [State] Athletic Commission royally kissed Mayweather's a--. This guy is going to jail, but the judge is allowing him to not go to jail until he has his fight.
"We'll see what happens [at the Diaz hearing]. We'll see if inconsistency prevails again."