June, 29, 2012
6/29/12
1:44
PM ET

By Chuck Mindenhall
ESPN.com
Archive
Back in 2006,
Ken Shamrock
appeared on "The Best Damn Sports Show Period" via a satellite feed from northern California. Sitting in the Los Angeles studio was
Tito Ortiz
, a fugitive of Shamrock justice who in a short while would be forced to deal with some very cruel consequences in the cage.
The idea of the segment was to escalate a feud that began when Ortiz flipped the double bird at the Lion's Den corner after he defeated Guy Mezger years before. This made for bad blood. When there's bad blood, the idea is to exploit it. Good television is made of this.
"I'm going to take your soul," Shamrock cautioned.
"I'm glad you didn't have to go to the Wizard of Oz to find your courage, little lion," Ortiz retorted.
That's just fun. And the fun between those two carried over to a news conference when Shamrock said, "I hope to god you're ready, because I'm going to beat you into a living death." Ortiz came back with the only thing he could have -- hysterical laughter. Shamrock's veins thickened and for a moment he became apoplectic.
When you're selling pay-per-views, this is gold. Mission accomplished if you're Tito Ortiz getting under Shamrock's skin.
Same thing, it appears, for
Chael Sonnen
, who has disrespected middleweight champion
Anderson Silva
for so long that Silva finally announced his intentions to break a lot of Sonnen teeth and bones. If we're to take Silva at face value, Sonnen will return to the mean streets of West Linn in a state of recalcification.
That's trash talk -- a novelty for Silva, an uncontrollable urge for Sonnen.
It's part of the fight game. The media provokes, the fighters respond. When fighters cross the line of good taste, media turns righteous. Righteous media makes divisions in the sand. In truth, we're a bunch of barometers. Fighters know what a few choice words in the media means. It means an echo down the hallway.
But in all this reactionary give and take, bad-mouthing and moralizing, one thing happens that a fight promoter can live with -- people are talking about the fight. We are feeding interest into a conflict.
That's the central idea.
Know why it works so well in MMA?
[+] Enlarge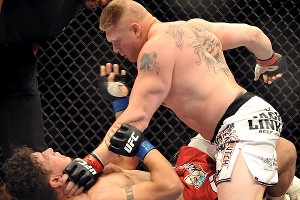 Jon Kopaloff/Getty ImagesFrank Mir, bottom, failed to honor his vow of seriously hurting Brock Lesnar.
Because of where it's headed -- to a fight. The ultimate culmination of a bunch of heated insults is to fight. If kids in school start talking about each other's mothers, a flagpole appointment is made to settle the differences. The excitement feeds on itself and everybody shows up to watch. Same thing here, only gussied up with sponsors and cage lights. If ever there was an arena where people should talk smack about each other, it's one where they will be forced to back it up in a cage. The use of metaphors - like a ball in other sports -- isn't the case in fighting. Fighting is literal.
Far more literal than the words, which are often not literal at all.
Frank Mir
didn't talk about breaking Antonio Rodrigo Nogueira's arm before the fight, he just did it. If there's a moral jurisdiction in this game, it's in the actions, not the words. If we can accept the one, then we should at least be able to understand when the other is winking at us.
Back before UFC 94,
B.J. Penn
cut a promo for the UFC where he said, "Georges, I'm going to go to the death. I'm going to try and kill you, and I'm not joking about this." He was talking about
Georges St. Pierre
, the welterweight champion.
Penn wasn't exactly joking, but he wasn't being completely serious either. This was him saying he wanted to beat St. Pierre up real bad. All the other stuff was just a mindset. It's a declaration of serious intent. Just peacock warriorism, to align himself with Kurosawa characters.
In essence, Penn said this to help sell the fight.
There have been countless other examples.
Dan Henderson
said he wanted to punch holes in Anderson Silva's face. Frank Mir said he wanted to make
Brock Lesnar
the first fatal casualty in the Octagon.
Wanderlei Silva
said he would kill Sonnen quick if they ever fought. Mike Tyson once told Jim Gray "my style is impetuous, my defense is impregnable, and I'm just ferocious. I want your heart, I want to eat your children -- praise be to Allah!" He was directing some of that to Lenox Lewis, and some to a spiritual government.
The juxtaposition was raw, and it got you to thinking. Did he really think Lewis's children were edible? No. But he was clearly mad at Lewis. Same as when somebody says, "I'm going to knock your head off," which is a fight game proverb at this point. Nobody is seriously thinking decapitation.
But it helps when there's genuine animosity, like there is with Sonnen/Silva, and like there was with Shamrock/Ortiz. As Ortiz said recently, trash talking has got to come from the heart. That's sort of the dark side of a Hallmark sentiment, isn't it? Feuds that are real feel more personal to everybody. It helps if we care.
In other professional sports, threats of breaking bones and knocking heads can't be tolerated.
In professional prizefighting, especially in the protective renegade ideology of the UFC, it's not always endorsed but it's certainly condoned. How could it not be? It's part of the game to sell the bout. And the game itself is not a game at all. It's a fight.
Any words spoken beforehand just build around a conflict, a conflict that invites itself to be resolved in front of as many people as possible.
June, 14, 2012
6/14/12
7:16
AM ET

By Josh Gross
ESPN.com
Archive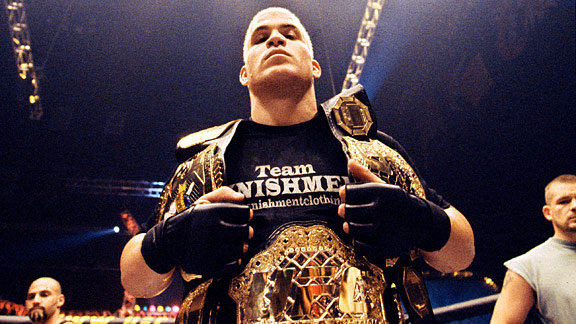 Susumu NagaoBetween the titles and the antics, Tito Ortiz's legacy should stand the test of time.
Depending on the outcome of his fight against
Forrest Griffin
at UFC 148,
Tito Ortiz
will exit the Octagon for the final time carrying a 17-10-1 or 16-11-1 record.
That may not sound like the win-loss ledger of a "Hall of Fame" fighter (tell that to
Randy Couture
), but there's no denying Ortiz's influence on the UFC registers placement of his name alongside other all-time greats.
And so it is, the fan favorite "Huntington Beach Bad Boy" will become the eighth fighter chosen by UFC brass to gain access to an excessively exclusive club when he's inducted at the UFC expo in Las Vegas next month.
Ortiz accomplished enough over his long, important career to earn the distinction that should come with being a Hall of Famer. He put together a record reign as light heavyweight champion and gladly accepted the role as UFC's go-to fighter when Zuffa took over the company. During the first year of Zuffa's UFC ownership, Ortiz headlined three of their first four cards and tirelessly worked to sell the shows. Prior to the boom that came with Spike TV and "The Ultimate Fighter" reality show, Ortiz proved with
Ken Shamrock
that there was hope for UFC on pay-per-view when they clashed at UFC 40. As an aside (one that means something to me), Ortiz was never implicated in the performance-enhancing drug mess that touched so many fighters, including the aforementioned Shamrock and his compatriot
Royce Gracie
.
Even more impressive than Ortiz's role in building UFC was his ability and willingness to create, brand and market a bankable persona, which sometimes led to ugly, public squabbles with his promoter and former manager Dana White.
"I think he's a guy who pound-for-pound -- at the time we were hurting -- tried to do more damage to [the UFC] than anyone in the history of this company," White told MMAWeekly.com on Tuesday.
"

I think he's a guy who pound-for-pound -- at the time we were hurting -- tried to do more damage to [the UFC] than anyone in the history of this company.

"

-- UFC president Dana White, on Tito Ortiz in an interview with MMAWeekly
"Tito's never been about the company of the UFC," he continued. "Tito's been about his own brand, Punishment, and Tito Ortiz."
White's wrong.
Ortiz has done plenty in the name of the UFC, but he also never stopped looking out for No. 1, which is something he's preached to fighters young and old, leading some people to express surprise that Ortiz was gifted with the UFC's hall blessing in the first place.
If you believe White when he says Ortiz wasn't a company guy -- disputable considering how much money he made for Zuffa -- let me ask you this: So what? Should a fighter have to be a company guy to earn what he deserves? Should White need to be "totally cool" and have "no beef with Tito whatsoever" for Ortiz to be HOF eligible?
These are reasons I choose not to regard the UFC Hall of Fame as being the same thing as hallowed grounds associated with other sports. Eventually, I hope, MMA media will come together and do it properly, though that surely won't prevent the UFC from picking and choosing who it recognizes among the best ever to compete in the Octagon. Nor should it. But I'll say this: The White-washing of the UFC "hall" is unseemly.
After all, the light heavyweight division's first champion, Frank Shamrock, can't get a sniff of it and he beat Ortiz in one of the organization's great contests, and went 5-0 in UFC competition, each bout a title fight.
Why? Because he fell out of favor with president White.
Likewise, Pat Miletich -- the organization's first welterweight champion who defended the belt multiple times and went on to mentor and train many of the Octagon's finest, including too-exclusive club member
Matt Hughes
.
There's no sane explanation why Ortiz should receive accolades the week leading up to his retirement bout while Shamrock and Miletich (and fighters past, present and future who dare look out for themselves, even if it means upsetting the powers that be) get frozen out. Ortiz deserves his time in the spotlight as much as they do.
October, 26, 2011
10/26/11
12:20
PM ET

By Chuck Mindenhall
ESPN.com
Archive
UFC 137 already out-bizarres most cards that have stood before it.
The main event features one original headliner -- but it was a massive detour to arrive at the same spot for Nick Diaz. To rehash the chain of events would be laborious, but in a nutshell he went from sellable challenge for Georges St. Pierre to flake to the Internet shrink chair, through the back door in the kitchen to a subject of psychiatric concern, down a Stockton highway to a co-main event with B.J. Penn, and from the company doghouse back to main event without ever breaking from his scowl.
In other words, he remained perfectly as he was -- and as he's always been -- while the world crumbled and then resurrected around him. This is how things go. Drama is ours; he's just Nick.
Everyone knows by now that there's no normal when Diaz is on a fight card. In fact, if nothing happened -- if he showed up punctually to events and spoke coherently on pressing matters -- we'd fear something was wrong with him, that his heart wasn't in it anymore. As is, he's a spectacle that becomes almost a guilty pleasure after multiple views; when he's not flipping off Frank Shamrock with his lip out to here, he's vaguely threatening reporters to keep out of the 209. He doesn't have a lot of sponsors, but he has lots of sponsorship money. To that point, he's the brokest well-paid fighter going, and he's always too distracted to get into specifics. As Damon Martin of MMA Weekly says, these are "Diazisms."
The fight game would be nothing if it didn't have a left field. And that's half of Diaz's appeal; prodding him can't be anything other than fun.
[+] Enlarge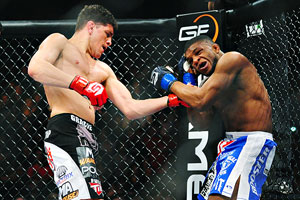 Mark J. Rebilas for ESPN.comNick Diaz had no qualms about engaging the heavy-handed Paul Daley in a brawl.
The other half, of course, is that he can fight. And he'll fight you the way you want to fight, up to you. Paul Daley wanted a brawl, Diaz accommodated against conventional wisdom -- a phrase he wants nothing to do with. He wants a fight. This is a simplicity that often escapes us. He'll do the volume jabs and slaps and open-fingered pawing to set up deceivingly hard crosses and hooks, mean-mugging his opponent the whole time. And if it's there, he'll take the nearest available limb and put it into an ugly position. In fact, he still has Hayato Sakurai's arm in the trunk of his car.
In his bout with Penn on Saturday -- which was largely thought to be the best on the card even before St. Pierre and Carlos Condit was scrapped -- there's a chance we'll see some triple-jointed pleximan grappling moments that will make Joe Rogan do his trademark bug-eyes. It's just as possible somebody will get knocked out. The way Diaz fights, it's a 50/50 proposition it could be him.
But if there's ever been a more technical fighter shrouded in thuggery, it's Diaz. It might appear 50/50, but he didn't win 10 straight fights by throwing hot dice. When you fight as though your life is at stake, as if it's not virtual but actual survival, you tend to mix up the things you've learned with the things that are native to your instincts. He knows how to let the one yield to the other.
Diaz brings it. He takes it. He just wants to fight.
Nothing different this time though. UFC 137 may seem like a crazy set of circumstances that will finally get a chance to play out this weekend in Las Vegas. But for Diaz, it's just a fight, and you can read into things as you see fit. He doesn't care, homie.