September, 25, 2012
9/25/12
2:28
PM ET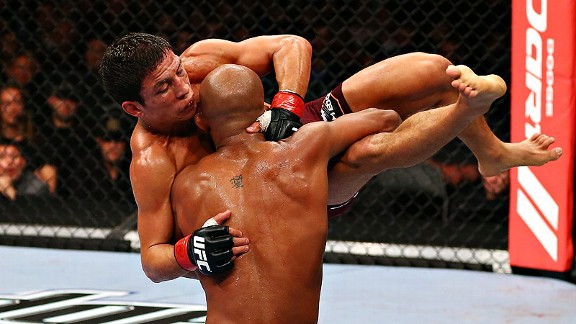 Al Bello/Getty ImagesDemetrius Johnson and Joseph Benavidez showed the flyweight division can give UFC a lift.
The flyweights are either the most exhilarating electrons to ever blur our field of vision, or something of a fight game hoax. Which is it?
For those of you who think 125-pound grown men fighting is boring or anticlimactic, Dana White thinks you're a "moron." He invites you to save your disposable income going forward. Can't get down with those swift moving twerp weights? Your money's no good to the UFC. The UFC will not suffer your ignorance.
However...for those who like breakneck speed, flitting athleticism and ping-pong action, the flyweights are definitely onto something. Connoisseurs of frenzy, unite!
Demetrious Johnson
and
Joseph Benavidez
put on the prototypical flyweight fight -- a distilled version of a million little wars gone into one. What's not to love? This was the anti-Shawn Jordan/
Cheick Kongo
sludgefest. These guys were bouncing off of the cage, the floor and each other like lotto balls. Like amphetamines. Like dueling banjos.
If they seemed small, it's because
Michael Bisping
and
Brian Stann
-- who went directly before them -- looked massive.
But all of this is just window dressing.
The problem is that people tend to like bigger. In boxing, the heavyweight glory of the 1970s was a golden era that was almost out-budgeted by the players. There were so many names (Joe Frazier), so many big punchers (George Foreman) so many outsized attitudes (Muhammad Ali), and so much closing in periphery (Larry Holmes, Chuck Wepner, Earnie Shavers...et al.), that all the romance went into the biggest division.
We still hover around this mindset in 2012.
In MMA, the descending scale of weight classes is telling. From heavyweight down to welterweight, people are paying attention.
Brock Lesnar
, on sheer comic book size, is PPV gold. By the time we're talking lightweight, we're at the threshold. It's the cutoff point for a lot of fight fans in terms of interest.
Featherweight, we are starting to play at fetishes. Bantamweight, be prepared for the judge's scorecards. Flyweight? We had better catch up to the nuances of the game in a hurry. We had better understand why we watch the fight game. We'd better understand what it is we want
to get
out of the fight game.
The question is -- do we want chess, or Russian roulette?
The one-punch power can't be underestimated in MMA. That one punch can close the curtains of
Junior dos Santos
will make
Alistair Overeem
a compelling opponent. It makes anybody vulnerable and dangerous at the same time. That's what we like. Two brutal forces coming together, only one standing after. Two flyweights can't equal one Brock Lesnar. This is true in our imaginations as well as on the scale. Bigger is better.
But why is bigger so much better? Maybe it's because casual fans like the idea of two colliding colossus's. It's a bike rack mentality. The two biggest bullies in the schoolyard meet at the bike rack after school to fight, and everybody shows up. The winner is the baddest kid in school. Size dictates our perception of what and what isn't imposing. The big kid who sits on top, sits on top over everyone. The smaller kid who fought in the Golden Gloves? He'd get squashed by the bigger kid. The big kid is king.
And the problem is that the littlest guys are tactical. The problem is that they are smaller than us. We imagine flicking paper footballs at each other in the exchanges. The comparison all over Twitter was that children were fighting during Benavidez/Johnson. That we were voyeurs to something comical. People don't want nickel and diming; they want big bucks. Jackpots. Guys in need of smelling salts.
People want to watch guys smash each other, guys that are physical specimens that we can barely conceive of in terms of power and force. We marvel at Shane Carwin's 4x glove size because we imagine it punching holes into Brock Lesnar's sworded thorax. If Carwin lands that anvil, whoever's standing in front of him drops. That's a wow factor. If Demetrious Johnson lands a big overhand, the needle (probably) doesn't skip a beat. It's all part of a mean 25-minute waltz set to "Flight of the Bumblebee."
The flyweights may never catch on with everybody. The bottom line is a good portion of MMA fans -- and this could be the majority -- want to see competitors that are truly imposing. Guys we wouldn't want to cross. There are a lot of people who won't care to watch two smaller guys outpointing each other, even if they appear to be in fast-forward to the naked eye.
Either you watch MMA because you are a fan of the possibility of all those disciplines coming together in the cage, an appreciation that encompasses all weight classes. Or you watch to be astonished by sweet, raw violence.
Flyweights are the first extreme. And if you don't get that, then Dana White says save your money.
Not that you're likely to see the flyweights headline a PPV in the near future.
April, 25, 2012
4/25/12
11:47
AM ET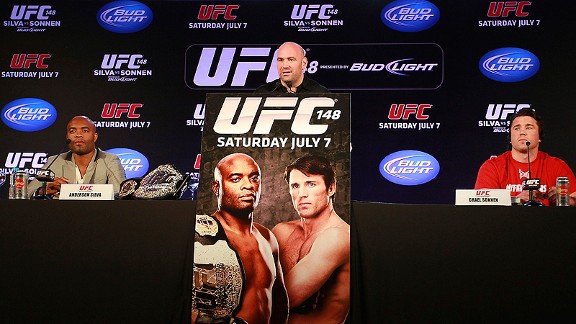 Buda Mendes/Getty ImagesTuesday was all about breaking the news to Brazilian fight fans, and hyping the relocated card.
There's a danger in thinking out loud. And, at this point the UFC must realize this better than anybody.
For the past couple of months,
Chael Sonnen
was assuredly fighting
Anderson Silva
in Silva's native Brazil, and the only thing left was to sort out the nagging details. Those details finally got in the way, and now the fight is headed for Las Vegas, which is a bit of crushing news for romantics.
Yet when you think about it, didn't this thing always feel too good, too tantalizingly ominous to be true? The brazen American getting dropped into hostile territory in an attempt to take the belt from the company's best-ever fighter? This was dramatic overload. It was the "Rumble in the Jungle" -- only it wouldn't be held at a neutral site. This was Sonnen being lowered into a burbling cauldron. It was the odds being stacked so impossibly against him that the situation shared more in common with movies than reality (think "Rocky IV").
And from the American perspective, the sweeteners were Sonnen's motormouth
in conjunction
with the immensity of the setting. The event was targeted for Rio de Janeiro's Joao Havelange Stadium -- a.k.a. Engenhao -- which could feasibly hold a record number of people (between 60,000-80,000).
Sonnen was played up to be the man of risks -- the security risk with an overnight bag of asterisks. Bold enough to walk the plank. Silva was to be the deliverer of comeuppance. The rectifier. Fighting in Brazil
for
Brazil.
For the sport of MMA, it was history in the making, in a setting as big as their rivalry.
[+] Enlarge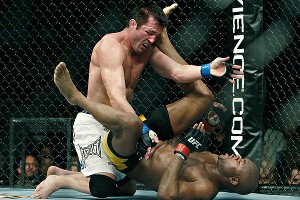 AP Photo/Jeff ChiuNow that the rematch has been moved to Vegas, Chael Sonnen can concentrate more on Anderson Silva and less on audience participation.
Only it didn't get entirely made. The rematch is officially happening on July 7 at the MGM Grand in Las Vegas, the "fight capital of Earth" as Sonnen says. Another way of looking at it is like this: Sonnen/Silva II is happening in a common setting on a big weekend of fights.
In a news conference yesterday from Rio de Janeiro, Dana White broke the news of the switch and explained the problems they had in securing a venue in Brazil. White, Silva and Sonnen showed up in person first and foremost to apologize, and second to redirect hype.
No doubt this whole thing is a bummer for the UFC, who sensed the historical value we're talking about.
It's disappointing to Calgary, the Canadian city that is likely losing featherweight champion
Jose Aldo
to fill the void at UFC 147.
It's disappointing for Silva, who has fought an 11 times in the States, once in Canada, once in Abu Dhabi and once in Rio as a UFC employee. He is 14-0 in those fights, which means he doesn't exactly have any big druthers. But his fifteenth fight -- and remember, every fight these days could be his last -- was meant to be epic. It was meant to shatter the UFC 129 attendance record -- in his native country.
None of that will happen now.
The good news is the fight is booked -- that's the practical thing to remember. UFC 148 now looks like the most loaded card of the year, a card the promoters could easily dub as "Rivals" with all the continuations in play -- Sonnen/Silva II,
Urijah Faber
/
Dominick Cruz
III,
Tito Ortiz
/
Forrest Griffin
III. It's a lot of sequels and trilogies in a city where whatever happens is meant to stay there. And that's a little salt on the wound to Brazilians and romantics and any fan of "Mission: Impossible."
Yet plenty of people will like this switch. There's a lot of foot traffic in Vegas come Memorial Day weekend, and this fight becomes accessible. The American media will rejoice because now they can attend without having to secure visas. This thing becomes a lot more convenient to cover.
But we weren't dealing in conveniences; we were dealing in historic backdrops. We were dealing in extreme
inconveniences
, which is exactly why Sonnen-Silva II in Brazil was so alluring. The "Rumble in the Jungle" wouldn't have been nearly as compelling as the "Fracas in Las Vegas."
And it's disappointing to wave good-bye to what could have been, especially knowing the magnitude of the thing that nearly was.
March, 22, 2012
3/22/12
11:33
AM ET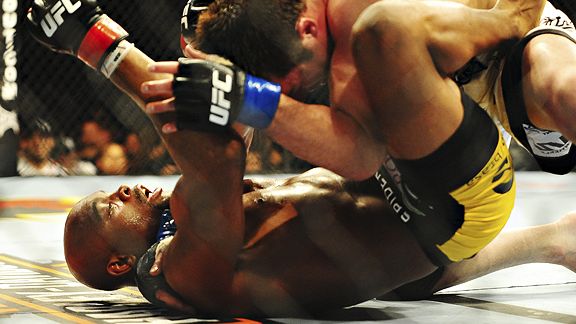 Mark J. Rebilas for ESPN.comAnderson Silva got all he could handle and then some from Chael Sonnen.
If
Anderson Silva
doesn't win his fifteenth straight UFC fight, that means hell will have descended on Rio. That means the man in a foreign land,
Chael Sonnen
, went into Brazil and wrested the most elusive belt from the company's most dominant champion.
How's that for ultimate audacity?
Sonnen/Silva II is almost certain to be held in a Rio de Janeiro soccer stadium that holds somewhere in the range of 60,000-80,000 people.
Having seen firsthand the firestorm atmosphere of UFC 134, I have to think that the tension will be tripled in the larger confines. Partisan? That word fails to capture the loyalty and fervor that the Brazilian crowd exhibits for their own. It will be a high noon gathering of zealots, straining against their civil moorings. The reason? The American Sonnen will be dropped into the center of a cauldron that he alone helped heat to a burble.
This will be his comeuppance.
Or it will be something slightly more unfathomable. It could be the red, white and blue wrestler, Sonnen, getting fitted into a belt that has for so long belonged to MMA's most lasting force. Either way, the scene at UFC 147 will be teetering on the brink of something -- celebration, outrage, relief, finality, disbelief. It's the kind of scene that builds legend in a sport that could desperately use it.
And for this reason alone, it becomes the most dramatic event in MMA history. Think about it: Silva facing his only known rival in front of his countrymen. Sonnen, a journeyman-turned-star in his 30s, the interloper. Sonnen, the biggest threat Silva has known, his potential antidote. The bane of his existence.
Silva, the forever enigma. Possibly solved. Or order is restored, and he's once again triumphant.
It might be hyperbole to start comparing the outdoor fight to the "Thrilla in Manila" or Ali-Liston II or the "Rumble in the Jungle," but maybe only narrowly. Who knows if in 40 years we'll be talking about Silva/Sonnen II?
But as of 2012, it looks like the biggest fight in MMA history, with context filling in every corner. Their first fight, at UFC 117 in August 2010, was so one-sided as to become surreal for nine-tenths of the bout. Then came the late submission that has made Sonnen the butt of geometry jokes worldwide. Once again it's Sonnen's dogged wrestling against Silva's violent grace. What buildup awaits. Sonnen knows what to do with a microphone, just like Ali did -- and he has his own parcel of scandals, too. In a bargain bin way, testosterone replacement therapy is Sonnen's "Vietnam" references. Ali lived in turbulent political times. Sonnen is a politician (as well as real estate agent and author) with an uninspiring overall record.
Somehow, here we are.
Yet the better musical notes are just underneath. Don't underestimate how badly other countries want to score a win over Americans. We see this wherever the octagon goes, whether it's Brazil, England, Canada, wherever. The more benign the people, the more the situation intensifies. At UFC 129, there were 55,724 people at the Rogers Centre in Toronto letting up a deafening roar for
Georges St. Pierre
, their champion ... with an equally heated and communal display of disapproval for
Jake Shields
(possibly the most inoffensive American going).
It's real. Sonnen is everything that people dislike in Americans, even if he's the most exaggerated sample of perceived arrogance we have.
After all the talk, it's time that center stage becomes his ledge. He alone walks it.
Put all together, it's a fantastic clash of elements for a mixed martial arts event. Whether the card is held at the Estadio Olimpico Joao Havelange (a.k.a Engenhao, which can hold generously around 60,000 people) or the better-known Maracana (which is being renovated, and can hold up to 80,000), it doesn't matter. The house will come down figuratively either way. For those who like to fling the word "epic" around loosely, here's a chance for the adjective to stick.
Silva/Sonnen II is an epic event.
Or maybe it's more like this: What's epic is the fact that it's actually happening in such a setting.