February, 26, 2012
2/26/12
12:52
AM ET

By Chuck Mindenhall
ESPN.com
Archive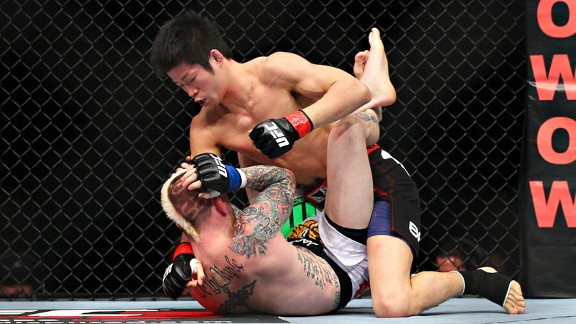 Susumu Nagao for ESPN.comA dominating display is exactly what Hatsu Hioki needed to create a title buzz.
If he didn't raise any eyebrows in his Octagon debut against
George Roop
back at UFC 137, highly regarded featherweight
Hatsu Hioki
did so on his native soil against stalwart
Bart Palaszewski
at UFC 144.
The reigning Shooto lightweight and Sengoku featherweight champion did more than live up to his reputation and billing -- he suddenly came across like an attractive fight for UFC kingpin
Jose Aldo
.
This was a feat for the "Iron Broom," who is largely considered the No. 2 featherweight in the world, including in ESPN's Power Rankings. Though he occupies the space, it felt a little like window-dressing to UFC-centric fans who only had the Roop bout to fill in the context. But for those who have followed Hioki's career overseas and saw him notch victories over
Marlon Sandro
and Takeshi Inoue in recent years, this felt more like it.
Hioki managed to dominate Rounds 1 and 3 by timing out his jab and setting up his takedowns for a unanimous decision (officially 30-27, 29-28, 29-28). Once he had "Bartimus" on the floor, Hioki dominated the position and kept him in survival mode throughout. Hioki was the quicker fighter; he reacted well to everything Palaszewski threw at him, and he capitalized on mistakes. Though he was a little tentative in the second round, Hioki was the dominant fighter throughout the bout, moving him to 2-0 in the UFC.
More importantly, it gave Hioki some wind behind his sails in his quest to face Aldo. Hioki has been a very quiet contender up until now, to the point that fellow 145ers like
Dustin Poirier
,
Erik Koch
and
Chan Sung Jung
(and even non-feathers like
Frankie Edgar
) were getting more mileage as legit threats to Aldo's belt. But it was a big statement fight with Palaszewski, which was a must for him to present himself as an imposition to Aldo. Hioki landed three takedowns, worked from dominant positions and was a tyranny when on top. It was the vintage Hioki that the UFC could use in marketing a title fight.
In other words, it was exactly the kind of fight that Hioki needed to make a case. And timing is on his side, too. If the UFC does indeed hold a card in Sao Paulo in June with
Anderson Silva
-
Chael Sonnen
II as the main event, a perfect table-setter would be Hioki-Aldo.
Of all the Japanese fighters on display in Saitama at UFC 144, Hioki's showing was perhaps the most impressive. And given Okami's loss to
Tim Boetsch
, the baton has been passed to Hioki to bring a UFC back to the Land of the Rising Sun.
November, 3, 2011
11/03/11
6:32
AM ET

By Brett Okamoto
ESPN.com
Archive
When it comes to pointing the finger at judges in mixed martial arts, consider me one of the last in line to do it.
Human error is a part of professional sports. Umpires, referees, officials -- they occasionally get it wrong.
There hasn't been any outrage, really, over any of the judges' decisions at UFC 137. That's a little surprising, since there were eight bouts that were left in the hands of the judges on the card, but most were fairly obvious. Not a lot of controversy to break down here.
I would like to point out, however, one fight in which the judges might have gotten it wrong. And it just so happens this fight potentially carried heavy implications in the UFC featherweight division.
The fight is Hatsu Hioki's split decision win over
George Roop
. In the end, maybe it was the correct call. It was a very close fight, not to mention difficult to score due to the lack of offense by both fighters.
The deciding round turned out to be the first. All three judges agreed Hioki won the second and Roop notched the third.
Watching live from cageside, I scored the first round for Roop, along with the fight. After further review, my opinion stands. This round, though, illustrates somewhat of the problem when in MMA.
[+] Enlarge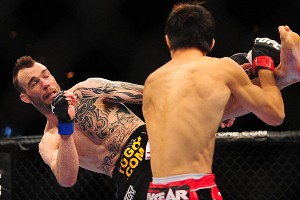 Mark J. Rebilas for ESPN.comGeorge Roop seemed to land the more telling blows during his three-round affair with Hatsu Hioki.
Roop clearly gets the better of the standup in the first two minutes. He lands a hard, straight right hand about a minute in, which ends up being the biggest shot of the fight. He also scores with a head kick and ends a few combos with some successful leg kicks.
With three minutes left in the round, Hioki ties Roop up and starts working for a takedown. For a good 90 seconds, nothing happens. They stand along the fence and grapple for position. Hioki briefly threatens to take his back, but ultimately doesn't.
At the 1:30 mark, Hioki scores a takedown. He falls almost immediately into Roop's full guard, though, where Roop lands a few hard elbows to the top of his head. Hioki clearly doesn't like that, moves to get away from them and allows Roop to his feet.
Roop finishes the round with a flurry, landing a two-punch combination in the final 10 seconds.
Judges Dave Hagen and Cecil Peoples scored the first round in favor of Hioki. Patricia Morse Jarman gave it to Roop.
Here's my beef with this: Hioki managed zero offense in this round. His best strike probably came in the form of a counter, which simply grazed off Roop's head. He recorded one takedown, which he worked about two minutes for. No submission attempts. No ground and pound.
The only reason you could argue he won the first round was Octagon control. Now, that is an aspect on which judges score, but it's the lowest priority. This is an offensive sport. Effective striking and grappling (submission attempts) are what should count most.
In reality, Hioki generated no offense the entire fight. Even when he worked to full mount in the second round, he threw a minimal amount of strikes from the position and basically went for no submissions. Roop got back to his feet with 20 seconds left after landing a beautiful upkick and ended the round aggressively going after Hioki.
It begs this longtime MMA question of: If I jab you once and break your nose, then you take me down and hold me there for four minutes, who won the round? Effectively, 100 percent of judges would score the round for fighter B, but which guy is in more trouble? The one with the broken nose or the one who was on his back?
I'm not saying that was the case here, but to sum things up, I watched
Hatsu Hioki
win his UFC debut despite doing very little offensively.
This was a significant fight. The UFC was looking at this, determining who the next shot at
Jose Aldo
would be. In the end, I guess it doesn't matter because even though Hioki won,
Chad Mendes
got the nod to challenge.
On Sunday, a day after UFC 137, George Roop tweeted president Dana White asking his opinion on the fight. I thought it was a valid question to ask.