August, 9, 2011
8/09/11
11:52
AM ET

By Chuck Mindenhall
ESPN.com
Archive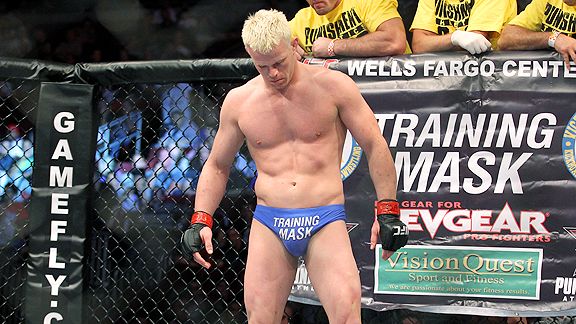 Ed Mulholland for ESPN.comNo big deal? Apparently, entering the Octagon with next to nothing
is
a big deal to UFC brass.
Dana White didn't like Dennis Hallman's get-up at UFC 133 based on what is believed to be strict aesthetic preferences.
There was too much information to Hallman's cage presence, which trumped a near offender earlier on the card called
Alexander Gustafsson
, whose shorts were closer to hot pants than Hallman's skivvies. In the end, White paid
Brian Ebersole
$70K for scrubbing his eyes of the spectacle.
The UFC's backstage handlers surely took a tongue-lashing yesterday back in Las Vegas for letting Hallman proceed to the cage this way.
If White was surprised, imagine how Brian Ebersole felt -- he's used to being the oddity in the cage, and here he was getting out-bizarred before the opening bell.
[+] Enlarge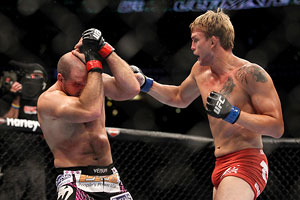 Ed Mulholland for ESPN.comAlexander Gustafsson's Daisy Dukes were no easier on the eyes than Dennis Hallman's bikini bottom.
But this whole episode raises the question of what fighters can and can't wear versus what they should and shouldn't wear. It needs to be defined by the UFC just as it is in other professional organizations.
There are some fighters, like
George Sotiropoulos
, who have been accused of essentially wearing pants in the cage for using knee and ankle braces. Sweat is one of the enemies of late-round submissions, and a slick jiu-jitsu practitioner might be angling for an unfair advantage here by ensuring traction.
On the other end of the spectrum,
Georges St. Pierre
likes a snug fit, but he covers (accentuates?) his thighs. In fact, he and
Eddie Alvarez
feel like fish out of water in board shorts.
It doesn't need a strict dress code to homogenize the fighters, but Hallman -- who says he wore his tiny trunks on a bet he lost -- just thought it'd be funny. It was, and it wasn't against the rules. As it turns out, Hallman just became the rule. Which means that the UFC has to detail a list of what can and can't be worn in the cage, down to how much thigh can be exposed. The NFL has a fine-enforced standard for tucking in jerseys and keeping their socks exposed. Similar rules exist in other sports for uniform protocol. The NBA even enforced a mandate for its players to wear something akin to business attire before and after games. This went over like a Machiavellian power play for guys who liked to keep things real loose.
For the UFC, it boils down to protecting an image and appearing as a professional. Dana White wants professionalism in his sport, not inside jokes. Hallman's appearance will be one of the more memorable moments of UFC 133, and as funny as that is, it's exactly why White is mad about it.
July, 6, 2011
7/06/11
11:17
AM ET

By Franklin McNeil
ESPN.com
Archive
UFC bantamweight champion
Dominick Cruz
might have to savor his unanimous decision win Saturday night over
Urijah Faber
for a while.
The Nevada Athletic Commission released its medical suspensions to ESPN.com on Tuesday for fighters who participated in UFC 132, which was held July 2 at MGM Grand Garden Arena in Las Vegas.
Cruz is required to have his right hand x-rayed. If the results are positive, Cruz must be cleared by an orthopedic doctor or he won't be allowed to compete until Dec. 30.
Faber must have his right hand, right wrist, right shoulder and chest x-rayed. If the results are positive, Faber must be cleared by an orthopedic doctor or he too will not be allowed to compete until Dec. 30.
Regardless, Faber can't compete until Aug. 17, and must not have contact until Aug. 2.
Wanderlei Silva
, who was knocked out in 27 seconds by
Chris Leben
, is suspended until Sept. 1. He can't have any contact until Aug. 17.
Dennis Siver
(forehead lacerations) is suspended until Aug. 17, and can't have contact until Aug. 2.
Ryan Bader
, who was submitted by
Tito Ortiz
, is suspended until July 24, and must avoid contact until July 17.
Both
Dong Hyun Kim
and
Shane Roller
must have right orbital fractures cleared by an ear, nose and throat doctor or ophthalmologist. Otherwise, neither can compete until Dec. 30.
Regardless, neither Kim nor Roller can compete before Sept. 1. They also must avoid all contact until Aug. 17.
Melvin Guillard
(cut under right eye) is suspended until July 24, and can't have contact until July 17.
George Sotiropoulos
, who was KO'd in the first round by
Rafael dos Anjos
, is suspended until Sept. 1. He can't have contact until Aug. 17.
Brian Bowles
must have his right hand X-rayed. If the results are positive, Bowles must be cleared by an orthopedic doctor or he will not be allowed to compete until Dec. 30.
He is under minimum suspension and can't have any contact before July 24 or compete until Aug. 2.
Donald Walker (laceration on right eyebrow) and Brad Tavares (laceration on left eyebrow) are suspended until Aug. 2 and neither can have contact before July 24.
Andre Winner
is suspended until Aug. 2, and can't contact before July 24 due to facial bruising.
Anthony Njokuani
, who defeated Winner by unanimous decision, must have a contusion on his lower left leg cleared by a physician or he can't compete until Dec. 30.
Njokuani also chipped a lower right tooth.
July, 6, 2011
7/06/11
6:10
AM ET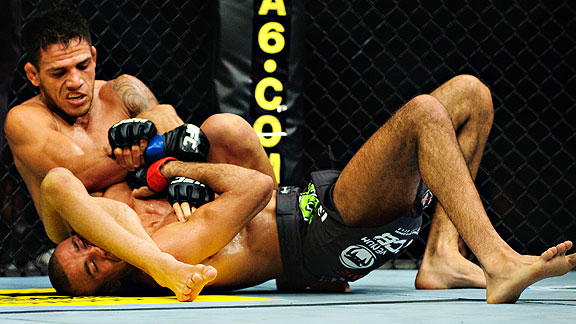 Martin McNeil for ESPN.comRafael dos Anjos admits there's work to be done before he reaches the lightweight pinnacle.
Rafael dos Anjos rejoined the ranks of the UFC's top lightweights at UFC 132 with a 59-second clubbing of George Sotiropoulos, and the Brazilian credited his first knockout win to skills honed far from home.
After undergoing surgery to repair a broken jaw sustained in an August 2010 loss to Clay Guida, dos Anjos traveled to Singapore, where he spent time developing his striking technique at Evolve MMA.
"I underwent surgery in August, then recovered in Brazil and moved to Singapore in October," dos Anjos explained to Sherdog.com after his July 2 win. "There, I worked hard to fix some holes in my standup game and focused only on my muay Thai and boxing. When I returned to Brazil, I kept working with my boxing coach, Cesario Figueiredo, and it showed in the power of my punches."
A Brazilian jiu-jitsu black belt under Aldo "Caveirinha" de Olivera, dos Anjos surprised fellow ground specialist Sotiropoulos with his striking, but confessed that it wasn't in his game plan to score such a fast finish.
"I didn't expect to win that quickly," dos Anjos admitted, "but, as I said, I work on every martial art. I entered the fight as I always do, feeling out my opponent, since my strategy was to trade on the feet if I had the advantage. If it was a case of him punching me, I would have tried to take him down and pull guard. However, thank God, I knocked him out."
Dos Anjos had a rough start to his UFC career with back-to-back losses, but had been on a three-fight win streak before running into Guida. Even after his shining performance at UFC 132, the Roberto "Gordo" Correa student doesn't think he is ready to enter the lightweight division's top five this year.
"It's the most difficult division in MMA. I'm just getting back from a tough time and I need to get my fight rhythm," said dos Anjos. "I'm doing my work, and I believe I'll fight again this year. For me, I need about two or three more years to enter the top five.
"I'm only 26 years old. You can see how different I was when I joined the UFC, and how I've developed my game. I believe, in a couple of years, I'll be in top condition, stronger and even more developed. Most of the champions are 29, 30 years old, or even older, like Anderson Silva. Only phenoms like Jose Aldo and Jon Jones are young champs."
And who does dos Anjos see as the top-5 UFC lightweights at current?
"Man, that's a question that I need to sit down, think hard and write down on paper so I don't forget anyone. For now, I can say Frankie Edgar and Gray Maynard are at the top, followed by a bunch of guys seeking the belt, like Clay Guida, Melvin Guillard and Dennis Siver. But I'm sure there are a lot of good guys to list."
July, 1, 2011
7/01/11
6:35
AM ET
The preliminary portion of the UFC 132 lineup figures to have a significant impact on the lightweight division on Saturday at the Mandalay Bay Events Center in Las Vegas. There, the surging Melvin Guillard will meet Shane Roller, Australian submission specialist George Sotiropoulos will lock horns with Rafael dos Anjos and "The Ultimate Fighter" Season 9 finalist Andre Winner will take on Anthony Njokuani -- all at 155 pounds.
More »