June, 14, 2012
6/14/12
7:16
AM ET

By Josh Gross
ESPN.com
Archive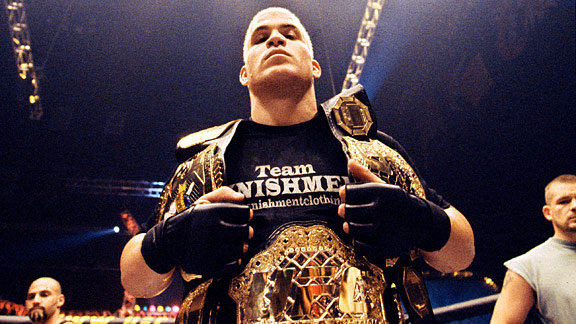 Susumu NagaoBetween the titles and the antics, Tito Ortiz's legacy should stand the test of time.
Depending on the outcome of his fight against
Forrest Griffin
at UFC 148,
Tito Ortiz
will exit the Octagon for the final time carrying a 17-10-1 or 16-11-1 record.
That may not sound like the win-loss ledger of a "Hall of Fame" fighter (tell that to
Randy Couture
), but there's no denying Ortiz's influence on the UFC registers placement of his name alongside other all-time greats.
And so it is, the fan favorite "Huntington Beach Bad Boy" will become the eighth fighter chosen by UFC brass to gain access to an excessively exclusive club when he's inducted at the UFC expo in Las Vegas next month.
Ortiz accomplished enough over his long, important career to earn the distinction that should come with being a Hall of Famer. He put together a record reign as light heavyweight champion and gladly accepted the role as UFC's go-to fighter when Zuffa took over the company. During the first year of Zuffa's UFC ownership, Ortiz headlined three of their first four cards and tirelessly worked to sell the shows. Prior to the boom that came with Spike TV and "The Ultimate Fighter" reality show, Ortiz proved with
Ken Shamrock
that there was hope for UFC on pay-per-view when they clashed at UFC 40. As an aside (one that means something to me), Ortiz was never implicated in the performance-enhancing drug mess that touched so many fighters, including the aforementioned Shamrock and his compatriot
Royce Gracie
.
Even more impressive than Ortiz's role in building UFC was his ability and willingness to create, brand and market a bankable persona, which sometimes led to ugly, public squabbles with his promoter and former manager Dana White.
"I think he's a guy who pound-for-pound -- at the time we were hurting -- tried to do more damage to [the UFC] than anyone in the history of this company," White told MMAWeekly.com on Tuesday.
"

I think he's a guy who pound-for-pound -- at the time we were hurting -- tried to do more damage to [the UFC] than anyone in the history of this company.

"

-- UFC president Dana White, on Tito Ortiz in an interview with MMAWeekly
"Tito's never been about the company of the UFC," he continued. "Tito's been about his own brand, Punishment, and Tito Ortiz."
White's wrong.
Ortiz has done plenty in the name of the UFC, but he also never stopped looking out for No. 1, which is something he's preached to fighters young and old, leading some people to express surprise that Ortiz was gifted with the UFC's hall blessing in the first place.
If you believe White when he says Ortiz wasn't a company guy -- disputable considering how much money he made for Zuffa -- let me ask you this: So what? Should a fighter have to be a company guy to earn what he deserves? Should White need to be "totally cool" and have "no beef with Tito whatsoever" for Ortiz to be HOF eligible?
These are reasons I choose not to regard the UFC Hall of Fame as being the same thing as hallowed grounds associated with other sports. Eventually, I hope, MMA media will come together and do it properly, though that surely won't prevent the UFC from picking and choosing who it recognizes among the best ever to compete in the Octagon. Nor should it. But I'll say this: The White-washing of the UFC "hall" is unseemly.
After all, the light heavyweight division's first champion, Frank Shamrock, can't get a sniff of it and he beat Ortiz in one of the organization's great contests, and went 5-0 in UFC competition, each bout a title fight.
Why? Because he fell out of favor with president White.
Likewise, Pat Miletich -- the organization's first welterweight champion who defended the belt multiple times and went on to mentor and train many of the Octagon's finest, including too-exclusive club member
Matt Hughes
.
There's no sane explanation why Ortiz should receive accolades the week leading up to his retirement bout while Shamrock and Miletich (and fighters past, present and future who dare look out for themselves, even if it means upsetting the powers that be) get frozen out. Ortiz deserves his time in the spotlight as much as they do.
May, 29, 2012
5/29/12
5:32
AM ET

By Chad Dundas
ESPN.com
Archive
Frank Mir
was 22 years old when he made his Octagon debut at UFC 34.
It was Mir's third pro MMA fight, and in it the fresh-faced Brazilian jiu-jitsu purple belt took just a minute, five seconds to tap out (and injure, from the look of it) two-time BJJ world champion and former Abu Dhabi open weight titlist Roberto Traven with an armbar.
A sign of things to come? Yeah, you could say that.
One glance at the UFC 34 card and it's impossible not to feel the passage of time.
In the evening's dueling main events,
Randy Couture
defeated Pedro Rizzo to retain the heavyweight title, and Carlos Newton lost his welterweight crown to
Matt Hughes
. Counting Mir, five future UFC champions fought that night, including BJ Penn,
Josh Barnett
, Ricco Rodriguez and Evan Tanner. Also on hand were
Matt Lindland
,
Phil Baroni
and -- just in case you want to feel
really
old -- Pete Williams.
[+] Enlarge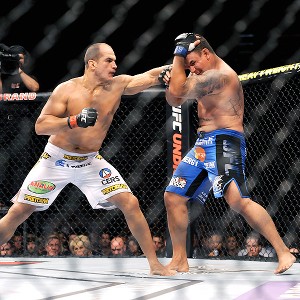 Rod Mar for ESPN.comFrank Mir, right, was outgunned and out of his league against Junior dos Santos.
The show took place at the MGM Grand in Las Vegas, which lends an undeniably circular vibe to any discussion of what happened to Mir on Saturday night at UFC 146.
What happened, of course, was that we likely witnessed the end of Mir's career as a top contender to the UFC heavyweight title.
Obviously, nothing is certain. In the shallow heavyweight division, fortunes can turn on a dime, but on the heels of his fifth fight for some version of UFC gold, it's tough to imagine the now 33-year-old Mir putting together the kind of prolonged run it would take to earn him a sixth.
Not after he was so thoroughly outgunned by
Junior dos Santos
this weekend, at least. Not after the champ so effortlessly shook off his takedown attempts and repeatedly punished him to the body and head before ultimately leaving him sprawled out on the canvas midway through the second, just to one side of the Octagon's shiny new MetroPCS logo.
Like we said, the passage of time.
Mir will no doubt fight another day. Not doing so would show a sort of self-awareness and good sense we seldom see in professional athletes, so we must assume he'll go on to have at least a handful of future fights in the UFC. Early this week, the Internet is atwitter with rumors that his most recent and most bitter nemesis,
Brock Lesnar
, might return; and right now, there could probably be no better development for Mir's continued relevance.
Even if Mir never fights again, though, he'll leave a near unparalleled legacy in the 265-pound division. His 16 wins in the Octagon are the most all time by a heavyweight. He twice held the UFC title (though once it was an interim belt) and his highlight wins over
Tim Sylvia
, Lesnar and
Antonio Rodrigo Nogueira
rank among the most memorable submissions in the company's history.
Perhaps most impressively, Mir battled his way back from a 2004 motorcycle accident that short-circuited his first title reign and threatened to end his fighting career entirely. After shattering his femur and tearing all of the ligaments in one knee, Mir returned to go 8-5 during the next six years, arguably besting anything he'd done in the cage prior to the accident.
If it is not the most remarkable comeback story in UFC history, I'm not sure what is.
Now, Mir faces the unenviable task that eventually befalls all athletes: transitioning to the twilight of his career. How he does it will be entirely up to him. Will he serve as a measuring stick for the UFC's suddenly healthy crop of up-and-comers; fighters like
Stefan Struve
,
Stipe Miocic
and Shane del Rosario? Or will he go a route similar to the one taken by Hughes and Couture, crafting his own conclusion by picking his spots in high-profile, big-money bouts?
[+] Enlarge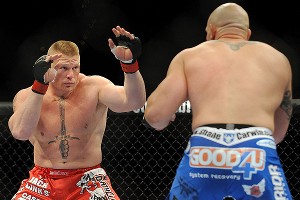 Josh Hedges/Zuffa LLC/Getty ImagesA Brock Lesnar return would be good news for old nemesis Frank Mir.
Aside from Lesnar, the perfect next foe for Mir is probably Barnett, considering their comparable ages, styles and positions in the sport. To make that happen, however, either Barnett would have to be granted his long-awaited return to the UFC or Mir would have to unexpectedly show up in Strikeforce. Not sure either seems overwhelmingly likely.
In any case, Mir spent years in the rarefied air of the heavyweight division's elite. When the time comes, he should be a shoo-in for the UFC Hall of Fame. Now though, he'll have to pass the torch -- unceremoniously, as is typical in this sport -- to new standard-bearers like dos Santos,
Cain Velasquez
and (soon, we hope)
Daniel Cormier
.
Never was that more apparent than between rounds on Saturday night.
During the final minute of the first, dos Santos had hurt Mir badly, forcing him to stumble sideways, throw a sloppy counterpunch that missed by a mile and shoot for a doomed takedown attempt. In all likelihood, he was saved by the bell. As he sat on his stool receiving orders from his cornermen, the ringside doctor leaned in and asked one of those questions no fighter (no person, really) ever wants to hear.
"Do you know where you are, sir?"
Mir fired off an immediate response: "Mandalay Bay, Vegas, May 26."
He didn't sound at all confused. In fact, he sounded completely sure of himself; this declaration issued with the same swagger and unwavering certainty we've come to expect from him over the years. The only problem was -- as was instantly pointed out by the UFC broadcast team -- he wasn't at Mandalay Bay at all.
Mir was back at the MGM Grand.
He was back where it all started, and time was passing.