January, 25, 2013
1/25/13
7:44
AM ET

By Franklin McNeil
ESPN.com
Archive
CHICAGO -- Winning a UFC title is every fighter's goal. For the few who are able to accomplish this feat, the celebration doesn't truly begin until they make their first successful title defense.
UFC bantamweight titleholder
Demetrious Johnson
will attempt to solidify his position as a true champion Saturday night when he meets top contender
John Dodson
. The two will battle at United Center in Chicago.
In addition to defending his title, Johnson wants to put on an entertaining fight. Putting on a fan-friendly performance is something Johnson also relishes. And it's something Johnson thought was being accomplished in September when he held off
Joseph Benavidez
to claim the 125-pound belt.
Johnson put on a stand-up fighting display. He demonstrated textbook footwork, head movement and striking en route to a split decision. But throughout the five-round title bout many fans in attendance at UFC 152 booed.
The booing continued when Johnson was declared the winner, and Johnson learned that being liked by fans is something he has no control over.
"You can never predict how fans will see you because there are some fans out there who just love my style: How I'm just a humble guy, but I have great technique, I have great footwork, the cardio, I have great confidence and I love video games," Johnson told ESPN.com.
"On the other side of the board, there are guys who hate everything about me. They don't care what I do, they hope I lose; they hate my ears, the way I look. So my job is to just go out there and perform the best I can."
Teixeira seeks KO against Jackson
Not many fighters have entered the UFC with as much hype as
Glover Teixeira
. And in his first two Octagon appearances, Teixeira has not disappointed. On Saturday, he faces the stiffest test of his pro career, and fans will find out if the hype is warranted when Teixeira faces former UFC light heavyweight champion
Quinton "Rampage" Jackson
.
Teixeira believes he will defeat Jackson, who fights in the UFC for the last time Saturday. But he also believes victory won't be enough to prevent his stock from tumbling if he struggles. So Teixeira is determined to end Jackson's UFC career early.
"My motivation is to be a champion, just like he was. I'm hungry," Teixeira told ESPN.com. "I want this. This is a big fight for me, the biggest of my career.
"Rampage is a tough guy, he's hard to put away. But that is the key. You go into a fight, that's why people love fights, because of the knockouts and the submissions. I'm going in there to finish the fight. And it does matter to me how I win."
Cerrone to clash with sharper, more mature Pettis
It has been nearly one year since lightweight contender
Anthony Pettis
has fought inside the Octagon. That's a long layoff for any fighter, except Pettis.
The former WEC champion says when he steps in the cage Saturday night to face
Donald Cerrone
, he will be as sharp as ever. Cage rust is never an issue for Pettis.
"I don't think there is ring rust when it comes to fighting," Pettis said. "A fight's a fight. If I have to fight somebody tomorrow, I've got to be ready to fight.
"This is my job. This is what I've been training for; this is what I've been doing for a long time. I've kind of grown up with fighting, so I don't think ring rust is going to be a problem."
Pettis is also better prepared to deal with any unexpected situations -- inside or outside the cage. He takes all his responsibilities much more seriously these days.
"I've matured a lot," Pettis said. "I've got a daughter [1½-year-old Aria] now; I've matured a lot with decisions outside of my training -- what time I go to bed, what I'm eating, what I'm putting in my body.
"I've really matured in every aspect of my life. I've just matured as a man."
Quick hits
•&nbspFormer lightweight contender
Clay Guida
makes his featherweight debut with a bit of a chip on his shoulder. Despite what he says, the outcome of his June bout with
Gray Maynard
and the criticism that followed still sting. "My striking was pinpoint; I out-struck Gray. I out-grappled Gray," Guida said. "Go down the list, I beat him everywhere, except in the judges' eyes. But I'm beyond that now. And
Hatsu Hioki
is going to pay for it Saturday night."
•&nbspJackson talks often about no longer being happy in UFC and looks forward to leaving the promotion after Saturday night's bout against Teixeira. But Jackson won't be all smiles when it's over. "I will miss a lot of things. I will miss Burt Watson backstage. He's funny; he's cool to hang around," Jackson told ESPN.com. "Honestly, if you are on Dana's good side, he's one of the coolest guys. Lorenzo Fertitta's always been cool with me; and Frank [Fertitta]. I will miss the good fans. When you're walking back to the locker room, when you win, the fans are cheering you on. There are a lot of things about the UFC that I will miss."
•&nbspDana White would love to have
Eddie Alvarez
on the UFC roster. And he is willing to pay handsomely for Alvarez's services. Now White is challenging Bellator to do the same. "This kid isn't their world champion and his contract is up," White told ESPN.com. "Everybody talks about Bellator like they're some poor little company. Viacom owns Bellator! Bellator like you used to know it is over. Viacom sits on $5 billion in cash. Pay the kid! Pay the kid the exact monetary offer we made to him, and you will deserve the right to have him."
January, 24, 2013
1/24/13
3:23
PM ET
There's a paradox going on for this weekend's Chicago card: People are talking about the flyweights not getting talked about.
In fact, the ever-coveted "casual" viewer has no way of knowing that there is such a thing as the flyweight division, because all those prominent ads leading up -- as you've seen by now -- don't fuss over the details. As far as casuals know, it's a "world title" fight, which is of course one way of putting it. (Saying that two of the best flyweights out of a 15-man roster might play out somewhat less dramatically).
But the flyweights are actual and they are happening, whether this offends you, surprises you, or speaks to your fetishes. And if nothing else, it's novel. If the sword on
Brock Lesnar's
chest cut him in two, you'd get
Demetrious Johnson
and
John Dodson
-- guys with thrice the speed and half the brute power. We'll need to slow down the surveillance tape, but these guys will square off at shutter speed on Saturday night as headliners.
It's Johnson's first title defense. It's Dodson's chance to showcase his own rare blend of levity and levitation.
If it goes as one suspects it might, this will feel like 25 minutes of hydroplaning. What's not to love?
Of course, such a main event only works on a uniquely stacked (totally free) card like UFC of FOX 6. There's
Quinton Jackson's
UFC swan song and
Glover Teixeira's
fashionably late arrival. There's the battle of
Anthony Pettis
-
Donald Cerrone
, which is a cause for hyperbole. That looks like the greatest fight of all time. (You see?)
And then there's the featherweights. And this is where the plot thickens.
Right now the 145-pound division below challenger
Frankie Edgar
and current champion
Jose Aldo
is a free-for-all.
It's about to get some clarity.
Clay Guida
will take on
Hatsu Hioki
in his first drop to 145 pounds, and
Ricardo Lamas
will fight
Erik Koch
. One of these will emerge as the next challenge for the Aldo-Edgar winner. At the very least, one of these four guys will get to fight
Chan Sung Jung
to determine who gets next crack at the Aldo-Edgar winner.
Saturday will give us a featherweight pecking order.
Koch was scheduled to fight Aldo twice in 2012, but both fell through (once because he was injured, once because Aldo was). You'd have to think that a win over Lamas would land him right back to where he was. If Lamas defends his Chicago turf, he'll have beaten 2012's brightest contender, so he'd take that spot.
Guida is making the cut to 145 pounds after he ceded his lightweight title bearings against
Gray Maynard
. Not only that, but he had the audacity to show up with a stick and skedaddle game plan that left a bad taste in fan's mouths. A solid performance in his featherweight debut against the former No. 1 contender Hioki would jump him into the mix pretty quick. If Hioki knocks off Guida, same thing. He'll have beaten one of the UFC's more familiar names, and the recent Lamas loss shrinks in his rearview mirror.
Come Sunday morning, there will be such a thing as the "featherweight title picture." With all the comings and goings at 145 pounds since the division was introduced two years ago, that's been a hard thing to establish.
June, 23, 2012
6/23/12
5:49
PM ET

By Josh Gross
ESPN.com
Archive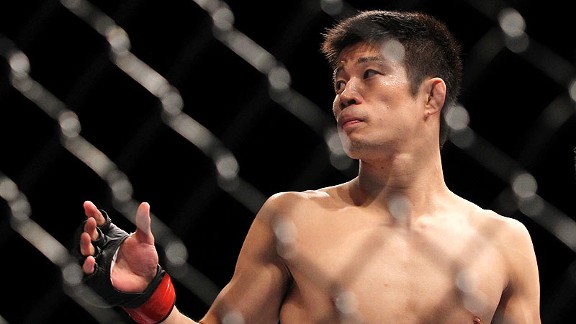 Ed Mulholland for ESPN.comHatsu Hioki is officially Exhibit A as to what not to do when someone offers you a title shot.
Hatsu Hioki
didn't think he was ready for
Jose Aldo
, and now he
knows
he wasn't.
In April, the highest-ranked Japanese fighter in mixed martial arts turned down a shot to fight for Aldo's UFC featherweight title. He was 2-0 in the UFC, looking better in his second bout against
Bart Palaszewski
than his first versus
George Roop
, and everything was lined up for him.
Then he said "no" to Joe Silva's perfectly reasonable and expected matchmaking. Was this smart? Turns out, no, it wasn't. Regardless of how much Hioki felt he lacked for Octagon experience, no matter how much he may have wanted to tighten up his game, in spite of any lesson he could have learned that could have helped him defeat Aldo, history dictates fighters must say "yes" to such proposals.
Or else.
"A title shot? Well of course I'll do it, Mr. Silva."
MMA is an unruly sport. Sure-fire things do not exist. As dangerous as Aldo looked since he emerged in the WEC and later bloomed in the UFC, Hioki wasn't going to uncover the mystery to beating the Brazilian by taking a fight against
Ricardo Lamas
. Or anyone, for that matter. His chances weren't going to improve. All Hioki could have accomplished was logging more cage time, landing another victory against a solid fighter, and finding himself in pretty much the exact same scenario he was in April.
There wasn't upside in fighting anyone other than Aldo -- only a giant too-easy-to-fall-over cliff. Like Homer Simpson failing to jump a canyon on a skateboard, such was the looming potential of his decision. And so you have to wonder what the view looks like from the bottom, which is where Hioki (26-5-2) is tonight as he managed to regress during the points defeat.
The 28-year-old, well-traveled Japanese fighter opened adequately enough, utilizing his length and leverage to score takedowns and threaten with submissions. Two similar rounds seemed a reasonable enough expectation, but then Hioki wilted. He shied away from the fight. He made mistakes. This was not the execution of a man who has fought tough opponents all over the map, which, by extension, means he was not remotely capable, in body or mind, of defeating Aldo.
Or Lamas.
After losing the second, Hioki essentially disappeared in the third. With all he stood to gain, Hioki couldn't bring himself to go after Lamas, a solid though wholly unspectacular featherweight.
Hioki, as his reputation goes, fights smart. He maintains dominant positions, advances to better ones on the floor, and if he doesn't submit you, he'll ride out a decision win.
[+] Enlarge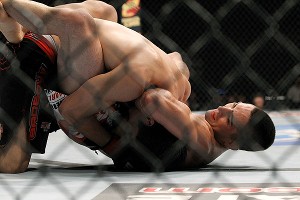 Ed Mulholland for ESPN.comHatsu Hioki, left, wasn't ready for the likes of Ricardo Lamas, let alone Jose Aldo.
He didn't do any of that in Atlantic City. Instead, Hioki put his head in position to be guillotined. He did so several times in the final round and found himself in trouble, which he deserved.
As the moved closer to the cliff's edge, there wasn't an obvious sense of self preservation kicking in. Hioki did not react as if everything he'd worked so hard for since 2002 was slipping away. He just let it slip, which should be his biggest disappointment.
Being honest enough with oneself is a noble thing. He didn't believe he could beat Aldo -- that's the bottom line (which is fine, I guess). But somehow that disbelief soured his performance against Lamas, or at the very least colored it.
I criticized Zuffa for putting this fight on Fuel TV as opposed to the night's main card on FX. How could they not want to expose a guy who could get a crack at Aldo to as wide an audience as possible? Maybe the thinking was Hioki wasn't
ready
for prime time, not in any sense. He sure didn't look like it on Friday.
Fighters should come to call the decision whether or not to take a title fight in the UFC a "Hioki." That ignoble distinction once belonged to Pete Spratt, who declined a welterweight shot against
Matt Hughes
in 2003. That ridicule belongs to Hioki now.
He needed to trust his skills, trust the experience he brought, and trust the plan he intended to implement. He didn't trust these things and fight Aldo.
He didn't.
Fighters be warned: Don't pull a Hioki.
March, 22, 2012
3/22/12
6:30
AM ET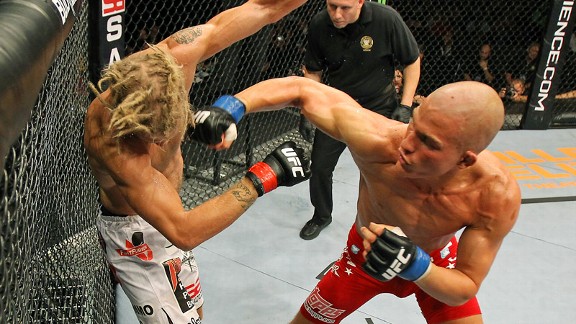 Josh Hedges/Zuffa LLC/Getty ImagesBlast forward: Erik Koch made his presence felt when he decisioned Jonathan Brookins in September.
Jose Aldo
is Calgary-bound for UFC 149 on July 21. Who will he face? As of Wednesday afternoon, this information was not yet disclosed. Just like the injury that forced featherweight contender
Erik Koch
from his fight with
Dustin Poirier
in November, there are mysteries to be found all over the 145-pound landscape.
At least some of them are clearing up a little bit.
Having spoken to Koch, a couple of things stand out. One, he is feeling 100 percent after his strictly confidential injury and is ready to accept a bout. The Duke Roufus pupil was set to stake his four-fight win streak against fellow upstart Dustin Poirier in November before the injury forced him off the card. And two, Koch has a sorted order of preference of the guys he'd like to see.
"If nobody fights Aldo, I'll fight Aldo," he says. "If not, I want the second guy; I want
[Hatsu] Hioki
. He's definitely in the mix. So that's how I want my plan to be. Aldo first, and if not, Hioki as the back-up plan."
Koch's management is still waiting to find out what's next for the man with the premonitory nickname of "New Breed." Aldo needs an opponent for the UFC's maiden trip to Calgary. Koch is willing. Couple that information with the fact that Poirier is scheduled to fight
Chan Sung Jung
on May 15 -- just two months before UFC 149, making for a short turnaround -- and Koch looks like a fun possibility. Koch's training partner,
Anthony Pettis
, was just last week rumored to be contemplating the bout, but was quick to dispel those rumors (in part, maybe, to avoid stepping on Koch's feet). Besides, Pettis himself is now sidelined with an injury.
And then there's also Hioki, who might be in front of Koch on some people's polls, but the Japanese fighter didn't exactly assert himself after beating
Bart Palaszewski
at UFC 144. Everybody knows this is an industry that sneers at modesty.
Koch, on the other hand, brings a stampede wherever he goes.
Before decisioning the "Ultimate Fighter 12" winner
Jonathan Brookins
, Koch had won back-to-back knockout of the night honors against Raphael Assuncao and
Francisco Rivera
in what was Koch's final WEC match. His last (and only) loss was a decision to
Chad Mendes
back in March 2010. Since then, he's been electrifying.
"Chad Mendes did beat me, but you know, I was a completely different fighter then," Koch says. "And Aldo has a good track record against wrestlers. To beat him, you got to beat him at his own game. You've got to stand with him. You've got to know how to do it right. [Fighting Aldo] would be a blast, I can tell you that. You'd definitely get some stand-up war going."
That's the selling point. The very thing that gives some fighters pause when contemplating Aldo gives Koch confidence.
"

I think just having good footwork, good striking and good fundamentals, and just using my size as a featherweight, would give him big problems.

"

-- Erik Koch, on why he matches favorably against Jose Aldo
"It's the match-up," he says. "I think -- nothing against Aldo because he's a beast, he's one of the best in the world for a reason -- but out of anybody in the division, if anybody matches up with him, it's me. I think just having good footwork, good striking and good fundamentals, and just using my size as a featherweight, would give him big problems."
Will it be Koch that the UFC sticks opposite Aldo? We may know very soon. But of all the alternatives, he at least packs some wallop. And he wants to stand and trade with Aldo, which is the right kind of roulette for a featherweight main event.
"For me, now it's about trying to finish fights and making exciting fights," he says. "I definitely want to be the best fighter in the world, but at the same time I want to be exciting. I want to bring something to the table that everybody wants to watch. People don't realize, we're in the entertainment business. I definitely want to give people what they want to see."
Now Koch will sit tight and hope that the UFC wants to see things similarly.
March, 18, 2012
3/18/12
7:39
AM ET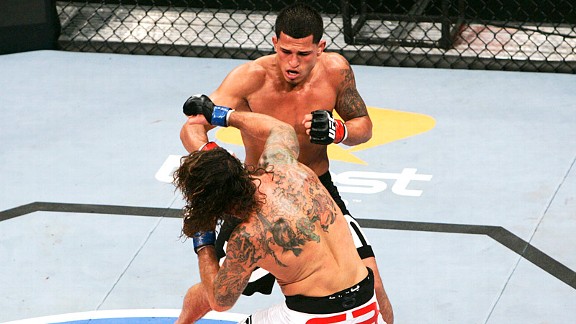 Marc Sanchez/Icon SMIAnthony Pettis flirted with a move to featherweight, but ultimately passed on the idea.
When the UFC introduced the featherweight division into its ranks at the beginning of 2011, it was as if the floodgates opened for two types of lightweight -- those who were small for 155 pounds, and those losing at 155 pounds. Joining up with the smaller class of men, under the aegis of the UFC, spelled out second chances, reinventions and broadened opportunity.
That's why company brand names found themselves shoulder-to-shoulder in the sauna.
Kenny Florian
,
Tyson Griffin
,
Ross Pearson
,
Manny Gamburyan
... even skinny
Darren Elkins
wrung his muscles of moisture to make it. As for the accordion-thick kickboxer,
Dennis Siver
? Just know that the threat is still there.
Yet for the most part, these days a drop to featherweight feels more like a demotion than an exodus. Either that, or the more people became familiar with
Jose Aldo
, the more the alternative path to glory presents itself as an unhealthy one. However you cut it up, the 145-pound division isn't salvation anymore. And that's why
Dustin Poirier
had better be ready for the title gig if he beats
Chan Sung Jung
in May (and vice-versa), and
Hatsu Hioki
had better start smiting his chest after wins. None of the big guns in the lightweight division want anything to do with the featherweight strap right now.
In the past couple of weeks we've seen it. First the chants of
Frankie Edgar
to drop to 145 pounds became loud when Dana White got to nudging things along. When Edgar refused to budge and was reluctantly granted a rematch against Benson Henderson, the focus switched to the odd man out of the lightweight title picture,
Anthony Pettis
. Here is a lean, dynamic striker that suddenly could be thrust into a default title shot against a lean, dynamic striker who surfs (both crowds and waves).
Perfect, right?
Not really. Though there was some mild flirtation from Pettis's camp that he'd be open to the idea, upon reflection the final word was "no." Pettis tweeted that he was staying at 155 pounds where there was a lot of unfinished business.
[+] Enlarge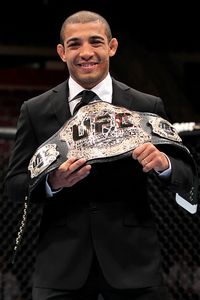 Ed Mulholland for ESPN.comLightweight contenders aren't exactly clamoring for a chance at the featherweight title.
Of course, in the two aforementioned scenarios the common link is Henderson. Edgar lost a close decision and was asking for some return love for his open-mindedness toward rematches throughout his time as champion. His case was so strong that the UFC relented. Pettis is the last guy to defeat Henderson, and he didn't just beat him -- he posterized him with that Matrix kick at the WEC finale. Though his chance at a title shot at 155 pounds could be a couple of fights off and a year down the road, he wants to pursue what he started. Good for him.
But you do have to wonder why one belt looks that much more desirable than the other. Yes, the lightweight division is deeper, has bigger fights and is uber-competitive -- but there's no waiting line to Aldo. Pettis, who has a very stylish fashion sense, is a very select shopper when it comes to accessories, too. Winning just any belt won't do for somebody -- the reigning WEC lightweight champion, no less -- who's had his heart set on a specific one for so long. People have been quick to understand his decision. Don't rush to conclusions. You don't just jump around divisions. That sort of thing.
There are, however, guys who have and who've done it well.
B.J. Penn
has held gold in two weight classes, and
Dan Henderson
stands at the ready to fight in any of three weight divisions. Nothing they did was irreversible, nothing was ever deemed permanent. They just happened to be at cusp weights that could go either way, much like Edgar and Pettis. Greatness is rarely so specific, anyway -- why not pursue a collection of hardware? Isn't this what
Jon Jones
is talking about when talking of an eventual move to heavyweight?
Pettis likely has his reasons (having Henderson's number is chief among them), but a lightweight title shot might be a dangling carrot forever just out of his reach. Right now the UFC is saying that the winner of
Nate Diaz
/
Jim Miller
will fight the winner of Edgar/Henderson, the latter of which is being discussed for August. That makes his road to a title a very long, detouring one with no guarantee of an end.
And that he's willing to take it instead of clashing with Aldo tells you that the featherweight division isn't as enticing. Either that, or Aldo has gained a little invincibility.
February, 26, 2012
2/26/12
1:23
PM ET

By Josh Gross
ESPN.com
Archive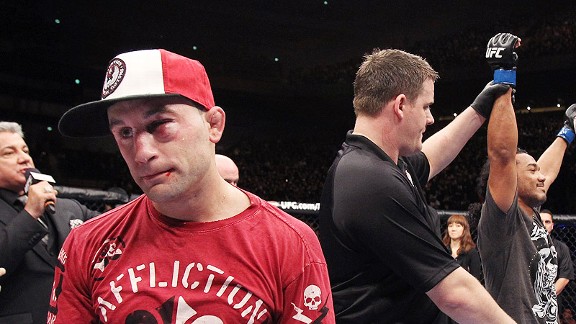 Josh Hedges/Zuffa LLC/Getty ImagesDouble disappointment: On top of losing, former champ Frankie Edgar might have to wait for a rematch.
Frankie Edgar
posed the question.
"I'm not trying to shoot anybody out of anything they deserve, but I had to do two immediate rematches," the now former UFC lightweight champion said after dropping a unanimous decision to Benson Henderson.
"What's right?"
Is there some good faith that needs to be cashed in on? Because that's what Edgar implied.
Based on his set of circumstances -- beating
B.J. Penn
to claim the title (by a more lopsided score than Henderson celebrated in Japan) only for Zuffa to make a rematch; rallying to a draw against
Gray Maynard
, followed by another go against the powerful wrestler (that one was an inarguable must) -- should he have the favor returned?
What's right. Hmm. This is tricky.
Let's start here: Edgar's promoter, who, of course, is also Henderson's promoter, thought the 30-year-old underdog from Toms River, N.J., should have held on to the belt. So if Dana White is saying Edgar won, doesn't that bolster the "second chance" argument?
The fight was close, but not controversial. There's a good case that Henderson deserves to be champion. But there are also grounds to believe Edgar did enough to retain the title. Though this result doesn't inspire the uproar of the first Penn fight -- no judge issued a Doug Crosby-like 50-45 -- I'm not sure how anyone could stomach seeing Edgar sit as another fighter gets the first crack at a belt he went through hell to defend (or, worse yet, Edgar in some three-round, non-title affair).
Edgar gave up something of himself to win and hold the title. Does that factor at all into what's right?
If you say no, if you think a kid like
Anthony Pettis
-- coming off two wins in the UFC against unranked
Jeremy Stephens
and
Joe Lauzon
following a loss to
Clay Guida
-- earned the next shot, I'm not sure how. Pettis' victory over Henderson in the WEC, the incredible "Showtime" kick off the fence late in the fifth, is the main argument for Henderson-Pettis 2. A rematch has the makings of an exciting, competitive contest. I'm not suggesting otherwise.
[+] Enlarge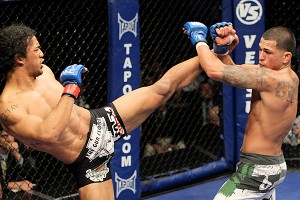 Josh Hedges/Getty ImagesA rematch between Benson Henderson, left, and Anthony Pettis makes sense, but where does that leave Frankie Edgar?
But for all his dynamic ability, has Pettis actually done enough in the UFC to earn a title shot? More than a
Jim Miller
or
Nate Diaz
, who fight in May? Do they get next after Pettis? If yes, where does that leave Edgar?
Sorry for all the questions, but when you're trying to figure out what's right, this sort of stuff happens.
If Zuffa determines that Pettis is next -- a decision that largely comes down to what you, the fans, have to say about it -- will Edgar have to win to get back in the title picture? Or can he take six months off and call next? If he can sit out, wait for Henderson-Pettis 2 to unfold, then face the winner, I'm fine with that. Because, no matter what, the right thing includes Edgar fighting for a title.
This brings me to another option. The one many people, including myself, have long said is Edgar's best bet: dropping to featherweight.
Jose Aldo
needs an opponent. Sure,
Hatsu Hioki
looked very good at UFC 144. Few people believe he'll pull off a shocker against Aldo. That's fine. The fight will come soon enough and the Japanese fighter, ranked No. 2 at 145, should have his chance to prove us all wrong -- much like Edgar did. But it's not an overly attractive fight, and won't sell a lick.
Aldo-Edgar has the potential to be tremendous -- for them, for us, for Zuffa. As of today, that's a dream fight. And it will remain so if Edgar has it in his soul to continue fighting at lightweight. If that's his call, he'll have to negotiate whatever gauntlet is laid in front of him. Zuffa can't force him to drop 10 pounds and fight Aldo, though they can keep him from an immediate title shot. Perhaps in doing so, Edgar's thinking may shift and the Aldo fight would become more attractive. We'll see.
While pondering what's right, how about including Strikeforce champion Gilbert Melendez in this discussion?
Melendez may very well be the best lightweight in the world -- he just needs a chance to prove it. Edgar-Melendez is an insanely attractive fight. It's tremendous business for Showtime. And in the interest of fairness, the fight might be the perfect play for Zuffa. Having Henderson or Pettis versus Melendez or Edgar would unify belts and answer every question about the division at the same time.
Which man would emerge as MMA's true lightweight world champion? The best we can do now is guess, and that's not good enough. As always, the point is finding out -- fighters like Henderson, Edgar, Pettis, Melendez and Aldo deserve nothing less.
That's what's right.
February, 26, 2012
2/26/12
12:52
AM ET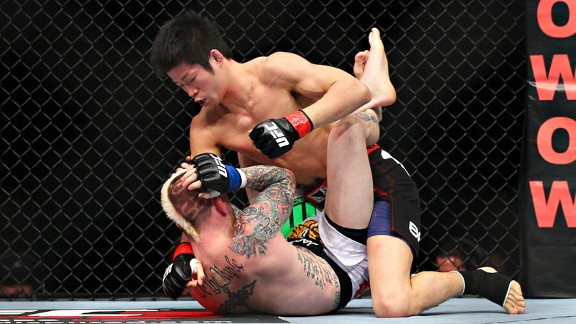 Susumu Nagao for ESPN.comA dominating display is exactly what Hatsu Hioki needed to create a title buzz.
If he didn't raise any eyebrows in his Octagon debut against
George Roop
back at UFC 137, highly regarded featherweight
Hatsu Hioki
did so on his native soil against stalwart
Bart Palaszewski
at UFC 144.
The reigning Shooto lightweight and Sengoku featherweight champion did more than live up to his reputation and billing -- he suddenly came across like an attractive fight for UFC kingpin
Jose Aldo
.
This was a feat for the "Iron Broom," who is largely considered the No. 2 featherweight in the world, including in ESPN's Power Rankings. Though he occupies the space, it felt a little like window-dressing to UFC-centric fans who only had the Roop bout to fill in the context. But for those who have followed Hioki's career overseas and saw him notch victories over
Marlon Sandro
and Takeshi Inoue in recent years, this felt more like it.
Hioki managed to dominate Rounds 1 and 3 by timing out his jab and setting up his takedowns for a unanimous decision (officially 30-27, 29-28, 29-28). Once he had "Bartimus" on the floor, Hioki dominated the position and kept him in survival mode throughout. Hioki was the quicker fighter; he reacted well to everything Palaszewski threw at him, and he capitalized on mistakes. Though he was a little tentative in the second round, Hioki was the dominant fighter throughout the bout, moving him to 2-0 in the UFC.
More importantly, it gave Hioki some wind behind his sails in his quest to face Aldo. Hioki has been a very quiet contender up until now, to the point that fellow 145ers like
Dustin Poirier
,
Erik Koch
and
Chan Sung Jung
(and even non-feathers like
Frankie Edgar
) were getting more mileage as legit threats to Aldo's belt. But it was a big statement fight with Palaszewski, which was a must for him to present himself as an imposition to Aldo. Hioki landed three takedowns, worked from dominant positions and was a tyranny when on top. It was the vintage Hioki that the UFC could use in marketing a title fight.
In other words, it was exactly the kind of fight that Hioki needed to make a case. And timing is on his side, too. If the UFC does indeed hold a card in Sao Paulo in June with
Anderson Silva
-
Chael Sonnen
II as the main event, a perfect table-setter would be Hioki-Aldo.
Of all the Japanese fighters on display in Saitama at UFC 144, Hioki's showing was perhaps the most impressive. And given Okami's loss to
Tim Boetsch
, the baton has been passed to Hioki to bring a UFC back to the Land of the Rising Sun.
November, 28, 2011
11/28/11
1:12
PM ET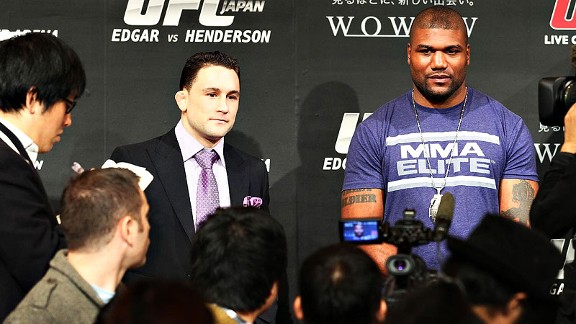 Susumu Nagao Look for Frankie Edgar, left, and Quinton Jackson to steal the show at UFC 144.
When the UFC went to Rio de Janeiro in August, it was a spiritual homecoming. A lot of time had passed since the salad days of 1998, and a grown-up UFC was crashing back triumphantly to the land that bore its earliest fruits.
That meant UFC 134 -- more commonly referred to as UFC Rio -- became a celebration of Gracie genealogy, of the Nogueira's, of assorted Silva's, of Chute Boxe, of the entire neglected culture of limb origamists everywhere who were so instrumental in changing the way people approached fighting. There were a dozen bouts on the card. Only one fight didn't have a Brazilian in it, an out-of-place clash between
Yves Jabouin
(French-Canadian) and
Ian Loveland
(American). Smartly, that was the first prelim of the night, designed to play out while people found their seats.
Otherwise, it was Brazilian pandemonium. In a Brazil against the world scenario, a Brazilian had his hand raised in 10 of the remaining 11 bouts. It was all about Brazil and its best fighters. The Cariocas were whipped into a frenzy that night.
UFC 144 is official for Feb. 26 at the Saitama Super Arena, and it's been simplified to UFC Japan. This, too, is a homecoming of sorts to the native roots. As Lorenzo Fertitta talked about the old recipes in a press release, saying, "Japan is the spiritual home of martial arts -- the world has learned from the Japanese many aspects of how to compete in hand-to-hand combat with respect and honor." This parlays nicely with the UFC Rio vibe, which courted a similar muse. If there's a difference, it's this -- Japan may be a spiritual home of martial arts, but not its best practitioners. There are scant few Japanese fighters on UFC Japan's main card.
[+] Enlarge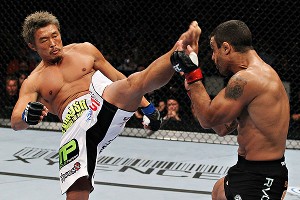 Al Bello/Getty ImagesYoshihiro Akiyama is the only Japanese fighter who will appear on UFC 144's main card.
In fact, there's only one:
Yoshihiro Akiyama
. And he's on there because he's fighting a big name in
Jake Shields
in a new weight class (170 pounds) after losing three in a row as a middleweight. This is a curiosity bout for a man in search of lost mojo.
Otherwise, UFC Japan's main card is all about the imports. Why? Because it has to be.
Frankie Edgar
from Jersey, against Colorado's own
Ben Henderson
for the lightweight belt. Pride star
Quinton Jackson
returns to Japan to fight wrestler
Ryan Bader
, who jumped at the opportunity to fight in Japan (just as he did in 2010 when the opportunity to do battle with
Keith Jardine
in Sydney arose). A re-imagined
Mark Hunt
takes on Frenchman
Cheick Kongo
in a heavyweight fight. Americans
Anthony Pettis
and
Joe Lauzon
round out the card in a lightweight bout.
Where's
Yushin Okami
, the man Dana White called "the best fighter to ever come out of Japan" ahead of his fight with
Anderson Silva
in Rio? He's on the prelims against revivalist
Tim Boetsch
. Okami headlines a fight in Rio as a stranger in a strange land (read: as prey for Anderson Silva), yet can't crack the main card in his native Japan. It doesn't help that there's a very real chance of a stylistic stalemate in this one, but the point is this -- the best fighter to come out of Japan doesn't exactly carry the importance that the imports do.
Same goes for the "Iron Broom"
Hatsu Hioki
, who underwhelmed in his debut victory against
George Roop
. He's on the prelims, even if it is a No. 1 contender spot he's fighting for against
Bart Palaszewski
. Ditto the "Fireball Kid,"
Takanori Gomi
(1-3 in his last four),
Norifumi Yamamoto
(1-4 in his last five),
Riki Fukuda
(coming off a loss to
Nick Ring
) and
Takeya Mizugaki
(who has traded wins and losses in his last eight bouts). All of these guys had successful careers in Japan that haven't yet translated to the Octagon. In fact, some of them wouldn't be on the roster if there wasn't going to be such a thing as UFC Japan, so there's no room for quibbling about placement.
Unlike with UFC Rio, UFC Japan won't (and can't) be painted as "Japan Against the World." It's more like the world coming to Japan for an exciting visit. If the UFC dotted the main card with the best Japanese fighters -- which taken as a collective, would look like wholesale mediocrity -- it wouldn't be fit for pay-per-view. And, as Dana White reminds everyone whenever possible, this is pay-per-view business.
Therefore, Frankie Edgar and Quinton Jackson will fetch the PPV buck as the UFC forays into Asia, and the local fighters will try and change a few notions in the relative quiet of their own backyard.
November, 3, 2011
11/03/11
6:32
AM ET

By Brett Okamoto
ESPN.com
Archive
When it comes to pointing the finger at judges in mixed martial arts, consider me one of the last in line to do it.
Human error is a part of professional sports. Umpires, referees, officials -- they occasionally get it wrong.
There hasn't been any outrage, really, over any of the judges' decisions at UFC 137. That's a little surprising, since there were eight bouts that were left in the hands of the judges on the card, but most were fairly obvious. Not a lot of controversy to break down here.
I would like to point out, however, one fight in which the judges might have gotten it wrong. And it just so happens this fight potentially carried heavy implications in the UFC featherweight division.
The fight is Hatsu Hioki's split decision win over
George Roop
. In the end, maybe it was the correct call. It was a very close fight, not to mention difficult to score due to the lack of offense by both fighters.
The deciding round turned out to be the first. All three judges agreed Hioki won the second and Roop notched the third.
Watching live from cageside, I scored the first round for Roop, along with the fight. After further review, my opinion stands. This round, though, illustrates somewhat of the problem when in MMA.
[+] Enlarge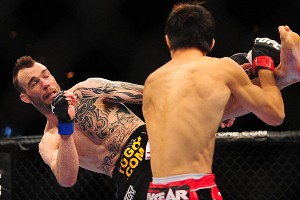 Mark J. Rebilas for ESPN.comGeorge Roop seemed to land the more telling blows during his three-round affair with Hatsu Hioki.
Roop clearly gets the better of the standup in the first two minutes. He lands a hard, straight right hand about a minute in, which ends up being the biggest shot of the fight. He also scores with a head kick and ends a few combos with some successful leg kicks.
With three minutes left in the round, Hioki ties Roop up and starts working for a takedown. For a good 90 seconds, nothing happens. They stand along the fence and grapple for position. Hioki briefly threatens to take his back, but ultimately doesn't.
At the 1:30 mark, Hioki scores a takedown. He falls almost immediately into Roop's full guard, though, where Roop lands a few hard elbows to the top of his head. Hioki clearly doesn't like that, moves to get away from them and allows Roop to his feet.
Roop finishes the round with a flurry, landing a two-punch combination in the final 10 seconds.
Judges Dave Hagen and Cecil Peoples scored the first round in favor of Hioki. Patricia Morse Jarman gave it to Roop.
Here's my beef with this: Hioki managed zero offense in this round. His best strike probably came in the form of a counter, which simply grazed off Roop's head. He recorded one takedown, which he worked about two minutes for. No submission attempts. No ground and pound.
The only reason you could argue he won the first round was Octagon control. Now, that is an aspect on which judges score, but it's the lowest priority. This is an offensive sport. Effective striking and grappling (submission attempts) are what should count most.
In reality, Hioki generated no offense the entire fight. Even when he worked to full mount in the second round, he threw a minimal amount of strikes from the position and basically went for no submissions. Roop got back to his feet with 20 seconds left after landing a beautiful upkick and ended the round aggressively going after Hioki.
It begs this longtime MMA question of: If I jab you once and break your nose, then you take me down and hold me there for four minutes, who won the round? Effectively, 100 percent of judges would score the round for fighter B, but which guy is in more trouble? The one with the broken nose or the one who was on his back?
I'm not saying that was the case here, but to sum things up, I watched
Hatsu Hioki
win his UFC debut despite doing very little offensively.
This was a significant fight. The UFC was looking at this, determining who the next shot at
Jose Aldo
would be. In the end, I guess it doesn't matter because even though Hioki won,
Chad Mendes
got the nod to challenge.
On Sunday, a day after UFC 137, George Roop tweeted president Dana White asking his opinion on the fight. I thought it was a valid question to ask.
September, 6, 2011
9/06/11
5:42
AM ET
TOKYO -- Nearly 14 years after its debut in the country, the Ultimate Fighting Championship will finally return to Japan.
In a Tuesday news conference at Shinjuku Wald 9 Theater -- the same locale used to screen UFC Live and Fight Night events on the big screen -- the UFC formally announced their plans to bring the Octagon back to the Land of the Rising Sun on Feb. 26, 2012.
While a November timeframe was announced for card finalization, all of the Japanese fighters currently on Zuffa roster -- presently, Yushin Okami, Yoshihiro Akiyama, Norifumi Yamamoto, Hatsu Hioki, Michihiro Omigawa, Takanori Gomi, Riki Fukuda, and Takeya Mizugaki -- were mentioned as likely participants for the event. The UFC will also be aiming for the heart of major-scale MMA in the country by staging the event at the Saitama Super Arena, frequent home to Dream and the defunct Pride Fighting Championships, which will be scaled to accommodate 20,000 seats.
News of the Japan return was delivered via a recorded video message from UFC President Dana White, who expounded on Japan's role in developing the sport and contributing some of its biggest names in Antonio Rodrigo Nogueira, Dan Henderson, and Mirko Filipovic.
Following White's address, Zuffa LLC Asia Executive Vice President and Managing Director Mark Fischer addressed those in attendance.
"We want to let everyone know that we will be bringing the same high level of UFC competition, the same world class show and presentation, and great fights and the greatest athletes in the world to Japan."
A 12-year veteran in spearheading the NBA's expansion in Asia, Fischer noted the economic potential for a UFC Japan show.
"To give another idea of the scope of this event, it will literally be witnessed by millions of fans all over the world," said Fischer. "Moreover, this event will be a boon for Japan's economy. For example, UFC 100 in Las Vegas generated more than $51 million for the local economy. In Sydney, Australia, our two events generated over $30 million for the local economy. We're pleased to bring the similarly anticipated event to Saitama and the greater Tokyo area."
Fischer also stated that UFC events in Japan and the Asia region would become regular destinations for the promotion.
"Let me also say that while UFC Japan in 2012 will be the first event for Zuffa in Asia, it certainly won't be the last. We hope to make UFC Japan an annual fixture on our calendar and we also have plans to follow-up with a series of high quality events across Asia," assured Fischer.
While there were no announcement as to whether the event would be a numbered or "Fight Night" event, it is planned to start in the same Saturday night time slot for Western viewers. Preliminaries are scheduled to begin at 10 a.m. Japan time, with the main card running from noon to 3 p.m. No details were given as to the event's local broadcast plans.
The UFC's debut in the country was on December 21, 1997 for the "Ultimate Japan" heavyweight tournament, which saw the UFC debut of Pride legend Kazushi Sakuraba and former UFC light heavyweight champion Frank Shamrock. The SEG-era UFC saw two more events in Japan with UFC 23 and UFC 25, in November 1999 and April 2000 respectively.
July, 10, 2011
7/10/11
8:12
AM ET
Former Sengoku featherweight champion Hatsu Hioki will make his Octagon debut against George Roop at UFC 137, the promotion announced Saturday.
Headlined by a welterweight title scrap between Georges St. Pierre and Nick Diaz, UFC 137 goes down Oct. 29 from the Mandalay Bay Events Center in Las Vegas.
Hioki, 27, has won 12 of his last 14 contests. The Japanese export has not lost since 2009, when he dropped a split decision to fellow UFC featherweight Michihiro Omigawa at Sengoku "Eleventh Battle." The Brazilian jiu-jitsu black belt captured Sengoku's featherweight title this past December, outpointing current Bellator Fighting Championships talent Marlon Sandro en route to a unanimous decision at "Soul of Fight."
Most recently, Hioki finished Donald Sanchez in April, ending the American's night with a triangle choke.
A lanky striker, Roop has seen his ups and downs under the Zuffa banner, posting a record of 1-2 in the UFC as a lightweight before cutting to 145 pounds and joining the WEC.
After starting 2010 with a draw and a loss, Roop won his first WEC contest in spectacular fashion, knocking out Chan Sung Jung with a head kick in September. The 29-year-old could not maintain that momentum, however, as he was battered by future title challenger Mark Hominick in January, lasting only 88 seconds with "The Machine." Roop rebounded from the defeat and looked better than ever in his last outing, dominating Josh Grispi at "The Ultimate Fighter 13" before finishing the fight with a third-round technical knockout.
June, 13, 2011
6/13/11
5:28
AM ET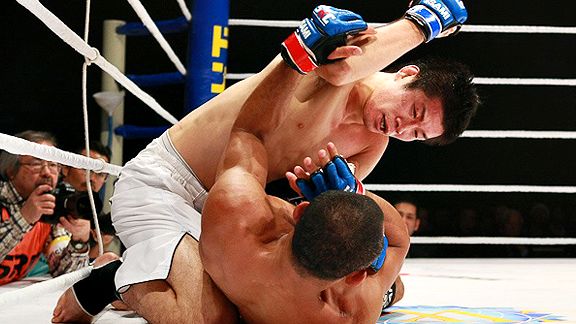 Taro Irei for Sherdog.comZuffa brass is keen on bringing Hatsu Hioki to the Octagon.
VANCOUVER, British Columbia -- Kenny Florian got through a self-imposed hell by not only making his weight cut, but by outlasting a hungry Diego Nunes for three rounds. It didn't help that his Boston Bruins lost an airtight 1-0 game to the Canucks to go down 3-2 in the Stanley Cup Finals the night before, nor that he took a beating from fans because of his allegiances. It took some guts to get through so many obstacles, but he did it and now he's "more than likely" to get a title shot against Jose Aldo, according to Dana White.
Yet, one of the more interesting spectators to attend UFC 131 was Japanese fighter Hatsu Hioki. He wasn't in town to watch hockey, nor to gloat over the lightweight Shooto championship he just vacated. He was in the building to talk scratch with the UFC, and to add a very interesting element to the 145-pound division. Nothing's been signed yet, but the operative word there is "yet."
"Yes, I would like a contract," Hioki told ESPN.com after UFC 131. "I haven't signed one yet, but yes, pretty soon."
ESPN currently has Hioki ranked No. 3 in the featherweight division, and his presence could open up some intriguing match-ups for the likes of Jose Aldo and Chad Mendes down the road. Hioki said earlier in the week that he would want to get a couple of fights in the UFC before he challenges for the belt, and make a detoured route to his destination.
So, presuming he got his initial glimpse of his future home in the Octagon, what did Hioki think the fights?
"It was an amazing event," he said. "It was the first time for me to see a live event that's a UFC. And Florian [versus Nunes] was a great fight, very tough fight. I am the biggest Florian fan. I like him very much. I am very glad to see him fight."
Funny, I was thinking the same thing about Hioki. North American fans don't know him (24-2-2) that well yet, but he's very tall [6-feet], moves extremely well, has a long, advantageous reach and a deep grab bag of submissions. It's only a matter of time before guys like Florian will be looking over their shoulder at the 27-year-old Japanese fighter that occasionally goes by the ominous nickname the "Iron Broom."