June, 28, 2012
6/28/12
6:34
AM ET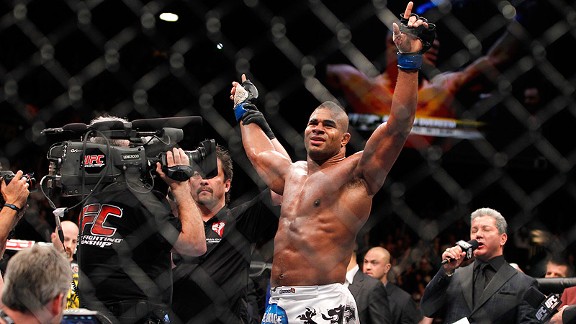 Ric Fogel for ESPN.comAlistair Overeem is in desperate need of image repair -- but just try telling him that.
Alistair Overeem
has grown accustomed to squashing things.
For the past five years, Overeem has stomped unabated though the heavyweight landscape of both mixed martial arts and professional kickboxing, amassing a combined record of 20-2-1, capturing the Strikeforce heavyweight title and winning the vaunted K-1 World Grand Prix tournament, all while appearing to spin the combat sports world on his finger like a massive basketball.
There have been so many lopsided victories and so many foes vanquished with such minimal effort, you can't really blame the 6-foot-5, 270-pound giant if he's come to believe himself invincible.
Perhaps it's that feeling of invincibility that leads Overeem to appear so nonchalant about his current public relations crisis, as if the surprise drug test that caught him with a testosterone level more than twice the legal limit in April will slip into the past as easily as, say,
Mark Hunt
,
Todd Duffee
or
Brock Lesnar
.
During
an appearance on FuelTV's Zuffa-produced "UFC Tonight" show
this week, the embattled Overeem was careful to cover all the proper bases. He blandly thanked the fans who continue to support him, said he believes he still deserves a chance to fight
Junior dos Santos
for the UFC heavyweight title and offered that he's already begun a regimen of voluntary drug tests in order to clear his name.
The issue wasn't so much what Overeem said as the way he said it.
"I'm back," he announced to begin his conversation with co-hosts Todd Harris and
Kenny Florian
, despite the fact he can't even begin the process of a comeback for five more months. Later, when discussing his situation with the Nevada State Athletic Commission, he corrected a slip of his own tongue by exclaiming, "I'm not even suspended!"
Technically, he's right.
Fact is, though, Overeem's image is far beyond the point where he can fall back on technicality, ambiguity and canned PR statements. Throughout this interview, he adopted the air of a man who believes that once he is able to clear the pesky hurdle of his relicensing hearing in Nevada come December, all will be forgiven and all will be forgotten.
Sorry to say, it may not be quite that easy.
See, Overeem appears to think the problem is that he tested positive for elevated testosterone prior to UFC 146. That's not it at all. The problem is that
fans don't believe in him anymore.
Rumor and innuendo have swirled around Overeem since he suddenly transformed himself from a rail-thin light heavyweight into a walking, talking mountain in 2006-07. For years fans have suspected that his massive weight gain and corresponding career resurgence were the product of PEDs. Now, they have evidence to support that notion. Evidence that frankly makes his entire heavyweight career look counterfeit.
That's not the kind of thing you can come back from with a few months of as-yet unverified drug tests. Earning back the public's trust? That could take years.
If Overeem really is undergoing voluntary testing, that's great, but most people just aren't going to buy it without a whole lot more transparency than what we got on "UFC Tonight." If he simply shows up in December with a stack of papers saying he's shipshape and squared away, it might prove good enough for the athletic commission, but it won't satisfy skeptical fight fans and it shouldn't satisfy UFC brass.
If he really wants to convince the MMA industry he's clean, Overeem needs to enroll in a voluntary testing program administered by a respected organization like Voluntary Anti-Doping Association and he needs to make the results (and everything else) public. If he refuses to go to such extremes, fans will have no choice but to continue doubting him.
He also needs to realize that it's going to take time, perhaps the rest of his career. Unfortunately for him, this is one issue he won't be able to squash without breaking a sweat.
March, 25, 2012
3/25/12
8:46
AM ET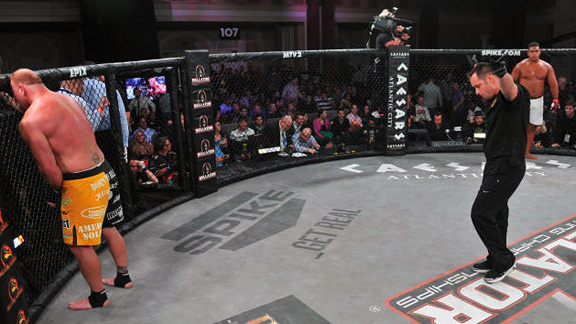 Courtesy BellatorThe Bellator heavyweight tournament hit a road block the moment this happened.
Throughout its first handful of seasons, the tournament format has been pretty good to Bellator Fighting Championships.
At the outset, Bellator's tournaments set it apart from the rest of the non-UFC MMA pack, giving fans an easily digestible concept to latch onto while effectively disguising a lack of organizational depth.
All of that was obviously to the company's benefit, but in light of recent events I can't help but wonder if Bellator has outgrown its current seasonal format and might be better off moving in a different direction when it takes up with SpikeTV next year.
Never has the need for change been more apparent than Friday, when Thiago Santos failed to make weight for his scheduled heavyweight tournament final against Eric Prindle. Santos' weigh-in snafu scuttled the already delayed end of Bellator's season five 265-pound draw and awarded victory to Prindle, who will now advance to face champion
Cole Konrad
at a later date.
For Bellator, it's about the worst outcome imaginable for a heavyweight tournament it spent the last six months trying to build. For nearly the last four of those months, we'd been waiting for the Santos-Prindle redux, after their original Nov. 26 bout was ruled a no contest when Prindle suffered a low blow that landed him the hospital.
Company brass tried to make it right last week, but were again forced to delay the fight because Prindle was reportedly suffering from the ever-popular "flu-like symptoms." On Thursday (which amounted to Bellator's third try with this pairing), Santos badly missed the 60-pound window proscribed to heavyweights -- checking in at a reported 276.8 pounds -- and the matchup was scrapped for good.
Prindle wins. Kind of. Not really.
In any case, the whole thing has been a lot of trouble for a tournament that will now never see it's conclusion.
[+] Enlarge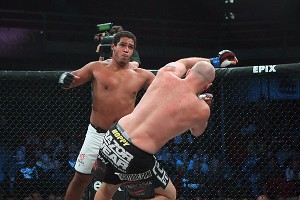 Sherdog.comThiago Santos, left, threw a wrench into the Bellator heavyweight tourney by showing up overweight.
You certainly have to feel bad for Bellator, an assumedly good-hearted organization made up of assumedly good people who all seem to be trying as hard as they possibly can to grow into a legitimate runner-up to the UFC. Unfortunately, marooned as it is on MTV2 until it can make the transition to Spike, Bellator continues to exist in a kind of strange suspended animation.
In this one instance, maybe that's a good thing. Had anyone been paying attention, the Santos-Prindle debacle would have been a major embarrassment. Fortunately, that doesn't necessarily seem to be the case. After last week's Bellator 61 drew a reported audience of just 108,000 -- the company's second-worst rating ever -- it's tough to argue that a significant number of people would've noticed even if Prindle and Santos had made it to the cage at Bellator 62.
As it stands, maybe all Santos' gaffe did was underline the flaws in Bellator's current format in a way few people saw, or will remember if the promotion goes on to find success on a channel with a well established track record in MMA.
If Santos had dropped out of a No. 1 contender fight in any other fight company, officials could have just subbed in somebody else, stubbornly insisted that the fight would still determine Konrad's next opponent and called it good. When you brand something as a "tournament" however, you can't really do that.
In a tournament, fans naturally expect there to be a beginning, a middle and -- in a perfect world -- an end. In other words, they expect some modicum of consistency. When you're dealing with MMA and especially with the heavyweight division (a weight class that is constantly pioneering new and interesting ways to screw up) consistency is awfully hard to come by.
Because of that, it might be better for Bellator to drop the tournament format entirely moving forward. Doing so would give it more matchmaking freedom and would never again put it in a position where it has to admit it can't finish what it started.
At the very least, it's clear that Bellator needs to have contingency plans in place for when disaster strikes. Having alternate fighters at the ready at all times might be a good start.
On the bright side, perhaps incidents like this one give Bellator the chance to pinpoint what's wrong and make the appropriate changes before next year, when (hopefully) more of the MMA world will be watching.
March, 19, 2012
3/19/12
1:53
PM ET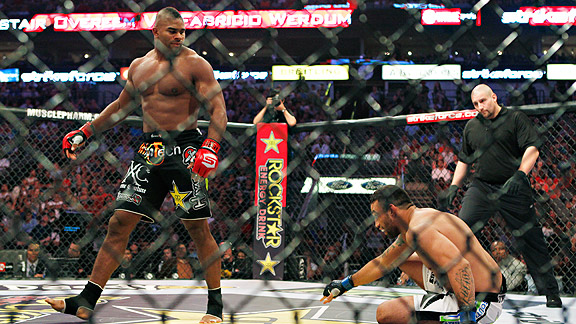 Ric Fogel for ESPN.comAlistair Overeem's three-round snoozefest with Fabricio Werdum was one to forget.
A couple of months from now, the UFC will go high concept.
Or at least, heavy concept.
Last week's confirmation that a bout between
Stefan Struve
and
Mark Hunt
will open the main card of UFC 146 on May 26 means that the show will be an all-heavyweight affair. For the first time in the company's modern history, it will put nothing but 265-pound fights on the pay-per-view portion of a broadcast.
It's the kind of thing that'll look great on a poster --
Five Exciting Heavyweight Fights! --
and the cherry on top will be
Junior dos Santos
defending his UFC title for the first time against the mountainous
Alistair Overeem
.
The public's fascination with heavyweights is well-documented, so this particular promotional gambit can't possibly hurt in the lead-up to UFC 146. Whether or not it significantly moves the needle while a slew of equally promotable, but lighter fighters are left on the undercard, though, remains to be seen.
Either way, it could be fairly instructive for the future.
Here's the problem, though: Our preoccupation with heavyweights, aside from the sheer spectacle of it all, is rooted in boxing, where conventional wisdom dictates that the bigger the dude, the better the chance of fireworks. In MMA however, this doesn't always translate. Sure, heavyweights can produce crowd-pleasing knockouts, but with four-ounce gloves, so too can flyweights. For the practical application of this, see: Benavidez, Joseph.
Though certainly in the running for most popular, MMA's heavyweight division is also arguably the one most likely to let you down. Heavyweights get tired. Heavyweights are often inexperienced. Heavyweight bouts can be over before you know it, or they can slog to 15-minute decisions that seem to take an hour. In other words, in this sport, 265-pound fights are typically either great or terrible, with very little gray area in between.
[+] Enlarge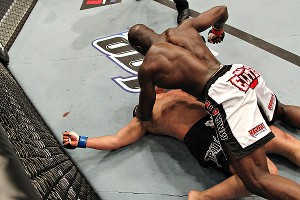 Josh Hedges/Zuffa LLC/Getty ImagesCome-from-behind wins like Cheick Kongo's are few and far between in MMA.
That makes UFC 146 a fairly significant risk for those who shell out the dough to watch it.
The heavyweight division has produced some marvelous entertainment in recent months -- stunning comeback wins from
Cheick Kongo
and
Frank Mir
both come to mind -- but those stellar outcomes feel more like the exception than the rule.
More often than not, heavyweight MMA fights go one of two ways: They become a boat race to see who can be first to stick one in the other guy's ear, ala dos Santos' 64 second title victory over
Cain Velasquez
last November, or then they run the risk of becoming tepid and exasperating letdowns like Overeem's decision win over
Fabricio Werdum
in the opening round of the Strikeforce grand prix last June.
When they're great, they're great. Worst case scenario? Well, when a heavyweight fight goes bad, there's nothing worse in all of MMA.
They can be so dreadful that fights like Gabriel Gonzaga's epic staring contest with Kevin Jordan still haunt our dreams, even though it happened at UFC 56, a little more than six years ago. That bout was so painful that not even Gonzaga's third round knockout victory via Superman punch could save it ... and that's bad.
Perhaps the best testament to the reliably unreliable nature of the heavyweight division is the overall history of the UFC 265-pound title, where inconsistency, short championship reigns and freak accidents have always been the natural order of things. Stays at the top are fleeting, and they are just as likely to end with a whimper as a bang.
It's likely there will be some great heavyweight fights at UFC 146. There is also a good chance some of the fights end up limping to the finish line. Those are the breaks when it comes to the heavies.
Personally, give me a card full of welterweights (and lighter) any day. They might not look quite as good on the poster, but they typically bring more action from bell to bell.
February, 14, 2012
2/14/12
5:56
AM ET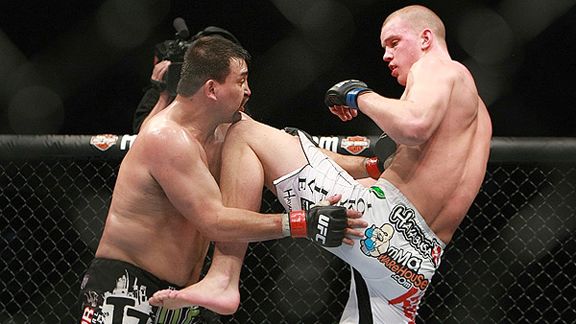 Ed Mulholland for ESPN.com For heavyweights like Stefan Struve, getting a leg up on the competition has been a tall order.
If it's hard to gauge exactly where supporting characters like
Stefan Struve
and
Dave "Pee Wee" Herman
currently stand in the UFC heavyweight division, it's because -- even by its own chaotic standards -- the entire weight class has experienced an unprecedented amount of flux lately.
Long the fight company's most problematic problem child -- for years typified by injury, a mélange of delays and a revolving door of champions -- it's almost as if someone decided to hit the reboot button on the entire 265-pound class during the last few months.
When Struve and Herman meet on Wednesday in the co-main event of the UFC on Fuel, it'll be amid a heavyweight division that has arguably never been more interesting or more vibrant.
Or, frankly, more foggy.
Cain Velasquez
had been hailed among the UFC's new vanguard of "dominant champions" until
Junior dos Santos
toppled him last November, within one minute, four seconds of Velasquez's first title defense. In addition, the division saw the sudden departure of its biggest draw when
Alistair Overeem
sent
Brock Lesnar
backpedaling into retirement at UFC 141 a bit more than a month later.
Add to that the arrival of other Strikeforce big men like
Fabricio Werdum
,
Antonio Silva
and
Chad Griggs
(not to mention the likes of Lavar Johnson and Shane del Rosario) as well as the impending emergence of the smaller organization's grand prix winner (
Josh Barnett
or
Daniel Cormier
) and the immediate future of this predictably unpredictable division starts to look even more volatile than normal.
We know matchmakers are hoping dos Santos and Overeem will meet at UFC 146 in May, in a heavyweight title match that couldn't have been much more than a fantasy as recently as a year ago. Divisional stalwart
Frank Mir
will reportedly welcome Velasquez back from injury this summer, but after that (to quote one of MMA's most tired axioms) anything can happen.
While all of that makes it hard to define the stakes this week between guys like Struve and Herman, it also perhaps affords them an unusual opportunity. If the 265-pound class is truly as wide open as we think it is right now, then that presents a unique opportunity for mid-carders like these two to vault up the ranks.
[+] Enlarge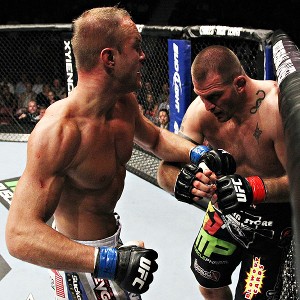 Donald Miralle/Getty ImagesDave Herman, left, can punch his way up the heavyweight ladder with a win on Wednesday.
Struve is still just 23 years old; amazing when you consider that his nine previous Octagon appearances give him more UFC experience than anyone on Wednesday's card besides
Diego Sanchez
. The 6-foot-11 striker has been plagued by inconsistency throughout his stay in the big leagues, but now 3-1 in his last four fights, Struve could certainly crack the top 10 this year if he can keep the ball rolling. His never-say-die style makes him exactly the kind of fighter UFC brass likes to promote, so it's not impossible to imagine him becoming a contender with a few more wins.
Herman, meanwhile, saw a proposed bout at UFC 136 scuttled last year when he tested positive for marijuana long before testing positive for marijuana became the rage. He arrived in the UFC with a 20-2 record and fair amount of buzz in mid-2011, but after a fairly lackluster performance during a win over
John Olav Einemo
in his Octagon debut at UFC 131 (and then the weed thing), Herman is still looking for some much-needed traction in the division.
Naturally, nothing is going to happen for either of these two overnight. The winner of Struve-Herman will assumedly come out of their fight with a little momentum and the possibility of a future bout with someone a little further ahead in the pecking order. That's about all they can hope for in this world.
If we've learned anything from the recent history of the division, though, it's that forecasting where the heavyweight class will be a year, or even six months from now, is a fool's errand.
Given its penchant for tectonic shifts, there's just no telling where a couple of nice-looking wins might leave a young, up-and-coming fighter at this point.
December, 20, 2011
12/20/11
5:08
PM ET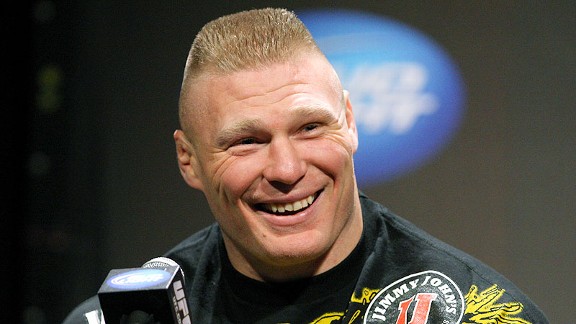 Ed Mulholland for ESPN.comBrock Lesnar was never a man of few words -- until it came time to talk about his health.
Brock Lesnar
was in no mood.
No mood to talk about his health, anyway. Not during Monday's UFC 141 conference call, when the former heavyweight champion bristled at repeated questions about his recovery from a second bout with diverticulitis, which has kept him out of the cage since October 2010.
"That's the best you can come up with today?" Lesnar eventually retorted to the reporter unlucky enough to ask that one question too many about how the big fella was feeling. "I feel great. I feel very, very good."
This was not unexpected, obviously. From the beginning of his MMA career, Lesnar has taken an adversarial stance with the media and continued queries about his health force an already very private man to not only talk about his personal life, but to confront his own mortality in a way he'd probably rather not think about. Maybe as a result, word on the street is that, aside from the prerequisite news conferences and long-distance calls, the UFC's biggest pay-per-view draw won't be doing much PR leading up to his main event bout with
Alistair Overeem
on Dec. 30.
One thing seems strange, though. As painful as it may be for him, shouldn't Lesnar be
pleased
if the MMA media only wants to ask him about his health? After all, these questions should be far easier to answer than the ones about his stand-up game.
Even if no one wants to say it to his face, the thing we all whisper about Brock Lesnar when he's not around is that he doesn't like to get hit. And make no mistake, Overeem is going to try to hit him.
Lesnar's aura of invincibility may have completely come undone during a UFC 121 loss to
Cain Velasquez
late last year, but the cracks had begun to show before that. The moment Lesnar started to look vulnerable on his feet can be traced back to his UFC 116 bout against
Shane Carwin
when, a minute, two seconds into the first round, Carwin stuck him with an uppercut and Lesnar recoiled like a man just realizing for the first time how bad that can hurt.
He went on to win that fight, of course, due to the good graces of referee Josh Rosenthall, but in the wake of an even more disastrous performance against Velasquez and then a lengthy absence from his intestinal ailment, questions about what Lesnar has done to shore up his punch phobia should be front and center here.
He's given every impression that he's indeed fully recovered from the diverticulitis, but his ability either survive (or avoid completely) Overeem's stand-up game remains the biggest mystery. We learned against Carwin and Velasquez that, no, Lesnar won't be able to instantly take down
everyone
in the UFC. What's worse, those last two performances left us with the impression he didn't really have a back-up plan.
Will he have one next week, when he steps in against the most dangerous striker he's ever faced? Will he be ready when that first punch pops his head back? Can he take Overeem down before it comes to that? And if he can't or he can't keep there, what then?
These are the question that should cause Lesnar the most consternation before UFC 141. The ones about his fists and his face, not the ones about his stomach.
November, 22, 2011
11/22/11
6:43
PM ET
His awful three-fight losing streak finally snapped,
Fedor Emelianenko
must now turn his attention to a concept he's long been loath to even acknowledge: The future.
After picking apart sitting duck
Jeff Monson
to claim his first win in more than three years on Sunday, Emelianenko took the microphone at M-1 Global in Moscow to proclaim that he's transformed himself into a new man -- one ready to move forward and erase the memory of his recent blunders.
Next stop: Olympic judoka turned occasional MMA fighter Satoshi Ishii in Japan on New Year's Eve.
Of course, for a guy who has always seemed a lot more comfortable dealing with the past, it's hard to believe there could ever be a "new" Fedor. Even if such a creature did exist, it would be equally impossible to know where he's headed.
As the sport underwent an unprecedented period of growth and change during the last five years, Emelianenko steadfastly refused to evolve with it. He never altered his training, never sought out new skills, never changed his fighting style. Essentially, he simply sat on the laurels he had established from 2002-06, when he was Pride's unbeatable champion.
Not surpringly, this approach was met with mixed results, and by the time his disastrous run in Strikeforce ended earlier this year, most everybody was ready to leave his career for dead.
In fairness, though, he did look like something of a changed fighter against Monson. Emelianenko came out of his corner content to work a steady game plan, stalking his opponent down with a barrage of leg kicks and even -- wonder of all wonders -- straight punches. He floored Monson on numerous occasions and if playing a bit of possum was part of the American's strategy, Fedor wasn't going to be fooled again. He didn't rush in to try to swarm the downed man as he might have a couple of years ago, instead proceeding with some uncharacteristic caution before inviting Monson back to his feet again and again.
[+] Enlarge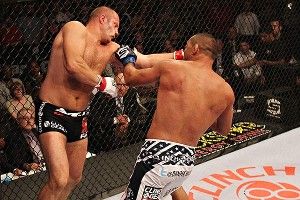 Josh Hedges/Getty ImagesA poor game plan cost Fedor Emelianenko dearly against Dan Henderson.
Is this a Fedor who is finally learning from his mistakes? It's too early to tell -- especially against such a handpicked patsy -- but the performance was, at least, encouraging.
Two of Emelianenko's recent losses can be partially blamed on his own recklessness, after all. His fall from legend-status began when he practically swan dived into Fabricio Werdum's waiting triangle choke in June '10, perhaps considering himself immune to trivialities such as submissions. A little more than a year later Fedor elected to turn an absolute must-win fight against
Dan Henderson
into a veritable coin flip, engaging Hendo exactly where he is most dangerous -- in a brawling slugfest. Emelianenko called tails, and Henderson knocked his head off.
Is it possible that in the wake of those performances someone in his close cadre of advisors finally realized that Fedor's approach wasn't working? Sure. Is it also possible that, with that knowledge in hand, they've transformed him into a fighter who might actually win a few bouts in today's 265-pound division? Absolutely.
But a whole new Fedor? Don't hold your breath.
Clearly any performance against Monson can only be given so much weight. Same with Ishii, who has been fairly stagnant since changing out of gi in 2009. If what Emelianenko wants out his career from here out is to string together a couple of victories, make a little more money and then retire back to Stary Oskol, that's probably doable.
Anything more ambitious than that? Well, that's probably just not in his future.
October, 28, 2011
10/28/11
6:44
AM ET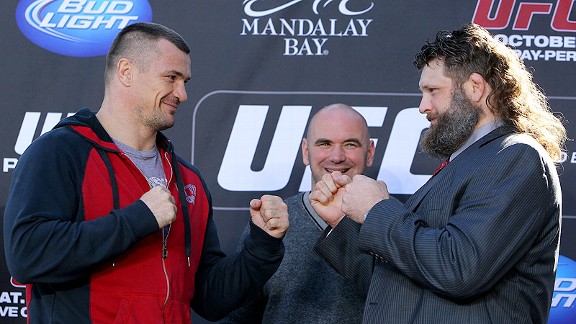 Josh Hedges/Getty ImagesNeither Mirko Filipovic, left, nor Roy Nelson can afford any kind of misstep on Saturday.
LAS VEGAS -- Though they face markedly different futures,
Roy Nelson
and
Mirko Filipovic
are each keen to erase the mistakes of the past on Saturday night at UFC 137.
One wants their heavyweight fight to be a throwback, to prove he's still capable of the vicious striking and highlight reel finishes that made him a star back in the glory days of Pride. The other hopes it will be a sign of things to come, to show he can once again be a contender in the 265-pound division and that his own best days are still ahead of him.
If they can agree on one thing, it's that this bout is the most important of both their careers.
The 37-year-old Cro-Cop seemed more wistful than anything else during Thursday's prefight media conference. His answers started with their trademark brevity, but grew longer and more introspective as he went on. He acknowledged that this could be his last bout and said it was important for him to have a good showing not only because he's coming off two straight losses, but because his UFC career in general hasn't gone the way he might have liked.
"I will never be able to forgive myself," Cro-Cop said of his disappointing showing, which began with him putting up a 1-3 record in 2007. "I just blew it. When I came to UFC I was treated like a king. Even today they treat me like a king and I just didn't make it. The reasons are not important. Everything was good when I was in Japan and then, unfortunately, the injuries started. I had six operations in the meantime and it all reflects, especially in your head. But I'm relaxed now, especially since I'm aware this could be my last fight."
[+] Enlarge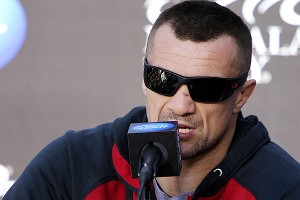 Josh Hedges/Zuffa LLC/Getty ImagesMirko Filipovic has sounded like a man with one foot out of the cage door during recent interviews.
Cro-Cop sounded most excited about a future raising his two young children at home in Croatia, but said he'd trained hard for his meeting with Nelson. He said his conditioning is perhaps the best it's ever been and that he's looking forward to putting on an exciting show in his swan song in the sport, if indeed that's what it turns out to be.
"Why would I leave [MMA]? There are 37 or 38 reasons [because] that's exactly how old I am ...," Cro-Cop said. "Of course I could keep fighting, but every man comes to the point when he asks himself, 'Do I need it anymore?' I have two sons, two kids at home and [there are] so many things that I would still like to discover."
Nelson too seems like a new man. Coming off a disastrous performance against
Frank Mir
that drew criticism from all sides at UFC 130, he's obliged UFC President Dana White in losing some of his trademark belly and even looked resplendent -- sort of -- in a suit and tie to go along with his shaggy beard and long hair at Thursday's event.
The one constant remained Nelson's sense of humor. He joked, in a prickly sort of way, about people writing off Cro-Cop after his recent losses. If back-to-back losses mean you're over the hill, Nelson said, then count him in, pointing out his own defeats by Mir in May and
Junior dos Santos
at UFC 117.
"For this fight, everybody was talking about Cro-Cop retiring," Nelson said. "Apparently if you lose twice you have to retire, so apparently I'm retiring [too]."
Nelson obviously isn't as close to pulling the plug as Cro-Cop -- and White shied away from questions about whether Nelson needs to win this one to keep his job -- but the message was clear: If "Big Country" wants to secure that bright future for himself, he can't afford to take Filipovic lightly this weekend.
July, 18, 2011
7/18/11
6:32
AM ET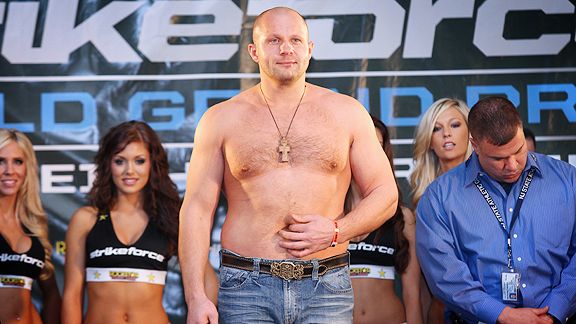 Ed Mulholland for ESPN.comTeam Fedor feels their charge can give any UFC heavyweight a run for his money.
Today's heavyweights would "struggle" against
Fedor Emelianenko
if he gets his mind 100 percent focused, that is the opinion of the Russian's long-term mentor Vladimir Voronov.
More »