August, 22, 2013
8/22/13
11:37
AM ET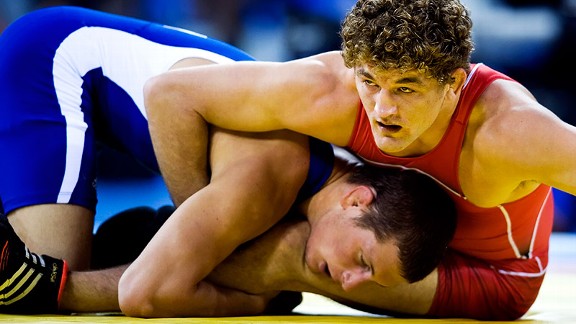 David Eulitt/Kansas City Star/MCTBen Askren transitioned from the 2008 U.S. Olympic team to an unbeaten run as Bellator champion.
CARSON, Calif. -- Drip. Drip.
Red droplets won't stop falling from
Steve Mocco's
nose.
"It's been bleeding for a while," he said, not needing to be asked before saying something. "You just tap it and it starts bleeding."
Drip. Drip.
The pattern held steady during half-minute intervals, and Mocco made proper use of the paper towel that was balled up in his meaty right hand. Moments after his third professional MMA victory, a decision against
Lew Polley
, Mocco smothered a folding chair inside his StubHub Center locker room, nodded, dabbed the drips away, and smiled.
Accomplished wrestlers like the two-time NCAA super-heavyweight champion -- one of seven men that comprised the 2008 Olympic freestyle team -- seem to go about their business as if these type of scenarios are normal. Drip. Drip. It's comfortable. Almost reassuring.
Standing a shade under 6-feet, the 260-pound "Bear" is among four members from the '08 freestyle crew doing well in MMA. Mocco,
Daniel Cormier
,
Ben Askren
and
Henry Cejudo
have a smooth 31-0 combined record.
"We all did what normally you do after wrestling," Cormier said. "Just we fight, too."
Positive results have prompted chatter about their success to "pick up steam," said Cormier, who served as team captain at the Beijing Games. When kidney failure tied to weight-cutting prevented him from competing in consecutive Olympics, Cormier shifted his focus to MMA.
Today he's 12-0, widely considered a top-three heavyweight, and is closing in on a UFC title opportunity.
Prior to this new life, Cormier's old one in Oklahoma was uninspired.
Work and video games occupied much of his time, which wasn't going to cut it after a lifetime pursuing pure competition. Cormier struggled, understandably, and a couple of times had to rely on his close friend and fellow national team wrestler,
Muhammed Lawal
, to help pay the mortgage.
"It was hard," Cormier said. "After retiring from wrestling, I didn't have much."
The sport of mixed martial arts became a legitimate option after Cormier saw how well "King Mo" did while fighting in Japan. "You should do it," Lawal liked to tell him. In fact, Lawal is credited with planting the MMA seed in the minds of the '08 wrestlers. Being repetitive and consistent, like Mocco's drip, drip, apparently worked.
MMA was familiar to the group, of course. They enjoyed discussing the sport, but it certainly didn't consume them during the run to Beijing.
"I don't think it was ever a 'plan,' " Askren said. "Just each of us found our own way to MMA."
Being in the right place at the right time had a lot to do with that.
During the 2004 Olympic cycle, UFC had yet to launch "The Ultimate Fighter" reality show. Four years later, UFC was pulling huge pay-per-view numbers and attracting many of the sport's best fighters because that's where the money was flowing after the demise of Japanese MMA.
It was no coincidence, Askren said, that "you've got the seven best [wrestlers in America], and four of them decide to do MMA."
Currently a free agent after defending the Bellator MMA welterweight belt last month for the fourth time, Askren (12-0) said he'd like to wind up in the Octagon, which would bring him closer to being the No. 1 welterweight in the world.
[+] Enlarge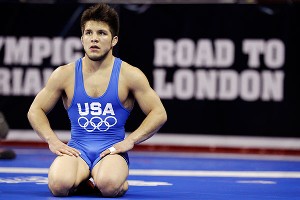 AP Photo/Charlie NeibergallUnbeaten in his first four MMA bouts, 2008 Olympic gold medalist Henry Cejudo is regarded as a top prospect in the flyweight division.
After falling short of qualifying for the 2012 Games, Cejudo and Mocco made their moves and have been busy. Cejudo, a gold medalist in '08, made his MMA debut this spring. He won his first four fights with little problem, and his next contest is expected to be announced on Monday.
Cejudo is regarded as a top prospect in the flyweight division. Mocco, meanwhile, stepped into the cage for the first time last year. Of the four Olympians, he most resembles a work in progress.
"I don't want to compare myself to them yet," Mocco said. "I feel like I have a lot more to prove. They're established, good fighters."
Facing a late replacement during Friday's
Resurrection Fighting Alliance 9
card, Mocco engineered a decision win that didn't please many fans seated in the outdoor venue. Still, he showed up punching, and grappled as he pleased. Mocco and his camp, headed by American Top Team's Ricardo Liborio, sounded satisfied. As satisfied as they can be, at least.
"A lot of people expect too much from Steve," Liborio said. "He's a great name in wrestling. There's a lot of expectations of Steve as a contender, and there's no doubt that he's going to be. We just need more time. That's why he's in RFA now. I think there's enough contenders here, people with quality, that we can achieve our goal to get to the UFC and stay."
Competitors on Mocco's level understand the formula well. Work hard, make the most of what you have, and anything can happen. The heavyweight looked noticeably slower against Polley than he should have. He said he needs to work on resetting after exchanging on the feet. There are many nuances yet to be discovered.
"He'll get the most out of what he got," Liborio said. "He'll find out if he can be UFC champion or not."
"I'd like to think so," Mocco said between drips, "but we'll find out one way or the other."
May, 15, 2013
5/15/13
4:20
PM ET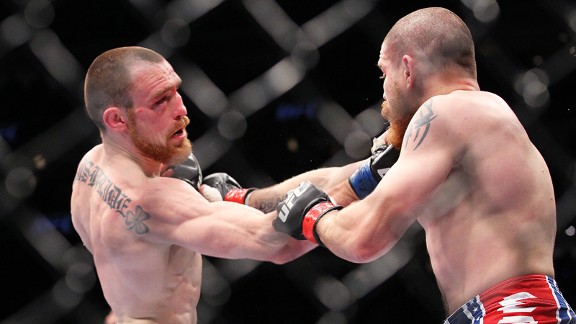 Ed Mulholland for ESPNPat Healy's UFC 159 victory over Jim Miller was overturned after he tested positive for marijuana.
UFC 159
karma, you did it again.
Pat Healy
revealed Tuesday he was popped for pot after dismantling
Jim Miller
in Newark a couple weeks ago. So the one guy who appeared unharmed -- better yet, better off -- following the weirdest Zuffa event since the UFC's debut in Las Vegas in 2001 has crashed back to earth.
This figures.
The submission win, which vaulted Healy into most top-10s at 155, was overturned, and he'll need to forfeit $130,000 in bonuses. Yeah, the same "life-changing" money the 29-year-old mauler talked so blissfully about postfight. Zuffa, it seems, will withhold those bonuses for good.
It's the promoter's decision, which may come across as curious since UFC executive Marc Ratner asked the Nevada State Athletic Commission in March to reconsider meting out hefty punishments in the wake of marijuana cases.
"Right now, I just cannot believe that a performance-enhancing drug and marijuana can be treated the same," Ratner said at the time. "It just doesn't make sense to the world anymore, and it's something that I think has to be brought up."
As is usually the case, UFC is the entity that sets the tone. Rescinding Healy's bonuses for fight and submission of the night certainly sends a clear message -- even if it contradicts what the company's head of regulatory affairs advocated for less than two months ago.
Healy said in a statement that he takes responsibility after making a poor life choice a month before the bout. So karma did its thing with him. What about the rest of us? Are we done? Has penance been paid? Or will the bad mojo surrounding
Jon Jones'
ill-fated booking against
Chael Sonnen
linger?
Hunting for answers
If next weekend's heavyweight title eliminator between former UFC champion
Junior dos Santos
and late bloomer
Mark Hunt
is scrapped, you know what I'm blaming. (Hint: see above.)
[+] Enlarge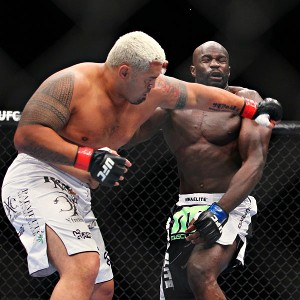 Susumu Nagao for ESPN.comThe UFC believes Mark Hunt will be able to secure a visa in time for his UFC 160 bout with Junior dos Santos.
As of now, though, the UFC says Hunt will secure a visa from New Zealand to the U.S., and will step into the Octagon on May 25 at the MGM Grand Garden Arena. There is no Plan B.
Hunt suggested "some stupid misunderstanding" is keeping the U.S. Consulate from allowing the heavyweight entry into the country. It has been reported that a past legal issue, which Hunt said "happened a long time ago" and "should be cleared up," is responsible for the delay.
Living on the other side of the world, Hunt didn't want to arrive in Las Vegas less than a week from his bout. He's wary because the last time he fought in the desert for K-1, in 2003, he didn't have time to acclimate. Or as Hunt put it during a conference call Tuesday to promote
UFC 160
, "climatize." He said he's frustrated.
"At the end of the day, I want to get out of here and get to the bout with Junior," Hunt said.
UFC director of communications Dave Sholler said the promotion anticipates Hunt "making his way to the U.S. this weekend."
Cejudo will fight
Following up on a story that ran a couple weekends ago, 2008 Olympic wrestling champion
Henry Cejudo
will fight May 18 in an unregulated Gladiators Challenge event outside Sacramento, Calif.
Cejudo's manager, Bill McFarlane, continues to object to the opponent, Miguelito "Darkness" Marti, whose record is unverifiable, and the conduct of the promoter, Tedd Williams.
"It has been almost one month since we asked for validation and it simply is not forthcoming," McFarlane said. "Unfortunately, misrepresentations and misinformation only continues. A Gladiator Challenge representative has acknowledged substantial operational weaknesses, throughout the organization, including inadequate recordkeeping and the urgent need for immediate changes. Again, we have been promised that necessary changes will be made, and are hopeful that they will follow through on their promised changes immediately."
Williams stands by Marti, claiming the unknown would beat Cejudo's previous opponents if he fought them all -- at the same time. It's all a bit ridiculous. Marti has published several videos on YouTube, including a pro wrestling response to my story on the fight.
"So go ahead keep looking at my Facebook. Look me up on Google. You can search the ends of heaven and earth and you won't find out nothing about me," Marti cautioned. "Because you call yourself Henry 'The Messenger' Cejudo, well, I can guarantee you this: When 'Darkness' falls upon you, I'll have you questioning your faith."
Right. So this is happening on Saturday.
Bellator champ wants more drug testing
Bellator welterweight champion
Ben Askren
, a member of the U.S. Olympic wrestling squad that featured Cejudo, took to Twitter over the weekend to mock an article about why fighters competing in his promotion don't fail drug tests.
"Hard to fail a test when you don't take it," Askren wrote. "Only been tested once!"
[+] Enlarge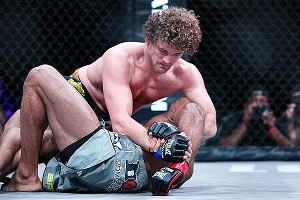 Sherdog.comBen Askren has been outspoken about what he perceives to be a lack of drug testing in Bellator.
That's once in 11 fights (eight of which have come under the Bellator banner).
Askren has long been an outspoken critic of the state of performance-enhancing drug use in mixed martial arts. For his last bout, which happened on unregulated tribal land in Oklahoma, he agreed to a testing program conducted by the Voluntary Anti-Doping Association. He believes the onus is on commissions to handle testing, but relying on that alone leaves gaping holes in how Bellator fighters are tested.
"Testing by state athletic commissions is discretionary by each commission, and Bellator is held to exactly the same standard drug-testing rules and regulations as is the UFC," said the promotion's director of public relations, Anthony Mazzuca. "Bellator conducted 11 events from January through April 2013, and each and every one of those events were fully controlled and regulated ABC-sanctioned events."
Bellator is on shaky ground trying to compare itself with the UFC when it comes to being serious about drug testing. Zuffa has come very far in this department, a major difference between its brand of MMA and everyone else's. If Bellator's relevance continues to expand under parent company Viacom's watch, its drug-testing standards will only come under more scrutiny.
The toll that Bellator's tournament format takes from fighters, with the potential for three bouts in three months, makes it an obvious place where PEDs may come into the picture. There's plenty of room for Bellator to grow here. Good job by Askren, maybe Bellator's best champion, for raising awareness.
May, 5, 2013
5/05/13
9:40
AM ET
Olympic champion
Henry Cejudo
planned for a smooth and quiet transition from amateur wrestling to professional mixed martial arts.
But stepping into his fourth fight after three months as a pro, Cejudo's manager is threatening to pull the 2008 gold medalist from a Gladiator Challenge fight May 18 outside Sacramento, Calif., against little-known Miguelito "Darkness" Marti -- unless the promoter provides clear proof of Marti's history.
"His record, as conveyed by Gladiator Challenge, changes as much as a parent changes a baby's wet diaper," said Cejudo's representative, Bill McFarlane, who contacted ESPN.com to express numerous concerns about the contest.
Marti was the matchup proposed on April 20 by Gladiator Challenge founder and COO Tedd Williams when featherweight Kevin Montejano, whose name appears opposite Cejudo's on the event poster, had problems trying to make a catch weight of 128 pounds.
Williams told McFarlane that Marti's record was 3-2, but the official online record keepers for MMA offered no proof. Type "Miguelito Marti Darkness" into Google and you'll see three videos. He goes after it during a Pepsi dance off. A training session pops up and it looks like he has some idea what he's doing. And then there's an XARM contest during a Gladiator Challenge event (XARM, the brainchild of UFC co-creator Art Davie, pits competitors who are linked as if arm wrestling, all the while being allowed to punch, kick and submit the other man). Prior to having one of his arms tied to his opponent's, Marti was announced as 7-2 in MMA.
"Marti's record continues to evolve and that is not normal and should not be the case," McFarlane wrote in an email.
[+] Enlarge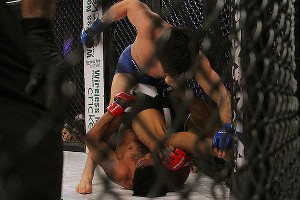 Jose de Orta/Sherdog.comHenry Cejudo, top, is already learning of the politics that come into play outside the cage.
Cejudo's manager went back to Williams "for clarification on Marti given the lack of information on Sherdog.com and mixedmartialarts.com, and the XARM exhibition inconsistency."
The next time they spoke, Williams said Marti's 3-2 record was in XARM and Marti had no MMA fights. Then Williams "came back with an email saying his real MMA record was 4-2."
Williams, a retired UFC veteran, told ESPN.com that as far as he knows, Marti's record stands at 4-2, and that "one or two" bouts should have been reported to MMA's official record keepers, "but I can't find them on Sherdog, so I don't know." Williams suggested the sport's unregulated past makes it impossible to keep accurate ledgers.
"Marti's a good fighter," said the promoter. "He's that undercard type fight that they asked for.
"The guy is tough and small. It's hard to find those kind of guys. Obviously he's much more of an upright fighter, but he's a stud on the feet."
After McFarlane voiced concerns, Williams said Gladiator Challenge offered up 35-year-old Stephen Abas, a 2004 silver medal winning wrestler from the U.S. He's 2-0 in MMA but hasn't fought since 2010.
"Stephen Abas really wants to fight [Cejudo] badly," Williams said. "They refused.
"It would be a compelling fight, a gold medalist versus a silver medalist, they've competed before and Henry's beat him in wrestling. It's a great story."
McFarlane, a self-described politically savvy and connected ex-venture capitalist, "brought up all kinds of stuff" about Abas outside the cage, Williams said, "and none of it matters."
McFarlane confirmed that Abas was offered up as an opponent. He said there wasn't nearly enough time for either man to prepare properly, but didn't rule out a fight down the road. However, he declined to address his conversation about Abas with Williams.
"It's inevitable, I see those two fighting one another," said the promoter, who believes McFarlane is "fabricating reasons why they don't want to fight" Abas.
In February, a multi-fight deal between Cejudo and the 13-year-old California-based promotion was announced. The idea was for Cejudo to cut his teeth off the beaten track, gain experience without much media attention -- though McFarlane said ESPN and Fox are doing pieces on the politically engaged fighter -- and for six fights at least, build on his skills prior to moving onto bigger and better things.
At some point soon, Cejudo's competition will improve. His first three fights, including two inside Arizona's World Fighting Federation, resulted in opening-round wins against opponents offering a combined and verified 6-19 record.
Gladiator Challenge conducts 90 percent of its events on tribal lands, Williams said.
Urijah Faber
,
Quinton Jackson
,
Rashad Evans
,
Travis Browne
and Robbie Peralta all did the sovereign nation circuit, and since MMA isn't under federal legislation like boxing, many fights go unregulated and unreported.
California State Athletic Commission executive director Andy Foster doesn't wake up nights thinking about it, but "any time we have unregulated events happening, it's a problem."
Foster, an affable Georgian who took over the struggling commission late last year, held several discussions with Williams about bringing the cash-strapped regulator onto tribal lands for Gladiator Challenge events. If this happens it would elicit new fees for the promoter, create new standards for the commission, such as allowing more than 20 bouts on one card (a regular practice for Gladiator Challenge that could cost the state additional money to oversee), and require a wider range of medical examinations for the fighters.
Foster also mentioned one of the key reasons for regulation is to ensure proper matchups.
Besides four guaranteed fights plus the option of two more, Cejudo and McFarlane knew what they signed up for with Gladiator Challenge. According McFarlane, Williams promised the promotion's new owner, billionaire Bruce Kopitar, would deliver "higher production value, there would be larger venues, and there would be sanctioned fights."
"He knew what he was getting into when he signed the contract," Williams countered. "He knew where he was fighting, these casinos and under what terms. Why it's an issue now, this is the first time I'm hearing it."
Williams said he has plans for his promotion, and wants to "modernize MMA," but wouldn't expound. It's yet to happen, McFarlane noted. And while he isn't sorry Cejudo signed the deal, he's not far off.
"It was a mistake to rely on those representations," McFarlane said. "The first fight was very poorly organized. This fight will be the same thing."
McFarlane didn't like that fighters could use their own gloves, or that hand wrapping wasn't being closely watched. He has concerns over the level of medical testing that is required of combantants. This was expressed to Williams, the manager said.
"Had the CSAC been involved in lieu of Gladiator Challenge pretending to be the CSAC stand-in, the vetting process would have been done and there would be no uncertainty" about Marti or Cejudo's participation on the 18th, McFarlane said.
With half the year already mapped out, Cejudo's schedule is mostly locked in. On one side of the event poster for May 18, Cejudo is pictured with the gold medal draped around his neck, his right hand over his heart. The name of the event is "American Dream." He'll take a break from fighting during a two- to three-month trip to Brazil this summer.
Cejudo is quite clearly a significant selling point for the unregulated card. If the situation with his opponent can't be ironed out, and Cejudo is pulled from the fight, Williams made it sound like a bump in the road could quickly become a roadblock.
"Of course if they end up pulling out, we have a long-term, multifight contract with them," Williams said. "I'd hate to have to see this thing get put in court, and him not fight at all, you know?"