December, 6, 2012
12/06/12
6:15
AM ET
By Michael Landigan
ESPN Stats & Information Group
Archive
Fireworks are sure to fly Saturday at KeyArena in Seattle when UFC lightweight champion
Benson Henderson
defends his title against
Nate Diaz
. Here is a look inside the numbers for the UFC on Fox main event:
6 -- Inches in reach advantage for Diaz (76 to 70).
Diaz is 3-0 since dropping back down to 155 pounds, where he has used his reach advantage and unorthodox boxing style to outclass
Takanori Gomi
,
Donald Cerrone
and
Jim Miller
on the feet. After landing only 62 significant strikes combined in back-to-back unanimous decision losses to welterweights Dong Hyun Kim and
Rory MacDonald
, Diaz landed a UFC-record 238 significant strikes in his classic stand-up battle with Cerrone at UFC 141. Henderson hasn't fought with a definitive reach disadvantage since his unanimous decision victory over
Mark Bocek
at UFC 129.
48 -- Percentage of takedowns Henderson has completed, as well as the percentage of takedowns Diaz has defended.
A former two-time NAIA All-American wrestler, Henderson might look for the takedown early if the reach of Diaz becomes a problem. Henderson's preference was to keep the fight standing in his two close decisions over fellow wrestler
Frankie Edgar
, but he completed a combined 10 of 11 takedowns in unanimous decision victories over Bocek and Miller. Diaz does have a history of being controlled on the ground as all five of his UFC losses have come at the hands of high-level grapplers. After being taken down a combined 10 times in losses to Kim and MacDonald, Diaz was put on his back only once in five attempts by Miller.
20 -- Number of submission attempts by Diaz, eighth most in UFC history.
If Henderson does choose to bring the fight to the ground, he must be wary of the high-level Brazilian jiu-jitsu skills of Diaz. Eight of Diaz's 11 UFC wins have come via submission, most of any active UFC fighter. His guillotine finish of Miller at UFC on Fox 3 in May was the first time Miller had been submitted in 25 professional fights. Finishing Henderson will be no easy task, however, as the lightweight champ has not been submitted since his third career fight back in 2007. Henderson has made a habit of escaping deep submission attempts in his rise to prominence but would be wise not to test those Houdini skills against the
Cesar Gracie
black belt.
19:00 -- Henderson's average UFC fight time, longest in UFC history (minimum five fights).
Henderson has been criticized for his inability to finish a UFC opponent, as he has not tasted victory via knockout or submission since catching Cerrone in a guillotine back at WEC 48. The streak figures to be difficult to end against Diaz, whose armbar loss to
Hermes Franca
in 2006 remains the only time he has been finished in 23 professional fights. Both fighters also have never been knocked out in their careers, increasing the probability that, no matter who emerges with the belt, the bout is likely to go distance.
Statistical support provided by FightMetric

October, 7, 2011
10/07/11
3:10
PM ET

By Chuck Mindenhall
ESPN.com
Archive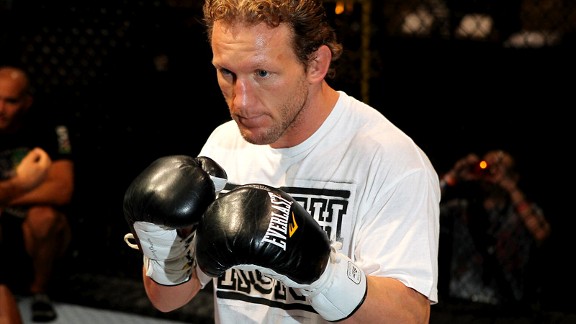 Ed Mulholland/ESPN.comGray matter: Maynard has had Frankie Edgar on the brain all year.
HOUSTON -- For much of 2011,
Gray "The Bully" Maynard
has been hounded by a compulsion that he never intended. That compulsion is
Frankie Edgar
.
Everybody wants to know what it's like to have Edgar on the brainstem for a full calendar year. At this point, is he tired of thinking about him? Does he want to just get the thing over with already? Does he get lost in the "what if's" about leaving that first round onslaught unfinished?
Is the swirl of surmounting pressures tolling him these nine months later?
Frankly, Maynard is more tired of this classic sort of intrigue than he is of the man he'll square off with in a trilogy fight on Saturday night for the 155-pound strap.
"For me all this stuff isn't new," he told ESPN.com from his hotel room on Thursday evening. "Just dealing with the guy you always have to compete against. I've done it in college. I've done it in high school. I had trilogies in college. I had trilogies all over. And I can still understand that it's a new sport, but for me, I've been competing from the time I was three. It's just a little bit of a change for the sport."
It isn't so much that Maynard has fought Edgar twice as it is the set of circumstances and travails he's found himself against once in the cage with him.
[+] Enlarge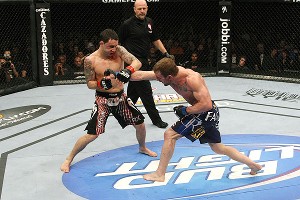 Donald Miralle/Zuffa LLC/Getty ImagesExhaustion got the better of Gray Maynard, right, before he could finish off Frankie Edgar.
In the first fight in Broomfield, Colo., in 2008, Maynard broke his hand in the opening round but was still able to outlast Edgar for all three rounds in a unanimous decision. That's gritty stuff, but people really only remember the second fight -- the one where he caught Edgar with an uppercut and then blitzed him for the next few minutes to keep things teetering on the verge of a stoppage. Maynard went so hard for the coup de grce that he dumped his adrenaline with 20 minutes to go and a million minds unhip to his sinking dread.
When his legs barely answered the second-round bell, he felt a pang of terror.
"Yeah, it was terrifying. I didn't know how I was going to fight the rest of the way -- it was a gut check," he said. And to illustrate the feeling of what he went through, had to overcome, and what he'll do differently as the Roman Numerals get longer in the series, he rolls out
Brock Lesnar
as an exhibit.
"Ok, here's the whole comparison," he says. "What I did before, it would be like [Shane] Carwin and Brock. If I have [Edgar] hurt again, it'll be like
Cain Velasquez
and Brock. More calculated, slower, picking it apart."
Shane Carwin
notoriously made lactic acidosis a part of MMA vernacular at UFC 116. Very similarly to Maynard, he had Lesnar on the ropes for the whole first round. But he hanged himself in the process -- in the second round he had nothing for Lesnar and got submitted. Velasquez hurt Lesnar with a first-round shot at UFC 123 and went about his finish with unsettling poise and awareness. How he reacts to the wounded animal was the biggest tweak Maynard made in his training camp.
Edgar, all heart and Adam's apple, came back in January from the 10-8 first to force a draw with the "Bully." Yet the most underplayed part of the second Maynard/Edgar bout wasn't just that Edgar rebounded but that Maynard found a way to survive. When the unreasonable feeling came over him that he had nothing left, he had to dig deep to find something. Anything.
"The whole point of growing in a career, or to build an athlete, is have him in the smaller shows, the smaller fights, so that all the bad stuff happens early," he says. "For me, it happened in a championship fight. That's a learning experience ... You look at
Dan Henderson
with
Jake Shields
, same thing. I pushed through it.
[+] Enlarge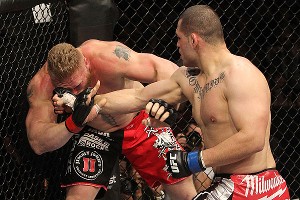 Josh Hedges/Zuffa LLC/Getty ImagesNext time Maynard has his man in trouble, he'll take a more patient approach like Cain Velasquez did.
"By no means do I want people to think I am making excuses. I fought off my guts. I was on pure guts. It was a gut check. I've had some gut checks in both fights [with Edgar]. I try to make a big deal about. I don't know how he felt. I can't say, 'man, if I didn't blow it all out in the first round I'd have smoked him the whole fight.' Who knows."
It's all part of the game, but stories come from the game within the game. Maynard and Edgar have been in each other's crosshairs all year long. A bottleneck situation has occurred behind them at 155 as they sort it out. This has been an action-based series; the level of talking back and forth has never reached any real pitch. It's an improbable set-up -- Maynard has gone 1-0-1 against Edgar despite so many adversities, and the undersized Edgar carries around the belt in spite of logic.
Just who feels better after what happened in the last encounter depends on how you crook your head.
"I feel good that, for a long time he was the cardio king," Maynard says. "But for the first fight, he broke. I felt him break. In the next one, obviously he didn't break, but I think he felt me pull back in Round 2. That sparked him up. If he thinks that's how he's going to beat me, that's not how it goes.
So what does he expect?
"You know, he's a tough kid, but I expect him to do a point fight," he says. "I don't expect him to come in there looking to bang with me. I expect a lot of inside, outside, a lot of trying to do the leg kicks, score points. You look back at his tapes, and they're all pretty equal. The [Sean] Sherk fight, the [Matt] Veach fight, the
Hermes Franca
fight. They are all pretty much carbon copies. I don't know how he'll change it up, but he does a good job at what he does."
It's a long time to contemplate the fact. But it's not just Edgar and the fight he's contemplating, there's also the big picture.
"For me, I'm starting to know -- everything happens, some of it might be good and some of it bad, but as long as you're above the grass and not below it you're doing alright," he says. "There's always tomorrow. And I don't want to come across as 'whatever happens, happens,' but for me, as you get older, and you know a bit more, it's about the gift of life. That's the most important thing. As long as I'm breathing."
A lot of media find the normally terse 33-year-old challenger sort of hard to pry through, but that's Maynard. He appreciates the situation he's in. In fact, he recognizes what's unraveling right now as the golden moments of his life, the centerpiece of his rocking chair stories.
So if you think that he's tired of thinking about Edgar, you're probably half-right. To hear Maynard tell it, though, he's clinging to that image with both hands, and this time he won't let go.
March, 18, 2010
3/18/10
10:11
AM ET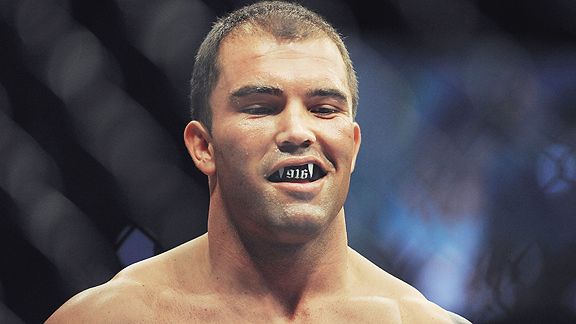 Jon Kopaloff/FilmMagicComing clean: James Irvin admits he used painkillers -- and he never wants to use them again.
Taking responsibility for shaky behavior is an admirable thing. Unfortunately, very few athletes tagged with infractions ranging from fouls to substance use find value in copping to it.
Hermes Franca's candid "I did it because I felt I had to" confession after being popped for steroids in 2007 was met with sympathy and no appreciable loss of respect; fighters who deny even looking at cough syrup are fooling only the very na
September, 20, 2009
9/20/09
8:42
PM ET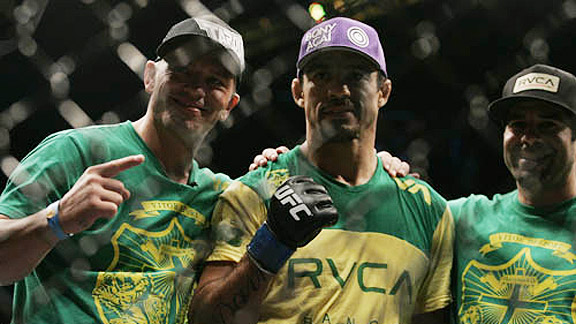 Tim Heitman/US Presswire for ESPN.com Vitor Belfort should capitalize on his momentum before he goes cold again.
Of all the athletes who promised to re-enact some of their better days Saturday, Vitor Belfort might have been considered the least likely to succeed.

A returning Frank Trigg had amassed a tight 7-2 record since leaving the UFC in 2005; Mirko Filipovic swore up, down and sideways that surgery had left him a new man. Belfort? Coming off two impressive victories at 185 pounds, he was fighting 10 pounds heavier, was prone to frequently disappointing ... and looked somewhat depressed.
Tweet, tweet
Don't miss a moment of the latest MMA coverage from around the world. Follow us on Twitter and stay informed.
Join »
A hanging head might be expected. Being Belfort involves a weird amalgamation of having incredible expectations layered on top of none: In 1997, he was considered a blitzing badass with unlimited potential. By 2000, he was written off as mentally KOed. And for the next decade, he alternated moments of promise with flat performances that completely froze audience enthusiasm.
On Saturday, carrying a loose-looking 195 pounds on his body, he became only the second man in the UFC to stop Rich Franklin. It wasn't broad -- Franklin dropped to a subtle attack, then submitted in posture -- but it did the expected job of convincing people Belfort had finally found a happy medium between performing and relaxing. There probably isn't a "new" and "old" Vitor, easily the most exhausted chart in the sport -- just a Belfort who sometimes crumbled under the weight of his own celebrity.
The news was less encouraging for Filipovic and Trigg. Filipovic spent his fifth UFC fight looking much like he had in his first four: lethargic, slow and happy to evade rather than engage. For fans who remember his heyday in Pride, which almost always involved a stretcher, it was a sad footnote to a stellar career. Those bouts used to give fans palpitations over what Filipovic would do to his opponent. Today, that anxiety is over Mirko himself.
Trigg barely had time to warm up before Koscheck -- younger, hungrier, mouthier -- settled in and let his hands go. At 2-4 in the promotion, it'll be hard to justify many more rounds for Trigg.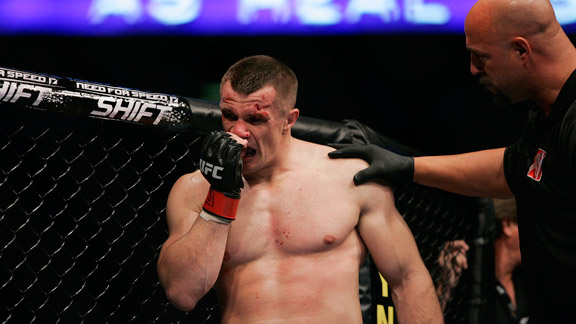 Tim Heitman for ESPN.comIt might be time for Mirko Filipovic to hang up the gloves and checkered shorts for good.
This is what the sport is about: finding out who still belongs.
Next for Belfort: Anderson Silva -- or Wanderlei Silva in a 185-pound rematch. In Brazil.
Next for Franklin: A focus on the 205-pound division: Brian Stann if he wants to ease himself in, Jon Jones if not.
Next for Junior dos Santos: Gabriel Gonzaga, who could test his mat work.
Next for Filipovic: An exit strategy.
Next for Josh Koscheck: Harping Joe Silva for a spot in October or November. But is there anyone to fight?
Next for Paul Daley: According to Dana White, potentially Mike Swick.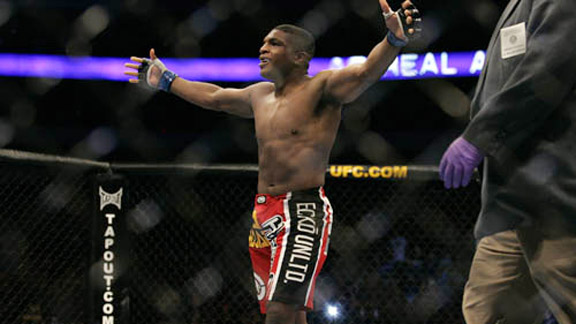 Tim Heitman/US Presswire Is it too soon to get excited about Paul Daley? Probably.
Q: Should Vitor Belfort get a title shot against Anderson Silva?
A: Only in combat sports could a guy win a 195-pound fight and immediately get thrown in as a 185-pound contender. The problem is that Dan Henderson and Nate Marquardt -- the two guys who are far more deserving at the moment -- wouldn't excite fans as much as a Belfort fight, and probably need to fight each other to avoid giving Silva multiple rematches. (One is more than enough.) There's also the issue of capitalizing on Belfort's current wave of durability before he fades against another contender.
Q: Should Filipovic hang up the checkered shorts?
A: It's a sad day when one of the most violent fighters of any era is reduced to an immobile punching bag, but there's nothing in Mirko Filipovic's current run to indicate he can course-correct. Against dos Santos, he pushed instead of punched, backpedaled instead of advanced. It's not even an issue of going into the pocket and getting the worst of it: Mirko simply isn't engaging anymore. And that's true on multiple levels.
Q: Is it time to get excited about Paul Daley?
A: Maybe. He was able to stuff Martin Kampmann's takedown attempt, but Kampmann isn't exactly Dan Gable: Against Thiago Alves, Josh Koscheck or Georges St. Pierre, Daley will have a much harder time remaining upright.
Q: Should Frank Trigg get scratched?
A: Trigg's resurgence came at middleweight, where he was able to retain some mass while dealing with the slightly slower pace. He should probably get a tryout there before packing his things.
Etc.
• At the postfight news conference, the UFC announced a $2.4 million gate and 17,428 attendees in Dallas, setting a new sporting event record for Mark Cuban's American Airlines Center.
• The Floyd Mayweather-Juan Manuel Marquez fight in Los Angeles drew 13,116 fans. No gate figure has been released, which could mean that there may not be much to crow about.
• Pay-per-view numbers won't be circulated for awhile -- and since they often come from promoters themselves, can't always be verified -- but Mayweather's celebrity status from pro wrestling stints and "Dancing with the Stars" may have put him over.
• Prelim status doesn't always have to suck: Rick Story collected Fight of the Night and Submission of the Night bonuses totaling $130,000. Belfort collected Knockout of the Night honors.
• Per MMAWeekly, the shoulder injury suffered by Steve Lopez "popped back in" backstage and it does not appear to require surgery
• Not for nothing, but one of Mayweather's bodyguards during an episode of HBO's "24/7" was sporting a Tapout shirt. Maybe we can get along after all.
September, 19, 2009
9/19/09
2:43
PM ET
12:08 p.m. ET: Both men are tentative. They might both be scared of Belfort's hands. Belfort uses a nice little jab kick. This is the kind of round where little things could make a difference. Oh, and it's over: A weird passage with Belfort not connecting too flush, but leveling Franklin and finishing to the side of his head. Just in time.
"Bloodsport" might be on TNT.
---
Midnight ET: A ringside Jon Fitch is impressed enough with Belfort to take pictures. Both men appear relaxed and collected. Franklin will loop punches and out-gut to a decision. Probably.
---
11:52 p.m. ET: Backstage, Belfort looks somewhat deflated physically. The goatee isn't helping. Good thing this weight class doesn't even exist.
---
11:47 p.m. ET: Goldberg and Rogan argue whether "gonads" is a medical term. Mirko is being picked apart. He complains he can't see out of his eye and the fight is called. Either Kimbo Slice restores his confidence or we don't see him again.
---
11:41 p.m. ET: Mirko is getting the worst of most exchanges. His aggression hasn't been noticeable in years. Toothless. The appeal of seeing him fight again is dwindling. At least he manages to land the most devastating shot in the entire sport: a "Cro Cop" field goal special to the cup.
---
11:33 p.m. ET: Mirko is dreaming of the days he'd be paid a small fortune to fight Bob Sapp. Dos Santos is faster and hungrier. Maybe Mirko will improve as Dos Santos slows down. As of now, he's not fighting with the savagery one expects from Duran Duran entrance music.
---
11:31 p.m. ET: Dallas loves Mirko. You'd think it was Yokohama. He seems content to avoid shots rather than go on the offensive.
---
11:21 p.m. ET: Mirko "Cro Cop" vs. Junior Dos Santos. The tale of two Mirkos: one a mafia assassin with the disposition of a military rifle, the other an erratic semi-geezer who frequently stands around looking bewildered. The revised betting line:
Regular Mirko: -200

Junior dos Santos: +150
Anesthetized Mirko: +300

Junior dos Santos: -220
---
11:19 p.m. ET: Dos Anjos wins a decision; Emerson wins a week's worth of concern over blood clots.
---
11:13 p.m. ET: Emerson is one leg kick away from needing a wheelchair to get to the airport. Dos Anjos shows some mercy by taking him down.
---
11:06 p.m. ET: Rob Emerson and Rafael dos Anjos in footage from earlier in the evening. There's some innuendo that Jean-Claude Van Damme wore a toupee for "Bloodsport." This has really thrown me. Dos Anjos is doing a good job with the leg kicks, Emerson having success with his hands.
---
10:58 p.m. ET: "When opportunity knocks, you open the door. And Paul Daley burst through the gates of the Octagon …" Goldberg likes to put his metaphors in a blender.
---
10:52 p.m. ET: Something just occurred: Our version of a Roman Coliseum is a Bud Light floor. Weird. Daley is putting in good work standing. Kampmann tries a takedown but it doesn't stick. Expert analysis by Rogan: "Kampmann needs to get hold of this dude." It's true: Daley gets it stopped. This guy with takedown defense is a serious problem.
---
10:47 p.m. ET: Daley enters. Bad man standing. Kampmann should slather on some Super-Glue.
---
10:46 p.m. ET: Martin Kampmann and Paul Daley: This could potentially set up Kampmann for a title fight against Georges St. Pierre, but they'd need a gun fight at the top of the card in order to help draw.
---
10:43 p.m. ET: Goldberg pretends he hasn't exposed himself to Jenna Jameson's entire filmography by referring to her as "Jenna James."
---
10:40 p.m. ET: Koscheck being elusive. (It's been weeks since we last heard that word.) Guess he was just waiting for the right time: he puts Trigg out with a hard, hard right. Koscheck calls out Matt Hughes. Can't wait to miss that one.
---
10:36 p.m. ET: Much effort involved in getting Koscheck's sweatshirt off. Before an extraction-EMT can be called, it's off. Trigg strikes me as the stronger guy, but I think Koscheck catches him in something.
---
10:33 p.m. ET: Josh Koscheck and Frank Trigg. Who can be more condescending toward the other? It's close. Trigg looks excited to be back. Goldberg mentions he nearly won the welterweight title from Matt Hughes; Rogan reminds him that Trigg had to hit him below the belt to do it. Rogan works very well as Goldberg's ombudsman.
---
10:30 p.m. ET: Mirko "Cro Cop" gets his hands wrapped. Marriage, wraps, birthday party: expression is the same.
---
10:23 p.m. ET: The crowd reverses their position when Griffin and Franca begin slamming each other in the head repeatedly. The 5-foot-6 Griffin goes for a high kick. It lands on Franca's thigh. The right hand is more useful: it knocks Franca down, and eventually out. This ends a streak of seven straight decisions for Griffin.
---
10:20 p.m. ET: The crowd boos Griffin's attrition approach. They badly want to see the man with the purple hair get hurt.
---
10:13 p.m. ET: At least one Texan is not afraid to write on their obese midsection in Magic Marker. Griffin has Beyonce's thighs. He lands several leg kicks. I sincerely hope Franca's hair is the result of a lab explosion.
---
10:09 p.m. ET: Much discussion over Franca not making 155. (He was 159 for the weigh-in.) Griffin is actually mouthing the words to "Eye of the Tiger." I'd laugh, if not for the fact that I know every word.
---
10:07 p.m. ET: Tyson Griffin and Hermes Franca up first. Griffin has earned five Fight of the Night checks in the past couple of years. He should pace himself more. Franca's hair defies description.
---
10:04 p.m. ET: Goldberg welcomes us to his second UFC in three days. Will his highlights hold up?
---
10 p.m. ET: Live on pay per view from Dallas, where everything is bigger. And yet there's only one heavyweight fight.
---
9:51 p.m. ET: Lopez pops his shoulder throwing a punch. He appears very composed for somebody with a bone pointing in a new direction.
---
9:48 p.m. ET: "Bloodsport's" Italy title? "Without Restriction of Blows." Miller takes the first round by virtue of being aggressive.
---
9:45 p.m. ET: Jim Miller and Steve Lopez in another taped segment. As barker shows go, this one fares better than watching Floyd Mayweather rollerskate.
---
9:41 p.m. ET: Escudero takes care of Miller with a nose-crumbling punch to the mug and then a few swatting follow-ups.
---
9:35 p.m. ET: Efrain Escudero and Cole Miller up. Miller, as usual, has the physique of Stretch Armstrong. Perfect for jiu-jitsu. Both of them beat up Junie Browning. Hard to root against either guy.
---
9:33 p.m. ET: Rich Franklin appears relaxed-to-nodding in backstage footage. Perhaps he was informed that "Old Vitor" makes only sporadic appearances.
---
9:26 p.m. ET: Story sinks in an arm triangle from inside Foster's guard, a feat that causes Joe Rogan to actually birth a litter of kittens from cageside.
---
9:25 p.m. ET: Rick Story vs. Brian Foster in pre-prelim action. "The Horror" Story is fighting like he's desperate for a new nickname. After a round, Q-tips long enough to poke his brain are up the nose to staunch the bleeding.
---
9:15 p.m. ET: Belfort strolls into the arena and stifles a small cough. The betting line moves 50 cents.
---
9:13 p.m. ET: Out of breath, adrenalized and foreign isn't a good combination for post-fight talk.
---
9:12 p.m. ET: Drwal un-erotically asphyxiates McFedries via a rear-naked.
---
9:10 p.m. ET: "Bloodsport II." What a sick, sick joke. Shame on you, Donald Gibb.
---
9:09 p.m. ET: McFedries pretends to check out a woman in the crowd, then attacks. Interesting strategy. His chest is already heaving. No
wonder: hasn't seen the second round in forever.
---
9:07 p.m. ET: A full and unlikely two minutes in. McFedries has Crohn's Disease, an inflammatory bowel disorder, yet it's Tim Sylvia who copped to loading his shorts against Assuerio Silva. Go figure.
---
9:02 p.m. ET: Drew McFedries vs. Tomasz Drwal is up. More or less guaranteed the fight doesn't last as long as the pre-fight interviews.
---
9 p.m. ET: So I think I'll just go ahead and order Mayweather/Marquez, and -- oh, say, there's a UFC special on Spike.
---
8:55 p.m. ET: Killing time before this thing starts. Reading "Bloodsport" trivia. Do you think Forest Whitaker acknowledges he appeared in this movie?
---
Preamble: If sports bars aren't your thing -- or if the girlfriend is commandeering the remote, leaving you to suffer "Ghost Whisperer" with the ensuing stomach upset -- you can check in here for live updates and observations for tonight's UFC 103 card from Dallas. The undercard special airs at 9 p.m. ET on Spike; the pay-per-view begins at 10 p.m. ET. (Don't listen to Floyd Mayweather: Dallas has not been leveled by nuclear attack.)
September, 18, 2009
9/18/09
1:08
PM ET
Men in tights. Watch ESPN's
live stream, or -- if you're at work and can't easily explain why naked men are flexing on your monitor -- refresh this page for comments.
5:33 p.m. ET -- Rich Franklin versus Vitor Belfort. Belfort appears slightly soft for the weight: 197 and a half. Had his socks on. Takes them off. 196 and a half. Takes off his wedding ring. Takes off his underwear. I'm really uncomfortable. 196 and a quarter. Either he goes for a run or he goes to the bathroom. Shouldn't be an issue.
Company man Franklin steps on the scale. How complacent is he? He took the nickname "Ace" without any resistance. 185 even.
5:26 p.m. ET -- Mirko "Cro Cop" versus Junior dos Santos. Last names are for sissies. Dos Santos is 236, "Cro-Cop" -- sporting a Pride shirt, which may confuse some newer fans -- is 226. Mirko's thighs will be weighed in separately.
5:24 p.m. ET -- Martin Kampmann versus Paul Daley. Crickets for these two after Trigg-Koscheck. Daley is 170. Kampmann is 169.5.
5:22 p.m. ET -- Josh Koscheck versus Frank Trigg. Trigg, showing early indications of old-man strength, is 170 and a quarter; Koscheck, showing every indication of being obnoxious, is 170.
5:19 p.m. ET -- Tyson Griffin versus Hermes Franca. I have a new name for any choke Franca pulls off in competition: The Hermes scarf. Right? What? No. OK. Wait -- Franca has a Muppet on his head. He looks like someone spilled grape soda on his hair.
Interesting style choice. Weight -- 159, some kind of catchweight agreement. Griffin has very boring hair. 155.5
5:17 p.m. ET -- Efrain Escudero versus Cole Miller. A beaming Miller sits down to take off his shoes and socks. He appears to be very comfortable undressing for a crowd. 155 even. "Ultimate Fighter" winner Escudero is 157. First flub of the evening.
5:14 p.m. ET -- Drew McFedries versus Tomasz Drwal. Drwal is 185 even. McFedries looks to be in pretty terrific shape --185 and a quarter.
5:12 p.m. ET -- Jim Miller versus Steve Lopez. Lopez is 154 and a half. Miller might take the scale to a decision. 154.5.
5:10 p.m. ET -- Rafaello Oliveira versus Nik Lentz. Two UFC-debuting fighters: Does that cancel out first-time nerves? Oliveira is 155 and a quarter. A very bored-looking Lentz, 155.
5:08 p.m. ET -- Rick Story versus Brian Foster. Foster is 170 and three quarters; "The Horror" Story is 170 even.
5:07 p.m. ET -- Eliot Marshall versus Jason Brilz. Brilz is 205.25. Really on the nose with the ounces. Marshall is 204 "and three quarters." So, 205. Good God.
5:05 p.m. ET -- Vladimir Matyushenko versus Igor Pokrajac: Pokrajac clocks in at 203. Matyushenko, all Russian stoicism, is 205.
5:02 p.m. ET -- Rob Emerson versus Rafael Dos Anjos: After deliberation, Dos Anjos is determined to be 155.5, Emerson the same. Emerson has a massive tattoo on the back of his skull. The betting line moves in his favor.
September, 18, 2009
9/18/09
10:23
AM ET
In and out of the cage, Rich Franklin is making a career out of lateral movement: Bumped from the middleweight division by Anderson Silva, he appears to have settled into a complacent role as filler putty for headlining holes in the UFC's main events.
For Franklin, UFC 93 was a light heavyweight bout against Dan Henderson; UFC 99, a catchweight bout against Wanderlei Silva; now there's Dallas and UFC 103, which sees him in another 195-pound fence-straddle against a returning Vitor Belfort.
It's hard to ascertain exactly what the fight means: Franklin is supposed to be a 205-pound presence, so beating Belfort -- who eyes the 185-pound division -- can't influence that much. Belfort has more to gain here.
But, hey -- plenty of titles and plenty of contenders. Sometimes a fight is just a fight. And Franklin has yet to have a dull one.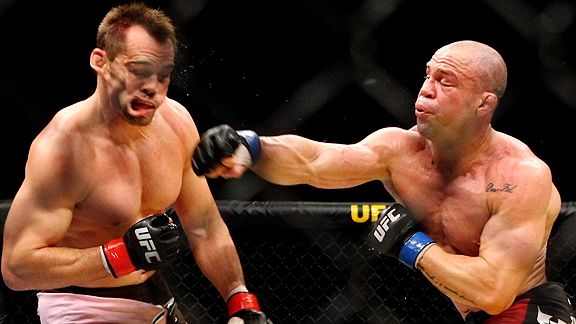 Lars Baron/Bongarts/Getty ImagesWin or lose, Rich Franklin, left, is never in a bad fight.
What: UFC 103: Franklin versus Belfort, a 13-bout card from the American Airlines Center in Dallas, Texas
When: Saturday, Sept. 19, at 10 p.m. ET on pay-per-view, with an undercard broadcast at 9 p.m. ET on Spike
Why you should care: Because Belfort finally has the emotional maturity to match his physical development; because Mirko Filipovic can pop up as a serious title contender if he looks effective against Junior dos Santos; and because Frank Trigg is facing his worst nightmare -- a younger, cockier wrestler in Josh Koscheck. Himself, basically. It's like time travel in a B-action movie.
Fight of the night: Franklin-Belfort, assuming Belfort doesn't fade in the second; Koscheck-Trigg if they follow the pattern of wrestlers who want to stand and strike.
Sleeper fight of the night: Drew McFedries-Tomasz Drwal. McFedries only needs to train for a one-round fight. Win or lose, he's never seen Minute 6 in the UFC. So-so for his career, great for fans.
Pre-emptive complaint: Paul Daley is going to get shut right down by Martin Kampmann: It would've been nice to see him against someone who couldn't smother him on the ground right off.
Hype quote of the show: "Frank wants to try to get back into the limelight and try to get eventually a title shot and he's got to come through Josh Koscheck to do that."-- Koscheck, invoking the always-alarming technique of third-person speech.
Back Against the Mat (BAM): UFC 103 Edition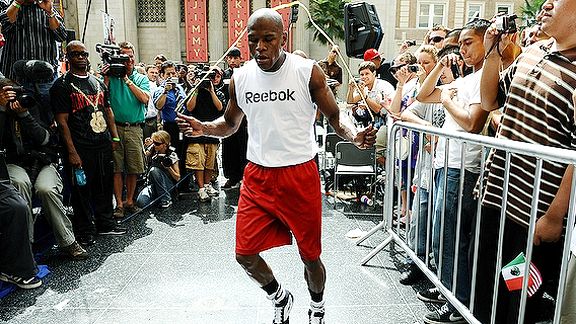 Gene Blevins - Hoganphotos/Golden Boy PromotionsWill all eyes be on Floyd Mayweather or on the UFC come Saturday?
Unemployment is on the rise everywhere. A few guys who can't afford a loss Saturday:
Mirko "Cro-Cop" Filipovic. Performances against Gabriel Gonzaga in the UK and Alistair Overeem in Japan dulled his shine considerably: He can't look bad against a largely unknown Junior dos Santos without virtually terminating his career.
Drew McFedries. He brings it, but a possible 4-5 record in the UFC is a stretch.
Rafael dos Anjos. A 155-pound class with a surplus of talent can't abide by an 0-3 participant.
Floyd Mayweather. The insult-a-second boxer doesn't think MMA is a threat to boxing; if it comes within a few thousands homes of beating his bout with Juan Manuel Marquez on Saturday -- or worse, exceeds it -- he's going to have to spin a new broken record.
Five questions: UFC 103 edition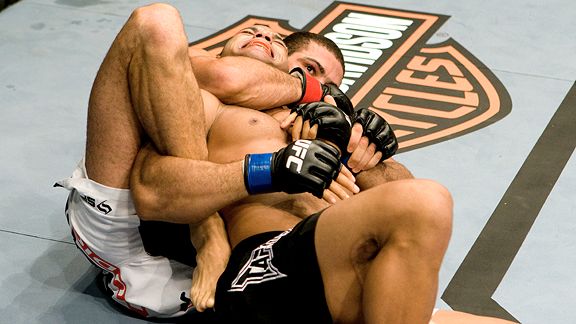 Josh Hedges/Zuffa/UFCAnother subpar showing like this and Drew McFedries could be looking for another line of work.
Q: Will Vitor Belfort shrink?
A: Even if you excuse his dynamic debut performance at UFC 13 -- all hands, no effort -- as the product of subpar opposition, Vitor Belfort is still a sharp, tight stand-up artist who can end fights faster than IV sedation.
The ticks of the clock are Belfort's biggest issues: As the fight wears, he fades mentally and instructs his body to do the same physically. Whether that's been corrected at Xtreme Couture hasn't been discovered. Rich Franklin will prompt him for an answer.
Q: Does the old guard have anything left?
A: Frank Trigg, Vladimir Matyushenko, and -- to some extent -- Mirko "Cro-Cop" Filipovic all bounced out of the UFC after a series of poor performances, only to return based on either strong performances in other promotions, or the UFC's desire to deplete the open talent pool for rivals. Is that employment based on genuine curiosity over their chances, or a business strategy? (Trigg, Filipovic or Matyushenko getting chewed up in the UFC makes them far less attractive to other networks.)
Q: Can Tyson Griffin break through?
A: It's hard to process that Tyson Griffin loses fights: He's a steam ship in the diminutive lightweight division with fantastic cardio, a solid punch and the ability to control. A record of 6-2 in the UFC may not look great compared to Gray Maynard's 6-0, but he's been fighting nothing but tough competition. With a win over Hermes Franca, should Griffin and Maynard decide 155's next contender?
Q: Can effort trump results?
A: UFC brokers are fond of saying that they want fighters who come to fight -- but when does that begin to steamroll mixed results? Drew McFedries has never been in a boring contest, but he's 4-4 heading into Saturday. At what point do you acknowledge that gamesmanship runs second to getting your arms held up?
Q: Can Rich Franklin bank some money?
A: As a company man who fights when, who and where he's asked, Franklin deserves a financial mattress as his career winds down. But if his salary is business-incentive-based, he's got issues: Buyrates for Franklin-headlining cards are usually on the lower end of the scale. Whether a card airing live from the states changes that -- fans usually balk at delayed cards from the UK, where Franklin took up temporary residence -- or not, the loyalty is admirable. And it should be rewarded.
Red Ink: Belfort versus Franklin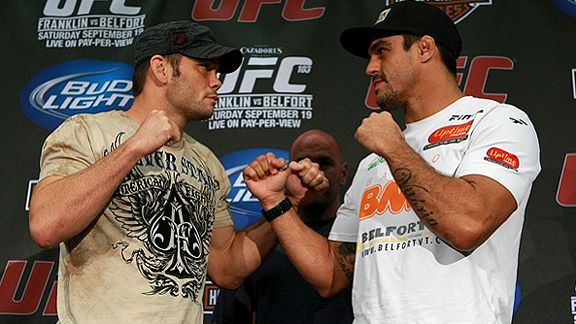 Dave MandelDon't expect Rich Franklin, left, to welcome Vitor Belfort back to the UFC with open arms.
In six years of UFC competition, only two men have defeated Rich Franklin, and both of them happen to be the two best middleweights in the sport. Franklin's secret appears to be that he wants it as badly in the closing 30 seconds of a bout as most do in the opening 30. His motivation doesn't wither. And that's a pretty big deal.
Vitor Belfort's motivation has been the anchor of his career: He has all the natural talent anyone could ask for, top-notch training and a particular skillset -- fast, dangerous, heavy hands -- that you can't replicate. But he wants things to go his way. And when they don't, he checks out.
Belfort throws straight down the line; Franklin loops. Belfort fades late; Franklin sucks it up. It's not about who has heavier hands, but who can keep them up longer.
Might look like: Belfort versus Chuck Liddell, with Belfort dropping a decision to the busier striker; or Franklin-Wanderlei Silva, with Franklin eating some artillery, covering to regroup and picking at an opponent tired of hitting him.
Third-party investor: The UFC, which is in dire need of a middleweight contender to excite both fans and champion Anderson Silva. Belfort in a win over a durable Franklin sends him right to the edge.
Who wins: Franklin. He's too cautious to suffer a blitz, too strong to toss and too conditioned to outlast.