December, 15, 2013
12/15/13
7:33
AM ET
By Michael Huang
ESPN.com
Archive
If any questions still lingered about whether
Demetrious Johnson
is the best flyweight fighter in the world, his right fist answered every one of them unequivocally Saturday night in his first-round demolition of
Joseph Benavidez
at UFC on Fox 9 in Sacramento, Calif.
Johnson planted a solid right on Benavidez's jaw, dropping Benavidez cold to the canvas. The knockout marked the second consecutive finish for Johnson, who submitted
John Moraga
at UFC on Fox 8 with an arm bar.
Johnson's two finishes stonewall the run of seven straight decisions he posted en route to winning the UFC's flyweight belt and in defense of it. Not only has Johnson perhaps proved himself a champion to his critics, but also champions a weight class that has perhaps thirsted for respect.
"Those people who said they hate the flyweight division don't know [expletive] about fighting," said UFC President Dana White shortly after Johnson's first title defense, at UFC on Fox 6 in Chicago. "It's not a deep division, they're fighting the same guys. ... These guys know how to fight."
Johnson has cleaned out the division, with wins over all the top challengers, including Benavidez twice, Moraga,
John Dodson
and
Ian McCall
. And with the impressive knockout win over Benavidez, it should leave little doubt about who's the clear-cut best flyweight in the world.
However, Johnson's rise through the pound-for-pound rankings has been slow, perhaps for the very reasons White detailed, as well as Johnson's inability to finish fights until recently. Dare we say overlooked? And why shouldn't Johnson be in the discussion for the top pound-for-pound fighter in MMA?
Against Benevidez, Johnson's technique was exquisite, as it was against Moraga and Dodson. If Johnson seemed hesitant early against Dodson, he was dominant against Moraga and precise against Benavidez. His boxing was crisp and flawless, earning him "Knockout of the night" honors. Against Moraga, Johnson relied on his grappling, earning "Submission of the night" honors. Under trainer
Matt Hume
at AMC Pankration in Kirkland, Wash., Johnson has become a dangerously efficient fighter.
The scary thing that is Johnson, 27, continues to get better. He also seems to be settling into his position as a UFC champion. In a year in which the UFC has seem a seismic shift in titleholders --
Anderson Silva
and
Benson Henderson
both losing titles,
Georges St-Pierre
vacating after a controversial win, and
Jon Jones
looking absolutely human against
Alexander Gustafsson
-- Johnson and perhaps heavyweight champ
Cain Velasquez
offer the most stability atop their respective divisions.
The flyweight might be the lightest class in the UFC, but it doesn't mean its members should be taken lightly. After Johnson's latest win, his inclusion in the pound-for-pound discussion was all but assured, and the legitimacy of the flyweight division cemented. Johnson is already ranked eighth in
ESPN's pound-for-pound rankings
.
"You know, if people want to see me as the best pound-for-pound fighter in the world, that's totally fine," Johnson said during the postfight new conference. "My job is to go back to the gym and keep on improving, keep on showcasing my skill set with finishes and knockouts."
Johnson's climb into those rankings might have been slow, but considering his dominance over the flyweight division, his ousting from it might take equally as long. The only question that remains is whether Johnson, with a 3-0 record including two title defenses and two finishes in 2013, will win "Fighter of the year" honors?
"There's no doubt he should be in the running for that," White said.
And with all those wins coming in front of non-pay-per-view national audiences, rest assured Johnson will no longer be overlooked.
January, 28, 2013
1/28/13
3:00
PM ET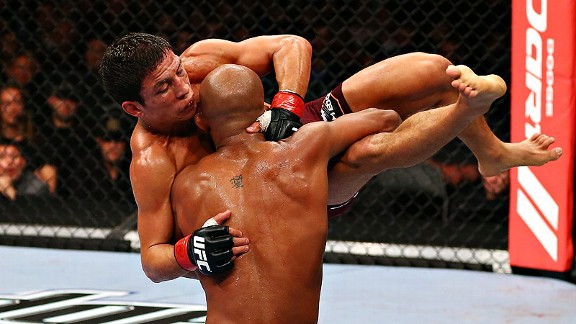 Al Bello/Getty ImagesJoseph Benavidez never managed to find his footing while fighting for the UFC flyweight title.
LAS VEGAS -- Prior to the inaugural flyweight championship bout at UFC 152 in Toronto in September 2012,
Joseph Benavidez
obviously envisioned himself winning -- but his imagination didn't stop there.
In his hotel room the night before, he showed off the suit and tie he would wear, as champion, to the postfight news conference. He had arranged to meet his family at the Sacramento airport the day after the fight where he would deplane, of course, with the belt on his waist. Local camera crews were expected.
It's not that he lacked respect for his opponent in that fight,
Demetrious Johnson
. He had just dreamed of those scenes for so long -- they felt like they were already real.
For years he'd waited to compete not only in the UFC, but also at his ideal weight of 125 pounds. He'd hung a photo of the belt on his mantel to save a spot for the real thing. Everything had finally come together in September. It was his time.
Those were Benavidez's expectations. Reality did not accommodate. Benavidez and his camp admit he fought, perhaps due to the pressure he put on himself, a little stiff. He dropped a split decision to Johnson in a performance he's watched only once since and won't watch again any time soon.
"It was really hard coming to the realization of that fight and that opportunity I had waited so long for was gone and it didn't happen like I wanted it to," Benavidez told ESPN.com.
"Even coming back from Canada, I had my two brothers who I haven't seen in five years and my mom meeting me at the airport. We had the worst luck on my flight back. We got stuck in San Francisco where we had to rent a car and drive back. We didn't have any of our bags. So, we're sitting in a rental car, in traffic; I'm heartbroken. It was like, 'Wow, this isn't how I pictured it.' "
Johnson and Benavidez are two different fighters in the cage. The week of UFC 152, it was clear they were operating in very different ways outside of it as well.
"

Even coming back from Canada, I had my two brothers who I haven't seen in five years and my mom meeting me at the airport. We had the worst luck on my flight back. We got stuck in San Francisco where we had to rent a car and drive back [to Sacramento]. We didn't have any of our bags. So, we're sitting in a rental car, in traffic; I'm heartbroken. It was like, 'Wow, this isn't how I pictured it.

"

-- Joseph Benavidez, on the long trip back from Toronto after an unsuccessful title bid
The eventual champ, Johnson, appeared calm during the week -- loose. Benavidez cracked a joke here and there, but he and his camp admit he was different leading up to the fight.
Basically, it seemed like one guy was enjoying himself. The other couldn't.
"He was tense," said Jimmy Gifford, Benavidez's boxing coach. "He had been tweeting 'flyweight champion, 2012,' all year; it meant everything to him.
"I wasn't worried about him before the fight, but I knew he was a little different. Fight week, he wasn't himself. He was just a mean kid, rather than the fun, outgoing Joe. He had a scowl on his face."
The story is a bit of a downer, and gets downright depressing when you read the poem Benavidez penned in the days following the loss. In it, he wrote phrases described himself as "dead inside," and added, "To feel self worth, that's all you crave."
There is room for a happy ending, though. When the rental car finally got him to the Sacramento airport, it turned out his family, girlfriend and teammates still loved him despite the loss. It's given him a new outlook on any future title fight and his upcoming bout against
Ian McCall
at UFC 156 this weekend in Las Vegas. Never again will he treat a contest as though it's life and death.
"Once I saw my family, it made me realize that I'm still lucky," Benavidez said. "That was a big learning experience. Not just [Demetrious] hit me with this punch -- that basic stuff. I learned things in general.
"I'm one of two people in the world who fought for the inaugural title. I'm in a small percentage of people that get to do what they love to do for a living. I'm lucky."
Benavidez says he's in no rush to get back to the title, although a win over McCall might solidify his spot as the No. 1 contender, despite his loss to Johnson was just four months ago.
Actually, if given the option, he might even prefer getting at least two fights in before taking another shot at the belt, but he'll leave that decision to the UFC. Right now, he's focused on improving and reminding himself to enjoy it. If he does that, there's still hope everything he had imagined would happen in September isn't dead yet.
"Talent-wise, he's right there at the top," Gifford said. "All the everyday things I see him do -- I know he's the best. I said to him in the gym the other day after his workout, 'You were only off by one year, bro. You said 2012, you'll get the belt in 2013.' "
September, 19, 2012
9/19/12
1:05
PM ET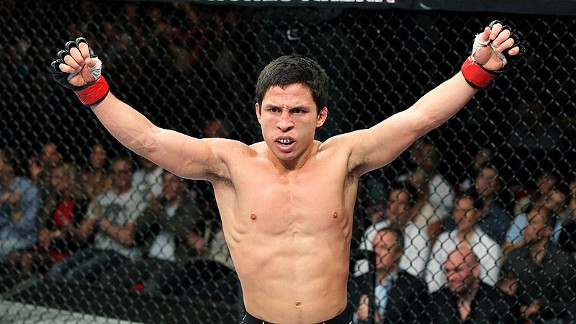 Josh Hedges/Zuffa LLC/Getty ImagesStrong and fearless, Joseph Benavidez takes aim at becoming the UFC's first flyweight champion.
The UFC will crown its first flyweight champion this week at UFC 152, making now the perfect time to rank who's who at 125.
Top-ranked
Joseph Benavidez
and
Demetrious Johnson
likely need no introduction by now, as they're set for the UFC 152 co-main event on Saturday in Toronto, but the rest of the names on this list might.
The flyweight division doesn't carry the most recognizable names in the UFC yet, but let us assure you that its Top 10 features loads of talent.
Here's a closer look at how ESPN.com staff members, including Chad Dundas, Josh Gross, Franklin McNeil and Chuck Mindenhall, see the division.
[+] Enlarge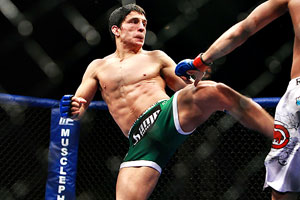 Dave Mandel for Sherdog.comOne of the most complete fighters in mixed martial arts, Joseph Benavidez gets an opportunity to compete in his natural weight class.
No. 1 Joseph Benavidez (16-2)
There's only been one mountain Benavidez hasn't been able to climb, and that's UFC bantamweight champ
Dominick Cruz
. Benavidez has two losses in six years, both to Cruz, and both very close. Now he's at his natural weight class and is the near-consensus pick to reign over the division. Wondering what he does well? Everything. He's one of the most composed fighters in the UFC, and his game has no holes. In fact, he's the only flyweight you'll find in the pound-for-pound rankings at ESPN.com.
McNeil:
The flyweight division's most fearless fighter also happens to be its most aggressive.
Mindenhall:
The division was created for him to dominate. With his diversity and strength, he will do just that.
No. 2 Demetrious Johnson (15-2-1)
Meet the fastest fighter in the UFC. Johnson's speed is one of the most talked-about advantages in the sport. Add in the fact he's also extremely technical, and it's almost not fair. Maybe the only way to slow him down is to keep him on the ground, which no one seems capable of doing. Even when Johnson gets put on his back, he's usually to his feet before judges even notice. And by the way, at 26, he probably hasn't hit his peak yet.
Dundas:
I'll consider it an upset if Johnson beats Benavidez, but not much of one.
Mindenhall:
The second McCall fight showed that Matt Hume's guy isn't all flash and thunder, but that he's a smart fighter who can execute tactically under pressure.
[+] Enlarge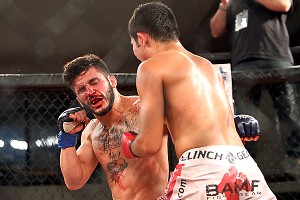 Jeff Sherwood for Sherdog.comIf there is such a thing as enjoying being hit, Ian McCall, left, proudly fits the description.
No. 3 Ian McCall (11-3-1)
McCall won't match the speed of his fellow flyweights, but he makes up for it with size and wrestling ability. He's a fighter's fighter -- the guy in the division (always seems like there's at least one) who seems to genuinely enjoy getting hit. McCall can be a bit of a slow starter, but he turns into a monster as a fight goes on. No one on this list is more influenced by the crowd, and his outright crazy side has a visible effect on some opponents over 15 minutes. He's had a bumpy road outside the cage, which could very well end up being the one thing that holds him back. In the cage, his ground-striking, takedown defense and boxing make him tough to deal with.
Dundas:
McCall spent 17 days in jail in August after his arrest for driving with a suspended license. If he can keep it between the lines, he's a potential champion.
Gross:
McCall may be his own worst enemy, and with competiveness brewing at 125, he won't do well in the long run fighting himself and the competition.
No. 4 Jussier da Silva (14-1)
The perception is da Silva poses no threat on his feet, but that's inaccurate. No, "Formiga" is no knockout threat, but watch him transition to an opponent's back without even needing a full takedown and you'll see what we're talking about. Ultimately, da Silva does need to improve his hands if he wants to topple the best, but his submission skills alone warrant this spot on the rankings. If the well-rounded UFC opposition can keep him on the outside, he's in trouble. But give Da Silva an opening to get where he wants and the Brazilian will be super-glued to your back. His only loss came at the hands of the man ranked right above him on this list.
McNeil:
That high-profile loss to McCall last year still haunts Formiga.
Mindenhall:
We know he can finish, but the question is, how does he handle the step up in competition?
[+] Enlarge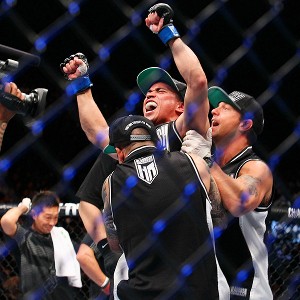 Susumu Nagao for ESPN.comWith the title path more open, striker Chris Cariaso looks to make an immediate impact at 125 pounds.
No. 5 Chris Cariaso (14-3)
Cariaso represents one of those situations where he really didn't
need
to drop a weight class, but the title path is more open at 125. He'll throw kicks to the leg and body like they're jabs, and he has good defensive instincts on his feet. He likes to counter with the right hand, which won't cause much damage on its own, but he lands it often and it's a rhythm disrupter to opponents. Only two submission wins in his career, so he's not known for his grappling, but this guy can be sneaky-good off his back. If you fall asleep in his guard, he'll take advantage of it.
Dundas:
Losses to
Michael MacDonald
and
Renan Barao
are nothing for Cariaso to hang his head about.
Gross:
Fighting at flyweight provides new life for Cariaso, who will never go down without a fight.
No. 6 John Dodson (13-5)
The hyperactive Dodson has said he'd like to win titles at 125, 135 and 145 at some point. Those aspirations might seem a little high, but 125 is certainly within his reach. He sets a pace that can wear out an in-shape flyweight (not easy to do), and he packs more power in his standup than you'd think by looking at him. His takedowns are actually incredibly explosive, but they often go overlooked because he rarely does much with them. Mostly, it feels like Dodson looks at them as a way to score a few points before getting back to business on his feet. He's fun to watch and has so much experience fighting talented, bigger opposition.
Gross:
The potential is there, no doubt about that, but it takes more than that to assert yourself in a weight class.
Mindenhall:
He was the smiling fink of the TUF 14 house. His height is a liability, but the dude's a rare combination of acrobatics and mean.
[+] Enlarge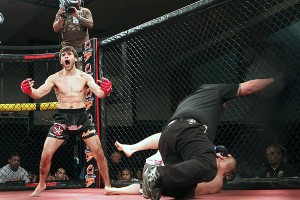 Jeff Sherwood/Sherdog.comDarrell Montague is not with UFC ... for now. But don't be surprised if you see him fighting very soon.
No. 7 Darrell Montague (11-2)
The only name on this list not currently contracted by the UFC, but it's likely only a matter of time before the 24-year-old hits the Octagon. He's been a menace in the flyweight proving grounds that is Tachi Palace Fights, with one signature loss you know he'd like back against McCall in 2011. A southpaw, Montague likes to take the center of the cage and stalk his prey. He trusts his hands and that makes him fun to watch. Good counterpunches and a high comfort level in stringing together combinations as opposed to single power shots. You will see Montague knockout highlights inevitably pop up in years to come.
Dundas:
He figured to be among the first crop of flyweights snapped up by the UFC until the loss to McCall. Back on track with two wins, it likely won't be long until he's bound for the Octagon.
Gross:
This confident kid will get his shot at the big time someday soon.
No. 8 John Moraga (11-1)
A lot to like about this dark horse in the flyweight division. Moraga isn't going to bounce around the cage like a Demetious Johnson, but he's got speed where you want it -- in his hands. This guy can unleash punches opponents never see coming and his power is undeniable. No glaring holes to speak of, and keep an eye out for a strong guillotine, much like the one we've come to learn his teammate
Ben Henderson
possesses.
McNeil:
Despite showing off his striking prowess against
Ulysses Gomez
in August, UFC fans will soon learn that Moraga has solid submission skills.
Mindenhall:
Great submissions, and he has been packing a better punch since losing to Dodson back in 2010. Verdict's still out on how he stacks up with the top guys.
[+] Enlarge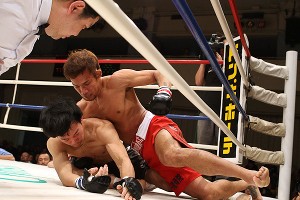 Taro Irei/Sherdog.comExpectations are high in the UFC for Yasuhiro Urushitani, right, despite a tough Octagon debut.
No. 9 Yasuhiro Urushitani (19-5-6)
Urushitani didn't exactly sparkle in his UFC debut, but he gets a semi-free pass for that loss, considering it was against Benavidez. That said, expectations are high for the Japanese fighter early, so a strong sophomore performance in the UFC is key. Urushitani is known for his counter striking, but he's actually capable of moving forward when his confidence is high. He's got a nice straight left he'll throw down the pipe, but watch that left hand when it's not being used. Urushitani tends to keep his hands around his waist and rely on elusiveness to avoid strikes. Sometimes it works and sets him up beautifully for counterstrikes. Other times, well, he wakes up to the sounds of a fired-up Benavidez running around him.
Gross:
A veteran of the division, he failed to do much against Benavidez, further cementing the weak reputation of Japanese fighters in the Octagon.
McNeil:
He's a much better fighter than the guy who appeared lost in his Octagon debut against Benavidez.
No. 10 Louis Gaudinot (6-2)
What a difference 10 pounds can make. Any fighter on this list likely knows that feeling from competing at 135, but Gaudinot might know it best. His particular style just doesn't bode well against bigger guys -- but it should be darned effective on smaller ones. Gaudinot is not fleet of foot. He's got a flat stance, and he's unafraid to sit in the pocket. At 135, walking down bigger guys just wasn't going to get him to the top. At 125, the green-haired Gaudinot is going to be an imposing figure. He'll take one to land one, and if he can catch up with the speed of the other flyweights and work a takedown here and there, his tenacity and bullish attitude will win fights. A Gaudinot-McCall fight would produce fireworks.
Dundas:
Had the heart but not the size to be UFC bantamweight champion. His high-octane style likely makes him a matchmaker's favorite.
Gross:
If you can get past the green hair, you'll see a hard-nosed powerhouse benefiting from fighting at his natural weight.
June, 9, 2012
6/09/12
6:32
AM ET
As it pertains to how
Demetrious Johnson
and
Ian McCall
go about their business in a mixed martial arts contest, the gap between the flyweight pair is miniscule.
There's no doubt about that after the 125-pounders engaged in another enthralling 15-minute stretch Friday night. That's six very competitive rounds over the last three months, leaving the impression that regardless of how many times they met in a cage, judges would prove the final arbiters -- and they'd have to earn their money. Thankfully, officials assigned to that task in Florida did their job well, sealing Johnson's trip to the UFC's flyweight tournament final against
Joseph Benavidez
.
Johnson got there by making and, more importantly, implementing changes to the way he approached McCall's physicality. Speed and wrestling, Johnson's fortes, are wonderful attributes to possess, but not if they're stifled by poor timing and distance, which cost the 25-year-old former bantamweight contender a victory in March. Rather than jumping forward and opening opportunities for the 27-year-old Californian to drop levels and get at Johnson's hips, "Mighty Mouse" stood his ground, planted and fired off right hands. He also used footwork to avoid long stretches on the inside with McCall, though when they did battle it out in the clinch Johnson did not appear to fight with the verve that marked his first performance.
[+] Enlarge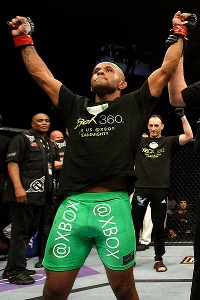 Josh Hedges/Getty ImagesDemetrious Johnson walked away a winner this time, thanks to a few tweaks to his game plan.
Many McCall supporters came into the rematch pointing to his stellar Round 3, a 10-8 period according to some (including me), as the reason he'd advance to face Benavidez. McCall was brutally efficient over that five-minute stretch, especially from top position where he 1.) controlled Johnson and prevented him from standing and 2.) swarmed with strikes from dominant spots on the mat. The sequence started after Johnson rushed at McCall. Since Johnson was disciplined this time around, McCall had few counter chances to take advantage of.
Instead, it was McCall who pressed. He did this in the early going, reaching on punches that ended with him planted on the canvas thanks to a Johnson right hand. And he did this late. The Californian's frustration mounted in the final period, which was when the difference from their first and second contest became clear.
Try as he might, McCall forced takedown attempts rather than flowing into them. That proved to be hugely important to Johnson's ability to stay off his back, which was a must considering how effective McCall was the first time around. That split second shift was all Johnson needed to stop McCall's advances. The fact that McCall was required to work as hard as he did also, understandably, slowed him just enough to ensure that Johnson retained a speed edge throughout the contest. This was notably different than the first encounter, when it seemed McCall was not at all a victim to a faster fighter.
Johnson spoke before the fight of his changed diet, including a hefty dose of carbohydrates. Whether that paid off for him as the fight wound down or whether it was his improved tactics, the fact is Johnson was much more dangerous in the final period tonight than he was on March 3. Much more.
March, 6, 2012
3/06/12
12:10
PM ET

By Chuck Mindenhall
ESPN.com
Archive
The UFC's flyweight division was exactly one fight old when things went haywire at the top.
That's so 2012 in the UFC. When title belts are in play, all paths look more like construction zones with detours.
This time,
Ian McCall
appeared as if he'd won a back-and-forth fight to advance in the shudder-speed flyweight tournament. Then the scorecards were read and it was actually
Demetrious Johnson
who won a majority decision, turning "Uncle Creepy's" maestro swagger off as fast as it came on.
His depression didn't last long.
To the chagrin of flyweight matchmaker Sean Shelby, who was in Columbus for Strikeforce some 10,000 miles away, the Australian athletic commission miscalculated the scorecards on McCall/Johnson. The result should have been a majority draw, and somewhere in the bowels of Allphones Arena in Sydney they informed Dana White, whose only response could be the obligatory tirade of profanity. They weren't. And the disheartening thing for the UFC was that this was an eventuality it had prepared for by introducing a sudden victory round -- à la "The Ultimate Fighter" format -- to resolve any draws at the end.
But there's no accounting for human error, and nothing much can be done in that situation except adopt the common shoulder-shrugger's refrain: it is what it is.
Now
Joseph Benavidez
-- who TKO'd Yasuhiro Urushitani -- will wait for a rematch that most will be stoked to see and yet shouldn't have to see. Flies in the Vaseline, they are. Sadly, the UFC's newest division adds to the already algebraic complications going on with the UFC's title pictures.
Go back a week and start there. Benson Henderson defeated
Frankie Edgar
at UFC 144 in a close fight to take home the lightweight strap. Seeing that it was a close fight, one that could be interpreted either way, Edgar asked for an immediate rematch. Problem is that
Anthony Pettis
, who knocked out
Joe Lauzon
the same night, wants his shot at the belt, too. He was the last man to defeat Henderson, and was at one point the solid No. 1 contender (a position he fancies himself in again).
Jim Miller
and
Nate Diaz
are operating with the understanding (delusion?) that their May 5 fight in New Jersey is a title eliminator.
It's complicated.
Of everyone, Edgar is the unignorable here. The UFC wants him to challenge
Jose Aldo
for the featherweight belt, but Edgar doesn't want to. He rematched
B.J. Penn
and
Gray Maynard
without quibbling, and he wants some return love. It's hard to argue. Before his fight with Henderson, the UFC romanticized Edgar as a Rocky-esque figure in the hype process. Yet not even Rocky was Rocky coming off of wins. He was Rocky because of how he responded to losses. First with Apollo Creed, then with Clubber Lang. And later, after losing the vainglorious Creed to a killing machine from Russia, against Ivan Drago.
[+] Enlarge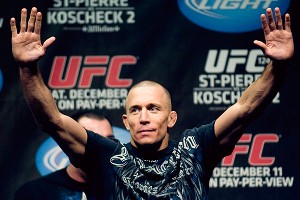 AP Photo/The Canadian Press, Graham HughesHold it right there: No one is going anywhere so long as Georges St. Pierre remains on the shelf.
How can the UFC draw upon a man's heart and not give him the chance to show its full dimensions? Having lost to the bigger, stronger Henderson sets the table for a truer representation of his nonfictional Rocky story.
As an extension of the uncertainty at 155 pounds and Edgar, the featherweight division is in limbo. What next for Aldo? Then you glance at the welterweight title picture, and
that's
way out of focus.
Georges St. Pierre
is recovering from ACL surgery, and is either way ahead of schedule or possibly right on schedule or something else. He is tentatively looking at a November return. Interim titleholder
Carlos Condit
is waiting to see something definitive in that timetable before deciding what to do next.
Jake Ellenberger
is waiting to see what Condit does, and now so is
Martin Kampmann
(the last man to defeat Condit). It's possible we don't see an "actual" title defense at 170 pounds this year.
By slotting
Dominick Cruz
against
Urijah Faber
as the coaches on "The Ultimate Fighter" Season 15, that means Cruz won't defend his bantamweight belt until the summer. And that means any challengers beyond Faber -- guys like super-sensation
Renan Barao
-- are out of luck until winter.
As for middleweights,
Anderson Silva
is finally going to fight again in June after recovering from bursitis in his shoulder. There's a chance we see just one middleweight title fight in 2012.
With eight weight divisions, and a conservative average of two fights per year, there should be in the neighborhood of 16 title fights. That won't be the case in 2012. There might be 10, if we're lucky.
Can you imagine if
Jon Jones
had made good on his request to take a few months off? Light heavyweight is the closest the UFC has to a normally functioning division right now. And it looks like
Junior dos Santos
is ready to go, if
Alistair Overeem
can avoid injuries and conflicts beforehand.
Otherwise, title fights are scarce to come by this year. Which means we'll be watching a lot more PFC (Penultimate Fighting Championship) than UFC (the Ultimate variety).
March, 3, 2012
3/03/12
10:20
PM ET
Borrowing from
Demetrious Johnson
's clear analysis, "it sucks" that the first flyweight card in UFC history went from epic to tragic to comic because a local bureaucrat wrote down the wrong score.
Listen to
Joseph Benavidez
, though, and you could get the impression that a draw marking one of the worst regulatory failings in MMA history isn't such a bad thing. That was his upbeat take after news broke that Johnson's majority decision over
Ian McCall
was really a majority draw. So went half of the UFC flyweight championship tournament Friday in Sydney.
With a one-way ticket to the final literally punched during an opening round drubbing of Yasuhiro Urushitani, Benavidez was free to sum up his outlook on the unexpected one-bout, undetermined-length extension. This is a paraphrase. He earned his way into the final, and so should his next opponent. McCall and Johnson have unfinished business that needs resolving as soon as possible. And then it's time to name the No. 1 flyweight in MMA.
When Johnson and McCall tangle again, they'll walk to the cage hardened by a 15-minute battle. As anticipated, action was furious, highly competitive, with hints of danger the entire way. Then this whole process took on its own against-the-grain story when a score of "8" was mistaken for a "9."
[+] Enlarge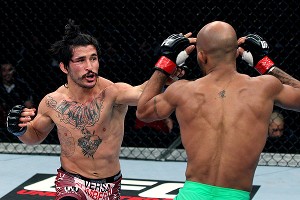 Josh Hedges/Zuffa LLC/Getty ImagesAnother round or three between Ian McCall, facing, and Demetrious Johnson isn't such a bad thing for fight fans.
While everyone commiserated with UFC president Dana White in wanting that extra round guaranteed under the rules of the tournament in event of a draw, the mistake wasn't found until far too late. Both fighters cooled down and digested the result before they were told what really happened.
"Human error," White put it.
Five minutes of "sudden victory" sounds too good to be true. If you dare to dwell on how it goes down, the best moments of McCall-Johnson play like a highlight reel. At least, that's the case for me.
In that respect watching Rounds 4 through 6 doesn't seem so bad, either. The important thing, Benavidez again reminds us, is the notion that two worthwhile fighters meet in the final. The UFC has one locked in place. We're a couple months and 15 (maybe 20) minutes from knowing the second. Probably. Do yourself a favor and scribble this episode down as a highlight of the opening chapter for flyweights and the UFC.
Think of it this way -- if surprise proves to be a hallmark of UFC's 125-pound division, we'll know how far to trace that back to.
Before last night's wrong was righted, I was almost ready to suggest that, in spite of the apparent result and all it seemed to cost him, McCall should leave Australia feeling like winner. Why? (For starters, he didn't lose.) But apropos to my point, he made a name for himself. Results are in; fans dig Uncle Creepy.
Shortly after Benavidez smoked Urushitani, I tweeted a simple poll question: "Benavidez or Johnson?" McCall finished a strong second. His heart was broken in Sydney and people saw that happen. Dreams of becoming the first 125-pound UFC champion were dashed. McCall's hurried exit from the cage indicated everything you needed to know about what he was feeling.
An hour spent absorbing difficult facts meant nothing after the regulatory commission admitted to screwing up the decision. From tragedy to comedy to who knows what's next. Surprisingly, McCall's protagonist role in front of the media afterward was decidedly less dramatic than what it probably called for.
"Things happen," he said. "Shoot, we get to fight again. You guys had a good time, right? So we'll put on another show. Whatever. I'm happy because I got a little vindicated, but we get to do it again and that's awesome."
At least White didn't allow McCall to get away with playing it too cool, chiming in about a less subdued reaction backstage. Hey, McCall has no reason to hide his excitement. An immediate rematch represents the best-case scenario for the 27-year-old Californian. He'll enjoy another payday as soon the pair are ready. And, most important, he remains in the running to be the first UFC flyweight champion.
For the division itself, a storybook start gave way to reality. From time to time, those things aren't so far apart.
March, 1, 2012
3/01/12
1:39
PM ET

By Franklin McNeil
ESPN.com
Archive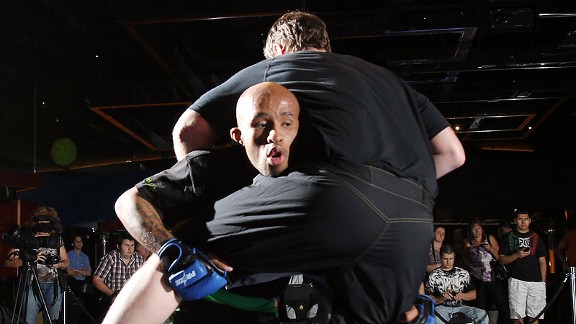 Josh Hedges/Zuffa LLC/Getty ImagesHeavy lifting: Demetrious Johnson was successful fighting bigger guys at bantamweight.
By most accounts,
Ian McCall
is the world's best flyweight.
But despite the difficulties McCall is likely to present
Demetrious Johnson
on Friday, he isn't the most pressing issue facing the UFC's former top bantamweight contender.
Johnson has spent his fighting career competing at 135 pounds. And while he was a smaller bantamweight, Johnson always knew how his body would respond in the cage. Speed and precision technique are his greatest assets. Combined, they allowed him to control the opposition with lightning fast strikes, takedowns and transitions.
But when he enters the Octagon on Friday, the deceptively strong 5-foot-3 Johnson hopes his skills aren't compromised by the lighter weight.
Competing at 125 pounds for the first time, against the top-ranked fighter in the division won't be easy for Johnson.
McCall, the Tachi Palace Fights flyweight titleholder, enters the Octagon with an 11-2 professional record. And McCall is no stranger to the Octagon, having fought three times in the WEC.
He was defeated by current UFC bantamweight champion
Dominick Cruz
in a nontitle bout on Jan. 25, 2009. McCall went 1-2 in WEC.
"Ian McCall is a tough guy," Johnson told ESPN.com. "He's ranked No. 1 in the world. He's on a four-fight win streak, he's fought in this division before and he knows how to make the weight cut.
"This is unfamiliar territory for me in my career at 125. But I am a professional athlete and I am making the adjustments to make sure my body runs at 100 percent in the weight class and I can get after it."
Thus far, there have been no signs the weight cut has wreaked havoc on Johnson's body.
If all goes according to plan Friday night, he expects to defeat McCall. Afterward, Johnson (14-2) will turn his attention to the man he wants most to fight for the UFC flyweight title --
Joseph Benavidez
.
A showdown with Benavidez is a fight Johnson believes will happen one day; he just doesn't want to delay the inevitable.
"It would be awesome," Johnson said. "I think the world wants to see me and Joseph Benavidez fight.
"We will fight eventually, whether it's me going to his gym and broadcasting it on Skype and we keep the proceeds. He and I will fight eventually before the end of our careers."
Johnson has it all mapped out. After defeating McCall and Benavidez, he intends to wipe out the flyweight division then turn his attention to some unfinished business.
The ultimate goal for Johnson, 25, is becoming a two-division champion.
"I have not said goodbye to 135 forever," Johnson said. "Right now, 125 is my home and it's my goal to get that belt. But hopefully in the future I will fight at both weight classes.
"It's like
Jon Jones
. He's the champion at 205 right now and is beating all the guys and cleaning out the division, and I'm pretty sure he has ambitions to go up heavyweight and do work up there."
If his body responds positively to the weight cut against McCall, it would be a bad idea to bet against Johnson reaching his primary goal.
March, 1, 2012
3/01/12
7:04
AM ET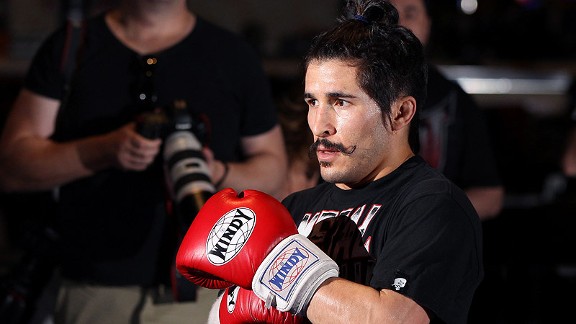 Josh Hedges/Zuffa LLC/Getty ImagesThrough the fire: A well-traveled Ian McCall considers himself the torchbearer at 125 pounds.
Ian McCall
stood inside a Whole Foods last week and listened to some guy tell him he didn't matter. That's a lot to stomach -- no matter who you are.
"I just don't really like the lighter weight classes," McCall was informed. "You guys are just boring to me."
After thinking about the conversation, McCall, widely regarded as mixed martial arts' No. 1-ranked flyweight, took comfort in the idea that his division, which debuts in the UFC on Friday, is one fans "really have to really like" to watch.
There's truth to that. Until McCall meets
Demetrious Johnson
and
Joseph Benavidez
deals with Yasuhiro Urushitani on FX this Friday, live from Sydney, Australia, jockey-sized mixed martial artists didn't have a bright enough spotlight on what they were doing. Interested fans had to actually seek them out. Not anymore.
When UFC adopted the lightweight, featherweight and bantamweight classes, the selling point was simple: these guys don't get tired, they're technical and they come to fight. Flyweight, "the final frontier in terms of how small you can go," according to McCall, all 5-5, 125 pounds of him, isn't so different. But there are people, like the guy at the market, who just won't care; if they wanted to watch guys McCall's build scrap, they would check out a Breeders' Cup.
"I don't want to say someone who just wants to watch heavyweights is ignorant, but just not as educated," said the 27-year-old married father of one. "Now that people are becoming more educated, they're appreciating the tactical side of it, which means opportunities for smaller guys. Smaller isn't always better, but I think the fighters that are coming down from 135 are going to make it better. I think there's going to be a lot of depth to the weight class, a lot of personality, which is a huge part of a sport that's growing so much."
McCall alone offers enough personality for a division that, in its first year of existence under the UFC banner, will remain small, filled through roster spots co-opted from 135 and 145.
"

Now that people are becoming more educated, they're appreciating the tactical side of it, which means opportunities for smaller guys. Smaller isn't always better, but I think the fighters that are coming down from 135 are going to make it better.

"

-- Ian McCall
After McCall's last win, a submission of Darrel Montague in Lemoore, Calif., where he reigned as Tachi Palace Fights champion, the well quaffed "Uncle Creepy" proclaimed himself the man to spearhead flyweights into prominence. He playfully harassed Dana White and Sean Shelby, matchmaker for Strikeforce and lighter classes in the UFC, that it was time to allow guys his size in the Octagon.
Speculation was high that it would happen the first of the year, and it did. Later in 2012, one of the four fighters battling Saturday in Australia (Friday, 9 p.m. ET), will, barring unforeseen circumstances, be crowned the first UFC flyweight champion.
McCall enters the field at the top, but not without questions. Like Johnson and Benavidez, McCall fought for Zuffa at bantamweight prior the switch to 125. He left the promotion in 2009 after losing on points to
Dominick Cruz
. Then the craziness of his life took over. McCall fell victim to an old friend: drugs. He hit rock bottom. He found a good woman, married, and had a baby girl.
During that period, MMA was the light at the end of the tunnel.
Confidence from being in the gym, sparring and improving "was really what I owe it all to," he said. "And the way my life has changed with a family, wife, baby, it just adds on top of it. Fighting is what's taken me to where I'm at now, and has enabled me to live a life I wanted to live. Not financially, I don't make that much money right now. But spiritually, I've taken some different things from it."
McCall dropped weight because he said it felt natural to him. The harder he trained under the reins of Colin Oyama and Romie Aram, the smaller he got. Next came an opportunity, which is all he wanted, and "two years later I'm world champ. I'm kind of the torchbearer for this thing in the UFC," said McCall, who unabashedly predicts a "transition to superstar by winning the tournament."
Becoming the first UFC flyweight champion has a great ring to it and carries some historical significance, but for McCall to think he'll soon be the next George St. Pierre is a miscalculation. It takes time to develop a division, and Zuffa is playing it real tight at the start. Consider the tournament a "soft opening." Even bantamweight isn't a money-making venture for Zuffa quite yet -- perhaps that changes with Dominick Cruz and
Urijah Faber
coaching the first season of "The Ultimate Fighter" on FX starting March 9 -- so at this stage, Zuffa regards flyweights as more of an investment than anything else.
You could hear the hope in McCall's voice as he said this: "If we can create a really strong structure, like they can at 125, it can definitely build and create something people love, that they want to see and will pay to see."
[+] Enlarge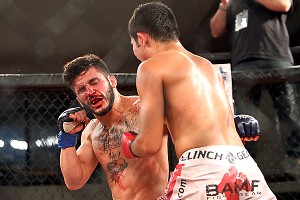 Jeff Sherwood for Sherdog.comIan McCall, left, brings depth and a whole lot of personality to the UFC's newest weight class.
The weight class carries depth, so that's not an issue. Curious to some were Zuffa's roster choices -- McCall, Johnson, Benavidez, Urushitani, Darren Uyenoyama, John Dodson, John Lineker, Louis Goudinot and Josh Ferguson -- left free some of the sport's best --
Jussier da Silva
, currently ranked No. 2 after losing to McCall one year ago, fights March 18 at a 132.3-pound catchweight in Brazil -- providing Richard Goodman, matchmaker for Tachi Palace Fights, solid bouts to make at the regional level.
"Now that the UFC has adopted this weight class, we're going to see a lot more guys develop at that weight," said Goodman, who claimed no trouble finding top talent before this wider exposure. "A lot of good fighters like Benavidez, Johnson, McCall -- they all had to fight at 135 because they didn't have any weight classes in any shows that could afford the budget to pay them what they deserve and make a good living."
At flyweight, McCall said the new crew of fighters "aren't going to be the fastest guys on the court anymore. They're going to have to deal with guys that are just as fast and just as technical in every way. I think they're going to be shocked."
He likes to talk, there's no question about that. For McCall (11-2), to make good on his words -- he'll meet Benavidez in the finals and win, "people haven't experienced a fighter quite like me yet" -- this second shot with Zuffa needs to be much better. Losing to Cruz was one thing, Benavidez and Johnson did that too, but he can't afford performances like the one against
Charlie Valencia
that saw him subbed within a round.
"I have a lot to prove," McCall said. "I need to show that I screwed up last time. I wasn't for real. Now I'm serious. I'm really just a completely different person fighting wise. People will see.
"My dreams were finally answered and I can focus completely about this. Nothing else as far as work. I don't have to look for other work. It's a big part of it. This is my job. This is my calling. This can change my life, make my life pretty damn cool. I was getting by before, but now my wife doesn't have to work -- she can just be mommy."
And, just maybe, he and his fellow flyweights won't have to deal with critiques from the checkout line anymore.
February, 29, 2012
2/29/12
7:06
AM ET
Joseph Benavidez
pretty much has two birthdays now. There is his original birth date, just like everyone else, and the day he learned he'd get to fight at 125 pounds.
It's always a good day when a fighter finds out he gets to compete in his ideal weight class, but the significance of this goes even further for Benavidez -- who says he feels "reborn" as a flyweight.
His career had hit a maddening spot during these past 18 months. He wasn't going to receive another title shot at 135 pounds after having lost to champion
Dominick Cruz
twice while in the WEC, but at the same time he was respected enough by UFC matchmakers that they refused to put him against rising prospects.
The result was Benavidez accepting undercard fights against competition that didn't make a lot of sense. Through two fights in the UFC, he has yet to see the main card and has faced unranked opponents in
Ian Loveland
and
Eddie Wineland
.
"I call that the purgatory of the bantamweight division," Benavidez told ESPN.com. "The UFC is trying to build that division; so, I can't get a title shot. But they also don't want me knocking off the up-and-coming guys.
"I felt I took some random fights. I was so excited to fight in the UFC, but I was on Facebook [portion of bouts] and the undercard, fighting a guy coming off a loss. I felt I deserved a little better than that."
As it turns out, the UFC agreed. The promotion announced late last year Benavidez would be included in its four-man flyweight tournament, which officially begins Friday at UFC on FX 2 in Sydney.
[+] Enlarge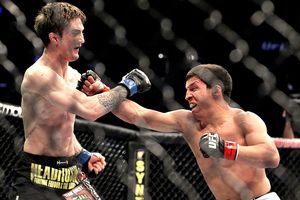 Ed Mulholland for ESPN.comDefeating Ian Loveland, left, did little to raise Joseph Benavidez's stock or profile.
Benavidez (15-2) faces Japanese flyweight Yasuhiro Urishitani. The winner will meet either
Demetrious Johnson
or
Ian McCall
in the final.
For the first time in his career, Benavidez isn't eating unnecessary meals or lifting weights in an attempt to put on unnatural weight. The opportunity to fight for a title is back in the picture as well -- the first 125-pound title in UFC history at that.
"It's something I think about all the time," Benavidez said. "Being the first flyweight champion would be history. I'd be immortal. No matter what I do, that's always there.
"I bought a house after the Loveland fight. I wanted something grown up like an elephant or some flowers to put on the mantel. I decided I need a UFC belt. I don't have one so I just put a picture of it. It's something I visualize every day."
His light schedule in 2011 -- it was the first time since 2006 he didn't fight at least three times -- might have actually benefited Benavidez.
"

I bought a house after the [Eddie] Loveland fight. I wanted something grown up like an elephant or some flowers to put on the mantel. I decided I need a UFC belt. I don't have one so I just put a picture of it. It's something I visualize every day.

"

-- Joseph Benavidez
While he's known as a permanent member of Team Alpha Male in Sacramento, Calif., Benavidez likes to visit other camps when he has the opportunity.
Prior to his first two fights in the UFC, he traveled to Las Vegas to train under the late Shawn Tompkins. Earlier this year, he went there again to work with Muay Thai instructor Shawn Yarborough and boxing coach Jimmy Gifford.
With no fight to prepare for in the last six months, Benavidez was able to push himself without the fear of having to pull out of a contest if he injured himself. He's evolved as a result.
"I'm never
not
motivated to train," he said. "Actually, when I don't have a fight I'm training the hardest because I'm not worried about getting hurt."
While trying to not look too far ahead, Benavidez admits it's been nice to know exactly what's next should he win this week. Past that, in addition to a UFC title, he wouldn't mind seeing his name appear on more pound-for-pound rankings.
Considering he's competed at a higher weight class his entire career and lost to only one man, Benavidez says there's already a case for him to be in the rankings. Finally at 125, he's got the opportunity to erase all doubt.
"I definitely think there is an argument," said Benavidez, on whether he's on the top-10 list right now. "I'm second-best in a division I wasn't supposed to be in. But there are so many good guys in this sport it's hard to list pound-for-pound.
"I'm looking to accomplish that -- make myself a pound-for-pound name."
February, 24, 2012
2/24/12
1:17
PM ET

By Chad Dundas
ESPN.com
Archive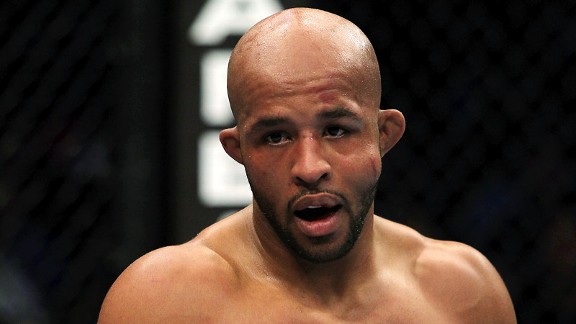 Josh Hedges/Zuffa LLC/Getty ImagesDemetrious Johnson is bringing a rule change with him when he debuts at flyweight.
The four men involved in the tournament to crown the UFC's first-ever flyweight champion won't make their 125-pound debuts in the promotion for another eight days, but already they're shaking things up.
During a recent appearance on
Tapout Radio
, tournament participant
Demetrious Johnson
revealed the contract for his tourney bout against
Ian McCall
includes a provision for a fourth, "sudden victory" period in the event their fight is a draw after its three regularly scheduled rounds.
"I don't know if anybody has said anything about it and this is the first time I'm mentioning it -- that [McCall and I] had to sign for a 'sudden death' bout," Johnson said. "If it goes three rounds and the judges can't decide who the winner is then we'll do a fourth round."
Johnson said he didn't know for certain if the same was true for the tourney's other first round bout -- pitting
Joseph Benavidez
against
Yasuhiro Urushitani
-- but is guessing that will be the case.
"I can't say if it's going to be for Joseph and Yasuhiro because I'm not going to say that the UFC made those guys sign, too," Johnson said. "I'm telling you, specifically, that I signed a contract for an extra round on the bout agreement. I'm not going to say that [Benavidez and Urushitani] did. I'm assuming, in my unprofessional opinion, that they did as well."
Probably a fair assumption. Also, a smart move by the UFC. If the tournament's opening rounds are scheduled for just three rounds, as Johnson indicates, it's a good bet that one or both of the organization's first flyweight fights will need assistance from the judges to determine a winner. A draw in either fight -- while still a rarity in MMA -- would obviously be a disaster for what the fight company has otherwise planned as a cut-and-dried two-round bracket.
It's also a little unorthodox. Short of the truncated "exhibition" fights of the "Ultimate Fighter" reality show, we've never seen this sort of arrangement in the UFC before. Since both opening-round flyweight fights are taking place in Sydney, we have to assume the promotion will be acting as its own regulatory body, and therefore can sort of make its own rules. (You know, within reason).
To date, the UFC has always stayed true to the unified rules during its international events. That's typically been a good thing and adding an extra round to the flyweight tournament bouts seems an innovative and positive step. The extra rounds probably won't be needed, but in the event that they are and all fighters have contractually signed off on them, there should be no problem.
Perhaps the UFC's experiment with "sudden victory" rounds could even lead to changes in the way draws are handled stateside. Nobody likes a tie, after all, and few would likely argue with a safe and sane solution to eradicating them.
Who knows? Perhaps the UFC's flyweights will prove to not only be the organization's newest, smallest additions, but also agents for change.
December, 5, 2011
12/05/11
1:28
PM ET

By Chuck Mindenhall
ESPN.com
Archive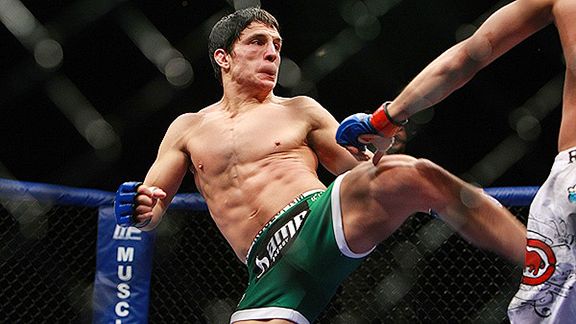 Dave Mandel/Sherdog.comBantamweight contender Joseph Benavidez is one of several fighters campaigning in a higher weight class.
Whether they realize it or not, the UFC has the best flyweights in the world parading around as bantamweights. (They realize it).
Some of them appeared on "The Ultimate Fighter" 14 finale on Saturday night. One of them looked undersized and overmatched (Louis Gaudinot). One of them looked underhyped and overlooked (John Dodson). Some of them are fighting for the bantamweight belt at the size of ventriloquist dummies.
Joseph Benavidez
is easily the No. 2 bantamweight in the world, but as a flyweight he could be a big fish.
Demetrious Johnson
gave
Dominick Cruz
some new looks and came up short. Short is how he'll succeed as a flyweight when the division is introduced in the UFC.
So, the next question is: When will that be? Media could only pry a single word from Dana White on the topic after the TUF 14 finale: Soon.
Soon could be early 2012, as was originally the target. Soon could be at some point in 2012. Or it could be a smokescreen term that means "we haven't really discussed it in earnest yet." Sean Shelby, who is the matchmaker for everything under 155 pounds, dreads the moment this division is introduced. He is already scattering so many jacks over the linoleum between the banties, the feathers and UFC sister outfit Strikeforce's lot.
But Shelby have to find it in him; the reality is that the flyweight division is coming. It has to. There are just too many guys straining to fight as bantamweights that would be better cast in a 125-pound setting. John Dodson didn't have to cut any weight. He was at 134 pounds at weigh-ins with all the cherubic dimples still embedded in his cheeks. Others on the scale dragged like walking dead, gaunt with their eyes set back under dark eaves.
[+] Enlarge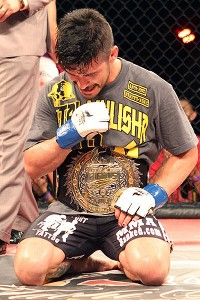 Jeff Sherwood/Sherdog.comIan McCall's prayers might be answered "soon," according to UFC president Dana White.
Besides the aforementioned fighters, there are plenty of guys out there who are licking their chops to prove themselves in the UFC.
Ian McCall
is widely considered one of the best flyweights going, and is the reigning Tachi Palace Fighting champion at 125. All "Uncle Creepy" wants for Christmas is eight sides to his cage. Then there are guys like
Jussier da Silva
and Mamoru Yamaguchi, the latter who looks like a holdover from 1970s Bruce Lee films. In fact, his handle is "the Illest Afro in Asia." There's one of the game's best counter strikers in Yasuhiro Urushitani, who defeated John Dodson by unanimous decision back in the day. And there are always woodwork guys, international discoverables, those yet to emerge.
In other words, there wouldn't be any shortage of talent at 125 pounds. And realistically, with 36 cards planned for 2012, the UFC could use the added division to help supply the workload/demand. It could benefit from one more belt to deepen a "Fight Night" card, or to power a co-main. As has been proven for all those years in the WEC and on this season of TUF, the jockeyweight divisions are loaded with combustible pieces. Dodson is like an electron in the cage. He was flipping off the Octagon posts like one of those "Sphere of Death" daredevils on their motorcycles. These flyweights are all springs and coils. Dueling acrobats.
Just how soon is "soon?" For all intents and purposes, the sooner, the better.
August, 6, 2011
8/06/11
3:46
PM ET
LEMOORE, Calif. --
Ian McCall
's third round submission Friday night over Tachi Palace Fighting flyweight champion
Darrell Montague
suggests several things about the 27-year-old.
McCall's decision win in February against Brazilian
Jussier da Silva
, then ranked No. 1 in the division, wasn't a fluke.
When he's focused and determined, a guy known as "Uncle Creepy" might be the best 125-pound mixed martial artist in the world.
Based on the looming possibility that Zuffa will adopt the weight class by the start of 2012, his ascension could not have come at a better time.
"Right now I feel like I am the [flyweight] torchbearer and that means so much to me," McCall said following a dominant performance against 23-year-old Montague (9-2). "I can be the guy that everyone looks at and says he's the best -- look at him. If I don't have some sort of magnetism now I want to figure out how to get it because I want to make people fall in love with me."
For various reasons, flyweight agrees with the 5-foot-5 McCall, who shed 10 pounds and joined the improving cast in that particular division earlier this year.
"At 125 the guys are his own size," observed McCall's trainer Colin Oyama. "At 135, he cuts about five pounds. Those guys like
Dominick Cruz
are humongous. At 125, at least the guys won't have that significant weight advantage.
"He's a lot more focused now than he was then. Becoming a parent, looking at some of the legal problems he got into, realizing jail is for real and mom and dad can't save you if it goes wrong, kinda scared him a little bit to where he knew he had to grow up. Even at 135 I think he'd be OK, maybe not as dominant because of size. But the effort he's put in, the stuff he does now, trying things instead of just taking guys down. He's learned a lot of things."
McCall's skill was on display in the main event of the final night of outdoor fights at the Tachi Palace Hotel & Casino, a Vegas-style oasis in the middle of Nowheresville. Originally the host venue for World Extreme Cagefighting, a pioneering promotion in its own right, Tachi crowned and hosted a featherweight champion by the name of
Urijah Faber
in the early part of his career. Business shifted and eventually Faber matriculated over to the UFC. McCall said he thinks "all the time" about his chance to do the same, taking every opportunity to prod UFC president Dana White on Twitter or text Strikeforce matchmaker Sean Shelby, which he did tonight after winning.
TPF matchmaker Richard Goodman expects to promote one more fight with McCall this year, and if Shooto obliges he wants to match the new champion against Yasuhiro Urushitani (19-4-6). Otherwise, a rematch against da Silva (10-1) could be next. The 26-year-old Brazilian grappler also out-pointed veteran Mamoru Yamaguchi on Friday.
Da Silva bulked up after the loss to McCall, and seemed much more prepared for the physical style he knows he'll encounter in the States. After sweeping the cards, da Silva relaxed and watched McCall and Montague live up the expectations as they put on the best bout of the evening.
"Ian fought really well," said da Silva. "He had the right strategy, was patient to take [Montague] down at the right time. He didn't rush into it and get caught in something."
McCall, in fact, overwhelmed Montague. He dropped the younger man with a right straight at the end of the first round, and battered him on the floor in second before sealing the choke victory.
"I felt a lot stronger than he is," McCall said. "I felt him break."
The performance against Montague was a marked improvement on his effort against da Silva, which though successful included moments of uncertainty.
"I didn't go all out with Jussier," he said. "I felt guarded, nervous. I gave him too much respect. He deserves it, the guy is a stud, but you gotta throw caution to the wind sometimes and I didn't go all out in that fight. Obviously he won tonight so we'll probably fight again. Next time it will be different."
Defeating Urushitani or da Silva would secure McCall's top spot at 125, which presumably makes him first in line for a UFC flyweight title shot when Zuffa gets around to promoting one.
"Who knows, when the UFC merges I'm sure
Demetrious Johnson
and those guys will move down," Oyama said. "They're all good wrestlers as well. I think Ian has a wide array of weapons and keeps adding new things. He's going to continue learning. Fighting here has been good for him, to get his confidence back and to expand the toolbox a little bit and test it out on people, good people, not chumps."
August, 5, 2011
8/05/11
11:55
AM ET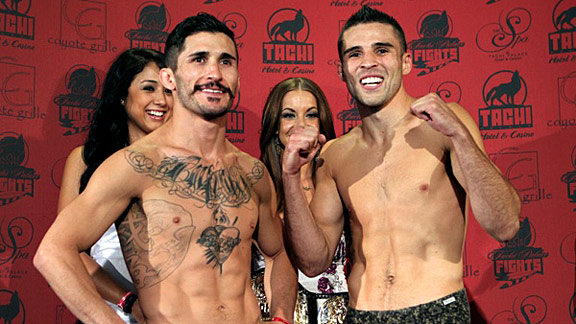 Sherdog.comLittle big men: Flyweights Ian McCall, left, and Darrell Montague are set to soar at TPF 10.
Sorry, Philadelphia, you're not hosting the best mixed martial arts main event of the weekend.
That honor goes to tiny Lemoore, Calif., where flyweights
Darrell Montague
and
Ian McCall
are slated for what sets up to be a five-round war at the Tachi Palace.
"I think if you tune in [today] you'll see," said Montague, who captured the 125-pound title with a dominant decision over Ulysses Gomez in February. "We'll definitely have a more exciting fight than Rashad [Evans] and Tito [Ortiz]. There are some good fights on the undercard in the UFC -- of course the UFC is the best organization in the world and more people are going to be excited about that -- but if you look [at] main event versus main event we have a better matchup style."
Because Zuffa has yet to fold the flyweight division into its ranks, Tachi Palace Fights, a promotion tied to the Central California tribal casino that gave rise to World Extreme Cagefighting, has established itself as the preeminent promoter of 125-pound mixed martial artists.
"Two years ago it wasn't even talked about by UFC," said Richard Goodman, the promotion's matchmaker. "Now they've openly said they'll have that weight class eventually. I think we've done an awesome job showing what this weight class has to offer compared to some of the other weight classes."
Montague (9-1) and McCall (10-2) are currently Tachi's top two flyweights, each ranked among the top five in the world, each eyeing the future while focusing on what's directly in front of them.
"We're going to beat the s--- out of each other for five rounds, if it lasts that long. Obviously, I don't plan on it lasting that long," said McCall, who went the distance with
Dominick Cruz
at bantamweight in 2009. "Technically we're up there. I don't think people give us the respect we deserve."
TPF-contracted fighters, of course, cannot compete with their brethren in the Ultimate Fighting Championship for attention. With UFC 133 in Philadelphia on Saturday, headlined by a three-round light heavyweight tilt between former champions
Rashad Evans
and
Tito Ortiz
, Montague-McCall was already going to struggle for coverage. Caught in the deluge of news about fighter cuts, including what appears to be the end of
Fedor Emelianenko
in Strikeforce, the TPF main event may not get noticed until it's over. And even then, only if it delivers.
"The online community, I'm pretty sure they'll be excited to watch," Montague said (fights will be streamed live on Sherdog.com at 8:30 p.m. ET). "Both of us feel that we have so much to prove we'll do what we have so much to prove that we'll do whatever it takes to put on a good fight. It's a good recipe for some exciting stuff."
Neither flyweight had the same to say about the matchup between Evans and Ortiz, especially the 27-year-old Colin Oyama-trained McCall, who personally dislikes both fighters.
"I definitely think we're one of the best matchups of the weekend," said the flyweight challenger. "Evans and Tito, in all honesty, who really cares? Neither of those guys are going to beat
Jon Jones
. ... They seem like idiots and a--holes. That's just me venting a little bit. I've met them both on a couple of occasions and kinda not liked them."
A month removed from the first bantamweight main event in the UFC, it's not so crazy to think flyweights could soon benefit from a similar opportunity. That would likely mean an end to Tachi Palace Fights as the home to the best 125-pound matchups in MMA, a fate Goodman has already accepted.
"We're just going to go back to building up fighters rather than having the top fighters with us," he said.
Montague, 23, is a sharp striker who expects to be tested by McCall's strength and wrestling.
"I think if I do the same thing that I did to Ulysses and shut Ian down, make it my fight, I assume all the media will jump on my bandwagon and tell me I'm the best," the titleholder said. And if that happens, Montague expects to soon be aligned with the UFC, grabbing headlines instead of fighting for them.