September, 19, 2012
9/19/12
5:48
AM ET

By Franklin McNeil
ESPN.com
Archive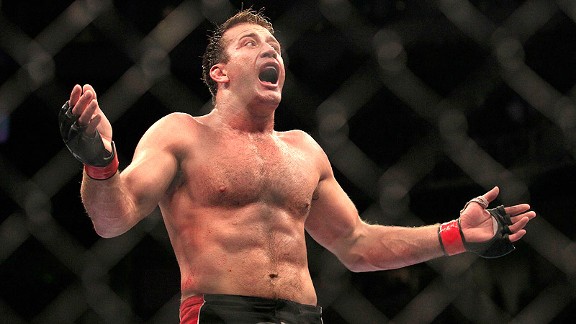 AP Photo/Jeff ChiuSurprise! Stephan Bonnar was officially retired when he got the call from UFC to fight Anderson Silva.
Conventional wisdom suggests that
Stephan Bonnar
, who last fought in November 2011 and spent the past few months contemplating retirement, has nothing to lose against middleweight champion Anderson Silva at UFC 153.
There's no title on the line, the bout will be contested at light heavyweight and Silva's physical skills so far exceed what Bonnar has to offer that oddsmakers have the Brazilian opening as a 13-1 favorite.
Bonnar will enter the Oct. 13 bout in Rio de Janeiro on a three-fight win streak. Those victories, however, have come against middle-of-the-pack competitors Kryzstof Soszynski,
Igor Pokrajac
and
Kyle Kingsbury
.
Silva on the other hand has won 16 straight and doesn't know the taste of losing inside the Octagon. Fighters on his destruction list include
Chael Sonnen
,
Forrest Griffin
,
Rich Franklin
,
Dan Henderson
,
Nate Marquardt
and
Vitor Belfort
.
By all measures this main-event fight is being viewed as nothing more than an exhibition. For Bonnar, however, it's anything but.
This is as real a fight as any Bonnar has ever participated in, and regardless of conventional wisdom he is going in to it determined to give everything his 35-year-old body can muster.
Bonnar is a prideful man. He has given much of his body to the professional fight game for nearly 11 years.
He definitely has something to lose. If this is his final fight, Bonnar doesn't want to be embarrassed. But more important, he has a lot gain with an impressive performance or better yet -- the unthinkable -- a victory.
"I'm going to do my best," Bonnar told ESPN.com. "It's so hard to top the Forrest fight after all those years. It's a great storybook in and of itself, but what's my storybook ending?
"I beat
Anderson Silva
and it's like the perfect ending. What's going to top that? Nothing! But after I beat Anderson Silva, if I want to fight again I'll be given a fight that I can make a lot of money off of. Do I end my career on a storybook ending or keep fighting and get rich? That's a great problem to have."
Bonnar and Griffin fought in the Season 1 finale of "The Ultimate Fighter." That bout, which was held in April 2005, has been credited with catapulting UFC into the mainstream.
Griffin won that fight, and their August 2009 rematch, by unanimous decision. Despite suffering the two losses, Bonnar campaigned hard the past year trying to land a third fight with Griffin. His repeated attempts to convince UFC president Dana White to name him and Griffin as "TUF" coaches were unsuccessful.
But an upset of Silva, which would rank among the biggest upsets -- along with boxing's Mike Tyson-James "Buster" Douglas and Sonny Liston-Cassius Clay -- in combat sports history, would open numerous opportunities to Bonnar.
"I'm going in there [against Silva] to win or die trying," Bonnar said. "That's the plan.
"

If I beat Anderson [Silva] I won't have too much of a problem getting that coaching gig with a fighter like Forrest [Griffin]. I just heard that in the history of UFC I'm the biggest underdog they've ever had. And I'm fighting in his backyard. Talk about no pressure, it doesn't get any better.

"

-- Stephan Bonnar, on what little he has to lose at UFC 153
"If I beat Anderson I won't have too much of a problem getting that coaching gig with a fighter like Forrest. I just heard that in the history of UFC I'm the biggest underdog they've ever had. And I'm fighting in his backyard. Talk about no pressure, it doesn't get any better."
There is some pressure, however. Not the kind that comes from fan expectations, there is little of that. The only issue as far as an overwhelming majority of fans are concerned is how many rounds will Bonnar last against Silva?
This fight represents Bonnar's final chance to cash in on a mixed martial arts career that began in November 2001. It's now or never. That's pressure. Bonnar won't get another chance to hit the jackpot if he doesn't, at the very least, deliver a respectable performance.
He has years of hard work, blood, sweat and tears riding on this fight against arguably the best mixed martial artist ever -- and it is proving to be a bit nerve-racking.
"Fear is a great motivator and so is money," Bonnar said. "I've got this T-shirt business and all that. It's doing all right, but I'd really love to blow that up and make it successful.
"And winning this fight would be the easiest way to do that."
September, 11, 2012
9/11/12
1:08
PM ET

By Chuck Mindenhall
ESPN.com
Archive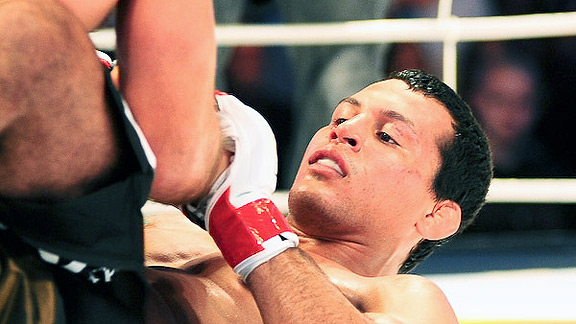 Sherdog.comVinny Magalhaes knows the one-trick pony routine won't get him very far in his second UFC stint.
Vinny Magalhaes is a world-class grappler. That much was obvious from his run through "The Ultimate Fighter" season 8 cast, where he submitted everyone he faced leading up to the final, including his former training partner at Team Quest,
Krzysztof Soszynski
.
Yet, while he was super-slick horizontally, he was shackled by his own subpar stand-up. It was a glaring deficiency, and one he simply couldn't compensate for. We saw it when he was knocked out at the hands of
Ryan Bader
in the "TUF" finale that season, and again when
Eliot Marshall
didn't compromise an inch at UFC 97. The Marshall fight was the shoulder-shrugging moment for the UFC. It served him his walking papers because his game wasn't whole.
By now, the bulletin is an old one that's been passed around and snickered over for years: This is MMA, not "The Singular Thing You're Great At." Disciplines have to come together in concert; otherwise, what shows up isn't the medals earned in world submission grappling tournaments. What shows up instead are your world-class deficiencies. The UFC, after all, is made up of cold-blooded exploitists. When Magalhaes left the UFC, he had an overall professional MMA record that was sub-.500. Things needed to change.
So what did he do?
Well, he relocated to Xtreme Couture in Las Vegas, went on a 7-1 run in the more dimly lit theaters (finishing a couple of fights with something as audacious as
strikes
), captured the M-1 light heavyweight belt, had a son, donned a singlet, began training with
Chael Sonnen
and, by extension, picking up pointers on how to combine orneriness with the naked truth. All for the sake of sports and entertainment.
Now he's back with the UFC, fighting at UFC 152 in Toronto against puncher
Igor Pokrajac
, just in time to see if any of it matters on the big stage.
"Even though there's the whole thing of me getting back to the UFC, in my mind this is my UFC debut," he told ESPN.com. "The first time when I was in the UFC was because I got on ["The Ultimate Fighter"], and I got on the show because of
Dan Henderson
. I had a big name push me to be on the show, and that's why I got on. Of course, I ended up earning my spot and making the finals, but I didn't use anything but my jiu-jitsu to get into the finals, so it's like, I cannot even compare myself back then to what I am right now. I am taking this as my UFC debut."
If MMA is biased, it's that fights start on the feet. It's a jiu-jitsu practitioner's burden to overcome, and it's been the bane of the 28-year-old Magalhaes' career so far. If every fight started on the ground, Magalhaes might be household name right now.
As it stands, Magalhaes has had to figure out a solution. He's not going to turn into Marvin Hagler on the feet, and as a realist, he's not trying to. What he's worked on in the past three years are things as ordinary as game plans, things as disciplined as execution, and things as advantageous as capable wrestling. He's also fiddling with the manipulation of space, known as "Maai" in some circles, which can be boiled down to closing the gap between his comfort zone and eating big Bader overhands.
In short, he feels he's diversified.
"I've gotten much better with my striking, I've gotten much better with my wrestling ... way, way better," he says. "But, I know how to mix things up. That's the difference. Before in my UFC fights, I just didn't know how to close the distance, so I didn't know how to put things together. And I know how to mix things up. I'm not a great striker, but I know how to throw a couple of punches to close the distance and get the fight where I want it.
"I'm also a much smarter fighter now, too. Before I would go into a fight with no strategy. I would just go there and hope the guy would take me down so I could get the fight where I want it."
[+] Enlarge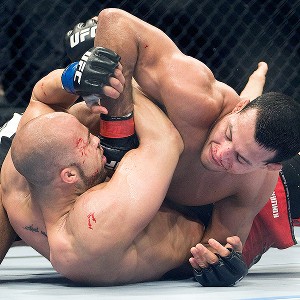 AP Photo/The Canadian Press/Ryan RemiorzVinny Magalhaes had his moments while on the ground against Eliot Marshal, but they were few and far between.
There's little chance of Pokrajac looking for a takedown, so it'll be up to Magalhaes to insist. During Pokrajac's three-fight win streak, he has finished two with strikes (against
Todd Brown
, and later Soszynski). This will be a classic puncher-versus-grappler fight that will alert everyone as to whether Magalhaes has truly evolved.
"I don't keep secrets," Magalhaes says. "My goal is to take this fight to the ground, and if I have to, if I can't take him down, I'm going to be ready to stand up with him."
The truth comes out Sept. 22 in Toronto.
But this improved version of Magalhaes has also proved shrewder in staying in the public's eye, even when not in the UFC.
Who can forget him putting his M-1 Global belt up for auction on eBay, saying later, "it's not worth even a dollar"? Magalhaes has learned a thing from the sultan of talk, Sonnen, whom he helped train for the
Anderson Silva
rematch. He's been fairly vocal about situations (like what happened with him and M-1's Evgeni Kogan) and fighters like
Jon Jones
(UFC 151), and via his Twitter feed and in the media.
His attitude is to dish it like he sees it.
"I'll be honest with you: I think I've gotten that totally from Chael," he says. "I'm not going to be making things up. I'm not going to be bashing somebody else's country like Chael does just to be entertaining. But if I can be entertaining while speaking the truth, I'll do it."
And speaking of Sonnen, who is scheduled to fight Magalhaes' training partner
Forrest Griffin
at UFC 155 in December, just where will his allegiances fall?
"I was talking to Chael, and I was like, I want to be out of both training camps for you guys," he says. "I don't want to help Chael, I don't want to help Forrest. I like Forrest, and I've been training with Forrest for the last four years. He cornered me against Ryan Bader. So I don't want to be involved.
"But then there's the side where I became friends with Chael. I like the guy, I like his personality, so it's a little odd. I'd feel like a traitor if I went there to train with Chael, because I've been training with Forrest for four years. So I'm keeping out of it. I like both of you guys. Whoever wins wins, I don't care. I'm just keeping out of it."
Not that it's Magalhaes' goal to be "training partner to the stars." It's his turn to try to become one. A good showing against Pokrajac would get him back on his feet in the UFC.
And if that happens, maybe this time he'll look a little more comfortable there.