May, 30, 2012
5/30/12
2:05
PM ET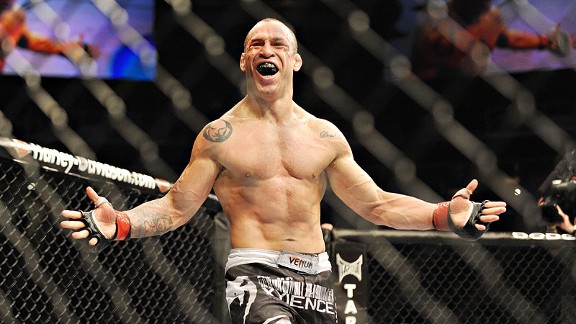 Rod Mar for ESPN.comCome one, come all: Wanderlei Silva is now welcoming all comers.
Apologies in advance for the cliché, but there is simply no better way to describe the fallout from Vitor Belfort's broken hand than by using one of our favorites …
Business as usual.
Another injury, another fight card tossed haphazardly into chaos. It's sort of become a disturbing trend for the UFC over the last couple of years. At this instant we can only assume matchmakers are scrambling back to their bunkers to find somebody, anybody to fight
Wanderlei Silva
at UFC 147.
Keep your phones turned on, opportunistic UFC middleweights.
This time, Belfort's injury scrapped not only the fight company's planned main event for its June 23 show in Brazil, but at best indefinitely postponed a fight that was meant to cap the inaugural international season of "The Ultimate Fighter," on which both Silva and Belfort were opposing coaches.
In the wake of the injury -- and despite the fact he should have been a prohibitive underdog in this bout -- Silva has accused Belfort of being something between a coward and an incompetent. He insists he's still fighting, though his opponent is currently listed as the dreaded "To Be Announced."
To that end, here are five suggestions for good replacements to fill Belfort's shoes, ranging from the very likely to the admittedly very fanciful:
Michael Bisping
.
[+] Enlarge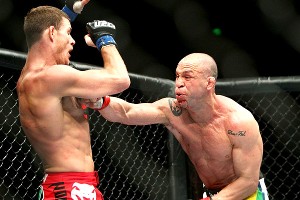 Mark Nolan/Getty ImagesWanderlei Silva's brawl with Michael Bisping was an enticing affair worthy of a rematch.
I'm not a betting man (at least that's what I keep telling my wife), but if I were I'd be willing to lay good money that we ultimately see Bisping injected into this bout. From the start, it felt strange that the UFC followed up his spirited January loss to
Chael Sonnen
by handing him a meeting with
Tim Boetsch
at UFC 149 in July. Boetsch may be riding a three-fight win streak, but Silva just makes more sense for the Brit right now, especially if matchmakers want "The Axe Murderer" to retain his slot in UFC 147's main event. Bisping lost to Wanderlei via unanimous decision at UFC 110 and it's been eating him up ever since. No doubt he'd jump at the chance to swap Boetsch for Silva, even if it meant a truncated training camp.
Especially when you consider that among the crop of other likely candidates,
Mark Munoz
is already expected to take on
Chris Weidman
in July (a cool fight we'd all hate to see scrapped) and
Yoshihiro Akiyama
is injured, Bisping is the odds on favorite to take this fight.
Demian Maia.
[+] Enlarge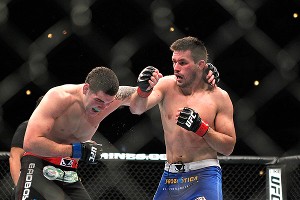 Ross Dettman for ESPN.comDemian Maia, right, would keep the UFC 147 main event an all-Brazilian affair.
Despite losing to Weidman in January, Maia still has a few things going for him if the organization wants him to fight at UFC 147: First, he's Brazilian and the UFC traditionally loves to stock its international shows with local products. Second, he'd make for a credible, but potentially beatable opponent for Silva, just in case the UFC is interested in keeping Wanderlei in the win column until Belfort is healed up. Well, more beatable than candidates like, say,
Hector Lombard
or
Brian Stann
. Third, Maia's already training for a fight against
Dong Hyun Kim
14 days later at UFC 148. Wouldn't take much shuffling to get him on here, if Bisping is unavailable or unwilling.
Alan Belcher.
[+] Enlarge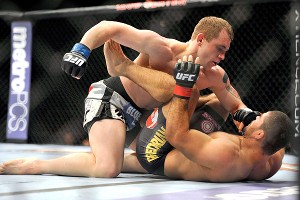 Joe Camporeale/US PresswireAlan Belcher, top, looks the type to answer the call to fight Wanderlei Silva on a moment's notice.
"The Talent" appeared to emerge relatively unscathed from his victory over
Rousimar Palhares
earlier this month and while he's currently riding a streak of four consecutive victories, he seems like the kind of dude who'd let it ride and jump at the chance for a short-notice fight against a name as big as Silva. He'd also give promoters, fans and Wanderlei himself the kind of stand-up war we're hoping for from this bout. So long as he's physically able, the fight makes sense.
Jake Shields
. Shields has decided to return to middleweight after a disappointing 2-2 run through the welterweight ranks and is slated to take on
Ed Herman
at UFC 150 in early August. On the other hand, there'd be no use use facing someone as dangerous and comparatively unheralded as "Short Fuse," if Shields could jump the line into a fight against a much bigger and much more vulnerable fish. His status as the former Strikeforce champ means the company could probably still pass this matchup off as the main event and his underwhelming performances since coming to the UFC in 2010 could make Shields look like an attractive opponent to Silva, too.
Ronaldo Souza.
[+] Enlarge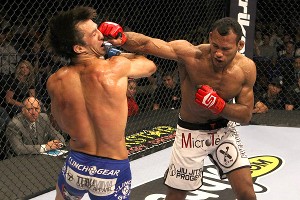 Josh Hedges/Getty ImagesRonaldo Souza would be a worthy fill-in for his injured countryman Vitor Belfort.
Sure, it's a reach, but it's not like "Jacare" has anything else going on. We haven't heard one word from him (also a former Strikeforce titlist) since he defeated Bristol Marunde in March. For all we know, he'd be a serious draw in his home country and it would add some considerable intrigue to the 185 pound division if he could come in and defeat Silva in his UFC debut. To do it though, he'd have to get past Wanderlei's bad intentions and get him on the ground.
Wildcard pick:
BJ Penn
. No, this won't happen, but it sure would be a hoot. The former UFC welterweight and lightweight champ fought in middleweight and even open weight affairs during the 22 months he spent wandering the earth while on the outs with the UFC in 2004-06. Hey, we're doing this thing in Brazil anyway, so why not make it a good, old fashioned vale tudo-style affair pitting the smaller, but more talented grappler against a larger, but fading wildman?
No? No, probably not.
But a guy can dream.
November, 30, 2011
11/30/11
4:34
PM ET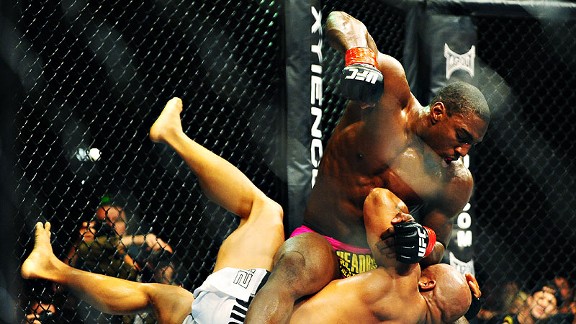 Mark J. Rebilas for ESPN.comOn top of things: Phil Davis can state his case as a light heavyweight contender -- if he can stay healthy.
At this point, the only thing standing between
Phil Davis
,
Rashad Evans
and an audience of millions might be the limitations of the human body.
As a flurry of fight bookings bring the UFC's plans for early 2012 into focus this week,
ESPN.com's Brett Okamoto reports
the highest profile slot of all will fall to Davis and Evans, who are expected to headline the fight company's first "official" live show on network television on Jan. 28.
For a couple of guys who've recently seen their plans sidetracked by injury, this could be the big break they need.
Of course, to reap the benefits, they'll have to show up at the United Center in Chicago in one piece. The way things have been going for Evans, Davis and for the 205-pound division at large, that may be the biggest trick of all.
The pair was originally supposed to meet as a stand-in main event at UFC 133 in August, after champion
Jon Jones
bowed out with an injured hand. Fewer than four weeks before the show was set to go on however, Davis also withdrew after hurting his knee. Evans then ran roughshod over late replacement
Tito Ortiz
and appeared to finally earn his second opportunity at the title, only to have it snatched away and given to
Lyoto Machida
when it was revealed he'd injured his thumb in the process.
Leading up to their previous bout, the 9-0 Davis had been insistent a win over Evans would make him the No. 1 contender, but while they've been out licking their wounds, things have gotten a lot less clear cut. Dan Henderson's victory over
Mauricio Rua
at UFC 139 now has some looking at him as the next in line to face the winner of Jones versus Machida.
For either Evans or Davis to leapfrog Hendo in the constantly shifting light heavyweight queue, they'll need to do something great. Luckily for them, a stellar performance in front of a worldwide television audience might just fit the bill.
After the promotion's initial "teaser" show on the Fox network peaked at around 8.8 million viewers earlier this month -- over 10 once you consider DVRs and whatnot, the company says -- even more people are no doubt expected to tune in for the UFC's first full-length show. That obviously means big things for Evans and Davis, who stand to benefit from a complete slate of televised fights leading into theirs, not to mention the fact their bout will likely go longer than 64 seconds.
Both guys have personalities that will be easy to promote and their stand-out collegiate backgrounds make them exactly the kind of fighters the UFC should be trying to spotlight for a mainstream audience. Put all of that together and it appears likely that Evans versus Davis ends up being one of the most-watched fights in UFC history.
With one good performance, Evans stands to bust out of the doghouse he's been in since sitting out 10 months during 2010-11, waiting for a title shot that never materialized. Meanwhile, Davis could go from under-the-radar rookie to household name and either fighter could earn a big money pay-per-view fight against Jones in the process.
The ball is teed up for a homerun here. These guys just have to show up healthy enough to swing the bat.
October, 21, 2011
10/21/11
12:21
PM ET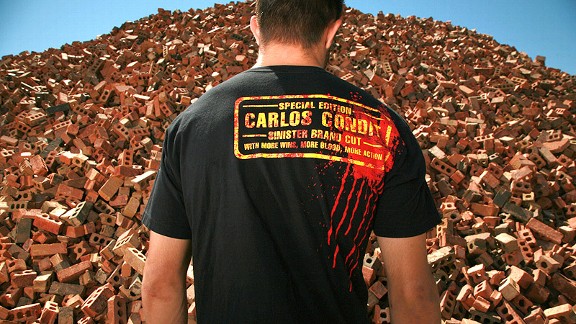 Andrew DeMattos/Icon SMIWhat was once an uphill battle is now a case of the pieces coming together for Carlos Condit.
Carlos Condit
has been on a nice run of luck lately.
First, there was his sudden promotion into the UFC 137 welterweight title bout after
Nick Diaz
ghosted a pair of prefight media conferences in September. Now, Condit appears doubly fortunate that instead of shuffling him back into the deck of 170-pound contenders, the UFC is willing to let him wait until
Georges St. Pierre
is recovered from the knee injury that knocked the champ off the card entirely this week.
"Taking another fight in between now and when Georges is healthy just doesn't make any sense on a lot of different levels," Condit told
Fox Sports
on Thursday, almost like he felt the need to convince us. "At this point, I'm just going to have to be patient."
Patient, and grateful.
Stories of No. 1 contenders not being afforded the same luxury have been well documented this year.
Rashad Evans
,
Anthony Pettis
and
Chad Mendes
would probably all like to have Condit's luck right now, as the decision to keep him in reserve for GSP signals a split with how the company has handled high-profile injuries in the recent past.
[+] Enlarge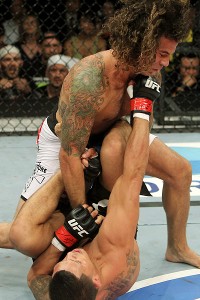 Josh Hedges/Getty ImagesAnthony Pettis could have used a little of Carlos Condit's luck before being matched with Clay Guida.
We can only assume the UFC is letting Condit wait because St. Pierre's knee injury is not considered overly serious and the two will still be able to fight sometime in early 2012. Also, maybe promotional brass were just tired of tinkering with the top of the UFC 137 lineup after Diaz's inability to show up for work forced them to take a flamethrower to it once already.
That didn't stop people on social media from floating the idea that the company
could
book Condit versus Diaz earlier this week. Maybe that outcome was even sort of expected, as that fight would have been a good one, would have been more in step with the UFC's previous injury policies, and seemed like the only iteration between GSP, Condit, Diaz and
B.J. Penn
that hasn't been tried yet.
To its credit however, the UFC stuck to its guns. In doing so, it also gave Condit the added opportunity of putting together a full training camp for GSP, instead of the seven-plus weeks he had prior to UFC 137. Any way you slice it, that's a pretty good deal all around for "The Natural Born Killer."
One potential problem, though: The plot will thicken considerably if Diaz defeats Penn next weekend, will it not?
If that happens, the UFC will be locked and loaded with the fight it meant to promote in the first place, except at this rate the soonest it could likely set up a Diaz-St. Pierre do-over would be early next summer.
Since Diaz has done far less to ingratiate himself with the company than a stand-up guy like Condit has, it's hard to imagine matchmakers giving
him
any special treatment. Just like everybody else, he'd probably have to take a fight in the interim. On the off-chance he lost, then the GSP fight for which Diaz left Strikeforce and set up this whole mess in the first place would go bye-bye for the foreseeable future.
In light of that, would the UFC consider leap-frogging Diaz back into a title shot if he wins at UFC 137? Probably not. One thing the organization likes even less than protracted injury delays is going back on its word, especially when that word has already been decreed so publicly.
For now, Diaz takes a backseat. It seems like Condit's luck will hold.
July, 18, 2011
7/18/11
3:59
PM ET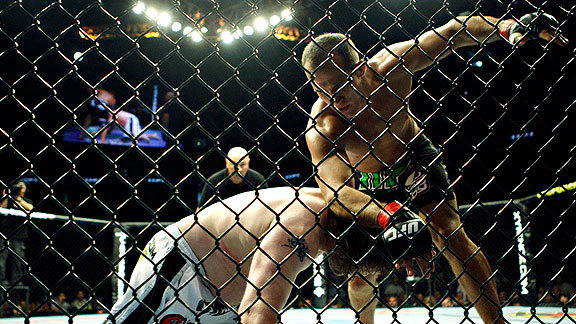 AP Photo/Jeff ChiuNothing says fall like an old-fashioned Junior dos Santos slugfest.
For all the recent hand-wringing we've been doing over the UFC's continuing injury troubles and slumping summer pay-per-view numbers, it's hard to ignore the fact that the company appeared to simply shrug its shoulders over the weekend and make its upcoming UFC 136 show into something of a blockbuster.
The confirmation of not only a lightweight title do-over between
Frankie Edgar
and
Gray Maynard
, but the expected featherweight championship bout between
Jose Aldo
and
Kenny Florian
greatly bolstered a card that was already shaping up as pretty good. Aside from the two title fights, the Oct. 8 show in Houston will include middleweight bad boy
Chael Sonnen
making his return against bona fide war hero
Brian Stann
, another decent 185-pound scrap in
Demian Maia
versus
Jorge Santiago
and appearances from two of the promotion's most exciting of-the-moment comers in
Melvin Guillard
and
Anthony Pettis
.
[+] Enlarge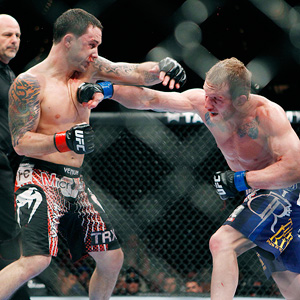 AP Photo/Eric JamisonThe last installment of the Edgar-Maynard trilogy should at least provide fight fans with some closure.
Must be nice. In tiny offices all over the continent, independent MMA promoters are likely contemplating their own rosters and then turning a deep, tasteful olive color with envy.
Even as the removal of
Rich Franklin
versus
Antonio Rogerio Nogueira
from the UFC 133 card early this week reminds us of the frailty of best-laid plans, there's reason to be hopeful about the fall PPV lineup. Next month's UFC 134 card kicks off a string of five consecutive shows where at least one belt will be on the line and everybody knows slapping some gold on a poster is one of the most reliable ways to move units.
It also doesn't hurt that this run is scheduled to include appearances by two steady-eddy PPV draws in
Anderson Silva
(UFC 134) and
Georges St. Pierre
(UFC 137) as well as a pair of emerging stars in
Jon Jones
(UFC 135) and
Cain Velasquez
(UFC 138). Not to mention that St. Pierre's welterweight unification fight against Strikeforce champ
Nick Diaz
stands to be one of the bigger bouts of the year and
Junior dos Santos
will streak into his heavyweight title match with Velasquez fairly fresh from a run on season 13 of "The Ultimate Fighter" and subsequent destruction of
Shane Carwin
at UFC 131.
Add all that up and it's a good possibility the UFC could see a strong rebound in its buy rate by the time we get to December's UFC 140 in Montreal and the promotion's planned return to Japan in February. So the future looks pretty good, at least on paper.
Now all the company has to do is hold this lineup together for the next few months. No sweat … right?