April, 23, 2012
4/23/12
12:58
PM ET

By Chuck Mindenhall
ESPN.com
Archive
When
Jon Jones
fought
Andre Gusmao
at UFC 87, "Bones" was already a practitioner of creative hostility.
At the time, Jones was trying out unusual kicks and punches in a shed in upstate New York, envisioning those spinning elbows and saddle throws that fall under the umbrella of judo. He knew, even then, that he could "dirty box" from three feet out of harm's reach. I remember Tandam McCrory, the lank Barn Cat, preaching Jones' use of range from back in those days.
The thing is, Jones was never really
raw
. But, at one point, he was mostly just creative.
Today, Jones is a coachable, maniacal center of poise who institutes and sticks to game plans -- game plans tailored to his overwhelming reach advantage, speed and the eventual surrender of his opponent's optimism. These days you can visibly see guys lose spirit in a fight with Jones. You see theoretically sound ideas go right out the cage door.
His fight at UFC 145 was no different.
Rashad Evans
, the former light heavyweight champion, was supposed to close the gap between himself and Jones, and fight on the inside. This was Evans' criticism of old foe
Quinton Jackson
, who couldn't sneak inside Evans' striking range at UFC 135.
Once in, Evans was supposed to dump Jones on to his back like he did
Phil Davis
-- a lengthy wrestler -- and make it a grueling, grinding affair. Make it boring. It all seemed reasonable enough.
Yet, like Jackson, Evans couldn't sustain close, and he settled into a stand-up fight with Jones, where he was forced to stay in the champion's orbit. In other words, the danger belonged to him alone. When Evans
did
manage to get inside, Jones threw elbows from puncher's range; when the wrists were locked at his waist, Jones threw shoulders.
[+] Enlarge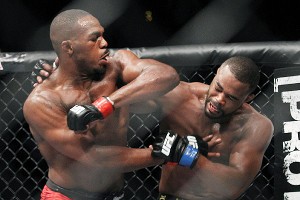 Ed Mulholland for ESPN.comAs his game has developed, Jon Jones' unorthodox style has become the norm.
As has become the custom, Jones did it his way. The big difference is that he's traded in the unpredictable for telegraphy and "try and stop me." Even scarier: The freelance improvisations that we saw against
Stephan Bonnar
and Jake O'Brien are still in Jones' arsenal, but they're now situational. His cool dictates the fight.
The Jones of 2012 is a Zen-harnessed version of his already ridiculous self. Before, it was a showcase of a rare and gifted skill set you wondered whether would work on elite competition.
Now Jones is far and away the elite, and everybody else at 205 pounds is left studying the Mona Lisa. He knows it. The guys he fights -- and an increasing number of fans -- know he knows it and want to put a stop to it. They can't. Even Evans, who had some trade secrets from his days training with Jones at Greg Jackson's gym couldn't stop it. Whatever vulnerabilities could be found in sparring sessions have nothing to do with the combined "it" factor that he saw on Saturday night. Jones slows the fight down. He fights without emotional projection, like it's a casual undertaking to be gotten at with patience and skill and ungodly long limbs. He kills himself in training to make it look easy on fight night. He fights twice as much as
Anderson Silva
and
Georges St. Pierre
.
In MMA, it's Jones' world right now.
And it's why at this point a lot of people are sold on the fact that he has cleaned out the light heavyweight division.
Dan Henderson
lingers, but not many are convinced he'll bring anything to the table that Jones hasn't seen. Hendo has that right hand. He has the wrestling pedigree. He has willingness. All of it admirable.
But there will be questions, most common of which will be this: How do you defeat Jon Jones? Plenty of fighters have had their theories handed back to them by Jones with a wink and a "nice try."
So, Dan Henderson -- how do you, at 42, beat Jon Jones, the phenom who's already fighting to his potential at 24 years old?
December, 7, 2009
12/07/09
3:46
PM ET
By Jake Rossen/Sherdog.com
ESPN.com
Archive
Strikeforce describes him as an "MMA superstar," and while that might depend on your definition, there's little doubt that their acquisition of Dan Henderson on Saturday marks the UFC's highest-profile exodus of talent since Andrei Arlovski in 2008.
Tweet, tweet
Don't miss a moment of the latest MMA coverage from around the world. Follow us on Twitter and stay informed.
Join »
Henderson, who might have hit the accelerator on the last laps of his career with a big, scary win over Michael Bisping at July's record-setting UFC 100, spent months mulling offers. According to UFC's Dana White, his financial demands were "obscene." The UFC can afford obscene, but whether they judged it necessary in the case of Henderson -- traditionally a well-liked guy with a consistent performance level who doesn't move a lot of tickets -- is another matter.
At 39 and with a possible glass ceiling in the UFC's 185-pound division if he can't conquer Anderson Silva, Henderson might have been intrigued by the change in scenery. Jake Shields is a possible opponent; Cung Le would be compelling stuff. He can hang at either 205 or heavyweight. Already, there's talk of him facing Fedor Emelianenko, a fight I have a bizarre interest in seeing even though it's ridiculous.
How much of White's habit of politicking in press affected negotiations is something worth considering. (His spin is already out the door, with White telling Fanhouse that he "pushed" Henderson into signing with the competition and that he "wasn't worth" the money.) Henderson's manager, Aaron Crecy, told Sherdog that "[Strikeforce CEO] Scott Coker treated Dan with a great deal of respect and integrity throughout the negotiations, and that certainly affected his decision." It's not a hard line to read into.