December, 5, 2013
Dec 5
8:00
AM ET

By Brett Okamoto
ESPN.com
Archive
Days before
Chael Sonnen
fought
Rashad Evans
at UFC 167 in Las Vegas in November, he gave an interesting take on his previous opponent,
Mauricio Rua
.
In August, Sonnen submitted Rua via guillotine choke in the first round of their light heavyweight bout at UFC Fight Night 26. When asked if he went into the bout thinking he had a chance to submit "Shogun," Sonnen gave a candid response.
"I don't think Shogun was ready to go that night," Sonnen said. "I think he was too much of a sportsman to make excuses, unlike most guys. I think he let me have my moment. I don't think that was the real Shogun I faced."
It was an honest answer, but one that begged another question: Who is the real Shogun these days?
Rua (21-8) will look to prove a growing number of doubters wrong Friday when he faces up-and-comer James Te Huna at UFC Fight Night 33 in Brisbane, Australia.
A living legend of mixed martial arts, Rua has struggled since winning a UFC title in May 2010, losing four of his next six fights. The talented Brazilian, now 32, hasn't just lost either -- he has taken a ton of damage in the process.
As much as it breaks the hearts of fight observers, the words "Shogun" and "done" have run together a lot leading up to this fight -- a reality that has not been lost on Rua.
"I have heard those remarks," said Rua, who maintains there was nothing physically wrong with him in the Sonnen fight. "This is really something that should only matter to me and my team, though.
"We should decide what I can and can't do. It doesn't really matter to anyone else. We're the ones who know what's going on and we'll call the shots."
It's exactly the type of answer you'd expect (and, quite frankly, hope) to hear from a fighter with as much heart as Rua -- but it doesn't change the situation.
Prior to his last fight, Rua had never suffered back-to-back losses in an 11-year career. Over the course of that career, he has undergone three knee surgeries. And despite recent reports of a willingness to revamp his career as a middleweight, Rua says there is a "misconception" of his intent to change divisions. It sounds as though it would be a very difficult cut.
"I just answered a fan at a Q&A," Rua said, adding he hasn't weighed 185 pounds in about eight years.
What Rua needs, more than a different weight class, is to look like the "real Shogun" again. He sounds confident he will Friday.
He spent this training camp in Sao Paulo, Brazil, as opposed to his home base in Curitiba, Brazil -- working with UFC veterans such as
Demian Maia
,
Luiz Cane
,
Daniel Sarafian
and
Antonio Mendes
. He says he's 100 percent healthy.
If his skill set and athleticism aren't declining, there has to be another reason for the skid. Rua doesn't generally like to talk about his losses, but he believes he has gotten into the habit of throwing out game plans too quickly after getting hit.
"Sometimes you have a strategy when a fight starts, but you get hit with a punch with small gloves and everything can change," Rua said. "It's tough sometimes to keep a game plan when you get hit. It changes the whole dynamic of the fight."
Rua has been so dangerous for so long, you want to believe Sonnen was right. Rua isn't done, it's just the "real Shogun" didn't show up in Boston that night. Maybe he'll be in Australia.
May, 22, 2013
May 22
12:57
PM ET

By Chuck Mindenhall
ESPN.com
Archive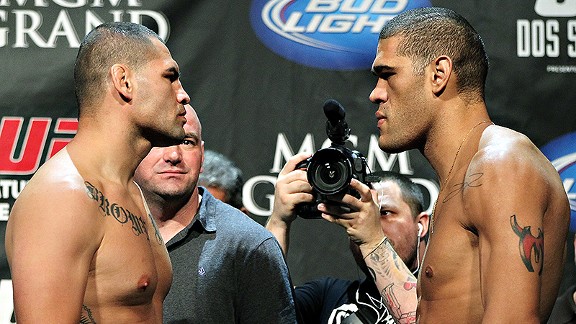 Josh Hedges/Getty ImagesWill history repeat itself when heavyweights Cain Velasquez and Antonio Silva meet a second time?
Heavyweights are now a staple of Memorial Day weekend. Last year,
UFC 146
was to be a heavyweight extravaganza like none we'd ever seen. The whole main card was heavyweights, so the word "unprecedented" was being thrown around pretty dramatically. And why not? The Octagon was going to be littered with dinosaur bones at the end of the night.
You remember the fallout before the fallout, though.
Junior dos Santos
was scheduled to face
Alistair Overeem
-- the one man who could turn that gentle giant's smile into a look of constipation -- for the belt. Then the first domino fell: Overeem's test from his previous fight with
Brock Lesnar
came back with -- to put it gently -- spiked testosterone levels, which meant dos Santos was re-saddled with
Frank Mir
.
Cain Velasquez
, who was supposed to fight Mir that night, was then given
Antonio Silva
. That meant
Roy Nelson
, who was supposed to take on "Bigfoot," ended up fighting
Dave Herman
.
Mark Hunt
, still for the most part a journeyman at this point, was supposed to fight
Stefan Struve
, yet didn't end up fighting at all because he got injured. So Struve fought
Lavar Johnson
-- if we're being generous enough to call what happened that night a "fight."
The players are (basically) the same a year later for
UFC 160
, yet perceptions are slightly different. Overeem again was supposed to appear on the heavyweight showcase, yet again against dos Santos. And once again, he was scotched from the card, this time due to an injury. That means Hunt, and his visa issues, rides an unlikely four-fight winning streak into a confrontation with dos Santos. The winner (likely) will get a shot at the heavyweight belt next.
As for the belt, it's back in the possession of Velasquez, who defends his title on Saturday night against a familiar name: Silva. The stakes are different this go-round, but the memory of Silva's blood covering the canvas floor at UFC 146 is still fresh. One might say too fresh.
And that's your mystery heading into UFC 160: Will history repeat itself? Which, when you think about it, opens up the broader query:
Why
is history repeating itself?
(Answers: Probably; and because history has a wicked sense of humor.)
FIVE STORYLINES
Woodwork contenders
What was a bottleneck situation at the top of the lightweight division is now a mile of open highway. The winner of
Gray Maynard
and
TJ Grant
will get the next shot at
Benson Henderson's
belt. We've seen Maynard in that penultimate spot before. But Grant? Talk about a quiet approach.
Hunt as Cinderella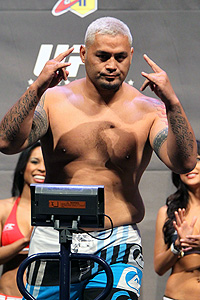 Josh Hedges/Zuffa LLC/Getty ImagesMark Hunt's recent rise from journeyman to heavyweight title contender is something even Hollywood couldn't dream up.
Because you've heard about Hunt's improbable rise from the ashes a million times doesn't make it less amazing. To sum things up: He was inherited in the PRIDE deal, lost to
Sean McCorkle
in his UFC debut, was left for the scrap heap at 5-7 in MMA, and now is a fight away from a title shot. Hollywood couldn't dream up something this unrealistic.
Woodwork contenders II
With a relative dearth of 205-pound contenders to challenge
Jon Jones
,
Glover Teixeira's
name could go from being whispered in polite company to shouted from the mountaintops with an emphatic win over
James Te-Huna
. But let's take it a step further: Can you imagine if Te-Huna wins? Suddenly a
second
New Zealander is on your radar from UFC 160.
Return of Brian Bowles
"Where's
Brian Bowles
?" became MMA's game of "Where's Waldo?" in 2012. So where was he? Finding that drive, baby. Citing apathy as the reason he took some time away from the fight game, the one-time WEC bantamweight champion returns to face all 6-foot-1 and 135 pounds of
George Roop
.
Woodwork contenders III
Right now
Khabib Nurmagomedov
has one more victory in professional MMA than he does letters in his name (19 wins, 18 letters). If he beats
Abel Trujillo
, he'll be a sparkling 20-0. Nurmagomedov is tomorrow's bottleneck at the top of the 155-pound division.
FIVE QUESTIONS
Can things be different for Silva this time?
The more basic question: Can Silva compete this time against the relentlessly aggressive, forward-moving wrestler Velasquez who has cardio for days and a chin made of cinder block? It feels as if we're answering our own question.
Can Hunt KO dos Santos?
Dos Santos has never been knocked out. Knocking people out is what Hunt does. In a fight where the ground is designated for slips and one-way trips, a single punch from either guy ends the co-main. Can it be Hunt on the delivering end? (Smiles and shakes head approvingly.)
Is there still wonder to "Wonderboy"?
[+] Enlarge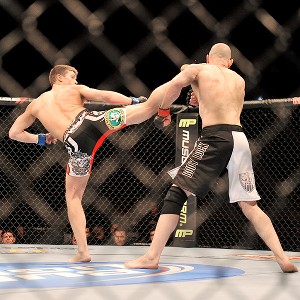 Rod Mar for ESPN.comThe jury is still out as to whether we will see more of the Stephen Thompson who ended Dan Stittgen's night with one kick.
Remember when
Stephen Thompson
had that hot roulette player's moment after knocking out
Dan Stittgen
in his UFC debut with a head kick?
Matt Brown
brought him down to earth in a hurry in April 2012 with a one-sided decision. This bout with
Nah-Shon Burrell
will tell us if it's back to "Wonderboy" or if he's a "one-hit wonder."
Is Cain the greatest heavyweight champ ever?
Take away that glancing moment in the ballyhooed first bout with dos Santos -- a bout that Velasquez should never have been fighting in the first place (knee) -- and the answer is "yup." But what are we talking about? This is the ultimate proving ground, so we'll ask him for more proof. More proof!
Does KJ Noons belong in a fight with Donald Cerrone?
The short answer is no. The correct answer is LOL. Even if you omit the
Ryan Couture
fight (a loss that he actually won),
Noons
still lost three of his previous four fights.
Cerrone
is coming off of that
Anthony Pettis
incident where his liver got rearranged. In other words: Cerrone's the proverbial hornet's nest that Noons is walking into.
WHO'S ON THE HOT SEAT?
Robert Whittaker
He did beat
Brad Scott
in his UFC debut, but a loss to
Colton Smith
, just as the UFC is tightening its belt rosterwise, makes young shakers expendable. (However, if
Robert Whittaker
knocks out Smith like he did Luke Newman on "TUF: The Smashes"? Then it's "Watch out for the Aussie!").
Jeremy Stephens
[+] Enlarge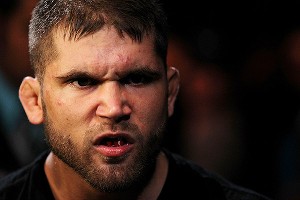 Al Bello/Zuffa LLC/Getty ImagesThe future of Jeremy Stephens' employment with the UFC likely comes down to whether he can snap a current three-fight losing streak on Saturday.
If the fact that he's opening the prelims portion of the card doesn't tip you off, the three-fight losing streak will. This move to 145 pounds is
Stephens'
"all-in" moment. Another loss and it's adios, "Lil' Heathen."
KJ Noons
It would feel a little merciless of the UFC to cut him, particularly because it'd be on the heels of a likely loss to Cerrone, but Noons needs a good showing to remind everyone of the guy who beat
Nick Diaz
in 2007. A fifth loss in six fights, though, is either a red flag or a white one, depending on how you squint.
WHY YOU SHOULD CARE
Because Velasquez might as well dig his hooves in the mat before he charges at Silva as if Silva were a red cape ... because "Bigfoot" has fists the size of pet carriers, yet his gloves weigh 4 ounces, just like everybody else's ... because if you put dos Santos' and Hunt's combined knockouts on a highlight reel, it'd run longer than the average romantic comedy ... because Grant versus Maynard is dog-eared for fight of the night ... because "Cowboy" Cerrone is mad, and Noons, by stepping in with him, is saying "come hither" ... because Grant fights like Ulysses S. Grant ... because Te-Huna and Teixeira will require smelling salts ... because
Dennis Bermudez
was already in one fight of the year candidate (against
Matt Grice
) and
Max Holloway
is a gamer ... because
Mike Pyle
can make it four in a row against
Rick Story
... because what could be more fun than watching Hunt try to stuff his foot into a glass slipper?
February, 12, 2013
Feb 12
1:30
PM ET

By Chuck Mindenhall
ESPN.com
Archive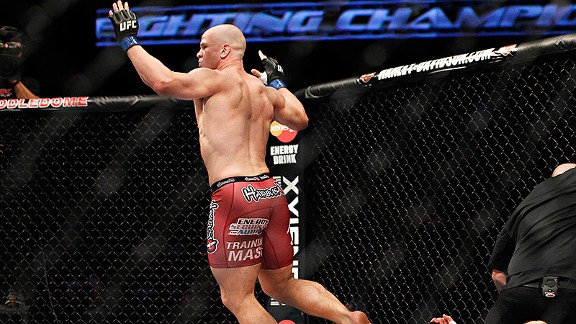 Ric Fogel for ESPN.comIn his previous fight in the UFC, Ryan Jimmo finished Antthony Perosh in 7 seconds.
Ryan Jimmo
does things a little differently. He says on his UFC profile that one of his heroes is Albert Einstein, and that he worked as a "ninja" before fighting. He can quote the philosophies of bodybuilder Dorian Yates as easily as he can mimic Bruce Lee's moves.
There's a wide range of things going on with Jimmo; he's one of the fight game's interesting characters. And yet, to this point he has made a career to this point on the UFC's periphery.
Jimmo did have that brief moment on the "Ultimate Fighter 8," but lost the entryway fight to the house against
Antwain Britt
. That might have been a blessing in disguise, he says. And while fighting in Canada's Maximum Fighting Championship, where he was the light heavyweight champion, he feasted on UFC veterans -- Sokoudjou,
Marvin Eastman
,
Jesse Forbes
and
Wilson Gouveia
.
That was 14 rounds of hard toil, but he won them all.
Yet, when the Canadian finally did debut in the Octagon at UFC 149 in Calgary last July, the fight didn't even last long enough to satisfy the bull riders who'd gathered into the Saddledome. It was over in seven seconds. One big right hand and boom. Down went
Anthony Perosh
.
Jimmo picked up an extra $50,000 by earning knockout of the night. His $50K per-punch-thrown is the best average in the UFC heading into 2013. It was so fast, that you wonder if it counts as experience.
"

He likes to throw his hands. I think he's been boxing since he was 14. He did some wrestling, so I can see him coming out and wanting to mix it up with some hands and some stand up. If he wants to wrestle that's okay, too, but I see this primarily as a stand-up fight.

"

-- Ryan Jimmo, on fighting Anthony Perosh
"You don't gain a ton of experience being in the ring for seven seconds, but every organization does things differently -- their pageantry is different," Jimmo told ESPN.com. "And when I say that, I mean all the build up -- the video interviews, getting comfortable with the staff who are going to be handling you and seeing how they do things. So I guess I gained that experience. And afterward all the media attention, I gained some experience there as well."
Now that he's dealt with the process and gained a few fans, he can move on to headier things -- like encores. This is where things get tricky. Jimmo faces
James Te-Huna
on Saturday night in London at UFC on Fuel 7. The New Zealander Te-Huna has quietly (and violently) strung together a three-fight win streak in the 205-pound division, with a couple of first round knockouts. In fact, seven of his last eight victories have come via KO or TKO.
So though a flash knockout isn't out of the question for a guy like Jimmo who likes to stand and trade, there's always the chance a flash knockout could work the
other
way, as well. Jimmo could end up being the one with smelling salts in his nostrils. This is something he's thought about.
"James Te-Huna is a big strong aggressive guy," Jimmo says. "He likes to throw his hands. I think he's been boxing since he was 14. He did some wrestling, so I can see him coming out and wanting to mix it up with some hands and some stand up. If he wants to wrestle that's okay, too, but I see this primarily as a stand-up fight. If it happens to go to the ground I'm one 100 percent comfortable there. And if it's stays on the feet? I'm okay with that, too."
Jimmo originally hails from Saint John, New Brunswick, but spent his training camp with the Blackzilians in Delmar Beach, Florida. He endured a tough weekend watching teammates
Rashad Evans
and
Alistair Overeem
lose fights they were favored to win at UFC 156 ("you know, this is the sport it is -- anyone can win, anyone can lose," he says), but has been so wrapped up in training that holidays have come and went without his notice.
"I've been training since October," he says. "There's no snow down here, you know, and my mother had to call me and she said, 'Merry Christmas, Ryan!' and I said, 'Is it Christmas, Mom? I need to go back to the gym, I need to take my nap and there's a chicken breast cooking. Merry Christmas to you, mom. How are things?'"
[+] Enlarge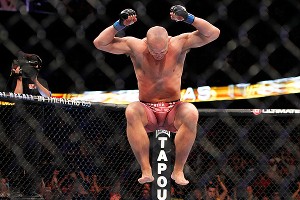 Ric Fogel for ESPNRyan Jimmo has been doing more celebrating than fighting as of late.
Though he may have missed out on the holiday cheer in the great White North, Jimmo is finally getting his chance to shine in the UFC riding a 17-fight winning streak. And the Jimmo you see on Saturday night isn't necessarily the one who fought in the MFC and defended his 205-pound belt twice.
This is a guy who feels he can finally align himself with the stakes.
"I kind of held back and fought a little more conservatively in smaller shows because I didn't have as much to gain and I had more to lose," he says. "If I lost in a lower league, well, you know you're not going to the UFC now.
"Also for me, [UFC 149] was a time to shine and I trained very hard to have that kind of power and aggressiveness in training. So when it came time, it was over and it wasn't anti-climactic at all. It was the time for me to go in there and really use my skills like I knew I could and not be conservative with it."
That's true. It's near impossible to be conservative on the delivering end of a seven-second knockout.