March, 26, 2012
3/26/12
11:52
AM ET

By Chuck Mindenhall
ESPN.com
Archive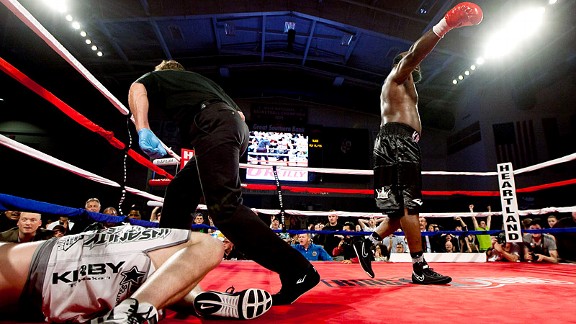 David Welker/TurfImages.comThe myth might be dispelled, but there's still money to be made for Kimbo Slice.
On Saturday,
Kimbo Slice
participated in his fourth professional boxing match. The fight took place in Springfield, Mo., where one of the world's most trafficked Bass Pro Shops sits gloriously in the heart of the city.
I mention this only to point out what Kimbo was up against in vying for the local dollar. Largemouth fishing is, after all, beginning to heat up on Table Rock Lake.
Did his opponent, veteran mixed martial artist Brian Green, take a dive?
Maybe. I'm no expert in thespian matters. What is plain, though, is that the whole thing looked a little dicey.
When somebody in Green's corner yelled that 15 seconds of fighting remained, Green did what all fighters on the cusp of winning a fight with a high profile novelty do -- he dropped his hands and made his chin open for business. And then he crumbled almost comically after taking a short left uppercut thrown from the holster of fatigue. With three seconds left on the clock, Green was on his back. He did not scramble for his marbles on the floor, nor did he try and get up at all. He lay there in a conscious-looking state, taking his count while suspicious glances were exchanged by onlookers. And later on, by those curious enough to Google this camcorder affair.
Fixed? Who knows. The thing didn't look entirely sincere. But maybe the better question would be: is there anything appealing left in watching Kimbo fight? He shouldn't have had to come back and beat a journeyman like Green dramatically, should he?
At this point, Slice, the one-time sideshow phenom from the back alleys of Miami, is an off-Broadway production performing on the bootleg circuit that requires search engines to find. At his best, he was only good in bare-knuckle situations against bouncers and area tough guys. He looked imposing in a tank top, and somebody (as in, Dana White) once very accurately summed him up as "the toughest man at the barbecue." That's true. But he's not the toughest man in the prize ring, where tough guys are all you find.
Now, Kimbo is 38 and mostly debunked, yet we still glance at him when we can. We are voyeurs, after all.
As for
Kimbo
? He's raking in what money can still be found in the twilight of an unconventional career.
[+] Enlarge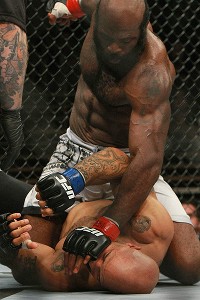 Kimbo SliceThis is about as close as Kimbo Slice came to living up to the hype.
We know that EliteXC pushed a pile of cash behind his myth when he was a "YouTube sensation" that was to be converted into a civilized cage fighter. We know, too, that the promotion wouldn't have minded if
Seth Petruzelli
, a late fill-in for
Ken Shamrock
the night the myth shattered on national television, had eased up a little bit. (Maybe the matchmakers should have went with Aaron Rosa, the other option that night to step in with Slice).
Either way, the careful foundation the promotion built on a gold-toothed street brawler took 14 seconds to become a house of cards. Which didn't end anything other than EliteXC (that iteration of the promotion, anyway). As for Slice? The next thing you know, he was breaking Nielsen records trying to make it into the UFC on the "Ultimate Fighter 10." He got licked by
Roy Nelson
early in the season -- in front of millions. Then he put on an eyesore of a fight against Houston Alexander in his official UFC debut when everybody expected free-swinging menace.
Except for maybe his beatdown of Tank Abbott in 2008 -- and possibly the ear-popping bout with
James Thompson
three months later -- Slice has never lived up to expectations outside the alley. The end of his MMA career came via a second-round TKO to
Matt Mitrione
.
Only it didn't spell the end of Slice. He boxes now for whatever shaky camcorders are on hand to catch the action. In this way, he's come full circle. Only now, he's doing it in the prizefighting ring, where gloves are worn and shadiness has an ounce of scrutiny. His relevancy depends on your taste, but he banks on the power of his fetish market.
And even before Saturday's funny-looking knockout of Green, you have to think that it's Kimbo who needs what's left of the sideshow connoisseurs more than they need him.
September, 3, 2011
9/03/11
3:19
PM ET

By Franklin McNeil
ESPN.com
Archive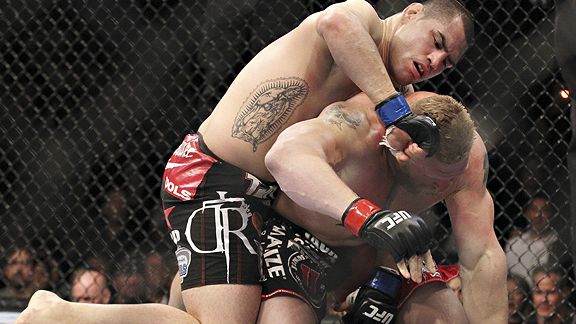 Ed Mulholland/ESPN.comIf you thought this Cain Velasquez was frightening, wait until you see the new and improved version.
The first UFC bout on network television is expected to surpass the record 6.51 million viewers who watched Kimbo Slice defeat
James Thompson
on CBS in May 2008. But whether 10 or 10 million tune in Nov. 12 to see
Cain Velasquez
defend his UFC heavyweight title against
Junior dos Santos
on Fox, it will be business as usual for the champ.
"It [the audience] doesn't change anything," Velasquez told ESPN.com. "They've changed the fight to [November] 12 instead of the 19. I would have loved to have fought in San Jose, but this is a great opportunity.
"There is no pressure. It's the same thing. I still have to go out there and fight and perform as always."
Velasquez, who trains at American Kickboxing Academy in San Jose, Calif., plans to deliver a solid performance against dos Santos at Honda Center in Anaheim, Calif.
When Velasquez returns to action for the first time since taking the title from
Brock Lesnar
in October 2010, he'll be in top physical condition. The right rotator cuff he injured during his fight with Lesnar is 100 percent.
Now Velasquez is eager to get back inside the cage and resume punishing anyone in front of him on fight night -- something fight fans have come to expect during a Velasquez fight. And he does it in exciting fashion.
Velasquez knows how to put on a show, and he promises to do so Nov. 12. Having dos Santos in the cage with him will make it easier to keep his word.
"Me and dos Santos, we don't put on boring fights," said Velasquez, who is 9-0. "We each have game plans and we go in there and try to execute. That's how I think about it. I don't think about just going in to win. No. I think about going out there and demolishing my opponent. That's all I think about.
"This is going to be a great fight to watch. You are going to see two guys go at it. We're two guys who are athletic, who have power and we're both well-rounded."
Velasquez respects dos Santos' overall skill set, but he envisions having his hand raised when the fighting ends.
Training at a highly respected camp (AKA), possessing above-average fighting skills and being the owner of an unblemished professional record are just three reasons Velasquez is confident heading into this showdown with dos Santos (13-1). Then, there's also the timing factor, which couldn't be better for him.
He didn't spend the past year focused solely on rehabbing his right shoulder; Velasquez also used the time to improve his overall skills. He feels he's spent his time wisely but taking every aspect of his game to a higher level.
Dos Santos will face a much more refined heavyweight champion on Nov. 12 than the one he saw wrest the title away from Lesnar. Two key areas that Velasquez felt needed improvement -- his footwork and head movement -- are now up to speed with his wrestling acumen. He's even added a few wrinkles to his ground game.
"I've gotten a lot better, just from the time off, from a technical standpoint," Velasquez said. "I'm happy I used the time off wisely, and everything healed up.
"There aren't a lot of guys who can say that with time off they've gotten better. But my technique and understanding of the entire MMA game has gotten better and I'm happy for that."
The thought of standing across the cage from an improved Velasquez has to be a frightening thought for any opponent, even one as talented as dos Santos.
May, 21, 2011
5/21/11
7:22
PM ET
By Tomasz Marciniak/Sherdog.com
ESPN.com
Archive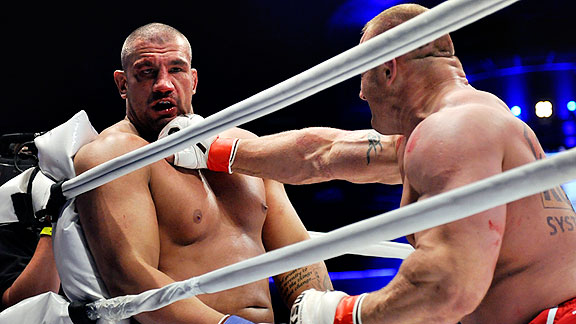 Jumana Totongi for Sherdog.com James Thompson's normally fragile jaw somehow stood up to "The World's Strongest Man's" punch.
GDANSK, Poland -- Although the chorus of Mariusz Pudzianowski's walkout song promised that "you will feel respect," James Thompson did not take those lyrics to heart, submitting an exhausted Pudzianowski in front of a partisan Ergo Arena crowd at Konfrontacja Sztuk Walki 16.
Tested early on by the immense strength of the Pole, "Colossus" was thrown to the ground before quickly regaining his composure. Later in the first round, Pudzianowski unleashed a flurry on the backpedaling Brit, but he could not find Thompson's chin and inevitably gassed himself out. By the three-minute mark, the former strongman looked exhausted. After Thompson took him to the mat late in the period, Pudzianowski expended what little remained of his stamina while attempting to escape Thompson's mount.
The break between rounds did little to lessen Pudzianowski's fatigue. The Pole was promptly taken down to start the second frame, and Thompson pounded away until he spotted an arm-triangle opportunity. Exactly one year after suffering his first pro loss to Tim Sylvia, the former five-time "World's Strongest Man" tasted MMA defeat for the second time.
"I tried. I failed. I apologize to you," said the exhausted and dismayed Pudzianowski. "I'm sure I will be disappointed, but I will go forward."
Khalidov chokes out Lindland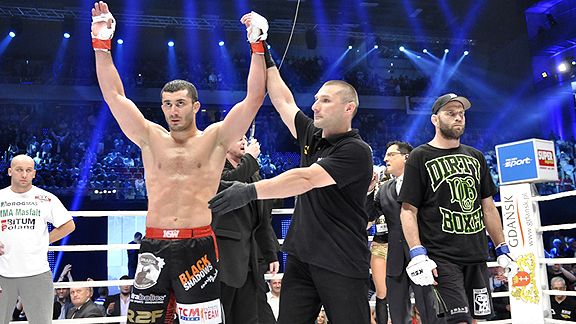 Jumana Totongi for Sherdog.com Mamed Khalidov's march toward stronger competition and bigger paydays continues.
In the evening's main event, hometown favorite Mamed Khalidov put UFC veteran Matt Lindland to sleep with an arm-in guillotine early in the first round.
Khalidov never missed a step in the short fight and took it to the American from the get-go. After the fight hit the floor, Lindland missed a leg lock attempt, and the Greco-Roman specialist left his neck exposed while regaining his base. The Pole seized the opportunity, jumping guard and cinching up a tight arm-in guillotine. Lindland struggled briefly, but "The Law" soon lost consciousness, his body falling limp atop his victorious foe.
"This is all muscle memory from the training sessions," said Khalidov of his extravagant finishing technique. "We're all ready [to fight top opponents] here in KSW, in Poland."


For Sherdog's complete coverage of KSW 16, click here.
May, 20, 2011
5/20/11
3:54
PM ET
By Wojek Rysiewski/Sherdog.com
ESPN.com
Archive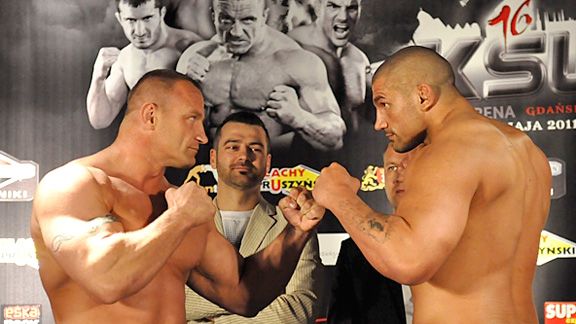 Jumana Totongi for Sherdog.com Mariusz Pudzianowski, left, didn't seem to mind the fact that James Thompson missed weight.
Former "World's Strongest Man" Mariusz Pudzianowski tipped the scales at 123 kilograms (270.6 pounds) before his fourth MMA outing against James Thompson at KSW 16 on Saturday in Gdansk, Poland.
Thompson missed the contracted 127-kilogram (279.4-pound) catchweight by 200 grams (0.4 pounds) at Friday's official weigh-in. However, Pudzianowski immediately agreed to a fight, so the Englishman did not need to cut the remaining weight.
Both fighters were in good spirits during the weigh-in. In a recent interview, Thompson called the Pole "an extremely ugly creature." In response, Pudzianowski brought him a mirror so, as he put it, the Brit could realize his own ugliness. Thompson was to quick respond.
"Mariusz invents his own jokes," Thompson said.
In the event's co-headliner, Mamed Khalidov and Matt Lindland each missed weight by 200 grams (0.4 pounds) for the 85-kilogram (187-pound) catchweight bout. They elected not cut additional weight and agreed to fight. The Chechen-born Pole is coming off a 33-second armbar victory over James Irvin at March's KSW 15. Lindland has not fought since his December knockout loss to Robbie Lawler in Strikeforce.
For complete results, click
here
.