May, 14, 2013
5/14/13
10:15
AM ET

By Josh Gross
ESPN.com
Archive
Taken at face value, Tyson Fury's challenge of
Cain Velasquez
is pointless because we already know the result.
Still, even if the callout
is
self-serving, even if it's designed to drum up interest and a payday, you have to admit there's something admirable about a talented boxer, early in his career like Fury, loudly challenging the best heavyweight mixed martial artist to a cage fight. Maybe someday Fury will suffer through getting what he wished for, and we'll suffer for having watched it happen, but you better believe his moxie won't go unnoticed.
Think about the 24-year-old Brit's task. Almost everything related to boxing in an MMA contest is altered from its sweet science roots.
Spacing. Stance. Footwork. Balance. Hand position. Timing. And, most notably, what's OK when fighters tie up. Boxing, of course, features its share of clinching. If Fury somehow talks his way into a fight against Velasquez, he'll need to remember that MMA referees don't usually call for breaks so quickly.
Can we agree that the only thing less likely than
Chael Sonnen
beating
Jon Jones
would be Fury stalemating Velasquez in the clinch? The cold, hard truth is Fury couldn't do anything other than get tossed on his head or eat a knee or take an elbow or get rag-dolled to the ground.
We know this because MMA's practice-makes-perfect evolution proved it true. Examples of grapplers fighting strikers inspired a new paradigm, one that dictates the world's baddest man is a mixed martial artist, not a boxer, kickboxer or anything else. Floyd Mayweather Jr. is brilliant inside a ring. However, competing in a locked cage under MMA rules would carry the effect of kryptonite.
Let's not forget the ways in which
Randy Couture
was kind to
James Toney
almost three years ago. The immediate risk-nothing takedown. Guard passing without strikes. Multiple choke attempts. It might not read this way, but you better believe "The Natural" was being nice.
For his trouble, Toney made off with a big check and not much damage to his head or ego.
[+] Enlarge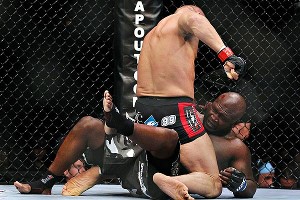 Al Bello/Getty ImagesA big flop: James Toney's MMA tenure was short and didn't go over too well.
So we're clear: If they fight, no one should expect Velasquez to be so gentlemanly with Fury. He probably won't more than attempt like hell to end the fight, which is easy to envision. Like when "Judo"
Gene LeBell
submitted boxer Milo Savage. The legendary LeBell held nothing back during three plus-rounds until he choked out Savage in the first televised MMA prize fight in 1963.
Reports suggested Savage was unconscious for up to 20 minutes, which must have shocked the 39-year-old ex-contender's handlers since they thought he was a shoo-in to score a knockout.
Thirteen years later in Tokyo, LeBell played part in perhaps the most infamous boxing-MMA spectacle, serving as referee for Muhammad Ali's match with Japanese pro wrestling icon Antonio Inoki. Held under modified rules that limited Inoki, the contest was carried back to the States via closed circuit.
Whether or not it was a legitimate bout (there's a debate) doesn't mean much when it comes to lasting value. The spirit of it all inspired Sylvester Stallone to include a scene in "Rocky III" featuring Balboa against a giant pro wrestler (Hulk Hogan's "Thunderlips") in what was portrayed as a sincere brawl.
Spectacle was reason enough for Rorion Gracie to challenge Mike Tyson to a match to the death for $100,000. This was prior to UFC 1, which succeeded well enough on its own as a vehicle in spectacle creation.
The Tyson escapade never happened, but if it had, you bet the world would have watched. As an understudy,
Art Jimmerson
looked silly wearing one glove while tapping to
Royce Gracie
. To no one's surprise, the moment didn't carry much weight culturally, yet the message was clear again. Boxing, your father's combat sport, is mostly worthless against someone who doesn't want to box.
From time to time, boxers stood up for themselves.
Ray Mercer
had his moment, knocking out former UFC champion
Tim Sylvia
. The experience, however, is primarily a lesson in futility.
Take for example the "King of the Four-Rounders," Eric "Butterbean" Esch. After 25 professional MMA bouts, he owns a plus-.500 record -- respectable despite some embarrassing efforts. But to get an accurate picture for this sideshow boxer's adventures, all you need to do is revisit his first MMA attempt. Hovering near 400 pounds, "Butterbean" tapped when 155-pound
Genki Sudo
scurried around him like a squirrel before slapping on a leglock.
These are different sports.
There is more than enough evidence to support that.
But this fact hasn't stopped a young boxer from rattling his sabers to prove a point (and draw attention and a solid payday).
What might make this boxing/MMA adventure different from the rest? The commendable fact that Fury is angling to face the current MMA heavyweight champion. The boxer should be lauded for aiming so high.
And sufficiently warned.
July, 29, 2011
7/29/11
12:17
PM ET

By Chuck Mindenhall
ESPN.com
Archive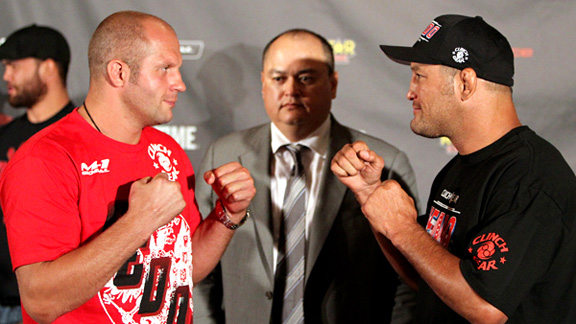 Josh Hedges/Getty ImagesHow they got here isn't important: What matters is what happens in the cage Saturday.
HOFFMAN ESTATES, Ill. -- It's immaterial at this point, because the fight is going down Saturday one way or another -- but the origins of
Dan Henderson
versus
Fedor Emelianenko
has conflicting reports.
Leading up to the fight, Henderson iterated (and then reiterated) that he didn't necessarily ask for the fight, but he was more than happy to take it on the strength of fan enthusiasm. "I haven't really wanted the fight," he told ESPN.com last week. "It's something that the media and the fans have been asking about since I signed with Strikeforce. It wasn't me that was asking for this fight."
At yesterday's prefight news conference at Harry Caray's in Chicago, Strikeforce executive Scott Coker had a different, particularly cheerful memory of how things went down when recounting for MMA Fighting's Ariel Helwani.
"Actually it was simple," he said. "Dan called me and said 'look, I want to fight Fedor,' and I said, 'let's do it.' So I called up Steve Bash and said, 'Steve, is this a fight Fedor would be interested in?' and he said yeah, absolutely; it'd be an honor to fight him.'"
So did Hendo ask, or did Coker say 'humor me'? The answer closest the truth is: Yes. Realistically, nobody is bickering, even if the story's not exactly straight, and nobody's certain what ramifications this fight will have on either fighter's career. (It could mean everything, and there's a chance it could mean next to nothing -- that's the fun of a "superfight"). Somehow the fight got put together, regardless of the ulterior.
But as both are former champions in Pride and were promotion-mates for all those glory years in Japan, the question could be asked of Fedor too. Was Dan Henderson ever on his radar for a superfight? Indeed, does he even have a radar?
"Well, I wouldn't say I was a fan [of Henderson's] but I definitely appreciated his career and liked following it," Fedor told ESPN.com through his attorney, Bash. "To be honest with you though, I never thought that we'd fight together."
Strange things happen over the course of long careers --
Randy Couture
could have never foreseen fighting
James Toney
under unified MMA rules, and
Ken Shamrock
could have never foreseen fighting James Toney under … homemade MMA rules.
In prospect, a win and the 205-pound champ Henderson has negotiating power with Zuffa, and Fedor is forced to make a decision on whether to continue one or not. An Emelianenko victory restores a measure of the mystique he's lost and probably seals the deal that we'll see him fighting again. But that's just one way of thinking.
Fedor himself doesn't see this as a swan song regardless of outcome. When asked if he'd continue on after this weekend he made it sound obvious.
"Yeah, I think I'll keep fighting," he said. "Of course."
At least that much is [probably] clear.
July, 12, 2011
7/12/11
1:05
PM ET

By Chuck Mindenhall
ESPN.com
Archive
There have been special rules in MMA bouts plenty in the past -- some eccentric, some prudish, some with allowances to do everything short of dipping knuckles in broken glass -- but the implementation of Ken Shamrock's "30-second shot clock" to stand fighters when the fight "stalls" on the ground is unique. That's one of the specialized rules that's been added in 47-year-old Shamrock's fight with
James Toney
, set to take place in Texas come September. The object, says Shamrock, is to do away with lay and pray and make MMA -- which he says is already pretty darn good -- a better, more exciting sport.
"I didn't come up with these rules because I'm fighting James Toney, I came up with these rules because I tried to figure out how to make MMA better," he said in an interview with FightHype.com before his son Sean Shamrock's fight in Reno, Nev. "I came up with the 30-second shot clock where, it makes guys, when they hit the ground, instead of laying and praying and waiting for something to happen, it forces them to initiate a submission move to try and end the fight sooner rather than tap, tap, tap and punch."
Shamrock went on to assert that this new stipulation would solve bouts with problematic lay and pray specialists who whittle away rounds in dominant, inactive top position. This of course is intriguing -- many people hate the lay and pray aspect of the game, and wrestlers are often accused of being boring for making that a neutralizing centerpiece of their game plan. But modifying the rules for competitive aesthetics begins to make it less mixed martial arts and more specific martial arts (SMA).
Sometimes submissions take time to set up; same thing with ground-and-pound. Protective barriers sometimes take more than half-a-minute to get through, regardless if you're standing or on the ground or levitating in the air. And while Shamrock's idea might be onto something, ultimately it's a shortsighted philosophy. Another way of dealing with the problem of lay and pray is the obvious one: evolve as an MMA fighter to find ways of getting up, or avoid getting taken down to begin with. Catering to what is essentially a fighter weakness -- no matter how rampant that weakness is -- becomes a dangerous trend.
In Shamrock's potboiler fight with Toney, it's an act of philanthropy to institute a 30-second shot clock rule. But in general, fighting is literally will against will, so why change things to favor the will that bends easiest?
June, 25, 2011
6/25/11
7:22
AM ET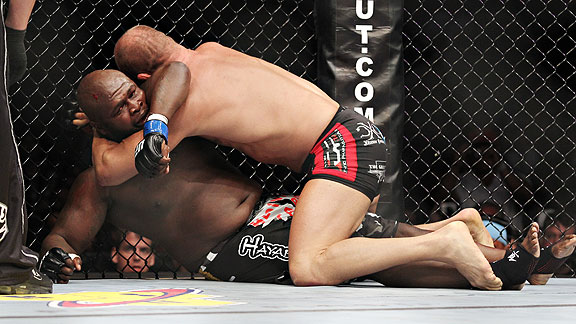 Ed Mulholland for ESPN.comAnd you thought this was the last you'd seen of James Toney in the cage.
Former boxing world champion
James Toney
has confirmed he will fight MMA legend
Ken Shamrock
on Oct. 1, and he has taken a whole catalog of new digs at MMA.
More »
Rumor Central:
Special rules to be enforced? »
Bios:
Toney»
Shamrock »