February, 23, 2012
2/23/12
6:36
AM ET

By Josh Gross
ESPN.com
Archive
Frankie Edgar
's UFC lightweight title defense in Tokyo against Benson Henderson, the main event for UFC 144 on Saturday, screams "action fight."
While we've heard that tune aplenty in the run-up to UFC events, including, disappointingly, the recent
Carlos Condit
-
Nick Diaz
tilt, there's every reason to suspect these two 155-pound mixed martial artists will make good on expectations. Presuming that happens, Edgar-Henderson would join a distinguished list of high-paced, meaningful lightweight fights that graced Japanese soil.
The division has long been one of Japanese MMA's strongest points. Built during the early days of Shooto and given the light of day when Pride adopted the class (technically, that was 160 pounds), lightweights have long looked to Japan as the place where they could get a tough fight against world-class opposition. In part that was due to Zuffa axing the lightweights in the mid-2000s, but that doesn't paint a complete picture. The division has produced many world-class Japanese fighters, and would have done so regardless of what was happening in the States.
With Zuffa's wrong having long been righted, it's fitting Edgar-Henderson will go down on the island nation's shores.
My expectation is the fight will join the pantheon of top lightweight bouts we've been fortunate to see unfold in Japan. If so, Edgar-Henderson would join these bouts -- most replete with major stakes, all delivering high drama -- as the best of the bunch.
Why six? Because I couldn't bring myself to cut one from the list.
Caol Uno SUB3 Rumina Sato (Shooto: 10th Anniversary Event, May 29, 1999)

Sato was Shooto's golden child, the man fans and promoters hoped (and dreamed) could grab hold of the sanctioning organization's 154-pound title (a welterweight title in Japan) and become a star. It was never meant to be.
The first sign Sato, whom many considered the most exciting fighter in the world at the time, was snake-bit came in his endeavor against the gritty Uno, who later went on to fight multiple bouts for the UFC.
Headlining an event that included eventual UFC champions Dave Menne,
Matt Hughes
and Carlos Newton, Sato-Uno opened at a frenzied pace. Sato scored early control, nearly finishing Uno by rear-naked choke. But as was proven throughout his career, Uno is exceedingly difficult to finish this way. Sato failed to finish and eventually succumbed to Uno's tenacious takedowns and solid ground-and-pound.
Late in the third round, with Sato fading, Uno sprawled his way out of a single-leg takedown, took Sato's back and, to the roar of a small but passionate hard-core audience in Tokyo, forced a tap by rear-naked choke.
Uno defeated Sato a second time a year and a half later, then departed Shooto for a UFC lightweight title shot against
Jens Pulver
, the co-headliner on Zuffa's first card since purchasing UFC from Semaphore Entertainment Group.
Takanori Gomi TKO2 Dokonjonosuke Mishima (Shooto: Year End Show 2002, Dec. 14, 2002)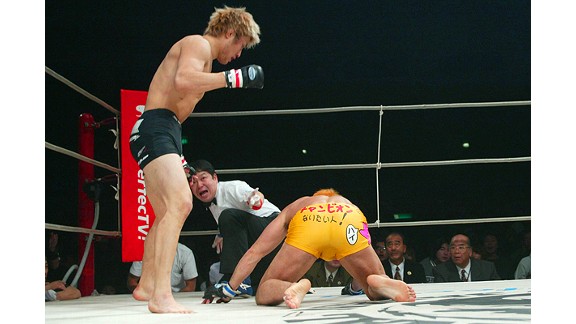 Susumu Nagao Takanori Gomi, standing, showed his power-punching abilities against Dokonjonosuke Mishima.
A slept-on fight pitted Gomi, the undefeated heir apparent to Uno and Sato, against eccentric grappler Dokonjonosuke Mishima. Gomi, Shooto champion after out-pointing Sato (his third try at winning the 154-pound title), faced his first defense of the belt -- and what a test it was. Gomi's mode for victory early in his career was control. But against Mishima, he showed flashes of the heavy-fisted brawler who would go on to become Pride champion and No. 1 ranked lightweight in MMA.
Mishima put Gomi on the canvas and landed a series of strong punches to earn the first round. But at the start of Round 2, Gomi countered a wild punch with a perfect left hook that dropped the challenger. Shooto's rules included standing eight counts and breaks on knockdowns. Gomi was in destroy mode. When Mishima stood, "The Fireball Kid" swarmed, scoring with punches and knees leading to Mishima nearly being driven out of the ring.
In his next title defense, Gomi ceded the belt to
Joachim Hansen
, prompting a trip to Hawaii to fight
B.J. Penn
.
Joachim Hansen KO3 Caol Uno (Hero's 1, March 26, 2005)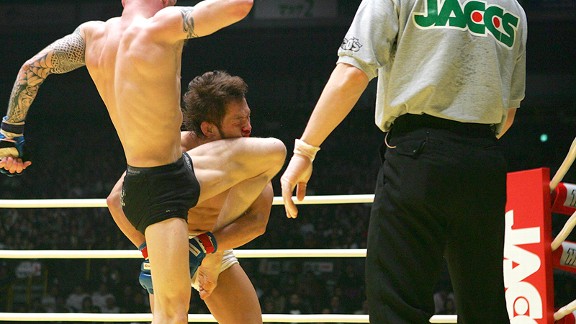 Susumu NagaoA knee to Caol Uno's jaw helped seal the deal for Joachim Hansen.
Japanese MMA was on the rise in 2005, and K-1 stepped in the game with their own brand of the sport labeled "Hero's." That first card was mashup of kickboxing, MMA and the Bob Sapp circus. Hansen and Uno, both former Shooto champions, put on a war that, even if it had not ended by spectacular knockout, would be among the best fights the division has put together.
This bout had it all, especially when it came to grappling, and was extremely competitive until the end, when "Hellboy" Hansen slammed his knee into Uno's jaw. The cold knockout was brutal and capped what was arguably the best display of mixed martial arts in 2005.
Takanori Gomi SUB1 Tatsuya Kawajiri (Pride: Bushido 9, Sept. 25, 2005)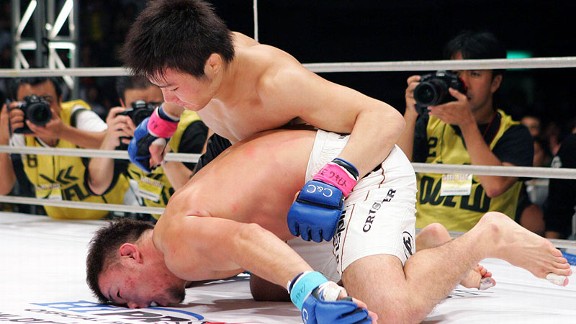 Susumu Nagao Tatsuya Kawajiri had no answer for Takanori Gomi's power.
If you were a top lightweight in MMA, the Pride Bushido 9 tournament was where you wanted to be in 2005. The three-round event, which featured quarterfinals and semifinals on the same night, brought some of Japan's best against the likes of
Yves Edwards
and Jens Pulver. The highlight of the night, without question, was the quarterfinal bout between Gomi and Kawajiri.
Gomi was on a seven-fight roll, all under the Pride banner, while Kawajiri, then the Shooto champion, hadn't dropped a bout in his last nine. This was the big one among Japanese MMA circles in the lightweight division, and it did not disappoint.
All action from the start, Gomi made Kawajiri feel his power early, and chopped away at "The Crusher" throughout the 10-minute opening round. "The Fireball Kid," in perhaps his finest performance, finished in high style. Body shots led to combinations to the head, and though Kawajiri was game, he simply had no answer.
Gilbert Melendez UD2 Tatsuya Kawajiri (Pride Shockwave 2006, Dec. 31, 2006)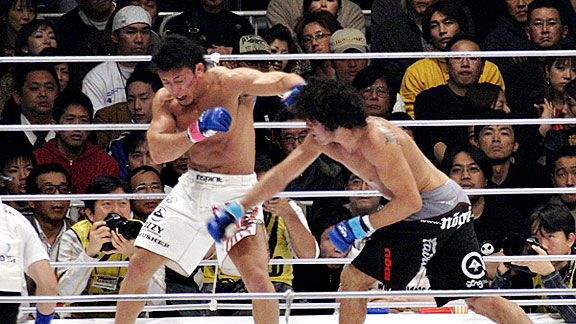 Stephen Martinez/Sherdog.comGilbert Melendez, right, and Tatsuya Kawajiri let it all hang out until the final bell.
Melendez, the current Strikeforce champion, ranked No. 2 in the world by ESPN.com, went to war with Kawajiri, who had recovered from the loss to Gomi by winning four straight. If you haven't seen this fight, do yourself a favor and find it online. Of all the fights listed here, this stands out most for its ferocity. Both men moved forward. Both threw punches and knees as hard as they could, and both connected. The grappling exchanges were solid. There's no downtime in this fight. An incredible display by both.
Eddie Alvarez UD2 Joachim Hansen (Dream 3, May 11, 2008)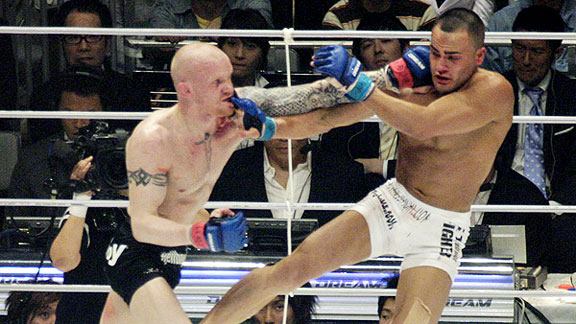 Stephen Martinez/Sherdog.comEddie Alvarez's battle of attrition with Joachim Hansen, left, is as good as they come.
In 2008, Alvarez joined Dream, the promotion that sprang out of Pride's demise, and engaged in a hellacious series of fights. The middle of that stretch matched the Philadelphian against Hansen.
It was a stylistic bonanza.
Alvarez's first punch dropped Hansen, setting the tone for the fight. In a bit of a miracle, the Norwegian survived, recovered, gave back as good as he got, threatened Alvarez numerous times with submissions, and participated in one of the most frenzied decisions you'll ever see. Neither man backed down for 15 minutes. Truly impressive.
Alvarez followed up with another war against Kawajiri, but fell short of going 5-0 that year when he tapped to a
Shinya Aoki
heel hook on New Year's Eve.
February, 22, 2012
2/22/12
12:21
PM ET

By Chad Dundas
ESPN.com
Archive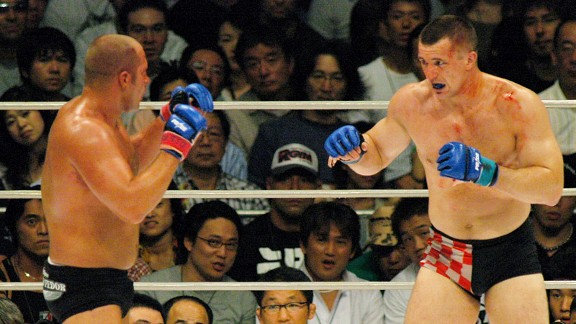 Tomokazu Tazawa/Getty ImagesOnce upon a time, Japan played host to all the best fights, and was home to the best MMA fighters.
It was with considerable fanfare in September that the UFC announced its first trip back to Japan since the year 2000.
Given that country's important role in the evolution of "modern" MMA, it's pretty tempting to cast Saturday's UFC 144 as something more than just another step in the company's ongoing international expansion. Japan was once the capital of a burgeoning MMA world; the fact that the UFC will now put boots on the ground there for the first time since its buyout of the Pride organization in 2007 has to mean, well,
something
.
But what, exactly?
Is it a throwback to the sport's formative years, or a measuring stick of how far we've come? Is it an homage to the memory of Pride, or a
Gilbert Yvel
-style thumb to its eye?
As usual, there is no shortage of opinions on the subject. The UFC's return to Japan has been hailed by some as a triumph -- not to mention a shot in the arm for a national MMA market badly in decline -- and lambasted by others as an empty gesture, the promotional equivalent of scaling Everest simply to prove it can be done.
It's true that for years the UFC avoided Japan, and for the company to return only now that it's established near-total dominance over the industry -- with a supersized, four-hour broadcast and a host of old and new stars -- it's hard not to read it at least in part as a not-so-subtle flexing of organizational muscle.
[+] Enlarge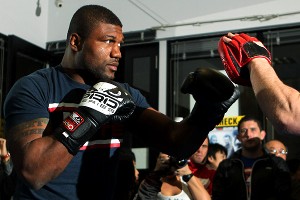 Josh Hedges/Zuffa LLC/Getty ImagesQuinton Jackson shouldn't expect to fight in Japan on a regular basis after Saturday -- as long as he's in the UFC, at least.
In practical terms, though, there's not much that separates this weekend's effort from next month's trip to Australia, or to Sweden the month after that, or to Brazil this summer.
If you ignore the history, UFC 144 will likely follow the same general script as most of the company's overseas shows. The card will be stocked with homegrown talent, and one of the UFC's lighter-weight champions will defend his belt in the evening's main event. The other end of the card will get under way early in the day to serve a mostly American television audience.
So, yeah, pretty much by-the-book.
Wherever it treks, the UFC's product remains its one constant. Short of breaking out Pride's big, blindingly white ring and dusting off knees on the ground (both of which would be cool, if totally impractical), the "return to Japan" storyline has only so much juice if this UFC show is going to be just like any other. Japan likely won't become a regular stop for the UFC, nor will it probably win the preferred status that markets like Canada and Brazil now enjoy. Japanese MMA will likely never again be what it once was.
In more intangible ways though, yeah, this one feels different. For those of us who have fond memories of crowding together at our buddies' houses to watch mail-order DVDs (or even VHS tapes) of guys like
Wanderlei Silva
, the Nogueira brothers and that most elusive beast of all --
Fedor Emelianenko
-- it'll bring back memories.
There will no doubt be a slickly produced video package paying tribute to those days. And because the UFC now owns the tape library, that will also be our reminder that those days are gone forever.
September, 6, 2011
9/06/11
1:01
PM ET

By Chad Dundas
ESPN.com
Archive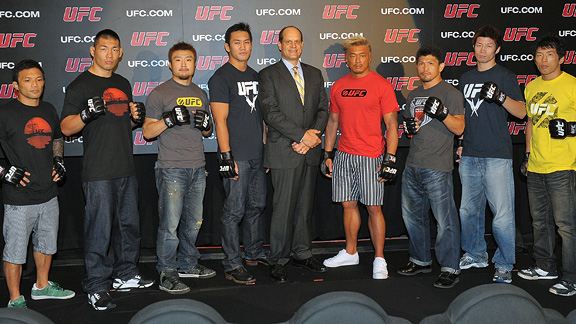 Koki Nagahama/Getty ImagesExpect to see Japan's brightest stars in action when the UFC makes a return the country.
The last time the UFC trekked to Japan,
Tito Ortiz
won the company's vacant light heavyweight title with a unanimous decision victory over
Wanderlei Silva
in the main event.
That was April 2000 and the win touched a run of five successful title defenses that lasted until September 2003 and made Ortiz's bones as a surefire future hall of famer. For Silva, it was his last appearance in the Octagon for seven and a half years, but in the meantime he fought 25 times in Pride (almost exclusively in Japan) won that organization's 205-pound title and solidified his place as one of MMA's all-time greats.
Funny how things work out. As the UFC on Tuesday officially confirmed Feb. 26, 2012, as its first trip back to Japan in more than a decade, Ortiz and Silva are the only men from that original card at the Yoyogi National Gymnasium (it was UFC 25, in case you're wondering) who are still on the promotion's active roster.
While a rematch been a resurgent Tito and a 185-pound Wanderlei seems unlikely (sure would be fun, though), the mere fact that both could potentially be available for the planned show at Saitama Super Arena is the first clue to exactly how pretty the UFC is sitting as it prepares to re-invade a Japanese MMA scene mired in a chaotic, half-decade long slump. With a recent show in Rio de Janeiro drawing rave reviews from fans, analysts and company employees alike, UFC brass also have a pretty good template for how to ensure these one-off international events are successful.
[+] Enlarge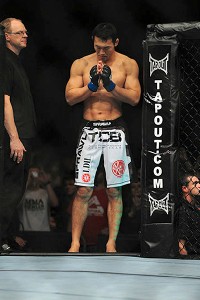 Martin McNeil for ESPN.comExpect to see Yushin Okami at home and right at home in his new weight class sometime next year.
Fewer full beers will likely be heaved in the direction of the Octagon, fewer soccer chants will likely sung during the fights, but look for the company to make sure UFC: Japan is framed as a tribute of sorts to that country's rich history in MMA, just as it did in Rio in August. Especially with the event planned for an arena that was previously the old stomping ground of the Pride organization -- and with Zuffa now owning the vestiges of that former promotion -- expect frequent nods (and probably a few knowing winks) to the past.
As promised during this week's official announcement, the company will surely stock the card with homegrown talent, in similar fashion to when Brazilian fighters went 7-1 against foreign opponents at UFC 134. That means expect top draws like featherweight phenom
Hatsu Hioki
, middleweight
Yushin Okami
and newly minted welterweight
Yoshihiro Akiyama
to get the call. Akiyama especially appears to have been kept on the UFC roster for the express purpose of making his 170-pound debut at home.
In addition, the UFC has a wealth of non-Japanese fighters who are nonetheless known to fight fans in that country. Fresh off his win over
Brendan Schaub
in Brazil, former Pride heavyweight champ
Antonio Rodrigo Nogueira
has already said he wants to fight on the Tokyo show. With
Brock Lesnar
scheduled to return to the UFC in early 2012, and possessing his own modest fame in Japan from his days in professional wrestling (not to mention his only non-UFC MMA fight), could a meeting with Nogueira be in the offing? If not Big Nog, Lesnar could potentially fight former Pride and K-1 fighter
Alistair Overeem
oversees too, as soon as Overeem's signing is official. The major sticking point to those potential bouts could be the UFC's ability to convince Lesnar, the notorious homebody, to make the trip.
[+] Enlarge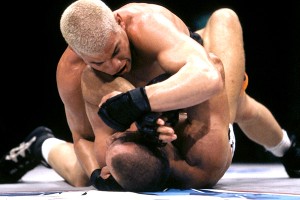 Susumu Nagao/Getty ImagesFor old time's sake: A rematch between Tito Ortiz and Wanderlei Silva would seem like a natural fit.
No matter. With former multidivisional Pride champ
Dan Henderson
reportedly on the verge of a UFC return, and Pride standbys like
Mirko Filipovic
,
Quinton Jackson
and
Mauricio Rua
(just to name a few) under Zuffa contract, there is no shortage of other potential matchups that might make sense for the Japanese show, some of them very compelling. Oh, did I mention Tito versus Wanderlei II? A guy can dream, right?
As others have already pointed out, a single, stand-alone UFC show won't be enough to breathe new life into the flagging Japanese fight scene. Yet UFC brass came away from Brazil claiming the country had sufficiently wowed them during UFC: Rio as to make it a frequent future stop. Certainly Japan is capable of similar fervor for MMA, as evidenced by the huge crowds and monster TV ratings the sport used to draw in Pride's heyday. Perhaps the biggest unspoken possibility of all is that (if the political and social climate seems to its liking) the UFC might decide that, going forward, Japan is worthy of more than one show every 10 or 11 years.