January, 12, 2012
1/12/12
1:00
PM ET

By Chuck Mindenhall
ESPN.com
Archive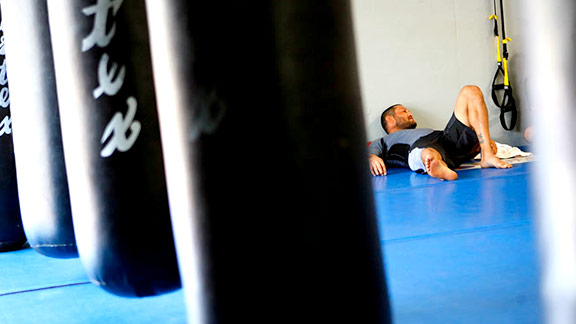 Jody Gomez for ESPN.comDoes this look like a man with an appetite for stay-busy bouts?
Dan Henderson
turned down a fight with
Antonio Rogerio Nogueira
to establish a No. 1 contender in the UFC's light heavyweight division. This shouldn't have been surprising. And it's definitely not arrogant, nor anything personal. It's just that at 41 years old, Henderson isn't looking to be a stay-busy fighter, and he's much too wise to be duped by dangling carrots that are being restrung by the hour.
If you've listened to him in interviews ranging from recent to fairly old, you know that Henderson wants a title shot, either at light heavyweight or at middleweight. The good news for him is that his wants parlay into the better fact that he has
earned
a title shot. Nogueira doesn't have the title. In fact, you'd have had a tough time selling Nogueira as even a barely lateral move for Henderson right now.
Think about it. Henderson has won seven of eight fights, and four in a row in the UFC. He just beat former champion
Mauricio Rua
at UFC 139 in what many consider the fight of the year. Nogueira has won a single fight in his last three, and that bout was his latest against
Tito Ortiz
at UFC 140. Ortiz has one victory in last five years, making him arguably the worst fighter on the UFC's roster. If the judges weren't squinting at UFC 114, Nogueira could have easily lost the split decision to
Jason Brilz
, too.
In other words, Nogueira isn't exactly riding a wave of momentum right now. And beating Ortiz doesn't nudge him into contention, so how does that put him in the spot of challenging Henderson in a title eliminator?
[+] Enlarge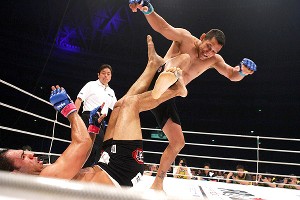 Susumu Nagao for ESPN.comAntonio Rogerio Nogueira, bottom, owns a win over Dan Henderson from back in their Pride days.
It doesn't, really. Henderson was presented with a penultimate fight that suggested equal footing against a guy who really isn't on equal footing. The idea was to play off the history of the two, with Henderson having lost to Lil Nog in Pride back in 2005. Backstories are fun, but they shouldn't mess with present fortune. And backstories have nothing to do with a 41-year-old man with no sense of nostalgia.
And besides, Henderson doesn't like putting on fights that fans aren't into, and this rematch would be one of them. He also didn't like the fact that it was proposed as a five-round fight, as he recently said on Clinch Gear Radio.
But it is a funny coincidence that news of Henderson turning down Nogueira came out on the same night that it was announced the UFC was headed back to Atlanta. It was the last time through Atlanta, at UFC 88 in 2008, that Henderson began his quest back into title contention. That's how long it's taken him to be in this position. That night, he beat
Rousimar Palhares
to get the thing back in motion at the improbable age of 38. Having just lost to
Quinton Jackson
and
Anderson Silva
in consecutive title clashes, Henderson's odds of returning to title consideration were long. He was supposed to be entering his twilight.
Yet he went to Ireland and beat
Rich Franklin
(narrowly) and followed that up by defeating
Michael Bisping
at UFC 100 in what he thought was a case-making knockout for a second title shot against Anderson Silva. Turns out the UFC didn't see it that way and, long story short, Henderson felt undervalued enough to defect to Strikeforce (where he became the 205-pound champ).
[+] Enlarge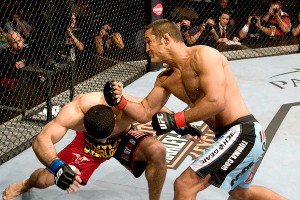 Josh Hedges/Getty ImagesDan Henderson began the rebuilding process against Rousimar Palhares in Atlanta in 2008.
Here we are at the beginning of 2012, and he's in the same situation he was in 2009, only slightly enhanced because his position forks into two separate weight classes as opportunity dictates. Much like when he came over to the UFC from Pride in 2007, actually. But while he's been in this situation before, it's (very likely) the last time he'll ever be in such a position again.
Why squander it? Why let Nogueira play with house money while gambling with the idea of losing a title shot forever? And what would be the point of beating up Minotoro, aside from avenging a 2005 loss in Pride?
Henderson was right to refuse the bout and, abiding by Dana White's famous refrain, to "wait and see what happens" with the
Rashad Evans
/
Phil Davis
fight. He's simply too far along and in too prime a position to play the "why not?" game at this stage of his career. In fact, he already played it once by fighting Rua in his return to the UFC.
For as willing as he usually is to accept challenges that fans would be interested in, his willingness to be patient here is the right play.
There's no upside in staying busy, but there is in standing still. At least while things sort out.
April, 27, 2011
4/27/11
3:01
PM ET
By Mike Whitman/Sherdog.com
ESPN.com
Archive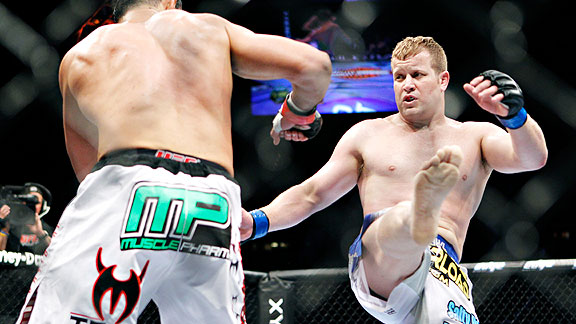 AP Photo/Eric JamisonTriple play: Jason Brilz stays busy as a father, fighter and firefighter.
Jason Brilz pulls his weight, just like any true family man. He does chores, cooks meals and participates in group discussions when there are lessons to be taught or learned, all while he is on the clock.
In addition to being a light heavyweight contender in the UFC, Brilz has been a full-time firefighter for the Omaha Fire Department in Omaha, Neb., for more than four years. He will step into the Octagon against former International Fight League champion Vladimir Matyushenko at UFC 129 on Saturday at the Rogers Centre in Toronto, but he plans to be back at work the following week, putting out fires and saving lives.
Brilz and his co-workers also serve as emergency medical personnel for the city -- a part of the job that makes up the majority of their runs.
"Just recently, a lady had a heart attack at her work," Brilz tells Sherdog.com.
More »
April, 21, 2011
4/21/11
1:51
PM ET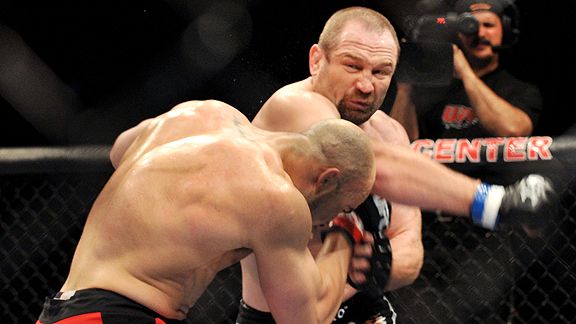 Jon Kopaloff/Getty ImagesNo surprise here: Vladimir Matyushenko is hoping to stand and trade with Jason Brilz.
Vladimir Matyushenko
likes his chances on the feet against UFC 129 opponent
Jason Brilz
. "The Janitor" also likes his chances of forcing a standup fight when they meet April 30 at the Rogers Centre in Toronto.
"He's a good ground-and-pounder, but I can defend it very well and keep him on the feet and make it a striking match that will be awesome," Matyushenko said recently on the Sherdog Radio Network's "Beatdown" show. "I've been training my striking skills for a while now and I couldn't show it. I think the fans are expecting me to do it and all my friends [are too]. I kind of want to show it to myself that I can do it. I do it in sparring and training all the time, but I wish I can show it on the stage in the cage."
The stage will be a big one in Toronto with the UFC reportedly selling 55,000 tickets for the event. If an enormous audience isn't enough to get inside a fighter's head, Matyushenko is expecting Brilz's layoff to affect him.
"Not fighting for a year, it kind of puts you in a situation where you start getting nervous and stuff like that. It's the mental preparation that's a big deal," Matyushenko said. "I think he's going to be nervous."
Brilz hasn't fought since May 2010. However, that last performance was an impressive one against
Antonio Rogerio Nogueira
at UFC 114. Brilz dropped a controversial split decision but put himself on the map in the light heavyweight division.
Matyushenko had planned on fighting him last November, but a back injury removed Brilz from the bout.
"I was ready for him back then. I've almost been training for him for half a year now," Matyushenko said. "I think it's a good matchup. He's a good wrestler. … It's kind of hard to say I know him inside and out because first of all, he hasn't fought in almost a year. Things can change. He may change his technique in that time. That's kind of a hard aspect of preparation for this fight."
Matyushenko fought replacement Alexandre Ferreira instead in November, stopping him in the first round. The win was Matyushenko's fourth in five fights. The lone loss in that stretch came to
Jon Jones
, who won the UFC light heavyweight title in March.
"I got in a bad position and I didn't get out of there fast enough," Matyushenko said. "Jones just used it well. It looked like he did his homework and he did exactly the same thing that I usually do to other fighters."
Although complimentary of Jones, Matyushenko said he'd "definitely" like another crack at the titleholder. He'd use a different strategy in a rematch.
"You have to put the pressure on him and actually get in exchanges and get in a fight," Matyushenko said. "You saw if he doesn't get hit, he's got a long reach and he uses that as an advantage. You have to bring the fight to him. It's not easy. It's going to be hard, but I think that's the only possibility."