January, 26, 2014
1/26/14
7:49
AM ET

By Brett Okamoto
ESPN.com
Archive
CHICAGO -- It's an unfortunate truth about mixed martial arts: Judges get it wrong sometimes.
The wrong man won Saturday when it came to a lightweight bout between Ben Henderson and
Josh Thomson
.
Though Thomson wasn't completely "robbed" in the split decision, it was at least a case of petty theft. It was an especially difficult loss for Thomson due to what was at stake (a UFC title shot) and what he overcame in it (a broken hand).
Difficult enough for Thomson (20-6) to openly contemplate retirement, saying "this might be it" within the same breath of stating he is still a top-five talent in his division.
"I felt like I won," Thomson said. "I won with one hand. I beat the former UFC champion -- a guy who was here for two years. That's what I can't stomach. I'm a better fighter. That's what pissed me off."
For the record, there is no way Thomson retires after what happened in this fight.
"

I felt like I won. I won with one hand. I beat the former UFC champion -- a guy who was here for two years. That's what I can't stomach. I'm a better fighter.

"

-- Josh Thomson, on his narrow defeat to Benson Henderson
Not that he's a liar or that he shouldn't walk away if his heart isn't in fighting people for a living anymore. I'm just saying there's no way.
Javier Mendez, one of Thomson's coaches who was in his corner at the United Center, seemed to agree. Mendez confirmed Thomson spoke about retirement during his latest camp but said he simply cannot see Thomson walking away while still at his peak.
"Josh is honest, so if he's talking about [retirement] he means it," Mendez said. "But when things calm down, I think he'll realize how good he still is, and there is no way he should be thinking about that. No way.
"The only thing he should be thinking about is that title shot he deserves to have."
After the first round of Saturday's fight, which all three judges awarded to Thomson, the 35-year-old went to his corner, adjusted his glove and saw his right thumb fold backward clear to his wrist.
Mendez said his heart sank when he saw the injury and immediately wondered if he should throw in the towel to save Thomson from further injury.
It would have been an easy out for Thomson -- a built-in excuse for whatever happened next. To be fair, few UFC fighters would take such an out, which Thomson made a point of saying at the postfight news conference.
Not every UFC fighter would have still found a way to win the fight, though -- as Thomson, in my eyes, did.
[+] Enlarge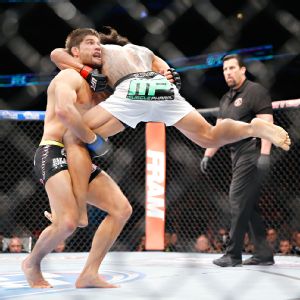 Ross Dettman for ESPNHampered by a thumb injury, Josh Thomson struggled to set himself free when entangled with Benson Henderson.
At one point in the fourth round, after Henderson worked back to his feet from a takedown, Thomson took a long look at the clock on one of the screens hanging in the corner of the arena.
It felt like a critical moment in the fight. Henderson had clearly won the third round and just created momentum in the fourth. Thomson's injured hand was affecting his ability to win crucial scrambles, which he knew could be the difference in the fight.
"It was really bugging me," Thomson said. "My corner was yelling at me to fight [my way out], but I couldn't grab anything. Every time I pushed on his hands to separate them, my thumb would push back.
"It was more irritating than anything, just to know the things you can't do [are] the things you need to do. To train this hard and this long and I can see my title shot just disappearing."
But he didn't let it disappear in that moment. After looking at the clock, Thomson scored a key takedown, which I believed put him up 3-1 entering the fifth.
Heading into the weekend, Thomson was a sort of de facto No. 1 contender, thanks in large part to the fact that
TJ Grant
remains sidelined due to injury.
Thomson's goal in Chicago was to prove he belonged in that role by outfighting a former champion.
Regardless of what his record says, in the eyes of many, he achieved that goal.
October, 18, 2013
10/18/13
12:15
PM ET

By Brett Okamoto
ESPN.com
Archive
HOUSTON -- As everyone knows, any great real-life sports moment can be summed up by an equally great sports-movie quote.
For this weekend's UFC heavyweight trilogy fight between defending champion
Cain Velasquez
and
Junior dos Santos
, the quote has to come from Will Ferrell's NASCAR classic, "Talladega Nights."
"If you ain't first, you're last." It becomes a rule of thumb for Ferrell's character, Ricky Bobby -- the last thing his father says before running out of his adolescent life.
Saturday's heavyweight title fight features, without question, the most dominant big men in mixed martial arts today. They are 1-1 against each other and a combined 18-0 against the rest of the division, including 15 finishes.
As talented as they both are, only one will leave the Toyota Center as champion. The other, the one who takes second, might feel like he finished last.
"I think the casual fan will remember the last fight between them and forget the ones before," said Javier Mendez, Velasquez's head coach.
"From my observation, [in trilogies], the guy who wins the last fight is the winner. Muhammad Ali was the winner [over Joe Frazier]. Arturo Gatti was the winner [over Micky Ward]. The casual fan only remembers the last fight."
So much is at stake at UFC 166, well beyond the normal stuff that comes with every title fight. History won't be made on Saturday; it will actually be rewritten.
Excuses are a dime a dozen in the fight game, but dos Santos and Velasquez each has good ones when it comes to their first two meetings.
When dos Santos (16-2) starched Velasquez with a right hand just 64 seconds into the first fight in 2011, Velasquez was secretly nursing a serious knee injury.
When Velasquez (12-1) -- as UFC president Dana White put it Thursday -- "destroyed" dos Santos in a five-round rematch last year, the Brazilian was finalizing a divorce and dealing with rhabdomyolysis, a potentially fatal condition caused by overtraining.
There's no real way of knowing how much those circumstances played into the first two results, but that doesn't matter. Perception beats reality every day in combat sports. Saturday's winner will have "proved" his loss to the other was a fluke.
It's why Mexican boxer Juan Manuel Marquez turned down a massive payday this year to fight Manny Pacquiao again. Who cares if he retires 1-2-1 against Pacquiao? Marquez will feel forever vindicated by the crushing knockout he scored in the rivalry's finale last year.
It should be mentioned that Saturday might not even be this rivalry's finale. Mendez has confidently predicted a fourth (and perhaps even fifth) fight, as has dos Santos.
Of course, a fourth fight isn't guaranteed, and by the time the UFC wanted to promote one, the heavyweights could be well past their respective primes anyway.
[+] Enlarge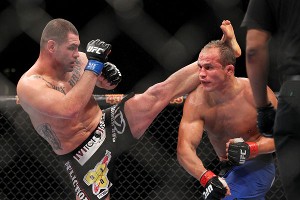 Ed Mulholland for ESPNCain Velasquez, left, silenced any and all doubt by dominating Junior dos Santos over five rounds in the rematch last year.
Mendez, who made it clear there is "no way in hell" Velasquez would lose, admitted that if he did, it would probably take at least seven wins to get back to a dos Santos fight. Velasquez echoed that thought.
"I think it will be settled for a while," Velasquez said. "I won't say we won't fight in five years or so. That's a possibility. But it will be settled for a while."
Both Velasquez and dos Santos, when asked to identify the greatest heavyweight martial artist of all time, named former Pride champion
Fedor Emelianenko
. The Russian heavyweight once went 28 consecutive fights without a loss.
Even in the UFC's heavyweight division, where no champion has consecutively defended the belt more than twice, Velasquez and dos Santos are viewed as talented enough to produce a long winning streak.
Only one of them, however, can do it with a belt around his waist. And as Reese Bobby said, "If you ain't first …"
"It's really hard to ignore how huge this fight is," Mendez said. "This is the biggest trilogy in the history of the UFC, and it may very well be the biggest trilogy of all MMA."
May, 24, 2013
5/24/13
9:33
AM ET
For the second time in his career, 30-year-old
Cain Velasquez
heads into a fight widely regarded as mixed martial arts' top-ranked heavyweight.
After experiencing a similarly lofty status at the end of 2011, Velasquez went down when Brazilian slugger
Junior dos Santos
clipped him behind the ear. A year later, fully recovered from a torn knee ligament, the Mexican-American managed to avenge his only defeat in 12 professional contests, which is why, this weekend in Las Vegas, he has earned another opportunity to defend the UFC title.
Having this happen on a regular basis is the "most important thing" Velasquez believes he can accomplish in the UFC. That might sound like a modest pursuit for a man of Velasquez's talent and intensity. But consider history first and his desire won't appear so unambitious.
Since its creation in 1997, the UFC heavyweight title has been about as easy to contain as a marlin on a dinghy.
"When you say you want to defend the title for a long time, what does it really mean?" pondered Velasquez's trainer, Javier Mendez.
[+] Enlarge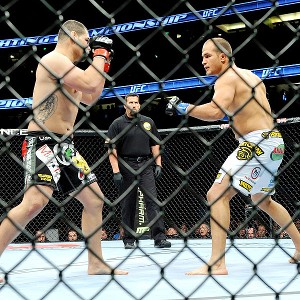 Ray Mickshaw/FOX/PictureGroupJunior dos Santos, right, made certain Cain Velasquez's first title reign was a short one.
"Remember, no one has defended the title more than twice, so if he's talking about wanting to keep defending that title, he wants to be remembered by everybody as one of the greatest, like Fedor [Emelianenko]."
A couple of years atop the division is required if Velasquez is to be sanely compared to Emelianenko. The Russian heavyweight ruled from 2003 until the summer of 2010. He never competed in the UFC and had his share of wins against overmatched competition, but that hasn't stopped most fighters, fans and media from showering the retired Pride champion with praise as the top heavyweight of his era.
This, after all, is what happens when dominance and longevity join together.
"Look at what it's done for GSP [Georges St-Pierre]. Look at what it's done for
Anderson Silva
," Mendez said. "So I think it's humongous if Cain can hold that title. It's huge for the UFC. It's huge for everybody involved. It's huge for me. It's huge for his management. Everyone wins when an individual, a champion, continues to win."
Velasquez, a collegiate wrestler at Arizona State, exudes brute force. His style is relentlessness: a hard-edged mindset coupled with speed and a smaller man's stamina. He calls what he does chain-fighting.
It's an apropos description. Velasquez is a strong enough wrestler to put any heavyweight on his back, but his progression has taken him to a place where takedowns have primarily become setups for other offense. This has some of the champion's supporters suggesting he could overtake Emelianenko in the reputation department despite having fewer than 15 fights on his ledger while never defending a major title -- everything seems to want to happen faster in MMA.
"

It's huge for the UFC. It's huge for everybody involved. It's huge for me. It's huge for his management. Everyone wins when an individual, a champion, continues to win.

"

-- Javier Mendez, on the importance of Cain Velasquez's longevity as heavyweight champion
Emelianenko built mystique in the ring. Reaching that level of success won't have much to do with Velasquez's ability to cut a promo or regale audiences with funny stories -- mostly because he's uninterested in or incapable of pursuing either.
Velasquez simply aims to fight. Like so many great champions, that's what he's built for.
So is the way he goes about his business -- cold, calculated and vicious -- sufficient to leave an impression outside the MMA bubble? Does it matter how good Velasquez is if he's a bore on camera and can't offer the sort of pithy pro wrestling shlock that gets passed off for MMA promotion?
"Cain is not a
Chael Sonnen
," Mendez said. "So he's not going to say those catchy lines. He's just going to take all comers, and he's going to go to war. People will respect him for the humble champion that he is. It's going to take him a little longer to get down that road because he didn't use his mouth. He used his fists. He used his fighting to speak for itself."
Perhaps Velasquez should feel fortunate that winning matters most. It did the trick for St-Pierre and Silva,
Benson Henderson
and
Dominick Cruz
,
Randy Couture
and
Tito Ortiz
. UFC has benefited over the years from entrenched champions across several weight classes, even if some of them are dry as driftwood.
Heavyweight stands out as a class that should have delivered more for UFC than it has. Clearly it's possible.
Brock Lesnar
moved the needle, and for a short stretch packaged the sort of mega charisma associated with the likes of Muhammad Ali (including some political controversy, albeit digs at the Canadian health care system can't be compared with what Ali represented) and Mike Tyson's blood-curdling, black shoes, black shorts, Brownsville intimidation.
This is the type of combination that can propel a heavyweight mixed martial artist into the mainstream, yet don't dismiss what Velasquez's challenger,
Antonio Silva
, said leading up to Saturday's contest, because there's plenty of truth to it:
"There are no superheroes in this sport. Nobody is invincible."
May, 17, 2013
5/17/13
6:58
AM ET
SAN JOSE, Calif. --
Luke Rockhold
rolled his eyes. This was the talented 28-year-old middleweight, six weeks ago, being sheepish.
Apparently he wasn't crazy about the world learning that his trainer, Javier Mendez, is under medical treatment for testosterone replacement therapy.
When Mendez's use was revealed, Rockhold thought it would be embarrassing. How come? Well, no one's slammed licensed hormone therapy harder than Rockhold, and now the man in charge of preparing him to fight turns out to be on the same stuff as the embodiment of all things evil in enhanced MMA,
Vitor Belfort
.
Of course, no one's going to care that Mendez is using TRT. He has been retired from fighting for years and lives in the target age demographic for this sort of stuff.
[+] Enlarge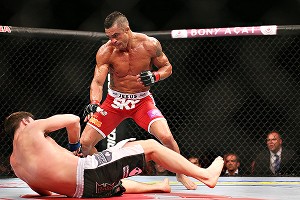 Susumu Nagao for ESPNLuke Rockhold feels Vitor Belfort, above, is well above the normal testosterone limits.
Belfort's use is something altogether different. Many people care, including Rockhold, a fact he said he'd love to move beyond. But it seems the Strikeforce middleweight champion is having a hard time doing so ahead of his UFC debut. At Thursday's news conference for Zuffa's latest Brazilian adventure in the southern city of Jaragua do Sul, Rockhold dressed down the veteran former champion.
"I haven't supplemented or taken anything in any way. I know I put in more work. I know I have a bigger heart. I know I have the will that will push me through in this fight," said Rockhold, a few seats from Belfort.
This is something he's spent a lot of time thinking about.
Six weeks ago, Rockhold was already aware of how any discussion of Belfort demanded a long tangent on TRT.
"Every time," he said.
It shouldn't be a wonder considering how sharp the Santa Cruz, Calif.-born surfer's words have been toward Belfort.
"I don't necessarily trust him. And I don't necessarily trust the system. Do I think he's cheating? Yes I do, personally."
The basis of Rockhold's protest comes from "jibber jabber behind the scenes" about Belfort being above the normal range for testosterone.
"

I don't necessarily trust him. And I don't necessarily trust the system. Do I think he's cheating? Yes I do, personally.

"

-- Luke Rockhold, on Vitor Belfort's usage of TRT and the UFC's drug-testing policy
"He definitely looks bigger than I've normally seen him," Rockhold said. "If you see the comparisons versus back when he fought
Anderson Silva
to now [and] the Jones fight, he put on some serious muscle mass.
"It's pretty obvious to see. People don't transform like that naturally. I don't care how much weight you're lifting. Your veins and muscles don't just completely morph and change without some outside help. TRT ... is it really just TRT? I've seen guys on TRT working hard, and look nowhere near what Vitor looks like. I hate to make this the whole topic of this fight. It seems like it is. I'd like to move on beyond it, focus on the fight and what I gotta do to win."
When he talks about it, the sense is he fully believes what he's saying. This, however, didn't stop him from agreeing to a fight with Belfort in Brazil, where a recently formed commission will oversee therapeutic use exemptions.
"I'd like to see him tested to see if he's under the normal limits because I don't think he is. I think he's far above, from what I hear," Rockhold said.
He knows from Mendez that TRT, done modestly, significantly increases muscle endurance, decreases soreness, and simply helps a person train harder. And as a result Mendez believes he's sending his fighter into a contest at a disadvantage.
"But again it's not his fault the way the rules are," Mendez said in defense of Belfort. "You can't blame him for that. He's following the rules. He's by the book."
Rockhold thinks differently, and because he's stepping into the cage it's his opinion that matters most. He attempted to set up random testing through the Voluntary Anti-Doping Association; thinking the process was free he instead found it to be "a stretch" because of several thousand dollars in fees and his belief that Belfort would never agree to be involved.
All of that is a distraction. No matter what Rockhold thinks of Belfort's use, it can't change the facts of the fight. TRT is there, like height, weight and reach on the tale of the tape. He knows this, and that's why he wants to get beyond the TRT stuff. There are better things to focus on.
"It's a huge opportunity," he said. "Vitor is a huge name. He's a legend of the sport. And he's a top contender in my division."
Waiting in the wings is a title shot against the best fighter in MMA history, Anderson Silva, if the UFC middleweight champion handles
Chris Weidman
in July. Rockhold spoke reverentially about Silva, and said he's excited by the champion mentioning him as a possible opponent.
"If everything works out, I'm going to beat Vitor -- I am going to beat Vitor," he said. "And if Anderson beats Weidman then I think that fight needs to happen. There wouldn't be any reason not to make it happen. To win the belt from Anderson Silva would be the sweetest of all things. But maybe it's Weidman, but of course taking the belt from Anderson would mean a lot to me."
Maybe even a bit more than teaching a lesson to Belfort, who Thursday spoke of his motivation and enhancement that comes from the inside, his passion for fighting, his experience of continual learning. He said when he steps in the Octagon with Rockhold it will feel like a "silent storm."
"I've crushed all the grapes," Belfort said, "and now I only just need to drink the wine."
This doesn't register with Rockhold's vision of the future. He sees himself being the best middleweight in MMA. Rather than being intimidated by the idea that Belfort might be more dangerous to his health on testosterone, Rockhold turned it into a perceived weakness.
"I believe people that need that extra push, the TRT, I think they're lacking something," he said. "And I believe that will show in this fight. That will be a big factor."
June, 22, 2012
6/22/12
5:48
AM ET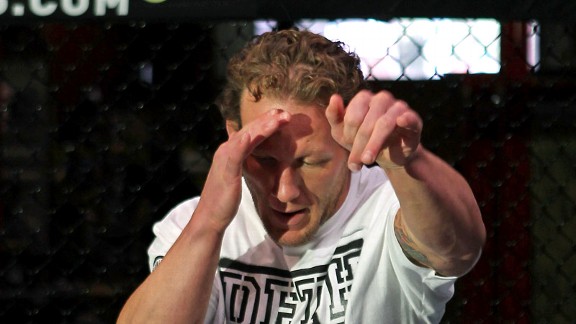 Josh Hedges/Zuffa LLC/Getty ImagesA recharged Gray Maynard is hoping a change of scenery has done him good.
Learn a lesson from
Gray Maynard
.
The 32-year-old lightweight contender felt "stagnant" and "boxed in." He wasn't living in a place he or his fiancee wanted to call home. So he did what many people often discuss but rarely do: He took action.
"I didn't want to talk about it a year or two later," Maynard said.
A month prior to fighting
Frankie Edgar
for a third time, he parted ways with Xtreme Couture, the only MMA gym he knew, and set up his own shop.
Maynard admits the situation "wasn't good, but it's not an excuse. That's why I never made it a big deal. It was my choice and I have to deal with it."
A few weeks after losing a chance to become the UFC lightweight champion when Edgar finished him in the fourth round, the 155-pound powerhouse left Las Vegas in the rearview mirror, headed west and settled in Santa Cruz, Calif.
"It's hard to leave a gym," Maynard said. "It's hard to leave your home. It's a tough move. It's not like I was gonna leave for [one training] camp. I was like, let's move. It kind of happened quicker than we were planning on, but it was good to do that."
As a result of the journey, when Maynard steps into the cage Friday night in Atlantic City against
Clay Guida
, he'll do so with a revamped corner and a new view on what it means to be a mixed martial artist.
"I felt like I hit a plateau, and it was time to get some new ideas," he said. "I needed a change. Xtreme Couture is where I started; it's awesome, I love them all there. I just had to evolve more. There's a lot to the game."
Maynard's 10-1-1 record serves as testimony to the effectiveness of his wrestling skill and raw power. He is strong and hits hard, which is why it was easy to succumb to the boxer-wrestler trap while forgoing other areas of his game.
His first stop was the American Kickboxing Academy in San Jose, Calif.
"He was only doing one or the other when he first came to the gym," said AKA-trained lightweight
Josh Thomson
. "He was only boxing or wrestling, but the combination from punch to [takedown] shot wasn't that clean. It was decent but wasn't clean."
Maynard credits Thomson, whom he helped prepare for a May contest against
Gilbert Melendez
, heavyweight
Daniel Cormier
, AKA coaches Javier Mendez and Bob Cook, boxing trainer Rick Noble, UFC veteran
Mac Danzig
and the Nova Uniao camp for getting his "juices flowing again."
In Brazil, Maynard worked with UFC featherweight champion
Jose Aldo
in advance of what turned out to be a late first-round stoppage against
Chad Mendes
. Maynard said he was impressed by the camp and its approach to MMA.
"I just saw a lot about the whole game," he said. "Nova Uniao, they're good in all areas. It was a lot more of the MMA game, and it got me going again, got me thinking about stuff."
He brought that attitude back with him to California and continued upgrading. Maynard expects to show some of those new skills and mentality against Guida in the main event of UFC's latest offering on FX.
Thomson, who works Maynard's corner alongside Noble and Danzig, acknowledged that the No. 4-ranked lightweight according to ESPN.com has "got a lot of things going through his mind right now as far as how to try and use the new tools he's developing."
Still, Thomson said the changes Maynard implemented in recent months are paying off in the gym.
"I just want to see how it meshes and comes together in a real fight," Thomson said. "He's not going to do it overnight."
Fans shouldn't expect spinning back kicks from The Bully, but his transitions between striking and grappling realms are said to be crisper. His boxing application looks tighter, more efficient and requires less energy. As a result, combinations are flowing the way he'd like them to. He also honed in on his wrestling roots with the impressive Cormier, Strikeforce's heavyweight grand prix champion.
Guida, ranked No. 7, will provide a stern test, which Maynard welcomes.
"It was a good choice for us," Maynard said. "He brings a little bit different approach for each bout, but he always goes hard. That's all I can ask for."
As for what unfolds in the cage, regardless of where he trained or the level of shape he worked himself into, Maynard is mindful that the plan of attack is up to him. He may have new tools to use, but it would be a mistake to shift too far from the attributes that brought him to this point.
Sometimes change is good. Sometimes it's not.
March, 9, 2012
3/09/12
5:08
AM ET

By Chad Dundas
ESPN.com
Archive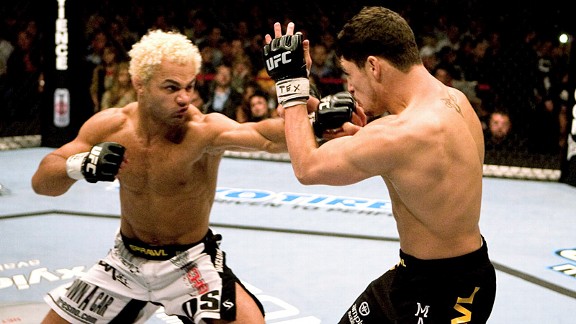 Josh Hedges/Getty Images
Longtime followers of MMA no doubt blanch a bit when they hear
Josh Koscheck
casually refer to himself as "the old man" of the UFC welterweight division.
After all, it doesn't seem all that long ago that Koscheck and that first bunch of lovable misfits showed up and started punching doors at their McMansion in Las Vegas on the debut season of "The Ultimate Fighter." Considering the miles we've all put on in such a relatively short time -- plus, the impending "live" debut of TUF 15 today -- it's almost enough to make the most jaded observer want to pack his stuff and go sleep in the yard, Leben-style.
If you'll excuse what feels like a particularly pained metaphor, perhaps Koscheck has done just that during the last few months. The consummate 170-pound villain appears to have suffered the MMA equivalent of a mid-life crisis of late, permanently uprooting from the American Kickboxing Academy and striking out on his own as he prepares for his May 5 showdown with
Johny Hendricks
at UFC on Fox 3.
In doing so, Koscheck has officially reached the awkward third act of his athletic career. He's the captain of his own ship now, no longer just a fighter, but a gym owner and the architect of his own future. Having already lost twice to
Georges St. Pierre
he's admitted he's more interested in big paydays than the divisional rat race, even offering to go up to middleweight to get them. It's odd that matchmakers have responded to that shift by setting him up with back-to-back fights against up-and-comers like
Mike Pierce
and Hendricks, but that's probably a topic best left for another day.
Koscheck is far from done -- the five fights left on his relatively new UFC deal attest to that -- but whatever moves the 34-year-old has left on the board, now's definitely the time to make them.
[+] Enlarge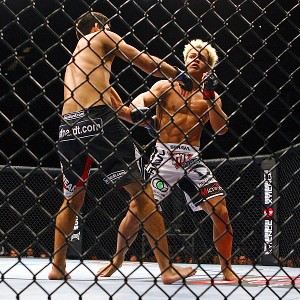 AP Photo/Tom HeveziJosh Koscheck will have no one to blame but himself if things go wrong from here.
By leaving AKA, a team that has always taken pains to cast itself as one of the sport's tightest-knit, in favor of his own Dethrone Base Camp squad (and burning bridges with coach Javier Mendez on the way out) Koscheck has put the bulls eye squarely on himself for the remainder of his career.
He knows his time is running short and he knows his best chance to reaffirm his status as a player at welterweight is while St. Pierre is out with a knee injury. To his credit, he also seems to understand what's at stake for him by choosing to try it on his own terms.
"I definitely have a lot to prove because everybody is looking at me like, 'OK, he left, now what's he going to do? Is he going to be successful or is he going to fail?'" Koscheck told MMAFighting.com's Ariel Helwani recently. "I can guarantee that in my life, when I put my mind to something, I can usually get it accomplished."
By blaming Mendez's coaching for the fact that AKA has produced a litany of top contenders but only a few champions, Koscheck will take the full brunt of whatever happens next for him. If he beats Hendricks and goes on to reenergize his career, he makes it look like he had a point. If he loses, if things don't go better for him at the Base Camp, then his words inevitably start to look like the sour grapes of a guy trying to explain to himself and everyone else why he came so close, but never captured UFC gold.
Some athletes thrive under that kind of scrutiny and maybe Koscheck is one of them. Running your own camp typically isn't a recipe for success for fighters, but in fairness, we've never seen an in-his-prime Koscheck coached by anyone other than the guys at AKA. Maybe the change will indeed do him good. Maybe he'll turn back the tide of new 170-pound contenders and pave his own road back to the top.
Maybe not.
Either way, it's all on him now, and that's probably the way the "old man" has wanted it all along.
October, 20, 2011
10/20/11
6:49
AM ET

By Franklin McNeil
ESPN.com
Archive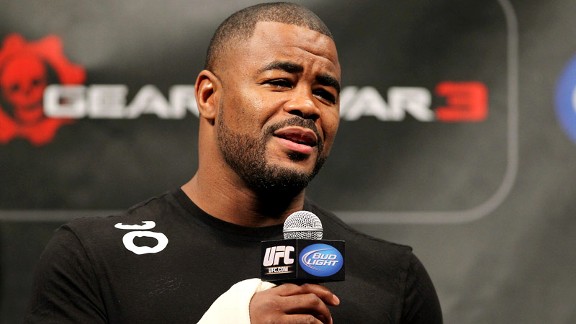 Josh Hedges/Getty ImagesRashad Evans knows a thing or two about career-stalling injuries.
It's time for the folks at the UFC to begin crossing their fingers.
A pattern has developed this year that could derail any plan CEO Lorenzo Fertitta, President Dana White and matchmaker Joe Silva have of turning mixed martial arts, and the UFC in particular, into a mainstream sporting event. High-profile fighters -- many of them titleholders -- are succumbing to prefight injuries at an alarming rate.
Welterweight champion Georges St. Pierre became the latest fighter to fall victim to the injury plague after he suffered a knee injury Tuesday that forced him to pull out of his UFC 137 title bout Oct. 29 against Carlos Condit. That fight was slated to headline a pay-per-view card at Mandalay Bay Events Center in Las Vegas.
While another intriguing welterweight fight -- B.J. Penn versus Nick Diaz -- has been moved to headline status, message board posters all across the Internet are urging everyone to boycott the event entirely.
UFC 137 remains a solid card; it can even be argued that Penn-Diaz potentially offers more excitement than St. Pierre-Condit. But the loss of St. Pierre highlights a problem that might spell big issues for the UFC as it prepares to hit network television next month and in 2012.
Lightweight champion Frankie Edgar and challenger Gray Maynard put on an exciting fight Oct. 8 at UFC 136. But the bout was originally slated to take place months earlier. Edgar and Maynard were to decide their third meeting at UFC 130 in May, but both fighters suffered prefight injuries. The injuries not only pushed their fight into the fall, but put other lightweight contenders in limbo.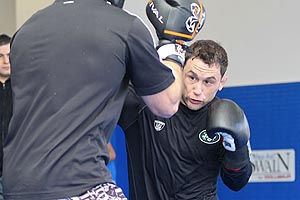 Ed Mulholland for ESPN.comFrankie Edgar, facing, is one of many high-profile fighters to fall victim to the injury bug earlier this year.
The list of high-profile bouts that came unglued due to prefight injuries is lengthy. A knee injury suffered in practice pushed Rashad Evans out of his long-awaited showdown in March with then-light heavyweight champion Maurico Rua. Jon Jones stepped in a little more than month after submitting Ryan Bader to face, and eventually defeat, Rua.
Jones would reveal a hand injury after becoming champion that put his first title defense on hold. A hand injury would later postpone Evans' second shot this year at the 205-pound title.
A few days ago, former interim heavyweight champ Shane Carwin announced he injured his back while training. The injury is expected to sideline him until next year.
The constant loss of highly visible fighters has to hurt UFC pay-per-view revenue. UFC limits the financial pain because of its deep talent roster. But no matter how much UFC stacks its card for Nov. 12, it can't afford to have either heavyweight champion Cain Velasquez or top contender dos Santos come up lame before their title bout.
White and the UFC are putting their reputations on the line that night with the promotion making its network television debut. Fox has strategically advertised Velasquez-dos Santos in prime spots during recent NFL games. Millions of people who never heard of Velasquez or dos Santos, and have not seen an MMA bout, are being exposed to the sport and its fighters.
Curiosity is peaking, and those who tune in next month expect to see two of the biggest, toughest men on this planet. High-ranked lightweights Clay Guida and Benson Henderson won't cut it on that night.
UFC needs Velasquez and dos Santos to remain injury-free. But there is little the promoter can do other than keep its fingers crossed.
The reason? Professional mixed martial arts training is demanding. As the sport becomes more technically advanced, fighters are forced to work on many disciplines. But there two disciplines that make fighters very susceptible to injury during training camps -- wrestling and boxing.
"When you mix the two [boxing and wrestling], you have wrestlers who are worried about getting hit, so they are flinching," Edgar's boxing trainer Mark Henry told ESPN.com. "Then their legs are exposed and their back is exposed.
"A lot of these guys are waiting for a punch, then their legs are getting hit. And they're not ready for that blow to their knee. They're not lowering their level and preparing for that shot to the leg, because they think there's a punch coming high.
[+] Enlarge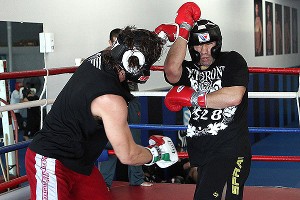 Dave Mandel/Sherdog.comIt's go all out or go home in Cain Velasquez's training camp.
"When you mix boxing, kicks in the standup and wrestling, it's a recipe for getting hurt."
This has to be worrisome news for UFC. Wrestling is the primary discipline for Velasquez. He is without doubt putting in extra time working on his takedown techniques. But Velasquez must also continue to fine-tune his improved boxing.
For Velasquez's coaches and teammates at American Kickboxing Academy in San Jose, Calif., it's training as usual. And that means going at it hard and never taking shortcuts during training sessions.
"If you're concerned about injuries, they will happen," Velasquez's trainer, Javier Mendez told ESPN.com. "If you prepare properly and everything goes according to plan, freak accidents can still happen.
"The nature of MMA is that there are so many different disciplines. But you can't go into it with a safety-first mentality. The fighters have to prepare for a fight and they have to prepare properly. The most important part for us as coaches is to get our fighter ready to win."
Thus far, no news has come from either heavyweight's camp suggesting physical ailments have occurred. And no news is great news for the UFC, especially with Velasquez returning to the Octagon for the first time since Oct. 23, 2010, when he lifted the belt from Lesnar.
A little more than three weeks remain before Velasquez and dos Santos enter the cage for their highly anticipated fight on network television.
UFC, its decision-makers and every fan of this sport can only cross their fingers and hope the rash of injuries that have plagued the promotion this year has come to an end.