August, 28, 2012
8/28/12
2:44
PM ET

By Franklin McNeil
ESPN.com
Archive
Everything had gone according to plan for
Jake Ellenberger
.
His training camp was flawless. His body was in tip-top condition and mentally there were no doubts he'd leave his rematch with
Jay Hieron
at UFC 151 victorious.
Then the roof fell in.
UFC president Dana White cancelled the Sept. 1 event when light heavyweight contender
Dan Henderson
withdrew due to an MCL injury, and champion
Jon Jones
opted not to fight replacement
Chael Sonnen
on short notice.
The decision to cancel UFC 151 caught every fighter on the card by surprise, including Ellenberger. But the welterweight contender, who is ranked No. 7 by ESPN.com, doesn't foresee a pattern arising.
UFC 151 marked the first time since White and CEO Lorenzo Fertitta took over the promotion, 11 years ago, that a card was cancelled. And Ellenberger believes it will be the last time.
"I'm not worried about this happening again," Ellenberger told ESPN.com. "It's not likely. I was shocked that it happened now. They found a replacement for the main event, but it ended up not working out. And that was an executive decision they had to make. But I don't see this happening again in the future at all."
The cancellation proved to be nothing more than an inconvenience for Ellenberger. His rematch with Hieron is still on, they just have to wait a month to get at one another again.
"My fight got postponed; it really doesn't change a lot for me, other than I'm fighting a few weeks later," Ellenberger said. "It's the same opponent for me. And it gives me more time to prepare.
"I was physically and mentally prepared to fight [on Sept. 1]. But it's not completely a bad thing. There's some good I can take out of this. It allows me to strategize more for my opponent. It gives him more time to prepare for me, too. I'm taking a lot of positives out of the situation."
Their rematch is now scheduled for Oct. 5 at Target Center in Minneapolis.
[+] Enlarge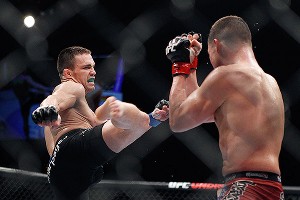 Ross Dettman/ESPN.comWith a new date in hand, Jake Ellenberger, left, can look at the postponement of his rematch with Jay Hieron as nothing more than an inconvenience.
Hieron defeated Ellenberger by unanimous decision on June 3, 2006. It was the first professional loss of Ellenberger's career -- and it still stings a little.
But the pain from that initial setback doesn't remotely compare to the hurt Ellenberger felt for some fighters who were unable to compete at UFC 151. He knows firsthand the financial damage missing a paycheck can have on most mixed martial artists.
"I feel bad for the other fighters on the card, especially the undercard guys," Ellenberger said. "Many are just coming up. I've been there so I know exactly what they are going through, especially the guys at the lower pay scale. Those guys have families and mouths to feed and bills to pay like everyone else. They have coaches to pay. There are a lot of things they have to deal with."
Ellenberger is confident every fighter scheduled to compete at UFC 151 will overcome the setback and be stronger than ever.
They will have more opportunities to fight inside the Octagon. And they won't have to worry about their next UFC bout being cancelled or postponed.
August, 23, 2012
8/23/12
6:28
PM ET

By Chuck Mindenhall
ESPN.com
Archive
UFC 151 will never happen. It disappeared from the UFC's timeline, much like the 13th floor in many elevators.
How did we get here? It all happened in the fog of rumor, very fast and very stealthily.
It began when the main event's challenger,
Dan Henderson
, partially tore his MCL in training at Team Quest this past week, and had to back out of his fight with
Jon Jones
. That left the UFC scrambling (once again) to fill a big spot on very short notice, this time for a main event just nine days removed from touching gloves.
Of course, a quiet disaster ensued behind the scenes, which in 2012 feels like a recurring nightmare for UFC matchmaker Joe Silva. The UFC first asked No. 1 contender
Lyoto Machida
to step in, but he declined. Dana White said he could hardly blame Machida given the circumstances.
But then the UFC asked the barely recovered middleweight
Chael Sonnen
, the most marketable Plan B ever invented, if he'd do it. This was a last-ditch effort. Sonnen not only agreed, he was online booking his flight to Vegas before Jones could even respond.
Then Jones responded. And his response was an unexpected, particularly divisive "no."
Down went UFC 151.
The UFC hosted a media call to explain the ramifications of that "no" today, a moment White referred to as one of his "all-time lows as the UFC president." The long and short: There won't be a UFC 151. The louder, overarching gist was more accusatory: Jones and his trainer Greg Jackson (who advised him) just squandered millions of dollars for the company and left a million people in the lurch. Fans, fighters, media and the promotion alike. Even Joe Rogan had his comedy show canceled at the Mandalay Bay. It was a complete and careless domino effect.
And it meant that UFC 151 disappeared from the Las Vegas Strip as if it were all an epic David Copperfield trick.
Abracadabra. Gone. Kaput.
But for as much as Jones and Jackson are getting blasted for being so inconsiderate, there's room to spread some blame here. Begin with the fact that
Jay Hieron
-- filling in for an injured
Josh Koscheck
-- was in the rickety co-main against
Jake Ellenberger
. A fight like that never stood a chance as a makeshift headliner in a worst-case scenario of a pay-per-view. There was no way the main event could be extracted this late without the whole house of cards falling down.
So it fell.
And this plays into the new and popular criticism that the UFC has been playing fast and loose with words like "event." The depth of 2012 pay-per-view cards is far different from PPV cards of yesteryear. A big part of that is injuries. Koscheck-Ellenberger might have been able to stand on its own, but Hieron-Ellenberger could not. In short, more and more cards are vulnerable, and part of that has to do with the sheer volume of events.
[+] Enlarge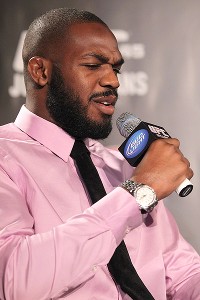 Ed Mulholland/ESPN.comJon Jones turned down a chance to save UFC 151 from extinction. Does that mean he deserves all of the blame?
UFC 147 should never have been a pay-per-view. Had Rich Franklin not been the "company man" one more time, that one might not have been salvaged either. In retrospect, many wished UFC 149 had been scrapped, after they spent $50 to discover their own disappointment.
Sonnen was willing to step up in a pinch because he had nothing to lose in a spot like that. Jones was advised it'd be foolish to accept the fight, and for reasons that make perfect sense -- to the
individual
, that is. To everybody outside of the individual, it felt like the rug was pulled out on something good. Sonnen-Jones had the potential to be
bigger
than Henderson-Jones, and a week was the perfect amount of time to suffer another Sonnen buildup.
As for the magnitude of the bout? If Jones didn't like the idea of a Machida rematch based on poor PPV numbers, he'd have loved the business end of a Sonnen fight. Apparently that logic didn't stack up next to basic preparedness. Jones' penance is that he's being redirected to Toronto (again) to fight Machida (again) on Sept. 22, in a playback bout not too many people were clamoring for. Is it his penance, or ours?
Either way, it's the way the quiet disaster played out behind the scenes.
And for the first time in Zuffa history, a scheduled card had to be scrapped -- unless you count the original UFC 145 in Montreal that was supposed to go down in March. That one was nixed when Henderson turned down a fight with Antonio Rogerio Nogueira, preferring to wait on his title shot with Jones. That one was still in the planning stages; this one was nine days away. Henderson played a hand in both cancellations (one by choice, the other by injury).
Jones played a hand, too. Only his hand had the power to shut down Labor Day weekend.
It all becomes the fallout of UFC 151, which no longer exists.
May, 6, 2011
5/06/11
6:12
AM ET

By Brett Okamoto
ESPN.com
Archive
Cliff Welch/Icon SMIBloodied, not broken: Jay Hieron channels his frustrations with positive results.
Jay Hieron
takes pride in his belief that other men, if put through the kind of frustration he's endured the last couple of years, would have quit a long time ago.
The 34-year-old could write a book on his hard luck in the sport. Not to open old wounds, but a quick recap:
He had a first-round knockout win over Jason High at an Affliction event in January 2009 dropped from the main card due to time restraints. He was expected to face
Paul Daley
at Affliction later that year, but didn't get the chance when the promotion suddenly ceased operations.
He went on to sign a deal with Strikeforce under the assumption his first fight would be against
Nick Diaz
for the first-ever welterweight title. That fight fell through when Diaz skipped a prefight drug test. Instead of rescheduling the title matchup, Strikeforce paired Hieron with Joe Riggs five months later as an untelevised prelim fight in a Miami show.
Hieron (21-4) did nothing but win during that stretch, but the fact that none of the fights made television has undoubtedly cost him in terms of notoriety and sponsorship money. He'd be lying if he said he never thinks about it.
"I'm fuming," Hieron told ESPN.com. "That kind of stuff can make or break somebody's career. It could force somebody to pack it in and say, 'This s--- ain't for me anymore.'
"But I believe the man upstairs has a bigger path for me. He's just making me take the long road. I'm a fighter that's been through everything negative you can go through in a career and I'm still here."
In many ways, joining the Bellator welterweight tournament this year has been the perfect opportunity for Hieron to start feeling good about his career again.
For one thing, it's got him fighting with regularity again. After sitting out for more than a year while his contract issues were sorted out, his tournament finals bout against Rick Hawn this weekend will be Hieron's third fight in as many months.
"It's a grind, but at the end of the day I feel blessed," Hieron said. "I had that year off and now this is what I signed up for -- a lot of fights in a short period of time. I want to get back on the scene and show everybody the real Jay Hieron. I've been out of the game but it's time to get back in the rankings."
As eager as Hieron is to get back in the public eye, especially after watching the careers of his Xtreme Couture teammates like
Gray Maynard
,
Martin Kampmann
and
Mike Pyle
take off during the past two years, he's constantly reminding himself to do it one step at a time.
Immediately following the announcement he had signed with Bellator, Hieron received questions regarding a possible matchup with champion
Ben Askren
, an undefeated wrestler with hype building.
But Hieron has seen too many opportunities fall apart on their own to overlook an opponent and mess things up himself. This week his focus is Hawn. Then he'll start thinking Askren.
"I can't wait for May 7," Hieron said. "[Askren] is a great wrestler. I don't think he's well-rounded but he has a good foundation and I hope he does keep winning. We'll meet up soon. But one thing at a time. I work on my mind as much as my body just because of all the stuff I've been through. I'm not looking past anyone."
August, 19, 2009
8/19/09
11:42
AM ET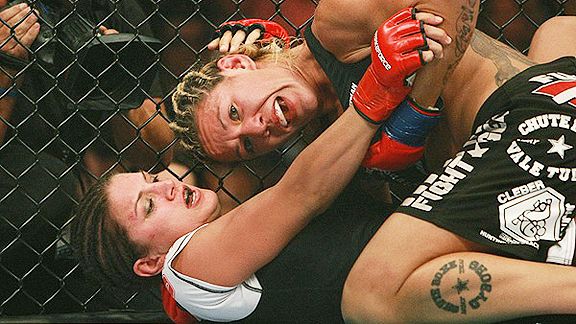 Dave Mandel/Sherdog.comCristiane Santos got a fraction of the take from Saturday's fight, but she made Gina Carano pay.
The value of being a poster girl: Gina Carano, who suffered her first professional loss Saturday at the piston-pumping hands of Cristiane Santos, earned $125,000 for the effort, according to numbers released by the California State Athletic Commission. Santos earned only a fraction of that, settling for $25,000 and Carano's still-beating heart.
Officially, the second-highest take-home salary from the card belonged to Jay Hieron, a capable (if under-the-radar) welterweight who banked $55,000 for his off-camera decision over Jesse Taylor; unofficially, the undisclosed salary of Gegard Mousasi was probably good for six figures, or something close to it.
Mousasi wasn't good for a lot of mass media attention -- though that could change if he keeps beating people to the extent that a coroner rushes into the ring instead of an EMT -- but Carano might be one of the best buys in the sport. For one weekend, at least.
July, 31, 2009
7/31/09
4:01
PM ET
"I don't want anybody to ask me any Fedor questions." Good luck with that one. UFC president Dana White hosted a telephone news conference -- known as a "phone presser" if you're a lonely journalist -- Friday afternoon. As expected, much of the conversation revolved around the continued frustrations over signing Fedor Emelianenko.
Long, painful story short: M-1 wants to "co-promote" UFC events; White finds the idea absurd.
"These guys are going to come in and co-promote?" White asked rhetorically. (And yes, you could hear his face getting redder. Thanks for asking.) "How the hell are they going to co-promote anything? … It was basically them coming in and saying, 'We've got this guy; some people might say he's the best fighter in the world; we want half your business,'" White snorted. "That s--- probably works in Russia. Not here."
That "s---" actually works quite often in the United States: It's called the boxing model of promoting, in which two disparate promoters and their fighters come to the table and bark about 60/40 percentages. It's just not how the UFC does business, and rightfully so. They're 90 percent of the equation. Left to their own devices, as White pointed out, M-1 Global tried to ramp up a major-league push in 2008 with Monte Cox and promptly tripped over themselves before a single show got off the ground.
When not growing increasingly apoplectic about his Russian headaches, White managed to squeeze in word that both Vitor Belfort and Tito Ortiz would be returning to the Octagon: Ortiz is likely for later in the year, possibly against Mark Coleman. This is the space where I'd normally rant against matching the sport's elder statesmen against younger, faster mercenaries, but Coleman just laid a porch-and-shotgun beating on Stephan Bonnar, so forget it.
Ortiz's signing also pretty much dampens any chance rival promotions had of using a marquee UFC name against the promotion.
Belfort's situation is more transparent: Now that he has re-enthused fans (and himself) with a run at 185 pounds, the UFC is choosing to slot him in a 205-pound contest with Rich Franklin on Sept. 18 in Dallas. Nonsensical? You bet. It's obvious the UFC is desperate for an attraction for Franklin on that date, and they're willing to ding Belfort's confidence and renewed popularity to do it.
In brief:
• Several abandoned Affliction athletes have been signed, including Paul Daley, Ben Rothwell, Belfort and Dan Lauzon. Both L.C. Davis and Javier Vasquez are headed for the WEC. Gegard Mousasi, White said, is a "possibility," but "we don't like to talk about deals until they're done." Oh, the irony.
• Dan Henderson is likely the next one in line for a shot at Anderson Silva's middleweight title. The bout could happen "very soon" if Silva manages to escape a fight with Forrest Griffin without any bruised organs.
• White has no interest in Andrei Arlovski or Tim Sylvia.
• White is, seriously, seriously through talking about Emelianenko. "He got offered a f---ing a--load of money. … He could go fight SAMBO every Thursday night if he wanted to," White said, referring to the Russian MMA organization. "It's like Brett Favre coming in and saying, 'I want to be your 50 percent partner.'"
July, 31, 2009
7/31/09
10:38
AM ET
According to Fanhouse, a welterweight title bout of excessive randomness between Nick Diaz and Jay Hieron has been added to Strikeforce's Aug. 15 card in San Jose, Calif.
Diaz was originally slated to fight Joe Riggs; Riggs pulled out, citing injury. Hieron, you may recall, was part of the Hindenburg "Affliction: Trilogy" card that was TKOed last week via massive ineptitude. The Xtreme Couture fighter hasn't lost in two years.
The card will have to make do with one fewer title bout, as Josh Thomson's defense against Gilbert Melendez has been postponed -- for the second time -- because of injury. Melendez will face Mitsuhiro Ishida instead, in what should be a compelling sequel to their 2007 bout.
Fanhouse also reports that female combatant Erin Toughill, once believed to be competing on the same card, will instead be used as a break-glass emergency replacement in the event that Gina Carano or Cristiane Santos suffers an injury. Being employed as a precautionary measure in this economy? Not too bad.