October, 18, 2013
10/18/13
8:41
AM ET

By Franklin McNeil
ESPN.com
Archive
HOUSTON -- Several fighters on the UFC 166 main card Saturday night have a lot to lose. But none has more at stake than
Daniel Cormier
.
Sure, a strong case can be made for main-event participants
Cain Velasquez
and
Junior dos Santos
-- there is the matter of the heavyweight title being up for grabs. But even the loser is expected to remain high on the contender list.
Cormier, on the other hand, has no room for error. He not only needs to beat
Roy Nelson
in the co-main event, but must do so in impressive fashion. Anything less and Cormier, who plans to begin competing at light heavyweight after the bout, will be forced to make major changes to his master plan.
Despite being ranked No. 3 among heavyweights by ESPN.com, Cormier is opting to leave the division because he wants to become a UFC champion. And he vows never to fight Velasquez -- a close friend and training partner.
So Cormier is heading to 205 pounds to realize his title dream. But at 34, time isn't on his side.
An upset loss to Nelson will greatly diminish his chances of landing a title shot anytime soon. Even a lackluster performance Saturday night could do harm to his title bid.
"This is the most important fight of my career," Cormier told ESPN.com. "I know the
Josh Barnett
fight was important because I needed to win that [Strikeforce Heavyweight Grand Prix] tournament. But in terms of importance, in terms of keeping my momentum, keeping things rolling in the right direction, this is the one.
"I've got to find a way to get through Roy Nelson in impressive fashion, so that I can take the momentum that I've built over the past four years and take it with me down to the lower weight division.
"If I don't do what I'm supposed to do Saturday night, everything was for nothing. It's back to the drawing board and revamping my plan."
MAYWEATHER'S RETURN GIVES NELSON BOOST
Nelson looks fit and trim heading into his heavyweight showdown with Cormier. But in this case, the looks are definitely deceiving.
The weight loss isn't the result of physical changes Nelson made, but the stress he felt during camp because of concerns over the health of his trainer, Jeff Mayweather.
"I was more concerned about Jeff Mayweather and the people in my camp," Nelson said. "This has been the crappiest camp that I have ever had. It is what it is.
"When I get depressed I don't eat. I lost Jeff about two weeks into camp; he was in the hospital. I just tried to make do with what I've got."
Mayweather has fully recovered from the rapid heartbeat he experienced after consuming an energy drink. And Nelson couldn't be happier. He has regained his appetite, which could mean the return of his usual round figure.
"About two days ago [Monday] was the first time that Jeff was back, so I'm eating again," Nelson said. "Maybe I will be 280 pounds and cut weight to make 265."
MELENDEZ TO BEGIN BID FOR TITLE SHOT
No. 2-ranked lightweight and former Strikeforce titleholder
Gilbert Melendez
is a heavy favorite to beat highly aggressive
Diego Sanchez
.
[+] Enlarge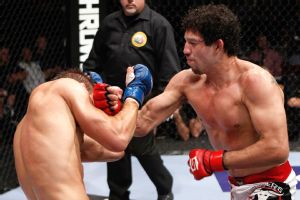 Getty ImagesJosh Thomson, left, was narrowly defeated by Gilbert Melendez when the pair met in 2012.
While a setback will drop him a few notches in the 155-pound rankings, Melendez doesn't seem to be feeling a sense of urgency heading into the fight. Even if Sanchez is able to pull off an upset, Melendez believes he will remain in the title picture. It's one of the benefits of competing in the talent-rich lightweight division.
"There is no pecking order in this division right now," Melendez said. "The No. 10 guy can be the champ any day of the week; the No. 1 guy can lose any day of the week."
Melendez, however, makes it clear that he has no intention of falling victim to Sanchez. He not only expects to have his hand raised afterward, but plans to use this bout as a springboard to start his title-shot campaign.
"It definitely comes down to my performance and what the fans want to see," Melendez said. "If I do well I will definitely be campaigning for that shot."
DODSON NO LONGER GIVING SECOND CHANCES
Flyweight contender
John Dodson
can still see those punches that either dropped or wobbled
Demetrious Johnson
during their title bout in January. The images are perfectly clear.
How could they not be? Dodson spent a lot of time during the early rounds of that fight admiring his work. Rather than put the finishing touches on his potential masterpiece, Dodson opted to watch the champion recover.
That proved to be a huge mistake. Johnson would rebound, eventually take control of the fight and retain his title. What took place during that fight remains firm in Dodson's mind.
He was in position several times to lift the belt from Johnson, but failed to capitalize. Dodson blames no one but himself and says he has learned his lesson. Never again will the man in the cage with him -- starting with Saturday night's opponent,
Darrell Montague
-- be let off the hook.
"I have to make sure that I go out there and not watch my handiwork," Dodson told ESPN.com. "I watched me hit him, I watched him fall and then I watched my chance to win the title slip through my fingers. I can no longer allow that to happen."
April, 20, 2013
4/20/13
6:53
PM ET

By Franklin McNeil
ESPN.com
Archive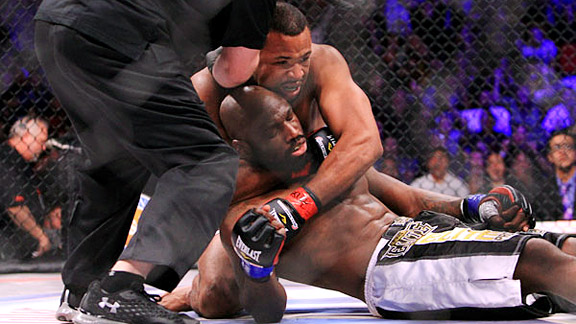 Sherdog.comLosing to Emanuel Newton proved to be a wake-up call for Muhammed Lawal.
Never has
Muhammed Lawal
doubted his ability to compete at the highest levels and become MMA's best 205-pound fighter -- and he is not about to do so now.
That unexpected first-round knockout loss to
Emanuel Newton
in February hasn't diminished his resolve. If anything, the loss strengthened it.
Nothing else about Lawal has changed since that February setback: His camp remains fully intact. Jeff Mayweather -- yes, that Mayweather, the uncle of boxing champion Floyd Jr. -– still calls the shots in Lawal's corner. And UFC heavyweight
Roy "Big Country" Nelson
continues to be one of his primary sparring partners.
When he returns to action, which is likely to be June 19 at a Bellator event in Oklahoma against an opponent to be named, Lawal will enter the arena with his familiar swagger. He will have a cape drenched over his shoulders, sunglasses covering his eyes and a crown on his head.
"King Mo" still lives! And he will be as bad and brash as ever. He has no intention of suddenly playing nice. If you didn't like his act before, wait until you see him in June.
"I'm not going to change up things," Lawal told ESPN.com. "Some people, after a loss, change their entire camp up. Jeff is on point. Roy Nelson is a great training partner. I've got good sparring in Las Vegas.
"I'm not going to be like Mike Tyson. He was a great fighter, but I feel that after he lost to Buster Douglas, he kind of fell apart. He was never the same again. He lost his aura.
"With me, I'm going to keep the same aura going. I'm just going to take it out on my next opponent."
When he steps in the cage, Lawal, as usual, will be the superior athlete -- regardless who the opponent happens to be. He will remain comfortable dropping his hands, because his high-level footwork allows him to control distance. That footwork is pure Mayweather, and a major component of Lawal's stand-up success.
Lawal will move his head and change levels repeatedly while delivering those stinging jabs and occasional kicks. They serve to set up either vicious takedowns or knockout-caliber punches. And through it all, Lawal will taunt his opponent with a mean-spirited smile on his face.
It will be the same fighting display Lawal put on against Newton before getting hit with what he calls that "fluke" punch. Actually, it was a spinning back fist that found Lawal's chin at the 2:35 mark.
The punch surprised Lawal, dropping him face-first to the canvas and likely costing him a shot this year at the Bellator light heavyweight title.
Newton went on to claim the Bellator Season 8 light heavyweight tournament and will face promotion titleholder
Attila Vegh
. A date for that fight has yet to be determined.
Back to Lawal. It's unlikely he will get caught with the same punch two fights in a row.
He intends to win his next fight and every one after that in the foreseeable future, and he is rooting for Newton to do the same. Lawal believes their paths will cross much sooner if each man keeps winning.
Lawal is itching to get his hands on Newton as soon as possible. He wants to destroy Newton in the cage before humiliating him. It's part of Lawal's payback plan.
"Hopefully Emanuel will win the whole [Bellator] tournament so I can beat his ass and get that belt from him," Lawal said. "And after I beat him, I'm going to do a dance all in his face. I'm going to be so unsportsmanlike; it's going to be unbelievable.
"This dude is trying to act like he knew what he threw [the spinning back fist], saying 'I wanted to throw over my shoulder.' Man, you didn't want to throw from your shoulder. We've seen the replay.
"The thing is I'm going to throw it in his face. I'm going to be the heel. I'm going to be the bad guy. I like being the bad guy."
Lawal is so confident of landing a rematch with Newton and destroying him that he continues to prepare for his professional wrestling debut. He still doesn't know when that will happen but emphasizes that MMA remains his top priority.
"I do the pro wrestling stuff for like an hour, two or three times a week," Lawal said. "That's it, then I go back to boxing, jujitsu, wrestling and MMA sparring."
Pro wrestling is intriguing, but Lawal won't allow it to get in the way of his immediate goal: landing a rematch with Newton and humiliating him.