May, 18, 2012
5/18/12
12:25
PM ET
It took 15 months and some monumental forks in the road to arrive at the end point of the Strikeforce heavyweight grand prix. No, it didn't go the way people thought it would, nor the way many hoped. There isn't going to be
Fedor Emelianenko
versus
Josh Barnett
. That fight, for its entire luster, never could come to terms with fate. Not in Pride, not in Affliction, not in Strikeforce.
However, of the eight-man field that was rolled out in January 2011 as the greatest stock of heavyweights ever assembled, Barnett was the steady. He was supposed to be in the final, and he is. He got there by competing in the quarterfinal (a submission of
Brett Rogers
) and the semis (a submission of
Sergei Kharitonov
). Isn't it strange that the man with the most asterisks coming into the tournament was in the end the only one who could stick to the script?
On the other hand, Daniel Cormier's course was improbable. He was an alternate to this tournament. A deep alternate. He was the 11th man in an eight-man field. Yet he worked over
Jeff Monson
on the same night Barnett clubbed Rogers in something called a "reserve bout." Then Cormier found his entry when
Alistair Overeem
was unceremoniously removed. What did Cormier do? He obliterated heavy favorite
Antonio Silva
on the feet with speed and power.
And that's how we arrive at the moment. The old "War Master" Barnett, against the opportunistic, understudy-turned-contender Cormier. The 1-seed versus the 11. Just how crazy has the 15-month journey been to San Jose? Crazy enough that sports books have these guys at even money heading into Saturday night.
Here are five things to watch for at Strikeforce this weekend.
Cormier's lack of experience
Daniel Cormier
is a nerves-of-steel guy. He is always relaxed. Right before his fight with Bigfoot Silva, he wore and expression that said, "I wouldn't mind a nap" more than "I'm about to lay waste to somebody." Needless to say, Cormier keeps himself cool under pressure.
This can be attributed to his wrestling days at Oklahoma State and later as a part of the 2004 U.S. Olympic wrestling team. Cormier has competed his whole life. You really believe that fighting -- for all its literal brutality -- is just another competition for him. He believes in his ability and knows he has deceptive explosiveness and speed. In short, his confidence shows in that calm expression.
Yet with only nine professional MMA bouts, and realistically only one of those against a top-10 opponent, how will he handle a submission specialist like Barnett? Even when training with the likes of
Mike Kyle
and
Cain Velasquez
, it's hard to duplicate the strength and slickness of Barnett, who has been at this a long, long time (since he was 19 years old, to be exact). Cormier will very likely find himself in fixes he hasn't been in before in the cage. How will he handle himself?
Barnett's comfort zone
Everybody knows what Barnett likes to do. He likes to muscle you to the ground, straighten you out, and work for submissions from that top position. He's not afraid to punch a hole in your head, either. Just ask Pedro Rizzo and
Gilbert Yvel
. But Barnett's most effective way of finishing a guy is to put him on his back and then fish for limbs to manipulate.
Dating back to 2006, Barnett has finished foes via toeholds, heel hooks, kimuras and arm triangle chokes. He does these things more with brute force than textbook jiu-jitsu. In Cormier, Barnett gets a guy who has never been made to fight off his back and has never had his shoulder joint pressured into a panic situation.
But the bigger questions are these: Can Barnett get Cormier to the ground? And if so, can he keep him there?
Melendez's motivation
Trilogies are usually pretty personal grudge matches. In the case of
Gilbert Melendez
and
Josh Thomson
, it feels more like a necessary evil. At least to Melendez, who will be asked to duplicate what he did in 2009 when he smoked Thomson in the rematch to unify the interim and meaningful belts. That fight was so definitive that most thought he was done with Thomson for good.
Well, circumstance has made that impossible. Thomson gets a chance to strip Melendez of his belt a second time because the "Punk" was the best option available on Strikeforce's depleted roster. It's a rubber match that benefits Thomson a thousand times more than Melendez, because third chances rarely come along.
Which begs the same question that has fallen to Melendez for the past year: How motivated will he be to again prove himself against Thomson? Knowing the work ethic of "El Nino," it's easy to expect to see him in vintage form. But complacency is a hard-to-detect virus that usually gets discovered after it's too late. Will Melendez suffer from this?
(Probably not, but you never know ...)
Thomson's attitude
The first time Thomson fought Melendez in 2008, it was as if Thomson was showing up for a day of capers and fun. He was smiling the whole time. He was loose. There were moments when it almost felt like he was messing with his younger brother, just fooling around. Every so often he would do something to remind Melendez that, when serious, he could dictate things how he wanted.
But the key to that fight was that Thomson was first. He was quick with the leg kicks. He was effective with his combinations. He would shoot now and again for a takedown and keep Melendez off balance. Thomson thwarted Melendez's wrestling. And by being the aggressor, he disrupted Melendez's timing and flow. Can he do that again?
Remember, Thomson had broken (and rebroken) his fibula before that rematch with Melendez in 2009, and he was carrying some ring rust after 15 months on the shelf. Chances are we'll see a combination of those two fights with one similarity: that it goes the full five rounds.
Feijao returns
Though it's getting very little fanfare, former 205-pound champion
Rafael "Feijao" Cavalcante
returns to the cage on Saturday night against Mike Kyle. Remember, Cavalcante is the guy who beat Muhammad Lawal to win the Strikeforce belt not all that long ago. And, in his title defense against
Dan Henderson
, there was a moment where it looked like Cavalcante had Hendo in trouble.
It's been eight months since Feijao beat Cuban freestyle wrestler Yoel Romero, a fight that Cavalcante finished even with a broken arm. He's still one of the best 205ers in the world, and a win over a tough Kyle might make Feijao a tempting property for the UFC to bring over and fortify its own light heavyweight division. After all, the list of contenders for
Jon Jones
has shrunk down to Henderson and change.
April, 6, 2012
4/06/12
11:51
AM ET
Another day, another hot urine test, another busted main event ... and, alas, another (potential) domino sequence. So continues life in the mixed martial arts.
This time it's
Alistair Overeem
who raised the red flag, the very same Overeem who eluded such conflict ahead of UFC 141 by simply skipping a mandatory drug test. If nothing else, this is a man who knows how to poke at the chest of scrutiny. Overeem showed up March 27 for the UFC 146 hype conference in Las Vegas apparently unaware that this could be a perfect moment for the Nevada State Athletic Commission to spring a "random" test on him (part of the deal from the
Brock Lesnar
fight fallout). Out of six heavyweights tested, only Overeem's came back positive. His testesterone/epitestosterone registered a 14:1 ratio, more than double the particularly generous threshold in Nevada of 6:1.
So much for the biggest fight of his career. And all that promotional material the UFC was creating, the big pay day, the belt he could have added to his collection? Moot.
As Dana White said upon hearing the news, he doesn't have a plan B. Meaning, at least at the time of this writing, waiting out Overeem's "B" sample becomes the plan B by default. Problem is, those results could take a couple of weeks to get back, and "B" samples rarely contradict "A" samples anyway. But the show must go on. White has said that dos Santos will defend his title at UFC 146 whether it's against Overeem or somebody else.
In other words, it's time to speculate into these somebody else's, and -- just for theatrical value -- assess their chances in carefully considered odds.
Frank Mir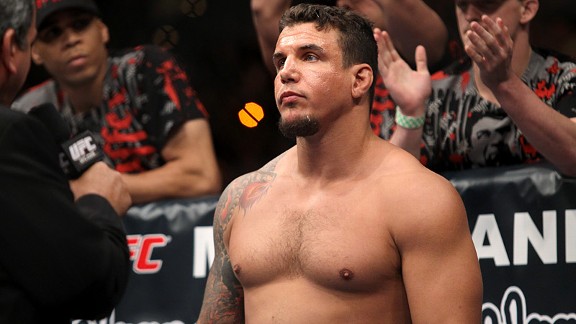 Ed Mulholland for ESPN.comFrank Mir made it clear he'd be willing to challenge for the heavyweight title if need be.
The NSAC's Keith Kizer sent out the mass email at 4:40 p.m. ET with the results of the UFC 146 news conference tests. Twitter went wild. At 6:15 ET, Mir released a statement via email saying, "I would be excited if given the opportunity to compete for the UFC's heavyweight title at UFC 146 if the reports released earlier today regarding Alistair Overeem failing his "A" sample drug test are true." Mir went on to say it's a dream of his to be the first three-time champion. He swooped in quicker on a dangling title shot than he did on Antonio Rodrigo Nogueira's ill-placed limb.
His case:
How many times have we heard Dana White say he admires it when guys step up? That's what Mir's doing. A no-hesitation lobby job, knowing that out of the full panoramic spectrum of heavies he has the best credentials to get the shot, having won three in a row. He also snapped dos Santos' friend Big Nog's arm, which makes him a sort of dark cloud gathering over the champion.
Chances of him getting it:
2-1
Cain Velasquez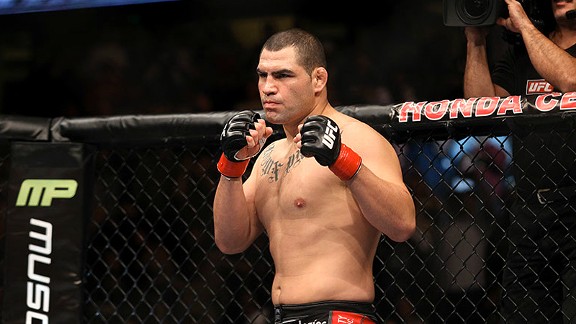 Ed Mulholland for ESPN.comWould a fully healthy Cain Velasquez fare better in a rematch with JDS?
Velasquez had the belt for 13 months, but lost it in the 64th second of his first title defense against dos Santos. How's that for anticlimax? Though a rematch between Velasquez and dos Santos might appear sort of uninspired, the fact is, there were conditions.
His case:
Velasquez was dealing with a bum knee that night in November, but couldn't back out of a fight that was hyped as the biggest thing since Frazier/Ali across FOX platforms. It was a red carpet affair, the long-stemmed aperitif to the seven-year network deal, the bonus bout meant to tempt the semi-curious masses into peeping. Whether coaxed or not, he went through with it, and lost. Everybody knows we didn't see the best Cain Velasquez that night, just as everybody knows we probably would this time through.
Chances of getting it:
3-1
Mark Hunt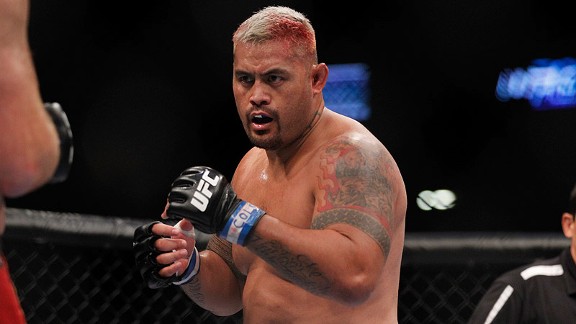 Ross Dettman for ESPN.comBack in the hunt: Could Mark Hunt be in the running for a shot at Junior dos Santos?
It seems ridiculous to even type Mark Hunt in this space, but Hunt is a fan favorite and a surprisingly popular choice for the gig. Have people lost their marbles in wanting to see a resurrected 38-year old New Zealander step in there with the champion? Is this not a meritocracy? The answer is no: This is a pinch. And so long as Hunt is a nice guy, a long-shot Cinderella and a bad basher to boot, he'll get the sentimentalist's vote. We're a nation of softies.
His case:
Hunt was a liability to the UFC when he came over, a barnacle on the Pride purchase. Hunt lost to Sean stinking McCorkle in his Octagon debut, further exacerbating the situation. Then the unthinkable started happening. Hunt knocked out
Chris Tuchscherer
, decisioned
Ben Rothwell
, and then flattened
Cheick Kongo
. Talk about resuscitation! And here we thought we had lost him.
Chances of getting it:
15-1
Dan Henderson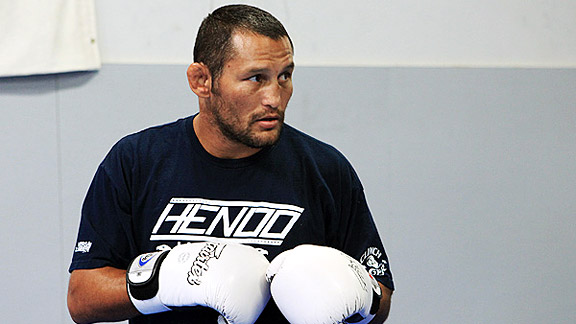 Sherdog.comDan Henderson has never been one to pass on a challenge -- or a big payday.
Henderson as a candidate sort of slowly dawned on people. It went like this -- "Henderson? LOL!" to "isn't he waiting for
Jon Jones
-
Rashad Evans
to play out?" to "you know something, that dude's batty enough to do it" to "Hendo would plant JDS into the soft earth!" The truth is, Henderson has flirted with the idea of fighting at heavyweight -- which he's done before, most recently against
Fedor Emelianenko
in Strikeforce -- and he doesn't concern himself with the usual neuroses of modern day fighters (short notice, size discrepancies, JDS's mangling hooks). Why? You tell Henderson he can't do something, he gets defiant. It's his most admirable trait. And he likes money, which is his more cliché one.
His case:
Besides willingness? He wouldn't have to cut weight. He could still feasibly keep his spot in line at light heavyweight regardless of outcome with the relative meshing of schedules and the dearth of viable contenders behind him. Remember that he fought
Quinton Jackson
(205) and
Anderson Silva
(185) in back-to-back title challenges in 2007-2008.
Chances of getting it:
12-1
Fedor Emelianenko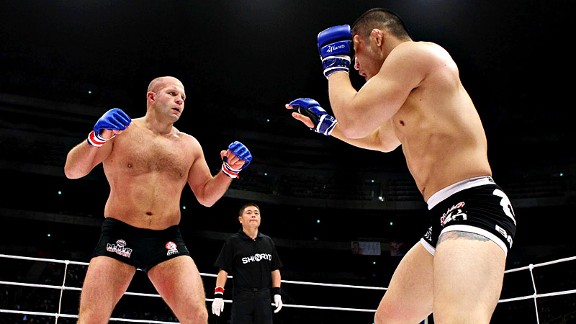 Susumu NagaoFedor might have the same aura he once had, but he still has the legions of fans.
This is more of a fan's choice than a UFC one. Dana White reluctantly gave into the idea of signing Emelianenko a couple of years ago, offered him wheelbarrows of cash that would turn other comparable fighters faces purple with rage, and was rebuffed. White's assessment then -- that Fedor's people were crazy and crooked -- is probably his assessment now. Negotiations between M-1 and the UFC ride along the Cold War divide. But given that White's running refrain has always been to give the people the fights they want to see, you can't just accept it as impossible. Fedor still has his legions. He still sells.
His case:
What, beating
Jeff Monson
over the course of three rounds doesn't say it all? Flattening
Satoshi Ishii
doesn't carry the right momentum? The "Last Emperor" and a million loyalists care what you think. And besides, the idea of Fedor against
Junior dos Santos
has something beyond novelty appeal. In the spirit of a fight, it has actual curiosity.
Chances of getting it:
About the same as the Ukraine opening up Chernobyl as a tourist attraction next week.
November, 24, 2011
11/24/11
8:47
AM ET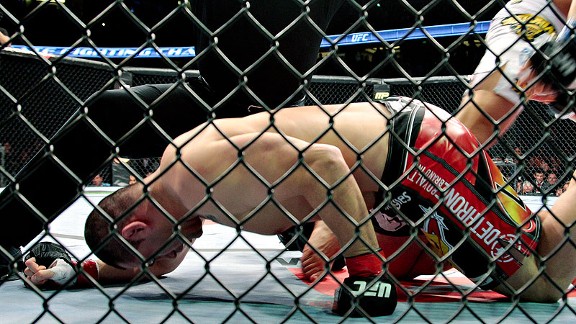 AP Photo/Jason RedmondA KO'd Cain Velasquez would be a handful for Fedor at this point.
In the span of a week,
Cain Velasquez
went from indomitable heavyweight champion to casualty of
Junior dos Santos
' right hand on network television. Meanwhile,
Fedor Emelianenko
went from washed-up heirloom from his Pride days to a surging force to be re-reckoned with on early morning pay-per-view.
This last part is according to Evgeni Kogan, the M-1 Global Director of Operations, who became convinced of the notion while watching Emelianenko chop down
Jeff Monson
for three rounds in Moscow. It was Fedor's first win since 2009, when he beat
Brett Rogers
in the second round after nearly succumbing to Rogers in the first.
From Kogan's point of view, this is new evidence to re-open the Fedor case. And it's a renaissance that is apparently big enough to usurp such trivial matters as the UFC's policy against cross-promotion, and, you know, reality.
You might have seen the Tweet that Kogan sent to Dana White: "Fedor vs Velasquez in 2012, let's make this happen. Fedor is back, and a fight with Cain will prove it." Usually call outs of this nature require two pieces on level ground, within the same promotion and within a framework of actual reason.
In this instance, the challenge seems to be more like a telegraphed thought process -- a win against Velasquez would do wonders for revitalizing Fedor's career. How's that for an offer? Fedor, who has everything to gain, against Velasquez, a Guinea pig that can be borrowed to prove a point. To who, Dana White? The fans? Russia? To the judoka Satoshi Ishii, who is the hurdle to this hypothetical fight, whom Fedor is supposed to meet on New Year's Eve?
And what's in it for the UFC? Velasquez, who was undefeated going in, just fought in front of millions on FOX as the promotion tries to crash headlong into the masses. Fedor broke a three-fight skid in fairly unimpressive fashion, against a guy most assumed he would beat. At this point, who is in a position to broker a deal?
[+] Enlarge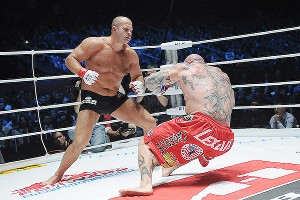 M-1 Global/Sherdog.comFedor ran amuck all over Jeff Monson, but that doesn't Dana White is ready to accept him into the Octagon.
Who do you think would dictate terms?
You might have seen White's response to media inquiries as to whether the UFC would be interested in Fedor. "Hell no!" He used different expletives in different text messages to different media members, but the sentiment was gleefully the same. Talking Fedor, at this point, makes him smile. White is a dude who can hold a grudge. In his mind, Fedor blew his chance.
The bottom line is, a little fun is fine. A little optimism, a little delusion -- why not? The fight game embraces all of it. But either Kogan isn't fully understanding White's personal loathing against Fedor's handlers (himself included) for turning down an out-of-proportion offer from the UFC, or he's just trying a different tact to relevancy (that of fanning a fading legend's fumes). Would it be a fun fight? Sure, and Fedor could feasibly win it. He's still a draw, and he still has mystique. But it makes no sense on just about any level outside the fantasy realm, of which M-1 Global has been accused of operating. In fact, it's absurd.
If Fedor is truly back, he should defeat Ishii at the "Fight for Japan" card, then beat another wanderer on the heavyweight circuit -- somebody with suitable credentials -- and build up a head of steam. Then come to the UFC willing to accept an offer on
their
terms, because -- as much as it stings Fedor's fans and theorists with "what if" scenarios -- all of its prized heavyweights will be off-limits otherwise. There's no way around it. There's no budging.
And only one side has leverage here, no matter how much the other side is deluded enough into thinking otherwise.
November, 22, 2011
11/22/11
6:43
PM ET

By Chad Dundas
ESPN.com
Archive
His awful three-fight losing streak finally snapped,
Fedor Emelianenko
must now turn his attention to a concept he's long been loath to even acknowledge: The future.
After picking apart sitting duck
Jeff Monson
to claim his first win in more than three years on Sunday, Emelianenko took the microphone at M-1 Global in Moscow to proclaim that he's transformed himself into a new man -- one ready to move forward and erase the memory of his recent blunders.
Next stop: Olympic judoka turned occasional MMA fighter Satoshi Ishii in Japan on New Year's Eve.
Of course, for a guy who has always seemed a lot more comfortable dealing with the past, it's hard to believe there could ever be a "new" Fedor. Even if such a creature did exist, it would be equally impossible to know where he's headed.
As the sport underwent an unprecedented period of growth and change during the last five years, Emelianenko steadfastly refused to evolve with it. He never altered his training, never sought out new skills, never changed his fighting style. Essentially, he simply sat on the laurels he had established from 2002-06, when he was Pride's unbeatable champion.
Not surpringly, this approach was met with mixed results, and by the time his disastrous run in Strikeforce ended earlier this year, most everybody was ready to leave his career for dead.
In fairness, though, he did look like something of a changed fighter against Monson. Emelianenko came out of his corner content to work a steady game plan, stalking his opponent down with a barrage of leg kicks and even -- wonder of all wonders -- straight punches. He floored Monson on numerous occasions and if playing a bit of possum was part of the American's strategy, Fedor wasn't going to be fooled again. He didn't rush in to try to swarm the downed man as he might have a couple of years ago, instead proceeding with some uncharacteristic caution before inviting Monson back to his feet again and again.
[+] Enlarge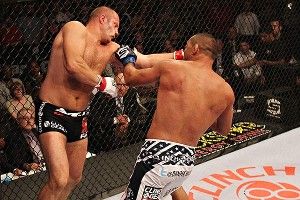 Josh Hedges/Getty ImagesA poor game plan cost Fedor Emelianenko dearly against Dan Henderson.
Is this a Fedor who is finally learning from his mistakes? It's too early to tell -- especially against such a handpicked patsy -- but the performance was, at least, encouraging.
Two of Emelianenko's recent losses can be partially blamed on his own recklessness, after all. His fall from legend-status began when he practically swan dived into Fabricio Werdum's waiting triangle choke in June '10, perhaps considering himself immune to trivialities such as submissions. A little more than a year later Fedor elected to turn an absolute must-win fight against
Dan Henderson
into a veritable coin flip, engaging Hendo exactly where he is most dangerous -- in a brawling slugfest. Emelianenko called tails, and Henderson knocked his head off.
Is it possible that in the wake of those performances someone in his close cadre of advisors finally realized that Fedor's approach wasn't working? Sure. Is it also possible that, with that knowledge in hand, they've transformed him into a fighter who might actually win a few bouts in today's 265-pound division? Absolutely.
But a whole new Fedor? Don't hold your breath.
Clearly any performance against Monson can only be given so much weight. Same with Ishii, who has been fairly stagnant since changing out of gi in 2009. If what Emelianenko wants out his career from here out is to string together a couple of victories, make a little more money and then retire back to Stary Oskol, that's probably doable.
Anything more ambitious than that? Well, that's probably just not in his future.
November, 15, 2011
11/15/11
1:50
PM ET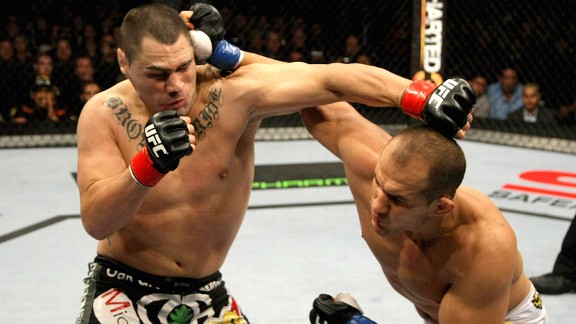 Donald Miralle/Getty ImagesIf you're still fiending for fights after UFC on Fox, perhaps this weekend will be your fix.
Free was nice, and free was big -- and big was always the intention.
But now that we're through with the privilege of bonus title fights on network television and dangling MMA in front of bemused pop culture, it's back to our secular intrigues. Or, you know, back to opening the pocketbook to feed the MMA fix.
This weekend, if you want to enjoy the entire spectrum of fights going on -- and it's a pretty stacked slate of fights spread over three promotions -- it will cost you approximately $75. A little more if you order UFC 139 in high definition (recommended). A little less if you prefer to skip watching
Fedor Emelianenko
take on
Jeff Monson
from Moscow at cockcrow (it's your dime). But around $75 if you want to catch all the action going on behind the pay wall, along with the free preliminary bits and Bellator.
And if planned right, with DVRs and griddles, it actually looks like a ridiculous MMA marathon -- the exact opposite of the showcased 64 seconds of action from this past Saturday's big event between
Junior dos Santos
and
Cain Velasquez
.
Saturday night, UFC 139 is quietly one of the best looking cards of the year -- on paper anyway (which as you know is flammable). There's the return of
Dan Henderson
to the UFC, who may or may not be fighting for a title shot against
Jon Jones
, taking on former champion
Mauricio Rua
. Their paths never crossed in the halcyon days of Pride when both were champions, a bit of restraint that plays nicely over the back-story -- but that's a modest allure. The thing is, somebody will be knocked out. Could be Henderson, who never gets knocked out. And the same goes for the co-main event of debutante
Cung Le
and
Wanderlei Silva
. Le fights are rare, but he is the "Human Highlight Reel." Silva is one knockout from either continuing on as he'd like to, or some alternative (which he refuses to contemplate).
[+] Enlarge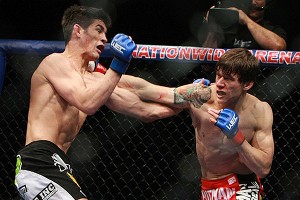 David Mandel/Sherdog.comBantamweight Brian Bowles, right, always give fans their money's worth.
Then there's the
Urijah Faber
/
Brian Bowles
fight to determine who's next for a shot at Dominick Cruz's bantamweight belt;
Martin Kampmann
/
Rick Story
, which could headline a Versus show;
Stephan Bonnar
/
Kyle Kingsbury
,
Ryan Bader
/
Jason Brilz
,
Tom Lawlor
/
Chris Weidman
. It's stacked.
Miguel Torres
is buried on the Facebook undercard fighting
Nick Pace
. Ditto
Rafael dos Anjos
and
Gleison Tibau
. And that's just the first bill of fights.
There's also one of the best Bellator cards happening on MTV2, with two belts up for grabs.
Eddie Alvarez
, who ESPN has ranked No. 4 in the lightweight Power Rankings, against
Michael Chandler
, and
Hector Lombard
in a middleweight title defense against Trevor Prangley. Bonus?
Marlon Sandro
and Raphael Dias. And when all that is through, at 7:30 a.m. on the East Coast the next day, Emelianenko fights Monson for $29.95. It's a steep price for nostalgia on a three-fight skid, but it's Fedor, and there are hopes and denials all over the place. The other thing? Somebody will get knocked out.
That's a big bank of highly combustible MMA action for those willing to splurge. Four former Pride champions, three former WEC champions, two current Bellator champions, one former UFC champion, one reigning Strikeforce champion, and the teetering legacy of Stary Oskol all in a 12-hour window. Not all of it will be free, yet -- especially if you won't be duped into early morning Fedor -- taken as a whole, this weekend's fights can't help but live up to the billing they barely received.
In other words, if you begin with hype and end with the price tag, it's everything that last weekend wasn't.
November, 5, 2011
11/05/11
7:09
PM ET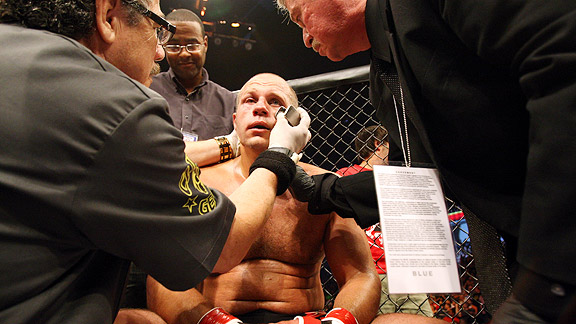 Josh Hedges/Forza LLC/Getty ImagesSnap out of it: Would you rather catch a few winks or watch Fedor try to get back to his winning ways?
On Nov. 20,
Fedor Emelianenko
will fight
Jeff Monson
. If you're at the Olympic Arena in Moscow, Russia, where the fight is being held, this takes place at a reasonable hour; in the United States, it occurs either during your snooze button moments or in full blast REM sleep, depending on your coast (7:30 a.m. ET/4:30 a.m. PT).
M-1 Global and Integrated Sports Media are euphemistically calling this presentation "Breakfast with Fedor," and you can order the fight for "only" $29.95. This is a "suggested retail price," but it's doubtful there's much room for haggling.
Either way, Breakfast with the Beatles was always free. And this fight card -- which also features Xavier Foupa-Pokam, the mysterious "Professor X" -- appears to be aimed at two types: Fedor fetishists and vampires with disposable income.
It's not so much the hour as it is the price to see Fedor try and snap a three-fight losing streak against a 40-year-old anarchist riding a 9-1 run over his last 10 fights. Thirty bucks is a lot to ask to see if that sinking feeling is legit. If you consider Emelianenko one of the greatest fighters of all time, you are not alone; but if you still believe in his ability to get it done, you are the narrowing demographic in play here. You are the turnip out of which blood is being drawn. In that way, you are being punished for caring.
It doesn't help matters that just hours beforehand
Dan Henderson
-- Emelianenko's last opponent -- will have fought
Mauricio Rua
in a PPV event at UFC 139. He could still be celebrating in the wild streets of San Jose when the M-1 Global card gets rolling. Talk about your divergent courses after the two met in Hoffman Estates back in July.
The difference is, the Hendo/Rua fight will have contention at stake. In the early-bird Emelianenko bout with Monson, it's something more like nostalgia -- a desperation heave for relevancy with a fat fee. And if that's how a twilight fighter is being handled in the course of a three-fight losing bender, imagine the next one if he's on a one-fight winning streak? (Don't be surprised if M-1 charges for the violin music, should that losing streak be run to four).
Emelianenko is a legend. He will always have appeal as a fighter, based on his demeanor, his style and his legacy. The truth is, if you like MMA, the idea of two heavyweights swinging acrimoniously at each other as the sun comes isn't going to offend. But, given the context, $30 to watch it might.
And though you'd never want to sleep on a legend like Fedor Emelianenko eking his way back into the picture, this might be the one occasion where it's just too tempting not to.
September, 28, 2011
9/28/11
6:53
AM ET

By Chad Dundas
ESPN.com
Archive
Would you like some Fedor Emelianenko to go with your Sunday brunch?
While there is still no definite plan in place to air Emelianenko's Nov. 20 fight against Jeff Monson on TV in the United States, M-1 Global Director of Operations Evgeni Kogan told
Full Contact Fighter
this week that the management group is still pursuing options that could get the bout on the airwaves. Even if a deal is reached, the time difference between the US and the fight's locale (Moscow) would put the broadcast way, way out of prime time -- likely at around 10 a.m. ET on Sunday.
"I guess there's not a huge amount of time left to do a deal, so maybe within two or three weeks we will have something sorted ...," Kogan said. "I think it's very likely that the bout will be live in North America, albeit, very early on the Sunday morning in the U.S., especially on the West Coast."
Of the options available, Showtime could be the most likely, given the premium channel's ongoing broadcast deal with M-1. The two are still scheduled to air an M-1 event live on Oct. 14 and -- as FCF's Kelsey Mowatt correctly points out -- Showtime agreeing to run with Emelianenko versus Monson a month later could conceivably be seen as a sign the network is open to staying in the MMA business after its current contract with Strikeforce expires at the end of this year.
If Showtime balks, other potential destinations for the fight might include HDNet -- certainly no stranger to airing live fight shows at strange times -- or even Versus, which is likely to be without live MMA programming after it broadcasts its final UFC event on Saturday.
If no television deal can be reached, Kogan said the fight will certainly be available online.
Admit it: if it's on, you'll watch this, if for no other reasons than to see what "The Last Emperor" has left in the tank and why Monson keeps letting promoters talk him into sticking around at heavyweight.
September, 16, 2011
9/16/11
11:18
AM ET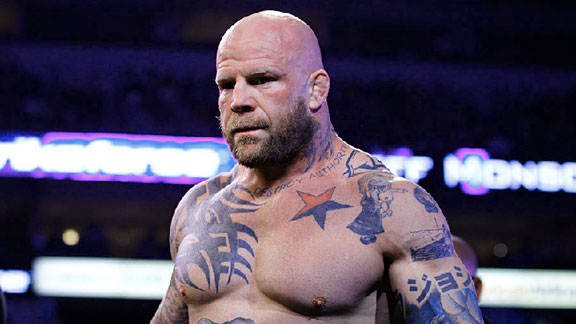 Ric Fogel for ESPN.comSurprisingly enough, Jeff Monson presents a a significant test for Fedor Emelianenko.
Heavyweight Fedor Emelianenko had one of the greatest runs in MMA history -- if not the greatest.
Between 2000-2010, he went without a loss. But since getting caught by Fabricio Werdum in June 2010 with a triangle/armbar, the "Last Emperor" has come down to earth with a thud. He lost to Antonio Silva in the Strikeforce heavyweight grand prix quarterfinals, then got TKO'd by Dan Henderson in July. Now he signs a deal to fight Jeff Monson on Nov. 20 in Moscow, in what he (and a still very substantial fan base) hopes will be a return to his winning ways.
[+] Enlarge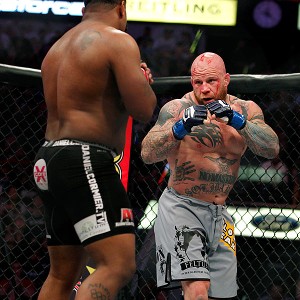 Ric Fogel for ESPN.comJeff Monson held his own against Daniel Cormier during their Strikeforce heavyweight bout in June.
The question becomes: Is the 40-year-old Monson credible enough to restore anything for Fedor? Truth is, if you're a Fedor fan, a win after three straight losses will be huge no matter whom he faces. Moreover, Monson represents an upgrade over the opponents originally being discussed by M-1 when the November return seemed certain (Travis Wiuff, Mike Whitehead, and allegedly Kevin Randleman). Monson had reeled off eight wins in a row before dropping a decision to Daniel Cormier in June. Even in that fight, a very hard to put away Monson was able to go the distance and keep the fight competitive. Cormier, of course, went on to TKO Bigfoot Silva in the semifinals of the heavyweight GP -- and Silva beat Fedor.
In other words, M-1 didn't bring in a slouch to face the pride of Stary Oskol. Monson can still fight, and he'll be more than just a warm body on Nov. 20. But it's a fight Fedor had better win if he wants to keep whatever's left of his relevance intact. A loss to Henderson is explainable, but one to Monson magnifies his decline ten times over.