August, 29, 2013
Aug 29
12:06
PM ET

By Brett Okamoto
ESPN.com
Archive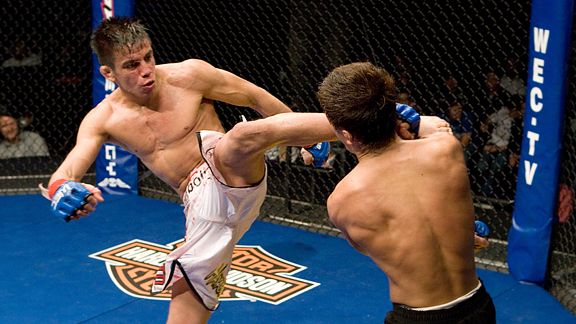 Josh Hedges/Zuffa/UFC/WECMiguel Torres defended his bantamweight title at WEC 40 in a 2009 thriller against Takeya Mizugaki.
From World Extreme Cagefighting's launch in 2001 to its eventual merger with UFC in 2010, the WEC produced a number of memorable bouts, typically in the lower weight classes.
With a number of former WEC fighters competing Saturday at
UFC 164
and one of its most infamous fights set to headline the card in Milwaukee, we took a look back at the best fights from the WEC's 10-year history through the eyes of founder and current UFC vice president of community relations Reed Harris.
So where exactly does the "Showtime kick" from
Anthony Pettis
rank among his favorite moments? Let's take a look back at Harris' top 10, including his personal memories of each one:
10. WEC 9: Olaf Alfonso SD John Polakowski, Jan. 16, 2004
Harris:
Both guys broke their noses in the first 45 seconds of the fight. It was a war. In fact, [UFC president] Dana White was at the fight and HDNet was at the fight. And HDNet reported back to [channel owner] Mark Cuban, "We have to get this on our network." Polakowski took the fight on like two days. Really good striker but not very good on the ground. But Olaf was such a stud back then, he was like, "You know what? I'll stand with him." He just stood there for three rounds and they threw bombs.
9. WEC 29: Carlos Condit SUB1 Brock Larson, Aug. 5, 2007
Harris:
It wasn't a fantastic fight, but what happened was Brock Larson was one of the strongest dudes I have ever seen. Like when that guy shook your hand, you were like, "Holy s---." He threw a punch at Condit, and Condit armbarred him, and it was so fast that I've never forgotten that moment. Larson was throwing bombs at him, he timed it perfectly and put that armbar on him and it was just, "Wow."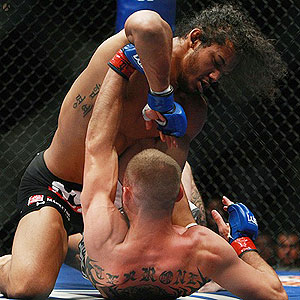 Dave Mandel for Sherdog.comBenson Henderson won the first of two battles against Donald "Cowboy" Cerrone by unanimous decision in an exciting 2009 tilt at WEC 43.
8. WEC 43: Ben Henderson UD Donald Cerrone, Oct. 10, 2009
Harris:
A lot of my memories about "Cowboy" are tied to Charles ["Mask" Lewis, Tapout co-founder]. Charles had gone and seen Donald, and he came to me and begged me to sign him -- and Charles was a guy who if he asked you to do something, he would call you every day until you did it. I remember how proud Charles was of [Cerrone]. He loved him.
7. WEC 44: Jose Aldo TKO2 Mike Brown, Nov. 18, 2009
Harris:
It was the kind of moment where I really knew how good [Aldo] was. I remember the first time he jumped out of the cage [after knocking out
Rolando Perez
at WEC 38], I ran him back and I had never yelled at a fighter before. Poor Andre [Pederneiras] was interpreting it and it was basically, "If you ever do that again, I'll cut you." His next fight he won, I walked into the cage and he was running towards the door. He looked at me and smiled, then sat down.
6. WEC 38 and WEC 51: Donald Cerrone vs. Jamie Varner, Jan. 25, 2009 and Sept. 30, 2010
Harris:
The fights between Varner and Cowboy [a technical-decision win for Varner followed by a unanimous-decision win for Cerrone] were epic. Those guys hated each other. There was so much going on behind the scenes. Biggest rivalry the WEC saw, by far. When Varner was fighting a year ago [in the UFC], he got sick, and I got a text from Donald saying something like, "You tell Varner to pull up his bootstraps and fight." I thought, "This is still going on and they haven't fought in [almost] two years."
5. WEC 53: Anthony Pettis UD Ben Henderson, Dec. 16, 2010
Harris:
The fight itself was great, even without the kick. I'll tell you, when Pettis did that, I literally said, "What the hell just happened?" I didn't process it. I was watching live, and the angle I had wasn't good. I saw what happened, but I didn't know what he had done -- how he had gotten from where he was standing to all of a sudden, Ben was down. It was the most amazing thing I've ever seen someone do in MMA.
4. WEC 34: Urijah Faber UD Jens Pulver, June 1, 2008
Harris:
I think we did about 1.5 million viewers, which for a company like WEC -- it's hard to be in that UFC space and command viewers. It was kind of a passing of the torch for Jens. I saw a lot of respect between the two but also a determination with Faber, like he was going to get through this. And I remember him dominating.
[+] Enlarge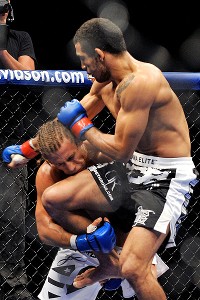 Jon Kopaloff/Getty ImagesJose Aldo's WEC featherweight title defense against Urijah Faber was an emotional ride for the future UFC champion.
3. WEC 48: Jose Aldo UD Urijah Faber, April 24, 2010
Harris:
I remember [afterward] Faber being hurt. I gave him a hug and asked how he was. His leg was a mess. Aldo cried in the back. He was so emotional. It was like all the work he had done in his life -- that moment was life-changing to him. I remember when he was standing in that cage before the fight and "California Love" came on, Jose's look was like, "Wow. This guy's got a lot of fans."
2. WEC 40: Miguel Torres UD Takeya Mizugaki, April 5, 2009
Harris:
It was such a war. I just remember how excited the crowd was and how brutal the fight was. There's nothing like seeing two guys in the dressing room who have given it everything they got. They had gone to battle. And when Miguel Torres was on, he really was like
Anderson Silva
. He had this aura about him.
1. WEC 48: Leonard Garcia SD Chan Sung Jung, April 24, 2010
Harris:
To have those two guys step up and fight the way they did leading into our pay-per-view -- I know it completely bumped our numbers. Part of the story people don't know is after the fight, I went to the dressing rooms and "Korean Zombie" was crying because he really thought he had won the fight. I was able to tell him he won the fight of the night bonus, which was $65,000, and just the elation on his face was something I'll never forget.
February, 21, 2012
2/21/12
3:11
PM ET
For the first time since he became the UFC's lightweight champion,
Frankie Edgar
is the betting favorite heading into a fight. From the Vegas perspective, the time of feel-good flukes is over -- this time, Edgar is getting love where he normally just gets overlooked.
And when you glance at the tape, why not? Edgar has gone 3-0-1 against two guys in the past two years. But the guys he's beaten weren't just
guys
. They were oppressors of the 155-pound division:
Gray Maynard
, who entered the cage a behemoth next to Edgar, at least 15 pounds heavier; and
B.J. Penn
, who left the cage with no future in the division and no answer for the man who had plenty.
Edgar batted back two fast-encroaching forces of momentum, and he did it twice apiece. For the past couple of years, Edgar has been making guys redundant.
And that's the kind of drama that feels too good to be true.
Now Edgar is getting set to face Benson Henderson: a dynamic, athletic, comet-shrieking member of the division who, as an underdog, becomes a tempting choice to dethrone the pride of New Jersey. This is how it goes. Most people who are taking Edgar are speaking in universals, saying things like, "I'll never bet against Edgar again." These people are letting you know they have learned their lesson. They believe now. In what, exactly? That Edgar's own belief is a near tangible. That Edgar won't lose -- because he can't.
Yet there are still cynics who can't fathom how a natural featherweight, who doesn't cut but two loaves of bread to make 155 pounds, can continue beating guys the way he does. How can you take brute punishment against Maynard and come back, twice, in an eerie loop of sequences? How can you beat Penn with flickering jabs, fancy footwork and impossible determination ... twice?
Nobody ordinary can do this. But Edgar does. Edgar is cut from the same cloth as the iron-chinned post-war boxers who made heart the overriding component. For everyone who backs the latest head of steam, be cautious: Edgar is where momentum goes to die.
That's why this feeling that Edgar has more to prove than Henderson at UFC 144 in Japan is literally backward, and yet partially true. Edgar has proved himself as a champion and as one of the best pound-for-pound fighters going. Now Edgar could be working on proving that he's the greatest lightweight champion ever. If that sounds like a stretch of the imagination, then we're right in Edgar's wheelhouse.
[+] Enlarge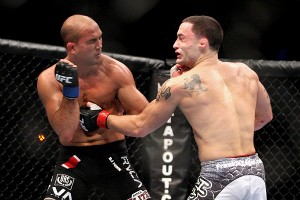 AP Photo/Gregory PayanFrankie Edgar, right, has been upending the odds by upsetting one favorite after another.
Think about it: A victory over Henderson would be enough to tip him over into that rarefied space. At least, conversationally. In the short history of MMA, who would have had a better run? Penn was tremendous for the three years between 2007-2010. He defended the belt three times with a cameo superfight at welterweight with
Georges St. Pierre
. Then he ran into Frankie Edgar, the little impasse that could.
Takanori Gomi
was a force for a long while in Pride, but the competition he faced wasn't like Edgar's.
Jens Pulver
defended his belt twice, but he has been in a career free fall since 2006.
There are other mentionables, but none as pronounced as Edgar, who has a chance to defy logic on an even larger scale come Saturday.
And wouldn't that be just like him to do it? A guy with no business fighting in MMA's most competitive division has a real chance of becoming its ultimate kingpin.
October, 8, 2011
10/08/11
12:50
PM ET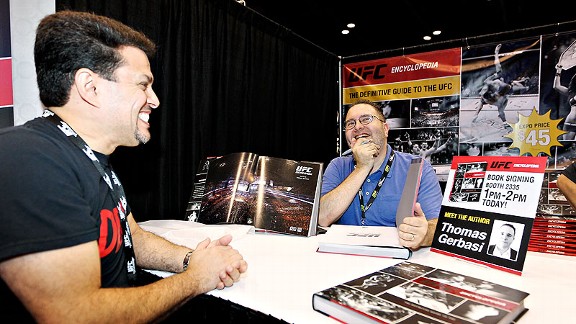 Ed Mulholland for ESPN.comThomas Gerbasi took time out of his busy schedule to mingle with fans (and coworkers) on Friday.
HOUSTON -- Whenever the UFC adjoins a fan exposition with a fight card, it becomes a testament to how far this sport has come.
The one going on in Houston this weekend is no different. Thousands of people with cell phone cameras mill about, hoping to bump into somebody/anybody in the fight game. And they do, because the place is teeming with fighters and fighter factions and fight game vendors/periphery ... almost everybody in loud, expressive t-shirts. People like Jens Pulver are happily mobbed. Jacob Duran, the man they call "Stitch" gets mobbed. MMAFighting's Ariel Helwani signs autographs and smiles for pictures.
It's organized bedlam.
And there was one booth in the middle of it all that could detail the UFC's long, curving road to the hitherto. That was the booth where Thomas Gerbasi, the UFC's Editorial Director, was signing the newly released UFC Encyclopedia (DK Books, $50) -- a 400-page undertaking that recaps and glossarizes every event that's happened from UFC 1, with bios beginning at Andrei Arlovski and ending with Yoshiyuki Yoshida.
Wondering about Anthony Fryklund? He's in there. The whole fraternity is; anybody who has ever stepped in the Octagon.
For historians who like tactile things, this beats Wikipedia -- and it's timely.
Realistically, most fans of MMA haven't been following the sport since UFC 1 in 1993. If the UFC is zeroing in on the 18-34 male demographic, that means the 18-year-olds in the equation were still in bassinets when the martial arts began to mix. There hasn't been a good, definitive look at the history of the UFC until this chronological tome, which uses graphs, stats, color pictures, blurbs and capsules to illustrate and detail every card (up to UFC 130), every fighter, every TUF season, and every nook and cranny in between (for you fetishists, there are four full pages of Dan Severn).
How author Gerbasi found the time to write it amidst all the other stuff he does at UFC.com (which is a lot) and his beat writing for the Gotham Girls Roller Derby team is beyond understanding.
"You see this red on the book spine? That's my blood," he joked. But thumbing through the book, which includes a double-truck on the Octagon girls both past and present, you can't help but think he's only half joking.
August, 14, 2011
8/14/11
3:07
PM ET
The inaugural MMA Fight Pit card was held on an otherwise MMA-free Saturday night, with hopes of prying $30 from those with A) money burning a hole in their pockets and B) a jones to see Houston Alexander lay waste to somebody. The alternative was to try and find a stream of Kimbo Slice knocking out James Wade in 17 seconds in his boxing debut (now also available in bootleg form).
Some people did both -- but most did neither. The UFC Live on Versus weigh-ins still generated more interest, particularly with Dan Hardy trying to shake that last half pound. If you missed it, here's a look at the good, the bad, and the particularly ugly of the Fight Pit in Albuquerque.
Worth it?
There were a few hiccups with the inaugural Fight Pit pay-per-view (audio, mispronuciations, glitches, obstructed views), but it began with the asking price to watch what most people might consider semi-marketable retreads. Is catching the process of re-establishment really worth $30? Probably not, but hard to fault the optimism in play here.
The card was headlined by Alexander against Razak Al-Hassan, each a UFC castoff. Jens Pulver was rolling out in bantamweight form for the first time since high school against Coty "Ox" Wheeler, but he has been fighting on fumes for years. The rest? A class of misfires (Jamie Yager) and misfits (Junie Browning), with a peculiar sort thrown in here and there ... like Tyler East.
Stick a fork in Browning
Those who played along were treated to Jacob Clark -- a late replacement for Lenny Lovato -- tapping out what was left of Junie Browning. Browning showed up well overweight (162.5 pounds), and fought with the kind of disinterest usually associated with deadbeats. He was worried about his cardio not holding up at altitude beyond Round 1, a legit concern when your heart's no longer in it. He tapped out due to strikes in the first round.
Botched suspense
Ring announcer Mike Adams missed his opportunity to milk the suspense of a split decision between Angelica Chavez and Diana Rael. Instead of reading 29-28 for each side and then divulging the winner by going to the decisive third judge's card, he cited Chavez 29-28 and then clumped the last two together for Rael. Buzzkill. Poor Chavez looked more disappointed that the moment didn't grow to its proper crescendo than with the decision itself.
Pulver still alive
Jens Pulver beat Coty Wheeler while the "re" words began stacking up around him (words like revived, revitalized, and reborn). All of them are of course too generous. But Pulver looked good at 135, and he all but pleaded for the referee to stop the fight not once but twice after landing big shots on Wheeler in lieu of going in for the finish. Finally the referee consented in the second round after a bizarre chase scene and more mercy pleas from Pulver.
Best exchange
It wasn't in the battle between Houston Alexander and Razak Al-Hassan, which ended when Al-Hassan's severely dislocated finger couldn't be assembled back to its original shape. It was between Fight Pit commentators Ron Kruck and Jason Chambers, who shared this non-sequitur moment right before the heavyweight tilt between Tyler East and Prince McLean:
Kruck: "That's a lot of beef in the cage."

Chambers: "Almost as much beef as you at the Brazilian streak house last night."
This free-association conjured something awfully close to cannibalism, and it's at least possible that wasn't the aim. Kruck and Chambers did a good job otherwise, though they did keep things pretty loose.
Otherwise ...
Jamie Yager raised his record to 4-2 by choking out Willie Parks (guillotine) in the second round ... Tyler East did a dance before his fight with Prince McLean that let Mark Madsen off the hook for that Lakers victory thing he pulled in 2008 ... Keith Jardine was in evidence everywhere (with cameos by Jon Jones and Carlos Condit), but it was a rough night for local icon Greg Jackson as his fighters Coty Wheeler, Willie Parks and Angelica Chavez all lost … the promoters behind MMA Fight Pit say they'll try it again in the future.
May, 28, 2011
5/28/11
7:49
AM ET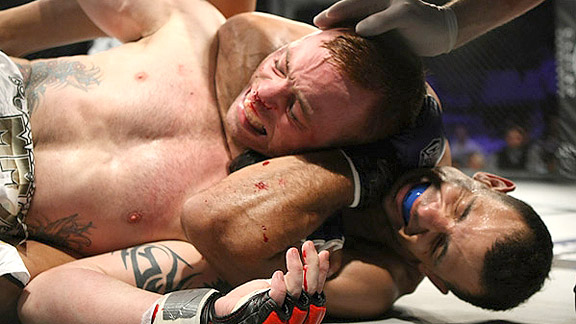 Keith Mills/Sherdog.comPulver-ized: Things don't seem to be getting any easier as Jens Pulver gets older.
Former UFC lightweight champion
Jens Pulver
lost for the ninth time in 12 fights, submitting to a rear-naked choke from Brian Davidson in the Titan Fighting Championship 18 main event on Friday in Kansas City, Kan.
More »
August, 17, 2010
8/17/10
12:47
PM ET

By Jake Rossen
ESPN.com
Archive
The website for "War on the Mainland," a pay-per-view event broadcast from Irvine, Calif., this past Saturday, lists Brian D. Manna, Tony Martinez and Joe Moreira as the men responsible as CEOs, matchmakers and "executives," respectively. You can blame one, all or none, but their employment of Jens Pulver deserves some kind of acknowledgment as a callous and shallow thing.
[+] Enlarge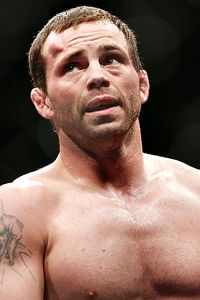 Dave Mandel/Sherdog.comJens Pulver has taken his lumps of late, but shouldn't it be someone's responsibility to tell him that he's no longer allowed to?
Before the bout -- one in which Diego Garijo needed barely a minute to drop Pulver and then submit him -- Pulver had lost seven of his past eight bouts, an anvil-on-the-head indication that his abilities have regressed. He has been knocked down, knocked out, submitted in multiple ways and handed the loser's purse inside of a round on virtually every occasion. He appears determined to join the club that Joe Louis, Jack Johnson, Ken Shamrock and a number of other prizefighters found unfortunate membership in: fighting with nothing in reserve just to pay the bills. If you're a Pulver fan, the enthusiasm you might feel in watching him compete has to be diluted by the sad realization that he shouldn't be.
It's clear Pulver won't (or can't) stop himself, and it's clear that the state athletic commissions make no issue of fighters losing in spectacular and recurring fashion. But consider this: When Pulver trots in for loss No. 8 inside of four years, he's doing it in the service of promoters who clearly have no regard for any fighter's expiration date. We have somehow come to a point where the men entrusted with a fighter's health stand to make the most from exploiting it.
If Pulver carried a generic name instead of one familiar to fans, no banner wishing to be taken seriously would employ him. (A nearly 100 percent losing percentage is not the stuff quality undercards are made of.) But because he carries brand awareness, he gets a pass. It speaks more to the tunnel-vision desperation to sell tickets and make money than any sense of concern for a decaying body. It's wrong and it's dangerous.
Encouraging someone to retire is almost always seen as condescending. If Pulver wants to fight, who is anyone to tell him not to? But atrophied skills occupy exactly the same space as blurred vision, high blood pressure, a broken bone or heart arrhythmia: The hobbled athlete might insist on competing, but he's prevented from doing so (or should be) in light of his diminished ability. It's a system meant to counteract the very thing that makes a fighter a fighter: stubborn resolve.
Blame Manna, Martinez and Moreira for employing him. Blame the California State Athletic Commission for not recognizing when an athlete's well has run dry. And blame Pulver for not taking one of the few bits of wisdom provided by Mike Tyson, who said this to reporters after his last fight, a 2005 loss to unheralded boxer Kevin McBride: "I'm not going to disrespect the sport by losing to this caliber of fighter."
June, 3, 2010
6/03/10
7:14
AM ET
Jens Pulver, 0-5 in recent outings, is a 36-year-old featherweight, which is as unforgiving a situation as you'll find in combat sports. Speed is the price of admission at that size, and Pulver no longer has it. He may or may not put together wins against under-qualified competition in smaller shows; either way, his best opportunities are probably behind a microphone.
That no longer appears to be an option, at least under the Zuffa umbrella: Pulver has been released from his WEC contract, which eliminates any potential to be a supporting broadcaster. In a statement online, Pulver suggested the UFC was punishing him because he once left the company to pursue more lucrative opportunities at a time when the promotion was treading water.
How sad. Despite sacrificing as much of his body as any of its athletes, he possesses nowhere near their level of financial security. For someone who contributed as much to WEC history as Pulver did -- including being the first UFC lightweight champion -- a nonviolent job opportunity would be the absolute least they could do.
And it would hardly be charity.
In the absence of a fighter's union, the responsibility for caring for athletes after their athletic time is done will continue to fall on the promotion. They may reject that idea, but there is a price to be paid for record profits and being an industry leader. And the price is helping to take care of the fighters who helped bring you that success.

March, 9, 2010
3/09/10
12:29
PM ET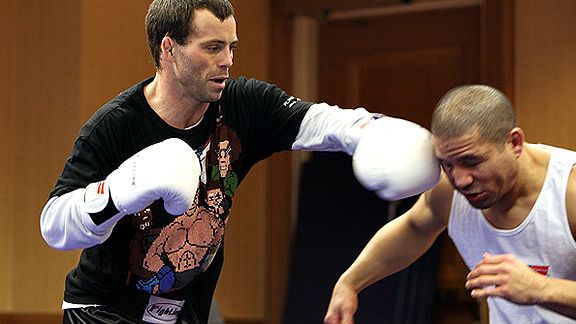 Dave Mandel/Sherdog.comJens Pulver hasn't inflicted much damage lately, but his best fight is worth revisiting.
Combat sports fans are not nostalgic. Muhammad Ali's career has been nicely eulogized in documentaries and books, but once you get past that reverence, a fighter's value exists only as a reflection of his last fight. Because Jens Pulver has dropped seven of his last eight, you can imagine the level of audience pity at work.
This is not particularly fair. There are several reasons Pulver should be remembered for better days, but none as significant as his win over B.J. Penn at UFC 35 in 2002 (the Paleolithic Era, by this sport's standards). Despite being the UFC's lightweight champion and the owner of a 14-fight professional record, Pulver was the sports book underdog to Penn, who had only three pro bouts to his name. Yet Penn was all anyone wanted to talk about -- that, and the ridiculousness of having two lightweights headline a UFC event for the first time.
Pulver wired a lot of jaws shut that night, even though Penn did exactly what was expected of him: He had Pulver on the ground within 15 seconds and was hanging off Pulver's neck inside of a minute. But Pulver slammed Penn down, worked from inside his guard and eventually made enough of an impression with his fists that Penn did something he hasn't done much since: pull guard.
Pulver would continue popping up off Penn takedowns, either stomping forward on the feet or reversing position and delivering short, chopping strikes to Penn. In Round 2, Penn had the mount. Pulver survived. At the end of the round, he had Pulver in a cinched-up armbar. Pulver hung on for the bell. Judges eventually scored the fight a majority decision for the champion, who left with a parting "Sometimes, hype just ain't enough." Watch those five rounds eight years later and you might be surprised at the level of clean, disciplined technique on display -- how Pulver and Penn grappled and parried in a way that made the sport seem classier than it probably was at the time.
Pulver's career took a precipitous turn after that. He wanted more money. And he was right to demand it: According to Pulver, Penn made nearly as much losing as Pulver made winning the fight. But that head-butting with promoters pulled him into an unwieldy, uneven career that led him back into the UFC only after age and ring wear had set in.
It's a rotten thing, judging a fighter based on his worst days, which are inevitably his most recent. The fight with Penn is the kind that nudged the sport a little closer to respectability. For a lightweight, Pulver did a lot of heavy lifting. Remember that instead.
March, 7, 2010
3/07/10
6:36
PM ET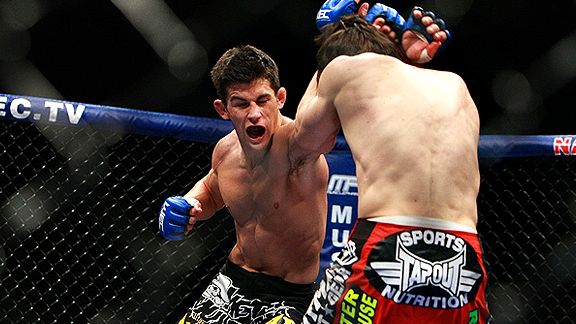 Dave Mandel/Sherdog.comEyes wide shut: Dominick Cruz proved his worth at bantamweight by shocking Brian Bowles.
Great fights tell stories and great fight cards are able to tell multiple stories at a time. Saturday's WEC event in Columbus, Ohio, presented three, each one working a dramatically different stage of the structure.
Dominick Cruz is clearly in the first act of his career. Three solid wins in 2009 earned him a title shot against Brian Bowles, which he turned into a bantamweight championship win after Bowles -- dominated for two rounds -- was unable to answer the bell for Round 3. Cruz is lanky and never stands idle: His style of peppering punches and cutting sharp angles is a pleasure to watch, but it's a game only the very young (Cruz is 24) and agile can play. What will determine Cruz's longevity is if he can anticipate the need to add other dimensions to his game before his footwork slows down.
The man Bowles beat to briefly hold the title was Miguel Torres, and his second act might be rapidly approaching what students of storytelling refer to as the ordeal -- the moment when all seems lost, and the protagonist is at his lowest point. Torres needed a convincing win over Joe Benavidez to propel himself right back into contention; instead, he was taken down, split open and choked out. There's no ambiguity here. Torres, once the division's biggest star, is 0-2 in recent outings, both convincing stoppages. Competing at 135 pounds does not give him much opportunity for reinvention. He's not about to drop to 125 and 145 presents even bigger dangers for him. Any corrections need to be made without the gimmicks.

It's obvious that the star of his last act is Jens Pulver, who now has seven losses in his past eight fights. The 35-year-old was the UFC's first lightweight champion and remains the only man to defeat B.J. Penn at 155 pounds. But potent hands are not enough when athletes are faster and fresher, and so Pulver has been forced to make a series of tearful speeches. After being submitted by Javier Vazquez, he may have finally and inevitably dried up.
One road might lead him to a livable wage as a commentator; another might see him taking headline fights in Midwest states against jokers in gloves. The fighter is wired to take the latter; here's hoping Pulver has the sense to choose the former.
Next for Cruz: He and Benavidez both want a rematch of their WEC 42 fight, which Cruz won via decision. Why not?
Next for Torres: A rematch with Bowles to determine who rematches the winner of the rematch between Cruz and Benavidez. Perhaps 135 isn't as deep as previously believed.
Next for Pulver: Commentating. He's good at it. Most fighters aren't.
Awards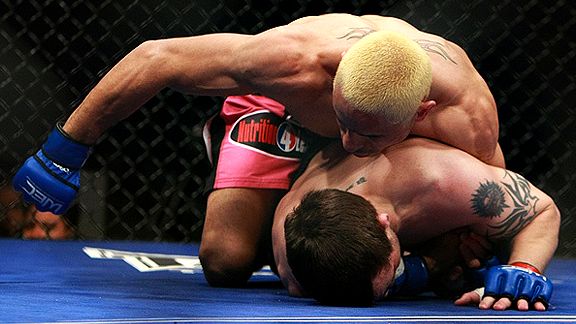 Dave Mandel/Sherdog.comDown, not out: Jens Pulver, bottom, refused to call it a career after losing to Javier Vazquez.
The 1,000-yard stare award: Fill-in commentator Stephan Bonnar, who stared into the camera like he was under hypnotic suggestion.
The bring-in-the-troops award: Zuffa, for plunking in familiar talking heads Dana White and Joe Rogan to hype up the WEC's pay-per-view debut on April 24.
Comeback kid award: Bart Palaszewski, for getting roughed up against Karen Darabedyan in the first round and then pulling out a slick armbar submission in the second -- like the Hail Mary punch in boxing, only without the scrambled brains.
Reality in combat award: Pulver, for knowing he's probably done in the sport but not explicitly promising to step down: Pulver had the awareness to realize the moments immediately after a fight are a poor time to plan for the future.
The oxymoron award: "Classy MMA crowd" is not a phrase you'll find me using often, but the Ohio chant for Pulver following his loss was spectator sportsmanship at its best. Arenas are quick to harass athletes and slow to show affection. It was nice to see them put Pulver on their shoulders, if only figuratively.
This and that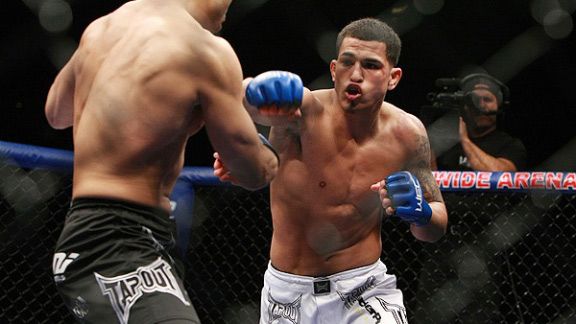 Sherdog.comKiller instinct: Anthony Pettis showed no mercy to Danny Castillo.
…Still think the UFC brand isn't the most dominant in combat sports? According to MMAJunkie.com, 8,345 was the total attendance figure for the WEC event at Nationwide Arena in Columbus on Saturday, a significant dip from the 17,000 that attended UFC 96 in the same venue this time last year …
…Anthony Pettis earned a $10,000 mercenary's bonus for his impressive knockout of Danny Castillo on the undercard. Referee Jerry Poe was slow to respond to Castillo being toppled, which meant he sustained a few surplus punches without cause. You can't blame Poe, who intervened as quickly as he could, but you might make the case that Pettis needed to display a little restraint. Dan Henderson's icing after knocking Michael Bisping cold last summer was an equally ugly sight; athletes and officials should acknowledge that blows after an athlete has already been knocked cold play with fire …

…Benavidez pocketed $10,000 for submitting Torres, well-deserved in light of the fact it was the first time Torres has been forced to tap in his career …
…Bowles, who lost to Cruz after refusing to answer the bell for Round 3, circulated pictures of an obviously afflicted right hand on Sunday. Some fighters have fought through fractures, leading some to comment that Bowles was looking for an out or lacks the ability to stand attrition. But fighters fight for a prize: Was Bowles getting paid enough to risk long-term problems?
March, 5, 2010
3/05/10
9:54
AM ET
Dave Mandel/Sherdog.comBrian Bowles can make believers out of doubters when he defends his title for the first time.
Had he been acknowledged at all, West Virginia native Brian Bowles was on radar in summer 2009 as a tough and determined bantamweight who was destined to become another victim of a ferocious Miguel Torres, the then-37-1 star attraction of the bantamweight division.
Bowles either refused to read that script or simply tossed it out: he knocked out Torres in one of 2009's biggest upset victories. While Torres regains his bearings on Saturday's undercard, Bowles will defend his belt for the first time against Dominick Cruz, the 14-1 positional player who was once a contender at 145 pounds. It will be a good fight; Torres' return will be a good fight. The WEC traffics almost exclusively in good fights. It's as good a guarantee as you can get in the fight game.
What: "World Extreme Cagefighting 47: Bowles vs. Cruz," an 11-bout card from the Nationwide Arena in Columbus, Ohio
When: Saturday, 10 p.m. ET on Versus
Why you should watch: Because both Bowles and Torres are clearly working toward a rematch that could be the bantamweights' biggest ever; because Jens Pulver has exhausted all other options in MMA and desperately needs a win against Javier Vazquez to remain a player; and because Judo player Karen Darabedyan will one day find it necessary to launch someone through the air.
Fight of the night: Torres-Joseph Benavidez, which should be energized with Torres' frustration at getting knocked off his perch.
Hype quote of the show: "I hope I'm not the guy that retires him. … But chances are I probably will be. I don't want to be the one that closes the coffin, but I'm going to have to be. Better him than me at this point." -- Vazquez on Pulver and fighter morbidity, to UFC.com.
Questions: WEC 47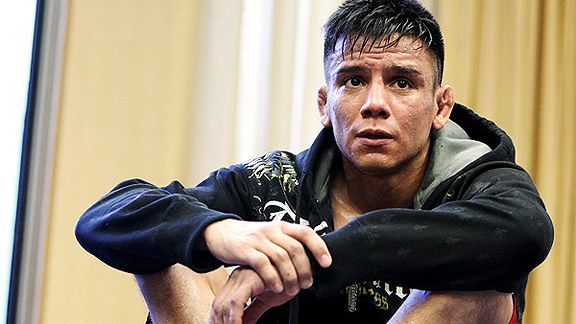 Sherdog.comMiguel Torres has had plenty of time to reassess his career since a shocking loss in August.
Q: What does Torres have to do in order to make a statement?
A: Torres was previously the world's undisputed toughest man at 135 pounds, but a knockout loss to Bowles in August dulled that shine considerably. Beating Benavidez on Saturday is a must, but the difference between Torres being written off as a stuttering fighter and being hailed as one who's righted his own ship could be in finishing off the notoriously hard-nosed Benavidez, who has never been stopped.
Q: Is Ohio a proper test of the WEC's brand power?
A: Thousands of gym rats and fight fans converge every March for the Arnold Classic, a celebration of garden-hose vascularity and protein powders. The UFC ran there in 2008 and 2009 to great success: even a Quinton Jackson-Keith Jardine-headlined UFC 96 drew 17,000.
The WEC has normally been content to run in smaller venues: the Nationwide Arena might be a way to bolster attendance and expose more prospective fans to the brand by piggybacking on an established organization.
Q: Is Pulver running on fumes?

A: A former UFC lightweight champion, Pulver has won once in the past four years while dropping six: it's speculated that a loss to Vazquez on Saturday could get him hustled to the exit. Fortunately, few of Pulver's several losses came as a result of neural disconnect: he was submitted in half of them and knocked out in two.

Age is kind to no one in combat sports, but it's especially harsh on lighter fighters that see speed disappear and refuse to complement power they never had. At 35 and with 11 years of pro competition behind him, there may not be any camp or psychological change that can dispute that.
Red Ink: Bowles-Cruz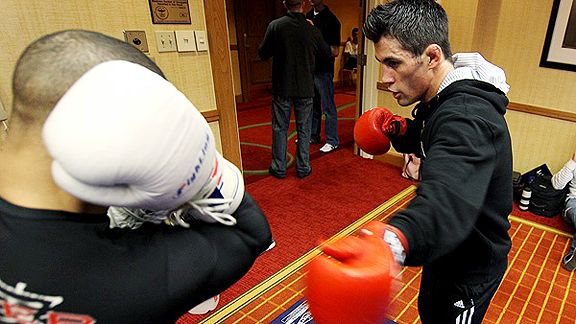 Sherdog.comIt's a stretch, but Dominick Cruz's reach might present problems for Brian Bowles.
Take out the second act of any Bowles fight and you're left with an ending that wasn't all that obvious in the opening minutes. Bowles is clearly fit, fast and capable, but he displays little of the dizzying offense or athleticism that we see in other fighters. He can be taken down, clocked and otherwise made to look very human.
But he wins. All the time. Skip to the finish and see Bowles ending bouts inside of the distance. He is not a steamrolling fighter and not a guy who's going to plow through you at the bell. Instead, he'll dig in. Eventually, you'll make an error that leaves you vulnerable for a half second. And maybe his low-gear pace is intentional: it gives him a chance to see that opening and put his fist through it. He has never won a decision because he's never gone to a decision.
Cruz, Bowles' opponent Saturday and the first challenger for Bowles' 135-pound title, bounces on the balls of his feet, loops punches powered by a long frame and doesn't appear to have a huge deficit anywhere. With a 14-1 record, he doesn't make many mistakes. He's also one of a handful of MMA fighters who realize "combinations" can include kicks.
What It means: For Bowles, a chance to prove his KO over Torres was no easy luck; for Cruz, an opportunity to dethrone Bowles before he barely got used to the smell of the leather.
Wild card: Bowles is thought to have smarter hands, but Cruz's reach can be off-putting.
Who wins: Bowles, after Cruz puts him in some brief trouble.
February, 26, 2010
2/26/10
11:28
AM ET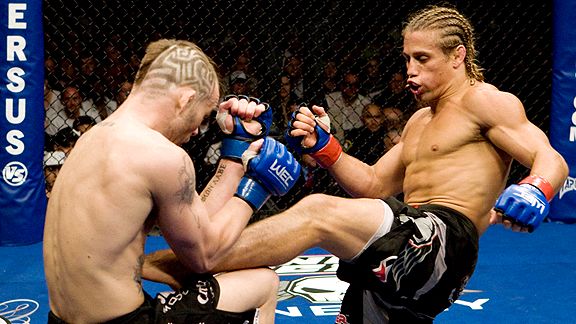 Josh Hedges/Zuffa/UFCTake a hint, Zuffa: A countdown show did wonders for Urijah Faber-Jens Pulver 1 on Versus.
It should be obvious by now that both Zuffa and Versus see their March 21 debut of a UFC event on the channel as a lighthouse for the World Extreme Cagefighting brand. If fans tune in for a brand they recognize and trust, they might stick around for more MMA programming on the same channel.
According to MMAJunkie.com, Versus will be airing a countdown show special March 6, similar in content and tone to the Spike barker shows that normally precede pay-per-views. That Zuffa is making this effort and expense for a free cable show is a fairly significant indication they see "UFC on Versus 1" as a crucial appeal to bolster the sister brand. Why they rarely provide the same support for the actual WEC shows is stranger thinking: a preview show for the first Jens Pulver-Urijah Faber fight helped that broadcast draw an impressive 1.5 million viewers.
The WEC is a strong and consistently entertaining brand, but sporadic promotion is not doing them many favors. Instead of a UFC barker -- a brand that needs little help -- why aren't we seeing a countdown to the Brian Bowles/Dominic Cruz fight that same night?

November, 2, 2009
11/02/09
2:10
PM ET
This is the great sickness afflicting virtually every name prizefighter who has ever walked -- then hobbled -- the planet: There is a psychological concrete wall covering the graceful exit. Recall the last time a noted fighter succeeded in the ring, then swore to never return.

It doesn't happen. They lose. Badly. They announce their doubts over performing. Their relieved neurons throw a party in honor of their continued existence. Then they come back.
This is the direction Chuck Liddell insists on pursuing, and it's the direction Jens Pulver has already succumbed to: The former UFC lightweight -- who left that organization and then assembled a 1-4 record as a featherweight in the WEC -- has circulated word that he plans on returning soon. Since returning to the UFC three years ago, he is 1-6.

A win percentage of 14 isn't a bad streak. It's the end of the line.
Pulver is a fine fighter, and he may yet get some momentum. But his opponents are only getting younger and faster. Don't we know how this ends?