November, 5, 2014
Nov 5
9:23
AM ET

By Brett Okamoto
ESPN.com
Archive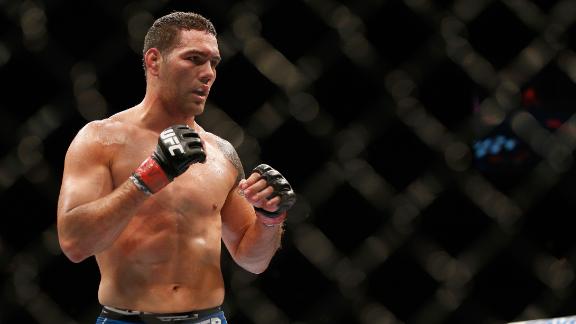 Mauricio Rua
says his nose is still beautiful. In fact, he jokes, it looks better than ever.
"Shogun" (22-9) is about seven months removed from surgery on a badly broken nose, which he suffered during a TKO loss to
Dan Henderson
in March.
It was not the first injury of Rua's career, but some would have liked to see it be the last. The 32-year-old has won only two fights in three years -- and taken his fair share of damage during that time.
Included among those who would have Rua hang up his gloves for good are several family members. Earlier this year, he told a Brazilian news outlet his wife and mother have encouraged him to retire.
The former UFC light heavyweight champion has no intention of retiring any time soon, however, and is set to face
Ovince Saint Preux
(16-6) at UFC Fight Night on Saturday in Uberlandia, Brazil.
Win, lose or draw, Rua says he sees himself fighting "four to five more years" and does not feel any added pressure to make a statement despite his recent skid.
"I'm very happy to continue to fight, and I really don't pay attention or care about anyone's comments," said Rua, through translator and manager Eduardo Alonso. "As long as I'm happy and the UFC and fans want to see me fight, why would I stop?"
"

I don't feel like I have anything to prove in this fight. I don't feel obligated to win -- only to do my best.

"

-- Mauricio Rua, on Saturday's showdown against Ovince Saint Preux
"I don't feel like I have anything to prove in this fight. I don't feel obligated to win -- only to do my best."
Rua says he has discussed his comments to the Brazilian television station with his wife and mother and clarified that they have always felt uneasy about him fighting for a living.
The Brazilian says he feels physically good 12 years into his pro career. A broken nose might make some spectators (and family members) wince, but Rua said the issue was behind him after one simple surgery. No big deal.
"That's been going on with my family for a long time," Rua said. "My mom and wife don't really understand fighting. To them, it's much more dangerous than it really is. They've always wanted me to stop.
"I had a talk with them, explained better how my profession goes, and now everything is cool."
Whether he feels close to the end of his career or not, Rua could certainly use a victory this weekend against Saint Preux. The UFC has already announced that Rua will coach opposite former middleweight champion
Anderson Silva
in the next season of "The Ultimate Fighter: Brazil" reality series, but the two will not meet at the end of the season. Rua's next in-cage opponent will be heavily influenced by this weekend's outcome.
Experience could work heavily in his favor, as both he and Saint Preux are dealing with the challenge of a late change in opponent.
[+] Enlarge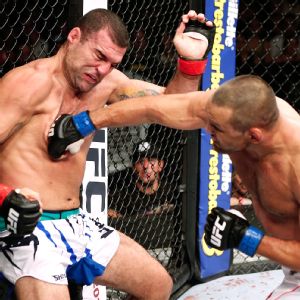 Josh Hedges/Zuffa LLC/Getty ImagesMauricio Rua, left, has been involved in his fair share of cage wars over the years.
Last week, Rua's original opponent
Jimi Manuwa
was forced off the card with a broken foot. Saint Preux, who was scheduled to fight
Francimar Barroso
, agreed to replace him in the main event.
Rua admitted that in recent years he has placed emphasis on planning for certain opponents, which makes the last-second change more difficult.
"I trained to fight Jimi Manuwa for two months," Rua said. "I think nowadays MMA has evolved to a point where it's very important to study your opponent's game. That's been my approach for a while now.
"[Manuwa and Saint Preux] are two completely different fighters. Manuwa is right-handed. Saint Preux is a southpaw, taller and has a very unorthodox type of game. It's a completely different approach, but that's part of the sport you deal with."
The important thing for Rua is he has recovered fully from his latest surgery and underwent a strong camp in Sao Paulo. He expects to put on a strong performance in the cage Saturday -- one of many still to come.
March, 5, 2014
Mar 5
9:43
AM ET

By Brett Okamoto
ESPN.com
Archive
Jimi Manuwa
wasn't in a boxing gym when he first learned of his natural born ability to throw punches harder than the average human being.
He was at a London fairground, in front of an electronic punching bag game.
"We used to go to the fairground [funfair], and there's that punchable thing that measures your power," Manuwa told ESPN.com. "It was from one of those that I knew I could punch. My friends would come around, and we'd have competitions.
"I broke my hand on them. A couple times."
Manuwa, 34, is an undefeated UFC light heavyweight with serious marketability -- but he's only been training in mixed martial arts since 2008. He's 3-0 in the UFC but hasn't faced anyone in the upper echelon of his division.
On paper, Manuwa (14-0) should not defeat
Alexander Gustafsson
this weekend at UFC Fight Night 37 in London. It's not a knock on Manuwa, who is headlining his first UFC event -- it's just a fair assessment of the fight.
In interviews, current UFC light heavyweight champion
Jon Jones
has called this weekend an "easy path" back to a title shot for Gustafsson. Jones defeated the Swede via unanimous decision in a close fight at UFC 165 in September.
The thing Manuwa has going for him, though -- and everyone seems willing to agree on this -- is that he possesses devastating, can't-be-taught, either-you-have-it-or-you-don't knockout power.
It's "God-given," as Manuwa puts it. When asked if a specific moment stands out when he really knew he had shook someone, Manuwa replied, "I have 14 stoppages. There are a lot of those moments."
Manuwa has put together one of the most peculiar runs in UFC history. He's finished three consecutive fights -- all of which were accompanied by unusual circumstances.
[+] Enlarge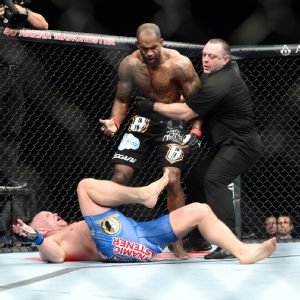 Martin McNeil for ESPNA leg injury prevented Ryan Jimmo from further punishment at the hands (and feet) of Jimi Manuwa.
His UFC debut in September 2012 ended after the second round when a ringside doctor declared
Kyle Kingsbury
could no longer see out of a battered left eye. In February 2013, Manuwa earned a TKO when
Cyrille Diabate
didn't answer the bell for the second round due to an Achilles injury.
And in his most recent appearance at UFC Fight Night 30 in October, Manuwa kept the weird streak alive when he defeated
Ryan Jimmo
-- after Jimmo suffered an awkward-looking leg injury in the second round.
Manuwa says you'd have to ask his opponents why they keep "quitting" on him during fights, but he guesses it has something to do with the pressure he applies.
"It's a bit less satisfying when that happens, but I'll take the win," Manuwa said. "They all probably know deep down in their heads they lost those fights."
It is unlikely Gustafsson (15-2) will fall apart on Manuwa. The 27-year-old is built as durable as they come, but of course even he is susceptible to a big hit.
Gustafsson believes he beat Jones when the two fought for the title in Toronto, but he admits the entire complexion of that bout changed when Jones landed a spinning back elbow with less than one minute remaining in the fourth round.
It took him the entire fifth to recover from the shot.
"It was the elbow that changed that fight," Gustafsson said. "The whole fifth round I was trying to recover from that elbow. I saw three of him out there and I couldn't attack. I was just defending and trying to recover.
"When I finally did recover, the fight was over."
The fact that Jones, perhaps the best pound-for-pound fighter in the world, hurt Gustafsson once doesn't mean Manuwa will do it on Saturday at the O2 Arena. Oddsmakers have booked Gustafsson at a near 4-to-1 favorite.
Manuwa doesn't mind the odds. In fact, he says plenty of friends and family have taken advantage of them and will cash in should he earn win No. 15.
"My technique has come along by leaps and bounds," Manuwa said. "I throw some of the hardest kicks now; those are some of my main weapons. My punches are harder and faster. I'm just a wrecking machine at the moment."
January, 22, 2013
1/22/13
5:59
AM ET
December, 8, 2012
12/08/12
10:48
AM ET
The UFC announced another big fight for the Wembley Arena card in London on Friday, with Jimi Manuwa set for a light heavyweight shootout against Cyrille Diabate.
More »