December, 15, 2013
12/15/13
7:33
AM ET
By Michael Huang
ESPN.com
Archive
If any questions still lingered about whether
Demetrious Johnson
is the best flyweight fighter in the world, his right fist answered every one of them unequivocally Saturday night in his first-round demolition of
Joseph Benavidez
at UFC on Fox 9 in Sacramento, Calif.
Johnson planted a solid right on Benavidez's jaw, dropping Benavidez cold to the canvas. The knockout marked the second consecutive finish for Johnson, who submitted
John Moraga
at UFC on Fox 8 with an arm bar.
Johnson's two finishes stonewall the run of seven straight decisions he posted en route to winning the UFC's flyweight belt and in defense of it. Not only has Johnson perhaps proved himself a champion to his critics, but also champions a weight class that has perhaps thirsted for respect.
"Those people who said they hate the flyweight division don't know [expletive] about fighting," said UFC President Dana White shortly after Johnson's first title defense, at UFC on Fox 6 in Chicago. "It's not a deep division, they're fighting the same guys. ... These guys know how to fight."
Johnson has cleaned out the division, with wins over all the top challengers, including Benavidez twice, Moraga,
John Dodson
and
Ian McCall
. And with the impressive knockout win over Benavidez, it should leave little doubt about who's the clear-cut best flyweight in the world.
However, Johnson's rise through the pound-for-pound rankings has been slow, perhaps for the very reasons White detailed, as well as Johnson's inability to finish fights until recently. Dare we say overlooked? And why shouldn't Johnson be in the discussion for the top pound-for-pound fighter in MMA?
Against Benevidez, Johnson's technique was exquisite, as it was against Moraga and Dodson. If Johnson seemed hesitant early against Dodson, he was dominant against Moraga and precise against Benavidez. His boxing was crisp and flawless, earning him "Knockout of the night" honors. Against Moraga, Johnson relied on his grappling, earning "Submission of the night" honors. Under trainer
Matt Hume
at AMC Pankration in Kirkland, Wash., Johnson has become a dangerously efficient fighter.
The scary thing that is Johnson, 27, continues to get better. He also seems to be settling into his position as a UFC champion. In a year in which the UFC has seem a seismic shift in titleholders --
Anderson Silva
and
Benson Henderson
both losing titles,
Georges St-Pierre
vacating after a controversial win, and
Jon Jones
looking absolutely human against
Alexander Gustafsson
-- Johnson and perhaps heavyweight champ
Cain Velasquez
offer the most stability atop their respective divisions.
The flyweight might be the lightest class in the UFC, but it doesn't mean its members should be taken lightly. After Johnson's latest win, his inclusion in the pound-for-pound discussion was all but assured, and the legitimacy of the flyweight division cemented. Johnson is already ranked eighth in
ESPN's pound-for-pound rankings
.
"You know, if people want to see me as the best pound-for-pound fighter in the world, that's totally fine," Johnson said during the postfight new conference. "My job is to go back to the gym and keep on improving, keep on showcasing my skill set with finishes and knockouts."
Johnson's climb into those rankings might have been slow, but considering his dominance over the flyweight division, his ousting from it might take equally as long. The only question that remains is whether Johnson, with a 3-0 record including two title defenses and two finishes in 2013, will win "Fighter of the year" honors?
"There's no doubt he should be in the running for that," White said.
And with all those wins coming in front of non-pay-per-view national audiences, rest assured Johnson will no longer be overlooked.
October, 18, 2013
10/18/13
8:41
AM ET
HOUSTON -- Several fighters on the UFC 166 main card Saturday night have a lot to lose. But none has more at stake than
Daniel Cormier
.
Sure, a strong case can be made for main-event participants
Cain Velasquez
and
Junior dos Santos
-- there is the matter of the heavyweight title being up for grabs. But even the loser is expected to remain high on the contender list.
Cormier, on the other hand, has no room for error. He not only needs to beat
Roy Nelson
in the co-main event, but must do so in impressive fashion. Anything less and Cormier, who plans to begin competing at light heavyweight after the bout, will be forced to make major changes to his master plan.
Despite being ranked No. 3 among heavyweights by ESPN.com, Cormier is opting to leave the division because he wants to become a UFC champion. And he vows never to fight Velasquez -- a close friend and training partner.
So Cormier is heading to 205 pounds to realize his title dream. But at 34, time isn't on his side.
An upset loss to Nelson will greatly diminish his chances of landing a title shot anytime soon. Even a lackluster performance Saturday night could do harm to his title bid.
"This is the most important fight of my career," Cormier told ESPN.com. "I know the
Josh Barnett
fight was important because I needed to win that [Strikeforce Heavyweight Grand Prix] tournament. But in terms of importance, in terms of keeping my momentum, keeping things rolling in the right direction, this is the one.
"I've got to find a way to get through Roy Nelson in impressive fashion, so that I can take the momentum that I've built over the past four years and take it with me down to the lower weight division.
"If I don't do what I'm supposed to do Saturday night, everything was for nothing. It's back to the drawing board and revamping my plan."
MAYWEATHER'S RETURN GIVES NELSON BOOST
Nelson looks fit and trim heading into his heavyweight showdown with Cormier. But in this case, the looks are definitely deceiving.
The weight loss isn't the result of physical changes Nelson made, but the stress he felt during camp because of concerns over the health of his trainer, Jeff Mayweather.
"I was more concerned about Jeff Mayweather and the people in my camp," Nelson said. "This has been the crappiest camp that I have ever had. It is what it is.
"When I get depressed I don't eat. I lost Jeff about two weeks into camp; he was in the hospital. I just tried to make do with what I've got."
Mayweather has fully recovered from the rapid heartbeat he experienced after consuming an energy drink. And Nelson couldn't be happier. He has regained his appetite, which could mean the return of his usual round figure.
"About two days ago [Monday] was the first time that Jeff was back, so I'm eating again," Nelson said. "Maybe I will be 280 pounds and cut weight to make 265."
MELENDEZ TO BEGIN BID FOR TITLE SHOT
No. 2-ranked lightweight and former Strikeforce titleholder
Gilbert Melendez
is a heavy favorite to beat highly aggressive
Diego Sanchez
.
[+] Enlarge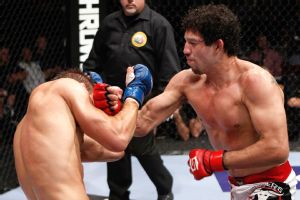 Getty ImagesJosh Thomson, left, was narrowly defeated by Gilbert Melendez when the pair met in 2012.
While a setback will drop him a few notches in the 155-pound rankings, Melendez doesn't seem to be feeling a sense of urgency heading into the fight. Even if Sanchez is able to pull off an upset, Melendez believes he will remain in the title picture. It's one of the benefits of competing in the talent-rich lightweight division.
"There is no pecking order in this division right now," Melendez said. "The No. 10 guy can be the champ any day of the week; the No. 1 guy can lose any day of the week."
Melendez, however, makes it clear that he has no intention of falling victim to Sanchez. He not only expects to have his hand raised afterward, but plans to use this bout as a springboard to start his title-shot campaign.
"It definitely comes down to my performance and what the fans want to see," Melendez said. "If I do well I will definitely be campaigning for that shot."
DODSON NO LONGER GIVING SECOND CHANCES
Flyweight contender
John Dodson
can still see those punches that either dropped or wobbled
Demetrious Johnson
during their title bout in January. The images are perfectly clear.
How could they not be? Dodson spent a lot of time during the early rounds of that fight admiring his work. Rather than put the finishing touches on his potential masterpiece, Dodson opted to watch the champion recover.
That proved to be a huge mistake. Johnson would rebound, eventually take control of the fight and retain his title. What took place during that fight remains firm in Dodson's mind.
He was in position several times to lift the belt from Johnson, but failed to capitalize. Dodson blames no one but himself and says he has learned his lesson. Never again will the man in the cage with him -- starting with Saturday night's opponent,
Darrell Montague
-- be let off the hook.
"I have to make sure that I go out there and not watch my handiwork," Dodson told ESPN.com. "I watched me hit him, I watched him fall and then I watched my chance to win the title slip through my fingers. I can no longer allow that to happen."
July, 23, 2013
7/23/13
2:08
PM ET

By Brett Okamoto
ESPN.com
Archive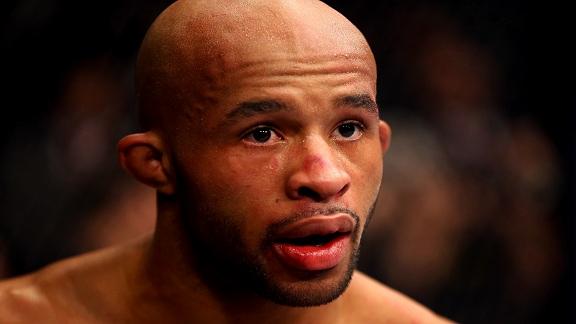 John Moraga
didn't get into mixed martial arts for fame and quite frankly, he really didn't get into it to satisfy any real hunger for competition, either.
Moraga started training to fight in 2009 with one thing in mind: Money.
"I didn't get into this sport to be on posters or be a household name," Moraga told ESPN.com. "Money. Let my kids grow up with everything I didn't have."
That's not to say Moraga (13-1), who faces
Demetrious Johnson
for the UFC flyweight title this weekend at a UFC on Fox event in Seattle, doesn't enjoy what he does. A former collegiate wrestler, Moraga is a lifetime competitor.
But the reason he trains multiple times a day and makes sacrifices in his lifestyle so he can weigh 125 pounds before a fight is to provide for his two sons.
"When my girlfriend got pregnant, that's when I decided to get in the gym and see what I could make of it," he said. "There wasn't much opportunity when I started, but I had faith that I would have an opportunity to make a living out of it. It's worked out."
Money has been a major talking point in the UFC in 2013, with several former and current fighters publicly criticizing the promotion's current pay structure.
Moraga is an interesting case study in the discussion. Since signing with the UFC in mid-2012, the 29-year-old has fought twice, both times on the undercard.
His most recent performance, a submission win over
Chris Cariaso
at UFC 155 in December, was the opening fight of the event. Most of the Las Vegas crowd didn't show up to see it. The UFC paid Moraga a salary of $22,000, according to Nevada.
Had Moraga lost, he would have made just $11,000. Half of the salary came from a win bonus, which is included in the majority of UFC contracts. Also, he would have been 1-1 in the UFC. Fighters who fall to 1-2 are routinely cut from the UFC roster.
That may seem, in Moraga's word, "cutthroat" -- but so far, he has made the UFC pay system work for him. Shortly after his first UFC win, a first-round knockout over
Ulysses Gomez
, the company sent him a discretionary bonus in the mail.
When he submitted Cariaso at UFC 155, Moraga also was the recipient of a $65,000 "Submission of the Night" bonus. Just two fights into his deal, he's in a position to win a UFC belt and possibly headline a pay-per-view event in the future.
Moraga's view on UFC pay is that the company forces him to earn his money. If he performs to its expectations, they take care of him.
"I feel the UFC wants exciting fighters. If you go out and put on an exciting fight, if you put enough effort out there, then they'll take care of you," he said. "I think they let their fighters earn their money, and I'm cool with that."
Moraga is in a terrific spot now, but acknowledges things could have gone south just as easily.
[+] Enlarge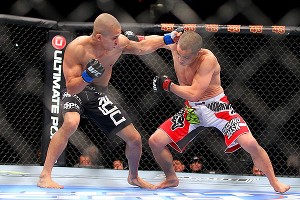 Ed Mulholland for ESPN.comJohn Moraga, left, got a submission win over Chris Cariaso in his most recent fight.
In that UFC debut, the one where he knocked out Gomez and was awarded an extra check, Moraga was originally scheduled to fight
Ian McCall
. McCall, ranked the No. 3 flyweight in the world at the time, withdrew with injury.
Moraga's guaranteed paycheck for that debut was only $9,000, with a $9,000 win bonus. Obviously, he would have gone into the bout against McCall with confidence, but it clearly would have been a much tougher fight than the one he ended up with.
Prior to McCall's injury, Moraga was looking at a situation in which he was scheduled to face the No. 3 fighter in his division, potentially for a mere $9,000 -- and on top of that, a potential loss in his promotional debut.
"It's definitely a gamble," Moraga said of being an undercard fighter. "That's what we sign up for. But that's how I saw it. I saw [my undercard fights] as a little amount of money to get me on my feet and I saw it as an opportunity.
"I was supposed to fight Ian McCall. That's a little different than your average UFC debut. At the same time, I knew I just had to prove myself."
Moraga admits to not knowing "what the UFC makes" per event or "how much it costs to keep business going."
Those two issues have long been arguing points in the UFC fighter pay discussion. Disgruntled fighters have complained about UFC revenue split, as the company refuses to release figures to the media on the subject. The UFC responds that it absorbs its own production costs and spends millions of dollars on advertising and promoting the sport, which opens sponsorship opportunities for its fighters.
From a personal sense, Moraga doesn't have the time to inmmerse himself in that discussion. In his mind, if he continues to perform and fight in an entertaining style, the money will come.
That's far more than he can say regarding other times in his career. When Moraga first started off, he says his pay was based on the number of tickets he was able to sell to friends and family, many of whom didn't have the funds to help him out.
"I made like, ticket-sale money," Moraga said. "Selling tickets was hard. Everyone I know is from the hood. They were like, '30 dollars? Tell me how it went, player.'
"I think the most I was ever paid for one of my fights [before the UFC] was $1,000, maybe $1,200. Before that, it was $400 here, $600 there."
Moraga was also involved in the well-known Nemesis Fighting MMA promotion, which produced bounced checks to fighters after an event in 2010.
Moraga suffered the only loss of his pro career at that event to fellow UFC flyweight
John Dodson
, but was supposed to collect his largest payday. He collected nothing.
"I didn't get paid for that fight," Moraga said. "It was supposed to be online PPV. It ended up being a total scam of a show."
Of course, Moraga has no concern of that happening in the UFC and now, as was the case when he first started training, he's optimistic regarding his financial future.
Regarding his upcoming fight against Johnson, Moraga says he views it as life and death. In his mind, it may be his only chance ever at real, life-changing money.
In the current UFC pay structure, that mindset probably has a lot to do with Moraga's success so far.
"I take it as survival," Moraga said. "I see it as my one chance. That's how I have to see it. Who knows what can happen? I might never get this chance again if I don't make the most of it."
January, 25, 2013
1/25/13
7:44
AM ET
CHICAGO -- Winning a UFC title is every fighter's goal. For the few who are able to accomplish this feat, the celebration doesn't truly begin until they make their first successful title defense.
UFC bantamweight titleholder
Demetrious Johnson
will attempt to solidify his position as a true champion Saturday night when he meets top contender
John Dodson
. The two will battle at United Center in Chicago.
In addition to defending his title, Johnson wants to put on an entertaining fight. Putting on a fan-friendly performance is something Johnson also relishes. And it's something Johnson thought was being accomplished in September when he held off
Joseph Benavidez
to claim the 125-pound belt.
Johnson put on a stand-up fighting display. He demonstrated textbook footwork, head movement and striking en route to a split decision. But throughout the five-round title bout many fans in attendance at UFC 152 booed.
The booing continued when Johnson was declared the winner, and Johnson learned that being liked by fans is something he has no control over.
"You can never predict how fans will see you because there are some fans out there who just love my style: How I'm just a humble guy, but I have great technique, I have great footwork, the cardio, I have great confidence and I love video games," Johnson told ESPN.com.
"On the other side of the board, there are guys who hate everything about me. They don't care what I do, they hope I lose; they hate my ears, the way I look. So my job is to just go out there and perform the best I can."
Teixeira seeks KO against Jackson
Not many fighters have entered the UFC with as much hype as
Glover Teixeira
. And in his first two Octagon appearances, Teixeira has not disappointed. On Saturday, he faces the stiffest test of his pro career, and fans will find out if the hype is warranted when Teixeira faces former UFC light heavyweight champion
Quinton "Rampage" Jackson
.
Teixeira believes he will defeat Jackson, who fights in the UFC for the last time Saturday. But he also believes victory won't be enough to prevent his stock from tumbling if he struggles. So Teixeira is determined to end Jackson's UFC career early.
"My motivation is to be a champion, just like he was. I'm hungry," Teixeira told ESPN.com. "I want this. This is a big fight for me, the biggest of my career.
"Rampage is a tough guy, he's hard to put away. But that is the key. You go into a fight, that's why people love fights, because of the knockouts and the submissions. I'm going in there to finish the fight. And it does matter to me how I win."
Cerrone to clash with sharper, more mature Pettis
It has been nearly one year since lightweight contender
Anthony Pettis
has fought inside the Octagon. That's a long layoff for any fighter, except Pettis.
The former WEC champion says when he steps in the cage Saturday night to face
Donald Cerrone
, he will be as sharp as ever. Cage rust is never an issue for Pettis.
"I don't think there is ring rust when it comes to fighting," Pettis said. "A fight's a fight. If I have to fight somebody tomorrow, I've got to be ready to fight.
"This is my job. This is what I've been training for; this is what I've been doing for a long time. I've kind of grown up with fighting, so I don't think ring rust is going to be a problem."
Pettis is also better prepared to deal with any unexpected situations -- inside or outside the cage. He takes all his responsibilities much more seriously these days.
"I've matured a lot," Pettis said. "I've got a daughter [1½-year-old Aria] now; I've matured a lot with decisions outside of my training -- what time I go to bed, what I'm eating, what I'm putting in my body.
"I've really matured in every aspect of my life. I've just matured as a man."
Quick hits
•&nbspFormer lightweight contender
Clay Guida
makes his featherweight debut with a bit of a chip on his shoulder. Despite what he says, the outcome of his June bout with
Gray Maynard
and the criticism that followed still sting. "My striking was pinpoint; I out-struck Gray. I out-grappled Gray," Guida said. "Go down the list, I beat him everywhere, except in the judges' eyes. But I'm beyond that now. And
Hatsu Hioki
is going to pay for it Saturday night."
•&nbspJackson talks often about no longer being happy in UFC and looks forward to leaving the promotion after Saturday night's bout against Teixeira. But Jackson won't be all smiles when it's over. "I will miss a lot of things. I will miss Burt Watson backstage. He's funny; he's cool to hang around," Jackson told ESPN.com. "Honestly, if you are on Dana's good side, he's one of the coolest guys. Lorenzo Fertitta's always been cool with me; and Frank [Fertitta]. I will miss the good fans. When you're walking back to the locker room, when you win, the fans are cheering you on. There are a lot of things about the UFC that I will miss."
•&nbspDana White would love to have
Eddie Alvarez
on the UFC roster. And he is willing to pay handsomely for Alvarez's services. Now White is challenging Bellator to do the same. "This kid isn't their world champion and his contract is up," White told ESPN.com. "Everybody talks about Bellator like they're some poor little company. Viacom owns Bellator! Bellator like you used to know it is over. Viacom sits on $5 billion in cash. Pay the kid! Pay the kid the exact monetary offer we made to him, and you will deserve the right to have him."
January, 22, 2013
1/22/13
3:13
PM ET
The fight plan is finalized, and if
John Dodson
executes it to the fullest Saturday night, he'll take another step toward silencing his doubters by becoming the UFC flyweight champion.
Dodson takes on titleholder
Demetrious Johnson
at the United Center in Chicago. The fight represents the biggest in Dodson's professional mixed martial arts career.
Most fighters in his situation would feel some tension. They'd become a bit more agitated, less talkative or unapproachable. Not Dodson. He isn't one to succumb to pressure; in fact, the greater the pressure, the more relaxed he becomes.
More than any fighter on UFC's roster, in his estimation, Dodson relishes fight night. He embraces frenzy crowds, whether they're directing cheers or jeers in his direction. Dodson is most happy during his walk toward the Octagon. So when he enters the arena Saturday night, there will be no butterflies in his belly. Expect him to be the happiest, most excited, most relaxed fellow in the building. Dodson will be fighting for the UFC flyweight title and for him, it's business as usual, but on a slightly grander scale.
"I enjoy the moment, being there, just being in that moment," Dodson told ESPN.com. "How many people can say, 'I'm walking out to the cage to fight for the No. 1 contendership, fighting in "The Ultimate Fighter" finale or even fighting for a world title'?
[+] Enlarge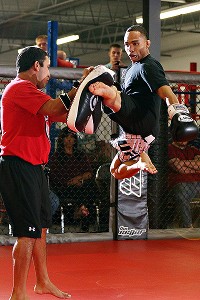 Josh Hedges/Getty ImagesJohn Dodson is flying high ahead of his first UFC championship fight.
"I'm enjoying every moment I'm walking out there. It doesn't matter if I'm going out there to win, to lose, get injured, it's a life-changing moment for me. Everybody complains about how happy I am and that I smile too much, that I shouldn't be that excited. But it's like winning the lottery."
Don't be confused by Dodson's happy-go-lucky pre-fight exterior. When the horn sounds to commence fighting, he will not be playing around. Dodson's sole purpose in Chicago is to defeat Johnson. And sticking to the fight plan, which includes more than matching the champ's speed, will be the key to achieving his desired outcome.
"I think our speed is going cancel each other's out; that's the way I see it," Dodson said. "And if it doesn't, then it's probably going to go toward him and I'm going to have to hold him down and tickle him to death."
That's Dodson: Always finding humor in the situation -- but seriously ...
"I'm going to bring a lot of tools back into my arsenal," Dodson said. "Everybody complains about never seeing me on the ground; well, they might see my jiu-jitsu.
"One thing about Demetrious Johnson is that he changes levels a lot. So if he actually gets a successful takedown on me, I can utilize my wrestling ability or I can submit him off the ground."
And if his hand is raised after the bout, Dodson does not intend to rest on his laurels. Becoming UFC flyweight champion isn't the end-all for him. Dodson has his career path mapped out, and claiming the 125-pound belt is just the first stop on a long road. There are two more titles to be had.
"This will be the next thing to check off my list," said Dodson, 28, who has a pro record of 14-5. "This won't be my last hurrah. I won't be looking at it as "I'm the champion now, that's it; I'm OK with it. I want to still be hungry for title fights.
"

I'm enjoying every moment I'm walking out there. It doesn't matter if I'm going out there to win, to lose, get injured, it's a life-changing moment for me. Everybody complains about how happy I am and that I smile too much, that I shouldn't be that excited. But it's like winning the lottery.

"

-- John Dodson, on his positive outlook on fight night
"If I can get the [125] title, and successfully defend it numerous times, I'd want to move to 135 and fight for that belt as well. I want to make sure I continue to expand my goals. I want to take the 125, 135 and 145 titles and defend them all at once."
These are extremely lofty goals, and most fighters would not dare place such a heavy burden on their shoulders. But Dodson isn't your ordinary mixed martial artist. Setting high standards is what keeps him hungry and motivated. He also knows that the majority of fighting observers don't expect him to attain his goals.
Most don't expect him the exit the cage Saturday night with the belt around his waist. And that's fine by Dodson. He loves proving the doubters wrong. It will make his win Saturday night much sweeter.
"I will continue like I've been doing all along," Dodson said. "I can make more of a statement that I'm one of the best in the division and on my way toward becoming one of the best fighters in UFC history."
October, 4, 2012
10/04/12
10:57
AM ET
When word came down earlier this week from UFC president Dana White that Friday's flyweight bout would determine the No. 1 contender,
John Dodson
jumped for joy.
Dodson has envisioned fighting for the 125-pound title; he just didn't know how soon that opportunity would come.
Now he knows: Defeat
Jussier 'Formiga' da Silva
on the UFC on FX card at the Target Center in Minneapolis, which Dodson expects to do, and flyweight titleholder
Demetrious Johnson
is next.
Dodson is excited about making that scenario a reality. But his excitement isn't based solely on personal gratification.
Of course, he's motivated by the possibility of achieving his long-awaited goal -- to become a UFC titleholder. There is, however, another source motivating him -- the mixed martial arts students he teaches in Albuquerque, N.M.
Dodson is a professional instructor at Team Jackson-Winkeljohn, where he also trains for his UFC bouts. Each day when he's done with his regular fight preparation, Dodson turns his attention to the students.
"I was teaching until the day I left for Minnesota," Dodson told ESPN.com. "I use [my students] as extra motivation for myself because I like looking in their faces and seeing how proud they are of me. They are actually texting me as I get ready to fight for the No. 1 contender fight and telling me how proud they are of me. That's an excellent thing to hear."
The pride is reciprocated. Dodson loves the enthusiasm and commitment his students demonstrate during classes.
Their progress warms his heart. Dodson says some students aspire to become professional fighters, but most just enjoy working hard to improve their bodies.
Physically, Dodson will be alone Friday night inside the cage with da Silva.
But when the horn sounds to start the fight, Dodson will have each and every one of his students fighting with him in spirit. They have played a major role in getting him prepared for da Silva.
"Competitively, they help me a lot," Dodson said. "I'm there teaching them techniques, but actually I'm relearning it myself -- things that I forgot about doing years ago, like a basic armbar, how to make it tighter. Yet you see people trying to finish an armbar with their feet crossed. They're not supposed to be doing that, that's a big no-no."
Throughout his training/teaching camp, Dodson was reminded of little mistakes he can't afford to make against da Silva, a high-level jiu-jitsu practitioner. It's the lone area where da Silva has a technical advantage over Dodson.
"He's a four-time world champion," Dodson said of da Silva. "You can't get any better in jiu-jitsu than him. The ways that he can get your back, submit and get different positions -- he moves very, very fluidly. I have to make sure that I can pick him apart. What I have to do is stand and bang, not get taken down and don't let him touch my back. And if he does touch my back, make him pay for it.
"But he only has jiu-jitsu. This is mixed martial arts. You have to have more than one art to sit there and think you're the best. I have a well-rounded game. My striking is better, my wrestling's going to be better and my jiu-jitsu is going to be on par with his. I'm not going to say [my jiu-jitsu] is going to be better than his; he's won world championships."
Aside from having more technical skills at his disposal, Dodson believes he has the physical edge as well. Dodson gives up two inches in height to da Silva, but he views being the shorter fighter works to his advantage.
Being able to fight at 125 pounds is a godsend for Dodson. Though he has competed at featherweight and bantamweight, fighting as a flyweight is where Dodson is at his best.
[+] Enlarge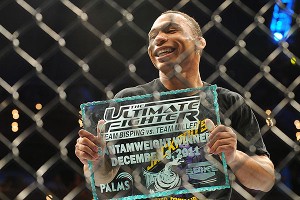 Al Powers for ESPN.comFormer TUF bantamweight winner John Dodson takes on Jussier da Silva on Friday for a chance at Demetrious Johnson's UFC flyweight title.
"When I was at bantamweight, I was the fastest fighter," Dodson said. "Everyone who stepped in the cage with me said I was either faster than them, quicker than them or had more agility. But going down a weight class, I still have that speed, explosiveness and tenacity but I'm adding more strength. Now that I'm fighting guys my own size, I feel that I am stronger than the other 125-pounders I compete against.
"I am kind of beefy. I'm short, stocky and 5-foot-3. I'm like a tree stump."
Then there is the confidence factor. The support Dodson receives from his coaches, teammates and students at Team Jackson-Winkeljohn is invaluable.
But there were times in his career when that support wasn't enough, giving Dodson doubts about how good he was or could become. That changed in 2011 when he competed on "The Ultimate Fighter" reality show.
"Fighting on 'The Ultimate Fighter' and actually winning it built up my confidence," said Dodson, who was TUF bantamweight winner during the "Team Bisping vs. Team Miller" season. "A lot of people said I had no finishing power. And I knocked out three of the four people I fought. My confidence level isn't where it was two years ago, it's much higher. I have more faith and belief in myself. I know where I am now."
And Dodson has a good idea where he will be Friday night after spoiling da Silva's UFC debut -- celebrating somewhere in Minneapolis. Shortly thereafter he plans to return to Albuquerque and begin preparing for Johnson.
When he arrives, there will be MMA students eager to resume their roles in helping him get ready for the next big fight.
September, 19, 2012
9/19/12
1:05
PM ET

By Brett Okamoto
ESPN.com
Archive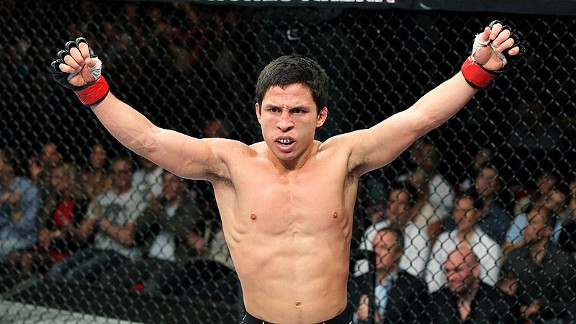 Josh Hedges/Zuffa LLC/Getty ImagesStrong and fearless, Joseph Benavidez takes aim at becoming the UFC's first flyweight champion.
The UFC will crown its first flyweight champion this week at UFC 152, making now the perfect time to rank who's who at 125.
Top-ranked
Joseph Benavidez
and
Demetrious Johnson
likely need no introduction by now, as they're set for the UFC 152 co-main event on Saturday in Toronto, but the rest of the names on this list might.
The flyweight division doesn't carry the most recognizable names in the UFC yet, but let us assure you that its Top 10 features loads of talent.
Here's a closer look at how ESPN.com staff members, including Chad Dundas, Josh Gross, Franklin McNeil and Chuck Mindenhall, see the division.
[+] Enlarge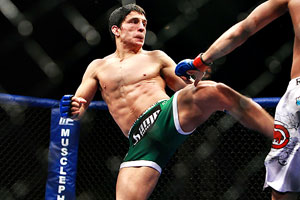 Dave Mandel for Sherdog.comOne of the most complete fighters in mixed martial arts, Joseph Benavidez gets an opportunity to compete in his natural weight class.
No. 1 Joseph Benavidez (16-2)
There's only been one mountain Benavidez hasn't been able to climb, and that's UFC bantamweight champ
Dominick Cruz
. Benavidez has two losses in six years, both to Cruz, and both very close. Now he's at his natural weight class and is the near-consensus pick to reign over the division. Wondering what he does well? Everything. He's one of the most composed fighters in the UFC, and his game has no holes. In fact, he's the only flyweight you'll find in the pound-for-pound rankings at ESPN.com.
McNeil:
The flyweight division's most fearless fighter also happens to be its most aggressive.
Mindenhall:
The division was created for him to dominate. With his diversity and strength, he will do just that.
No. 2 Demetrious Johnson (15-2-1)
Meet the fastest fighter in the UFC. Johnson's speed is one of the most talked-about advantages in the sport. Add in the fact he's also extremely technical, and it's almost not fair. Maybe the only way to slow him down is to keep him on the ground, which no one seems capable of doing. Even when Johnson gets put on his back, he's usually to his feet before judges even notice. And by the way, at 26, he probably hasn't hit his peak yet.
Dundas:
I'll consider it an upset if Johnson beats Benavidez, but not much of one.
Mindenhall:
The second McCall fight showed that Matt Hume's guy isn't all flash and thunder, but that he's a smart fighter who can execute tactically under pressure.
[+] Enlarge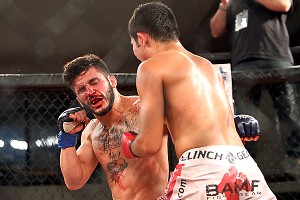 Jeff Sherwood for Sherdog.comIf there is such a thing as enjoying being hit, Ian McCall, left, proudly fits the description.
No. 3 Ian McCall (11-3-1)
McCall won't match the speed of his fellow flyweights, but he makes up for it with size and wrestling ability. He's a fighter's fighter -- the guy in the division (always seems like there's at least one) who seems to genuinely enjoy getting hit. McCall can be a bit of a slow starter, but he turns into a monster as a fight goes on. No one on this list is more influenced by the crowd, and his outright crazy side has a visible effect on some opponents over 15 minutes. He's had a bumpy road outside the cage, which could very well end up being the one thing that holds him back. In the cage, his ground-striking, takedown defense and boxing make him tough to deal with.
Dundas:
McCall spent 17 days in jail in August after his arrest for driving with a suspended license. If he can keep it between the lines, he's a potential champion.
Gross:
McCall may be his own worst enemy, and with competiveness brewing at 125, he won't do well in the long run fighting himself and the competition.
No. 4 Jussier da Silva (14-1)
The perception is da Silva poses no threat on his feet, but that's inaccurate. No, "Formiga" is no knockout threat, but watch him transition to an opponent's back without even needing a full takedown and you'll see what we're talking about. Ultimately, da Silva does need to improve his hands if he wants to topple the best, but his submission skills alone warrant this spot on the rankings. If the well-rounded UFC opposition can keep him on the outside, he's in trouble. But give Da Silva an opening to get where he wants and the Brazilian will be super-glued to your back. His only loss came at the hands of the man ranked right above him on this list.
McNeil:
That high-profile loss to McCall last year still haunts Formiga.
Mindenhall:
We know he can finish, but the question is, how does he handle the step up in competition?
[+] Enlarge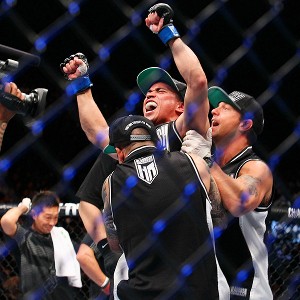 Susumu Nagao for ESPN.comWith the title path more open, striker Chris Cariaso looks to make an immediate impact at 125 pounds.
No. 5 Chris Cariaso (14-3)
Cariaso represents one of those situations where he really didn't
need
to drop a weight class, but the title path is more open at 125. He'll throw kicks to the leg and body like they're jabs, and he has good defensive instincts on his feet. He likes to counter with the right hand, which won't cause much damage on its own, but he lands it often and it's a rhythm disrupter to opponents. Only two submission wins in his career, so he's not known for his grappling, but this guy can be sneaky-good off his back. If you fall asleep in his guard, he'll take advantage of it.
Dundas:
Losses to
Michael MacDonald
and
Renan Barao
are nothing for Cariaso to hang his head about.
Gross:
Fighting at flyweight provides new life for Cariaso, who will never go down without a fight.
No. 6 John Dodson (13-5)
The hyperactive Dodson has said he'd like to win titles at 125, 135 and 145 at some point. Those aspirations might seem a little high, but 125 is certainly within his reach. He sets a pace that can wear out an in-shape flyweight (not easy to do), and he packs more power in his standup than you'd think by looking at him. His takedowns are actually incredibly explosive, but they often go overlooked because he rarely does much with them. Mostly, it feels like Dodson looks at them as a way to score a few points before getting back to business on his feet. He's fun to watch and has so much experience fighting talented, bigger opposition.
Gross:
The potential is there, no doubt about that, but it takes more than that to assert yourself in a weight class.
Mindenhall:
He was the smiling fink of the TUF 14 house. His height is a liability, but the dude's a rare combination of acrobatics and mean.
[+] Enlarge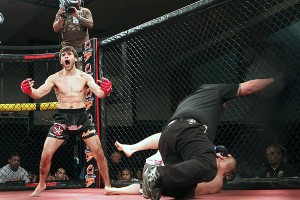 Jeff Sherwood/Sherdog.comDarrell Montague is not with UFC ... for now. But don't be surprised if you see him fighting very soon.
No. 7 Darrell Montague (11-2)
The only name on this list not currently contracted by the UFC, but it's likely only a matter of time before the 24-year-old hits the Octagon. He's been a menace in the flyweight proving grounds that is Tachi Palace Fights, with one signature loss you know he'd like back against McCall in 2011. A southpaw, Montague likes to take the center of the cage and stalk his prey. He trusts his hands and that makes him fun to watch. Good counterpunches and a high comfort level in stringing together combinations as opposed to single power shots. You will see Montague knockout highlights inevitably pop up in years to come.
Dundas:
He figured to be among the first crop of flyweights snapped up by the UFC until the loss to McCall. Back on track with two wins, it likely won't be long until he's bound for the Octagon.
Gross:
This confident kid will get his shot at the big time someday soon.
No. 8 John Moraga (11-1)
A lot to like about this dark horse in the flyweight division. Moraga isn't going to bounce around the cage like a Demetious Johnson, but he's got speed where you want it -- in his hands. This guy can unleash punches opponents never see coming and his power is undeniable. No glaring holes to speak of, and keep an eye out for a strong guillotine, much like the one we've come to learn his teammate
Ben Henderson
possesses.
McNeil:
Despite showing off his striking prowess against
Ulysses Gomez
in August, UFC fans will soon learn that Moraga has solid submission skills.
Mindenhall:
Great submissions, and he has been packing a better punch since losing to Dodson back in 2010. Verdict's still out on how he stacks up with the top guys.
[+] Enlarge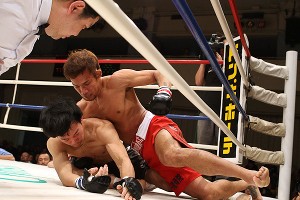 Taro Irei/Sherdog.comExpectations are high in the UFC for Yasuhiro Urushitani, right, despite a tough Octagon debut.
No. 9 Yasuhiro Urushitani (19-5-6)
Urushitani didn't exactly sparkle in his UFC debut, but he gets a semi-free pass for that loss, considering it was against Benavidez. That said, expectations are high for the Japanese fighter early, so a strong sophomore performance in the UFC is key. Urushitani is known for his counter striking, but he's actually capable of moving forward when his confidence is high. He's got a nice straight left he'll throw down the pipe, but watch that left hand when it's not being used. Urushitani tends to keep his hands around his waist and rely on elusiveness to avoid strikes. Sometimes it works and sets him up beautifully for counterstrikes. Other times, well, he wakes up to the sounds of a fired-up Benavidez running around him.
Gross:
A veteran of the division, he failed to do much against Benavidez, further cementing the weak reputation of Japanese fighters in the Octagon.
McNeil:
He's a much better fighter than the guy who appeared lost in his Octagon debut against Benavidez.
No. 10 Louis Gaudinot (6-2)
What a difference 10 pounds can make. Any fighter on this list likely knows that feeling from competing at 135, but Gaudinot might know it best. His particular style just doesn't bode well against bigger guys -- but it should be darned effective on smaller ones. Gaudinot is not fleet of foot. He's got a flat stance, and he's unafraid to sit in the pocket. At 135, walking down bigger guys just wasn't going to get him to the top. At 125, the green-haired Gaudinot is going to be an imposing figure. He'll take one to land one, and if he can catch up with the speed of the other flyweights and work a takedown here and there, his tenacity and bullish attitude will win fights. A Gaudinot-McCall fight would produce fireworks.
Dundas:
Had the heart but not the size to be UFC bantamweight champion. His high-octane style likely makes him a matchmaker's favorite.
Gross:
If you can get past the green hair, you'll see a hard-nosed powerhouse benefiting from fighting at his natural weight.
December, 5, 2011
12/05/11
1:28
PM ET

By Chuck Mindenhall
ESPN.com
Archive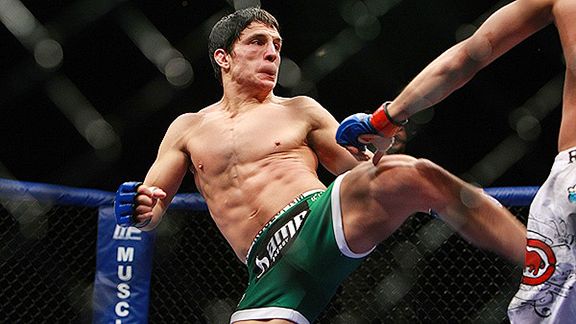 Dave Mandel/Sherdog.comBantamweight contender Joseph Benavidez is one of several fighters campaigning in a higher weight class.
Whether they realize it or not, the UFC has the best flyweights in the world parading around as bantamweights. (They realize it).
Some of them appeared on "The Ultimate Fighter" 14 finale on Saturday night. One of them looked undersized and overmatched (Louis Gaudinot). One of them looked underhyped and overlooked (John Dodson). Some of them are fighting for the bantamweight belt at the size of ventriloquist dummies.
Joseph Benavidez
is easily the No. 2 bantamweight in the world, but as a flyweight he could be a big fish.
Demetrious Johnson
gave
Dominick Cruz
some new looks and came up short. Short is how he'll succeed as a flyweight when the division is introduced in the UFC.
So, the next question is: When will that be? Media could only pry a single word from Dana White on the topic after the TUF 14 finale: Soon.
Soon could be early 2012, as was originally the target. Soon could be at some point in 2012. Or it could be a smokescreen term that means "we haven't really discussed it in earnest yet." Sean Shelby, who is the matchmaker for everything under 155 pounds, dreads the moment this division is introduced. He is already scattering so many jacks over the linoleum between the banties, the feathers and UFC sister outfit Strikeforce's lot.
But Shelby have to find it in him; the reality is that the flyweight division is coming. It has to. There are just too many guys straining to fight as bantamweights that would be better cast in a 125-pound setting. John Dodson didn't have to cut any weight. He was at 134 pounds at weigh-ins with all the cherubic dimples still embedded in his cheeks. Others on the scale dragged like walking dead, gaunt with their eyes set back under dark eaves.
[+] Enlarge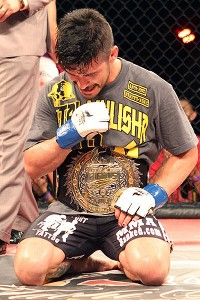 Jeff Sherwood/Sherdog.comIan McCall's prayers might be answered "soon," according to UFC president Dana White.
Besides the aforementioned fighters, there are plenty of guys out there who are licking their chops to prove themselves in the UFC.
Ian McCall
is widely considered one of the best flyweights going, and is the reigning Tachi Palace Fighting champion at 125. All "Uncle Creepy" wants for Christmas is eight sides to his cage. Then there are guys like
Jussier da Silva
and Mamoru Yamaguchi, the latter who looks like a holdover from 1970s Bruce Lee films. In fact, his handle is "the Illest Afro in Asia." There's one of the game's best counter strikers in Yasuhiro Urushitani, who defeated John Dodson by unanimous decision back in the day. And there are always woodwork guys, international discoverables, those yet to emerge.
In other words, there wouldn't be any shortage of talent at 125 pounds. And realistically, with 36 cards planned for 2012, the UFC could use the added division to help supply the workload/demand. It could benefit from one more belt to deepen a "Fight Night" card, or to power a co-main. As has been proven for all those years in the WEC and on this season of TUF, the jockeyweight divisions are loaded with combustible pieces. Dodson is like an electron in the cage. He was flipping off the Octagon posts like one of those "Sphere of Death" daredevils on their motorcycles. These flyweights are all springs and coils. Dueling acrobats.
Just how soon is "soon?" For all intents and purposes, the sooner, the better.