November, 28, 2012
11/28/12
12:26
PM ET
John Hathaway
has told ESPN that the winner of
Matt Brown
versus
Mike Swick
at UFC on Fox 5 might prove a more interesting fight for him than Matt Riddle, and he would be happy to go abroad to get the matchup.
More »
October, 18, 2011
10/18/11
5:27
AM ET

By Franklin McNeil
ESPN.com
Archive
Injuries have forced welterweight
John Hathaway
and heavyweight Oli Thompson off UFC 138, which is scheduled for Nov. 5 in Birmingham, England.
The announcement was made Monday on UFC's website. The nature of the injuries suffered by Hathaway and Thompson was not disclosed.
Hathaway is a native of Brighton Sussex, England. He was set to face
Matt Brown
.
With Hathaway unable to compete, Brown will instead face Seth Baczynski on Nov. 19 at UFC 139 in San Jose, Calif.
The man Thompson was scheduled to fight, Philip De Fries, has verbally agreed to face
Rob Broughton
on the UFC 138 preliminary card. De Fries and Broughton are both natives of England.
October, 17, 2011
10/17/11
6:44
AM ET
English welterweight
John Hathaway
has issued a statement of intent by admitting he plans to spend plenty more time in the Octagon come 2012.
More »
July, 24, 2011
7/24/11
8:42
AM ET
By Mike Pyle
Special to ESPN.com
Archive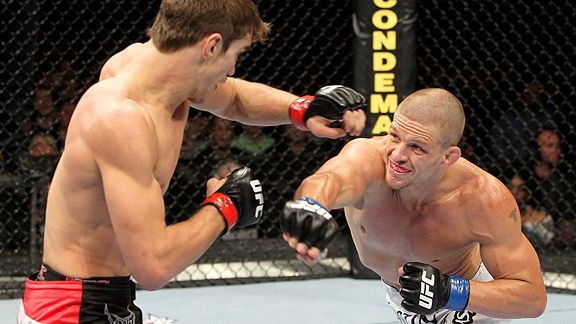 Josh Hedges/Zuffa LLC/Getty ImagesSooner or later, fighters will realize Mike Pyle doesn't make a good stepping stone.
In this ESPN.com blog, welterweight Mike Pyle discusses training, his upcoming UFC 133 bout with Rory MacDonald and why he has a knack for upending up-and-comers.
I never view myself as an underdog going into any fight. Even if the odds have me as an underdog, I can't let that play on my mind. It means nothing. Being an underdog or favorite isn't going to make me fight any better or worse. You've got to forget all that and just focus on the task ahead. I know how good I am and how good my opponent is, and I can guarantee that I know more about this sport than the guys who determine underdogs and favorites.
So, it comes as no surprise to learn that a lot of people are backing this kid
Rory MacDonald
to defeat me on Aug. 6 at UFC 133. I'm sorry, but I'm not letting a kid who still gets ID'd stand in my way of getting a welterweight title shot. A lot of these kids get a lot of hype built around them and they receive a lot of praise through potential rather than any real achievement.
John Hathaway
was the same, just before I beat him at UFC 120 in October. John was a very talented fighter who had just beaten
Diego Sanchez
, and many people expected him to just walk right through me in his hometown of London. It never happened. Instead, I went out there and dominated him for three rounds. The crowd went silent as a library and John lost his unbeaten record.
People acted surprised by what happened, but let's look at the facts for a moment. As talented as he may have been, John had never beaten a welterweight in my league up to that point. I was a better fighter than John at that stage and was also far more experienced and those experiences made me tough.
When Hathaway tried grabbing a hold of me in the first round, the kid grabbed on to a grown man and ended up getting his ass whooped. He finally knew what he was getting into as soon as he felt my man strength in that first minute. Suddenly he wasn't messing about in the paddling pool no more.
I knew right off the bat that I had Hathaway's number, and nobody could tell me otherwise. I don't give a damn if he was favorite or the best thing since King Kong. I have eyes -- and I know mixed martial arts. I watched his videos, I studied his style, and I knew it would be a straightforward win for me. Nobody believed me at the time, but I knew I was right.
Hathaway and MacDonald are two completely different fighters with completely different styles, but their prefight hype is similar. Both are highly thought of and both bring lots of attention with them. That's great for me, though, as everybody will expecting big things from Rory, only for me to then walk in and upset the applecart, just like I did with John in London. These guys are doing the hard work for me.
The UFC like to build stars and they like to invest a lot of time and effort in these young kids coming through. It makes sense and I get it. What I don't understand, though, is why anybody would think the likes of Hathaway or MacDonald can use ME as a stepping stone to the next level. That will never happen in a million years. I am not the guy you want to face if you're carrying that kind of hype and expectancy with you.
Let's be honest, I was winning fights when Hathaway and MacDonald were rushing home from junior high to play with their Pokemon.
I've put in the work, the time and the blood, sweat and tears, and yet these kids think they can come into my office and beat me at my own game. It isn't ever going to happen. While these young fighters were leaving school and wondering what they wanted to do with their lives, I was already fighting in rings and cages up and down the country. They were thinking about doing it, and I was out there busting my ass and actually doing it. I've paved the way for these kids.
Regardless of age, I feel that I'm a much better fighter than MacDonald right now, and I'll prove that on the night. MacDonald will be in there with a bigger, stronger and more experienced fighter and he won't know what to do. I'm going to break him …
July, 14, 2011
7/14/11
8:09
AM ET
By Mike Pyle
Special to ESPN.com
Archive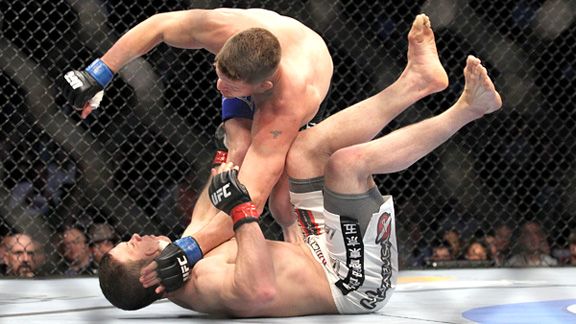 Ed Mulholland for ESPN.comGoing strong: At 35, Mike Pyle is now just finding his stride in the Octagon.
In this ESPN.com blog, welterweight Mike Pyle discusses training, his upcoming UFC 133 bout with Rory MacDonald and why he has a knack for upending up-and-comers.
Everything is going just fine in camp right now and I'm right on schedule with where I want to be. You never like to take things for granted at any stage of camp, but it's fair to say I'm very happy with my progress at this moment in time. As I write this first blog, I feel like an unstoppable machine.
I've been doing martial arts for more than half my life now and training and competing are two things I am almost programmed to do. I don't know what I would do with my days if I didn't have to train. Fighting is what I do, and it's the reason I get up in the morning. I've never been happier to be a fighter than I am now at 35 years of age.
You simply don't have to motivate a guy like me. I don't need motivation to train and I don't need motivation to fight. I'd be doing this thing even if there wasn't a great outlet like the UFC to do it in. Fighting is in my DNA.
I've been training for this fight against Rory MacDonald at UFC 133 pretty much since my last win over
Ricardo Almeida
back in March. I took a little time off after that victory to go fishing, but, as soon as I got back on dry land, I was in the gym and raring to go. I ticked over for a few weeks, kept in good shape, and then got this great opportunity and against MacDonald.
Looking back at my last performance, I would have loved to have gotten a finish against Almeida. There were a couple of times when I nailed him with good shots and probably should have knocked him out. All credit to him, though -- he showed some toughness and spirit in there. Overall, I went in and did the job I needed to do against a guy like Ricardo. I executed the game plan we had worked on in training and did so with minimum fuss. Whenever you dominate a fight the way I did, you've got to be happy with things.
I believe I am at the peak of my career right now. I have never felt better physically and have never been stronger mentally. There are a lot of other guys my age that were great in the past but are now struggling to find their past form in 2011. It's starting to trickle away from them and years of hard grind are catching up a bit.
Thankfully, I am not experiencing any of that and am, in fact, going through the reverse. I am only entering my prime now, at 35 years of age. I'm still figuring out how to be the best fighter I can be, whereas a lot of the guys my age have already been there and done that and are now coming back down the other side mountain. It's a nice position to be in.
I believe the reason I am now enjoying my best years is simply because I am being forced to get better on a daily basis. The challenges that the UFC present you with are so substantial that you must move with the times or else you will get left behind. I know I need to work harder and become better than I was 10 years ago, otherwise I'll be kicked out of the best organization in the world. In many ways, the UFC have made me the best fighter I can be.
In order to survive and compete, we must grow stronger as individuals, and that is what I am trying to do, even now at this advanced stage of my career. Unlike a lot of my legendary peers, I am still trying to make my way in this sport and am still aspiring to achieve my goals. I am not yet content with where my career has taken me. I still have plenty left to achieve and still have sights on that UFC welterweight title. I'm not doing this thing to get on television. I want to fight
Georges St. Pierre
, I want to become world champion and I won't let some 21-year-old kid named Rory MacDonald stand in my way of doing both …

Follow Mike Pyle on Twitter @Mike_Pyle.