November, 3, 2014
Nov 3
6:39
AM ET

By Brett Okamoto
ESPN.com
Archive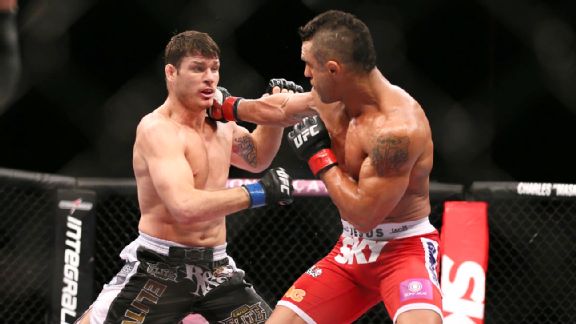 Susumu Nagao for ESPNMichael Bisping promises he won't get caught up in the moment when he faces Luke Rockhold.
Michael Bisping
swears he doesn't know why he's involved in so many personal feuds.
Except this latest one with
Luke Rockhold
. This one, Bisping says, is probably his fault.
It's been well publicized by now that Bisping (25-6) rubbed Rockhold the wrong way when he spoke about a sparring session between the two in California years ago. At the time, Rockhold (12-2) was the Strikeforce middleweight champion. When asked to describe the closed-door session, Bisping joked he was the "unofficial" Strikeforce titleholder.
The feud has grown from there and encompassed everything from a potential side bet (sadly, no final terms were reached) and an incident at a coffee shop in Macau, where Bisping says Rockhold confronted him and his father.
The two will finally square off this weekend in Sydney. The UFC Fight Night bout takes place on Saturday locally, but airs on UFC's Internet subscription service Fight Pass on Friday at 10 p.m. ET.
Bisping, 35, says he enjoys the back and forth that often goes on prior to his fights -- but promises what you see is what you get. The Brit says he's never "faked" a rivalry, so to speak, in order to sell a fight.
"

They've all been real. Maybe I rub people the wrong way. I think a lot of it has to do with the fact I'm fighting somebody and that's just my mindset. This isn't one-on-one basketball. We're fighting. They say they are better than me and I take offense to that. In this respect, Luke is really the one going off. He said he actually hates me with a passion.

"

-- Michael Bisping, on his rivalry with Luke Rockhold
"They've all been real," Bisping told ESPN.com. "Maybe I rub people the wrong way. I think a lot of it has to do with the fact I'm fighting somebody and that's just my mindset. This isn't one-on-one basketball. We're fighting. They say they are better than me and I take offense to that. In this respect, Luke is really the one going off. He said he actually hates me with a passion."
In addition to being real, Bisping says the heat between him and Rockhold could very well be something that works to his advantage.
Bisping has performed at a high level of consistency during his eight-year UFC career, but admits that twice in the past, his prefight feelings might have impacted him in a negative way.
In July 2009, Bisping suffered a second-round knockout loss to
Dan Henderson
, whom he had just coached against on "The Ultimate Fighter" reality series. While he's accepted responsibility for the loss numerous times since, he has also pointed to a severely overdone training camp, which had him fatigued heading into the bout.
In February 2011, an emotional Bisping defeated
Jorge Rivera
via TKO, but not before he faced potential disqualification for an illegal knee in the first round. Rivera had gotten under Bisping's skin before the fight with a series of mocking Internet videos.
Bisping says he's learned from those experiences, whereas Rockhold, perhaps, has not.
"I'm way too long in the tooth to make those kinds of mistakes anymore," Bisping said. "I'm going to go in nice and calm and put a beating on this guy. I'm not going to go out wild, which he may do. Whenever I'm in the same room as him, you can see him fighting the urge to get up and punch me. On the flip side, I'm looking at him with a big smile on my face."
Rockhold, 30, has stated emotions won't be an issue.
[+] Enlarge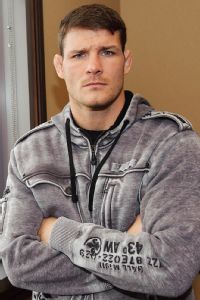 Al Powers for ESPNMichael Bisping is keeping his emotions in check ahead of a highly volatile showdown against Luke Rockhold.
The former Strikeforce champ made that mistake in his UFC debut against
Vitor Belfort
. Rockhold blasted Belfort's use of testosterone-replacement therapy (TRT) at the time and went on to lose the May 2013 fight via knockout in the first round.
"It's different in a lot of ways," said Rockhold, on his current rivalry with Bisping. "I'm just being a lot more confident in myself and letting things be. Letting things go.
"If you see me in the cage [against Belfort], I was nervous about his speed, striking -- just emotionally invested. I was staring at him, mean-mugging him the whole time. It was a crazy experience being in Brazil, fighting him, psyching myself up in the wrong way. My eyes were pure red. I was coming after him like crazy, man."
If Bisping does have any sort of mental advantage over Rockhold as he suggests, he will need to maximize it. Oddsmakers have Rockhold listed as a more than 4-1 favorite in the 185-pound bout.
Speaking about the fight itself, Bisping admits Rockhold has no glaring weaknesses. A 21-fight veteran of the UFC (who has never once competed for a title), Bisping says he's completely at ease with what he'll face in Sydney, however, and swears that rivalry or not, he's in the best place he's ever been mentally.
"In the past, when I fought big names, I was caught in the moment a bit," Bisping said. "For all the times I've fought in the UFC, except for my last fight, I've never fought to the best of my ability. It just matters so much to me, I get so worked up. I would take these small things and build them up in my mind.
"I truly believe I'm going to win this fight. I think it will play out on the feet and I think he'll look for takedowns. He probably say my fight with
Tim Kennedy
and thinks he can exploit a weakness there. He'll find out there is no weakness and I think I'll be too fast and beat him to the punch every time."
May, 10, 2012
5/10/12
4:10
PM ET

By Chuck Mindenhall
ESPN.com
Archive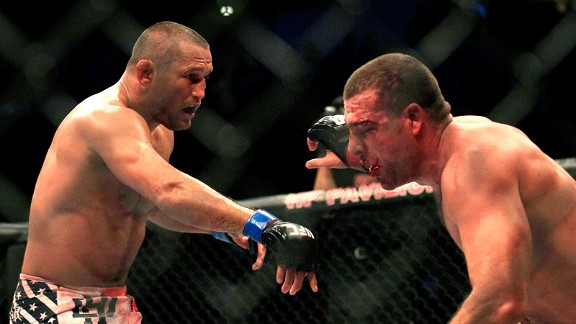 AP Photo/Jeff ChiuDan Henderson's potent right hand could be trouble for light heavyweight champ Jon Jones.
There are at least two kinds of greatness in MMA. Greatness that's current (like
Jon Jones
), and greatness that's always been (like
Dan Henderson
). In a world of immediacy, we warm our hands more quickly to the former.
Henderson now knows the date for his title challenge with Jones, and that'll be Sept. 1 in Las Vegas. He will celebrate his 42nd birthday just a week prior to the fight. In 1987, Jones was being introduced to onesies while Henderson was reciting lines from "Vision Quest" and winning state wrestling championships at Victor Valley High School in California. The vegetation on his ears is older than Jones.
If nothing else, Hendo definitely has the experience edge over the UFC's current light heavyweight champion. He's been at it a long, long time. Yet the books opened in Las Vegas with Jones installed as a 6-to-1 favorite for this UFC 151 clash. The 24-year old Jones would be a huge favorite over anybody in the 205-pound division, so nothing peculiar there. There's no such thing as even money bet with Jones in 2012, unless he borrowed from Anderson Silva's flight of fancy and fought his clone. (Ahem).
Yet what is interesting all these months ahead of the fight is that so many people consider it a foregone conclusion that the prodigy will smash the old ax grinder. In fact, the thing is being discussed as inevitable. Forget about odds,
Henderson has no shot
.
In a game that deals in shaping perception, this becomes the UFC's task to mend for no other reason than this: it's hard to generate buzz on a perfunctory matter. Between now and late summer the idea needs to be that Henderson
does
have a shot. This of course would be best sold as something believable.
And realistically -- why should that be such a tough sell?
Surely over the course of winning simultaneous titles in Pride FC and later taking the 205-pound belt in Strikeforce there should be some love for Henderson here. His list of casualties in the UFC, Pride and Strikeforce -- pan-divisional -- is next to impossible. He was wrecking guys like
Antonio Rodrigo Nogueira
,
Vitor Belfort
and
Wanderlei Silva
during their heydays.
As for his own prime? It's apparently a dozen-year venture. Henderson knocked out
Michael Bisping
with that anvil right at UFC 100. Since then he finished
Renato Sobral
,
Rafael Cavalcante
and
Fedor Emelianenko
, and he decisioned
Mauricio Rua
at UFC 139. He did these things in his late-30s and early-40s. These are feats that, if lost on the media, aren't necessarily lost on his peers.
Last week on MMA Live,
Jorge Rivera
had Henderson in his top five pound-for-pound fighters.
Daniel Cormier
told MMA:30 that he "should be mentioned as one of the greatest fighters of all-time, if not the greatest fighter of all-time, but he's missing that UFC title. He has to be a UFC champion. I think if he is, Dan Henderson will universally be considered the best fighter of all-time."
To be considered anywhere near the greatest of all time you'd have to believe Henderson has more than a puncher's chance to beat the greatest of right now. Yes, Jones' landslide run through the division trumps Henderson's legacy in forecasting how things will play out. If Shogun,
Quinton Jackson
,
Lyoto Machida
and
Rashad Evans
failed to make Jones appear even remotely vincible, what makes Henderson any different? Nothing, it seems.
Jones is not only destroying opponents, but also our sense of imagination.
Yet the other reason that Henderson is unsung goes back to what Cormier was touching on -- he has been decorated as this sort of fugitive champion in other organizations, but not the one that we store greatness by. He hasn't made it to the top of any weight class in the UFC.
And at 42 years old -- or any age, really -- Jones looks like a pretty imposing hurdle to get there. Imposing, that is, not unclearable. Henderson's a guy that fights in squalls and yet has remained a lesson in perseverance for more than a decade. He has a chin, and what he gives up size he makes up for it in leverage, a tangible from his Greco-Roman days. And he has that "H-Bomb" right hand. He's smart on how and when to deploy it.
Does all of that make for a competitive fight with Jones? Not necessarily. It still feels like a reach, as it will continue to feel until Jones is downsized into something human.
Yet given how long Henderson has sustained his own brand of greatness, it doesn't feel like a given he'll lose, either.
January, 24, 2012
1/24/12
2:19
PM ET

By Chuck Mindenhall
ESPN.com
Archive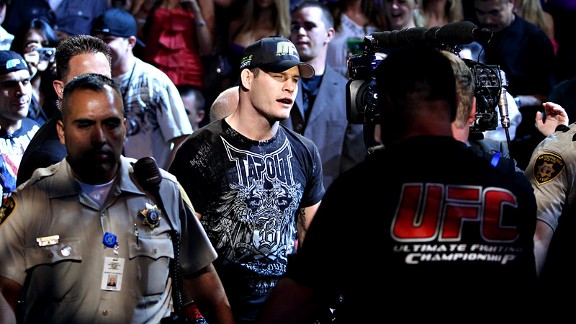 Ed Mulholland for ESPN.comWill Michael Bisping's Octagon experience kick into high gear come fight time?
It's been a long while since
Michael Bisping
was an underdog heading into a fight. In fact, the last time was back in 2009 when he fought
Dan Henderson
at UFC 100. On that occasion, with all the tensions of the "Ultimate Fighter 9" still playing in the shallows of public perception, the Brit showed up as a 2-to-1 dog. And even then there were a lot of people that thought Vegas was sleeping on Bisping a little bit. (By the time Henderson's right hand sent Bisping into the twitches, the line was long forgotten).
Since then the "Count" has been the "Bully" in Joe Silva's matchmaking.
Jason Miller
,
Jorge Rivera
,
Yoshihiro Akiyama
,
Dan Miller
and
Denis Kang
were all long shots to beat Bisping. Ditto
Wanderlei Silva
, who managed to spring the upset. For the last three years, Bisping has grown used to being the mark, not the marksman. He's been batting down the grabbing hands of opportunists on his climb, rather than clutching at the ankles of the guys above him.
That changes in Chicago. Against
Chael Sonnen
-- who fell to Bisping when
Mark Munoz
had to pull out of his scheduled fight with bone spurs in his elbow -- he is a 4-to-1 underdog.
This is unusual terrain for Bisping. And it's an incredible line for a guy who has won four in a row (finishing his last two). In fact, it's the kind of line that says two things: 1) For the last three years Bisping has had a cushy schedule for a guy who considers himself "title ready," and B) we now view Sonnen as a tyrant. In the time it's taken Bisping to make his way up the rungs enough for a bigger challenge, Sonnen has transformed from a journeyman to a contender, from an afterthought to a showman, and from cusp prelimer to PPV headliner. He contradicts himself ruthlessly in the media, but he keeps beating guys (coldly, methodically) and came close to cashing in Silva, too. The Sonnen case is one for 18th century exorcists.
Or maybe Malcolm Gladwell.
But Bisping has always been Bisping. And to become something other than Bisping he'll need to beat Sonnen, who also happens to be the guy he can take his cues from. Sonnen stood as a lofty underdog against
Yushin Okami
at UFC 104 and
Nate Marquardt
at UFC 109. Heading into that stretch he scored a workman-like decision over Dan Miller, and before then had lost to
Demian Maia
(triangle choke). So what did he do? The only thing he could. He laid the pestle down on top-ranked Okami in a fight many thought he didn't deserve, then ransacked Marquardt for three straight rounds to the point that he suddenly looked like a real impediment for
Anderson Silva
.
Out of nowhere, Sonnen beat two top-end guys who were trying their damndest to get back to Silva. This time it's Sonnen who is trying to get back to Silva (even if he says otherwise), and it's Bisping's chance to spoil that return trip. In other words, here's Bisping's chance to become Sonnen. Win it, and he'll assuredly be an underdog in his next fight, too. That's the goal -- Sao Paulo against longer odds still.
Yet lose, and it could be another three years before Bisping's an underdog again, and that's no kind of consolation.
July, 22, 2011
7/22/11
7:48
AM ET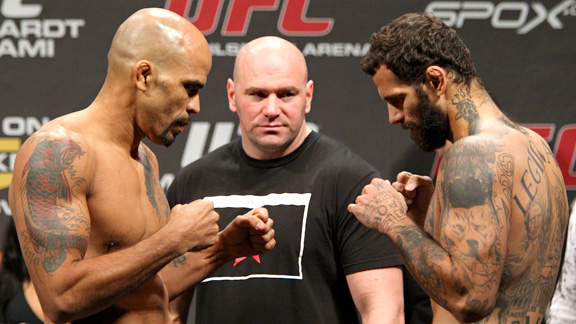 Josh Hedges/Getty ImagesFight fans should see a better side of Jorge Rivera, left, in his next outing.
Jorge Rivera
may be closing in on 40, but he's game to do hour-long runs up Albuquerque's Sandia Peak if he has to. And when he was working out with
Tim Kennedy
over the last couple of weeks -- in choking 100-plus degree desert heat -- turns out he had to.
Rivera just spent 11 days in New Mexico prepping for
Alessio Sakara
with Greg Jackson and his team. He trained with the Jackson collective in the mornings, but left it up to Kennedy to occupy his afternoons. That, he says, was a particularly dumb and masochistic thing to do.
"I was basically doing everything that Tim Kennedy did," he told ESPN.com. "Let me tell you, I've worked out with a lot of people, and I have yet to see anything quite like that man. I am being dead-honest when I tell you that. He is an animal of a different breed. It's unbelievable.
"I've done a lot of work with a lot of guys, and I've never done anything quite as intense as what he does. He's not one of these guys who's 'rah-rah' while you're doing it -- he's right there beside you doing the workout, motivating you with his own work. He really pushed me."
Rivera is mixing things up a bit for his UFC 133 fight with Sakara on Aug. 6, alternating camps between New Mexico and his usual digs in Massachusetts. It's the third time he and Sakara have signed on to fight one another, and this time it looks like the fight is actually going to take place (yet with the way the UFC 133 card has gone, you never know). As far as hype goes, this one couldn't be any different from the lead-up to his last fight with
Michael Bisping
at UFC 127, when Rivera was busy turning the Brit's pupils black with derisive videos beforehand.
[+] Enlarge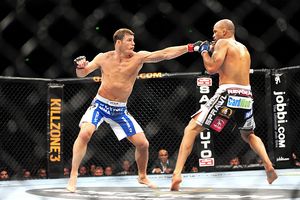 Martin McNeil for ESPN.comMichael Bisping, left, found a way to quiet Jorge Rivera when they met in the Octagon.
This time it's a quiet focus towards the Italian brawler Sakara, and, after more than a dozen years in this racket, Rivera's cool with "quiet" too.
"Man, I enjoy it all," he says. "I enjoyed the last fight -- if I said I didn't I'd be lying. I enjoyed making the videos, the good and the bad, all of it. That's life. I don't sit there and dwell on the negatives. I had a lot of fun getting underneath his skin, and watching him go nuts over silly things. Not only that, but [Bisping] set himself up to be tortured by anybody else who's going to be fighting him in the future. I had fun knowing that too.
"I realize we're in the business of entertainment, and people were entertained. More people wanted to see that fight due to those videos than anything else. They brought more attention to the fight."
The Bisping fight ended bitterly for Rivera, who took an illegal knee while still down that signaled the beginning of the end in a TKO loss. He says he wants to fight a couple of times before returning to that piece of "unfinished business," but right now he's going about preparing for a fight with Sakara in which he feels the outcome is all but certain. Somebody -- and Rivera concedes it might be him -- is going to require smelling salts by night's end.
"Yeah, I just don't see it going any other way," he says. "It's what the fans want. If a submission could happen, I'd take it. But that's not how I see it going. I see one of us getting knocked out."