February, 13, 2013
2/13/13
2:21
PM ET

By Franklin McNeil
ESPN.com
Archive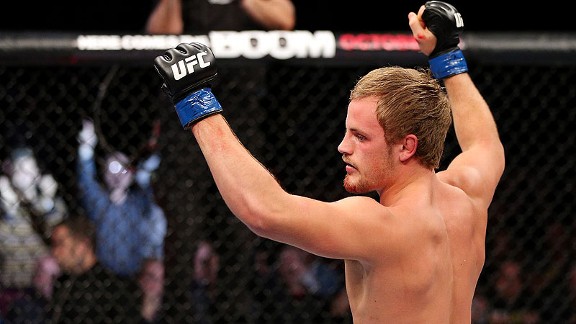 Josh Hedges/Zuffa LLC/Getty ImagesUnbeaten welterweight Gunnar Nelson is looking to join the UFC's short list of must-see fighters.
A majority of fans watching live Saturday at London's Wembley Arena, or on television sets around the world, are eager to see
Renan Barao
,
Michael McDonald
,
Cub Swanson
and
Dustin Poirier
show off their talents inside the Octagon at UFC on Fuel TV 7.
Each of them is known to the most casual mixed martial arts enthusiast. All are established main card-caliber fighters, deserving of such attention.
But you'll probably need just one hand to count the number of people not directly associated with
Gunnar Nelson
that will be knocking over chairs to watch him face
Jorge Santiago
.
After the fight, however, Nelson will no longer be an unfamiliar entity to the general public. He will join UFC's list of must-see fighters. That's how high expectations are for the Icelandic welterweight, who sports a career record of 10-0-1.
Nelson will be making his second appearance inside the Octagon. He submitted
DaMarques Johnson
via rear-naked choke at 3:34 of the first round during his UFC debut on Sept. 29.
It was an impressive showing, but it came in the second bout on the UFC on FUEL TV 5 card from Nottingham, England, meaning not very many people saw Nelson's special talents that evening.
But UFC officials saw it, and were greatly impressed. Now they want everyone else to get a glimpse of what Nelson can do inside the cage.
Both Nelson and Santiago will test each other's skills Saturday on the main card. Just one UFC fight under his belt and already Nelson is on the promotion's main card; yes, he has high expectations to meet.
No problem. Nelson has been in this situation before -- maybe not to the degree of satisfying officials who run MMA's biggest promotion, but all who know of him continue to expect greatness at every level.
"He absolutely will win the UFC [170-pound] title," Nelson's trainer Renzo Gracie said. "I have no doubt he can beat the very best in the division. How fast he wants to win it is up to him, but I think he will beat everyone in the division within the next two years."
Nelson takes it all in stride. Why not? He's always prepared to be at his best on fight night.
"I don't think about expectations too much," Nelson said. "I need to stay focused on what I'm doing. People expect you to do great, but I can't think about that. You can get energy from people rooting for you, but it comes down to what you do in the gym every day."
The training regimen Nelson goes through and skills he displays at Gracie's New York City-based gym are legendary among those privileged to witness it. Whether on the ground or standing, Nelson dominates.
And it's no different on fight night.
Aside from a split draw in his MMA debut on May 5, 2007, (most who saw the fight say Nelson was robbed) he hasn't allowed judges to decide his fate. Nelson has finished every fighter put before him either by submission or knockout and not one of his past 10 bouts has gone into the third round.
It's the result of always being prepared for whatever might arise in the cage.
[+] Enlarge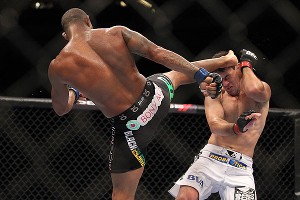 Ed Mulholland for ESPN.comJorge Santiago, left, stands in the way of Gunnar Nelson's potential coming out party in London.
"If I can get my opponent to the ground and move into positions that are solid, I like that plan," Nelson said. "But I also like to strike; I like to stand. You have to be great at everything. You have to expect and react to all situations. Sometimes you have to strike and sometimes you have to grapple."
Wherever the fight goes, Nelson believes he will have an advantage -- he's always confident of leaving the cage victorious.
On Saturday, Nelson will take that attitude into the cage against Santiago, a veteran with good submission and standup techniques who has finished each of his two most recent opponents in the first round.
Based on his recent success, Santiago (25-10) will walk into the cage on an emotional high. He, too, isn't lacking confidence despite taking this fight with Nelson on short notice.
Two very confident fighters should make for an action-filled encounter and Nelson wouldn't have it any other way. He's prepared for whatever happens and expects to walk away victorious again.
"It doesn't matter [that Santiago is a late replacement]," Nelson said. "There are some things you control and some things you don't. There is nothing I can do about it. Besides, I don't get too attached to my opponents.
"[Opponents] change all the time, so I just focus on what I'm supposed to do: train to be better and a more complete fighter. And that means focusing on the big picture, not one specific opponent."
Right now, that picture shows a fighter expected to make a lot of noise in the UFC welterweight division. Nelson will be heard Saturday.
And many more fans will knock over chairs to get a good look at him the next time he is scheduled to enter the Octagon.
April, 27, 2012
4/27/12
1:08
PM ET

By Chuck Mindenhall
ESPN.com
Archive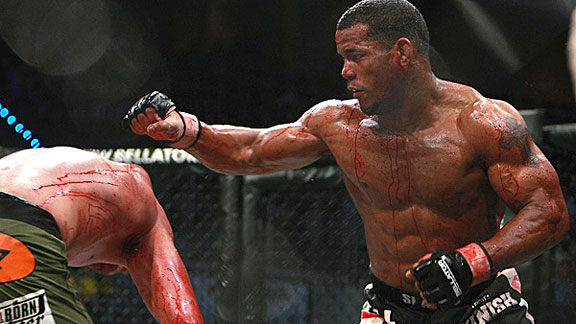 Dave Mandel/Sherdog.comWelcome to the big leagues: Hector Lombard won't get any soft touches in the UFC.
The one thing that any successful fighter heading into the UFC will hear is this: He's overrated. He hasn't faced any real competition. Somebody's about to come crashing down to earth. Somebody is about to get exposed.
That "somebody" this time happens to be
Hector Lombard
, the popular Bellator middleweight champion who has rattled off 20 victories in a row, including eight as the company's flagship. Lombard is a menace at 185 pounds and is sculpted like a Frank Frazetta overlord, but the big gripe against him is he's beating guys named Falaniko Vitale and Herbert Goodman instead of cats like
Mark Munoz
and
Rousimar Palhares
.
All that changes, now that Lombard makes his way to the UFC. Instead of facing UFC castoffs like Jay Silva and Joe Doerksen, the 34-year old American Top Team fighter will face UFC regulars. It's a completely different vantage point. Lombard's new assignment is to
covert
guys into UFC castoffs rather than feast on what's left of their good names.
Here's a quick look at five guys who would make for mean welcoming parties for "Shango."
Brian Stann
Back when
Jorge Santiago
had built up a new head of stream in Sengoku, he became a popular dark horse pick against Brian Stann at UFC 130. What did Stann do? He punched the daylights out of him. And wouldn't you know that just as Lombard brings his 25-fight unbeaten streak into the UFC, Stann is coming off a big victory over
Alessio Sakara
and needs an upgrade in opponent, just as all the bigger names are occupied?
Enter Hector Lombard. The great thing about this fight is both guys like to bang on the feet. Lombard is a precision striker who carries a lot of power. He likes to fight guys that get right up in his wheelhouse and tempt him into uncoiling. That's Stann, who makes it his duty to oblige brawlers. (And just as often, shut them down).
Jake Shields
Shields has bounced back and forth between 170 and 185 pounds, and after a fairly subpar run in the UFC's welterweight division, it looks like he'll bulk back up. Bottom line is, he wasn't losing to slouches, either --
Georges St. Pierre
and
Jake Ellenberger
(under trying circumstances, dealing with the passing of his father) never looked like easy outs.
But the last time we saw Shields as a middleweight he looked ... if not great, then totally resilient. He beat up
Jason Miller
for five rounds, and then improbably defended the Strikeforce belt against
Dan Henderson
in a fight he had his wits scrambled in the first round. Not to name drop, but Shields was the last guy to defeat Henderson, who is now set to fight
Jon Jones
for the 205-pound title. Think he wouldn't like to punch some holes in Lombard's lore? And for those desperate for storylines or loose patriotism, it'd be the battle of the Americas -- American Jiu-Jitsu versus American Top Team.
Luke Rockhold
Hey, while we're restocking the UFC's middleweight division with valuable intrigues, why not bring Strikeforce middleweight champion Luke Rockhold into the UFC fold to face Lombard? It's not the
likeliest
scenario, but Rockhold has just come into his own at a time when Strikeforce has become a weekend skeleton crew. Think he likes the idea of challenges named
Keith Jardine
or, maybe at some point, Bristol Marunde?
It's fun to imagine a Rockhold/Lombard scrap. You've got two guys who aren't afraid to fight in the pocket, each with a durable chin and sadistic intentions. It has "back-and-forth war" written all over it, a great UFC debut for both ... but it looks like Rockhold will get that long-awaited battle with Stikeforce contender
Tim Kennedy
, thus rendering this flight of fancy moot. Truth be told, we're merely throwing Rockhold's name out there in the off chance that matchmakers Sean Shelby and Joe Silva are combing the Internet for suggestions.
Ronaldo Souza
Again, we're dealing in Strikeforce property (read: ultimately Zuffa's), but Souza hates the pace of fighting once every six to eight months. And if the promotion
does
make Kennedy versus Rockhold, that means Jacare is going to be fighting some unmentionable. If the UFC brought Souza over to face Lombard, you've got the strutting fisticuffs that languished in Bellator for too long against the tall-grass predator with the aggressive, limb snatching jiu-jitsu. What better?
And how would that be for a red carpet rollout for both guys into the Octagon?
Ed Herman
You laugh. I can see you laughing. But let me put Herman's name into perspective. For one thing, he has been completely rejuvenated since coming back from his knee injury and setbacks, having won three fights in a row. For another, "Short Fuse" is a finisher just like Lombard. In every one of those fights he dusted his hands of the opponent, beginning with
Tim Credeur
(whom he TKO'd in 48 seconds) and ending with
Clifford Starks
(second round rear-naked choke).
The guy he beat in-between? Why that was
Kyle Noke
(via first round heel hook), the same guy who took Lombard to a draw back in 2007. Herman is creeping up on the pack in the middleweight class, and Lombard is a big step up in opposition. Here's the rub, though: So is Herman a big step up in competition for Lombard. Either Lombard could treat Herman as an appetizer to the main course, or he could, for the first time ever, find himself with a nostril full of smelling salts.
October, 18, 2011
10/18/11
12:19
PM ET

By Chuck Mindenhall
ESPN.com
Archive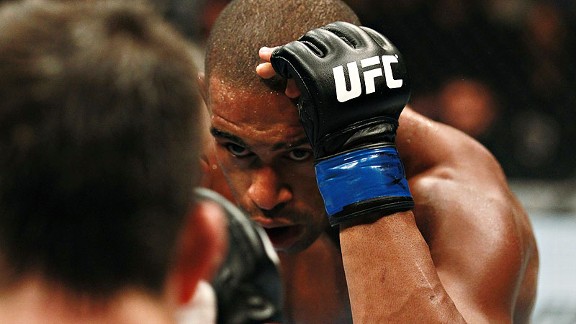 Nick Laham/Getty ImagesJorge Santiago has gone from eyeing a UFC title shot to looking for another employer.
The problem with hype is that it's always looking down on its subjects.
Jorge Santiago
came back to the UFC with a head of steam that was created (mostly) in Japan where he won 11 of 12 fights. Only one of those went to a decision, which couldn't help but raise the collective eyebrow at Zuffa. The UFC brought him back and fed him -- somewhat ceremoniously at first -- to its hungriest on-the-cusp contenders at 185 pounds. There was even talk that this version of Jorge Santiago could be a wildcard to challenge
Anderson Silva
but, you know how it is -- retrospect has a way of coloring faces.
The new Santiago, at first glance, looked remarkably like the
other
Santiago from his first UFC stint, the one who got knocked out by
Chris Leben
and
Alan Belcher
in 2006. He was tossed back into the Octagon with
Brian Stann
, who caught Santiago in the second round and then put him away with a barrage of punches. It was good enough for fight of the night honors, so there were silver linings. Even still, that familiar outcome turned the knob down from the hot talk to a "keep warm" setting.
Next thing you know, Santiago's on the UFC 136 prelims on Oct. 8, trying to salvage his job against former No. 1 contender
Demian Maia
, the meanest kind of consolation. It was the quietest intrigue fight on the card, and, as it turns out, for good reason -- Maia took him down for three rounds and worked his ground-and-pound. This was a unique wrinkle for a serial jiu-jitsu player in Maia, and it was a bland enough showing on the other end of it to get Santiago axed (a second time).
[+] Enlarge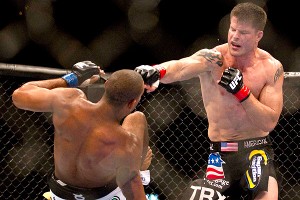 AP Photo/Julie JacobsonJorge Santiago never did manage to find his footing during his short time with the UFC.
Now he's either headed to Bellator to lend a hand in challenging
Hector Lombard
, or back to Japan where at 31 years old he can ante up again.
In other words, we may have read (way) too much into Santiago's return to the UFC -- but you can't help but feel a little for him, too. Getting dealt Stann and Maia back-to-back is a tough set of circumstances.
If the UFC could have spared a Riki Fujada or a
Constantinos Philippou
as opponents, maybe Santiago is still around right now. Instead, he was a ramp for Stann to launch into contention, and a life preserver for Maia to stay near it, and the only thing that went on besides was our expectations getting played with a little bit.
That's not the first time it's happened, and it won't be the last.
May, 29, 2011
5/29/11
12:34
AM ET

By Brett Okamoto
ESPN.com
Archive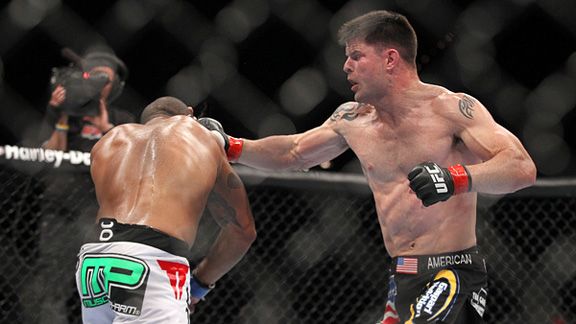 Ed Mulholland for ESPN.comBrian Stann earned a little extra cash on the side by knocking out Jorge Santiago.
UFC middleweight
Brian Stann
, who served time overseas as an officer in the United States Marine Corps, recorded a memorable knockout win over
Jorge Santiago
in the promotion's Memorial Day weekend event.
He took home some extra cash for his performance.
Stann (11-3) claimed a $70,000 bonus along with Jorge Santiago (23-9) for the "Fight of the night" at Saturday's UFC 130 event at the MGM Grand Garden Arena in Las Vegas.
It was the second time Stann has taken the award. The first was for his fight against Mike Massenzio at a UFC Live event in August 2010. The former WEC light heavyweight champion is now a perfect 3-0 since dropping to middleweight.
Also earning bonuses on the night, lightweight
Gleison Tibau
(23-7) took "Submission of the night" for his second-round win over Rafaello Oliveira and heavyweight
Travis Browne
(11-0-1) took "Knockout of the night" for his first-round victory over
Stefan Struve
. Each earned an additional $70,000.
May, 27, 2011
5/27/11
12:37
PM ET

By Josh Gross
ESPN.com
Archive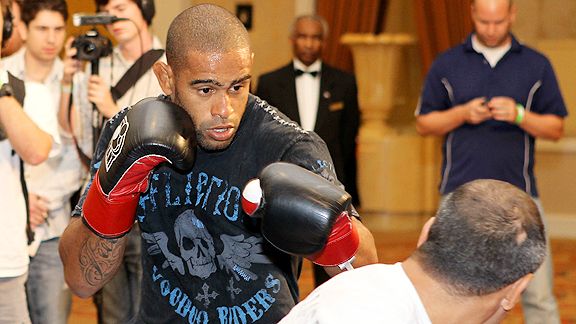 Ed Mulholland for ESPN.comNew and improved: Jorge Santiago has come a long way since his first stint in the UFC.
Jorge Santiago
may have been in the best fight you never saw.
If you're one of the lucky ones who caught Santiago's five-round gut-wrenching emotional wreck of a win against Kazuo Misaki in August, you know the deal. If not, the 30-year-old middleweight, a veteran of most major organizations (including the UFC in 2006), plans on something similar Saturday when he meets
Brian Stann
in Las Vegas.
"We're going to go inside the [Octagon] and fight for our lives," Santiago told ESPN.com. "I feel prepared. I feel I deserve to be there."
While Santiago's efforts over the past five years are prominent in his return to the UFC, so too are realities of the fight business in Japan, his competitive home since 2008. Contracted to Sengoku, a start-up promotion created in the wake of Pride's collapse, Santiago (23-8) was afforded strong paydays, serviceable competition, and the chance to resurrect his career. But as Santiago thrived with a 7-1 record over that stretch, Sengoku never gained a foothold with fans. That wasn't so much a failing of the promotion as it was an indication of just how far Japanese MMA had fallen since cresting in 2006.
On the same weekend Zuffa promotes UFC 130, kicking off a stretch of major fights in North America that lasts through the beginning of July, Dream, the Pride reincarnate, makes its 2011 debut in front of its smallest audience ever on May 29. In part that's because the card is considered a qualifier for the bantamweight grand prix tournament set to begin in September. But mostly it's an indication of where the industry stands right now.
"What happens moving forward, I honestly don't know," said Mike Kogan, a consultant and fighter liaison for Dream. "The plan is to keep going forward. When I spoke to Dream they said they want to continue. That's their plans. Right now they're holding an event. There's another one in July. K-1 is still restructuring, there's no actual event schedule yet. This year might not even have an event schedule."
"It's really been struggling with the downfall of Pride, Dream and K-1 having such financial issues, and now you've got more pressing matters than MMA with the tsunami and after effects," said MMA veteran
Josh Barnett
, who on Thursday hosted a benefit in Los Angeles to raise money for Red Cross disaster relief efforts in Japan. For years, Barnett cut his teeth in Japan's MMA leagues.
"The Japanese are incredibly resilient and just because they face tragedy [doesn't mean they] quit," Barnett said. "They're still putting on MMA shows. In fact, to an extent, it's almost as if they feel like now is the time to keep the people in good spirits."
Santiago certainly provided Japanese fight fans with lasting memories, especially in his final appearance against Misaki, which appropriately earned consideration as the best bout of 2010.
"It was a fight about who wants more. I have a lot of respect for Misaki," Santiago said of the former Pride welterweight grand prix champion. "He didn't stop. The corner had to throw in the towel to stop the fight. I'd like to have the same kind of fight on Saturday. We'll see."
Ranked No. 8 by ESPN.com at 185 pounds, Santiago acknowledged the only way for him to climb that ladder is inside the UFC.
"I just got stuck there for two years because I didn't have a chance to fight the guys above [in the MMA rankings] -- they're all in UFC," he said. "Now I think I'll have a chance to fight different, tough guys. I just want to prove myself and get better."
Though Stann (10-3) isn't considered a top-10 middleweight, the 30-year-old Marine does represent the type of puncher that troubled Santiago, who was not necessarily known for having the best chin during his previous UFC stint.
Said Santiago of Stann: "He's an excellent fighter. Every fight he showed he improved every time. He has a heart. He's a fighter like I am. We don't stop. We fight all over the place. I don't have nothing bad to say."
"We all know I have more experience," he continued. "I've been training [longer]. He has the heart and I have the heart."
Santiago said in the five years since he was released by the UFC, he became more professional and mature in his approach. In February, he departed American Top Team to form a new crew featuring the likes of
Rashad Evans
and Mike Van Arsdale.
"All that happened before, I learned and took advantage," Santiago said. "Some guys don't learn anything. I learned and worked even harder. I became a well-rounded fighter. I'm a different guy today. If I had to fight myself back in the day, I can't even pass for 30 seconds. I would destroy that guy."
But what about Stann? And contenders lying in wait? That remains to be seen.
April, 22, 2011
4/22/11
12:04
PM ET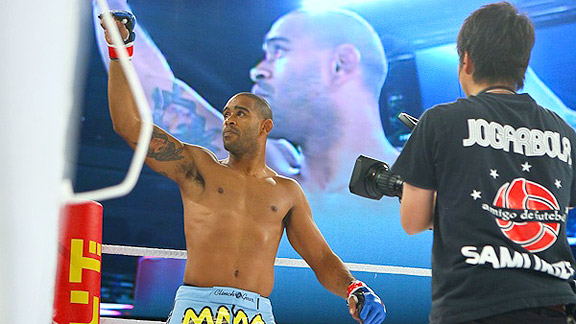 Daniel Herbertson/Sherdog.com The bigger picture: Coming full cirle has helped Jorge Santiago put things in perspective.
Since the start of 2011, Jorge Santiago's life has taken some drastic and unexpected turns, despite the fact that he has not once entered the ring or cage to compete.
The former Sengoku Raiden Championship middleweight titleholder has not fought since August, when he stopped Kazuo Misaki on a fifth-round technical knockout at SRC 14 in what became the Sherdog.com "Fight of the Year" for 2010. In February, Santiago was granted his release from his SRC contract and received an immediate invitation from UFC President Dana White.
"Dana was at the UFC 126 [news] conference when I texted my manager," Santiago said. "He got close to Dana and whispered that to him. Immediately, I was asked to get on a plane to the U.S."
Eleven days later, on Feb. 16, Santiago agreed to a multi-fight contract with the UFC. The whirlwind, however, did not end there. The 6-foot-1 Brazilian left American Top Team with Gesias Cavalcante, Danillo Villefort and Yuri Villefort to join former EliteXC heavyweight champion
Antonio Silva
, Vitor Miranda and Carlos Augusto Inocente Filho at the new Florida-based Imperial Athletics. By the time he reaches his return bout with former World Extreme Cagefighting light heavyweight champion
Brian Stann
at UFC 130 "Maynard vs. Edgar 3" on May 28, Santiago hopes to have spent at least three months training at the Boca Raton, Fla., camp.
"My decision [to leave American Top Team] coincided with my return to the UFC," he said. "There are too many athletes at ATT, and I had to seize the moment to focus more on myself, because I'm getting older."
Santiago, who turns 31 in October, has rattled off 11 wins in 12 appearances. He spent nearly a decade training at American Top Team, where he became one of the world's top fighters at 185 pounds.
"At this age, we start losing time instead of having more," Santiago said. "I just have to thank ATT for those eight years. [Trainer] Ricardo Liborio and everyone trusted me, but now I have more time to decide schedules and can train even harder. It has been working for me and the guys."
Back in the UFC after three exceptional years in Japan, the world-ranked middleweight contender feels reborn.
"I'm really motivated," he said. "I feel like a warrior who turned up a battle. I have a stronger mind, and I'm gonna win -- whatever it takes."
"

Dana [White] was at the UFC 126 [news] conference when I texted my manager. He got close to Dana and whispered that [he was granted a release from SRC] to him. Immediately, I was asked to get on a plane to the U.S.

"

-- Jorge Santiago, on finding his way back to the UFC
Santiago lost two of his three UFC bouts in 2006, cut down in knockouts to
Chris Leben
and
Alan Belcher
. If he was looking for inspiration to climb the middleweight ladder in the UFC quickly, he did not have to jog his memory much. Santiago agreed to help
Rashad Evans
train for his bout with Mauricio "Shogun" Rua at UFC 128. Evans, however, injured his knee and withdrew from the fight. Santiago never joined Greg Jackson's camp to train in Albuquerque, N.M., but he watched
Jon Jones
train during the week he was there. Jones, of course, steamrolled Rua to become the youngest UFC champion in history.
"I spent one week with Jones before he fought [Ryan] Bader [at UFC 126], and he is such a talent," Santiago said. "He has an enormous capacity to create. He's like a child that doesn't realize all that can go wrong, so he attacks every time. Jones' biggest opponent will be the pressure. If he learns how to deal with that, it will be a great strength for him."
More mature, Santiago feels prepared to face the heavy-handed Stann, no matter where the fight goes inside the Octagon. Stann, himself on the cusp of contention, will carry a two-fight winning streak into the cage. The 30-year-old last appeared at UFC 125 on New Year's Day, when he stopped Leben on first-round punches at the MGM Grand Garden Arena in Las Vegas. Stann has finished back-to-back opponents since dropping to the middleweight division following his February 2010 defeat to unbeaten prospect
Phil Davis
.
"Stann is a fresh blood and well-promoted guy," Santiago said. "The UFC trusts him a lot. It will be tough, but if he wants to beat me, he will need to want even more."
A slick ground fighter, Santiago has secured more than half (12) of his 23 career victories by submission. His list of victims includes Misaki, Golden Glory's Siyar Bahadurzada and 112-fight veteran Jeremy Horn. Most believe Santiago will have a decided advantage if the fight with Stann spills onto the ground.
"I take advantage on the floor, but nowadays, no one is a dummy on the floor," he said. "They know how to defend and stand up again. I'm preparing for every martial art, from jiu-jitsu and wrestling to striking. I will confound him everywhere in the Octagon."
Colin Foster contributed to this report.