June, 26, 2013
6/26/13
8:07
AM ET

By Josh Gross
ESPN.com
Archive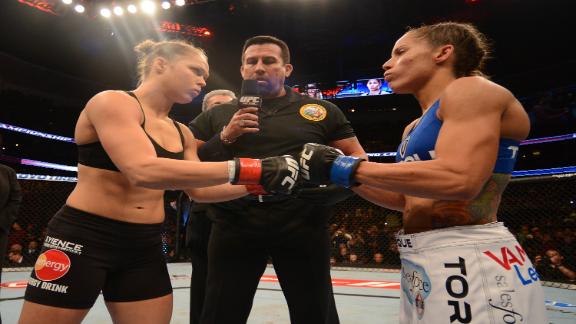 Josh Burkman
thought that guillotining
Jon Fitch
would be too risky to try.
So when he faced Fitch on June 14 at World Series of Fighting 3, Burkman made it part of his game plan to avoid using one of the first chokes learned by Brazilian jiu-jitsu white belts. He thought of it like this: Attempting to catch a guy with a reputation for being impossible to choke out
and
giving a guy who loves top position ... well, top position wouldn't be the best way to win their rematch.
A snapshot at the end of the fight says differently, of course. Considering the contest lasted only 41 seconds, with Burkman on the bottom and Fitch caught in a guillotine, you could say the plan went astray. Understandable, really, after seeing Fitch laid forcibly unconscious on the mat.
"A technical submission over Jon Fitch was definitely not what I was thinking how I would win this fight," Burkman said after being told his finish ranked atop ESPN.com's best submission list from the first half of 2013.
[+] Enlarge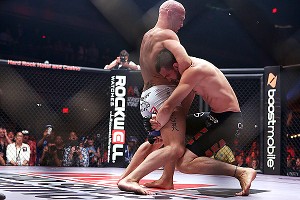 Dave Mandel/Sherdog.comChoking victim: By choking out Jon Fitch, Josh Burkman proved no fighter can't be submitted.
When he looked back on it a couple of weeks later, after the controversy surrounding referee Steve Mazzagatti's (in)actions subsided, the consequences of the victory hit home for Burkman.
"A win over Jon Fitch, in the way that I did it, helps me believe in myself and this comeback," he said. "I think my best years are ahead of me. I've been saying that for about a year and a half."
The 32-year-old Burkman won his fifth straight match and eight of nine since 2009, when he parted ways with the UFC after three years fighting in the Octagon.
One contest before signing on for the second season of "The Ultimate Fighter," Burkman was strangled cold by
Jeremy Horn
. "It happens in our sport," Burkman said. However, the finish was controversial at the time because Horn spit on Burkman immediately afterward -- a reminder that when you're out, there's no such thing as defense.
Getting choked cold isn't easily forgotten, never mind the indignity that comes with being spit upon. Burkman responded by making the ins and outs of guillotines a strength. Eight years after the Horn loss, just a week before meeting Fitch in the main event of WSOF3, Burkman was in the gym training a couple of guys seeking insight into finishing guillotines. They particularly wanted to work on tightening up the hold at the finish.
This proved fortuitous. "So the lesson there is help others because it helps yourself," Burkman said with a laugh while driving home to Utah after a family vacation.
He may not have wanted to submit Fitch the way he was about to, but Burkman recognized the end of the fight when he saw it. The instant the determination was made to go to his back, Burkman knew he could finish the fight.
"I felt him make one last-ditch effort to get out of it, and when he did that, right after he got done, I tightened it and I felt him go limp," Burkman said. "I knew he was out. I double-checked. For me, I just wanted to let everyone know the fight was over because I knew that nobody knew yet -- especially if the referee is still standing up over you."
The point of a submission choke is to prevent sufficient blood from reaching the brain, which induces it to shut down critical functions. Referees are supposed be aware of this and watch closely, because the longer a brain goes without blood, the likelier it is to be traumatized. Mazzagatti didn't move to separate the welterweights, so Burkman released, rolled Fitch off him and stood with a loud exhale.
"I don't think there's anything quite like a knockout," Burkman said. "But there's something about this choke that's the highlight of my career. I was glad the referee didn't step in and I was able to get up and celebrate the way I wanted to. As a fighter and mixed martial artist, you're trying to prove you can stop a guy, that your style of fighting is better than theirs. And any time you can put another person out cold, then you have definitively proved you were the better man on that day."
---
The next best:
No. 2: Kenny Robertson SUB1 via kneebar Brock Jardine: UFC 157 (Feb. 23).
Officially it's listed as a kneebar, but this needs updating. Robertson nearly snapped off Jardine's hamstring with this unique finish.
No. 3: Ronda Rousey SUB1 via armbar Liz Carmouche: UFC 157 (Feb. 23).
Ho-hum, another armbar for Rousey? No, not if you consider how deftly she negotiated her way to the arm. This was a pure finish for the UFC champion.
No. 4: Pat Healy SUB2 via rear-naked choke Jim Miller: UFC 159 (April 27).
Although a postfight drug test for marijuana overturned the result, Healy beat the hell out of Miller before finishing him with an angry hand-to-hand rear-naked choke.
No. 5: Fabricio Werdum SUB2 via armbar Antonio Rodrigo Nogueira: UFC on Fuel 10 (June 8).
Circumstances matter more than skill sometimes, and Werdum's verbal armbar submission over Nogueira in Brazil certainly qualifies.
June, 25, 2013
6/25/13
7:49
AM ET
A year ago at this time,
TJ Grant
had just earned a yeoman's decision over
Carlo Prater
, to the attention of almost nobody. He was 2-0 since moving down to the lightweight division, but there was a colony of contenders well ahead of him in what had become the UFC's most competitive weight class.
That's when the pride of Nova Scotia began crashing through all the obstacles in his way.
[+] Enlarge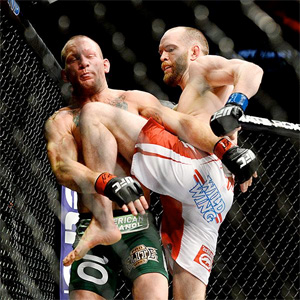 Al Powers for ESPN.comTJ Grant, right, has had a year to write home about following a devastating knockout win over Gray Maynard.
Grant, a perennial undercard name to this point, surprised many by beating the brakes off of
Evan Dunham
at UFC 152 for three rounds. That performance was good enough for fight of the night honors, and set him up for a confrontation with the surging
Matt Wiman
. This was a bout of classic matchmaking: It was two heads of momentum coming together on national television, with an unspoken understanding that top ten status was on the line. Entering the fight, Wiman had won five of six, and had just derailed
Paul Sass
a couple of months earlier in Nottingham.
Once again, most didn't see Grant coming. And once again, Grant forced our eyes open with his poised no-nonsense dominance, this time finishing Wiman in the first round by letting his hands (and elbows) go. It was the first time Wiman had been finished since catching that famous flying knee from
Spencer Fisher
at UFC 60 in his promotional debut.
Grant, the soft-spoken redhead from the remote northeastern town of Cole Harbour, had arrived. That TKO was how he kicked off 2013.
The thing is, Grant's encore at UFC 160 in May was better still, even if the stakes were sliding. When he battled
Gray Maynard
in Las Vegas, the promise was that the winner would get the next crack at Benson Henderson's title. However, this promise was somewhat qualified, aimed more directly at Maynard, who had hovered as the No. 1 contender since defeating
Clay Guida
. Maynard was guaranteed a shot with a win. For the lesser-known Grant, Dana White later admitted, he needed to win and do it emphatically to get his chance at the gold.
So what did Grant do? He won.
Emphatically
. He came in and knocked the bluster from Maynard early, before pursuing him around the cage and delivering power shot after power shot until Maynard slipped to the floor for good. A little more than two minutes into the biggest fight of his career, Grant emerged as the No. 1 contender in a weight class that hadn't exactly budgeted for woodwork contenders. If his approach seemed quiet, it's because we weren't listening. Grant pulled the trick of dawning on everybody slowly and all at once.
His impressive victories over Wiman and Maynard at the halfway point of 2013 is good enough to stick him at the top of this list. Now 5-0 since moving from welterweight to 155 pounds, Grant has earned his shot at Henderson and presents himself as a more than capable challenge.
You know what that means? He's a win away from becoming fighter of the year.
---
No. 2: Vitor Belfort.
What can you say about Belfort, who at 36 years old has become one of the game's more divisive figures, yet keeps drawing X's over guys' eyes? To close out 2012, he jarred Jon Jones' arm off its moorings in an otherwise one-sided fight. That was what it was. In 2013, though, he kept
Michael Bisping
from getting a title shot by headkicking him senseless, and then followed that up with a spinning-heel kick KO of
Luke Rockhold
. With the new mohawk as his warrior's mane, the old lion roars on.
No. 3: Josh Burkman.
In some ways, the World Series of Fighting couldn't have asked for a better outcome.
Jon Fitch
, who was ranked No. 8 on ESPN.com's welterweight rankings heading into his fight with Burkman, was a unique sort of UFC castoff who was supposed to rule his new terrain. That would have only served to show the depth of the UFC, that an expendable piece could be king elsewhere. Instead, it took Burkman 41 seconds to make a case that the face of the WSOF promotion was there all along. And how impressive was that choke?
No. 4: Pat Curran.
Speaking of faces of their given promotion, Pat Curran -- together with Michael Chandler -- has become exactly that for Bellator. Curran hasn't looked back since his 2011 loss to
Eddie Alvarez
for the lightweight belt. As a natural featherweight, he's gone 6-0 and now sits among the best in the world at that weight class. So far in 2013 he's held court, too: a hard-fought victory over
Patricio Freire
, followed by a first-round submission of
Shahbulat Shamhalaev
. At 25, he's only getting better.
No. 5: Glover Teixeira.
Teixeira has won what feels like 85 fights in a row (19 to be exact), and is 4-0 in the UFC. This would have most people in his position calling for an imminent title shot. Teixeira, on the other hand, is happy to just keep knocking the guy in front of him down. Adding
Quinton Jackson
and
James Te-Huna
this year to his long casualty list is enough to inflate the imagination as to what challenges he could present
Jon Jones
. By the end of 2013, we might just be in the shotgun seat to find out.
June, 15, 2013
6/15/13
1:30
AM ET

By Josh Gross
ESPN.com
Archive
Business is picking up for World Series of Fighting, and the promotion's third event, Friday evening at the Hard Rock Hotel and Casino in Las Vegas, provided a glimpse at the future of the company.
Jon Fitch
, the highest-profile WSOF signee since it began promoting late last year, proved to his dismay that time and space can matter when matched against
Josh Burkman
. Seven years ago, the pair met in the Octagonal confines of the UFC and Fitch won by rear-naked choke. Friday, it was WSOF's decagon, and in just 41 seconds Burkman did to Fitch what B.J. Penn,
Demian Maia
and a host of other dangerous submission artists could not.
After scoring a pair of hooks that wobbled the longtime UFC welterweight contender, Burkman pounced on Fitch's neck. Despite a reputation for stellar defense, Fitch disregarded the threat and went for a lift. He said afterward that he was "a little overconfident with my choke defense and was going to try and slam [Burkman]. But he locked it in too tight. Mistake on my part. I should have fought the choke right away."
Burkman went to half-guard after feeling the strangle tighten.
"I didn't want to go for the choke, but I felt it was tight," he said. "So I stood up with him to get him to stand, and I felt it get really tight. I locked it when he grabbed that leg."
Referee Steve Mazzagatti didn't seem to notice that Fitch went limp, so Burkman released the hold and politely scooted away.
This marked Burkman's third appearance for the promotion, and to this point, the 10-year veteran said, WSOF had "done everything they said they were going to do."
For an upstart fight promotion company, that's about as good as it gets.
Credibility comes with delivery. "Showing more than talking," Burkman put it as he drove to Las Vegas on Tuesday from Salt Lake City, where he trains at The Pit Elevated.
With WSOF signing a three-year TV deal with the NBC Sports Network, building relationships with major venues across the U.S. and signing known commodities such as Fitch to go with talented kids such as Justin Gaethje -- an unbeaten lightweight who won by technical knockout Friday -- Burkman's optimism is genuine.
"They've done everything they said they were going to do and some," Burkman said. "They treated me really well anytime I had an issue or wanted to negotiate anything, they were more than happy and open to talking about it. As long as they treat their fighters like that, they'll continue to grow and do well."
The 32-year-old welterweight washed out of the UFC in 2008 after losing four of his last five fights in the Octagon. He said WSOF has given him a chance to fight quality opponents on a visible stage, and for that he is grateful.
"The difference is the UFC has so many guys coming in and out, wanting to be in their show, fighting for less money, that the UFC can get away with treating their undercard fighters however they want," said Burkman, who praised Zuffa as the "major league of this sport."
"I think with the WSOF, I'm in a different position," he said. "It's a small organization with less fighters. It's kind of being a bigger fish in a small pond. I can get to the top of that heap and help the organization and help myself. I think that's a unique opportunity with the WSOF that I wouldn't have necessarily had with the UFC."
Berkman, a participant of the second season of "The Ultimate Fighter," isn't alone in that regard. The current WSOF fighter roster sits at 80, according to Ali Abdel-Aziz, WSOF executive vice president and matchmaker, and will remain in that area through the end of year. The company wants to give fighters an opportunity to compete, allowing prospects such as 24-year-old Gaethje a chance to shine and grow, and veterans such as Burkman a chance at a new lease on a fighting life.
Abdel-Aziz said winning is important, but "not putting pressure on fighters benefits them and benefits us." This is all designed with fun MMA in mind, yet that's hardly a guarantee, just ask
Jacob Volkmann
who wrestled his way to a win over
Lyle Beerbohm
on the undercard.
Burkman appeared on the first three WSOF cards, winning each bout, and recently re-signed for four more contests. He said he offered suggestions from the start, and, to his delight, WSOF executives have been receptive. Championship bouts weren't a consideration in WSOF until Burkman chimed up about it earlier this year. After dropping the rematch, Fitch said he's open to a rubber match, preferably five rounds for the inaugural WSOF title. If it happens, he owes Burkman a beer.
"I think I asked the right questions in that first show and they had to give me answers," Burkman said after winning his fifth straight contest. "I was just asking them so they had an easier road with other fighters. It helped them treat fighters like they needed to be treated."
Abdel-Aziz and Burkman both suggested WSOF president
Ray Sefo
, a fighter turned promoter who announced he's fighting
Dave Huckaba
in California at WSOF 4 in August, has been instrumental in relationship building with the athletes. Sefo "gets people to listen," Abdel-Aziz said.
The company's vision is always focused down the road, according to Abdel-Aziz, who managed
Frankie Edgar
and others before joining WSOF.
Currently, their intention is to flesh out weight divisions, which at 170 pounds requires bringing in names like Fitch when they're available -- despite knowing they could lose badly in 41 seconds -- and convincing prospects like Gaethje sign with them as opposed to UFC or Bellator.
"It's kind of cool to be part of an organization from the beginning," Burkman said. "I'll definitely take some pride in that. I'll also take a little pride in the fact that the better the fighters do, the better the organization does."
June, 14, 2013
6/14/13
12:05
PM ET

By Franklin McNeil
ESPN.com
Archive
Much has changed in the seven-plus years since
Jon Fitch
and
Josh Burkman
met in the cage: both are more seasoned fighters, experienced professional ups and downs and have new outlooks on life.
But each man intends to show just how much he has changed for the better Friday night during a welterweight rematch at World Series of Fighting 3 in Las Vegas.
The first fight, which took place during a UFC event on April 6, 2006, was dominated by Fitch, who won by unanimous decision. And while Fitch is prepared to face a more improved Burkman, he expects to dominate again during Friday night's main event.
"You can't put anything into [the first fight]," Fitch told ESPN.com. "This is a brand-new fight against a brand-new person. We're both much better than we were back then. Our skill sets are much more developed than they were back then.
"But my skill set has progressed further. There will be a bigger gap between us than in the first fight, with where I am in my skill set, my career and my life right now. I'm peaking as a fighter, and the next four years will be the best of my fight life."
Fitch (24-5-1 with one no contest) is excited to make his WSOF debut. And he intends to use this opportunity to change a negative perception fight fans have of him.
Despite being a perennial top-10 welterweight, Fitch has repeatedly come under criticism for putting on non-entertaining fights. But Fitch, a skilled wrestler who has relied heavily on this discipline to remain highly competitive in the welterweight ranks, proclaims that is about to change.
No longer hindered by concerns of being released by UFC, Fitch feels free to let it all hang out in the cage. He promises to be a more aggressive striker, especially while standing.
"I'm not going to be as reserved," said the 35-year-old Fitch, who is ranked ninth among welterweights by ESPN.com. "I'm not going to be as fearful; I didn't have a fight in UFC where I didn't feel my job was in jeopardy. We got threats years ago about 'if you lose this fight you're gone.'"
Possibly being out of work after Friday night's fight doesn't cross Fitch's mind. His thoughts are solely on defeating Burkman a second time and taking the next step toward becoming WSOF's first 170-pound champion.
Competing in WSOF has given Fitch a new lease of life and professional MMA. He remains fully driven to being a champion, but doing so with WSOF will put him in position to make history in a unique way.
"I want to be the first, I want to be the best and I want to be the most memorable," Fitch said. "I want to grow with this organization. And I want to help build it into one of the best organizations out there."
To reach this goal, Fitch must first settle matters with Burkman. Despite Fitch's very high confidence level heading into this rematch, Burkman is no pushover.
With a professional record of 25-9, Burkman also dreams of being the first man to wear WSOF's welterweight title belt. His motivation to succeed Friday night, however, goes much deeper.
Burkman became a father for the first time less than a year ago. The experience has changed his priorities and his attitude about being a professional fighter.
"Being a husband and a father has definitely made me grow up and expect the best out of myself," Burkman, 32, told ESPN.com. "Now it's not like I'm fighting for fun, I'm doing this to provide for my family and make a better life for my wife [Brandy] and my [8-month-old] son [Legend Joshua]. And that, at the end of the day, will bring out a new animal."
As a mature family man, Burkman avoids the one mistake that dogged him during his previous loss to Fitch – taking the opposition lightly. While both were relatively unseasoned fighters when they first met, Burkman had two fights inside the Octagon; Fitch had one. And Burkman's performances were more impressive -- a knockout and submission to Fitch's unanimous decision win.
Under the circumstances Burkman had no reason to concern himself with Fitch, or so he thought at the time. In 2006, Burkman didn't conduct himself like a professional fighter -- he didn't study tapes of opponents or control his weight between fights. He struggled often to reach the 170-pound limit and it negatively impacted his performance against Fitch.
That was then. Everything about Burkman today screams professional mixed martial artist; it is the man Fitch must overcome during their rematch Friday night.
"I underestimated Jon Fitch [in 2006]," Burkman said. "And I probably overestimated my abilities at that point in my career. I didn't know who he was. I wasn't quite the student of the game then that I am now.
"I'm a real mixed martial artist now. That's what people will see from me in my next few fights. And everything I do in my life is to become better at it."
March, 25, 2013
3/25/13
12:34
PM ET
Jon Fitch
wasn't good enough for the UFC, but he's (apparently) worthy of an automatic title bid in the World Series of Fighting.
In MMA, perception is everything. Not that
Josh Burkman
, who knocked out
Aaron Simpson
at WSOF 2 on Saturday to "earn" his own shot, is a fan of the idea.
Burkman thinks Fitch needs to beat somebody within the promotion before he can barge into the place and think about titles. Fitch, who was 14-3-1 in the UFC and will debut in June, has the greatest credentials never to be taken seriously. He has never known the red carpet treatment, either, so why should he now? Remember when he was about to fly off to join the cast of the original "Ultimate Fighter," only to be told -- while sitting on the tarmac -- that he didn't make the cut?
Life hasn't always been pretty for Fitch. This is why he's always gnashing his teeth.
Of course, Burkman may be forecasting here. He may be thinking about the task of trying to get up from under Fitch's onslaught of elbows. He may be thinking of the futile nature of simply "trying to stand back up" against Jon Fitch. Of the 14 wins Fitch scored in the UFC, 14 opponents were saddled with the project of staying off their backs against Fitch heading in. Fourteen found themselves on their backs come fight night anyway.
Burkman may sense something inevitable.
But Burkman won't ultimately decide who fights for the inaugural welterweight belt at WSOF. The decision will be up to WSOF president,
Ray Sefo
. If Sefo says Fitch, then it's Fitch. If he says it's Burkman versus Fitch, Burkman should just be happy his name isn't Abercrombie. Imagine the confusion that those posters would generate?
[+] Enlarge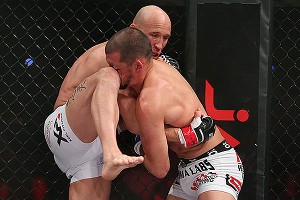 Dave Mandel/Sherdog.comJosh Burkman, left, should be more concerned about intriguing fights than a World Series of Fighting belt.
You know what would be novel, though? Have Burkman against Fitch
just for the heck of it
. Don't make it about glorified accessories like the other clubs. Don't create world titles. Just have the best guys go toe-to-toe. Tear down partitions, and put on "intrigue fights." Have Burkman and Fitch fight just because it's logical, at this point in time, to have them fight.
Imagine an MMA utopia that goes about business without the tyranny of gold-played belts. Where guys are free to roam weight classes in pursuit of the best, most ridiculous scenarios. Like former welterweight
Anthony Johnson
against former UFC champion
Andrei Arlovski
, perpetuated.
Bizarre = fun.
If
Quinton Jackson
joins the ranks, or
Josh Barnett
-- or whoever, as there will be plenty -- the idea should be that they join a pool of
possibilities
. Rather than former UFC fighters coming over to resurrect themselves as contenders and/or champions in a different setting, they enter the salt mines, baby.
Or something like that.
WSOF has a chance to build itself any way it wants. Why not do fan-friendly fights that are strictly about fan friendliness? Have people fight -- not desperately, but happily -- for simple relevance. The alphas will always stand out anyway. Who knows, it might be a lure, too. Those who hate structure can come to the Wild West, where fantasy matchmaking happens. The WSOF could make it about the best names that couldn't get at each other in the UFC (or elsewhere) coming together under their own banner. Anthony Johnson wants to fight "Rampage?" All too easily arranged.
Marlon Moraes
against, say,
Bibiano Fernandes
? Roll it out.
Tyrone Spong
against just about anybody from 205 pounds on up?
Here's a league of pure hospitality.
It's a thought. And, really, it's not a very original thought, as I've seen MMA Fighting's Ariel Helwani and others tweet similar ideas about a titleless landscape.
Ultimately there's nothing that says you have to have belts at the top of every weight class. Belts exist for a reason. They mean money. It's a game of thrones. We like belts and speculating on the hierarchy of contenders and to have belts hanging over all proceedings like surveillance cameras. But the UFC does that already. So did Strikeforce (mostly) and so does Bellator (periodically). To do that, you have to fill in weight classes and harvest talent. That's hard to do in the current landscape, not to mention tedious. That line of thinking "competes" with the UFC.
So make it about putting on the best available fights just for the sake of putting on the best available fights. If Josh Burkman doesn't think Jon Fitch deserve a title shot, fine -- remove the politics from the equation. Get rid of the notion of belts. That's so un-UFC. Would you have cared more if Arlovski/Johnson was for the heavyweight title? Probably not. They are, very consciously, UFC retreads (Arlovski even wore a UFC glove).
But that an unthinkable pairing should come together at WSOF gave it a fresh coat of intrigue. And you know what? That sort of matchmaking doesn't need titles.
October, 23, 2012
10/23/12
11:45
AM ET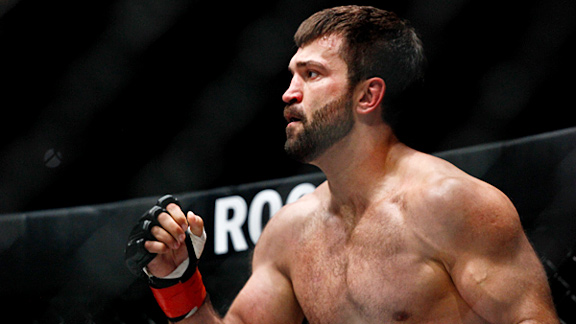 Sherdog.comAndrei Arlovski is just one of several well-known fighters participating in WSOF's debut event.
On Nov. 3, the date originally slated to be Daniel Cormier's big Oklahoma homecoming in Strikeforce against
Frank Mir
, the World Series of Fighting will host its inaugural show in Las Vegas. Strikeforce was canceled in the wake of injuries. That leaves WSOF, which will appear on NBC Sports Network, as MMA's Saturday night showcase.
A bit of serendipity, right?
It certainly can't hurt.
The WSOF is a fledging promotion that 41-year-old kickboxer/MMA fighter
Ray Sefo
is presiding over. You might be familiar with some of the names Sefo & Co. have been gathering to fill up its roster. UFC retreads, mostly -- but retreads with some miles left on them.
There's former WEC champion
Miguel Torres
, who was cut abruptly for mysterious disciplinary reasons. There's the no-longer-shrinkable
Anthony Johnson
fighting at 205 pounds. There's the fanged
Andrei Arlovski
, a requisite Gracie (Gregor) and upstarts like
Tyrone Spong
. On the undercard?
Gerald Harris
,
Josh Burkman
and JZ Cavalcante. Even
Waylon Lowe
will be in the building come Nov. 3.
Not a bad first roll, really.
"The goal for us is to provide another stage," Sefo, who was doing a media tour through New York, told ESPN.com. "There's so much talent, so many fighters out there who don't have a stage to go to. Obviously the mecca of MMA is the UFC. Our goal is to start slowly and then hopefully be as good or as big as the UFC. Obviously that takes a lot of time and you have to crawl before you walk."
If it looks like a lot of eggs in one basket, it is. WSOF is loading the first card to gauge things. Having spoken to people within the company, they're already blueprinting a January card, and there's a tentative goal of doing 10 cards. By card three? That's when they'll start talking title fights, Sefo says. But that's just projection, and in this racket, projection can barely raise an eyebrow.
The New Zealander Sefo knows that, and the idea is to take things slow, build up, and get better along the way. That's why, in a way, the WSOF will launch itself happily as a "fallback" option for guys trickling out of the UFC. They will begin as security.
But this isn't Affliction. They aren't trying to go head-to-head with the UFC. In fact, Sefo and the WSOF backers are fantastic admirers of what Zuffa has done over the years. It's to be an alternative. And it was created, in part, on fighter empathy.
"

... our goal is to make sure that the fighters are looked after. When the fighters are happy where they're at, they're going to come back every single time.

"

-- WSOF president Ray Sefo, on the treatment of his fighters
"This is a rough sport we're in, and it takes a lot of discipline, a lot of dedication, a lot of time away from families," Sefo said. "So being a fighter -- and I have experienced this myself with K-1 owing me so much money, as well as seeing it with other fighters -- our goal is to make sure that the fighters are looked after. When the fighters are happy where they're at, they're going to come back every single time."
Sefo could be a spokesman for fighters being taken advantage of. In fact, by spearheading WSOF, he sort of already is. Sefo recently told MMAFighting that he was owed $800,000 of back pay by K-1. How's that for a catalyst to action? In fact, some might say that WSOF is being overly generous with its pay. Gerald Harris, for instance, will make more in his first appearance with the promotion than he did in any of his UFC fights. And each fighter is signed to three- or four-fight deals.
As for the production of the event? Sefo says that here he takes his cues from the UFC, which operates as a well-oiled machine come fight night.
"I don't think there's much difference at all," he says. "Everything they do, they do it right and they do it big. They are an inspiration for us, to make sure we take the right steps, one step at a time and we do things right.
"But I don't think there's much difference at all [in terms of production]. Being a new company, for us, the next two to three shows is a learning process."
The first one will take place at Planet Hollywood Resort and Casino, and will be a cheap ticket for locals looking to catch the vibe live. "With the economy the way it is these days, we want to put a ticket out there that everyone can afford -- and everybody can afford a $20 ticket," Sefo says.
Beyond that, the feeling with WSOF is "let's see how the first one goes and not get too far ahead of ourselves." Not that there isn't optimism.
"Everybody that we've got on the card is excited," Sefo says. "I'm really excited to see everybody come out and perform. It's such a good card that there's no one particular fight that stands out as a favorite. We're very blessed with the card that we have.
"It's baby steps. Take one step at a time and see where it goes."