January, 24, 2013
1/24/13
11:29
AM ET

By Josh Gross
ESPN.com
Archive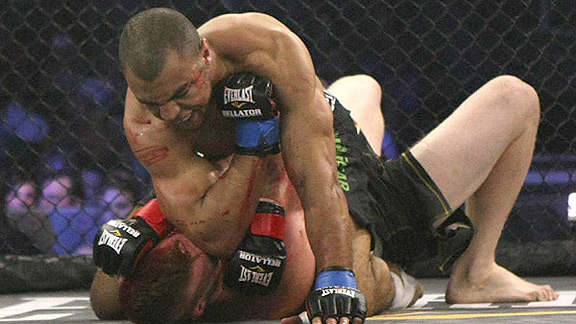 Sherdog.comBellator's Karl Amoussou and brother Bertrand continue their crusade as advocates for French MMA.
PARIS -- Thursday's mixed martial arts class at Lagardère Paris Racing had mercifully concluded. That much is clear after nearly 80 French men and women, crossing paths like waterlogged ants walking a trail, slapped five before dispersing into a damp late-September night.
Over the course of the previous hour,
Bertrand Amoussou
, the man in charge, converted a matted area the size of three side-by-side regulation basketball courts into a steam shower. Amoussou gets credit because the "judo room," located on the second floor of Lagardère's sprawling sports facility and home to several French Olympic champions, was mostly empty until his students showed up. Only eight people attended the lead-in judo session.
This has been typical of the 46-year-old Amoussou's experience at Lagardère, which is why Albert Pernet, a representative for the newly elected French government's ministry of sport, was on hand to bear witness.
This is what he saw: A diverse population of French citizens wearing MMA-branded garb, predominately labeled "UFC" or "Bad Boy," punching and grappling despite the French government and powerful interests throughout the country's entrenched martial arts communities having no palate for the combat sport.
"I confirm we remain totally opposed with a creation of a MMA federation in France," Jean-Pierre Mougin, Secretary General for the French National Olympic Committee, told ESPN.com.
No one wears more hats in French MMA than the Senegalese-born Amoussou. Some may know him as the older brother to mixed martial artist
Karl Amoussou
, who fights Thursday against Bellator welterweight champion
Ben Askren
in Thackerville, Okla. Others will remember him as the first French fighter to win a bout in Pride. He was a medal-winning judoka for France in the 1990 European Championships. He's a magazine publisher (and soon will be again). A broadcaster. An instructor.
Basically, Amoussou is the advocate for French MMA.
While MMA fans and media often look to Dana White and the Ultimate Fighting Championship to break down regulatory boundaries -- White promised again Wednesday that "people over there know" UFC is coming to France -- it's more likely, Amoussou believes, that change will happen from the inside.
"It's very important for the Minister of Sport [Valerie Fourneyron] that there is an evolution," Amoussou said. "That it's not [a situation where] everybody does whatever they want. It's important that we have a structure. I know she doesn't know anything about it, and the only people she talks to are against us. So I want to talk to her, not only about the fights, but the academies and educational programs for MMA. She's going to listen to that."
A couple of weeks ago Amoussou put the finishing touches on a graduated "belt" system for MMA. Among many students, his brother Karl, 27, stands alone. Emerging from a family of martial artists, their strict African father, who was a successful karate stylist, was fond of telling his boys, "I'm going to slap you with my foot." And he would when they got out of line.
Earlier in the day, well before the sauna, Karl, a judo black belt under his brother's care, got a workout in at a converted no-frills gym in northern Paris, where rain pelted its sheet-metal roof. With his title fight against Askren, a highly decorated American amateur wrestler, three and a half months away, Bertrand made sure to watch and instruct while Karl, an ex-undercover cop, moved enough to get a sweat going.
The plan was to be in solid enough shape to make the most of a three week trip to American Top Team in Coconut Creek, Fla. Instead, he spent more than two months preparing with ATT.
[+] Enlarge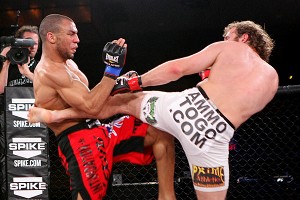 Keith Mills for Sherdog.comKarl Amoussou, left, is confident heading into Thursday's title shot against Bellator welterweight champion Ben Askren.
"It was not an easy decision but the training was so good I thought it would be stupid to go back to France," the welterweight challenger said, "especially with the level of wrestling in the U.S."
For the first time since turning pro -- a decision that was delayed a couple years more than Karl wanted because Bertrand refused to sign off until he was sure his brother was ready -- the Amoussous didn't regularly prep together for a fight. Not unless Skype sessions count.
"It was the first time without my brother, so it was unusual I have to say," Karl said. "But I had very good coaches at ATT. I really had what I needed here to be ready in the best way."
"It was the right time to make the move," Bertrand said. "He's happy. He's confident. I think he's going to put on a great show on Thursday."
Askren (10-0) doesn't buy it. He predicts Amoussou (16-4-2) will be "a lot easier" fight than
Jay Hieron
or
Douglas Lima
, his last two opponents.
"Karl's cardio is crap," Askren said. And the Frenchman's striking is "overrated," too, he said.
"He obviously knows that if he stands with me, he'll sleep," Karl said of the unbeaten wrestler. "It would be really stupid of him to try and stand. So, yeah, he'll try to take me down. I think he will box a bit more than previous fights. I'm just going to destroy him. I will hit him so hard he won't even get close to me.
"I think people are underestimating my judo skills. I'm telling you that he's going to end up on his back. I'm going to take him down. I think he's cocky and arrogant and not very smart. I don't have much to say about him. He's just trying to sell the fight the best way he can, which for me is not the best way to do it. His mouth is going to be shut at the same time as the door to the cage."
Askren, never at a loss for confidence or words, shot back: "I'm 4-0 against American Top Team guys, so I think I'm set."
Bertrand will work his brother's corner Thursday evening with the ATT crew. Then, a couple weeks later for AB Groupe, which broadcasts Bellator alongside other MMA properties on cable television in France, the elder brother expects to dub over French commentary of the fight. As much as it pains Bertrand to say so, victory for his brother probably won't mean much when it comes to getting MMA approved by French authorities.
Said Florent Jeanne, a 24-year-old fight fan who shows up to Lagardère a couple times a week for Bertrand's sauna sessions: "You need to change public opinion by communicating it's a real sport with athletes and morals and respect. People see it as cage fighting. They have a really bad image of the sport as crazy guys going in there to kill each other."
To no one's surprise, that impression populated the faces of the four traditionally dressed Aikido practitioners who cut their way through the humidity.
The mat was theirs.
November, 28, 2012
11/28/12
6:02
AM ET

By Josh Gross
ESPN.com
Archive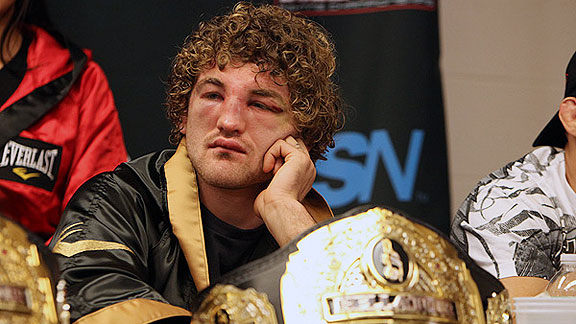 Dave Mandel/Sherdog.comBen Askren, one of the best welterweights in MMA, doesn't know where his future is.
If you're put on hold after dialing Bellator Fighting Championships' office in Newport Beach, Calif., it only takes a second to recognize the supercharged commentary of Sean Wheelock and Jimmy Smith.
Waiting to speak with Bjorn Rebney -- the promotion's promoter -- Wheelock and Smith happened to be screaming over Michael Chandler's epic finish last year of
Eddie Alvarez
, which was perfect, considering what I was calling about Tuesday morning.
Rebney published an open letter on Bellator.com on Monday stating the company's revised position on championship rematches. Essentially: Under the right circumstances, they would promote them.
The obvious place to begin would have been a second tilt between Chandler and Alvarez. Rebney said it's the fight he gets asked about most in airports and arenas during weekly jaunts from show to show.
There's very little doubt in Rebney's mind that "had Chandler-Alvarez happened today, regardless of Ed's situation, I would be on the phone probably four minutes after the fight with Kevin Kay at Spike network saying 'When are we going to do this again?' Because it would have had such a dramatic impact on viewership and fan response."
In reality, he's talking up the rematch that got away. Alvarez is a free agent currently negotiating with the UFC and Rebney sounds accepting of the former champion's likely departure. Still, the outcry to see Alvarez get a chance at avenging his title loss to Chandler, said Rebney, "got the wheels in motion" for change.
"I'm never going to be one that completely plants the flag in the ground and say there's no room for growth, there's no room for deviation," he said. "There's always room to make things better.
"There's always room to make the product better for fans, better for fighters. I think we did that."
Rebney is now promising that if fans call for a rematch, and if there's consensus from Bellator president Tim Danaher and matchmakers Sam Caplan and
Zach Light
, and if Kevin Kay at Spike is interested, then so it shall be. There's also a move down the road to pay-per-view to consider.
"Those are going to be driving concerns," he said.
Less worrying, Rebney noted, was the idea that Alvarez (or any fighter in the same position) could fight for a belt while not being locked up to a deal. If it's worth promoting, he said, they'll do it. And Bellator contracts, considered among MMA's most rigid, would not have to be revised in any way.
"There's just a lot of fights coming up where you just want the option to be able to say, 'That was awesome, you're the champ and you earned your spot. Here, let's do it again,'" Rebney said.
This would appear to be a departure from the concept Rebney put forth in 2009, in which Bellator title shots are earned when a fighter advances through an eight-man qualifying tournament. Rebney said he'd considered the issue for a while and is "at peace with it" because the "decision stays true to who we are and what we're about" and the show maintains a substantial point of difference from other organizations in the sport.
"I think what you're looking at right now is the industry kind of fitting into where the industry will fit for the next five years," Rebney said. "And I think we're heading in a good direction. Any time you've got a huge, powerful, innovative company like Viacom, not just distributing content, but vested, owning a huge piece of the company, and tremendously devoted to its success and brand development, and you've got another major giant out there [Fox] who has made a very large financial commitment to the UFC, who obviously has a vested interest in trying to see that that content does well, I think it's a positive."
During a teleconference Tuesday for UFC's return to Fox on Dec. 8 in Seattle, Eric Shanks, president of Fox Sports Media Group, came off as bullish over the network's partnership with Zuffa heading into 2013.
By no means was this Rebney's most difficult call, but it does indicate that a month before Bellator begins its partnership with Spike that clearing the deck for fan- and television-friendly fights is a big part of the thinking these days.
"No one is talking their way into a world title fight [in Bellator]. Nobody is being groomed a la a boxing format where you get 24 wins against nobodies and get there," he said. "You've got to beat three spectacularly world-class fighters and once you've done it, if you give fans an unbelievable showing, if it's an epic fight, if it's an Alvarez-Chandler type of fight, then it just made sense to me, and I believe we're staying true to who we are. We're not by any stretch of the imagination eliminating the objectivity. We're not eliminating the tournament structure. We're not eliminating the need to earn your shot. But I think it betters who we are."
In the parlance of Bjorn Rebney, "spectacularly world-class fighters"
Lyman Good
and
Andrey Koreshkov
will fight for the welterweight tournament crown Friday at the Soaring Eagle Casino & Resort in Mount Pleasant, Mich. Bellator has roughly 170 fighters under contract as it enters the next phase of its existence, in which Viacom's financial backing and Spike's television platform portend a boost for the promotion.
Good or Koreshkov would fight either titleholder
Ben Askren
or Frenchman
Karl Amoussou
, whomever wins their meeting sometime in January. No date has been announced, though Rebney expects this and other news to be made over the next few weeks.
Rebney said he hopes for three title fights per year at each weight.
"God willing there will be a lot of rematches, because if we're doing a lot of rematches it means we've had a series of epic world title fights," he said. "That's awesome. That's what you want. You want the biggest fights to be the best fights."
March, 31, 2012
3/31/12
11:40
AM ET

By Chuck Mindenhall
ESPN.com
Archive
UNCASVILLE, Conn. -- Heading into Bellator's welterweight quarterfinals on Saturday, Karl Amoussou's match-up with Chris Lozano looked like the toughest draw of the field. That was one of the reasons it was the main event as the Season 6 tournament got underway.
It also didn't hurt that Amoussou was telling whoever would listen beforehand that he would knock out Lozano.
Things didn't work out that way in the end, but the Frenchman Amoussou (14-4-2) still dusted his hands off early with a rear-naked choke of the "Cleveland Assassin." And ultimately it was a big kick that lowered the boom on Lozano to set up the sequence.
"Of course I'm happy with the submission," Amoussou told ESPN.com afterward. "The important thing for me first is to win the fight, even if it's a decision. It's important to win. Of course, when I finish a fight, it's better. But I made a big knockdown with my high kick and my submission came very easily after that, so, you know, I'll take it. And I'm glad of it."
Amoussou, who up until five months ago was working as an undercover police officer in his native France, was originally slated to face War Machine (formerly Jon Koppenhaver) at Bellator 63. But with Machine having been sentenced to another prison sentence stemming back from an assault charge in 2009, this time in the state of Nevada, Amoussou drew Lozano instead. Lozano has been training at Greg Jackson's in Albuquerque after having been knocked out by Douglas Lima in October in the Season 5 welterweight semifinals.
Whether it was Lozano or War Machine, the "Psycho" was going to talk. Before he and Lozano squared off, the two exchanged words during a heated staredown.
What were they saying?
"Just 'hi, how are you,'" laughed Amoussou. "But seriously, I don't really remember."
And once the fight got started, it didn't take long for Amoussou to settle matters. In fact, similarly to when he fought Jesus Martinez in November in a 175-pound catchweight fight, Amoussou walked away in the same mint condition that he arrived.
[+] Enlarge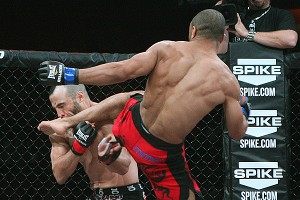 Keith Mills/Sherdog.comKarl Amoussou's high kick spelled the beginning of the end for Chris Lozano.
"I felt great," he said. "I didn't get touched even once in this fight. It was the same in my last fight, so two fights without even getting hit with a punch. I'm showing good things now. People should get ready for the next Bellator champion, and it's going to be me."
That would be novel -- there's never been a French MMA champion in Bellator. And if there is a dark horse in the welterweight tournament, it might be Amoussou. He lost a narrow split decision in his Bellator debut in May 2011 against Sam Avery, but at just 26 years old he's showing a lot of new wrinkles in his game -- especially now that he has switched to fighting full time.
And it's down to a four-man field, featuring UFC veteran Ben Saunders, Bryan Baker and David Rickels. Asked if he had a preference who would be next, Amoussou admitted he didn't care. The reason? He's confident he matches up with anybody they stick in front of him. When Baker strolled by Amoussou in the bowels of the Mohegan Sun sporting a nice suit, a happy Amoussou yelled out to him, "Bryan Baker, you're so handsome."
Baker smiled. Who knows? The former middleweight could be standing opposite Baker in the semis. But on Saturday night in Uncasville, after making quick work of Lozano with nary a scratch, the Frenchman traded in the barbs for some pleasantries. It probably won't last. Whenever his next opponent is announced, Amoussou will be back in the business of forecasting knockouts.
"Tonight I showed my real level and at the same time I can tell you, I didn't show half of my level," Amoussou said. "I have so many things that I can bring. Just be ready for more action next time."
March, 29, 2012
3/29/12
6:09
AM ET

By Chuck Mindenhall
ESPN.com
Archive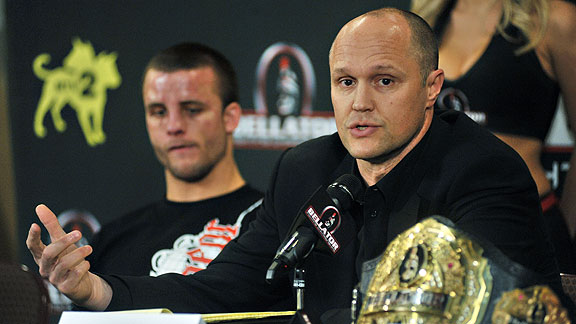 Henry S. Dziekan III/Getty ImagesWhile Zuffa catches its breath, Bjorn Rebney and the boys at Bellator have picked up the slack.
UNCASVILLE, Conn. -- Through the first couple of weeks of Bellator's quarterfinal brackets we've witnessed some peculiar things. There was last week's rarely seen Von Flue choke, courtesy of lightweight Brent Weedman -- and that came on the same night that Lloyd Woodard emerged from the woodwork to upset
Patricky Freire
. The week before that, we saw Brian Rogers down Vitor Vianna with a flying knee from Hades. The thing was executed with such diabolical ease that it almost looked
unspectacular
.
And before that,
Pat Curran
totally anesthetized
Joe Warren
to become the promotion's featherweight champion.
In other words, Bellator has a built up a good head of steam while Zuffa catches its breath. Things continue along this weekend on the Mohegan Reservation, a roped off part of the state of Connecticut where MMA is perfectly legal. This time it's the welterweights, where there's always intrigue to be found regardless of the promotion.
For starters, everybody with Bellator tournament experience in the eight-man field is coming off a brutal loss. Chris Lozano got KO'd by Douglas Lima. Ditto UFC veteran
Ben Saunders
. Bryan Baker was TKO'd by Vianna. There's a lot of gnawing within the guts of the promotion's best-known guys. Meanwhile, David Rickels (3-0 in Bellator) will use his prelim experience and try his luck in the brackets.
As for everybody else? They are all debuting. And of everyone in the field, perhaps none is more interesting than Baker, who has been training at Greg Jackson's and is cutting down to 170 pounds for the first time. He will be fighting Carlos Pereira.
"I was a lighter fighter [at 170]," he said at the open workouts. "I used my speed, and I have power, and so I was able to hold myself as a middleweight. I was able to use my speed with my quickness against heavier opponents. But now it's time for me to be the heavier opponent, to stand in the middle of the cage and not be so worried about trying to move and worry about power. I can really stand the power at welterweight and I can make them fear my length more and just really own the cage."
Each time Baker fights he defies odds, having already battled through leukemia (which is in remission) and a couple of tournaments as an undersized middleweight. Now he's wiser, lighter and in tune with the most essential cliché of them all -- that is, he's taking it one fight at a time.
"I'm not sure who it's quoted by, but my little brother told me, 'it takes skill to want to fight, but it takes character to repeat.' That's pretty much where I'm at. I'm just going to go and win this fight, and it's in my character to be a professional to be where I need to be and continue winning."
Saunders revs up for second run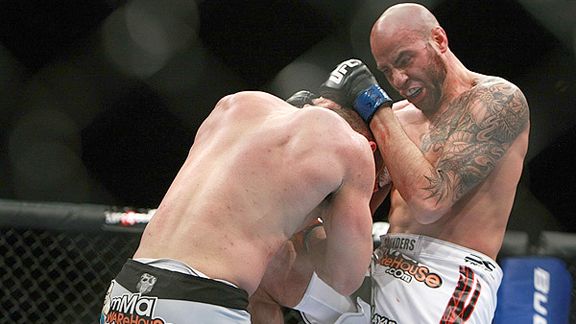 Dave Mandel/SherdogBen Saunders has put his dangerous Muay Thai game to good use in the Bellator cage.
After losing to insistent wrestlers in
Jon Fitch
and
Dennis Hallman
and subsequently getting released by the UFC, Ben Saunders went on a four-fight winning streak. That all ended when Douglas Lima stopped him at Bellator 57 in the welterweight final. Now he's back to square one as he sets for his fight with Raul Amaya, an undefeated fighter (9-0) who has finished everybody he's faced.
Saunders, who has one of the most sadistic Thai clinches in the sport -- one in which he uses all eight limbs gratuitously (as evidenced the last time he fought in Connecticut against Matt Lee) -- says that martial arts is a game of perpetual acquisition. So don't be surprised if he breaks out some wrestling and goes for the takedown against Amaya if it's there, because, hey, this game forces you to evolve.
"I'm going to be improving everyday," he says. "I'm never going to be a master of martial arts. I'll never be a master of my style until I die. There's always going to be something new that I can learn, so I've got to take [my losses] with a grain of salt. You learn more from a loss than you do from a win and it just made me more hungry."
Prindle/Konrad possible for April 13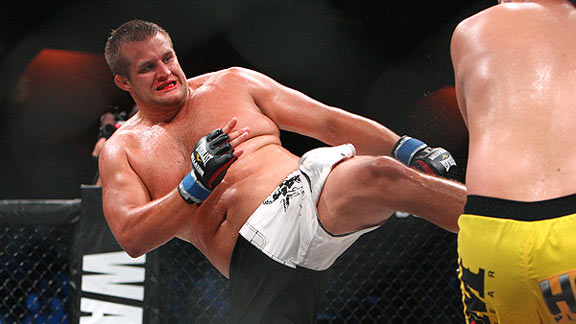 Sherdog.comAfter a series of twists and turns, Cole Konrad is finally closing in on an opponent.
It seems like heavyweight champion
Cole Konrad
has been waiting for resolution in the Eric Prindle/Thiago Santos saga forever. Realistically, it's only been a couple of months, and after many bizarre twists and turns, stubborn weight cuts and flu-like symptoms, it'll be Prindle who gets the nod to challenge Konrad. When is it going down? According to Bellator officials that fight could take place on the April 13 Bellator 65 card in Atlantic City. That's the same night that the company's smallest men -- the bantamweights -- kick off their quarterfinals.
How's that for size discrepancy on a card? Konrad walks around the size of two Marcos Galvao's and change.
Amoussou the former undercover cop
Karl Amoussou was an undercover officer not all that long ago, bringing robbers and drug dealers to justice in his native France. Obviously this would have made for an amusing back-story if he'd gotten his original opponent at Bellator 63, the always colorful War Machine, instead of Chris Lozano. As has been much publicized, Machine was re-incarcerated before making his Bellator debut against Amoussou. This whole "cop versus delinquent" thing that never happened wouldn't have mattered to Amoussou inside the cage, anyway.
"Yeah, I don't care," Amoussou said. "I plan to do a normal fight so what he does outside is his problem, I don't care."
May, 21, 2011
5/21/11
11:28
PM ET
By Brian Knapp/Sherdog.com
ESPN.com
Archive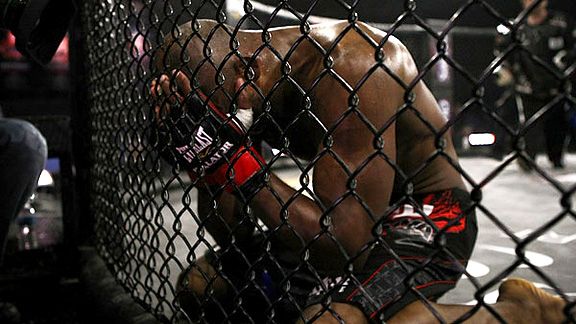 Keith Mills for Sherdog.comPrayers answered: Christian M'Pumbu's dreams came true when he lifted the Bellator title.
African-born Frenchman Christian M'Pumbu stands alone atop the Bellator Fighting Championships light heavyweight mountain.
M'Pumbu stopped former two-division Rage in the Cage titleholder Rich Hale on third-round strikes in the Season 4 light heavyweight tournament final at Bellator 45 on Saturday at the L'Auberge du Lac Casino and Resort in Lake Charles, La. Finished for the first time in more than four years, Hale met his demise 4:17 into Round 3.
M'Pumbu nearly finished it inside the first five minutes, when he planted Hale on his back with a stinging left hook. He followed up with a standing-to-ground right hand and threatened with a brabo choke, but Hale survived to see a second round. There, the Arizonan backed up a more passive M'Pumbu with jabs, leg kicks and occasional kicks to the body.
Hale had the momentum, as the fight spilled into the third round. However, with roughly two minutes to go in the period, M'Pumbu raised his aggression level. He landed a blistering right hand that sent Hale crashing to the canvas once again, the finish in sight. After hesitating briefly, M'Pumbu pounced and showered his foe with right hands and hammerfists. Referee Jason Herzog gave Hale every opportunity to answer; he did not.
As with his semifinal victory over Tim Carpenter in April, M'Pumbu was reduced to tears.
"I can't help but cry," he said, moments after becoming Bellator's first 205-pound champion. "I do everything I do for my kids. It's good to know all those years of hard work are going to pay off."
'Pitbull' outpoints Straus, clinches title shot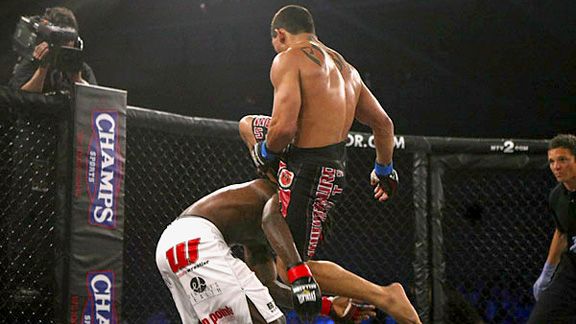 Keith Mills for Sherdog.com A leg up: Patricio Freire's acrobatics helped him earn another shot at Joe Warren's title.
A cleaner, more-aggressive offensive approach carried the once-beaten Patricio Freire to a unanimous decision over Daniel Straus in the Bellator Season 4 featherweight tournament final. Scores were 29-28, 30-27 and 30-27 for "Pitbull", who will challenge reigning 145-pound champion Joe Warren later this year.
The 23-year-old Freire landed the strikes of consequence throughout the 15-minute encounter and all but shut down Straus' high-octane, wrestling-centric attack. The match was marked by spits of action and extended periods of relative inactivity. Freire utilized a strong clinch game, knees to the body in close quarters and punishing low kicks when the two separated.
Straus was ineffective from the outside, often ceding to the superior striker. Freire attempted to bait him into moving forward late in the third round, as he attempted to put an exclamation point on his 17th victory in 18 professional appearances. The two tournament finalists finished their engagement in the clinch, from which Straus executed a suplex that was more primal than technical. By then, he had already lost the fight on the scorecards.
"There were lots of things going on in my mind," said Freire, "but the primary thing was the victory and [getting] a shot at a belt for the first time in my career."
The win sets up Freire for his long-desired rematch with Warren, the man who handed him his only career defeat in a split decision 11 months ago.
"I'm going to be a champion," the Brazilian said. "I'm going to take his belt."
Blood-soaked Alvey edges Amoussou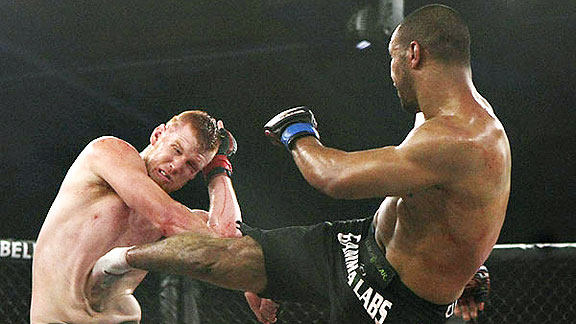 Keith Mills for Sherdog.com Gut check: Sam Alvey, left, had to dig deep and suck it up before getting past Karl Amoussou.
In one of Bellator's bloodiest battles to date, promotional newcomer Sam Alvey stunned Strikeforce veteran Karl Amoussou and notched a narrow split decision victory in their Season 5 middleweight tournament qualifier. All three cageside judges scored it 29-28, two of them in Alvey's favor.
Early on, it did not look good for Alvey. Amoussou attacked with kicks to the head body and legs, scored with a textbook judo throw and transitioned immediately to mount. From there, he unleashed a series of sharp elbows and opened a pair of cuts on Alvey's head -- one near the brow, the other on the scalp. Blood flowed freely, but Alvey did not fold. Amoussou tried for an ill-advised armbar from high mount, allowing Alvey to escape and turn into top position. By the time the frame was finished, Amoussou's entire torso was covered in his opponent's blood.
"I've never bled in a fight before," said Alvey, who will carry a four-fight winning streak into his next appearance. "It's a little disturbing."
Amoussou's pace slowed noticeably in round two, as he let Alvey climb back into the fight. The 25-year-old Waterford, Wis., native capitalized. He often countered the incoming Frenchman with sweeping hooks, and though few of them landed flush, they were enough of a deterrent to keep Amoussou at bay. Alvey closed the stronger of the two in the third round, as he answered an attempted trip with a takedown and unleashed some wild, flailing ground-and-pound in the final seconds.