December, 24, 2013
12/24/13
11:12
AM ET
By Andrew R. Davis
ESPN Stats & Information
Archive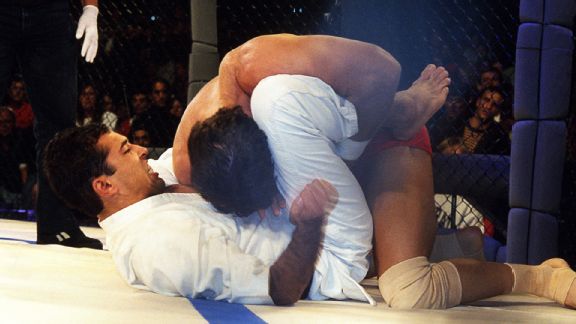 Nagao SusumuThe "Gracie challenge" laid the groundwork for what became the Ultimate Fighting Championship.
The UFC was to crown its first ever superfight champion on April 7, 1995, at UFC 5.
Royce Gracie
, the three-time tournament champion against
Ken Shamrock
, whose only loss was to the Brazilian jiu-jitsu master at UFC 1 in just 57 seconds. The two men fought for 36 minutes, with Shamrock gaining a takedown shortly into the fight and holding top position for the remainder of the 31-minute period. A five-minute overtime settled nothing and the fight was declared a draw. Despite being in top position, Shamrock landed 10 significant strikes (98 in total). And so began the legacy of the UFC rematch.
Over its 20-year history, the UFC has had more than 100 rematches. Some bouts such as Gracie versus Shamrock have changed the course of UFC history.
Battles that Changed History
UFC 52: Couture vs. Liddell 2
[+] Enlarge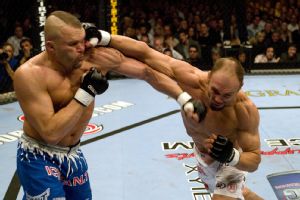 Josh Hedges/Zuffa LLC/Zuffa LLC/Getty ImagesChuck Liddell, left, stopped Randy Liddell in the 1st round to win the UFC light heavyweight title in their rematch.
After coaching the first season of the Ultimate Fighter,
Randy Couture
versus
Chuck Liddell
2 took place almost two years after their first matchup, won by Couture. Couture was poked in the eye early on, but after being checked by the doctors, the fight continued. Couture went on the offensive, but it was Liddell who would counter and knockout "The Natural" at 2:06 of the first round to win the UFC light heavyweight title. Liddell would avenge another loss in his first defense against
Jeremy Horn
, then defeat Couture,
Renato Sobral
and rival
Tito Ortiz
before falling to
Quinton "Rampage" Jackson
at UFC 71. Both Liddell and Couture would be inducted into the UFC Hall of Fame.
UFC 65: Hughes vs. St-Pierre 2 (aka Bad Intentions)
Matt Hughes
had defended his UFC Welterweight Title twice when he fought
Georges St-Pierre
for the second time at UFC 65. Hughes won the first matchup at UFC 50 by way of armbar, with one second remaining in the opening round. In the rematch, St-Pierre dominated, outstriking Hughes 45-10 and landing a brutal head kick and punches to dethrone the champion. Hughes would fight St-Pierre at UFC 79 and lose again, his last shot at a UFC title.
UFC 77: Silva vs. Franklin 2 (aka Hostile Territory)
[+] Enlarge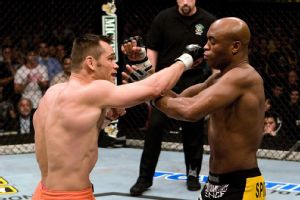 Josh Hedges/Zuffa LLC/Getty ImagesAnderson Silva, right, destroyed Rich Franklin in their rematch, finishing him in the 2nd round to keep the UFC middleweight title.
In 2006,
Anderson Silva
was relatively unknown to the UFC audience when he UFC fought
Rich Franklin
, who was making his third title defense. Silva destroyed "Ace" in the clinch, landing 26 of 28 strikes, ending with a devastating knee at 2:59 of the first round. The rematch would take place in Franklin's hometown of Cincinnati, Ohio, and the result was just the same. Silva was 27 of 29 from clinch position, ending the fight with knees to the body at 1:07 of Round 2. Silva would defend the title eight more times before being knocked out by
Chris Weidman
at UFC 162, leading to Saturday night's rematch.
UFC 100: Lesnar vs. Mir 2
By November 2008,
Brock Lesnar
had become the UFC heavyweight champion. But there was one man who had his number:
Frank Mir
. Mir defeated Lesnar by heel hook at UFC 81, and after Mir became interim champion, it set up the rematch at the UFC's century mark event. Lesnar would control the action from the opening bell, bloodying Mir and outstriking the interim champ 47-4 in significant strikes. Lesnar would make one more title defense before health issues and losing the title led to his departure from MMA in 2011.
UFC 100 would be a night of redemption for Lesnar, much like these rematches.
Battles of Redemption
UFC 49: Belfort vs. Couture 2 (aka Unfinished Business)
Randy Couture was the UFC light heavyweight champion when he defended his title against
Vitor Belfort
at UFC 46 in January 2004. The end of the fight was marred in controversy when the doctor halted the bout just 49 seconds into the opening round because of a cut on Couture's eyelid from a Belfort punch. Belfort was awarded the title because of the doctor stoppage, resulting in an immediate rematch in August. In the rematch, Couture gained two takedowns and damaged Belfort on the ground, ultimately leading to a doctor's stoppage after the third round. Couture landed 33 of his 50 significant strikes on the grounded Belfort.
UFC 63: Hughes vs. Penn 2
UFC 46 also saw another title change in the co-main event when
BJ Penn
submitted Matt Hughes to win the UFC welterweight title. Penn would leave the UFC because of contractual issues, but would return in March 2006. He would again fight Hughes at UFC 63, but the result was much different. Hughes was the UFC welterweight champion, and proved why in defeating Penn by TKO stoppage in the third round. They would rematch once more in 2010 with Penn winning by KO 21 seconds into the fight.
UFC 83: Serra vs. St-Pierre 2
[+] Enlarge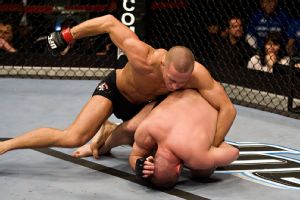 Josh Hedges/Zuffa LLC/Getty ImagesAfter losing to Matt Serra at UFC 69, Georges St-Pierre stopped Serra in the rematch a year later to regain the UFC welterweight title.
There's something about UFC upsets and guys from Long Island. Long before Weidman and Silva, there was
Matt Serra
. Serra won season 4 of the Ultimate Fighter, meaning he would get a crack at Georges St-Pierre and the UFC welterweight title. Serra would pull the upset, but eventually would face St-Pierre again at UFC 83. The rematch was again one-sided, this time to "GSP" as he took Serra down four times and landed 42 significant strikes to Serra's three en route to a second round stoppage due to knees. St-Pierre would remain the UFC welterweight champion until vacating the title on Dec. 13.
UFC 148: Silva vs. Sonnen 2
The matchup against Weidman will be Silva's third rematch in his MMA career. In his second set of rematches in 2010 and 2012, Silva fought
Chael Sonnen
and picked up two victories. But the first fight was three minutes away from going to Sonnen. At UFC 117, Sonnen gained takedowns in each of the first three rounds and had Silva on his back in the final round up on the cards when Silva forced a tap out with a triangle choke and armbar. Many thought Sonnen had Silva's number when the two would rematch at UFC 148, but the Brazilian had other ideas. Sonnen landed 76 total strikes on Silva while the champion threw just two, missing both. But Silva battled in Round 2, eventually striking after a Sonnen slip and finishing the fight with knees against the cage.
All of those battles took place over time, but some rematches remain timeless for their bad blood and exciting results.
Timeless Rematches
UFC 61: Ortiz vs. Shamrock 2 (aka Bitter Rivals)
While
Ronda Rousey
-
Miesha Tate
may be the preeminent feud of today's MMA, it all started with Ortiz and Ken Shamrock. The two fought at UFC 40 in 2002, at the time the most watched UFC PPV of all time. The fight was one-sided as Ortiz dominated Shamrock for three rounds before the fight was stopped. The rematch took place 3 1/2 later at UFC 61 after the rivalry reignited on Season 3 of the Ultimate Fighter. Ortiz, in the middle of his career, beat the aging Shamrock with strikes 68 seconds into the first round. They would rematch in October 2006, and again Ortiz pounded Shamrock into a stoppage. But the rivalry and the bad blood is what kept the feud going for almost 10 years.
UFC 66: Liddell vs. Ortiz 2
[+] Enlarge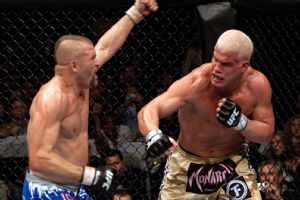 Josh Hedges/Zuffa LLC/Getty ImagesTito Ortiz, right, wasn't able to avenge his defeat to Chuck Liddell, falling again in the rematch 2 and a half years later.
Ortiz made another enemy in Liddell in 2004 when the two met at UFC 47. Liddell outlanded Ortiz in both rounds of the fight, eventually putting the "Huntington Beach Bad Boy" down with strikes at 38 seconds into Round 2. The rematch would take place almost 2 1/2 years later at UFC 66 for Liddell's light heavyweight title. Liddell's striking was again on display, landing 49 significant strikes to 21 for Ortiz. The end came in the third round with Liddell in mount position raining strikes down on Ortiz. The two were scheduled to fight at UFC 115 after coaching Season 11 of the Ultimate Fighter, but Ortiz was injured and replaced by Rich Franklin.
UFC 71: Liddell vs. Jackson 2
In 2003, Liddell was sent to Japan by the UFC to represent the company in the PRIDE Middleweight Grand Prix. Liddell would face "Rampage" Jackson in the semifinals and the winner was expected to face
Wanderlei Silva
in the final. Jackson would defeat Liddell by TKO due to corner stoppage in the second round. Fast forward to 2007, and Jackson became the No. 1 contender to Liddell's UFC light heavyweight title. Once again, Jackson would catch Liddell with big punches, putting him to the mat and winning the bout 1:53 into the first round.
UFC 125: Edgar vs. Maynard 2 (aka Resolution)
The rivalry between
Frankie Edgar
and
Gray Maynard
began in April 2008, when Maynard beat Edgar by unanimous decision. Edgar would go on to win the UFC lightweight title from Penn in April 2010 and would defend it against Penn in August. After winning that rematch, it was time for UFC 125 and a rematch against Maynard, the only man to beat him. Edgar was knocked down three times in the opening round and Maynard looked to be on his way to another win. But Edgar battled back, outstriking Maynard 95-71 in significant strikes and earning a split decision draw. The two men would fight one more time in October 2011, but this time the clear winner was Edgar by fourth-round knockout.
This Saturday night, UFC 168 is headlined by not one, but two of these rematches. Will they be battles of redemption for the challengers, Silva and Tate? Or will Weidman and Rousey continue to cement their places as champions and put their foes out of the title picture for good? Either way, these fights will become part of the ever growing legacy of the UFC rematch.
October, 17, 2013
10/17/13
7:11
AM ET
By Andrew R. Davis
ESPN Stats & Information
Archive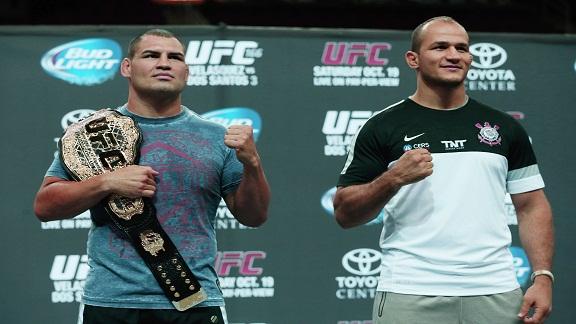 A trilogy is defined as a series of three novels, movies, etc. that are closely related and involve the same characters or themes.
On Saturday, UFC heavyweight champion
Cain Velasquez
completes his series of three bouts with
Junior dos Santos
in Houston. The third battle sold out in less than three days and could set the Toyota Center record for highest-grossing event, already held by the UFC.
The event also will mark the 10th trilogy completed solely inside the UFC Octagon. Depending on how the fight goes, it could take its place among some other notable UFC trilogies.
Randy Couture already had won two UFC heavyweight titles when he stepped down in weight to challenge Chuck Liddell for the interim light heavyweight title at UFC 43 in June 2003. Liddell was 11-1 and coming off a brutal head-kick knockout of
Renato Sobral
. Couture landed four of five takedowns and outstruck Liddell 46-22 in significant strikes to win the title by third-round TKO. The two men met again in April 2005 at UFC 52 after both served as coaches on the debut season of "The Ultimate Fighter." Liddell won the rematch, knocking out Couture 2:06 into the first round to win the undisputed light heavyweight title. Their third matchup took place at UFC 57 in February 2006 with Liddell still champion at 205 pounds. Liddell controlled the fight, landing 18 head strikes, including the final blows to a downed Couture to win by TKO in the second round and retain the title. Both men were eventually inducted into the UFC Hall of Fame (Couture in 2006, Liddell in 2009).
Another Hall of Famer, Matt Hughes, was involved in two trilogies inside the UFC Octagon. Hughes landed on the losing end of both at 1-2, and while his trilogy with
BJ Penn
was memorable, it's his rivalry with Georges St-Pierre for the UFC welterweight title that is remembered. At UFC 50 in October 2004, former champion Hughes faced a young 24-year-old from Canada in St-Pierre for the welterweight title. With 1:14 left in the first round, Hughes gained his second takedown of the fight and eventually secured an arm bar on St-Pierre, forcing a tapout with one second remaining to become a two-time UFC welterweight champion. Hughes made two defenses of the title before meeting St-Pierre again at UFC 65 in November 2006. St-Pierre outstruck the champion 45-10 and landed a devastating head kick and punches to win the title by TKO in the second round. December 2007 was the final battle at UFC 79. Hughes and GSP once again fought for a vacant interim title, as undisputed champion
Matt Serra
was out because of injury. St-Pierre landed three takedowns and finished Hughes via arm bar in the second round. That fight remains St-Pierre's second UFC victory by submission in 20 fights. Hughes was inducted into the UFC Hall of Fame in 2010, before finishing his second trilogy with Penn and retiring in 2011.
Frankie Edgar versus Gray Maynard (Ultimate Fight Night 13, UFC 125, UFC 136)
At UFC Fight Night 13 in 2008, two undefeated lightweight prospects took to the Octagon in Frankie Edgar (9-0) and Gray Maynard (4-0, 1 NC). Maynard used his Michigan State wrestling background to score nine takedowns on "The Answer," winning 30-27 on all scorecards. Fast-forward to New Year's Day 2011 and Edgar was the reigning and defending UFC lightweight champion. Maynard was still undefeated and the No. 1 contender to Edgar's title when they fought at UFC 125. Edgar was knocked down three times in the first round and on the verge of losing to Maynard again, this time for the title. But the New Jersey product fought back valiantly, outstriking Maynard 85-46 for the remaining four rounds to earn a split decision draw. The third fight was inevitable and took place at UFC 136 seven months later. Maynard was again the aggressor, outstriking Edgar 24-11 in the first round and earning another knockdown against the champ. As with the second fight, Maynard slowed and Edgar battled back. In the fourth round, Edgar landed 21 significant strikes to 5 for Maynard and finished "The Bully" with punches to the head. The fight was stopped at 3:54 of the round with Edgar winning by TKO and retaining his UFC lightweight title. Edgar moved to featherweight in February 2013 and Maynard will face
Nate Diaz
at "The Ultimate Fighter 18" finale in November of this year. While it is their third fight, the first on the "The Ultimate Fighter" is not considered an official bout.
Ken Shamrock versus Tito Ortiz (UFC 40, UFC 61, "UFC Fight Night: The Final Chapter")
Vendetta. Bitter Rivals. The Final Chapter. Those were the titles of the trilogy fights between Ken Shamrock and Tito Ortiz and did they ever fit the descriptions. After 1999 victories over Lion's Den fighters
Jerry Bohlander
and
Guy Mezger
, Ortiz berated the Shamrock camp with taunts and T-shirts, enraging the "World's Most Dangerous Man." Shamrock also was in the middle of a pro wrestling career, but made his Octagon return at UFC 40 in November 2002 to challenge Ortiz for the UFC light heavyweight title. In what was arguably one of the pivotal moments in UFC history, Ortiz dominated the former UFC Superfight champion in significant strikes 74-12, and takedowns 3-0. The fight was stopped in the third round by Shamrock's corner, and Ortiz retained his title. Shamrock would be inducted into the UFC Hall of Fame the following year, but his career was not over. The two crossed paths again in 2006, not as opponents in the cage, but rather coaches on Season 3 of "The Ultimate Fighter." Verbal spats arose and the two men again faced off at UFC 61 in July 2006. Shamrock started strong, but Ortiz secured a takedown and landed elbows in the guard. Referee
Herb Dean
controversially stopped the fight at the 1:18 mark, giving Ortiz his second victory over Shamrock. The third fight was in October 2006 at UFC Fight Night: The Final Chapter. Ortiz landed a takedown 40 seconds into the fight and finished Shamrock with strikes 2:23 into the fight. Ortiz would be involved in one more trilogy during his UFC career, losing the final two bouts of his trilogy with
Forrest Griffin
. The third fight ended his UFC career on the same weekend he became the eighth fighter inducted into the UFC Hall of Fame.
Velasquez and dos Santos will fight for the third time this Saturday to finish the 11th trilogy in UFC history. Will this be the last? Unlikely. Here are some potential UFC trilogies for each division you may see in the coming years.
Heavyweight: Frank Mir versus Antonio Rodrigo Nogueira (2 fights):
Mir needs to beat
Alistair Overeem
or he might face a release after fighting in the UFC since 2001. Nogueira is at the tail end of his career and Mir was the first man to make "Big Nog" submit in his MMA career.
Light heavyweight: Lyoto Machida versus Mauricio Rua (2 fights):
This would require one fighter to move weight classes, most likely Machida back to 205. They split the first two over the title and a third battle could certainly go either way.
Middleweight: Anderson Silva versus Chris Weidman (1 fight, 1 upcoming):
If Weidman wins at UFC 168, there won't be a third fight. But if "The Spider" is victorious, you'd have to think either Weidman gets an immediate rematch or can work his way back to the title before Silva's contract runs out.
Welterweight: Carlos Condit versus Martin Kampmann (2 fights):
While Condit certainly looked sharp against "The Hitman" in earning a TKO victory, Kampmann will always be lurking in the welterweight picture. He'd have to pull off two or three wins in a row somewhere along the line if he's to face "The Natural Born Killer" again.
Lightweight: Nate Diaz versus Gray Maynard (1 fight, 1 upcoming):
Matt Wiman
and
Mac Danzig
have fought twice, but Wiman won both, which essentially puts that out. Technically this will be the third fight of Diaz versus Maynard (they fought on TUF 5), but officially two on their fight records. Still, a Diaz win at the TUF 18 finale could make a third official fight very interesting.
Featherweight: Cub Swanson versus Dustin Poirier (1 fight):
The odds gets a little longer starting at 145 because of the recent UFC addition, but these two should be in the division for a while. Swanson is currently ranked sixth and defeated eighth-ranked Poirier by unanimous decision in February.
Bantamweight: Michael McDonald versus Sergio Pettis (0 fights):
With
Jose Aldo
probably moving to lightweight and
Renan Barao
to featherweight, bantamweight trilogies look bleak. Michael McDonald is 22 and Sergio Pettis is 20 ,so with success, they'll be around a while. The question is if the younger Pettis' future is at 135 pounds or 125.
Flyweight: Demetrious Johnson versus Joseph Benavidez (1 fight, 1 upcoming):
By year's end, these men will have fought twice. If Benavidez wins the rematch at the TUF 18 finale, expect these two to finish the rivalry in mid to late 2014.
Women's bantamweight: Ronda Rousey versus Sara McMann (0 fights):
Rousey-Tate would be the obvious choice because they will have fought twice by year's end, but Tate has to win at UFC 168. Many see McMann's wrestling as the key to beating Rousey. Whoever beats the No. 1-ranked women's fighter certainly would have to face "Rowdy" Ronda again.
May, 2, 2013
5/02/13
11:06
AM ET

By Jake Rossen
ESPN.com
Archive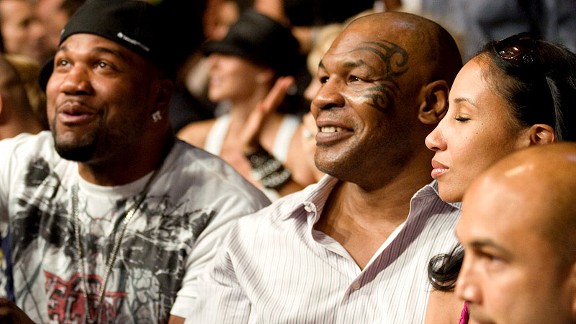 Josh Hedges/Zuffa LLC/Getty ImagesMike Tyson is a fan of mixed martial arts since the early days of Royce Gracie and Ken Shamrock.
Seven years ago, Mike Tyson did what prizefighters are rarely willing or able to do: recognize when their time is up.
A mercurial figure of the '80s and '90s who often courted as much trouble outside the ring as he did inside of it, Tyson walked away from boxing after consecutive losses, telling spectators he refused to disgrace the sport with subpar performances.
"

That'd be an awesome fight from the fans' standpoint. All the fans want to see two invincible fighters from two different weight divisions. It would be very interesting.

"

-- Mike Tyson on a possible Jon Jones-Anderson Silva matchup.
Based on his past indiscretions, many expected him to implode. Retirement, however, had a strange effect on Tyson: Instead of feeling cast adrift, he appeared ecstatic at the prospect of leaving the fight business behind. Cameos in "The Hangover" films and viral videos turned public perception around; removed from the mindset of having to try to tear a man down with his fists, there was little trace of the savage behavior that made him famous.
The story of that transformation is part of "Mike Tyson: Undisputed Truth," a one-man stage show Tyson is currently touring. As he prepares for his final dates in Atlanta, Newark, New York and Wilkes-Barre, Pa., Tyson -- an unabashed fight fan who recently appeared on "The Ultimate Fighter" -- spoke with ESPN.com about the past, present and future of mixed martial arts.
Jake Rossen: You've been touring the show for a few months now. When you started, was the idea of public speaking more nerve-wracking than fighting?
Tyson:
Absolutely. I'm not the most didactic guy when it comes to my linguistics skills. Spike [Lee, the show's director] hired a voice coach, a speech teacher, so I could pronounce the words in a proper fashion. I still sometimes garble my G's and R's, though.
They're ready to film this for television, it's gotten so good. Spike has hinted at it. Though I might talk too much and then he'll say, "Hell, no, we're not going to do it now."
Rossen: You were one of the first boxers to acknowledge mixed martial arts as a legitimate combat sport. Do you remember when you first watched the UFC?
Tyson:
My friends were all at my house one day, and we see these guys promoting these cage fights, right? When everybody was over, people were normally inebriated, so we said, "We're putting this on. We're gonna watch this!" Next thing you know, we're watching
Ken Shamrock
and someone fight. Bang! I'm saying, "This is real, man. This is on!"
We started watching it every time we got the chance. We've been following the guys since [Royce] Gracie, Shamrock, [Dan] Severn. It just kept evolving and evolving.
Rossen: At those early shows, sometimes people in the crowd would hold up signs saying, "Tyson vs. Gracie." What would you think when you saw that?
Tyson:
Yeah! That was so awesome. I love all kinds of fighting. To say I only love two guys putting on gloves and only punching, I would be a moron to say that.
Rossen: Did you ever seriously consider an offer to fight MMA when you were active as an athlete?
Tyson:
Not really, because by the time it took off, I was already doing boxing. This is something you have to start when you're 12 or 13. It has to be a passion. That's the problem with boxing: There's no passion. People want to be record producers, rappers. In MMA, you see that passion.
Georges St-Pierre
, this is all he wants to do. That's why he's so successful.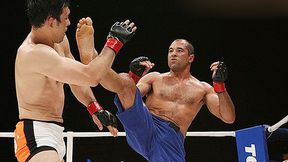 Dave Mandel/Sherdog.comRoyce Gracie changed the face of MMA in the eyes of Mike Tyson.
Rossen: But back in those days, it wasn't so refined. I know it's a hypothetical, but what do you think would've happened if someone had put up enough money for you to fight Royce Gracie? He was a much smaller man.
Tyson:
It doesn't matter. If I hit him with a good punch, OK, but if he gets hold of me and in a position I'm not familiar with, I'm not going to win the fight. I would have to be equipped with grappling skills as well. Gracie changed the whole game around. To be involved in this kind of fight, you have to know that style right off the bat.
Everyone learned his style of fighting. Everything we have now is because of the Gracies taking it to the next level. Their name isn't on it, but that's what it is. It's Gracie Fighting.
Rossen: Have you ever grappled?
Tyson:
Never in my life, no. Unless I had a street fight where I had to grab someone and slam them. [Laughs]
Rossen: There's always talk MMA is set to "replace" boxing. Do you think the two will continue to coexist?
Tyson:
I think there's room for both [MMA] and boxing, but boxing just has too many black eyes. It doesn't have a good image. In MMA, even though people are fighting, they have a good image. Very few of them get into tragic troubles where they're beating people up and stuff.
Rossen: Do you see Jon Jones versus Anderson Silva as MMA's version of Manny Pacquiao versus Floyd Mayweather Jr.?
Tyson:
That'd be an awesome fight from the fans' standpoint. All the fans want to see two invincible fighters from two different weight divisions. It would be very interesting.
Rossen: As a fighter, though, when you have a lucrative win streak going, do you think it makes either of those guys reluctant to do it?
Tyson:
The essence of fighting is this: to push yourself to the limit. Say you get defeated. Do you push yourself to another limit to overcome that defeat? This is what fighting is about. That's why it's such a metaphor for life. Even though you're going to lose and you know you're going to lose, you still have to fight and fight to win.
Rossen: Are you more of a boxing or MMA fan now?
Tyson:
I love MMA and love boxing, but I'm always watching the MMA stuff. With boxing, you don't know if the guy's going to get a [good] decision, you know? In UFC, there's the Ultimate Fighter house -- you cultivate the fighters spiritually, work with them, it's a team effort. In boxing, it's like, "The hell with you." The fighters dislike everybody. The MMA fighters are killing each other and they're friends!
Rossen: You seem to have a good relationship with the UFC. Would you ever consider doing commentary for them if asked?
Tyson:
Absolutely. I would also work in boxing if I could get a chance to clean it up, get it organized and government-operated. It has to be. Look at all the atrocities that have happened in the history of boxing.
Rossen: You've spoken before about being a huge fan of Fedor Emelianenko. Is there one fighter in the UFC you love to watch compete?
Tyson:
It has to be Jon Jones. But I like Anderson Silva, too. And
Cain Velasquez
! He showed what a champion is. He took a humiliating defeat, came back focused and beat
Junior dos Santos
[in the rematch].
I look at MMA totally differently from how the fans look at it. I look at people overcoming adversities. Most guys being knocked out the way Cain was would've lost all of their spirit. He could've come back for a payday and gotten knocked out in one round. Instead, he examined his loss and changed the outcome.
Rossen: There are some parallels there to your own life. You have a charity now, Mike Tyson Cares. What gave you that initiative?
Tyson:
My wife and I were piggybacking on other established charities. We were so happy we were able to put smiles on so many faces, get medication into hospitals, get people educated. We've gotten 7,000 homeless kids medical supplies, school supplies, by piggybacking with these other organizations. It gave us great satisfaction.
I just want to continue to be of service, continue to help people, and do good things in life. I want to have moral achievements more than tangible, physical ones.
September, 7, 2012
9/07/12
11:26
AM ET

By Josh Gross
ESPN.com
Archive
Technically speaking, I was a fan when UFC 24 rolled around.
Kevin Randleman's first UFC heavyweight title defense was set to take place a month before I wrote the story that scored my first paycheck as a mixed martial arts reporter. Passionate as I was, I called around San Diego, where I attended college, to find a place, any place, showing Randleman's fight against dangerous young heavyweight Pedro Rizzo.
Eventually a sports bar informed me that it dared to be one of the few establishments carrying the UFC in the spring of 2000. I have this vivid memory of feeling like the only person in the place who gave a damn about these cage fighters. So, as this was my only option, I enjoyed a platter of nachos while watching one muted television set tuned to a night of fights in Lake Charles, La.
The evening rolled along with little fanfare. "Crazy" Bob Cook, a familiar face these days alongside American Kickboxing Academy fighters, made his lone Octagon appearance, which turned out to be the last time he stepped in a cage, and choked Tiki Ghosn. Less than a year before he would be crowned UFC champion,
Jens Pulver
was featured on pay-per-view for the first time. He was spry and determined while pummeling David Velasquez with punches.
All that was filler, though. I'd sought out a TV to see Randleman take on Rizzo. It was time. Or it should have been time. There wasn't any sound, but it was crystal-clear based on an interview taking place backstage that something was off. I begged a waitress to turn up the volume. She did, just in time to catch on that Randleman, somehow, some way, slipped on pipes! Fell! Cracked his head! Was in an ambulance on his way to the hospital? The fight ... off!?
This was utterly shocking -- even for Semaphore Entertainment Group, UFC's original promoter that was on its last legs, doing things on the cheap, struggling to get by and keep its head above water.
[+] Enlarge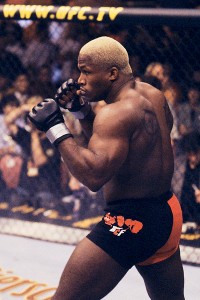 Zuffa LLC/Zuffa LLC/Getty ImagesKevin Randleman couldn't fight on UFC 24 after cracking his head open just minutes before he was set to fight.
I'd have felt ripped off if I actually had a chance to pay for it; nonetheless it was embarrassing to like this stuff.
Looking back on the episode 12 years, hundreds of events and many millions of dollars later, it's easy to laugh. Especially since the fallout was mild compared to similarly odd (though thankfully rare) events in this wild sport. Randleman fought Rizzo two cards later in what stands out as the least interesting championship bout in UFC history. That was as bad as it got.
It's not as if a fight night was cancelled, a la UFC 151 or Affliction's third card, which was supposed to feature
Fedor Emelianenko
versus
Josh Barnett
. The ramifications there were far larger, in part because the sport had moved beyond the nether regions it existed in during the early 2000s. Barnett's failed steroid test was still stunning, as was Affliction Entertainment's decision to close up shop and never promote again.
Ken Shamrock's day-of-the-fight cut prevented his main event versus Kevin "Kimbo Slice" Ferguson from airing on CBS. Say what you will about the fight -- it was a farce -- but people would have tuned in. Instead, Slice was knocked out in 14 seconds; the promoter, ProElite, went under, and CBS hasn't dared to wade waist-deep into MMA again.
Sometimes these things are serious and sometimes they're not. For all the high-profile instances of promoters or fighters failing at their jobs, there are sadly numerous less noteworthy situations. Fighters get screwed on the regular in MMA. They get flown to far-off locales and left fending for themselves. They put in 8, 10, 12 weeks' worth of training, pay nutritionists and trainers and get nothing in the end. Promoters invest capital to sell a card, only to see fighters or shady partners subvert their efforts.
The cancellation of UFC 151 was stunning because that sort of stuff just doesn't happen to Zuffa. These episodes were the domain of lower-tier brands, of lower-tier promoters and executives, of lower-tier operators.
Well, not anymore.
The lesson of UFC 151 and every other "what in the world just happened" moment in MMA is this: Sure things don't exist, most especially when you're talking fight sports.
October, 17, 2011
10/17/11
2:48
PM ET

By Franklin McNeil
ESPN.com
Archive
Heavyweight Pedro Rizzo revealed on Monday he has suffered an arm injury that forced him to withdraw from a Nov. 5 fight with
Tim Sylvia
.
"Unfortunately, I got injured training here in Holland, had a partial tear in the triceps tendon of my left arm," Rizzo said via his Twitter account. "I am in the prime of my condition and I'm really very frustrated with what happened."
The 37-year-old Rizzo hasn't fought since July 2010 when he registered a first-round TKO of
Ken Shamrock
in Sydney, Australia. Rizzo (19-9) is currently on a three-fight win streak.
His fight with Sylvia was to headline ProElite 2 at i wireless Center in Moline, Ill. Sylvia will now face Andreas Kraniotakes.
During his most recent fight, Sylvia stopped Patrick Barrentine in the first round on Aug. 20. The former UFC heavyweight champion is 29-7.
The ProElite 2 co-feature pits heavyweight
Andrei Arlovski
against Travis Fulton. Arlovski (16-9) will enter the fight on a high note. He halted a four-fight skid with a third-round TKO of Ray Lopez on Aug. 27.
July, 29, 2011
7/29/11
12:17
PM ET

By Chuck Mindenhall
ESPN.com
Archive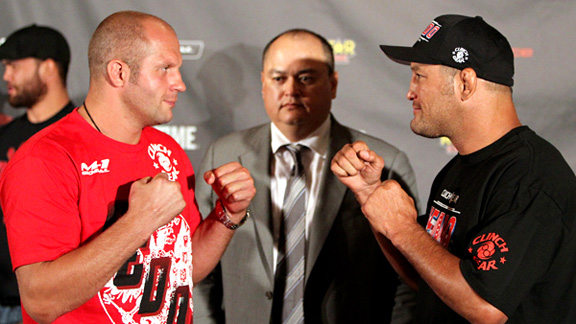 Josh Hedges/Getty ImagesHow they got here isn't important: What matters is what happens in the cage Saturday.
HOFFMAN ESTATES, Ill. -- It's immaterial at this point, because the fight is going down Saturday one way or another -- but the origins of
Dan Henderson
versus
Fedor Emelianenko
has conflicting reports.
Leading up to the fight, Henderson iterated (and then reiterated) that he didn't necessarily ask for the fight, but he was more than happy to take it on the strength of fan enthusiasm. "I haven't really wanted the fight," he told ESPN.com last week. "It's something that the media and the fans have been asking about since I signed with Strikeforce. It wasn't me that was asking for this fight."
At yesterday's prefight news conference at Harry Caray's in Chicago, Strikeforce executive Scott Coker had a different, particularly cheerful memory of how things went down when recounting for MMA Fighting's Ariel Helwani.
"Actually it was simple," he said. "Dan called me and said 'look, I want to fight Fedor,' and I said, 'let's do it.' So I called up Steve Bash and said, 'Steve, is this a fight Fedor would be interested in?' and he said yeah, absolutely; it'd be an honor to fight him.'"
So did Hendo ask, or did Coker say 'humor me'? The answer closest the truth is: Yes. Realistically, nobody is bickering, even if the story's not exactly straight, and nobody's certain what ramifications this fight will have on either fighter's career. (It could mean everything, and there's a chance it could mean next to nothing -- that's the fun of a "superfight"). Somehow the fight got put together, regardless of the ulterior.
But as both are former champions in Pride and were promotion-mates for all those glory years in Japan, the question could be asked of Fedor too. Was Dan Henderson ever on his radar for a superfight? Indeed, does he even have a radar?
"Well, I wouldn't say I was a fan [of Henderson's] but I definitely appreciated his career and liked following it," Fedor told ESPN.com through his attorney, Bash. "To be honest with you though, I never thought that we'd fight together."
Strange things happen over the course of long careers --
Randy Couture
could have never foreseen fighting
James Toney
under unified MMA rules, and
Ken Shamrock
could have never foreseen fighting James Toney under … homemade MMA rules.
In prospect, a win and the 205-pound champ Henderson has negotiating power with Zuffa, and Fedor is forced to make a decision on whether to continue one or not. An Emelianenko victory restores a measure of the mystique he's lost and probably seals the deal that we'll see him fighting again. But that's just one way of thinking.
Fedor himself doesn't see this as a swan song regardless of outcome. When asked if he'd continue on after this weekend he made it sound obvious.
"Yeah, I think I'll keep fighting," he said. "Of course."
At least that much is [probably] clear.
July, 12, 2011
7/12/11
1:05
PM ET

By Chuck Mindenhall
ESPN.com
Archive
There have been special rules in MMA bouts plenty in the past -- some eccentric, some prudish, some with allowances to do everything short of dipping knuckles in broken glass -- but the implementation of Ken Shamrock's "30-second shot clock" to stand fighters when the fight "stalls" on the ground is unique. That's one of the specialized rules that's been added in 47-year-old Shamrock's fight with
James Toney
, set to take place in Texas come September. The object, says Shamrock, is to do away with lay and pray and make MMA -- which he says is already pretty darn good -- a better, more exciting sport.
"I didn't come up with these rules because I'm fighting James Toney, I came up with these rules because I tried to figure out how to make MMA better," he said in an interview with FightHype.com before his son Sean Shamrock's fight in Reno, Nev. "I came up with the 30-second shot clock where, it makes guys, when they hit the ground, instead of laying and praying and waiting for something to happen, it forces them to initiate a submission move to try and end the fight sooner rather than tap, tap, tap and punch."
Shamrock went on to assert that this new stipulation would solve bouts with problematic lay and pray specialists who whittle away rounds in dominant, inactive top position. This of course is intriguing -- many people hate the lay and pray aspect of the game, and wrestlers are often accused of being boring for making that a neutralizing centerpiece of their game plan. But modifying the rules for competitive aesthetics begins to make it less mixed martial arts and more specific martial arts (SMA).
Sometimes submissions take time to set up; same thing with ground-and-pound. Protective barriers sometimes take more than half-a-minute to get through, regardless if you're standing or on the ground or levitating in the air. And while Shamrock's idea might be onto something, ultimately it's a shortsighted philosophy. Another way of dealing with the problem of lay and pray is the obvious one: evolve as an MMA fighter to find ways of getting up, or avoid getting taken down to begin with. Catering to what is essentially a fighter weakness -- no matter how rampant that weakness is -- becomes a dangerous trend.
In Shamrock's potboiler fight with Toney, it's an act of philanthropy to institute a 30-second shot clock rule. But in general, fighting is literally will against will, so why change things to favor the will that bends easiest?
June, 25, 2011
6/25/11
7:22
AM ET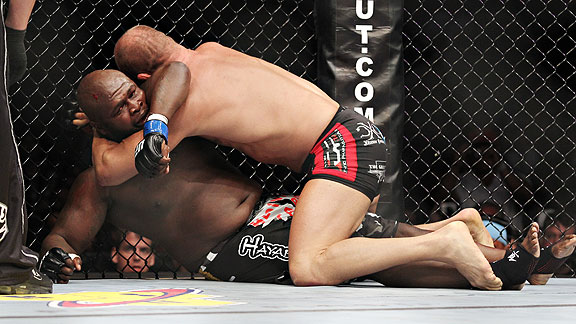 Ed Mulholland for ESPN.comAnd you thought this was the last you'd seen of James Toney in the cage.
Former boxing world champion
James Toney
has confirmed he will fight MMA legend
Ken Shamrock
on Oct. 1, and he has taken a whole catalog of new digs at MMA.
More »
Rumor Central:
Special rules to be enforced? »
Bios:
Toney»
Shamrock »