November, 18, 2013
11/18/13
3:13
PM ET
By Andrew R. Davis
ESPN Stats & Information
Archive
At UFC 167, many felt that
Johny Hendricks
did enough damage against
Georges St-Pierre
to become the new UFC welterweight champion. On Glenn Trowbridge's scorecard, Hendricks did just that. The other two judges (Sal D'Amato and
Tony Weeks
) saw the first round for the champion, giving him the 48-47 decision and the victory for St-Pierre's UFC record-breaking 19th win inside the Octagon.
While the decision can be argued for both fighters, it marks just another recent example of champions barely leaving the Octagon with their titles.
UFC 165 - Jon Jones defeats Alexander Gustafsson (48-47, 48-47, 49-46)
In September of this year, Jon Jones made the sixth defense of his UFC light heavyweight title against his toughest challenger to date, Alexander Gustafsson. While Jones outstruck the challenger 28-19 in significant strikes in the opening round, Gustafsson scored a takedown while Jones was stuffed on all three of his attempts.
Gustafsson won Round 1 on all three scorecards. Rounds 2 and 3 are where things got tricky with the judging. Neither man gained a takedown (Jones 0-for-3, Gustafsson 0-for-2), but Jones held the striking advantage in Round 2 26-15 and Round 3 29-26.
Jones won four of the six cards in those two rounds. Round 4 was again close in significant strikes (27-26 Jones), but the champion did more damage, winning all three scorecards.
Round 5 was again close, with the significant strikes even at 24 for both fighters and Jones landing a takedown while stuffing all four Gustafsson attempts.
When the final scorecards were read, Jones was ahead on all cards, earning the unanimous decision.
UFC on FOX 7 – Benson Henderson defeats Gilbert Melendez (48-47, 47-48, 48-47)
Benson Henderson made the third defense of his UFC lightweight title in April 2013, defeating former Strikeforce lightweight champion Gilbert Melendez.
Round 1 went to the challenger despite landing fewer significant strikes 9-7. Melendez did land his only takedown of the fight and landed the better strikes in the eyes of the judges.
Round 2 was again close, with the champion holding a 15-13 significant strikes advantage. Both fighters landed hard shots in the cage, but Henderson won the round on two of the three judges' scorecards. Henderson responded with his best round of the fight, landing 15 of 29 significant strikes (52 percent) and landed two leg kicks during the round that knocked Melendez off balance.
Rounds 4 and 5 were virtually even on the cards despite Henderson outlanding Melendez 29-16 in significant strikes. Henderson landed 12 leg kicks to help him win Round 4 on two of the three cards.
In the final round, Melendez won two of three cards despite landing only 15 percent of his significant strikes. Melendez won the fight 48-47 according to the first card, but Henderson won 48-47 on the other two cards, retaining his title.
UFC 125 – Frankie Edgar draws with Gray Maynard (48-46, 46-48, 47-47)
Frankie Edgar held onto his UFC lightweight title after a very tough fight with the only man to beat him, Gray Maynard, to start the fight calendar in 2011.
The first round of the 2011 Fight of the Year was its most memorable, with Maynard knocking the champ down three times and furiously landing punches to the head. Maynard would win the round 10-8 on all cards, outstriking Edgar 47-10, with 25 of those deemed significant.
Edgar would rebound in Round 2, outstriking a hesitant Maynard 21-6 to win the round as well as landing the slam that you see in the UFC PPV entrance video today.
Round 3 was the closest round of the fight, with Edgar holding a 21-17 significant strike advantage, but Maynard landed two takedowns.
Round 4 went to Edgar across the board as he landed 52 percent of his significant strikes, the highest in any round. Edgar also landed two takedowns.
With the fight on the line, Round 5 was a 20-16 advantage to Edgar with neither man gaining a takedown (Edgar 0-for-3, Maynard 0-for-7).
Maynard would win on two of three judges' scorecards to close out the fight. The first announced card of
Glenn Trowbridge
(only one to pick Hendricks) was 48-46 Maynard, while Edgar won a card 48-46 and the final judge scored the bout 47-47 for a split decision draw.
UFC 104 – Lyoto Machida defeats Mauricio Rua (48-47, 48-47, 48-47)
In October 2009, Lyoto Machida made the first and only defense of his UFC light heavyweight title against Mauricio "Shogun" Rua. Rua came out the gates with his best statistical round, landing 70 percent of his significant strikes (19 of 27).
Machida landed nine significant strikes and stopped Rua's lone takedown attempt, winning the round on two of three judges' scorecards. Machida unanimously won Rounds 2 and 3 on the scorecards, but was outstruck 40-16 in significant strikes. Machida did stop each of Rua's takedown attempts in the rounds and quality kicks the body and legs to win each of the rounds.
The fourth round was a 10-1 striking advantage to Shogun, and he won on two of the three cards. Round 5 was unanimous to the challenger, who mixed in 11 significant strikes to the head and legs while the champion Machida landed six.
In total, Rua outlanded Machida 80-38, with a 49-4 advantage in strikes to the legs. Machida did his damage with punches and kicks to the body, holding a 24-16 advantage. When the scorecards were read, Lyoto Machida won all three cards with identical 48-47 scores to retain his UFC light heavyweight title.
In the UFC's 20-year history, only one champion has ever lost his title by way of split decision (
Kevin Randleman
to
Bas Rutten
at UFC 20). Whether it's intended to be or not, the words of the famous wrestler Ric Flair come to mind: "To be the man, you have to beat the man." In the world of the UFC, most of us are still wondering if there's an exact definition to what that means.
September, 7, 2012
9/07/12
11:26
AM ET

By Josh Gross
ESPN.com
Archive
Technically speaking, I was a fan when UFC 24 rolled around.
Kevin Randleman's first UFC heavyweight title defense was set to take place a month before I wrote the story that scored my first paycheck as a mixed martial arts reporter. Passionate as I was, I called around San Diego, where I attended college, to find a place, any place, showing Randleman's fight against dangerous young heavyweight Pedro Rizzo.
Eventually a sports bar informed me that it dared to be one of the few establishments carrying the UFC in the spring of 2000. I have this vivid memory of feeling like the only person in the place who gave a damn about these cage fighters. So, as this was my only option, I enjoyed a platter of nachos while watching one muted television set tuned to a night of fights in Lake Charles, La.
The evening rolled along with little fanfare. "Crazy" Bob Cook, a familiar face these days alongside American Kickboxing Academy fighters, made his lone Octagon appearance, which turned out to be the last time he stepped in a cage, and choked Tiki Ghosn. Less than a year before he would be crowned UFC champion,
Jens Pulver
was featured on pay-per-view for the first time. He was spry and determined while pummeling David Velasquez with punches.
All that was filler, though. I'd sought out a TV to see Randleman take on Rizzo. It was time. Or it should have been time. There wasn't any sound, but it was crystal-clear based on an interview taking place backstage that something was off. I begged a waitress to turn up the volume. She did, just in time to catch on that Randleman, somehow, some way, slipped on pipes! Fell! Cracked his head! Was in an ambulance on his way to the hospital? The fight ... off!?
This was utterly shocking -- even for Semaphore Entertainment Group, UFC's original promoter that was on its last legs, doing things on the cheap, struggling to get by and keep its head above water.
[+] Enlarge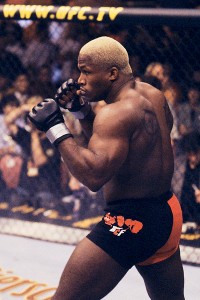 Zuffa LLC/Zuffa LLC/Getty ImagesKevin Randleman couldn't fight on UFC 24 after cracking his head open just minutes before he was set to fight.
I'd have felt ripped off if I actually had a chance to pay for it; nonetheless it was embarrassing to like this stuff.
Looking back on the episode 12 years, hundreds of events and many millions of dollars later, it's easy to laugh. Especially since the fallout was mild compared to similarly odd (though thankfully rare) events in this wild sport. Randleman fought Rizzo two cards later in what stands out as the least interesting championship bout in UFC history. That was as bad as it got.
It's not as if a fight night was cancelled, a la UFC 151 or Affliction's third card, which was supposed to feature
Fedor Emelianenko
versus
Josh Barnett
. The ramifications there were far larger, in part because the sport had moved beyond the nether regions it existed in during the early 2000s. Barnett's failed steroid test was still stunning, as was Affliction Entertainment's decision to close up shop and never promote again.
Ken Shamrock's day-of-the-fight cut prevented his main event versus Kevin "Kimbo Slice" Ferguson from airing on CBS. Say what you will about the fight -- it was a farce -- but people would have tuned in. Instead, Slice was knocked out in 14 seconds; the promoter, ProElite, went under, and CBS hasn't dared to wade waist-deep into MMA again.
Sometimes these things are serious and sometimes they're not. For all the high-profile instances of promoters or fighters failing at their jobs, there are sadly numerous less noteworthy situations. Fighters get screwed on the regular in MMA. They get flown to far-off locales and left fending for themselves. They put in 8, 10, 12 weeks' worth of training, pay nutritionists and trainers and get nothing in the end. Promoters invest capital to sell a card, only to see fighters or shady partners subvert their efforts.
The cancellation of UFC 151 was stunning because that sort of stuff just doesn't happen to Zuffa. These episodes were the domain of lower-tier brands, of lower-tier promoters and executives, of lower-tier operators.
Well, not anymore.
The lesson of UFC 151 and every other "what in the world just happened" moment in MMA is this: Sure things don't exist, most especially when you're talking fight sports.
June, 22, 2012
6/22/12
11:56
PM ET

By Chuck Mindenhall
ESPN.com
Archive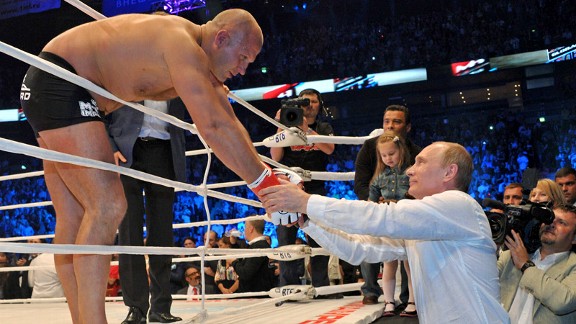 AP Photo/RIA-Novosti, Alexei Nikolsky, Presidential Press ServiceThanks for the memories: For better or for worse, Fedor Emelianenko went out on his terms.
Fedor Emelianenko
didn't lament his losses like his fans did, and he didn't smite his chest as the world's greatest fighter back when people argued he was just that. He never talked smack to his opponents, and didn't tweet smiley faces when bad things happened to business foes.
He's always been a picture of complicated calm that, realistically, has very little in common with American impulse. Fedor was a vault. He was unknowable. He traveled to his fights with priests who wore beards like Dostoyevsky. There was unnerving depth in his eyes, and when he spoke to you those eyes communicated the cathedral hush of his mindset. When he stepped in the cage, his expression never changed. The world could be falling down around him and he'd still look only mildly bemused.
Such was his faith in what happens.
Where did he summon the violence for that decade when he didn't lose? Didn't matter. He used logs, rocks and terrain in his native Stary Oskol to show up in burly, no-nonsense form. Sometimes he showed up a little flabby. Maybe most of the time. But he carried anvils.
One way to look at him was that he was a picture of poise that derived from the better qualities of martial arts. The other was that he was a cold-blooded tyrant with no conscience.
Most the time he was both. He marketed himself by barely saying an unnecessary word. This is part of what made him an almost mythological figure in MMA for the last dozen years. And it's one of the reasons he'll be missed.
Emelianenko retired after defeating another fading star in Pedro Rizzo in his native Russia. To watch it in the States, you had to find a stream. And just like everything with him, he didn't make a big deal of it. It was preconceived but not fussed over. Simply put, Fedor wanted to be around his daughters, whom he said were growing up without a father. After 39 MMA bouts, Sambo titles and a dozen years of lore, he said it was time.
And as expected, it took the 35-year-old Emelianenko a minute and change to knock out Rizzo. Most people thought he'd do just that. Just like they thought he would defeat Satoshii Ishii and
Jeff Monson
, the guys who washed away the bad taste of
Dan Henderson
and
Antonio Silva
and
Fabricio Werdum
, those myth-shattering losses that told the whole truth. To hear Fedor tell it, those losses in the twilight of his career were lessons, and he took them so genuinely that it almost felt like he took them arbitrarily.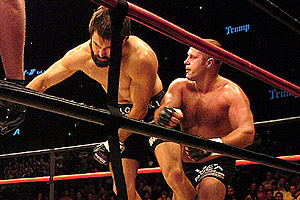 Darryl Dennis/Icon SMIEven if he didn't always talk the talk, Fedor Emelianenko consistently walked the walk.
Just stuff that happens.
But you know why the whole truth stood out? Fedor never believed in his own myth like we did. He never perceived himself as invincible. I saw him after he lost to Werdum and Silva and Henderson, and it was as if he understood far better than everybody else about his own vincibility. There were never any delusions. It was heartbreakingly simplistic. Delusions belonged to us and his handlers.
So, how will Fedor be remembered as a fighter? That's as complicated as the man himself.
There are those who will claim that he was overrated. There are those who consider him the greatest heavyweight of all time. Once again, he is probably both. Those fights in Pride with
Antonio Rodrigo Nogueira
and
Mirko Filipovic
and Kevin Randleman were real enough at the time. When he chopped down
Tim Sylvia
and
Andrei Arlovski
in Affliction, the accusation was also real -- Fedor wasn't fighting the biggest names in the sport, at least not in their prime. And the failure of M-1 Global and the UFC to come to terms will forever leave the case unresolved.
Fedor's legacy is now a matter of speculation and perception. Any you know what? When you think back on it, it's sort of fitting. Fedor's career has been fueled by his dominance in the aughts, his ascetic nature, the partition that existed between him and the UFC, and endless talk about where he ranks in the grand scheme. He's always been fascinating -- winning does that -- and hype swirled around him in Russia, the States, Japan and elsewhere.
He never had much to do with it. His grand scheme was far deeper than sport. If people were carried away by their inflated versions of Fedor, he smiled. When the haters came out in droves and threw words at him like "exposed," he didn't disagree. With Fedor, criticism was interchangeable with praise. It's something that other fighters can learn from. And not just fighters, but media and fans, too.
He was great? Great. He was overrated? Fine. But if to you he was the "Last Emperor," remember that to him, he was always Fedor.
And if we can agree on anything, maybe it's that that's pretty commendable.
August, 11, 2011
8/11/11
2:08
PM ET

By Chuck Mindenhall
ESPN.com
Archive
It wasn't quite two weeks ago that
Fedor Emelianenko
lost to
Dan Henderson
and had people wondering if that was his unceremonious outro. Almost everybody wanted to know, after his third straight loss, if that was the last time we'd see Fedor compete.
Then almost as suddenly it was determined that Fedor wasn't done yet -- not by a long shot, ya'll! -- and Kevin Randleman's name was running up the flagpole as a possible opponent for a fall card to be held in his native Russia.

Kevin Randleman?
If that's true, well ... at least we have an answer, and that is -- yes, it seems Fedor is done competing.
Here is what his manager and head of M-1 Vadim Finkelstein allegedly told the Russian website Champion AT when asked who Fedor's next opponent would be: "There are many possibilities. I personally want the opponent to be one of the great fighters from Pride's best times. It would be good if it was an interesting and competitive fighter, like for instance, Kevin Randleman. At any rate, we will chose a competitive, globally respected fighter."
Interesting, marginally (in an uncanny resemblance to Grace Jones kind of way). But competitive? That's borderline insulting.
Unlike Dan Henderson, who is 40 years old and looking 28, Randleman is more the usual kind of 40-year-old who loses to guys like Baga Agaev via first round submissions. He has dropped four fights in a row and eight of 10 fights going back to the first time he fought (and was destroyed by) Fedor Emelianenko in Pride's heavyweight grand prix back in 2004. Randleman is cooked. And that's exactly why Fedor's camp is hand-selecting him to get off the skids. A warm body with a subliminal link to the past that Fedor can waltz through. Yet even using the word subliminal in discussing Randleman seems sort of irresponsible. The better words might be "transparent" and "desperate."
Before Randleman's name was raised, others like prolific journeyman Travis Wiuff and Mike Whitehead were mentioned in connection to Fedor. This gives you an idea of the value we're talking for the string of upcoming fights for the "Last Emperor." The idea is to restock his emptied legacy with -- what they hope to be -- an assortment of donated cans. And in the end, maybe that's the best way to go about things when options are down to a scant few. Maybe a couple of wins and some Dutch training and Fedor returns to prominence. At least that's what M-1 is now hinging on. As for Fedor himself, he would likely have no qualms whether you put Randleman in front of him, or
Cain Velasquez
. Fighting is what he knows. He just does what he's instructed to do.
But Randleman is a hard sell as anything compelling. And the idea to revisit "Pride's best times" comes off as a strange piece of nostalgia to roll with in discussing a man who has always been, in the very least, a prideful competitor.
(Note: M-1 has since claimed that the Randleman rumor was a fabrication).